Keynote, Pages, Numbers 11.2 updates with new collaboration options
Apple has released updates for its iWork suite, with version 11.2 of each on
macOS
, iOS, and iPadOS including a number of changes, with some features limited to devices upgraded to macOS Monterey, iOS 15, or iPadOS 15.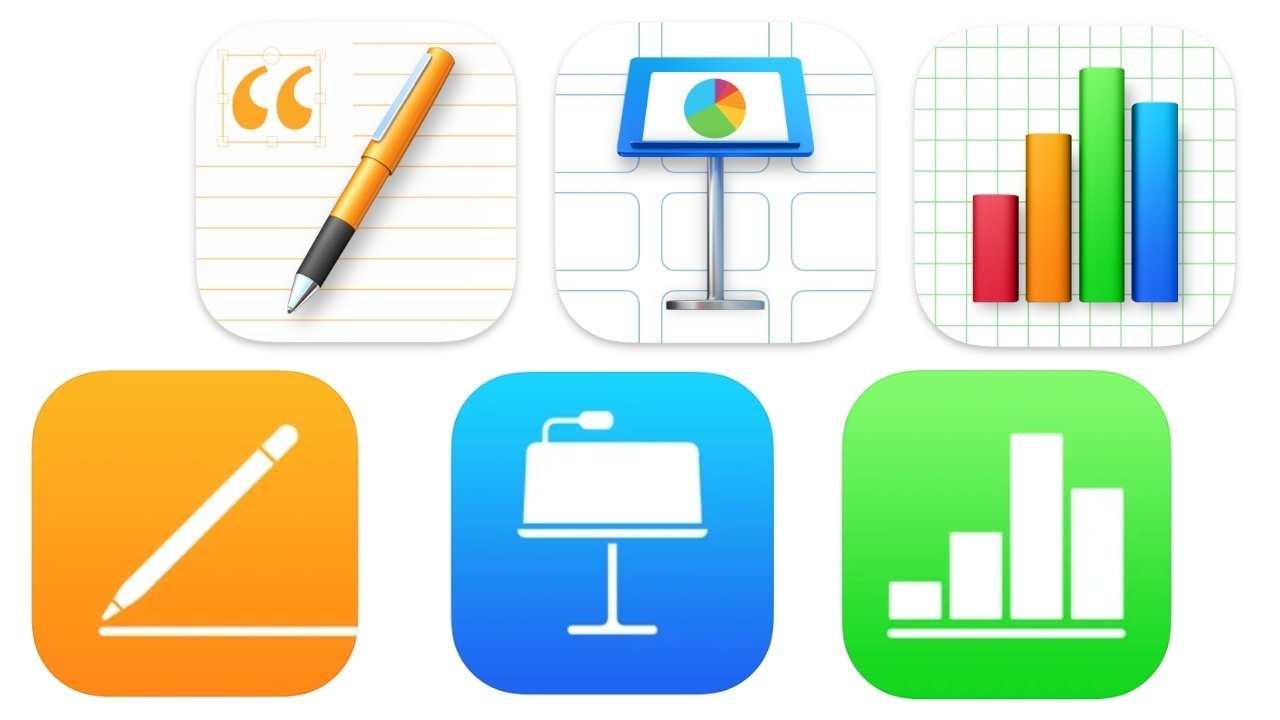 Updated on Tuesday, the App Store listings for Keynote, Numbers, and Pages on macOS, iPadOS, and iOS show there's quite a few changes inbound for each app, as they all move over to version 11.2.
Keynote
Keynote 11.2 chiefly adds in live video support for the presentation tool, with a live camera feed able to be inserted into slides as part of a window or in fullscreen mode. Multiple cameras can be connected, to provide different live video angles, including a live feed from a connected iPhone or iPad display.
Multi-presenter slideshows will allow participants to take turns in controlling the same shared presentation from their own hardware. There are also new slideshow controls that provide access to the slide navigator, keyboard shortcuts, live video sources, and multi-presenter controls.
Improved flexible collaboration options now allow participants to add others to the shared presentation in
macOS Monterey
or
iOS 15
. Similarly, an instant translation feature will automatically translate selected text into up to 11 languages and add the translated version to the presentation, though again it requires the newer operating systems.
New radar charts allow users to visually compare multiple variables simultaneously, to highlight similarities and differences in data.
In platform-specific changes, an audio graph for iOS and iPadOS will help make charts accessible to people with visual impairments, by playing audio tones that change pitch to represent different values. On macOS, users will be able to create new presentations directly from the Dock's app icon.
Keynote 11.2
requires macOS 11.0 and is 345MB in size. On iPhone and iPad,
Keynote
11.2 is 506.6MB and requires iOS or iPadOS 14.0.
Pages
For Pages, there's improvements to book publishing, with two-page spreads, optimized images, and more flexible document versioning. Radar charts make an introduction in the app as well for data comparisons.
For the newer operating systems, there's collaboration by participants being able to add others to a shared document, and the same instant translation feature as in Keynote. It is also possible for macOS users to create new documents from the Dock.
Pages
is compatible with iOS 14.0 and iPadOS 14.o or later, and weighs in at 498.6MB. On Mac, it
needs
macOS 11.0 and is 287.3MB.
Numbers
Numbers introduces pivot tables, which can be used to view and analyze data, produceable with a few clicks. This includes being able to import and export Excel spreadsheets with pivot tables, and the ability to add pivot charts to worksheets.
Radar charts are, once again, able to be added to a document. Quick filters can be used to quickly select values to show or hide, as well as to find duplicate or unique values.
The ability for participants to add others to a shared spreadsheet is also available, along with instant translation, but that requires the iOS 15, iPadOS 15, or macOS Monterey to function properly.
In macOS, it is also possible to create a new spreadsheet from the Dock icon. Over on iOS 15 and iPadOS 15, it adds the accessible audio graph.
On Mac,
Numbers 11.2
needs macOS 11.0 and is 255.9MB. On iPhone and iPad, it
requires
iOS 14.0 or later, and is 532.4MB.
Read on AppleInsider