Joby GripTight Mount with MagSafe review: An affordable photography companion for iPhone
Posted:
in iPhone
edited September 2022
Popular photography brand Joby has released a new version of its useful GorillaPod, now with a MagSafe-enabled mount for even easier use with iPhone 12 and
iPhone 13
.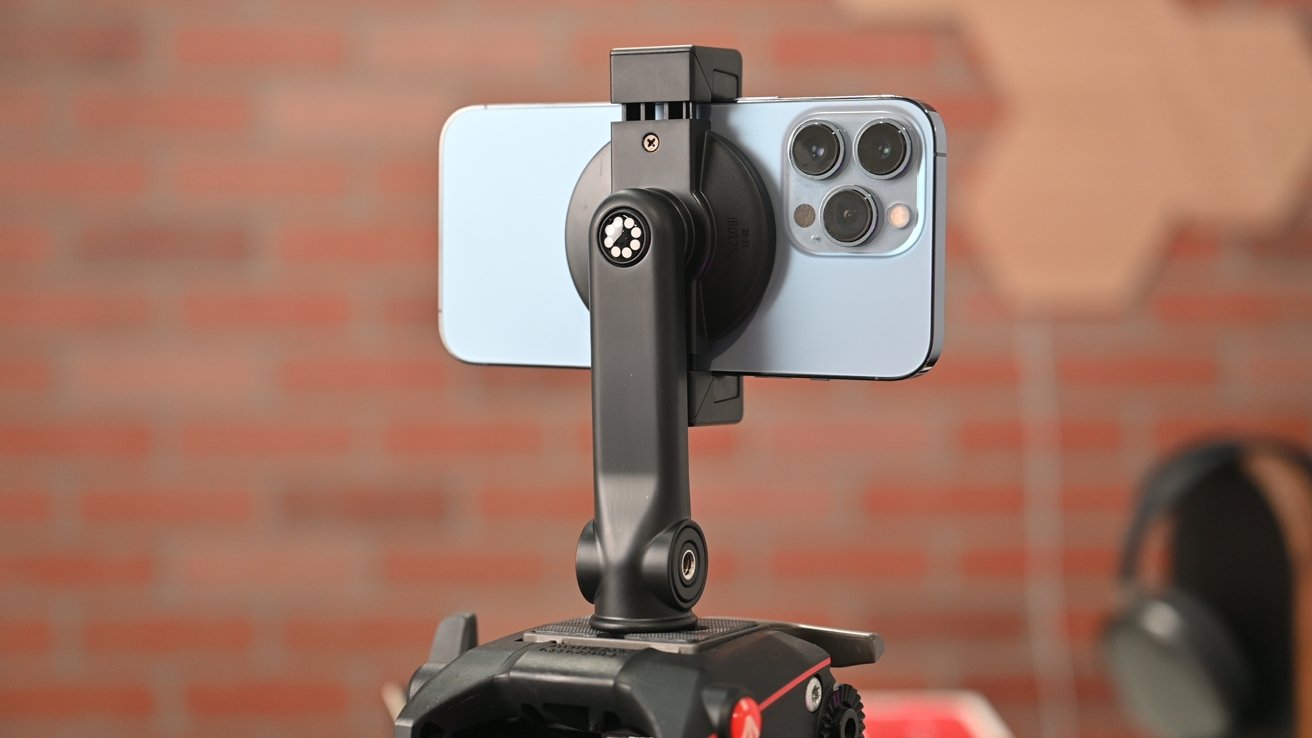 The new GripTight Mount with MagSafe and iPhone 13 Pro
If you haven't used a GorillaPod before, you should pick one up. They are fairly affordable and make it insanely easy to get great photos and videos with your iPhone. They certainly work with dedicated cameras too, but the primary use for many will be a smartphone.
For ages, Joby has created a smartphone clip that was universal. Just pull the sides apart and slide in your iPhone and get shooting. The grip was easy to use and the GorillaPod allows you to place the tripod almost anywhere. Wrap it around a pole, hang it from a pipe, and easily handle uneven terrain.
Now, the company
has launched
a series of bundles that couple a GorillaPod with the new GripTight Mount with
Magsafe
.
What makes a GorillaPod, a GorillaPod?
We've used GorillaPods for many, many years and they still are one of our favorite tripods to travel with. They're small and easily fit into almost any bag.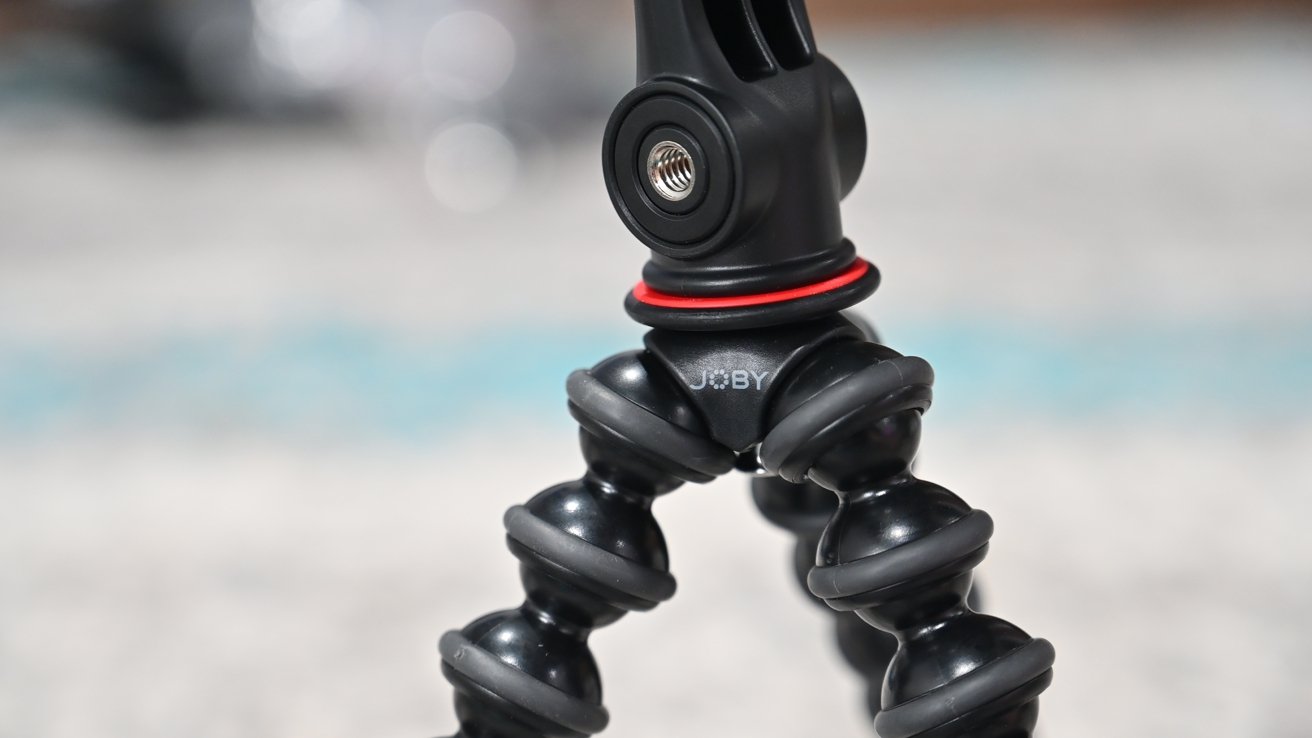 Joby logo on the GorillaPod
What makes them so unique is that they are made up of a series of rubberized ball joints. This allows you twist and contort each leg on the tripod. A typical tripod has three straight legs and you can adjust the length, but GorillaPod allows all the legs to move in almost any angle.
Because of the near-infinitely movable legs, they can stick, hang, or wrap around almost anything.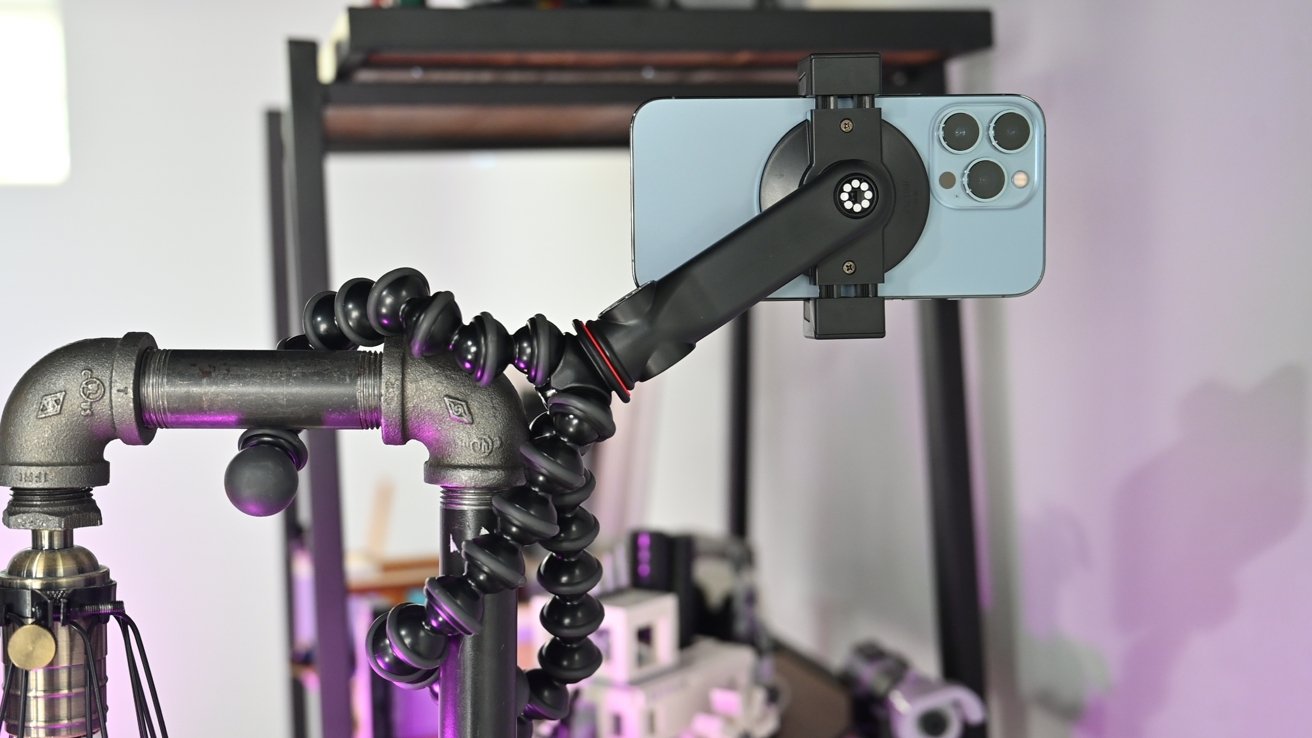 Hanging the GorillaPod on a lamp
It's a useful tool to have for anyone who wants to take a photo hands-free.
But GorillaPods aren't all that new. What is new, is the new mount that can be paired with it.
MagSafe for GorillaPod
MagSafe is a new technology that Apple debuted in the
iPhone 12
before bringing it to the iPhone 13. It can be used to charge your iPhone or connect accessories like wallets and grips. In this case, it is being used to connect to a mount.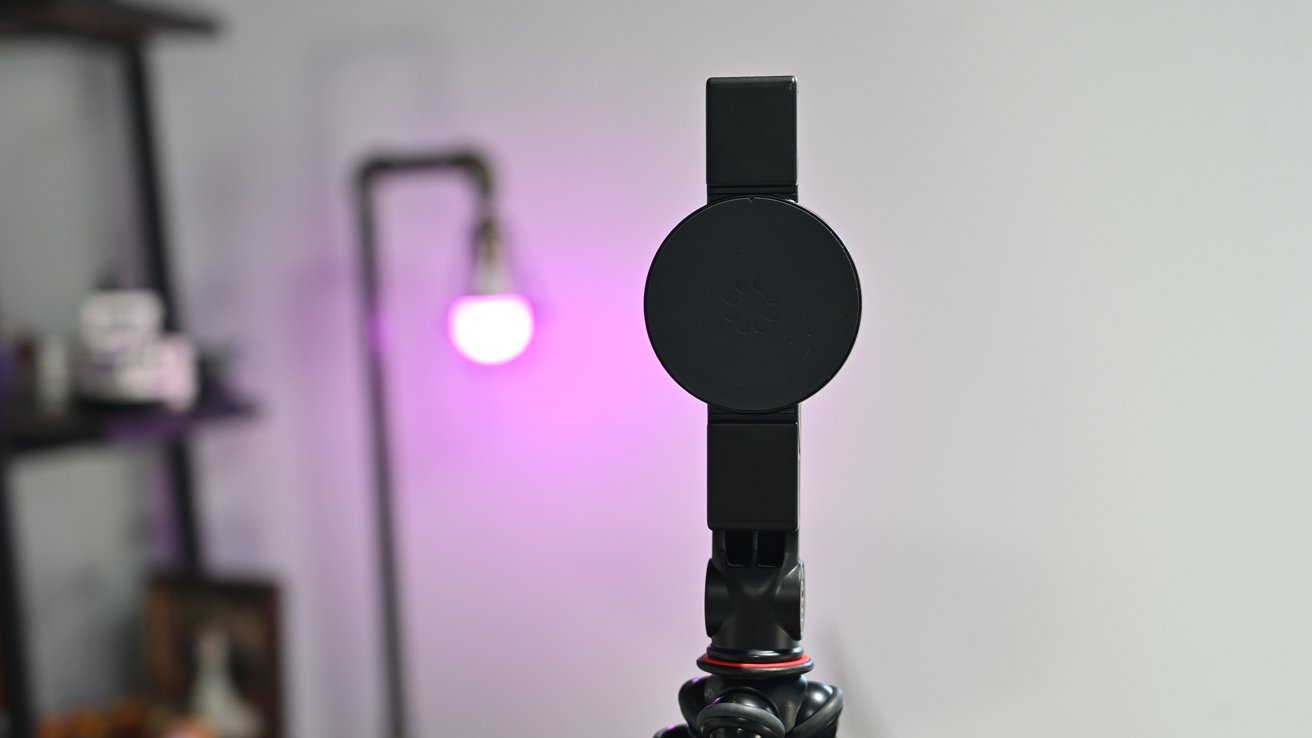 The GripTight Mount with MagSafe
The Joby GripTight Mount for MagSafe has two operational modes. The easiest and fastest method is with MagSafe. Just bring your phone close and it will quickly grab hold and connect to the mount. When you're done shooting, grab the tripod and pull your iPhone away. Couldn't be easier.
Your iPhone connects perpendicular to the clip itself, but then the entire top can rotate around 360 degrees, locking at 30-degree intervals.
The MagSafe magnets were fairly underwhelming though. The only other tripod mount we've used for iPhone
has been the Moment lineup
, which feature all-metal mounts that have a stronger connection than Joby's option.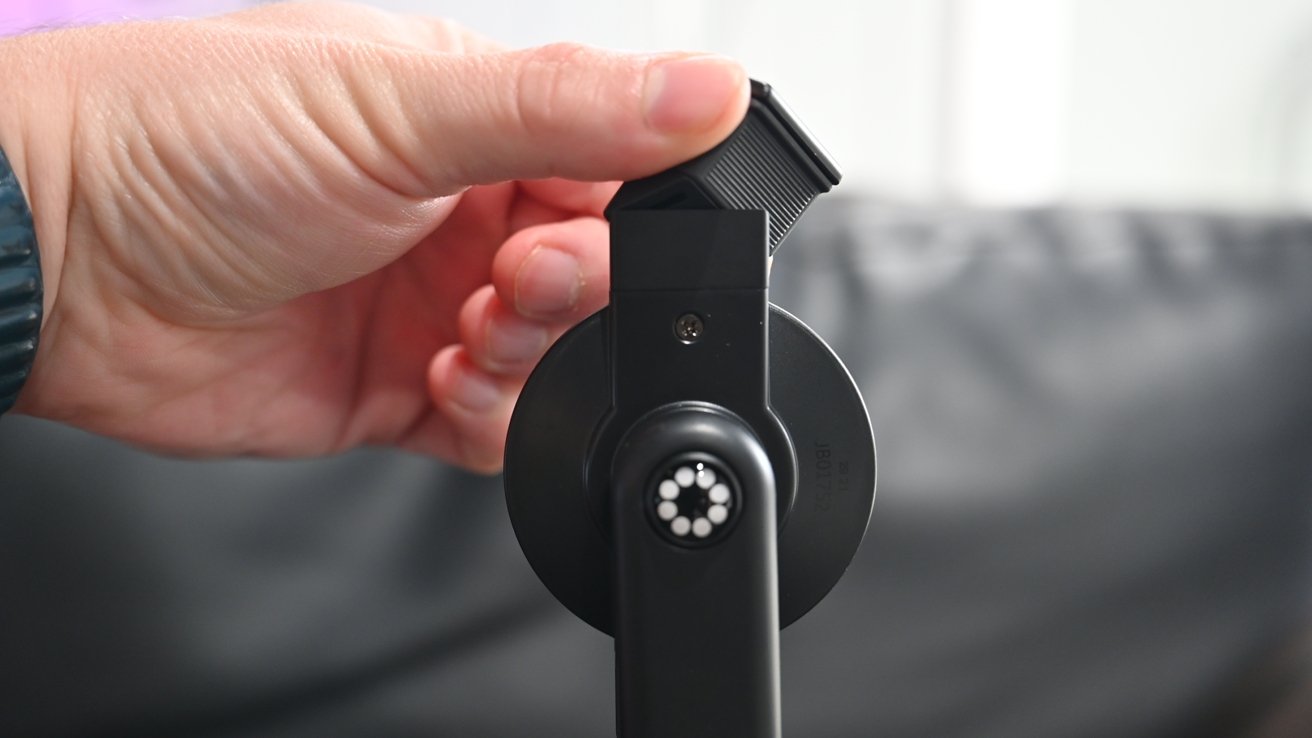 Twist the ends to switch to a clamp
Even though Moment's magnets are stronger, Joby makes up for it in other ways. Joby's GripTight Mount for MagSafe can switch in an instant from a purely magnetic connection to a clip. To make the conversion, you can twist the rubberized ends which rotate out to become clips.
When they pivot out, you now have a more secure clip that can protect your phone at any angle. Because GorillaPod can connect to so many places, you don't know if you'll have your iPhone hanging upside down, face down, or some other weird orientation. By having this option to grip the iPhone, you know your iPhone is safe.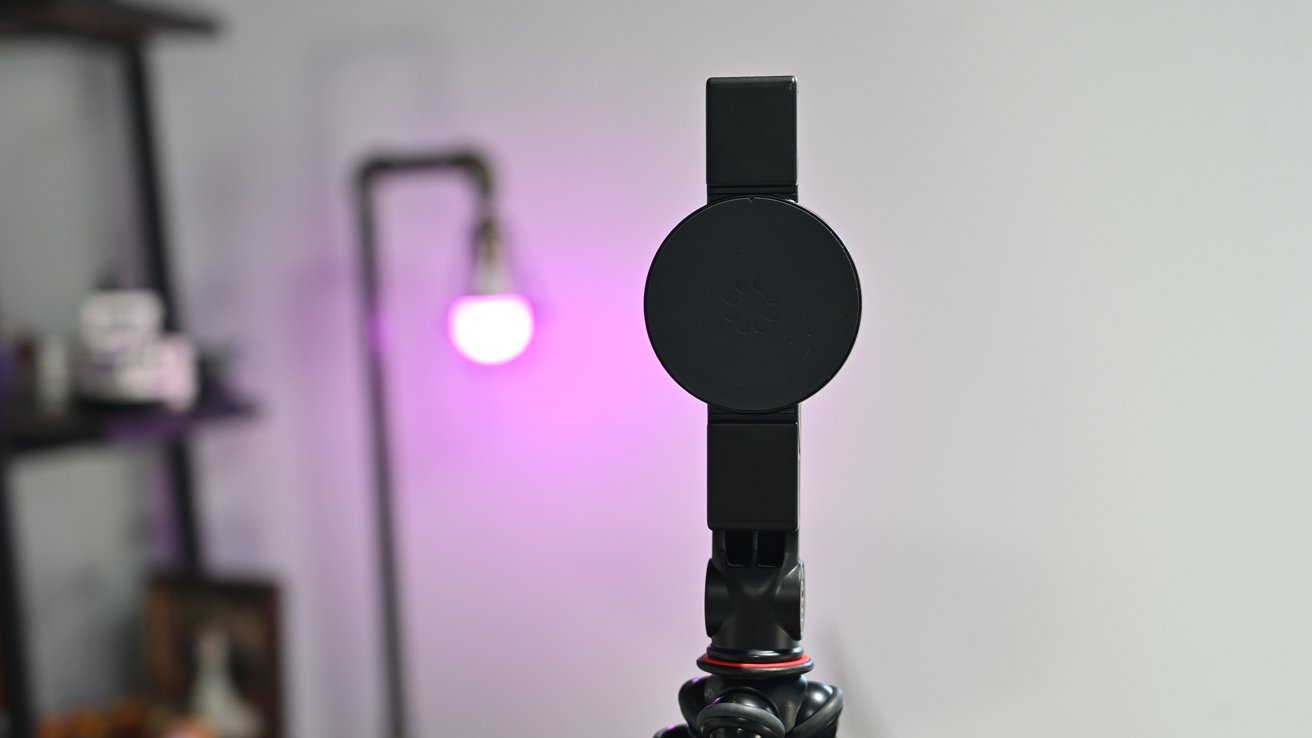 Joby GorillaPod clamp
Should you buy Joby's GorillaPod with GripTight Mount for MagSafe?
GorillaPod is unique because it's a great product for average users, families, kids, vloggers, and professionals without costing an excessive amount of cash. If you want a basic accessory that will help you take photos hands-free, this is a perfect option.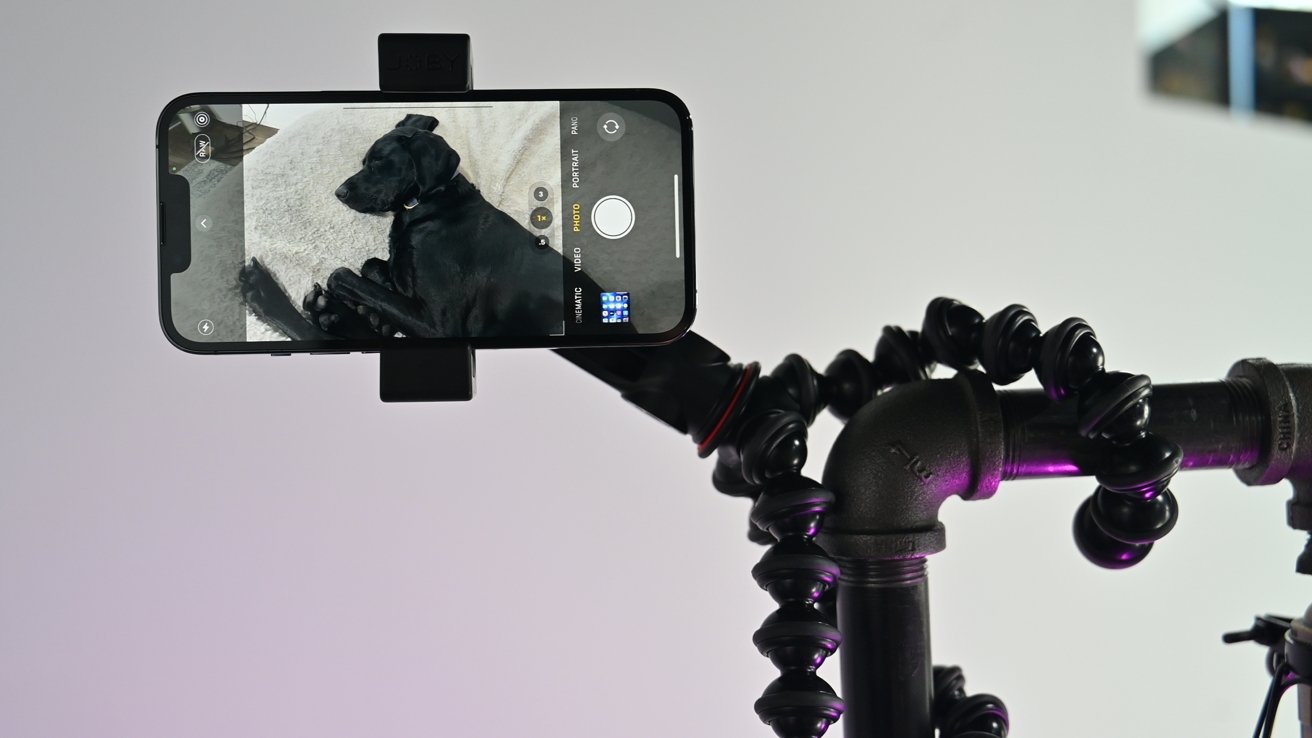 Taking photos with our iPhone hanging from GorillaPod
It gets even better with the new GripTight Mount with MagSafe. The annoyance of clipping and unclipping your phone is gone. It's amazingly easy to just bring your phone close to the tripod and let the magnets take over.
Since the GripTight Mount with MagSafe has a standard thread on the bottom, it can be used with any other tripod too. So if you already use an existing tripod, just twist on the GripTight Mount and you're good to go.
Pros
The tried-and-true GorillaPod design


Easy to capture video and photo from anywhere


GripTight Mount supports MagSafe


Has both magnetic and physical mount options


GripTight Mount works with GorillaPod or any other tripod


Affordable
Cons
All plastic build


Magnet isn't as strong as other brands
Rating: 4 out of 5
Joby is offering three different configurations including a GripTight Wall Mount for MagSafe at $24.95, a GripTight Mount for MagSafe at $39.95, and the GripTight GorillaPod for MagSafe at $69.95.
All models appear to be on sale for launch
, starting at $15.
Read on AppleInsider