HyperDrive iMac Hub review: More ports on the front of the 24-inch iMac
The 24-inch Apple Silicon
iMac
is an excellent machine, with a shortage of ports overall, and none on the front. Hyper has a solution to both problems with the HyperDrive iMac Hub.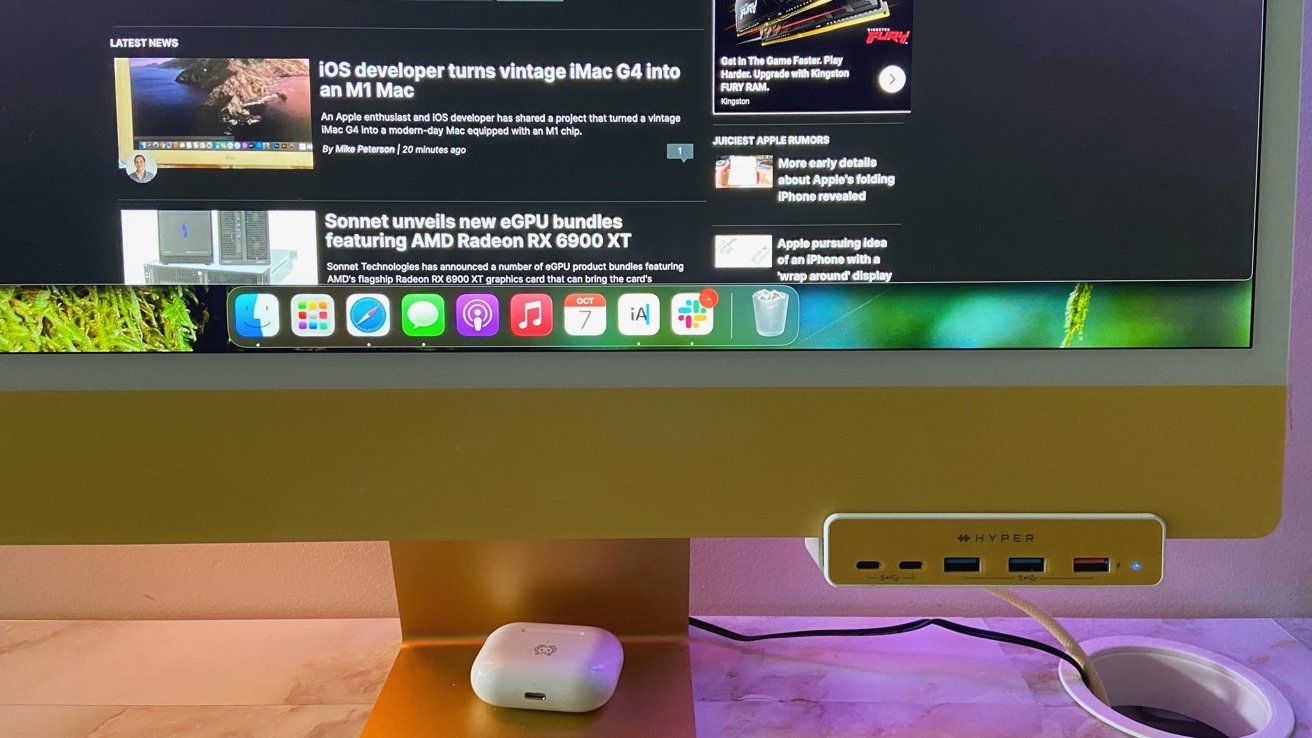 We love the new 24-inch iMac. The only drawback is the port situation.
The iMac only has rear-facing ports, which can make plugging in your devices difficult. Additionally, it features either two Thunderbolt ports, or two Thunderbolt ports, and two USB 3.2 type C ports. This means that legacy and specialty devices aren't compatible without a hub or a ton of adapters.
If you're going to get a hub for your iMac, you may as well get one designed to work with it, and work with it well. That's where Hyper's HyperDrive USB-C Hubs come in -- they clip directly to the front of your iMac, giving you quick access to all those ports you've missed.
Two options
There are two iMac hubs to choose from, the 5-in-1 USB-C Hub and the 6-in-1 USB-C Hub.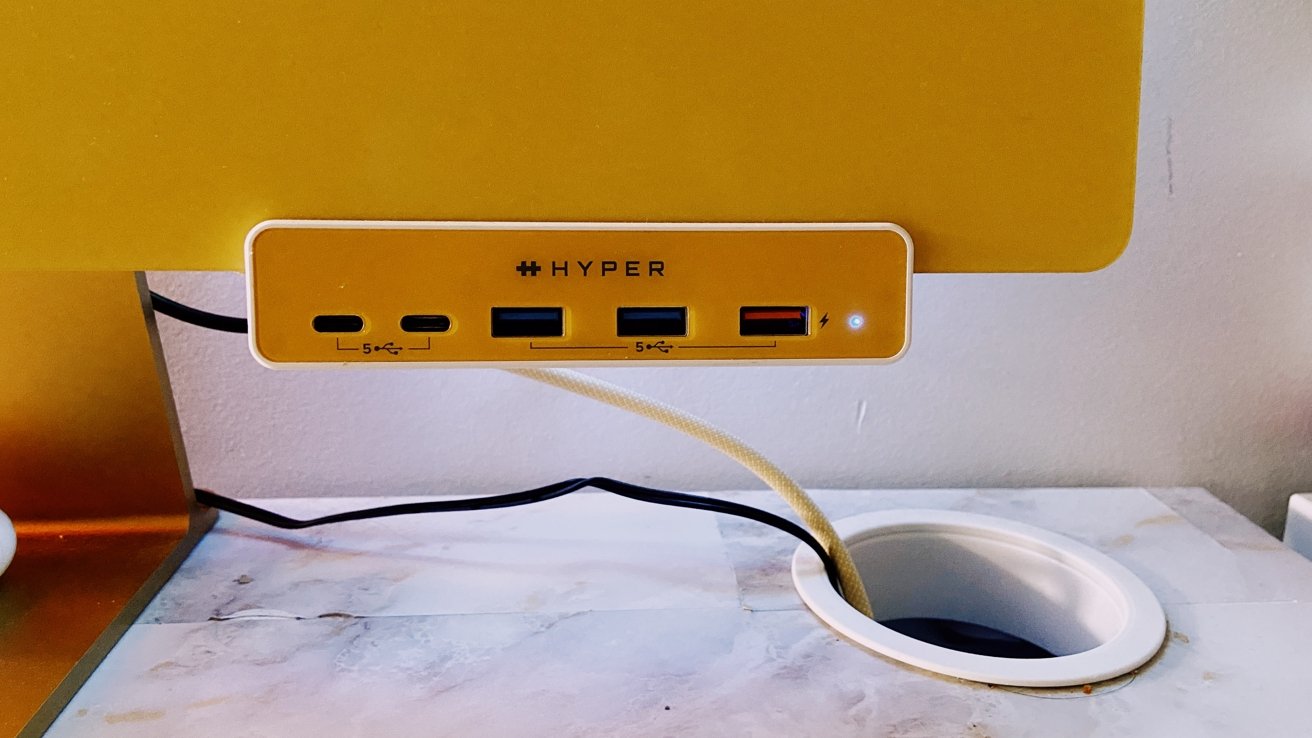 The 5-in-1 USB-C Hub is designed to give you quick access to some USB-C ports while also adding in USB-A capabilities. It includes the following ports:
2x USB-C 5Gbps


2x USB-A 5Gbps


1x USB-A 5Gbps 7.5W
/ul>

The 6-in-1 USB-C Hub features a wider variety of ports, perfect for those who don't want to fuss with special adapters for card readers or HDMI-ports. The ports on this model include:




1x HDMI 4K 60Hz


1x USB-C 10Gbps


2x USB-A 10Gbps


1x SD card reader


1x MicroSD card reader

The single downside to the HyperDrive iMac Hubs is that neither model features an Ethernet port, which may be a dealbreaker for some users, namely those with an entry-level iMac.

Looks matter

Hyper provides multiple color-matched faceplates for the HyperDrive USB-C Hub for iMac, making sure that it blends in with the overall aesthetic of your iMac.




While this is a small touch, it's one we appreciate nonetheless. Being able to color match your HyperDrive USB-C Hub for iMac to your iMac helps to maintain that sleek Apple aesthetic.

Additionally, it helps free up more desk space compared to a traditional hub. This is especially useful for those of us who have smaller desks.

Setup and performance

Setting up the HyperDrive USB-C Hub for iMac is easy. First, remove it from its package, install the faceplate in the color of your choice, and then clip it to the front of your iMac.




To clip it to the front of your iMac, you'll need to unscrew the thumbscrew until it is wide enough to fit around the edge. Then, tighten the thumbscrew until it pinches the edge of your iMac. It features a soft rubber insert to ensure you're not scratching up the surface of your computer, so don't be afraid to make sure it's secure.

Lastly, you'll just need to plug the USB-C cable into one of your available USB-C ports.

As far as performance goes, it works exactly as intended, with USB-A hard drives operating at rated speed. We found ourselves appreciating how quickly we could plug and unplug flash drives and USB-C cables without needing to physically move our iMac to access the USB-C ports.

Of course, the hubs are USB 3.2 type C and not Thunderbolt, so you can in theory run into a bandwidth-starved environment. However, we're certain that the market that might hammer this dock is fully aware of the limitations of USB 3.2 type C hubs with a maximum bandwidth of 10 gigabits per second, versus Thunderbolt 4 at 40 gigabits, and will shy away from a bottleneck.

Gets the job done, with style and efficiency

We are pleased with both of Hyper's iMac hubs, as they help expand the abilities of what is already a very capable machine. The addition of front-facing ports means you won't need to fuss with trying to find the rear-facing ports when it comes time to charge your keyboard and mouse, or plug in that flash drive.

Rating: 5 out of 5 stars

Pros

Saves desk space by clipping to the front of the iMac


Two options to choose from


Attaches to iMac damage-free


Color matching plates are a nice touch

Cons

No dedicated Ethernet port

The 6-in-1 USB-C Hub for iMac is available for $79.99, while the 5-in-1 USB-C Hub for iMac can be purchased for $49.99.
Read on AppleInsider