Monolith TrueWireless Earphones Review: price isn't everything
The Monolith TrueWireless Earphones compete with features and a lower price point, but Apple fans should stick to
AirPods
.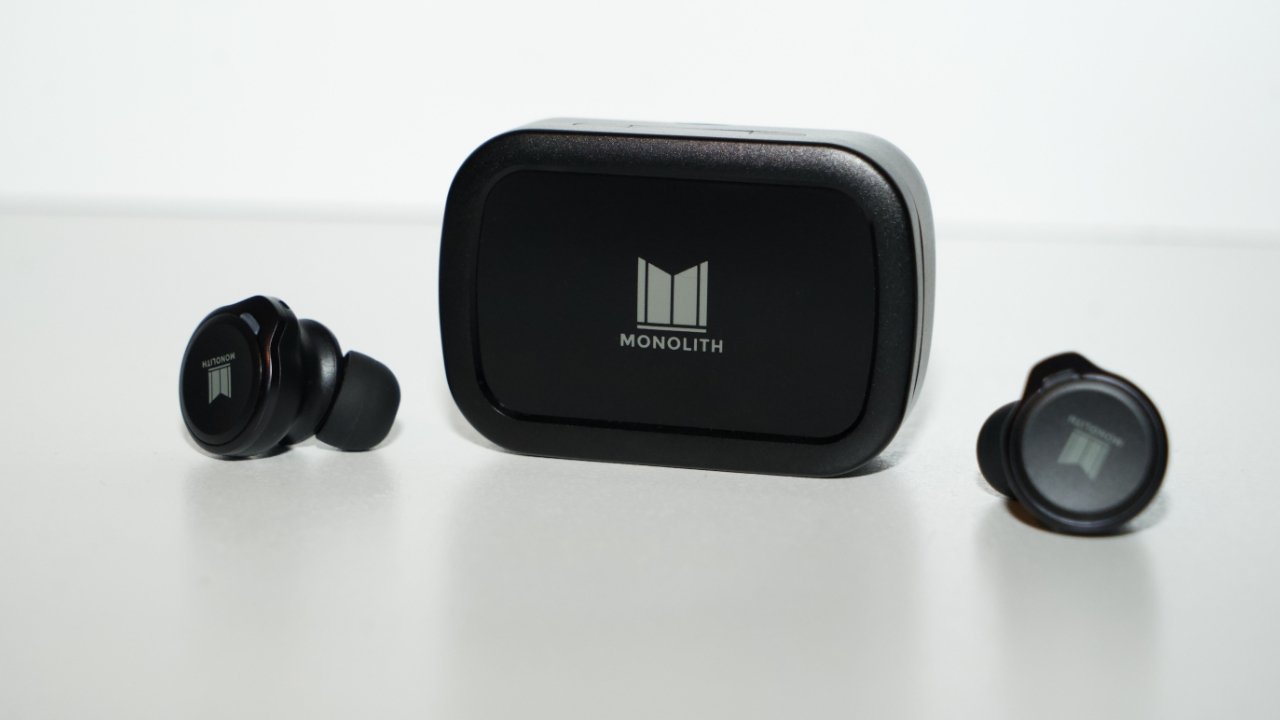 Monolith TrueWireless Earphones
Ever since Apple debuted the first set of AirPods, third-party manufacturers have attempted to recreate their magic. Even though the Monolith TrueWireless Earphones have good sound and decent technology, they are too close to AirPods in price to justify a purchase if you live within Apple's ecosystem.
Ignoring Apple's proprietary earbuds, the Monolith TrueWireless Earphones are a great overall value. We liked the audio quality, but the lower price means fit and finish suffer.
Design
The Monolith TrueWireless Earphones, or M-TWE, are large plastic earbuds with a bulbous speaker housing. Rather than copy Apple's AirPods design with a long stem, these take on a round shape that sits entirely within your ear canal.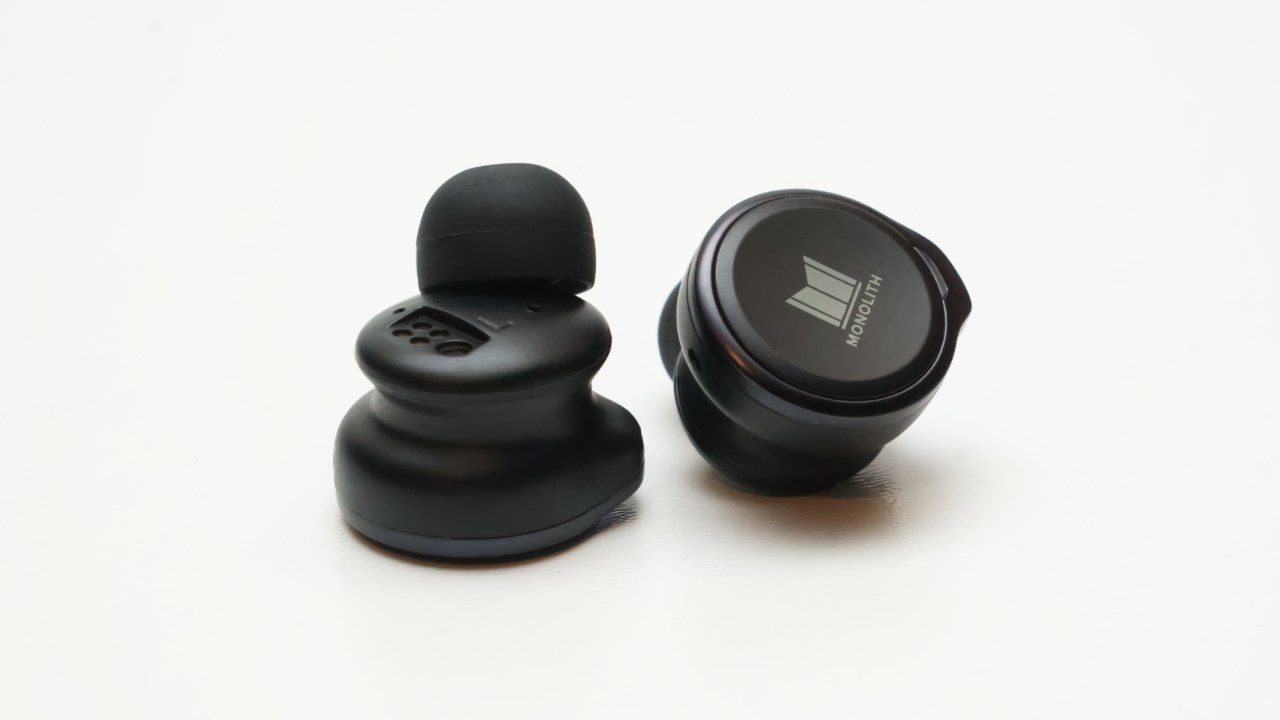 The bulky construction of the M-TWE make for heavy earbuds
Earbuds are tiny devices, so differences in weight and size are difficult to notice at first glance. However, after some extended use, we noted the pressure and weight on our ears that don't exist with other earbuds.
AirPods weigh 0.14 ounces, AirPods Pro weigh 0.19 ounces, and the M-TWE weigh 0.23 ounces. These small weight increases seem insignificant, but the weight distribution and design make all the difference.
Many AirPods users have reported the low weight, shape, and fit make it feel like there's barely anything in your ears at all. That has also been our experience with AirPods, but not with M-TWE. When side by side, the Monoprice earbuds are notably bigger and place all of their weight on one point in the ear.
Other, more premium earbuds use this in-ear design and pull it off comfortably. However, the choice in materials and specific case design ease some of the pressure off of the ear, and the Monolith TrueWireless Earphones aren't premium enough to get that treatment.
There is one benefit to the large earbud size -- battery life. These earbuds can last up to 10 hours on a single charge, and the charging case can fully recharge them twice more.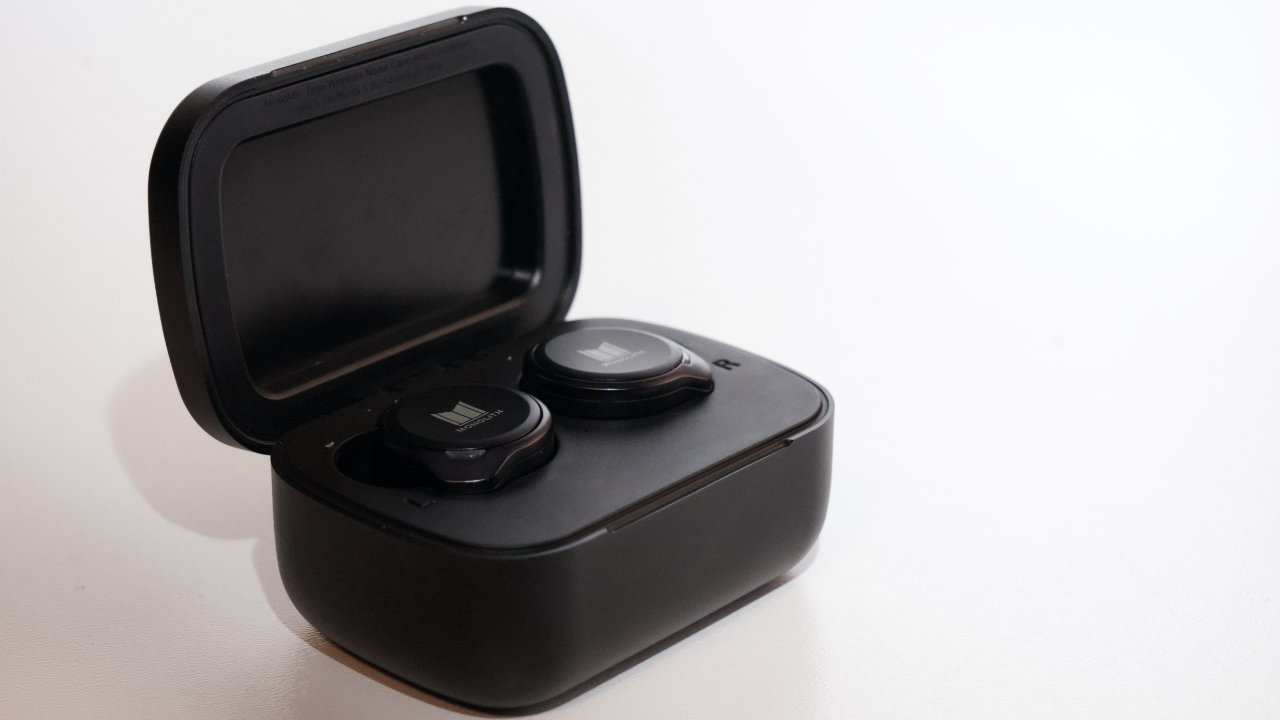 The charging case isn't compact enough to fit comfortably in a pocket
The charging case is bulky, though, and doesn't sit comfortably in a jeans pocket. Its size will make any but the loosest clothing bulge out with a stark outline of the case. Even the bigger AirPods Pro case appears svelte by comparison.
Using the M-TWE
Pairing the M-TWE is like pairing any other non-Apple Bluetooth device. Navigate to Settings, open the Bluetooth menu, and find your earbuds to connect. Of course, there are no additional settings or controls available since these don't have Apple's proprietary chipset.
Choose your ear tip size from one of five sizes. A larger ear tip means a better seal and may reduce some of the weight felt due to more surface area.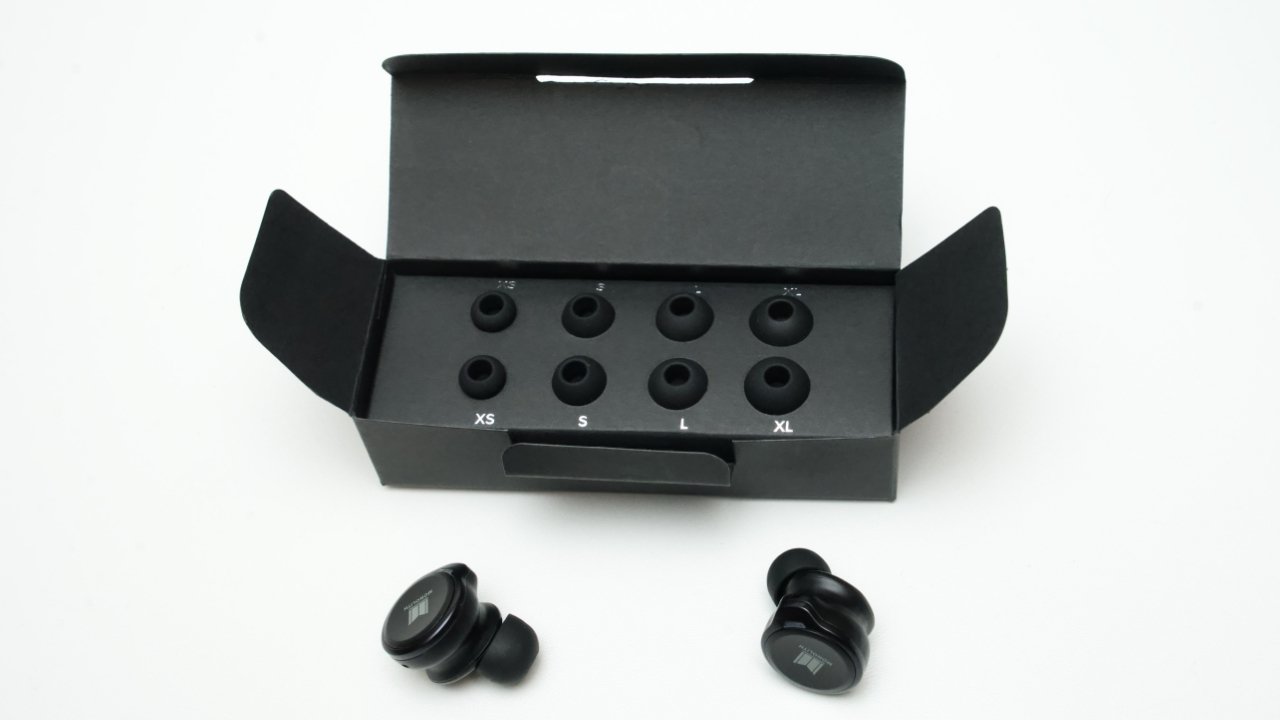 There are five sizes of ear tips included
The multitude of sound options and playback intelligence make these earbuds more premium than Monoprice's cheaper options. ANC modes seem to have become standard no matter the price, but they do vary in ability.
You'll see a list of specs under the brand name that mean very little to the average consumer -- Qualcomm aptX Audio and Qualcomm cVc Echo Cancelling and Noise Suppression. Suffice it to say, the processor running the earbuds has high-quality audio drivers and programmed noise cancellation modes.
The M-TWE offer on-device controls using tap and swipe actions. For example, a single-tap will change sound modes, and a double-tap will play/pause. Users can also swipe up or down to adjust the volume.
We found the controls to be spotty but useful. One big annoyance was the single-tap action. It was too easy to change audio modes just by brushing the earpiece accidentally.
Another pain point was in the overall interface. Every action is accompanied by a voice telling you what you've done. "Power on" when you remove the earbud from the case, "Ambient on" when you've changed modes. There is no toggle to turn this off.
The M-TWE paired quickly and were ready to use as soon as they were in our ear. However, we ran into frequent dropouts from the left earbud during regular use. It didn't occur often enough to call it a defect, but even two or three times in a single listening session is too much. The audio dropout could last minutes unless the user removes the earbud, places it in the case, then places it back in the ear to re-pair.
We weren't blown away by the audio quality, but it is certainly good enough given the price and form factor. Out of the box, the earbuds lean heavily into the mids and highs with moderate bass at higher volumes. Though, the earbuds are advertised alongside an app called SoundID for customizing the EQ.
The airy tones of Rex Orange County's "
Best Friend
" came through with a crisp and clear sound, but the lows felt like they disappeared entirely. The chorus's duet with the deep baritone may as well not existed at all.
"
American Idiot
" by Green Day sounded fine on the M-TWE. The high-pitched sound of the symbols did dominate everything else, however.
SoundID app
Monoprice promotes its compatibility with SoundID, an app meant to give users adaptive EQ controls over certain brands of headphones. Users create an account and can port their data to other devices, even to a Mac or Windows computer.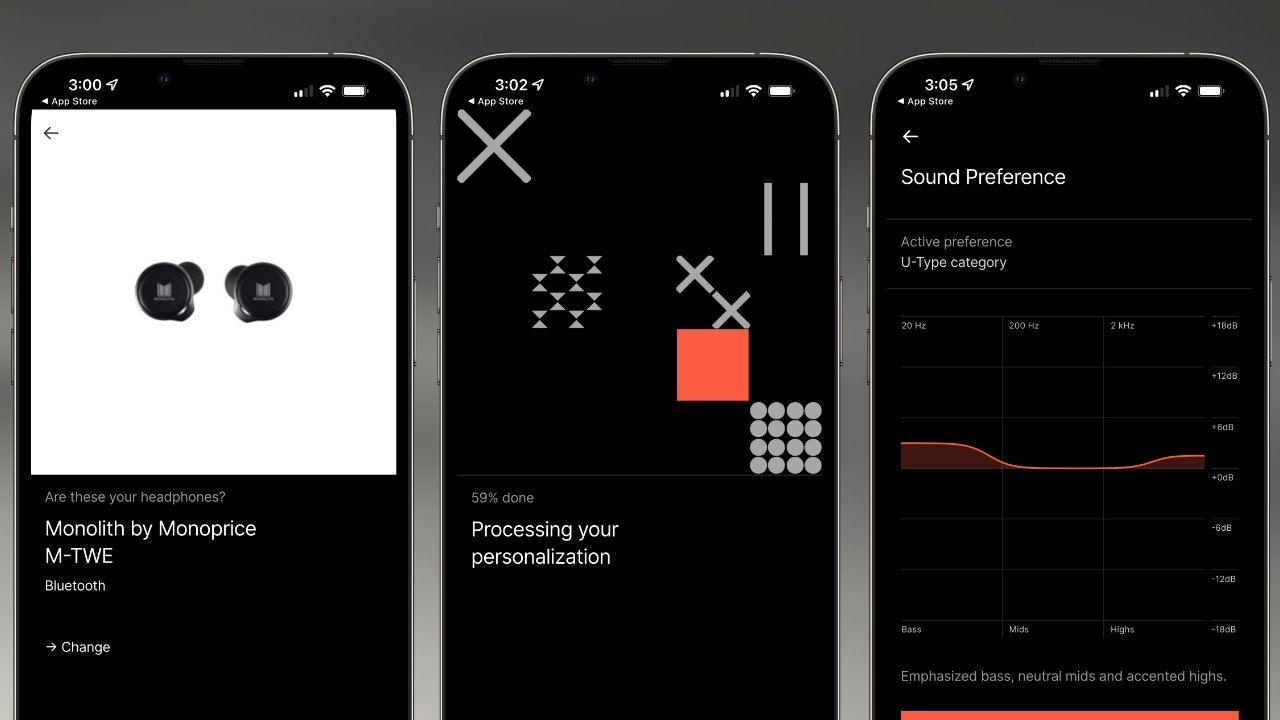 SoundID lets you customize your EQ settings
We tested the M-TWE with the SoundID app and ended up with mixed results. The app was easy enough to use but time-consuming. The end result is beneficial, but the minutes spent within the app tick by slowly and is not for the impatient.
The app first attempts to determine what your preferred sound map is. It plays an example audio file and lets you choose between two options to decide which you like more.
My audio profile landed on emphasized bass, neutral mids, and accented highs. This seemed correct, but I listened to the end result and decided to turn off SoundID. The new EQ didn't seem natural to my ear, so I went back to the default sound profile.
There was also an option to do a full ear test and implement its results in the sound profile. Anyone who has had their hearing test will immediately recognize the quiet tones, feedback system, and tediousness of the test. In the end, again, I chose not to use the resulting data.
It is also worth noting that the headphone's connection to the app was tenuous at best. In order to get them connected they had to be deleted from the Bluetooth menu and re-paired.
ANC and Ambient Mode
While these are advertised as primary features of the M-TWE, they barely register as beneficial during use. We struggled to tell the difference between each active mode and ended up ignoring the feature altogether.
The noise cancellation mode is meant to reduce ambient noise by a certain volume to isolate the user further. When it is on, a noticeable tone change to ambient noise occurs, but sound still comes through clearly. These may drown out the dull hum of a refrigerator but won't do much near a noisy air conditioning unit.
The ambient mode also has an overall tone change but seems to turn up the white noise rather than do anything particularly useful. It appears to pipe in external audio more, so it works, but it is nearly indistinguishable from the "off" mode beyond the increased white noise in the background.
We're willing to admit we may be spoiled by Apple's sound modes on the AirPods Pro, a $250 set of earbuds. However, the cheaper M-TWE touting the feature that barely works seems more detrimental overall. We'd prefer if the features weren't here at all to such a low-quality experience.
M-TWE versus AirPods
The AirPods have been mentioned ad nauseam throughout this review if only because they act as a fair reference point for a competing set of wireless earbuds. At $130, the M-TWE firmly places themselves within shouting distance of Apple's popular devices.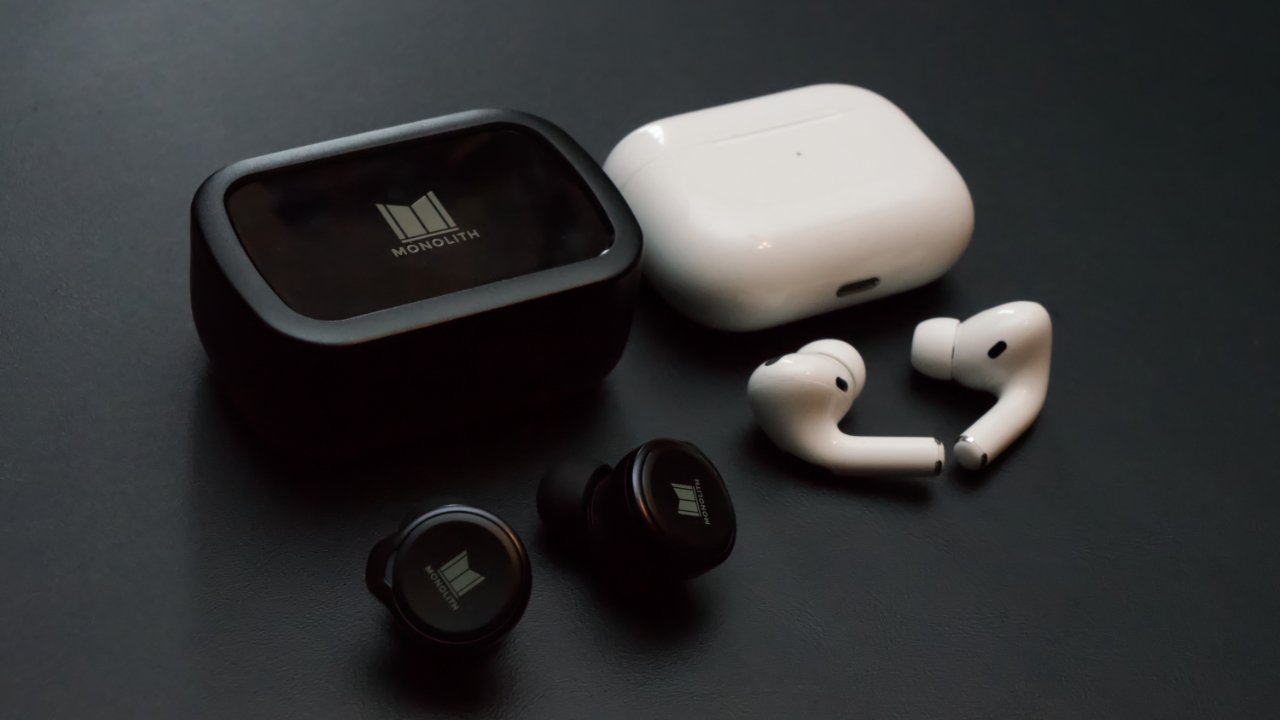 The AirPods Pro case is much smaller than the M-TWE
The price is so close we'd be hard-pressed to recommend the M-TWE earbuds to anyone that owns Apple devices. Even the standard AirPods have a better overall user experience than the M-TWE in nearly every category.
The AirPods are smaller, lighter, and sit more comfortably in the ear. In addition, the setup and on-device controls are outstanding because of Apple's proprietary chipset -- an unfair advantage to the competing earbuds, but an advantage nevertheless.
Monoprice offers a slew of earbuds and headphones at multiple price points well below AirPods. We reviewed a set at $50 we'd recommend over the $130 pair, if only because of the price difference and build.
It isn't just price, as we've explained before, it's the feature set too. The M-TWE try to be premium earbuds that compete with Apple's
AirPods Pro
on paper but fall short in nearly every metric.
Should you buy the M-TWE?
These are a good enough choice for anyone who plans to use the M-TWE with a Windows computer, Android device, or game console. At this price point, however, there may be better options still.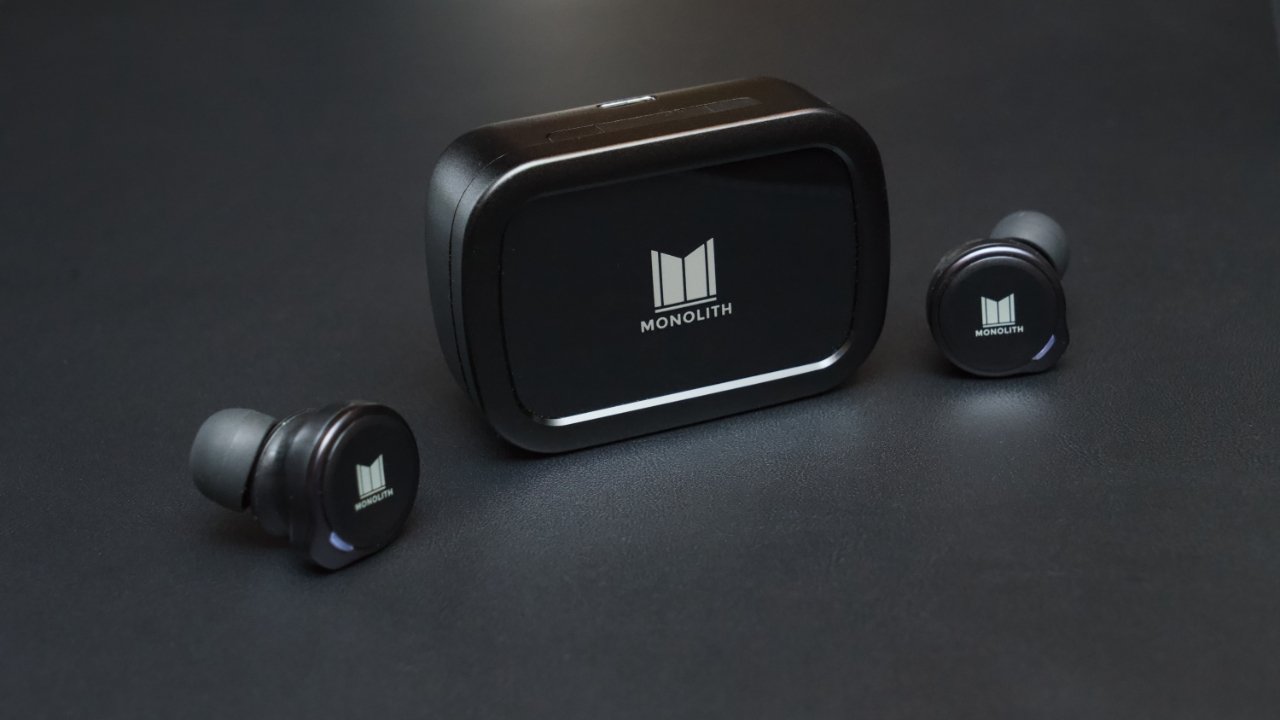 The M-TWE are not competitive enough at their price
Also, for only $30 more, you can purchase Apple's AirPods and get similar audio quality in a better form factor with more integrated features in Apple's ecosystem. So, if you're all-in on Apple products, the AirPods are the better choice.
If wireless headphones on a budget is ultimate goal, then look to the cheaper
Monoprice TWE-ANC
model. They have the AirPods design with changeable ear tips and ANC mode
for only $50
.
We believe the $129 price point is a little too close to Apple's $159 to justify it as a budget-friendly alternative. As we detailed earlier, the promised features sound impressive on paper but don't add up to much during regular use.
In a world without AirPods, the Monolith TrueWireless Earphones would thrive as a mid-tier option for customers.
Pros
Good audio quality
Optional app for EQ control
Long battery life
Cons
Uncomfortable and heavy due to design
ANC modes made little difference
Big charging case
Features over promise, under deliver
Score 3 out of 5
Where to buy
The Monolith TrueWireless Earphones are available to purchase from
Amazon for $129
.
Read on AppleInsider