iPhone 13 buyers are opting for Pro models despite long lead times
Buyers of Apple's new
iPhone 13
lineup appear to be sticking with the higher-end pro models despite long delivery estimates likely caused by supply chain issues.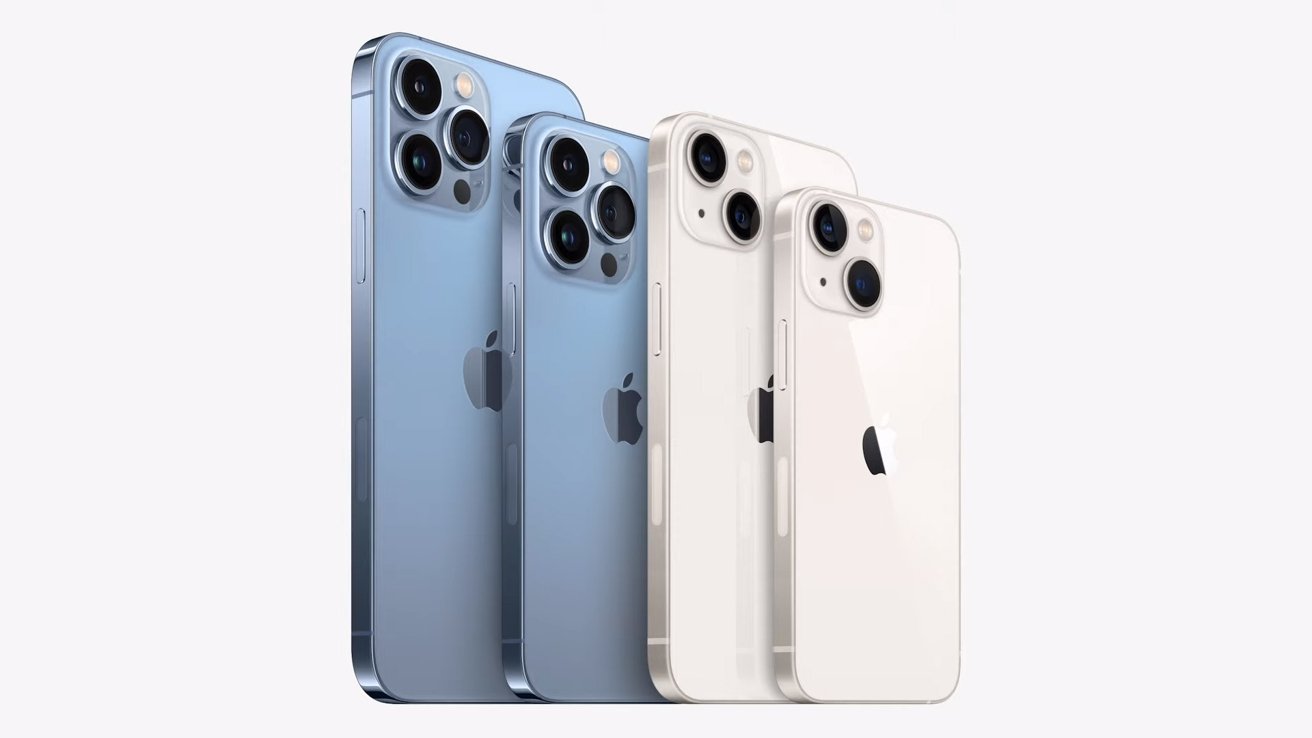 Credit: Apple
In a note to investors seen by
AppleInsider
, JP Morgan analyst Samik Chatterjee analyzed lead time data for the fifth week of iPhone 13 and
iPhone 13 Pro
availability. Lead times, or the time it takes for a customer to receive their order, remain extended across the entire 2021
iPhone
lineup.
On average across the U.S., China, U.K., and Germany, delivery times for the iPhone 13 Pro and iPhone 13 Pro Max extended slightly to 36 days in week five, up from 35 days in the fourth week.
A closer look at the data suggests that lead times for the midrange iPhone 13 mini and iPhone 13 models actually shrank slightly compared to the prior week. Both models tracked at 13 days, down from 14 days for the iPhone 13 mini and 20 days for the iPhone 13.
In the U.S., which accounts for about 35% of all iPhone shipments, lead times for the iPhone 13 mini, iPhone 13, iPhone 13 Pro, and iPhone 13 Pro Max moderated slightly to 11, 12, 33, and 33 days respectively.
Chinese consumers, on the other hand, are seeing longer lead times. Estimated deliveries for the iPhone 13 mini, iPhone 13 Pro, and iPhone 13 Pro Max expanded to 19 days, 44 days, and 44 days, respectively. Lead times for the base iPhone 13 remained at 19 days.
In the U.K. and Germany, lead times moderated for the iPhone 13 mini and iPhone 13. Lead times expanded in Germany for the Pro models, while estimated deliveries for the higher-end handsets contracted slightly in the U.K.
Chatterjee says that lead times overall remain elevated compared to Apple's
iPhone 12
launch in 2020. However, although high demand might be playing a part, it's likely that global supply constraints are contributing significantly to the extended delivery estimates.
This continues to be consistent with the last two years of iPhone orders immediately after launch. The balance historically shifts in December or January to the non-Pro family, ultimately ending up with the lower end of the year's models holding the lead at the end of the first year of the family's life.
When asked about whether the high lead times could drive potential iPhone buyers to opt for a lower-end model, the analyst says it was "unlikely based on
very specific preference
shown for the 13 Pro and 13 Pro Max."
"Additionally, we see the further extension of lead times on higher-end models as further proof of the stickiness of consumer preference for higher-end models, despite already on average a difference of 23 days relative to lower-end models," Chatterjee writes.
Chatterjee maintains his Apple price target of $180, based on a price-to-earnings multiple of 28x on JP Morgan's 2023 earnings estimate of $6.55.
Read on AppleInsider