Compared: 16-inch MacBook Pro vs Lenovo Legion 5
Apple's new
MacBook Pro
range is powerful, but how does it compare against a gaming notebook? Here's how the 16-inch MacBook Pro fares against the Lenovo Legion 5 Apple used in its M1 Max benchmark tests.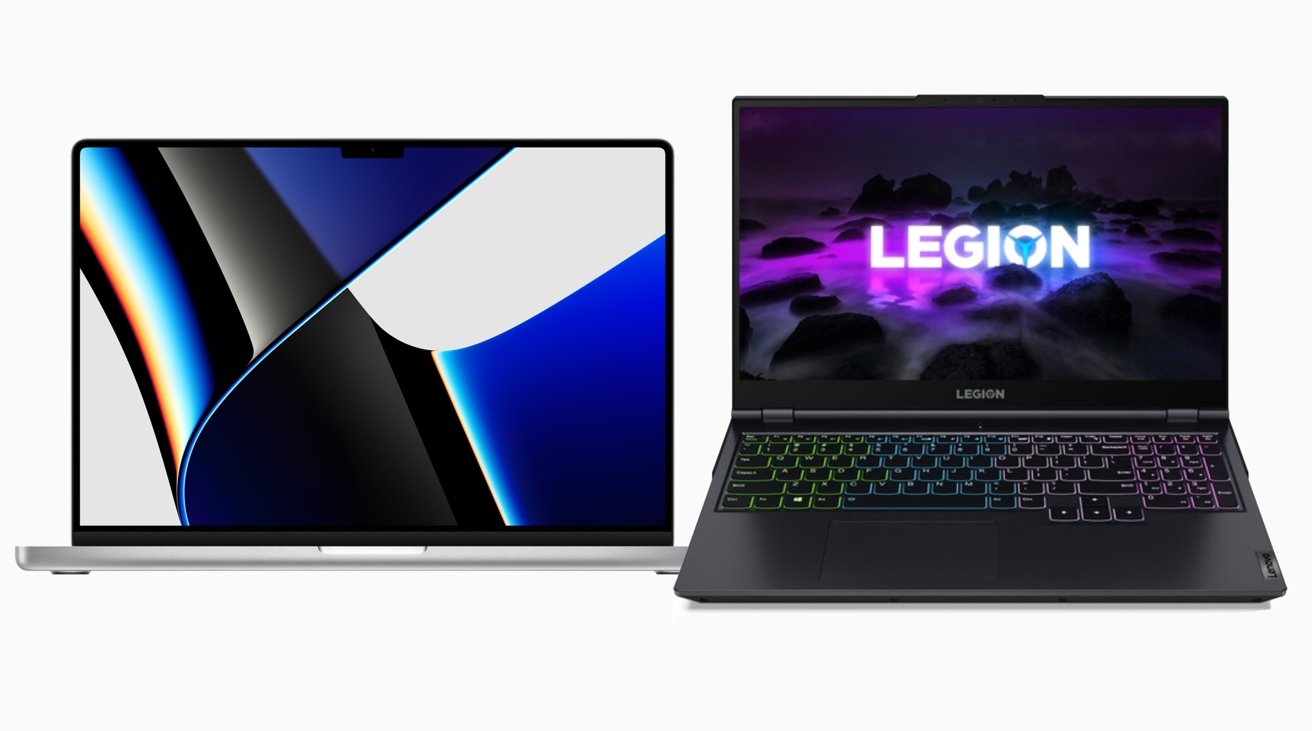 Aside from the controversy surrounding the notch in the display, the main draw for the updated
16-inch MacBook Pro
is its processing capability, with the
M1 Pro and M1 Max
boasting
high performance levels
. Apple also took time in its launch to point out the graphical improvements its new system-on-chip options had, claiming it performed similarly to the "highest-end GPU in the largest PC laptops" while using less power.
For its own benchmarks, Apple revealed in its press release that discrete graphics performance data was from testing the Lenovo Legion 5, model 82JW0012US, among others.
While the graphical testing was Apple's primary target, there are other elements of the notebook to consider when putting the two models directly against each other, more than just the GPU.
Here's how the spec-sheets of each compare.
Specifications
16-inch MacBook Pro (2021)
Lenovo Legion 5
Display Size (inches)
16.2
15.6-inch
Max Resolution
3,456 x 2,234
1,920 x 1,080
Pixel Density
254
141
Brightness
1,000 nits sustained,
1,600 nits peak
300 nits
Display Backlighting
Mini LED
LED
Display Technology
Wide Color (P3),
True Tone
ProMotion
100% sRGB,
165Hz
Processors
10-core M1 Pro,
10-core M1 Max
11th-gen 8-core Intel Core i7-11800H
Memory
16GB Unified Memory, up to 64GB
16GB DDR4 3200Hz, up to 32GB
Graphics
M1 Pro 16-core,
M1 Max 24-core
M1 Max 32-core
Nvidia GeForce RTX 3070 6GB
External Video
2 6K displays at 60Hz (M1 Pro),
3 6K and 1 4K at 60Hz (M1 Max)
2 4K
Storage
512GB, 1TB, 2TB, 4TB, 8TB
1TB M.2 PCIe NVMe
Biometrics
Touch ID
None
Trackpad
Force Touch
Yes
Keyboard
Backlit with ambient light sensor
Backlit
Dimensions (inches)
14.01x 9.77 x 0.66
14.27 x 10.26 x 1.01
Weight (pounds)
4.7 (M1 Pro),
4.8 (M1 Max)
5.3
Battery Life
21 Hours
5.9 hours
Ports
3 Thunderbolt 4 ports,
HDMI,
SDXC card slot,
MagSafe 3,
Headphone jack
2 Thunderbolt 4 ports (one with PD)
4 USB 2.1 Gen 1 Type-A
Gigabit Ethernet
HDMI 2.1
Headphone jack
Webcam
1080p FaceTime HD
720p
Speakers
Six speakers with force-cancelling woofers, Dolby Atmos
2 x 2-Watt
Microphones
3 with directional beamforming
Two
Wi-Fi
Wi-Fi 6
Wi-Fi 6
Bluetooth
5.0
Bluetooth 5.1
Power Supply
140W
300W
Color Options
Silver, Space Gray
Phantom Blue
Price
from $2,499
$1,669.99
16-inch MacBook Pro vs Lenovo Legion 5 - Physical Dimensions
The Lenovo Legion 5 being tested is, undoubtedly, a gaming notebook, and that means you also have all of the bells, whistles, and styling choices that accompany that sort of thing.
That means you're getting a dark-colored notebook for that gamer aesthetic, with an ABS enclosure. The lid has a large "Legion" brand on one corner, while the case includes vents on the sides and rear to assist with cooling.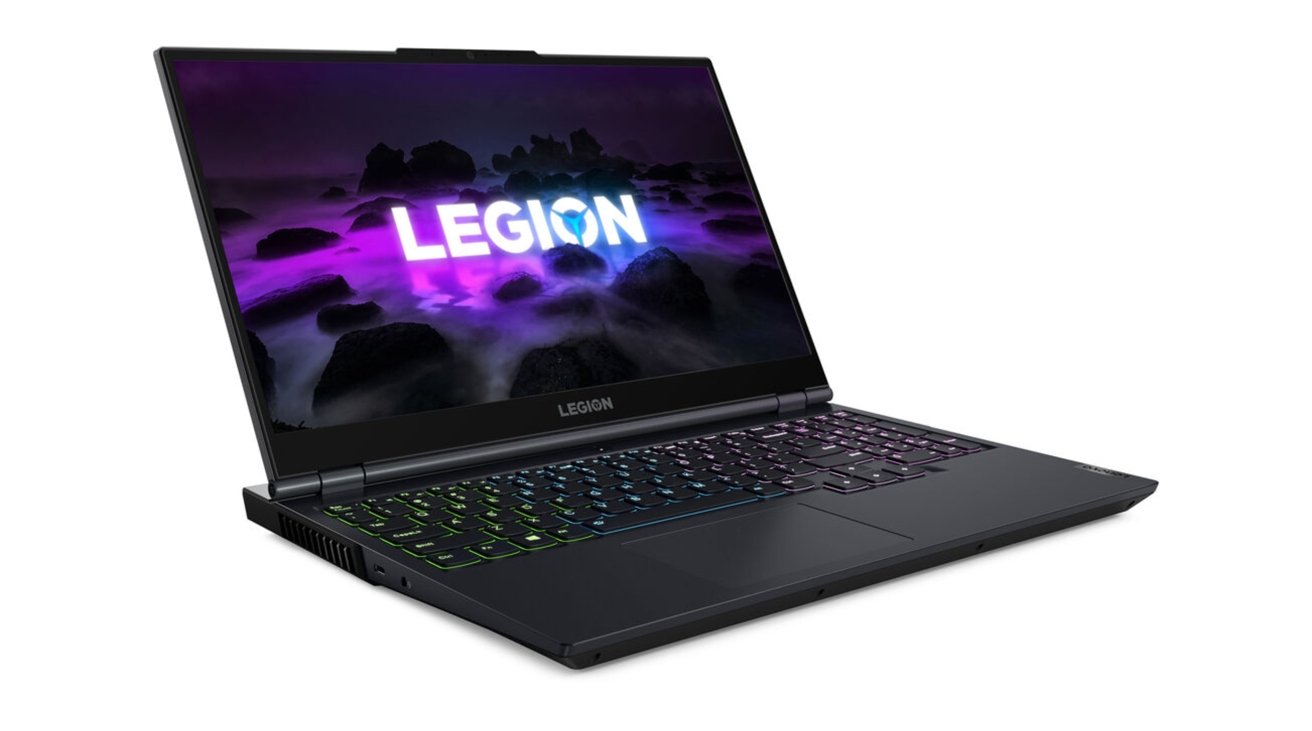 The Legion 5 is certainly a gamer-designed notebook.
Meanwhile, Apple's MacBook Pro continues to use an aluminum enclosure with relatively minimalist appearances, and it's a look that Apple has kept with for quite some time.
In terms of physical size, the Lenovo is larger, with a footprint of 14.27 by 10.26 inches versus the MacBook Pro's 14.01 by 9.77 inches. Apple's device is also quite a bit thinner at 0.66 inches against the Legion 5's 1.01 inch of girth.
By using ABS, you'd expect the Lenovo to be lighter than its aluminum competitor, but it's still heavier at 5.3 pounds to 4.7 pounds for the M1 Pro model, 4.8 pounds for the M1 Max.
16-inch MacBook Pro vs Lenovo Legion 5 - Display
That larger footprint would usually indicate there's a bigger display at work, but here, it doesn't. Lenovo packed a 15.6-inch LED-backlit screen into the Legion 5, while Apple puts in a 16.2-inch Liquid Retina XDR display with mini LED.
There's undoubtedly a mismatch when it comes to resolution, as the Legion 5 uses a fairly standard 1,920 by 1,080 resolution. Meanwhile, Apple's hardware goes up to 3,456 by 2,234 pixels.
Taking the measurements into account, this gives the Legion 5 a pixel density of 141 pixels per inch, nowhere near Apple's 254ppi.
That mini LED backlighting benefits Apple in various ways, including outputting 1,000 nits of full-screen sustained brightness and 1,600 nits at its peak. The Legion 5 manages just 300 nits.
Apple also includes Wide Color (P3) coverage, while Lenovo manages 100% sRGB coverage for its IPS panel.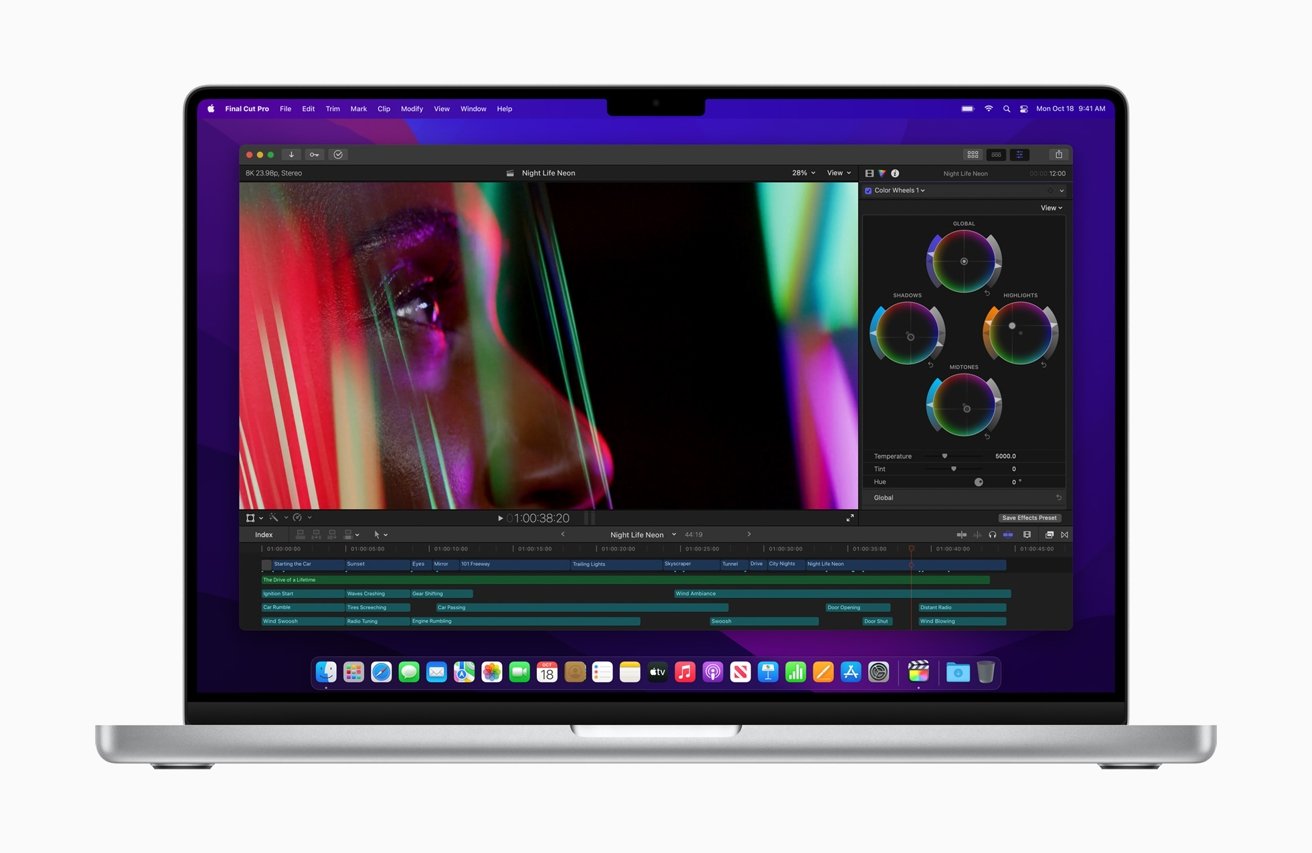 The new MacBook Pro line includes mini LED and a notch at the top of the display.
Apple's ProMotion display does enable the MacBook Pro to reach a refresh rate of 120Hz, but it's not quite as high as the 165Hz the Legion 5 manages. There's support for Nvidia's G-Sync in the Legion, giving it a variable refresh rate, but it's unlikely to provide the same sort of benefits outside of gaming as Apple's ProMotion system.
The MacBook Pro does differ greatly in that it uses a notch to house its camera amid ultra-thin bezels, whereas the Legion doesn't. This style choice will certainly have its critics, but given it only really impacts the menu bar in macOS and doesn't grossly affect full-screen apps, it's one that MacBook Pro users will have to learn to live with.
16-inch MacBook Pro vs Lenovo Legion 5 - CPU Performance
The chip used in Apple's choice of Lenovo Legion 5 is the 11th-generation Intel Core i7-11800H processor, a chip introduced in Q2 2021 that has 8 cores, 16 threads, a base clock of 2.3Ghz, and a max clock speed of 4.6GHz under Turbo Boost.
While the chip can have a lower configured base clock speed of 1.9Ghz, Lenovo erred towards offering maximum performance and betting its cooling system was enough for the task.
The M1 Pro and M1 Pro Max have the same core CPU specs, including that they are both 10-core offerings combining eight performance cores with two efficiency cores. They are paired with a 16-core Neural Engine, a media Engine for hardware-accelerated video encoding and decoding, and a GPU.
In terms of differences, the M1 Pro has 200GB/s of memory bandwidth while the M1 Max has 400GB/s. You're also starting with a 16-core GPU on the M1 Pro, whereas the Max has 24-core and 32-core variants. Lastly, the Media Engine of the M1 Max has two video encode engines and two ProRes encode and decode engines to the M1 Pro's one of each.
As to what this means in daily usage, we turn to Geekbench for analysis.
The Intel Core i7-11800H scores a decent 1,481 points in single-core tests and 8,009 for multi-core.
Early benchmarks for the ten-core M1 Pro and M1 Max put single-core results at around 1,760, a hefty jump compared to the Core i7.
The story continues for the multi-core tests, as Apple manages to hit 12,380 in Geekbench.
Whether you end up with the M1 Pro or M1 Max in the 16-inch MacBook Pro, either direction will set you up with a powerful CPU.
16-inch MacBook Pro vs Lenovo Legion 5 - Graphics Performance
The GPU is where Apple's interest in the Legion 5 lay, with it mentioned in the small print of the M1 Pro and Max announcements as used for "discrete PC laptop graphics performance data." This is seemingly the middle of the road of what Apple tested, as it also used an MSI notebook for "high-end discrete PC laptop graphics performance data" and a Razer Blade 15 Advanced for "PC compact pro laptop performance data."
From the text, it appears that Apple uses the Legion 5 in its claim "Compared to a powerful discrete GPU for PC notebooks, M1 Pro delivers more performance while using up to 70 percent less power."

The small print of Apple's press release for the M1 Pro and M1 Max
While there aren't any directly comparable benchmarks in the wild as of yet to bolster this claim, what has been presented by Apple certainly offers a compelling case.
Initial benchmarks of the M1 Max under Affinity Photo had its lead developer say on October 26 that it had the
fastest GPU
he had ever evaluated. According to Andy Somerfield, it outperformed the AMD Radeon Pro W6900X, a GPU used in a 12-core Mac Pro.
It is unclear whether the 24-core or 32-core GPU version of the M1 was used in that benchmark, but it does give a point of reference to compare against the Nvidia GeForce RTX 3070 6GB included in the Lenovo Legion 5.
According to Geekbench, a Mac Pro with the W6900X, an MPX module GPU that includes 32GB of GDDR6 memory with 512GB/s of memory bandwidth and costs $6,000, can achieve a score of around 120,000 in the tool's OpenCL test.
Listings for the notebook GPU version of the Nvidia GeForce GTX 3070 put it at between 114,000 and 117,000.
Assuming the Affinity-tested M1 Max was the 32-core version, it shows Apple's top integrated GPU provides a high level of performance, on a par or exceeding that of the Legion 5, in theory at least. While the lower-core versions of the M1 Pro and Max won't have the same level of performance, they will still seemingly offer a considerable amount to consumers anyway, if not at the bleeding edge.
On the subject of external displays, the 16-inch MacBook Pro can handle a pair of 6k-resolution screens under the M1 Pro. The M1 Max can drive up to three 6K displays, along with another 4K one on the HDMI.
The Legion can support two external monitors, using USB-C and HDMI.
16-inch MacBook Pro vs Lenovo Legion 5 - Camera and Connectivity
The aforementioned notch houses a 1080p FaceTime HD camera, which is plainly at a higher resolution than the 720p version in the Legion 5. Just on that metric alone, Apple does well, but taking into account the added image signal processor usage for computational improvements to the image, Apple's notebook excels in this area.
That being said, Apple has seemingly missed a trick with the notch, as it doesn't hold a TrueDepth camera array that could be used to enable Face ID and other depth mapping-based applications.
On to ports, and Apple has famously learned its "dongle life" lesson and given users more ways to connect their MacBook Pro to stuff. The 16-inch MacBook Pro now has three Thunderbolt 4 ports, along with HDMI, an SDXC memory card slot, a MagSafe 3 connection for charging, and a headphone jack.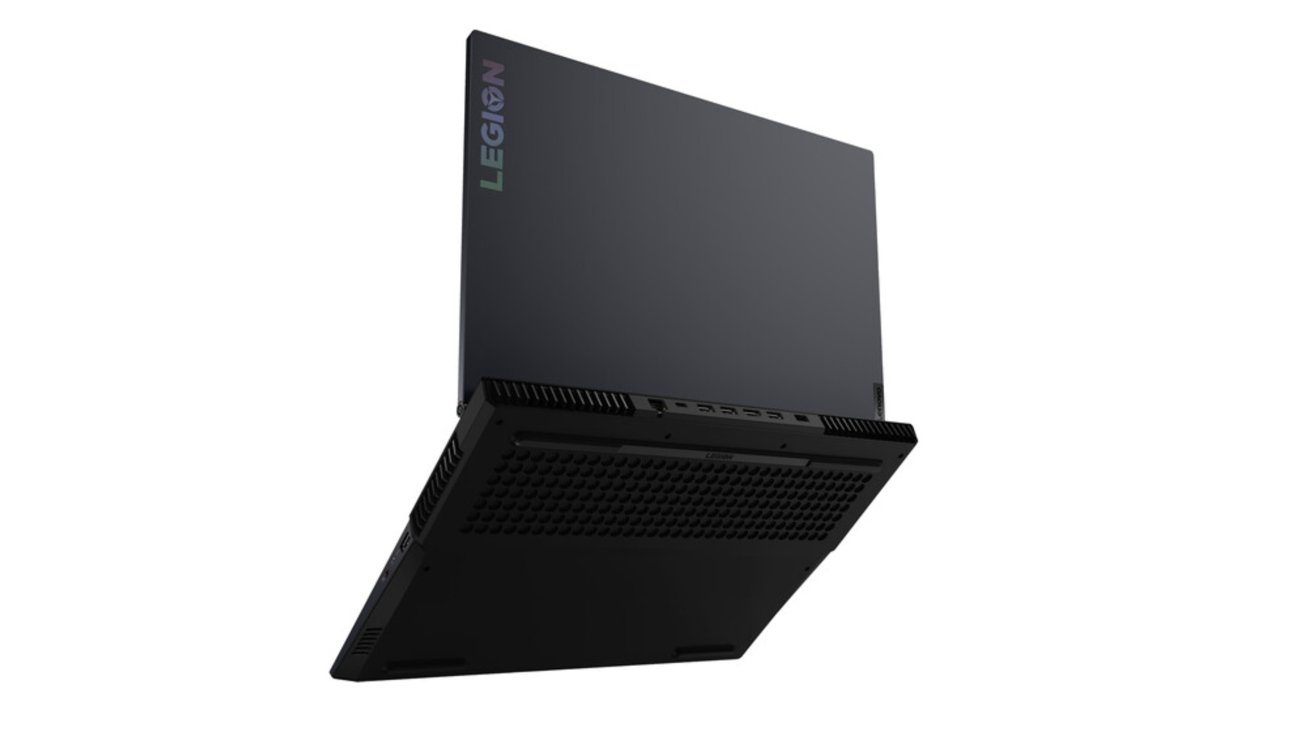 Lenovo put a lot of ports on the back and sides of the Legion 5
As a gaming notebook, Lenovo naturally added as many ports as possible to the Legion 5, including four USB 3.1 Gen 1 Type-A ports, Gigabit Ethernet, HDMI 2.1, a headphone jack. There's also a pair of Thunderbolt 4 ports, with one offering power delivery support.
Both the Legion 5 and 16-inch MacBook Pro support Wi-Fi 6, but while Apple uses Bluetooth 5.0, Lenovo uses Bluetooth 5.1.
16-inch MacBook Pro vs Lenovo Legion 5 - Storage and Power
Gaming notebooks have a notoriety of being power-hungry, with relatively low battery life meaning most owners will have to rely on a power outlet for long late-night play sessions.
Lenovo includes a 60Wh battery in this particular Legion 5, which it claims offers up to 5.9 hours of battery life using MobileMark 2018 as a benchmark. Other configurations in the lineup can have an 80Wh version, which extends usage time to 7.7 hours.
Apple includes a larger 100Wh battery in its 16-inch MacBook Pro, providing up to 14 hours of wireless web access and up to 21 hours of Apple TV movie playback.
It's not an ideal direct comparison, but the Legion 5 in question is still far from reaching double figures in hours of usage time, which isn't great.
Getting power into the notebook is another matter. Apple includes a 140W USB-C Power Adapter, which can be used with the dedicated MagSafe 3 connector or a Thunderbolt port.
Lenovo includes a 300-watt power supply, which plugs into its designated port at the back.
Both notebooks offer a fast-charging capability, recharging to half their capacities within 30 minutes.
16-inch MacBook Pro vs Lenovo Legion 5 - Memory, Storage, and Upgrades
The M1 Pro edition of the MacBook Pro starts with 16GB of memory, with an option for 32GB to be used. The M1 Max begins at 32GB, with an opportunity to bring it up to 64GB.
Lenovo includes 16GB of DDR4 3,200MHz memory in the configuration in question. The notebook supports up to 32GB.
On storage, Apple starts with 512GB, with optional upgrades to 1TB, 2TB, 4TB, or 8TB capacities. Lenovo includes a 1TB M.2 PCIe NVMe drive in the Legion 5.
The key difference here is that the Legion 5 is upgradeable by the user, as access is provided to the two memory card slots and the pair of M.2 connections. That means you can add a second drive to the Legion 5 and replace what's there with a larger capacity version if you want.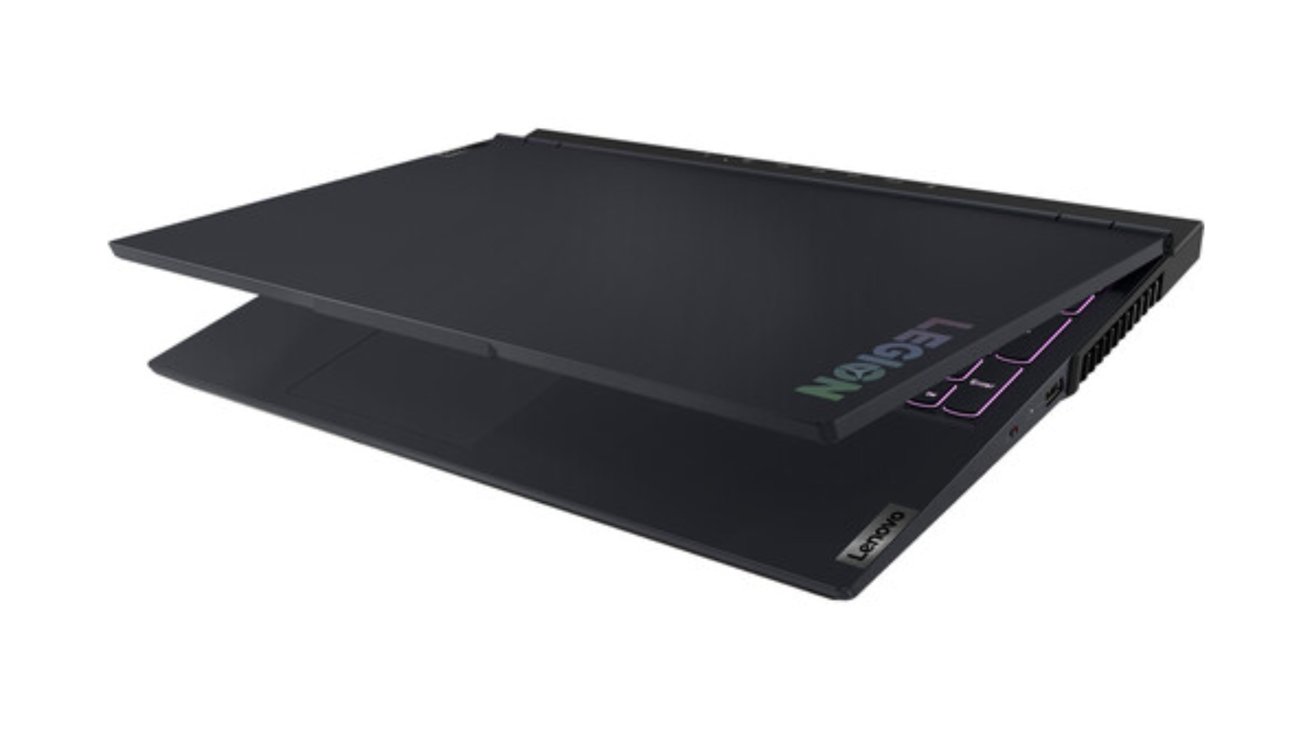 The Legion 5 isn't as thin as the 16-inch MacBook Pro.
This does require some effort with support documents and a screwdriver, but a confident and knowledgeable end-user should be able to handle the upgrades.
There is no upgrade option available for the 16-inch MacBook Pro after purchase. Short of relying on an external drive connected to Thunderbolt, there are no real ways to improve the notebook, short of buying a complete replacement.
16-inch MacBook Pro vs Lenovo Legion 5 - Configuration Pricing
The specific configuration of the Lenovo Legion 5 Apple used for its comparison, with the 11th-en Core i7, 16GB of memory, GeForce RTX 3070, and 1TB of storage, is priced
at $1,669.99
at B&H Photo.
The absolute
cheapest 16-inch MacBook Pro
is $2,499, which gets you the M1 Pro, 16GB of Unified Memory, and 512GB of SSD storage. Upgrading the memory to 32GB is an extra $400 on top.
The M1 Max with the 24-core GPU, 32GB of memory, and 512GB of storage is $3,099, while the 32-core GPU is an additional $200. The RAM upgrade to 64GB is another $400.
The storage is the same across the board, with moves from 512GB to 1TB costing $200, 2TB is a $600 upgrade, 4TB us $1,200, and 8TB is $2,400.
Legion 5 impresses at the price, but it's no MacBook Pro
It is certainly clear that Apple's interest in this model of Lenovo Legion 5 is just its GPU performance. Indeed, in this specific configuration, the notebook could be considered a great desktop replacement for gamers with limited budgets and space.
Putting it against the MacBook Pro is a little unfair, really, with Apple's chip designs flooring its Intel competition and a massive resolution display. That's along with the considerably long battery life that isn't as heavily impacted by the graphical needs of its users, as it does so more efficiently.
That being said, Lenovo's notebook is reasonably cheap, with an M1 Pro model with the same storage capacity costing $2,699, a full $1,000 more.
Is the 16-inch MacBook Pro worth that extra $1,000 outlay? For the performance, the display, the battery life, and the styling, it's pretty justifiable.
Where to buy
Apple's 2021 MacBook Pro 16-inch is already discounted, with exclusive coupon savings at your fingertips in the
AppleInsider
16-inch MacBook Pro Price Guide
.
At press time, the
best MacBook Pro deals
offer triple-digit savings, with AppleCare discounted at select Apple resellers as well.
Lenovo's Legion 5 Gaming Laptop, meanwhile,
sells for $1,669.99
. The
best Lenovo deals
regularly knock hundreds of dollars off laptops and desktops.
Read on AppleInsider