Boxes of AirPods stolen in New York and Pegasus attacks in the Apple Crime Blotter
Reporter's
iPhone
targeted with Pegasus, a man caught outside Apple Store at 4:30 a.m., an iPad ripped from store employee's hands, and more in the Apple Crime Blotter.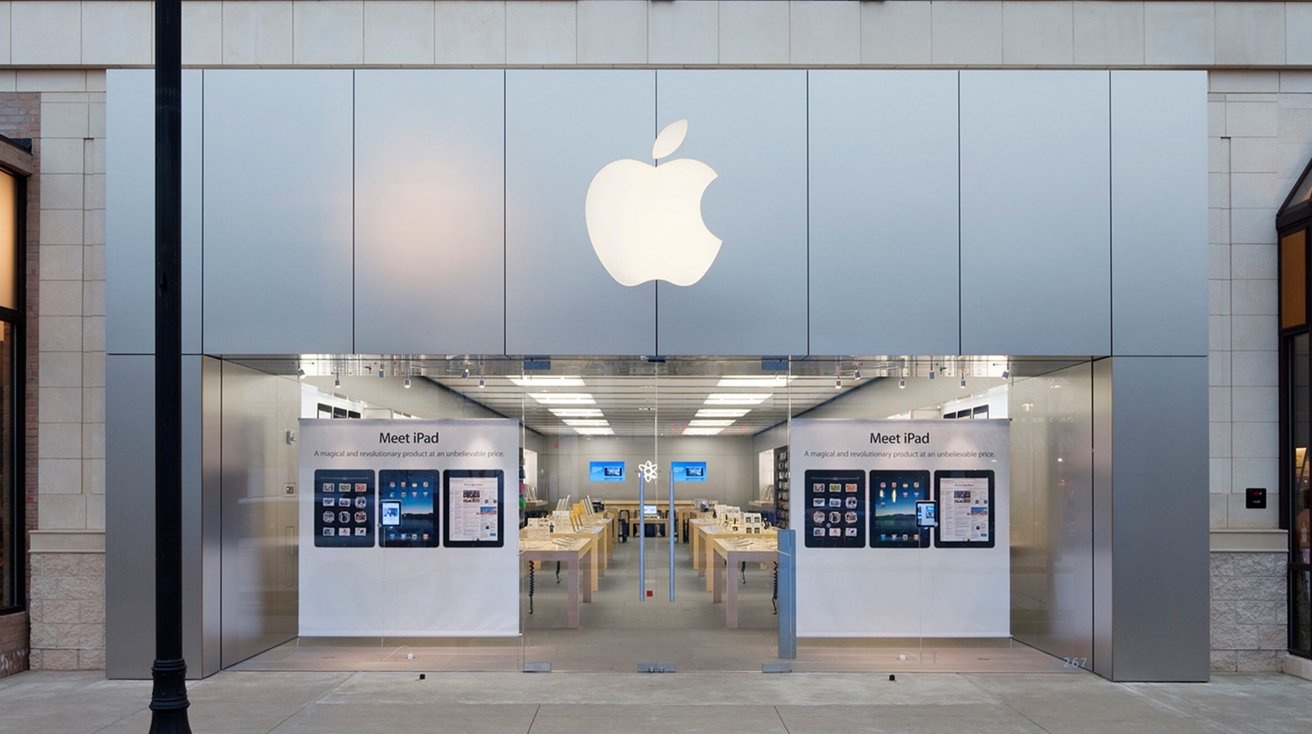 The Crocker Park Apple Store in Ohio
The latest in an occasional
AppleInsider
series, looking at the latest in Apple-related crime.
56 boxes of AirPods stolen in Brooklyn
Whether or not it results in a crime, when people meet at night to sell Apple devices via Facebook Marketplace, the item in question is usually one or two iPhones. When that happened in mid-September in Brooklyn, the items being moved were
56 boxes
of
AirPods
.
According to
News 12
, a seller met up with a buyer to discuss the AirPods, which were listed on Facebook Marketplace. Instead, three suspects approached with guns, taking the victim's AirPods, phone, and $2,600 in cash.
Police are looking for suspects. It's not clear how the seller came into possession of that many boxes of AirPods.
iPad ripped from the hands of Best Buy employee
At a Best Buy in the Chicago area in late October, a
customer stole
an iPad by ripping it from the hands of a store employee.
Evanston Now
reports the device was taken from the hands of a 22-year-old female employee.
Man arrested near Apple Store at 4:30 a.m.
Security guards in Ohio
caught a man
attempting to enter the Westlake Apple Store at 4:30 a.m. on Oct. 18, according to
Patch
. When security approached the man, he said he was trying to get into the store to "use the phone."
The police, per the report, believes the man was part of a crew that had been trying to break into several area businesses.
Apple Watch helps catch reputed serial burglars in Minnesota
A duo reportedly engaged in a months-long spree of burglaries in Ramsey County, Minnesota, in which they gained access to apartment complex garages and stole from cars. Per police, they were caught after an
Apple Watch
taken in one of the burglaries was traced back to them.
The
St. Paul Pioneer Press
writes the Apple Watch
was tracked
to a camper behind a residence, and a warrant confirmed the accused thieves' identities. The pair were arrested a few days later, but not before another theft in which they're accused of stealing a man's iPhone and credit cards.
The male was charged with "ten counts of first-degree burglary, ten counts of second-degree burglary, two counts of theft and one count each of illegally possessing a firearm and fraud," the newspaper said, while the woman was hit with "nine counts of first-degree burglary, nine counts of second-degree burglary, two counts of theft and one count of fraud."
Reporter's iPhone was targeted by Pegasus
Not long before the announcement that the U.S. government was banning
NSO Group's Pegasus
software and placing it on the Commerce Department's Entity List, there was news that the software was used against an American journalist.
CitizenLab reported
that an iPhone belonging to
New York Times
reporter Ben Hubbard was targeted by Pegasus over a three year period ending in June 2021. This took place during a period when Hubbard was reporting on Saudi Arabia and writing a book about Crown Prince Mohammed bin Salman.
Man accused of stealing former girlfriend's MacBook, using her Amazon account
A Tennessee man has been
arrested on charges
that he stole a MacBook from his then-girlfriend and used her Amazon account, which was tied to a credit card belonging to her parents, to charge items.
According to
Scoop Nashville
, the purchases, which were delivered to the man's address, were visible in the woman's Amazon account. The man was charged with felony theft.
Hospital patient threw iPad during vandalism spree
A hospital patient in Michigan who vandalized his room due to impatience about the arrival of a meal
threw and broke
a hospital-owned iPad, the
Royal Oak Tribune
reported. The newspaper said that the 35-year-old man threw the fit after "his breakfast wasn't served in a timely manner."
The man also threw miscellaneous medical supplies, broke furniture, and "tore out a sink faucet" before he was subdued by security. It's unclear if he will face criminal charges.
Woman attempts to track son's stolen iPhone
A mother in suburban Cleveland
decided to track
an iPhone belonging to her juvenile son after it was stolen from a party, tracking the iPhone XS it to an area shopping center. However, per
Cleveland.com
, the two cell phone stores in that shopping center did not report having the phone, nor did the place where the party took place.
Read on AppleInsider