Review: Belkin BoostCharge Pro Portable Fast Charger for Apple Watch Series 7
The new Belkin BoostCharge Pro Portable Fast Charger for
Apple Watch
is the only standalone charger -- besides Apple's -- to support fast charge on the latest-generation Apple Watch. But it may have promised more than it can deliver.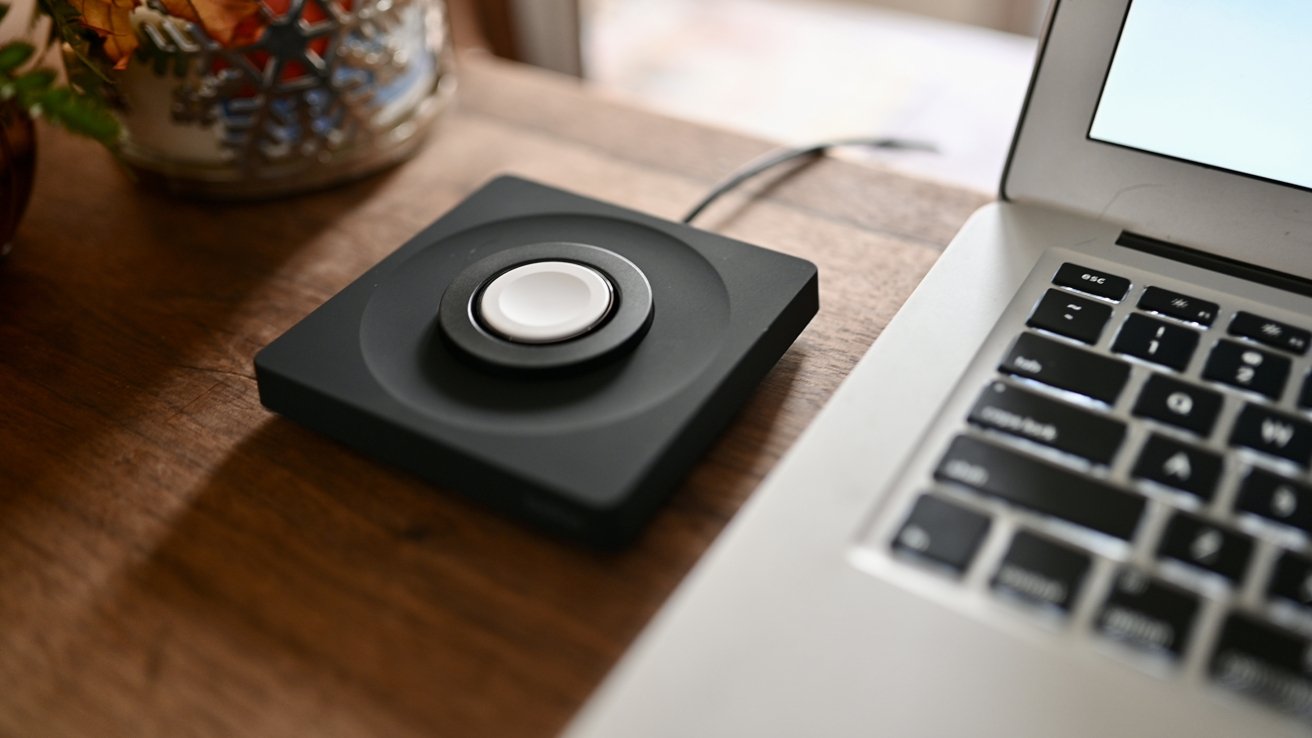 The new Belkin BoostCharge Pro Portable Fast Charger for Apple Watch
When Apple announced the
Apple Watch Series 7
, it did so with much fanfare. One of the new features happened to be much-needed faster charging. Unfortunately, this change wasn't pulled off by just updating the battery, tweaking the coil, or increasing the power supply. It required an all-new charging puck, with a near-identical design.
All existing chargers from Apple and the swath of third-party entrants, could only charge Apple Watch Series 7 at the previous slower speed. If you want fast charging, you need a new fast charger.
As it stands at the time of this review, you have limited options for these chargers. There are the official pucks from Apple, such as the one bundled with each new Apple Watch purchase. Or you have the larger Belkin BoostCharge Pro
3-in-1 multi charger
that we previously reviewed. Then there's this fella.
A new portable home
The Belkin BoostCharge Pro Portable Fast Charger for Apple Watch is intended to be a charger that works easily at home on your desk but can quickly be packed up and taken with you when you head out for that weekend getaway.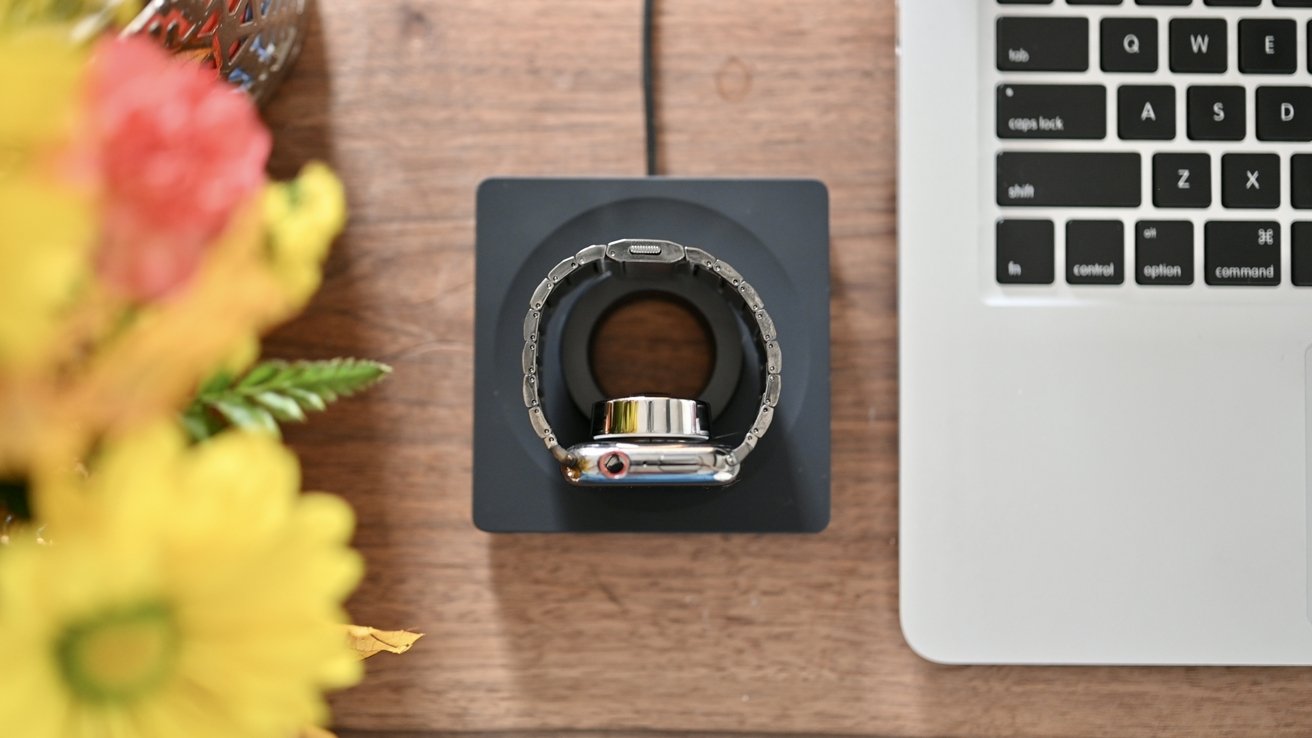 The new Belkin BoostCharge Pro Portable Fast Charger for Apple Watch from the top down
It comes as a square dock in either black or white. There's a small Belkin logo printed on the front-right corner. The body tapers to a ring on the underside which gives the appearance it is hovering just above the surface of your desk. It's a simple design, and it looks clean and minimal.
Silicone covers the plastic body which provides a wonderful soft-touch finish but also ensures that as you slide this into your bag, it won't get damaged or damage anything else around it.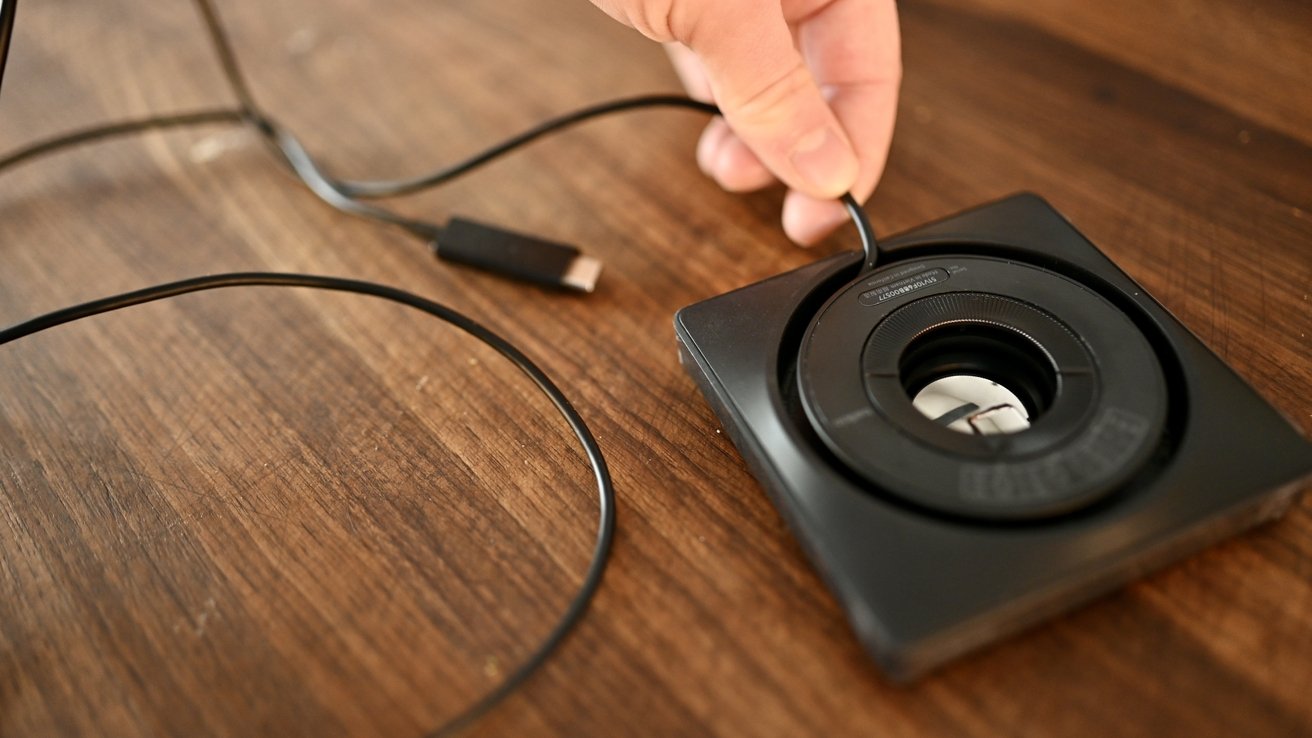 Cable management on the Belkin BoostCharge Pro Portable Fast Charger
There's an almost four-foot-long cable attached to the dock. It neatly wraps around the underside of the dock and unspools much more than we initially expected. A good amount of cable hides there and is more than Apple includes in the box with your Apple Watch. Its 3.9 feet of cable can help reach faraway outlets that aren't always well-positioned in hotels.
Apple Watch docks can be tricky because there are, as a generality, two models of Apple Watch. A small one and a larger one. When placed horizontally in nightstand mode, they require different heights of the charger to keep the watch centered on the puck.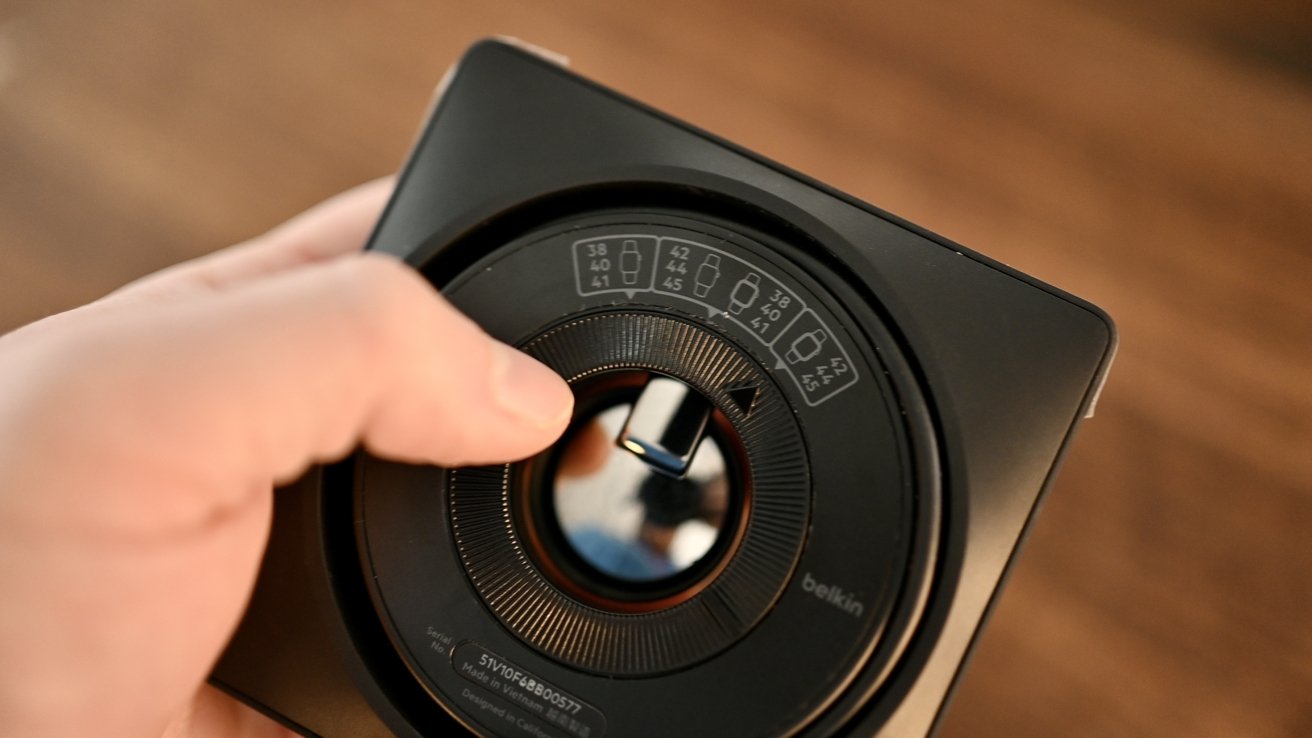 Precision height adjustment dial on the Belkin BoostCharge Pro Portable Fast Charger
Belkin solves this issue with a precision dial on the bottom of the dock. Twist the dial and the height of the puck adjusts to one of three heights. At the lowest point, it will fit the 38/40/41mm models of Apple Watch. The highest setting is designed for the 42/44/45mm models while wearing a case. There's a center option as well which can fit either the small watch with a case or the larger watch without a case.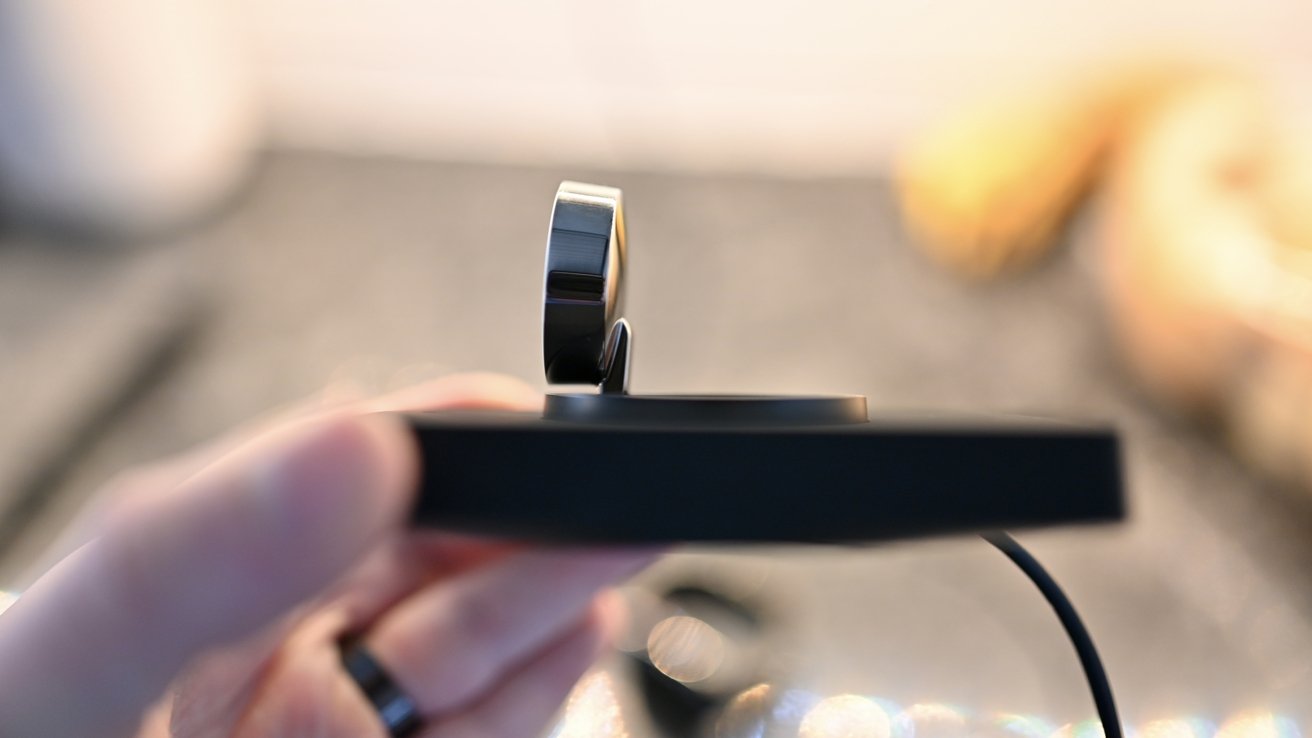 Highest height on the Belkin BoostCharge Pro Portable Fast Charger
Of course, you don't need to adjust the puck if you prefer to place your Apple Watch flat across it. The puck itself can pivot from flat to a 90-degree angle for bedside viewing of nightstand mode. As you push it up through the bottom, it snaps into place to lock-in. It only needs a small push to go back to the flat position for travel.
The fast charge-compatible puck is covered in polished stainless steel which gives it the added touch of a high-end product.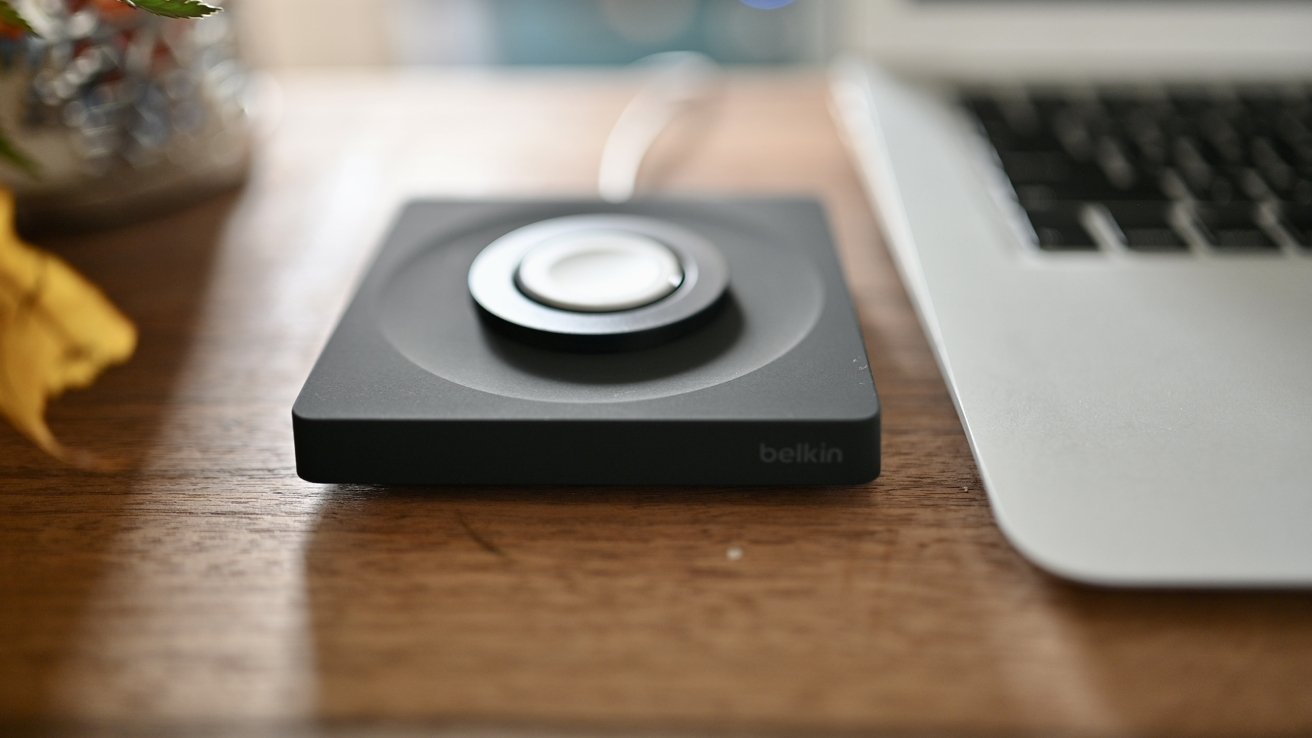 Belkin BoostCharge Pro Portable Fast Charger for Apple Watch Series 7
Speaking of fast charging, the newfound speed can deliver an 80 percent charge in only 45 minutes which is a 33 percent jump over all previous Apple Watch models. If you don't have enough time for that, an eight-minute charge will support eight hours of sleep tracking.
If you don't have an Apple Watch Series 7, this will charge your Apple Watch at the regular rate.
A missed opportunity
While we like this charger overall, we can't help but feel it was a missed opportunity on some level. It's meant to be a travel charger yet it feels a bit on the large size. If truly going to travel, it seems a lone cable would be better suited.
The cable also can't fully hide. About six inches are left free with the USB-C connector on the end. We'd prefer that the entire thing could be tucked away.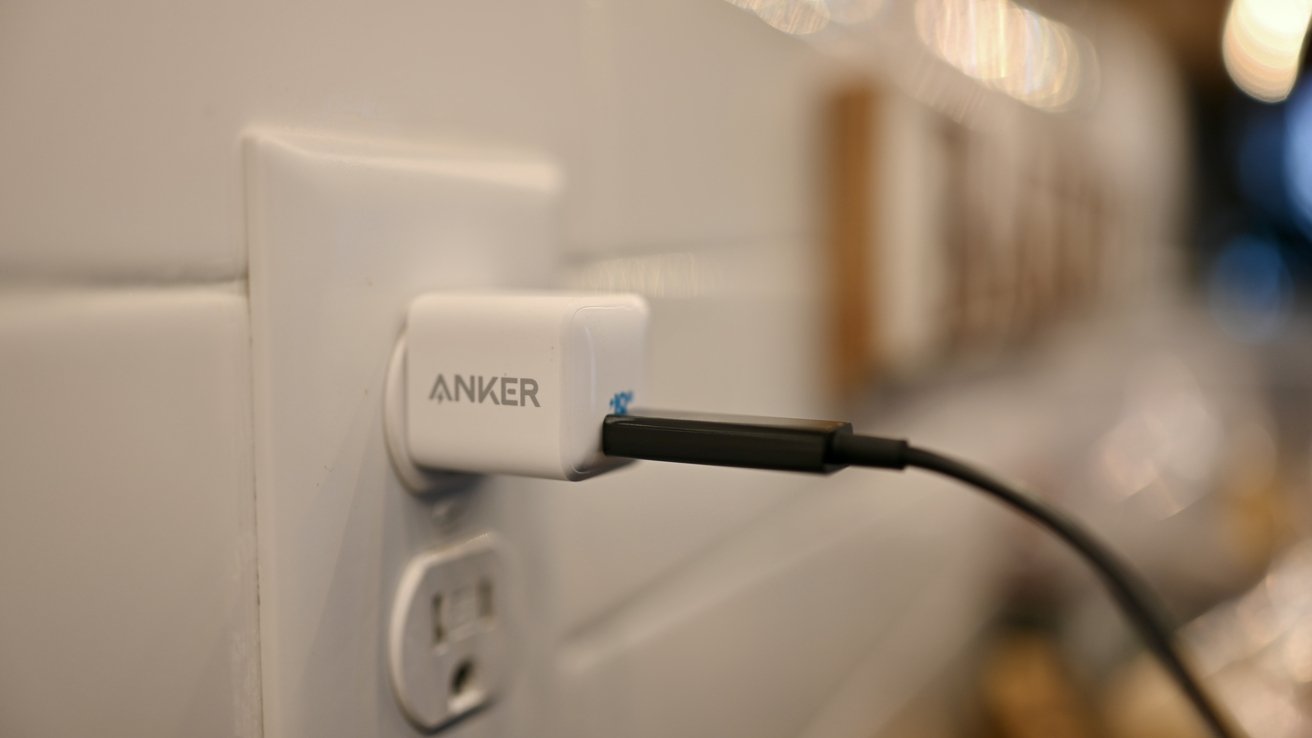 You must supply your own 20W charger
It also doesn't come with a charger either. With its substantial price tag, it'd have been nice for Belkin to include a compact 20W USB-C plug in the box. Perhaps even a dual-output GaN wall plug so that we could charge our iPhone and Apple Watch at the same time while away with a single plug. Instead, we're left to source our own and increase the overall cost to charge our watch.
Should you buy the Belkin BoostCharge Pro Portable Fast Charger for Apple Watch?
Apple charges $29 for a USB-C cable while Belkin has affixed a $59 price tag to the Belkin BoostCharge Pro Portable Fast Charger for Apple Watch. For that extra change, you get the larger dock, integrated cable management, a longer power cable, and an elevated charging experience.
Those benefits are probably enough to warrant the cost for a substantial number of users, but for many, the price tag will be too steep. Right now, as Belkin is the only option, it can charge that rate. But it may not be a long time before other third parties join in on the fun.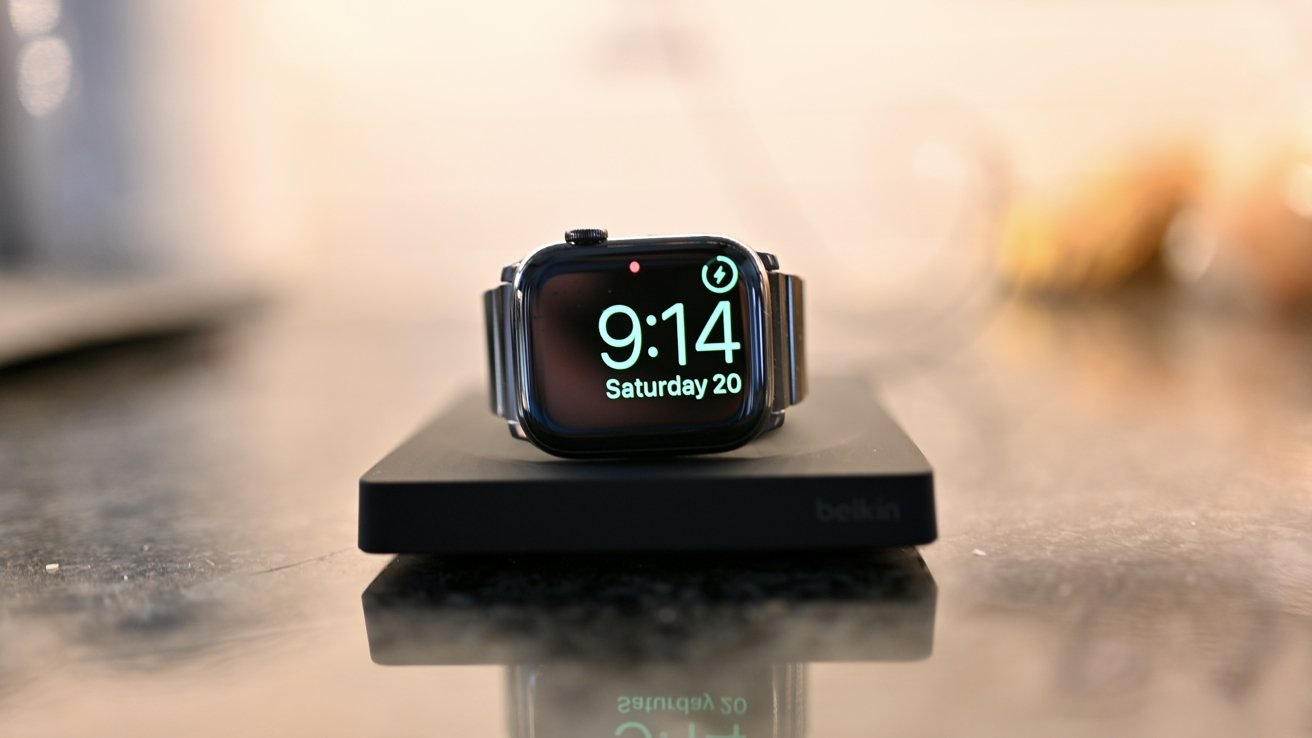 Belkin BoostCharge Pro Portable Fast Charger from the front
If you do have the latest Apple Watch Series 7, you can't go wrong with the Belkin travel charger, you'll just have to pay for the luxury. And your own power brick.
Pros
Rubberized exterior


Premium design with solid build


Dock pivots from flat to vertical


Built-in cable management


Built-in USB-C power cable


Metal accent around Apple Watch puck


Supports Fast Charge on Apple Watch Series 7


MFi-certified by Apple


Soft-touch finish


Adjustable ring for different sizes of Apple Watch
Cons
End of cable dangles and can't be stored


Large for a travel charger


Expensive


No power brick included
Rating: 3 out of 5
Where to buy
Preorder the Belkin BoostCharge Pro Portable Fast Charger for Apple Watch from
Belkin directly for $59.99
.
Read on AppleInsider