Demand for iPhone 13 still eclipsing iPhone 12 launch in the United States
Sales of the
iPhone 13
family continues to be robust in the United States, a survey indicates, with Apple benefitting from high early demand for the new models, and supply issues affecting competitors.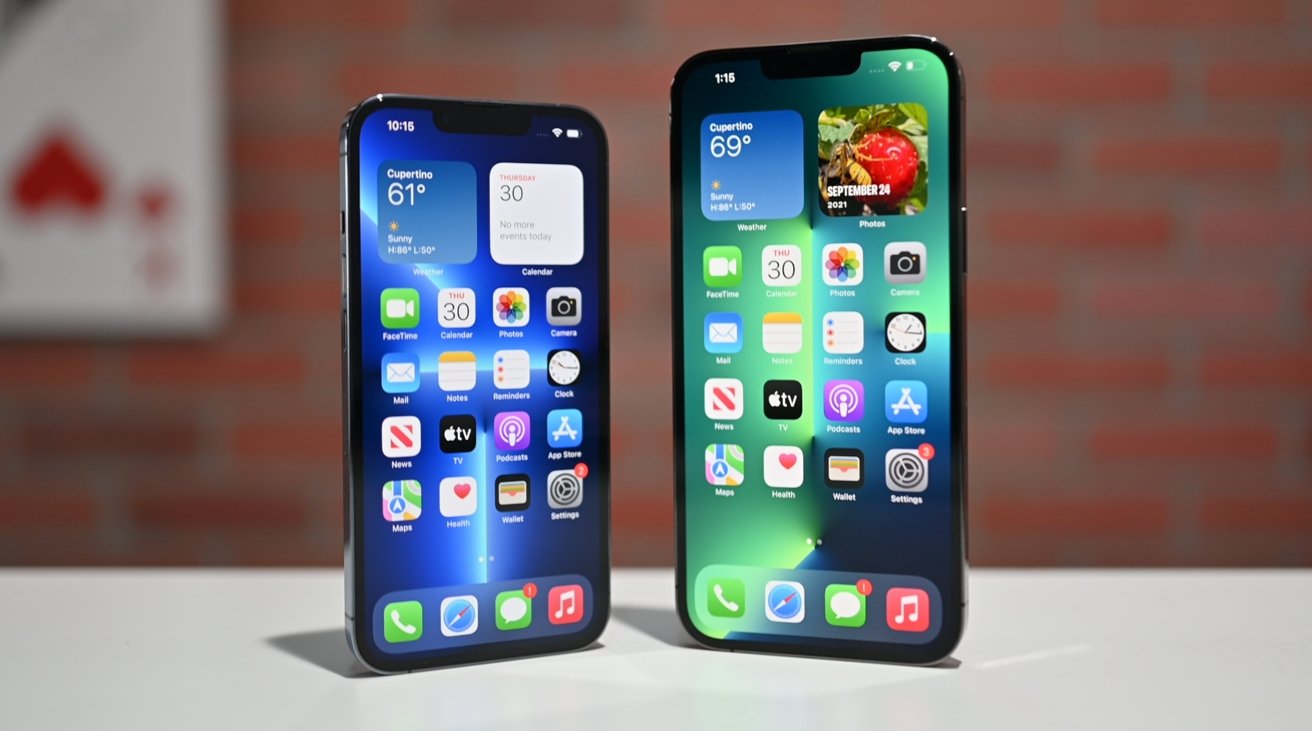 In October's financial results, Apple CEO
Tim Cook
commented that the iPhone 13 is seeing
"robust" demand
but with low supply chain channel inventory. In a survey of US iPhone sales, it seems that Apple is still doing well, especially against its rivals.
The survey by Wave7 Research in October indicates robust sales are continuing for the iPhone 13 range, according to JP Morgan in a note to investors seen by
AppleInsider
. Incremental data points supports JPM's "positive outlook for iPhone 13 demand into CY22," with estimates of record volumes for a product cycle that "eclipses the iPhone 12 cycle."
Current iPhone share "remains elevated above pre-launch levels," with both Verizon and AT&T seeing a 70% share of sales of the device. This is apparently assisted by "outsized supply issues for high-end Samsung Galaxy phones," which validates Apple's better inventory management.
The early demand for the iPhone 13 is still higher than the
iPhone 12
, according to 65% of store representatives surveyed, which is apparently similar to that of September's survey results. Increased in-store traffic, better 5G coverage, camera improvements, and a return to a non-split launch are credited with the high demand over the previous generation.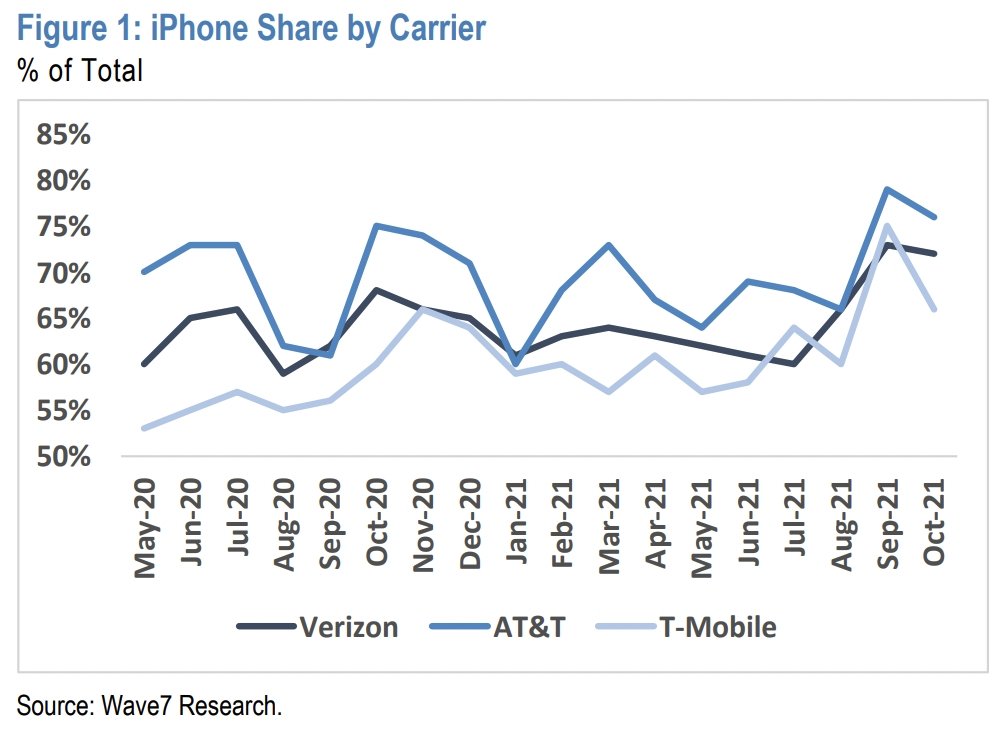 [Via JPM/Wave7 Research]
There are, however, still delays in product shipments for some varieties, including long wait times into December and January for the
iPhone 13 Pro
and Pro Max at all three carriers surveyed. The base iPhone 13 is still generally available, which JPM says points to the Pro lineup still having a "stickiness" that drives customers to wait instead of buying the non-Pro models.
A November 22 note from JP Morgan advised there were signs delivery estimates
were contracting
, possibly due to a ramping up of supply.
As for what's selling, the iPhone 13, Pro, and Pro Max are apparently the most popular models, followed by the iPhone 12. The iPhone 13 mini is mirroring the iPhone 12 mini's lower sales, which is put down to its smaller size being "less Zoom-friendly."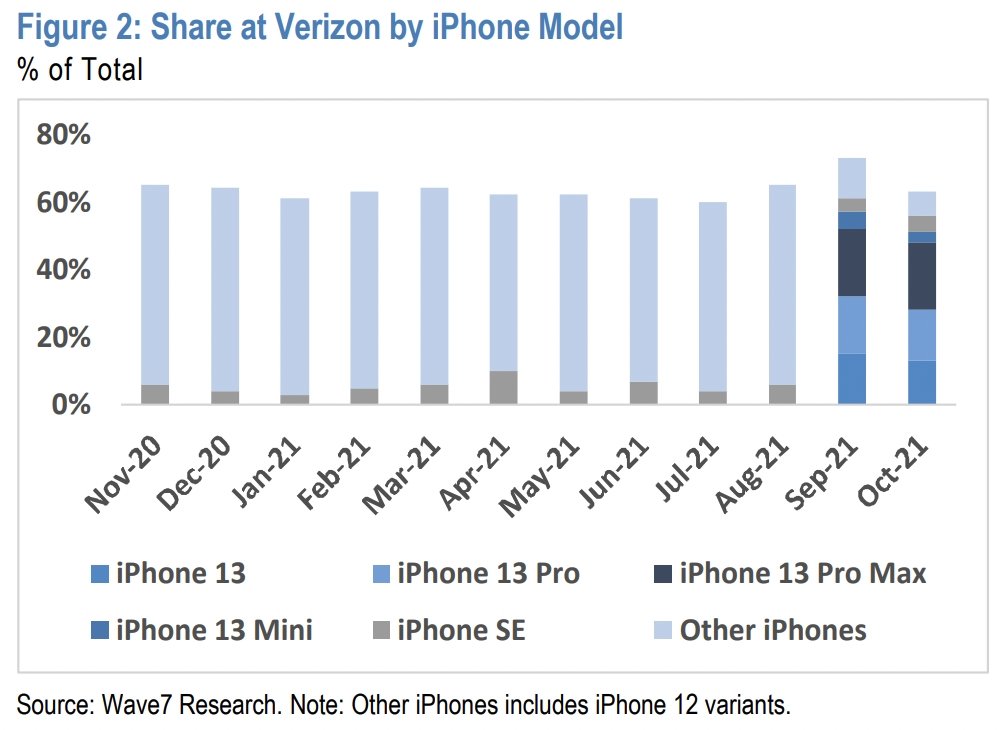 [Via JPM/Wave7 Research]
Of the other models, the iPhone 13 Pro Max is said to be doing well for customers wanting an iPhone for video conferencing purposes, with the telephoto camera in the Pro models also a draw to the premium end.
While demand is high, there's still problems getting handsets to consumers, the survey added. 100% of respondents said there was a shortage, up from approximately 70% from a late August survey.
Read on AppleInsider