What to expect from Apple in early 2022 - MacBook Air, Mac mini, iMac Pro, and more
In the shadow of Apple's earnings report later this week, the spotlight is already on Apple's next product releases. Here's what you can expect to see from Apple for the first few months of 2022.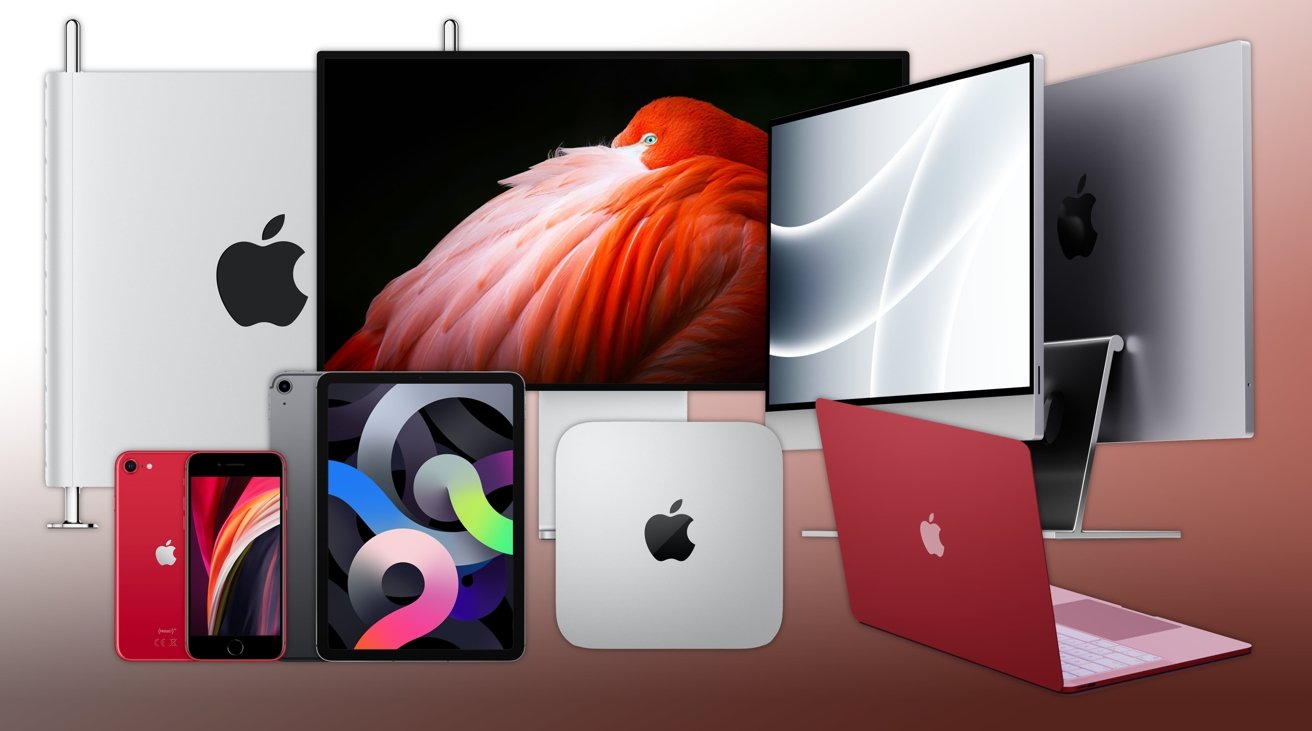 Apple's product catalog has gone through another eventful year, with new products being released despite the ongoing global pandemic.
Apple introduced numerous major updates in 2021 alongside its expected refreshes, including the
24-inch iMac
, the addition of
M1
to the
iPad Pro
range, and the launch of an entirely new product,
AirTag
. There were also changes that were more easily anticipated, including its annual refresh to
iPhone 13
, regenerated
iPads
, and the
MacBook Pro
lineup.
As time ran out on 2021, the rumor mill's attention shifted to 2022, and what Apple could launch next.
Here is what
AppleInsider
anticipates Apple will be bringing out within the next couple of months.
When will the next product launch take place?
At the start of 2022, it seems that the most likely earliest time for an Apple event to take place would be March. There has been a product launch in March every year from 2014 until 2020, excluding 2021, which seems like a very well-established pattern, though not necessarily with an event happening at that time.
Apple does sometimes launch products before then, but it is rare. The February 2018
HomePod
release followed extensive delays for the product, so that doesn't really count.
Can Apple launch something earlier than expected in 2022? Sure. It's unlikely, but anything's possible.
MacBook Air
Confidence:
High
Among the initial M1-based Mac launches, the
MacBook Air
was one year old in the fall, which could allow for an upgrade by Apple to occur without seeming too early in its product lifecycle. However, while there were new MacBook Pro models in the fall, there wasn't a MacBook Air refresh, and rumors pointed to a 2022 release instead of one in 2021.
In July, a report claimed Apple would wait until the first
half of 2022
to release an "M2" or "M1X" MacBook Air. The "M2" claim was backed up by a
second leaker
, along with the early-2022 timeframe.
In an extremely early rumor for 2022, the claim of an M2-equipped MacBook Air resurfaced on
January 2
. However, it was offered that the chip would only be "marginally faster" than the M1, with it having up to a 10-core GPU.
Given the introduction of the M1 Pro and M1 Max chip variants, it's possible that they could be used in the
new MacBook Air
.
An
alleged roadmap
for Apple Silicon surfaced in November, claiming new chips are on the way, codenamed Ibiza, Lobos, and Palma. The chips, said to be the second generation of the chip family, will contain two dies instead of one, and use an upgraded 5nm process.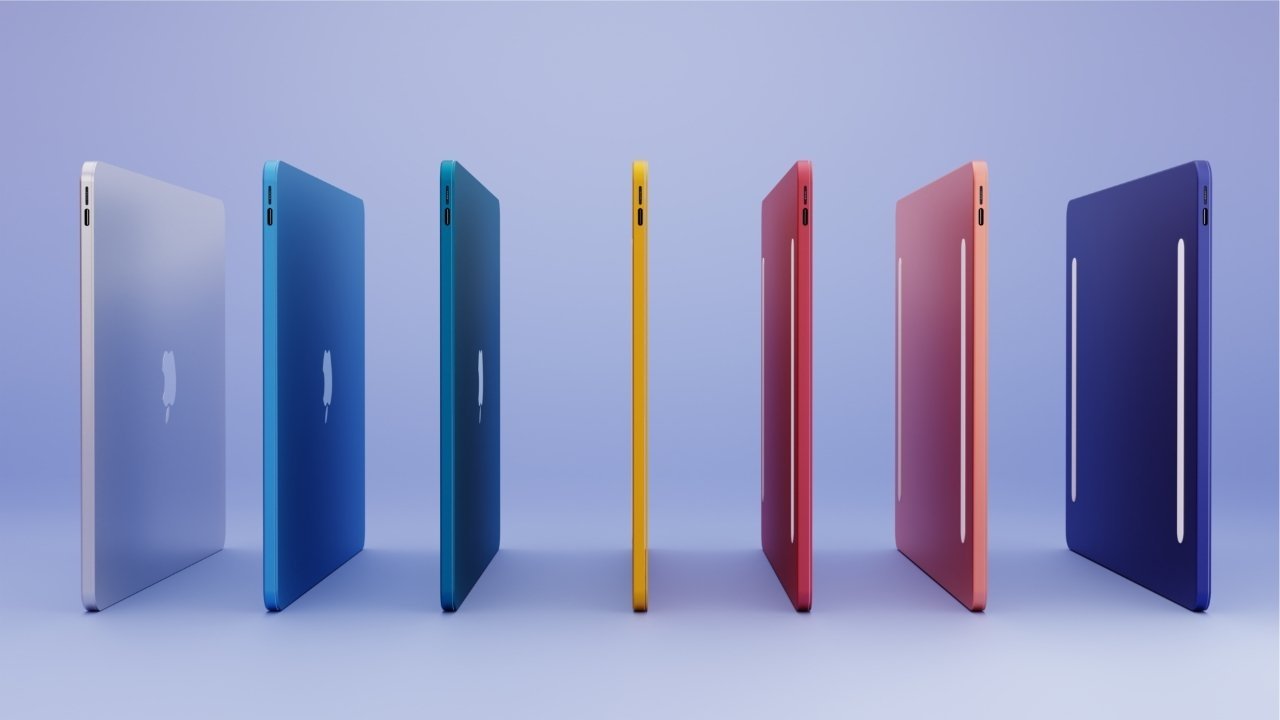 AppleInsider's renders for a potential MacBook Air refresh.
Meanwhile, analyst
Ming-Chi Kuo
advised in
July
and
August
that a 2022 launch for the MacBook Air was expected.
Renders released in
May
seemed to indicate a redesign was on the way, complete with a thin wedge-less design that could barely fit a USB-C port on a side. A variety of colors was also claimed, complete with a white bezel and keys.
A new display has been proposed, complete with mini LED backlighting.
AppleInsider
has also made its
own renders
for what it thinks the MacBook Air could look like, based on the latest rumors.
With the appearance of a notch in the new displays used in the
14-inch MacBook Pro
and
16-inch MacBook Pro
, there stands a good chance Apple could use the same approach in the MacBook Air.
As you would expect,
renders
were issued in October showing what an updated MacBook Air could look like, complete with the notch in the design. Two Thunderbolt 4 ports were also claimed, along with a headphone jack and a
MagSafe
3 connection.
An October
report
put forward that there would be M2 in the MacBook Air, as well as MagSafe and a 1080p camera.
According to a
September 27
note from Kuo, Apple will start mass production for the updated MacBook Air in mid-2022, which could push the refresh later into the year.
A report from late January
proposed
that Apple was saving some of its bigger announcements for February, with the MacBook Air on that supposed list.
Mac mini
Confidence:
High
One of the three initial Apple Silicon launches, the
Mac mini
similarly didn't go through any sort of redesign ahead of its launch. For its first refresh, it seems it may receive that update.
Renders
from May
claim it will be a thinner device, with the circular base replaced by rubber strips, and the rear vent moved to the base. The aluminum chassis would have a "plexiglass-like" top panel, and a choice of colors has also been touted.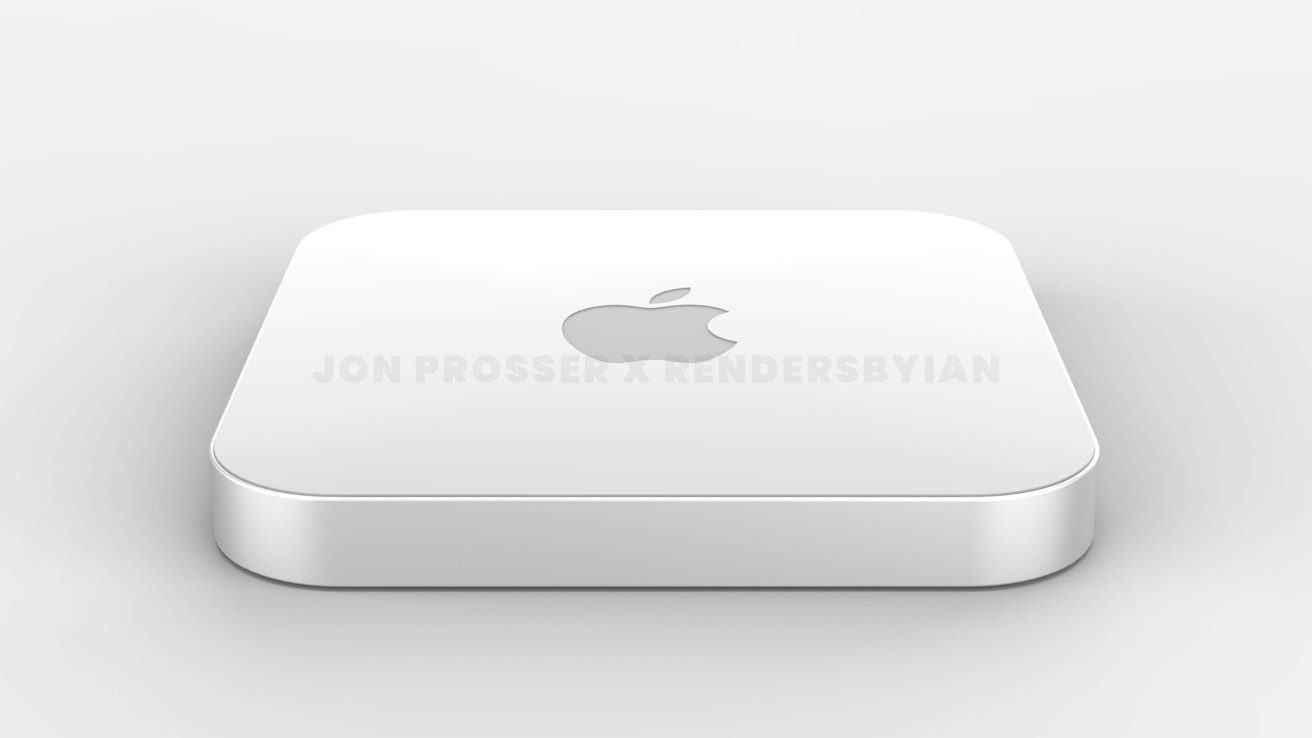 A render of what the new Mac mini could look like, complete with a perspex-like top.
The port selection on the back was said to be made up of four USB 4-Thunderbolt 3 ports, a pair of USB-A ports, Gigabit Ethernet, HDMI, and a magnetic circular power connector, as taken from the 24-inch iMac.
Inside, the chip will be updated from the M1, to possibly the "M1X" or "M2," though it has also been suggested that it could use the M1 Pro or M1 Max.
The radical redesign has been backed up by an early January
report
, saying the model is on the way.
An August 22
report
claimed a high-performance Mac mini was on the way, using the "M1X," intended to remove the Intel-based versions Apple still sells from the product line. However, aside from an updated design and the use of "more ports," few details were offered in the report.
A release date is unknown, but it is easily plausible for Apple to launch the model in early 2022, possibly alongside a MacBook Air update. A reliable leaker said on
January 24
that the Mac mini was primed for a spring event launch.
Big Screen iMac or iMac Pro
Confidence:
Medium
Since Apple had iMacs in two sizes for its Intel collection, it's quite plausible for Apple to offer an alternative to the 24-inch iMac for its Apple Silicon range, one that takes over from the
27-inch iMac
.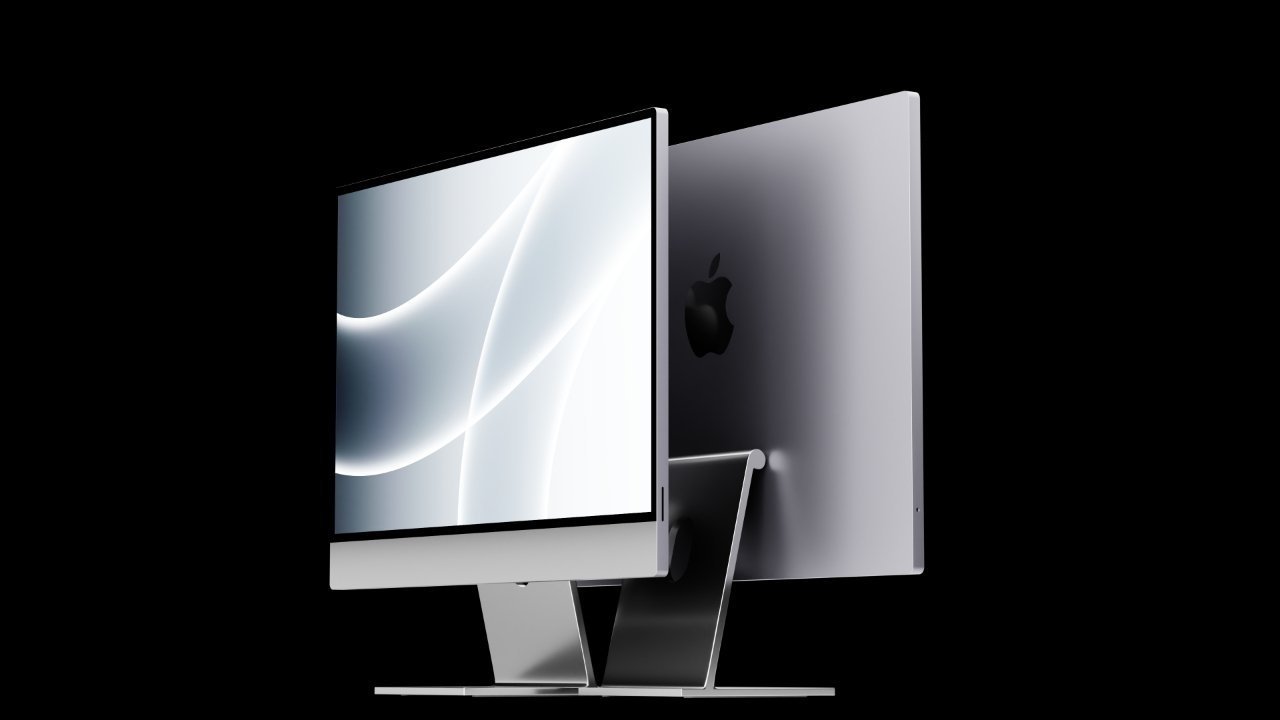 An AppleInsider render of a potential iMac Pro.
An
April
rumor, ahead of the 24-inch model's launch, said Apple was working on a version with a screen that was bigger than 27 inches. However, that rumor was sourced from a leaker who had allegedly "retired" from the "business."
In July,
another
rumor mentioned a bigger model, though was light on details. Later that
same month
, a "high-end iMac" rumor spread, with a launch in 2022 as Apple "does not want their devices to compete for attention."
There is a wrinkle in the rumors, in that it's not the only iMac that could be on the way.
In October, leaker "Dylandkt" posted to Twitter that an "iMac (Pro)" is due in the first half of 2022. The leaker said it would have ProMotion and Mini LED in the display, as well as dark bezels, and a "similar design to iMac 24 and Pro Display XDR,"
The specifications list also included 16GB of memory in the base model, along with 512GB of storage, the use of M1 Pro and M1 Max chips, ports for HDMI and USB-C along with HDMI, Ethernet on the power brick, and potentially Face ID.
It was reckoned that the model could start from "over $2000" for its base configuration.
On January 23, leaker "Dylandkt"
said
they had "received confirmation that there will be an additional configuration for the upcoming iMac Pro beyond M1 Max," indicating it could be a fourth-generation M1 chip. It is claimed to use a 12-core CPU, up from the 10-core CPU used in the M1 Pro and M1 Max.
Regardless of whether Apple introduces a larger-screen iMac or an iMac Pro, it seems quite likely something with a bigger display is on the way, so a launch is fairly probable to occur in early 2022.
Third-generation iPhone SE
Confidence:
High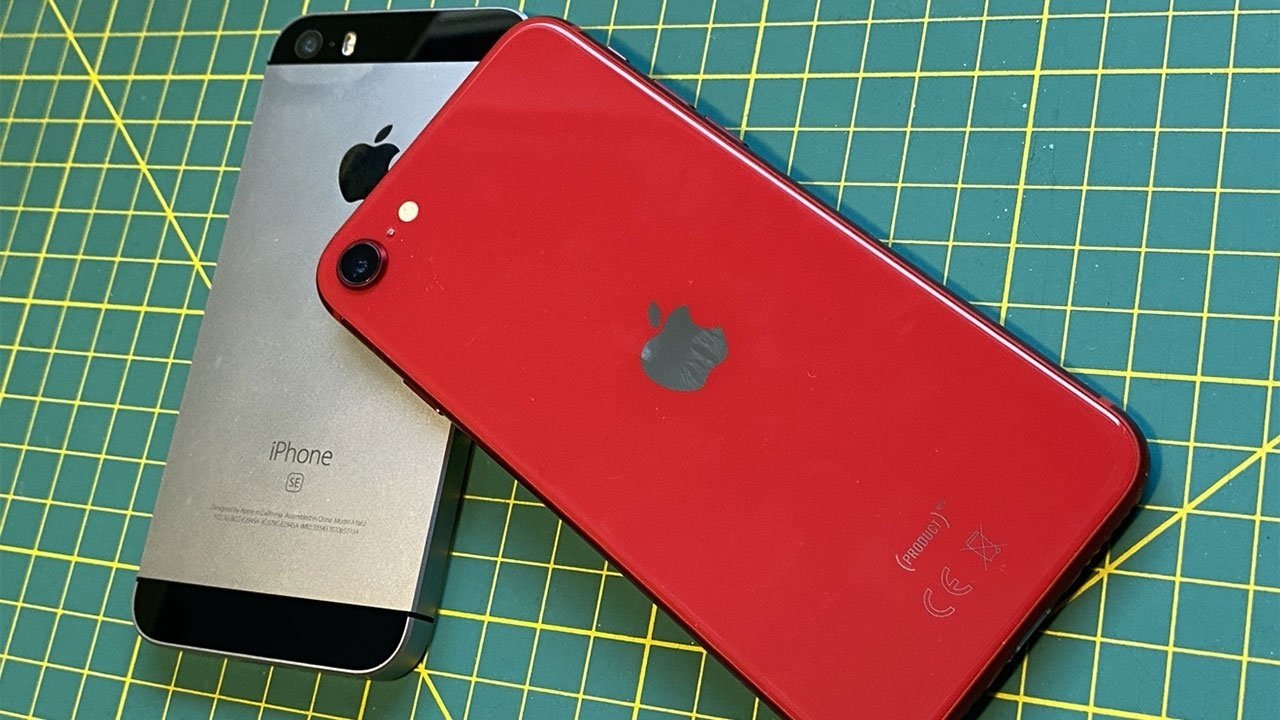 The iPhone SE Gen 2 was a serious update over the original.
An iPhone model first introduced separately from the main launches, the iPhone SE always has the chance of being updated at a different time of the year.
However, multiple
rumors
have put forward the idea that the iPhone SE will be updated in a spring event.
In April, display analyst for DisplaySearch Ross Young
tweeted
a leak that the iPhone SE for 2022 will remain at a 4.7-inch display, and will be equipped with 5G connectivity.
By June, Ming-Chi Kuo
joined
the conversation, reiterating the 5G iPhone SE claim with a launch in the first half of 2022. It is said by the analyst to use the same form factor as the second-gen model, and will become the "cheapest 5G iPhone model ever."
In January, a newsletter
reiterated
the claim of a 5G iPhone SE.
A supply chain
report
from Digitimes Asia in July backed up the claim of a launch in the first half of 2022. The same month, Nikkei Asia
also said
the same thing, with the added use of an A15 chip and 5G.
Sources of
MacOtakara
said in
October
that the third-gen model would be out in the Spring of 2022, using the same chassis but with 5G and the A15 chip.
While analyst Ross Young didn't really add anything new specifications-wise in his October
report
, he claimed that the model would get a new name of "iPhone SE Plus," even though the screen will be the same size.
Chinese site
MyDrivers
offered in October that the changes would be
more pronounced
, with it taking after the iPhone XR and use a side-mounted Touch ID sensor. It would also be the last LCD iPhone produced.
In January, leaker Dylandkt said the iPhone SE will be an
incremental
update without any major design changes, with it consisting of 5G and a "spec bump."
Young added on
January 19
that the iPhone SE's production run started in late January, with a view to a late April or early May launch.
January also saw evidence of new iPhone models being on the way, thanks to an EEC
database update
.
It may also be the last iPhone SE with a 4.7-inch screen. Ming-Chi Kuo has reported that an iPhone SE to be released in 2023
will feature a larger screen
.
iPad Air 5
Confidence:
High
The
iPad Air
has a more infrequent update cycle compared to the iPad, but it does still benefit from occasional upgrades that gives it some iPad Pro-style features without the iPad Pro price.
One of the earlier reports for the iPad Air was in
June 2021
, with a 2022 launch for a 10.9-inch OLED model.
By July, the spec list
was expanded
to include a Liquid Retina display and Touch ID on the side button, as well as possibly inheriting a dual-lens camera system for wide and ultra-wide angles. Four-way speaker audio, the A15 Bionic, and 5G support were also touted, along with the slight chance of LiDAR.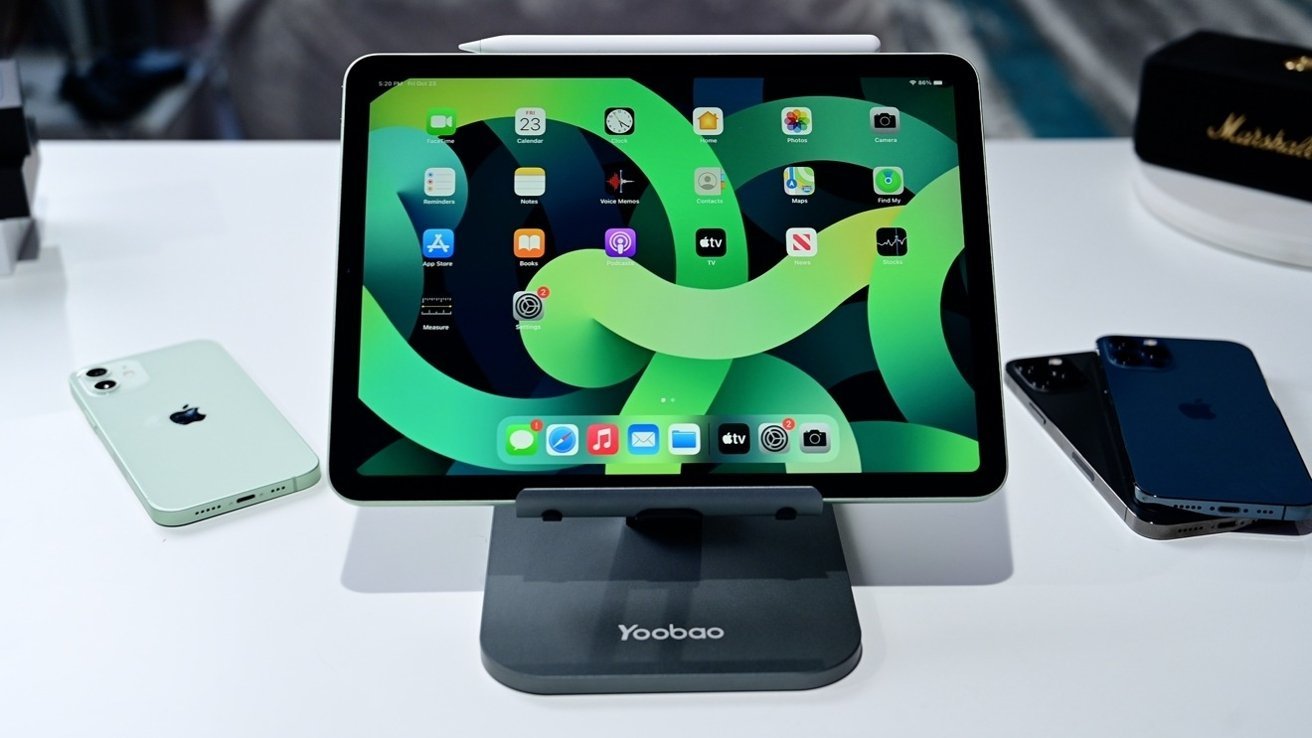 The iPad Air offers iPad Pro stylings at a less premium cost.
In
September
, Apple reportedly gave up on adding OLED to the iPad Air, with a report citing cost, brightness, and durability issues.
A
note
to investors from analyst Ming-Chi Kuo in October further added nails to the OLED coffin, by offering Apple cancelled its display plans for "marketing and technical reasons." While production problems explained the latter, the former was apparently said to be a potential detriment to 11-inch iPad Pro sales with a rumored mini LED backlight.
Rumors about the iPad Air resurfaced in January, starting with one from
Macotakara
recounting
claims of 5G and A15, and adding a 12-megapixel ultra-wide FaceTime HD camera with Center Stage support.
The same month, the OLED display was apparently
uncancelled
, with Apple supposedly considering getting an order of the component from Samsung after the Korean electronics giant apparently finding a way to cut costs.
Regulatory database
changes
in January also revealed a new iPad product is on the way, giving weight to the iPad Air update rumors.
External Display
Confidence:
Low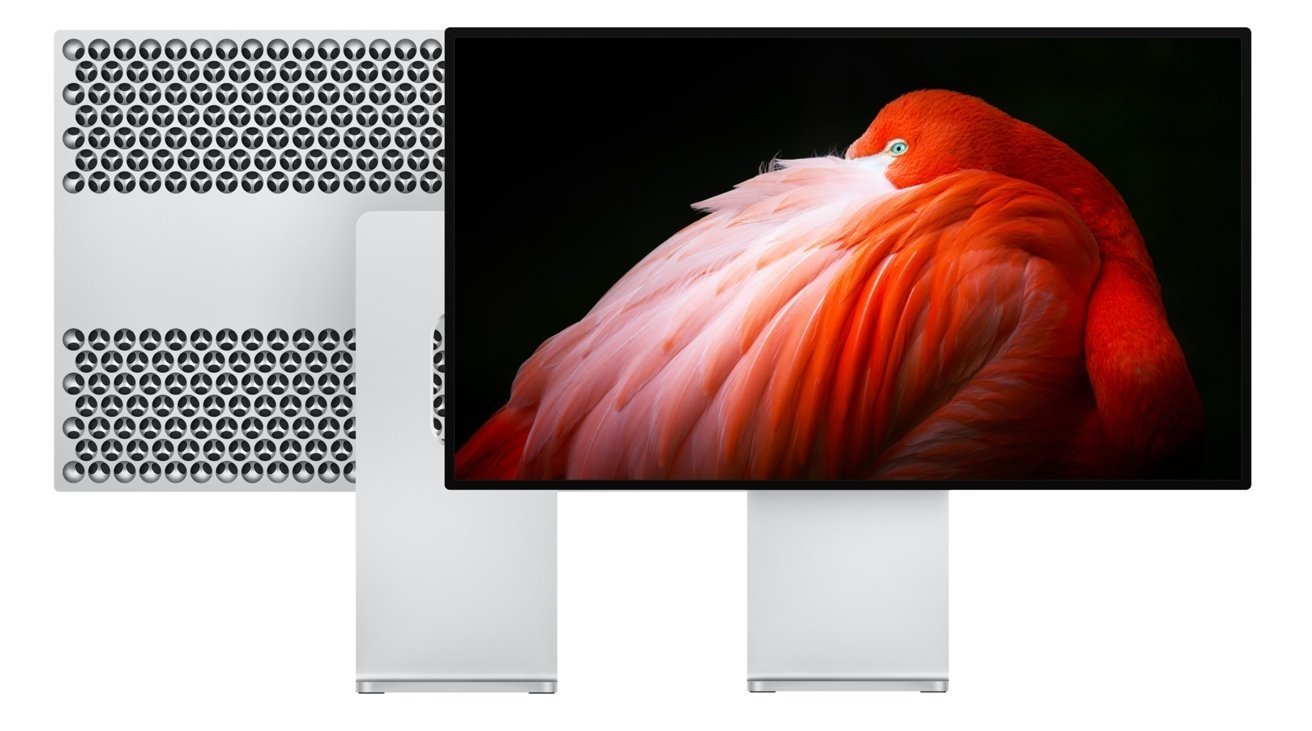 The Pro Display XDR could be joined by a cheaper option in Apple's product catalog.
Apple currently sells one own-branded display to consumers, namely the Pro Display XDR. Aimed at professionals, the screen is extremely expensive priced at $4,999, making it a tough purchase for typical Mac users to justify.
In January, a
report
from
Bloomberg
said a lower-priced external monitor was on the way. While light on detail, the report did say it would be cheaper than the Pro Display XDR.
Things went quiet until
December
, when a leaker said LG is making a trio of displays for Apple, possible as a successor to the Pro Display XDR. According to
@dylandkt
on Twitter, LG was making one based on the specifications of the 24-inch iMac, another with a 27-inch size, and a third 32-inch version.
It was said the three were housed in unbranded enclosures, but the 32-inch could apparently be Apple-branded "at the very least."
Both the 32-inch and 27-inch displays were also claimed to support mini LED technology for backlighting, and offer a 120Hz variable refresh rate.
A
few days
later,
Bloomberg's
Mark Gurman said he "strongly believes" a new "external monitor for its latest Macs" was on the way. He added that the cost of production of the Pro Display XDR has "likely come down" since its launch, so a tweaked version with similar performance could be half the price.
Gurman doubled down on the monitor on
January 2
, saying the display could be half the price of the Pro Display XDR.
Since the Pro Display XDR is two years old, it seems like a sufficient amount of time has passed for Apple to feasibly bring out a new display. However, there are no indications in rumors about launch or release timing so far, nor any real firm information, to point towards an early 2022 launch with any real confidence.
Mac Pro
Confidence:
Low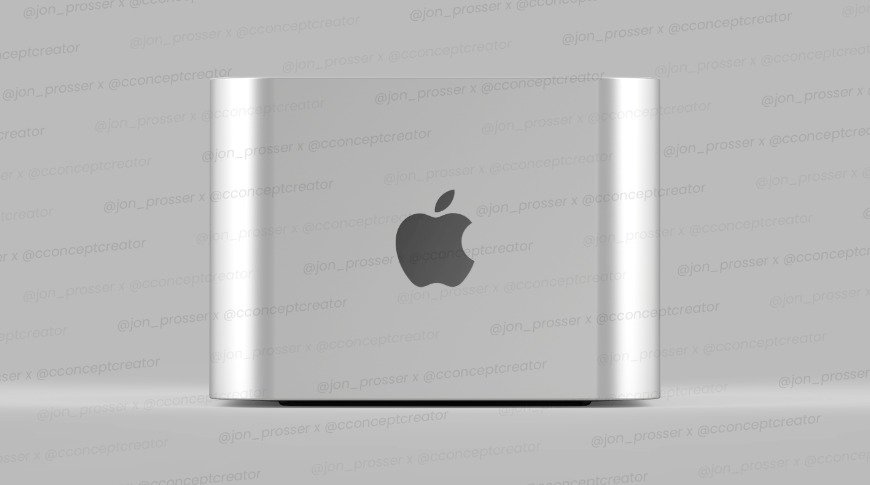 An early render of a smaller Mac Pro.
To round out its Apple Silicon transition within the company's self-imposed two-year timeline, it has to deal with the last main Mac category that the chip hasn't landed at yet. That would be the Mac Pro.
As for what form it will take and when, the rumor mill hasn't offered that much in the latter stages of 2021. If there were more definitive leaks and rumors, it would be at a higher confidence level than "Low."
Renders of what could be a Mac Pro, based on very
early leaks
, put it as being a much smaller G4 Cube-like device, with a compute unit on the bottom and a heat sink on the top. However, since then, there's not really been any claims about physical properties or even specifications, aside from the chip that it will allegedly use.
In May,
Bloomberg
said Apple would use an Apple Silicon chip that's twice or four times as powerful as the M1 Pro and M1 Max, using either
20 or 40 computing cores
. Accompanying those high core counts is similarly high-core GPUs, in 64-core and 128-core options.
Mark Gurman of
Bloomberg
offered in August that the Mac Pro will arrive sometime in 2022. Furthermore,
Apple will
"barely hit its two-year timeline" with the launch.
Given Apple announced its first M1 Macs in November 2020, this gives Apple until November 2022 to still be on schedule. To "barely hit" that, we'd be looking at a launch very late in the year, not in the early stages.
Gurman's first newsletter of December
doubled down
on there being a Mac Pro launch in 2022, but without giving much extra to work on. In
early January
, he said that there would be a launch in 2022, but again without narrowing down when it should launch.
Leaker Dylandkt said later in January that the Mac Pro would arrive by the
fourth quarter
of 2022, making an early 2022 launch harder to believe.
The one fly in the ointment are mid-year reports about Apple looking at continuing using Intel in the Mac Pro. In June,
references
in a beta of Xcode 13 pointed to Intel Ice Lake Xeon processor support. By July, a
leaker
claimed Apple would use the Xeon W-3300 series CPUs.
It's plausible that Apple could continue offering an Intel Mac Pro alongside Apple Silicon to appease a small subset of customers needing it, but that seems to go against the grain of the transition itself.
There may be more on the way
Apple makes it relatively easy to have an educated guess as to what could ship in the coming months, with and without assistance from the rumor mill. The cadence of its releases throughout the year gives enough of a pattern to determine when something could launch, bearing in mind Apple likes to launch most of its main devices on a one-year cycle, or thereabouts.
So, we can say with confidence that you're probably not going to see much early in 2022, until March or April. It's also a certainty that there's not going to be a major iPhone refresh earlier than the fall, though rumors about that
iPhone 14
launch are already starting to surface.
There are also quite out-there products that could be launched in the future, most likely later than sooner. We're talking the often-rumored "
Apple Glass
here, as well as the
Apple AR
headset. The "
Apple Car
" could potentially receive some form of confirmation from Apple that it is on the way, but certainly not an actual car launch in 2022.
While it's doubtful that these latter items will make it onto Apple's launch roster before the summer, there's always a small chance that Apple could make an out-of-the-blue announcement for them.
Read on AppleInsider