What to expect from Apple's Q1 2022 earnings report later today
Apple will announce quarterly fiscal results for the first quarter at about 4:30 PM ET today, and it is expected to be a blockbuster quarter. Here's what to expect from the company's call with investors, and what Wall Street thinks.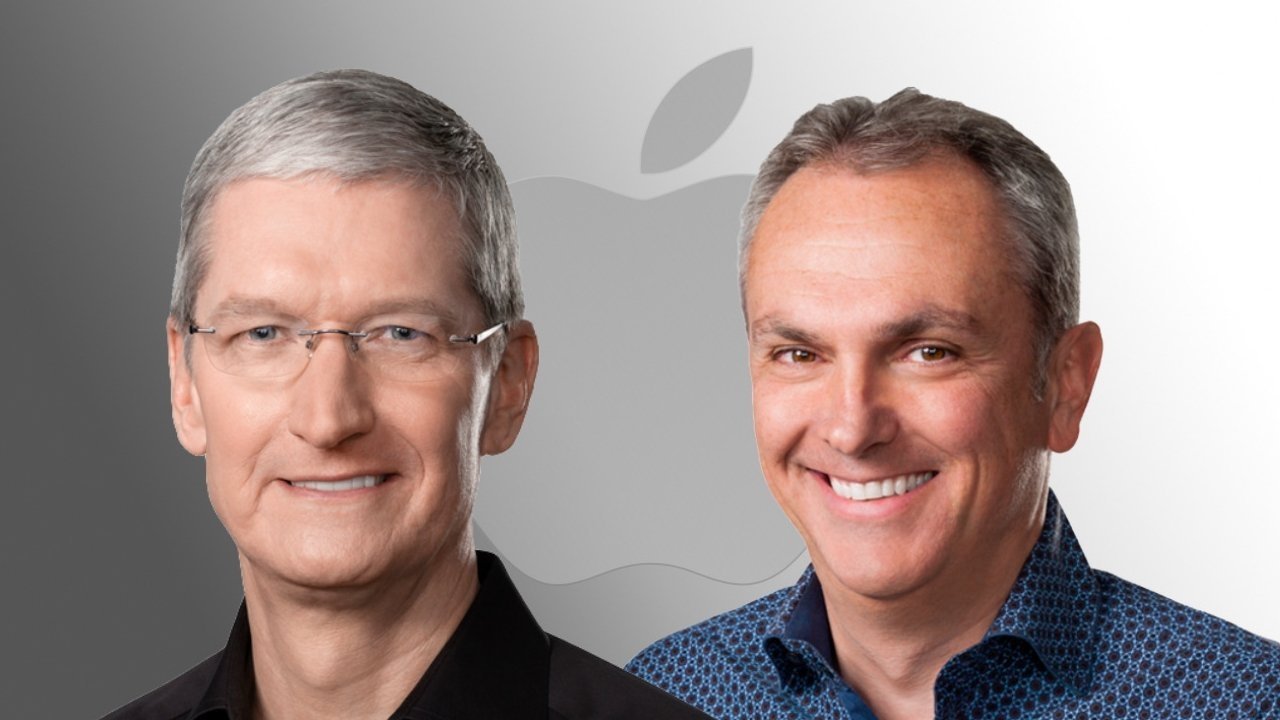 Apple CEO Tim Cook and CFO Luca Maestri
The company will announce its Q1 2022 results on Jan. 27 and hold an hourlong investor call at 2 p.m. Pacific Time (5 p.m. Eastern). During the call, Apple CEO
Tim Cook
and CFO Luca Maestri will take questions from analysts and discuss the company's holiday quarter performance.
Apple's first fiscal quarter corresponds with the fourth calendar quarter of a year. That means the company's Q1 2022 represented the holiday shopping quarter -- Apple's busiest.
As has been typical during the Covid-19 pandemic, Apple did not provide formal revenue guidance for the Q1 2022 quarter. However, it did say that it expects to set new revenue records despite increasing supply headwinds during the period.
Wall Street is forecasting that Apple will report $118.3 billion in revenue, gross margins of 40.5%, and earnings-per-share of $1.89.
The December quarter marked the first full quarter of availability for which Apple's
iPhone 13
and
iPhone 13 Pro
. Apple also launched its new
14-inch MacBook Pro
and
16-inch MacBook Pro
models with M1 Max and M1 Pro.
Back in the September quarter, Apple noted that it had missed out on $6 billion of revenue because of semiconductor constraints and supply chain problems. Heading into the December quarter, Apple advised that it expected those supply headwinds
could have a larger impact
.
Supply issues were felt differently across product lineups during the quarter, however. While lead time analysis suggests that Apple's new iPhone models largely found supply-demand balance during the period, supply of the company's new M1 Max and M1 Pro
remained constrained
in Q1 2022.
Although antitrust legislation and ongoing legal battles loomed over the
App Store
during the December quarter, the app marketplace still likely saw robust growth.
Analyst estimates
indicated that the App Store likely grew 31% year-over-year during the period reaching revenues of $5.3 billion.
A new wave of Covid-19 infections driven by the more infectious Omicron variant, however, prompted
Apple Store closures
and a delay of Apple's
return-to-office plans
.
During the December quarter, Apple also announced other new programs and services, including
a self-service repair initiative
for iPhone and Mac and a cheaper
$4.99 Apple Music Voice plan
.
Apple also flirted with a $3 trillion market capitalization during the quarter. It briefly hit that milestone during on Jan. 3, just a few days after the company's second quarter of 2022 began.
Katy Huberty, Morgan Stanley
Morgan Stanley analyst Katy Huberty believes that Apple will break holiday quarter earnings and beat Wall Street expectations for the quarter, though not by a significant amount.
She believes Apple will report revenue of $122.3 billion, gross margins of 41.9%, and EPS of $1.97.
The analyst's expectations are largely based on unexpected improvements in iPhone production, as well as robust Services performance. She believes Apple shipped 83 million iPhone units during the quarter.
Huberty maintains her 12-month Apple price target of $200.
Samik Chatterjee, JP Morgan
In a note ahead of earnings, JP Morgan analyst Samik Chatterjee says he believes Apple shares will continue to present upside, driven by a beat on consensus earnings expectations and favorable gross margin commentary.
The analyst expects Apple to report total revenue of $118.7 billion and earnings-per-share of $1.94.
While there's a good chance that investors will not be positively surprised by the share price, Chatterjee notes that guidance for the March quarter will be critical for a share price increase following the company's earnings report.
Chatterjee maintains his 12-month Apple price target of $210.
Krish Sankar, Cowen
Although the quarter will be marked by $6 billion of component shortage headwinds, Cowen analyst Krish Sankar believes that Apple will report results that are in-line or above consensus. He says Apple shares are a flight to safety during current market volatility.
Sankar expects Apple to report December quarter revenue of $119 billion, gross margins in the 41.5% to 42.5% range, and earnings-per-share of $1.90.
Cowen field work indicates that December quarter iPhone builds reached 88 million units, higher than its forecast of 82 million units. However, risks to the share price could be that the market backdrop is only rewarding "near flawless execution and results," as well as ongoing supply constraints.
The analyst maintains his 12-month Apple price target of $180.
Daniel Ives, Wedbush
Daniel Ives of investment bank Wedbush believes that Apple will report robust numbers despite supply constraints, delivering upside on current Wall Street consensus.
He expects the company to report revenues higher than Wall Street's current target of $118.3 billion and earnings-per-share higher than $1.88. Ives has not updated his own forecast with current numbers, however.
The analyst still calls Apple a "safety blanket" tech stock amid a market storm. He says that the pent-up demand story for Apple is still being underestimated by investors. Chip supply issues are a concern but likely transitory, he added.
Ives maintains his 12-month Apple price target of $200.
Rod Hall, Goldman Sachs
Goldman Sachs analyst Rod Hall says his bank is "slightly cautious" heading into Apple's Q1 2022 earnings report. While he expects positive iPhone news, Services growth is his main area of risk, given deceleration from pandemic levels.
Despite that, his estimates are slightly ahead of consensus. Hall is expecting Apple report revenues of $118.6 billion, gross margins of 42%, and earnings-per-share of $1.91.
Hall acknowledges that Apple likely executed "better than plan" against supply constraints. Decelerating late quarter demand and a Services decline could lead to a more cautious commentary from Apple management heading into the March quarter.
The analyst maintains his 12-month Apple price target of $142.
Amit Daryanani, Evercore
Evercore Amit Daryanani expects Apple to report upside versus Wall Street expectations for the busy holiday shopping quarter. He added that Apple shares remain a "core mega-cap to own and they are well positioned into H2:22."
The analyst believes that Wall Street models are currently under-appreciation typical seasonality in the March quarter. He believes Apple will bring in revenues of $85 billion in the period.
Although China smartphone data indicates a deceleration in the December quarter, Daryanani said that iPhone availability and demand remains strong. While Services growth has also decelerated, the analyst believes Apple has already expected this with decreased revenue guidance.
Daryanani maintains his 12-month Apple price target of $210.
Read on AppleInsider