Notes of interest from Apple's blockbuster holiday quarter earnings report
Apple has published its crucial holiday quarter of 2021 results, breaking all of the company's records for the quarter. Here are some notes of interest from the report, including remarks from Apple CEO Tim Cook and Chief Financial Officer Luca Maestri.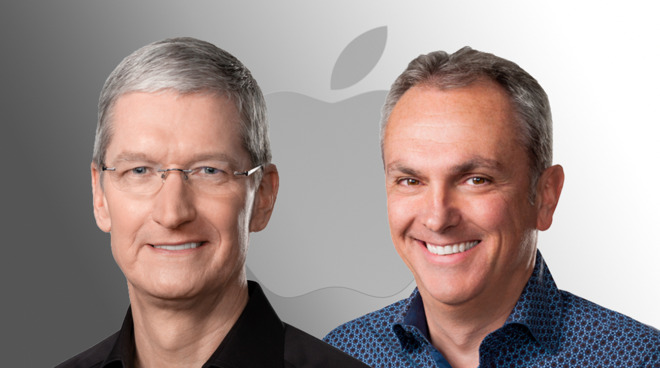 Tim Cook (left) and Luca Maestri (right)
Apple's first calendar quarter of 2022 earnings
Announced on Thursday ahead of Apple's customary analysts call, Apple's revenue of $123.9 for the quarter ending December 2021 equates to a year-on-year annual growth/decline from the then-record-setting $111.4B reported in the
year-ago quarter
. Apple's earnings per share came in at $2.10 for the quarter, up from $1.68 in the Q1 2021 results.
The quarter's results follows on from the excellent $83.4 billion in revenue seen in
Q4 2020
.
The Wall Street consensus for the quarter predicted that Apple would report revenue of $118.3 billion and an EPS of $1.89 for Q1 2022.
The holiday quarter, as usual, benefitted from numerous product launches that take advantage of the holiday sales period. This includes the
Apple Watch Series 7
, third-generation
AirPods
, the
14-inch MacBook Pro
and
16-inch MacBook Pro
, new color options for the
HomePod mini
, and the infamous
Apple Polishing Cloth
.
Launches from the previous quarter are also great contributors to Apple's revenue, with Q1 being the first full quarter of availability for them. This includes the headline
iPhone 13
generation, as well as the ninth-generation
iPad
and the sixth-generation
iPad mini
.
On the quarter, net sales for the iPhone jumped to $71.6 billion, up from $65.6 billion in the year-ago quarter. Mac sales jumped by over $2.2 billion to $10.8 billion, while iPad sales dropped by about $1.2 billion to $7.2 billion because of supply constraints.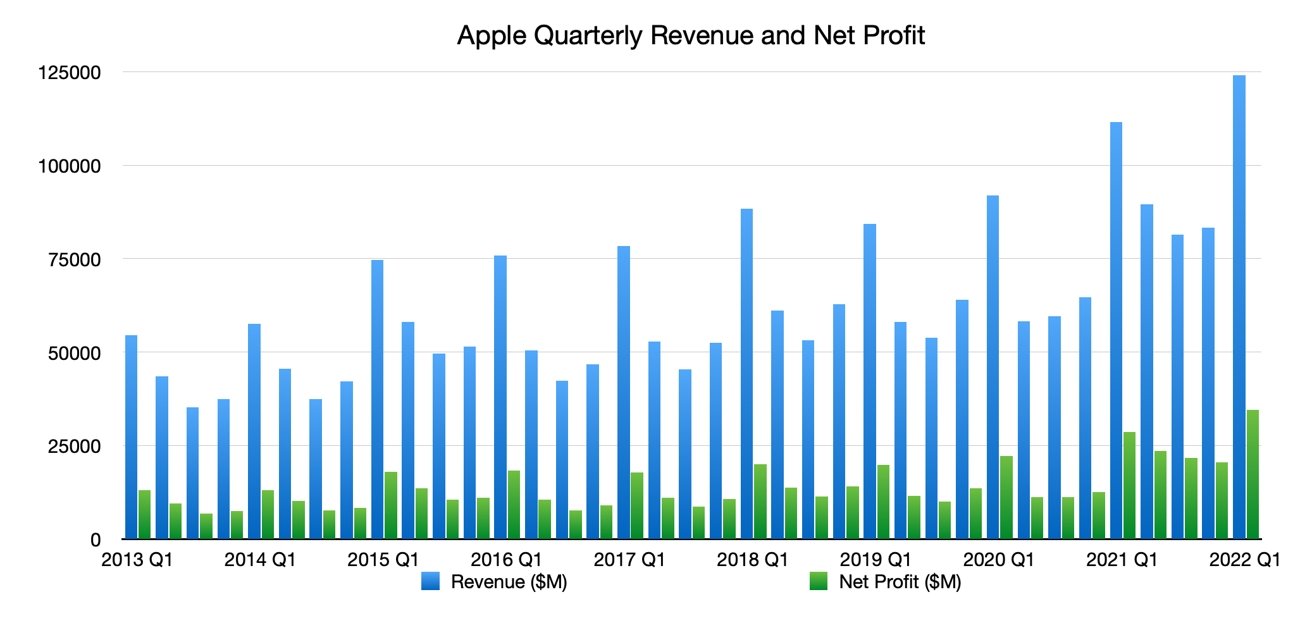 Apple first fiscal quarter of 2022 revenue and net profit
Apple's wearables segment climbed to $14.7 billion from $13.0 billion in the year-ago quarter. Services jumped about $3.8 billion from 2020 to $19.5 billion in the holiday quarter of 2021.
"This quarter's record results were made possible by our most innovative lineup of products and services ever," said Tim Cook, Apple's CEO. "We are gratified to see the response from customers around the world at a time when staying connected has never been more important."
"The very strong customer response to our recent launch of new products and services drove double-digit growth in revenue and earnings, and helped set an all-time high for our installed base of active devices," said Luca Maestri, Apple's CFO. "These record operating results allowed us to return nearly $27 billion to our shareholders during the quarter, as we maintain our target of reaching a net cash neutral position over time."
AppleInsider
interpretations of the results and observations are notated by initials at the end of the statement.
Highlights from the earnings report, and the following conference call
Apple stock started the day at $162.45, after a tumultuous week following the $3 trillion valuation landmark


Apple stock is down about 12.4% on the year.


Just after the earnings report, Apple stock jumped well over $160, and is at $162.20 as of 4:35 PM ET


The back-pedaling by analysts has already begun. We'll be talking more about this when the dust settles -- MW


At 5:00 PM ET, AAPL hit $167.21


Tim Cook: 1.8 billion devices in active use


Tim Cook: Supply constraints in the holiday quarter were worse than in the previous quarter


Tim Cook: App Store is an "economic miracle" with $260 billion paid out. 2021 was a new record for dev earnings


"We saw supply constraints across most of our products," Cook said in an interview with the Wall Street Journal "We're forecasting that we will be less [constrained] in March than we were in the December quarter."


Luca Maestri: "Vast majority" of Mac sales are Apple Silicon (obviously - MW)


Half of iPad purchasers new to the product


Apple Watch saw about 2/3 of customers purchasing in the quarter new to the product


Paid subscriptions grew to more than 785 million in total, up 165 million in the last 12 months


$14.4 billion spent in the quarter on 93 million Apple shares, with 30 million shares retired


No revenue guidance being issued


Expecting March-quarter revenue record, growth rate to decelerate from the previous quarter, though


Challenging compare, channel-fill timing, and foreign exchange headwinds cited


Apple earned 10% more in the holiday quarter than it did in the entirety of 2011 -- MO


Question and answer time!


Wamsi Mohan - Bank of America - Margins impressive, how sustainable mix trends are from services and iPhone Pro/Pro Max mix


Cook: "Strong demand across the iPhone 13 family" - no comment on particular mix (as always - MW)


Maestri: No real comment on product mix or services as it pertains to margins other than as we get bigger, we make more money (again, as always - MW)


Kyle McNealy - Jefferies - Are we expecting a recovery in iPad as component supply increases?


Cook: Repeats comment about March quarter being less constrained


Cook: Challenge on legacy nodes, limited by supplier (repeat from October earnings report - MW)


McNealy: wants more trajectory info


Cook again repeats legacy node limitations. Repeats that Apple does not guide by volume


Shannon Cross - Cross Research - Wants more color on Mac sales


Cook: Notes revenue increase in Macs, not limited to a narrow geographical area. Consumer response great for MacBook Pro


Cook: Six out of 10 sales in China new to Mac.


Cross: What were the things that outperformed in Services?


Maestri: Great on all fronts. All-time records for video, music, cloud, payments, App Store


Maestri: Spread all around the world


Q1 2022 generated more revenue than the sum of FY 1997 through FY 2007. - MO


Katy Huberty - Morgan Stanley: Is Apple starting to rethink the manufacturing footprint on the back of the disruption?


Cook: Largest issue by far is the chip shortage. Industry-wide, and legacy nodes.


Huberty - Metaverse opportunity?


Cook: Always exploring new opportunities. Over 14K ARKit apps on App Store now. Lot of potential in the space.


Cook never said the word Metaverse - MW


Amit Daryanani - Evercore - How much revenue left on the table in December?


Cook: Hard to estimate with any great precision. Repeats that March will be less constrained than December.


Cook: Still challenging environment.


Daryanani: How does Apple decide on what to put R&D funding on?


Cook: We try to announce things when they're ready, maintain element of surprise.


Cook: Other people can do it differently, of course.


Cook: We look at things that are at the intersection of hardware, software, and services.


Samik Chatterjee: JP Morgan - Apple TV+, what trends are you seeing and how similar are they to the rest of the market?


Cook: We don't give out Apple TV+ subscriber numbers


Cook: Cook repeats wins and nominations numbers for Apple TV+. Doing exactly what we wanted to.


Chatterjee: Where are the biggest opportunities for services?


Cook: Apple Card. Cites customer satisfaction, and main card use


Chris Kaso - Raymond James - Asks again about next quarter


Maestri: Repeats remarks about record breaking quarter.


Kaso: sustainability of growth about iPhone?


Cook: iPhone is an integral part of so many people's lives. Repeats active device use numbers.


Cook: Repeats customer satisfaction numbers. (Some analysts need to pay better attention to what's already been said - MW)


Cook: "We maintain a very optimistic view on iPhone long-term"


Ben Bollin - Cleveland Research: iPhone user base, and subscription number parallels?


Maestri: Points out the obvious relationship between number of users and subscription volumes and dollars


Harsh Kumar - Piper Sandler: Apple TV+ content - In essence what is Apple's philosophy on content acquisition


Cook: We try to find good content that has a reason for being


Cook: "I don't view that we've narrowed our universe of things we're selecting from. There's plenty to pick from out there."


Kumar: Apple vision of healthcare in the future. Will Apple play a more active role in healthcare and mandates?


Cook: Repeats bit about health alerts and calling 911 from earlier in the call.


Cook: Lot that we're doing today. "My sense has always been that there is more here."


Cook: Satisfied with what we're doing in this area.


Mercifully, this call is over. Particularly bad and repetitive batch of questions this time, worse than normal. -MW


AAPL is at $167.30 at the end of the call


Apparently, Apple staff agreed with our assessment. Closing audio was punctuated by laughter. - MW
Read on AppleInsider