Apple TV+ transforms town for 'Zoltar'-like comedy 'Big Door Prize'
Apple has started production on the
Apple TV+
comedy "The Big Door Prize" by set-dressing a street in Loganville, Georgia, in a production that could be codenamed or renamed "Zoltar."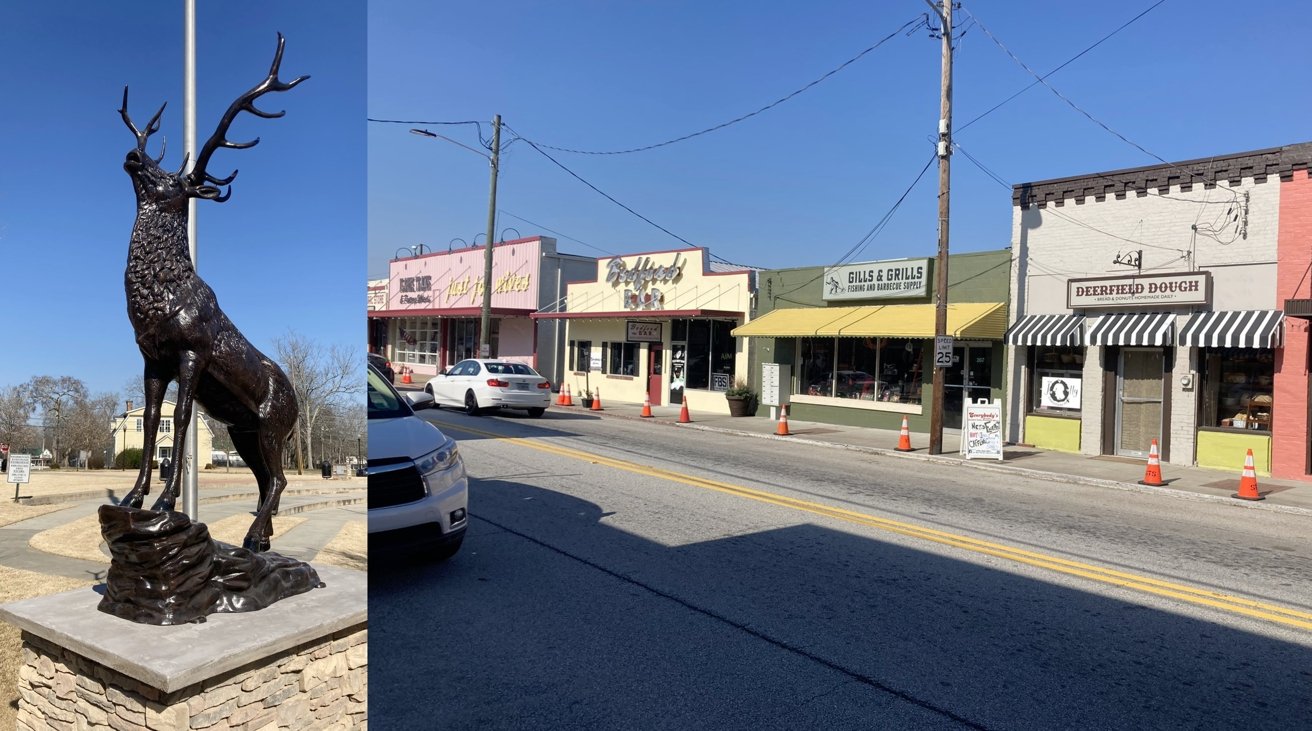 Images of 'Deerfield' [via Matthew Smith/Twitter]
In May 2021, Apple
secured the rights
and placed a straight-to-series order for "The Big Door Prize" about a magical device. Tweets posted on Saturday by an inhabitant of Loganville, GA tease what the show could look like, by highlighting some of the new additions to the town.
The images from
Matthew Smith
mention how the show is being used as a filming location, which involved a repurposing and repainting of local stores. As part of the set creation, the town also has a statue of a deer, as well as a "Dairy Field" ice cream stand.
Slightly confusing matters, Smith initially says the production is called "Deerfield," but in a reply then says it's for an Apple TV+ series called "Zoltar."
Popped into the barber shop today and found our little town is being used as a filming location for a production called "Deerfield". All the old shops have been repurposed, repainted, and redressed, kind of exciting! #film pic.twitter.com/wljmKGFrEI
The "Zoltar" name was previously
raised
by the
Monroe Local News
on January 24 as work on Main Street was being conducted. Loganville events and marketing coordinator Kirsty Daniel said at the time filming in the area would take place from early February, and continue through to April.
Daniel also said it was for an "Apple TV series named Zoltar and it revolves around a high school teacher in a small town."
The confusion over the title is understandable, as there's some crossover between the confirmed show "The Big Door Prize" and "Zoltar." The latter refers to a famous fortune-telling vending machine from the film "
Big
," which has previously
been tipped
to become a TV show, and does have
multiple
IMDB
listings
.
"The Big Door Prize" does have some parallels, in that it follows the residents of the small town called Deerfield who discover a magical, destiny-predicting machine in their grocery store. However, the show, which has
Chris O'Dowd
starring as a teacher, is based on the M.O. Walsh novel of the same name.
It is not unheard of for TV shows to have name changes during production, or to be filmed under a
working title
to avoid scrutiny. Given the central feature of both the novel and the film being the mysterious vending machine, it seems there could be a small chance "Zoltar" is used as a codename, and a slight possibility of a complete production name change.
Read on AppleInsider