Qualcomm's Snapdragon X70 modem with AI could arrive in 'iPhone 15'
Qualcomm has introduced its Snapdragon X70, a 5G modem that uses AI to increase performance, and it could appear in a future update to the
iPhone
.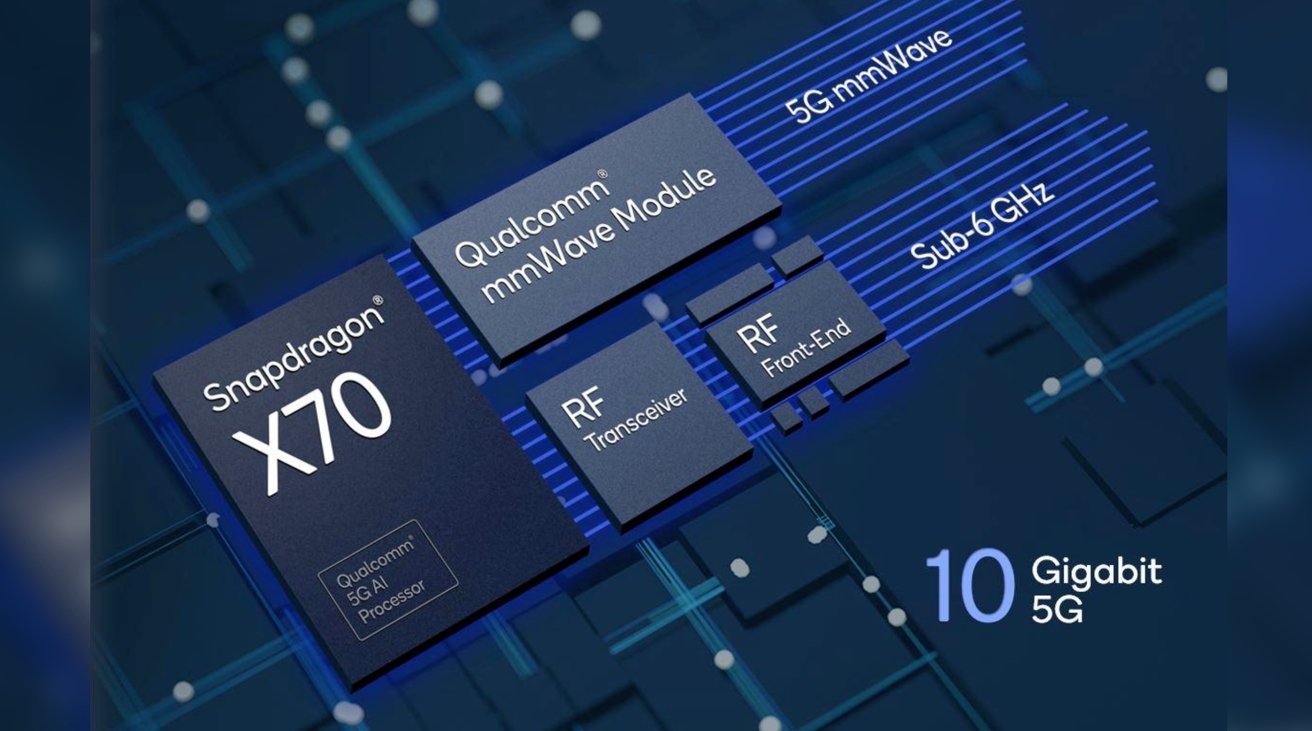 Revealed at Mobile World Congress, the
Snapdragon X70
5G Modem-RF system is the chip maker's fifth-generation modem-to-antenna 5G system. While it introduced
the X65
in 2021 that boasted 10Gbps cellular speeds, the X70 offers a different approach via its use of AI.
Like its predecessor, the Snapdragon X70 is capable of downloads at up to 10Gbps, but it adds in elements such as Qualcomm's 5G AI Suite, as well as an "Ultra-Low Latency Suite," and 4X carrier aggregation. The changes should help the chip improve responsiveness for 5G applications in the future.
The introduction of an onboard AI system for the modem gives it a way to tune connectivity and further improve it. This includes
mmWave
beam management, channel-state feedback and dynamic optimization, AI-based network selection, and adaptive tuning of the antenna.
For example, the adaptive antenna uses the AI to fine-tune itself, to optimize transmit and receive paths, with the aim of reducing power consumption and extending battery life.
The AI should be beneficial for 5G connectivity, especially mmWave, a relatively fragile connection type that is susceptible to being blocked by walls, windows, and even rain. By tuning mmWave connections, users should enjoy the marketed higher connection speeds with fewer issues.
The Snapdragon X70 is also said to be the world's only system family capable of supporting every commercial 5G band from 600MHz to 41GHz, as well as having the world's first 4X downlink carrier aggregation across TDD and FDD.
Qualcomm anticipates starting sampling of the X70 in the second half of 2022, with commercial mobile devices using it expected to launch in late 2022.
With an
ongoing modem licensing
deal between Apple and Qualcomm, there stands a good chance that the X70 could be employed in a future iPhone. Given the sampling and expected release timing, this could potentially include the "
iPhone 15
."
Read on AppleInsider