Hyper's HyperDrive 10-in-1 USB-C hub review: Use two 4K displays with your M1 Mac
Hyper's HyperDrive 10-in-1
USB-C
hub is a great way to expand your Mac's I/O but is particularly useful for M1-based Macs if you want to use two external displays.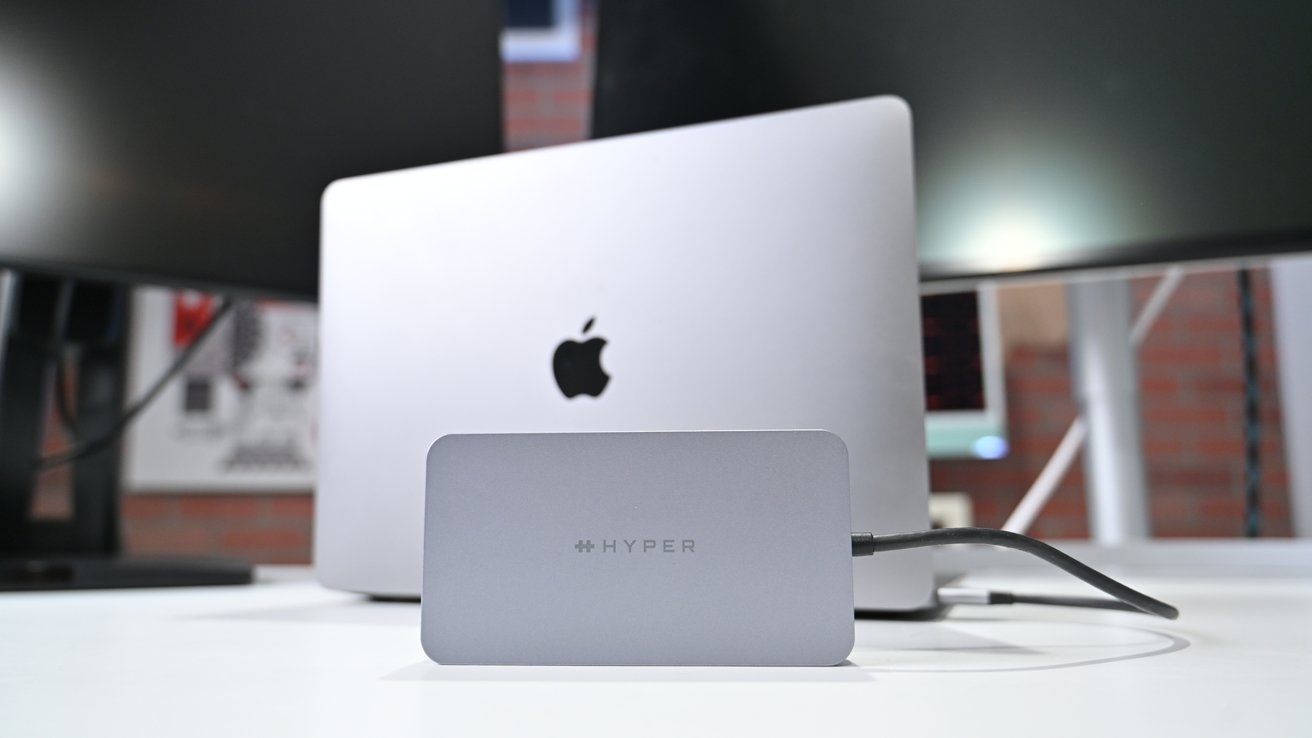 The HyperDrive USB-C 10-in-1 hub
There's been an onslaught of USB-C hubs to aid
Mac
users by providing additional port options. Hyper has been at the forefront of this movement, with a multitude of designs in its portfolio.
The HyperDrive 10-in-1 is unique because it not only acts as a capable hub but allows Apple's M1 processor to power two external displays. A functionality the M1 doesn't possess on its own.
Unlike the vast majority of other USB-C hubs, the HyperDrive 10-in-1 has a plastic body. The top and sides are silver plastic that looks to be aluminum. The bottom has a textured black plastic with Hyper's logo blanketing the surface.
Hyper permanently affixed the USB cable to the end of the hub and can be connected to any Mac or iPad's USB-C port.
The ports on on the HyperDrive 10-in-1 include:
HDMI 4K 60Hz


HDMI 4K 30Hz


USB-C 100W Power Delivery


Gigabit Ethernet


3.5mm Audio Combo Jack (Speaker & Microphone)


MicroSD UHS-I 104 MB/s


SD UHS-I 104 MB/s


2 x USB-A 5Gbps


USB-C 5Gbps
This verbose selection of ports is quite versatile, providing options for nearly every application.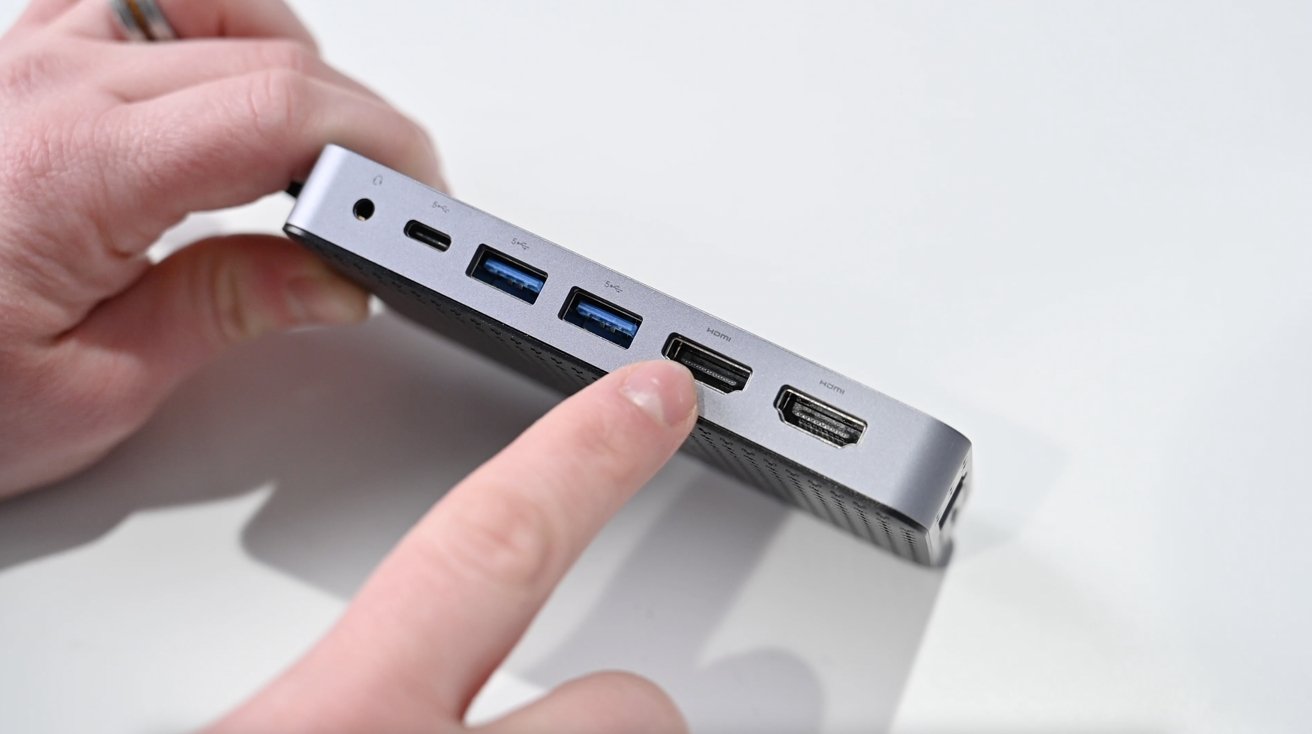 The HyperDrive USB-C 10-in-1 hub ports
There are dual USB-A ports for backward compatibility with common office devices such as keyboards or mice. The USB-C ports provide support for devices of today, such as fast SSDs or cameras. The pair of HDMI ports connect multiple displays with 4K resolution.
That leaves ancillary ports such as the audio jack and Ethernet.
The only thing we miss out on is additional USB-C ports. We use USB-C for most tasks and two isn't sufficient for a heavy workload. Especially if one of those USB-C ports is dedicated to a power supply. Speaking of which, the HyperDrive 10-in-1 USB-C hub supports up to 100W of power delivery.
We do wish the card readers were faster though, as 104 MB/s is relatively slow. A UHS-II card reader would have been beneficial for transferring large amounts of RAW photos or video.
Multiple displays come to the M1
One of the inherent limitations of Apple's first Mac silicon is external display support. While the M1 Pro and M1 Max both support multiple external displays, the
M1
found in the
MacBook Air
,
MacBook Pro
,
24-inch iMac
, and
Mac mini
, only supports one.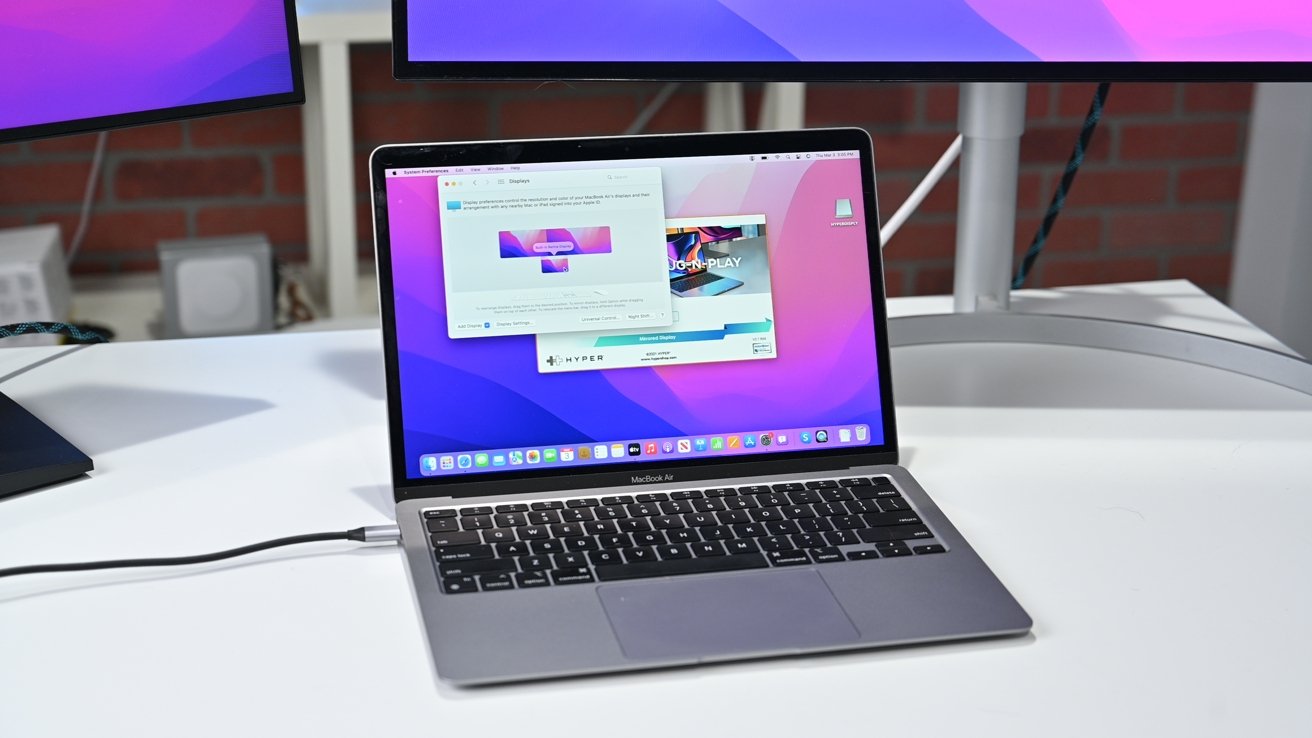 Our Mac display preferences
Most M1 machines can run a single display at up to 6K resolution at 60Hz. As an exception, the M1 Mac mini can run a second 4K display when connected via its HDMI port.
This leaves any MacBook Air or 13-inch MacBook Pro users in the lurch if they'd like to use two external displays.
Hyper seemingly solves this issue with its HyperDrive 10-in-1 USB-C hub. Once connected to your Mac, it will automatically mount a disk image containing the HyperDisplay macOS InstantView app.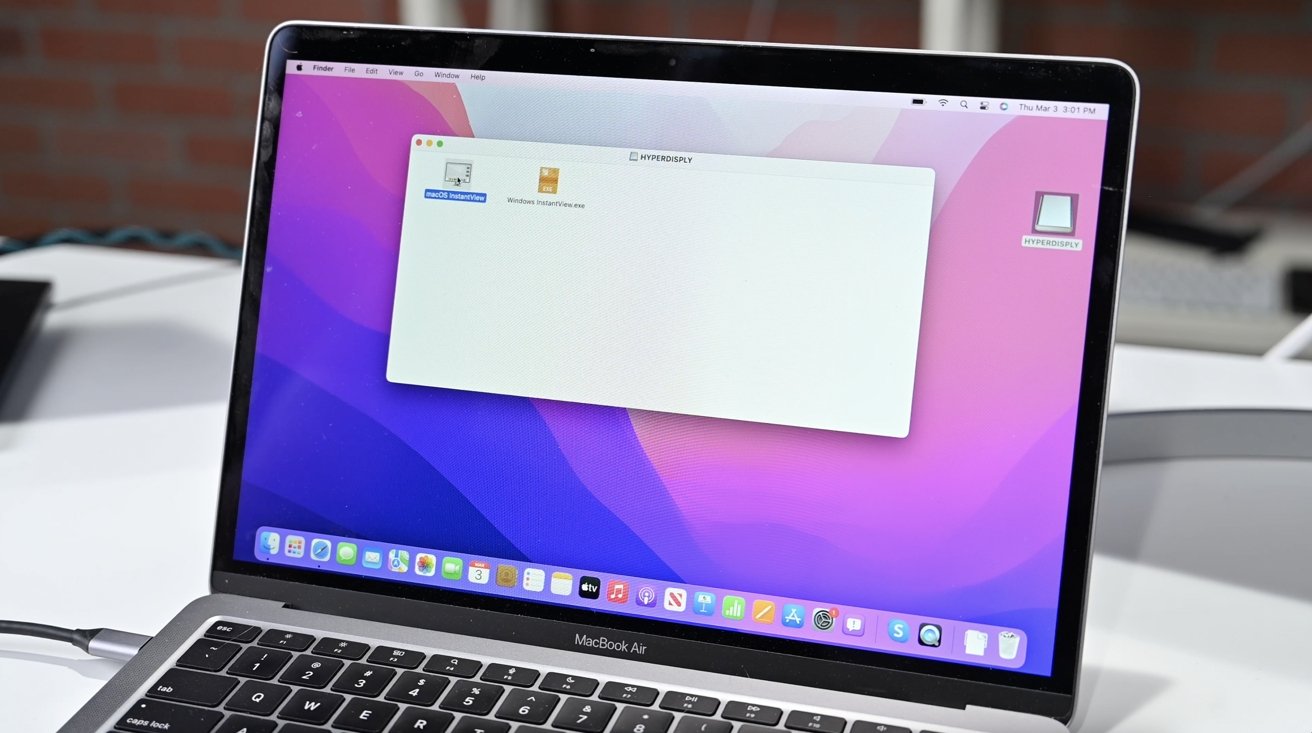 Hyper InstantView app
When you double-click this launcher, it will ask you to authenticate and allow it to access what's on your display. Then you're good to go.
This will allow you to connect two, external 4K displays without installing any additional drivers. In our testing, this worked flawlessly. It supports not only mirrored displays but can extend your display as well.
If you open system preferences, both displays will appear as normal and can be rearranged accordingly.
Should you buy the HyperDrive 10-in-1 USB-C hub?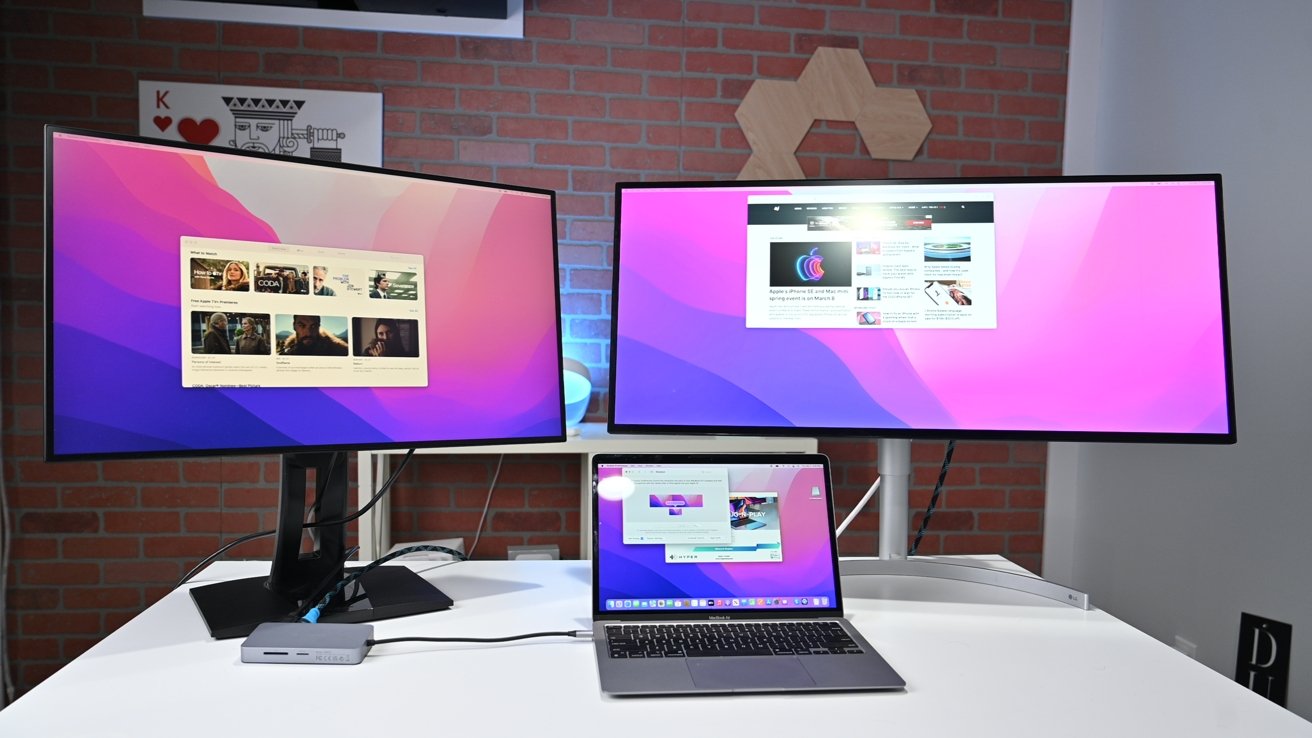 Using two extended monitors with the M1 MacBook Air
The HyperDrive 10-in-1 USB-C hub is a jack of all trades. It has a capable port selection including card readers, USB, and multiple HDMI outputs. It unlocks additional capabilities on M1 Macs that were previously unable to drive dual external displays.
Our biggest criticism is the overall lack of USB-C ports. We know there are lots of people who rely on USB-A and they'll be happy with the two provided, but USB-C is where the future is and we'd hoped to see at least one more on this hub.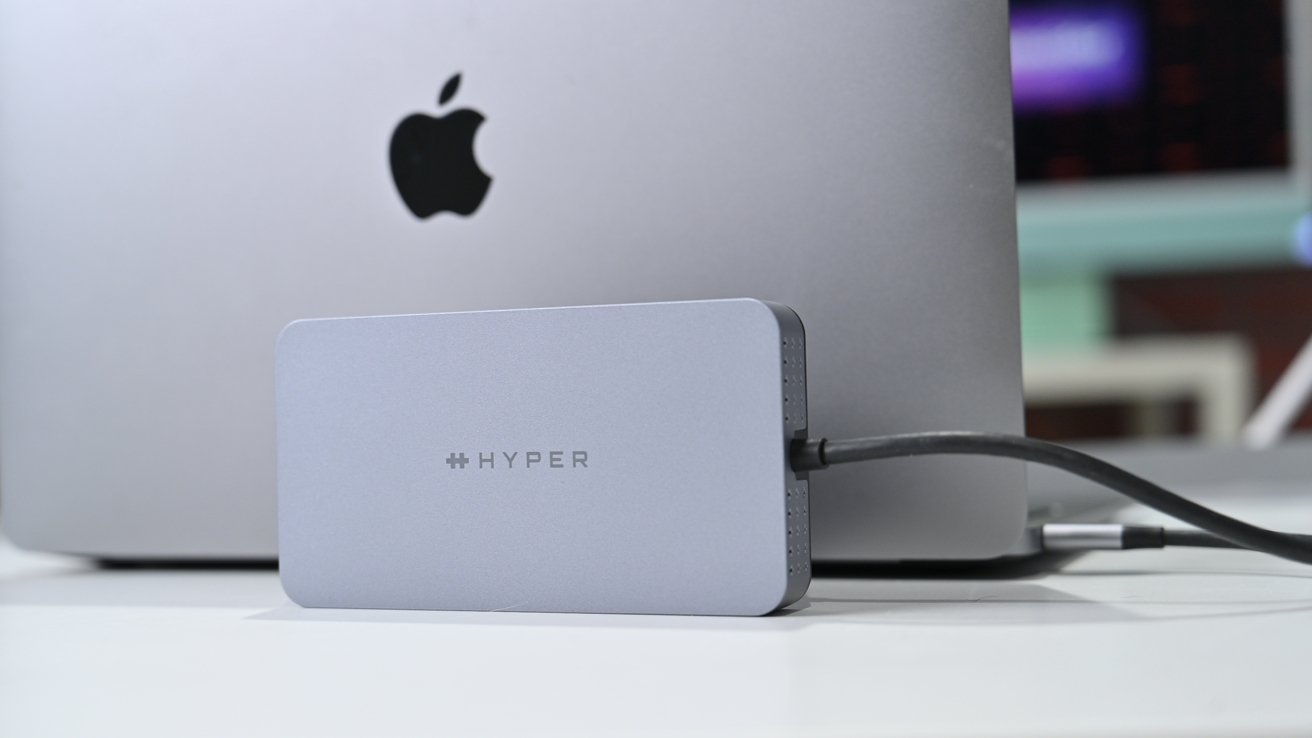 The HyperDrive USB-C 10-in-1 hub
For many Mac and iPad users, the HyperDrive 10-in-1 is exactly what they're looking for.
Pros
Compact design for the number of ports


Supports two external 4K displays on M1 Macs


Good port selection for broad set of users


Plastic body won't scratch any other devices


Up to 100W of power delivery
Cons
Only UHS-I support on the card readers


External displays limited to 4K


Only two USB-C ports


Plastic doesn't feel as "premium" as metal
Rating: 4 out of 5
Where to buy
The Hyper HyperDrive 10-in-1 USB-C hub retails for $199 and can be found both
from Hyper directly
, as well as through
B&H Photo
.
Read on AppleInsider