Compared: Apple Studio Display vs. 2011 Thunderbolt Display
We pulled our 2011 Thunderbolt Display out of storage to compare it against Apple's all-new
Studio Display
.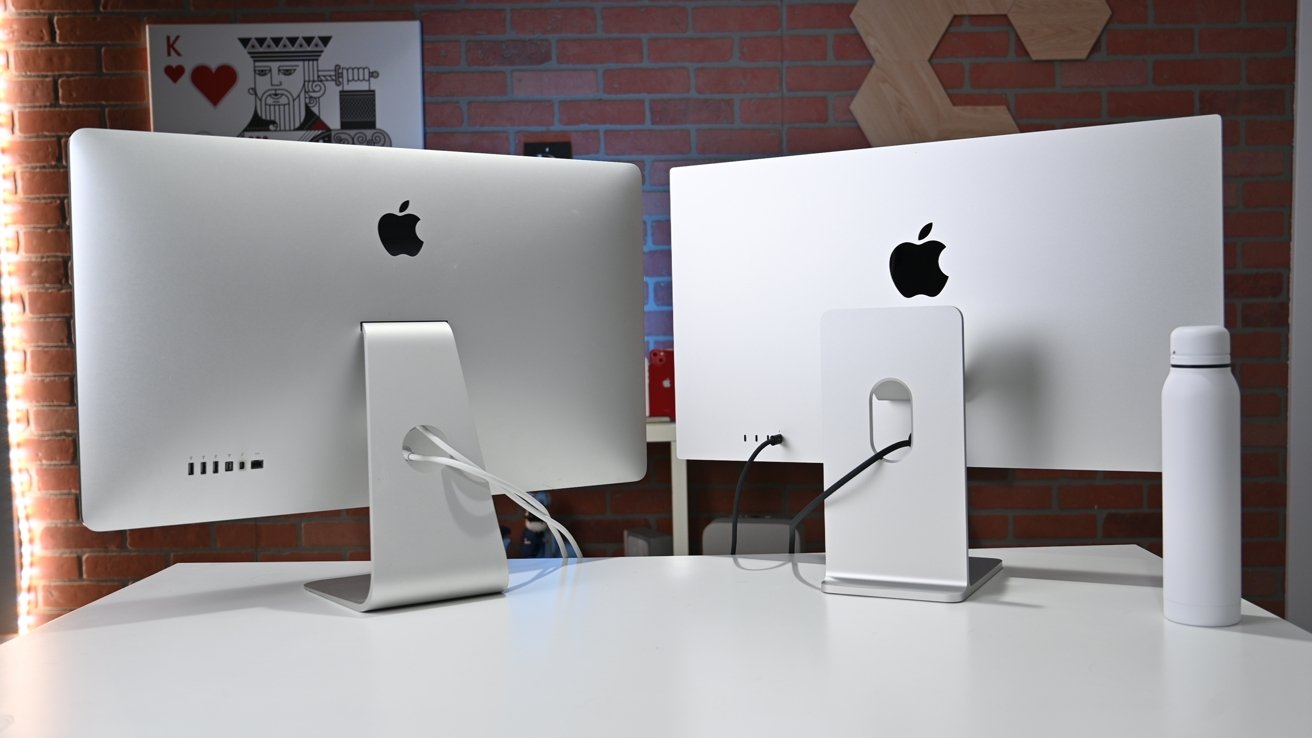 Apple's 2011 Thunderbolt Display compared to the Studio Display
Apple killed off its
Thunderbolt
Display in 2016, leaving a void in the market. Apple didn't introduce a new option until 2020 with the
Pro Display XDR
. But this display carries a massive price tag and wasn't a true replacement for the more affordable Thunderbolt Display.
Enter -- the Studio Display.
Thunderbolt Display
Apple has a long history of pumping out high-quality,
Mac
-specific displays. Users may have forgotten this with the introduction of the 2022 Studio Display, but it strongly follows the precedence Apple set for itself.
In 1998, Apple launched the original Studio Display. These 3:4 format displays were available for a year before they were sold alongside Apple's Cinema Display. The Cinema Display eventually replaced the Studio Display and was sold from 1999 to 2011.
It was in 2011 that Apple launched the Thunderbolt Display. At the time, Apple touted that it had created the world's first Thunderbolt-enabled display. One of the cool features was that two of these displays could be daisy-chained together and connect to your Mac with a single cable.
Otherwise, it had an expansive 27-inch panel, an all-metal body, and it eventually replaced Apple's legacy Cinema Display.
We picked up one of those Thunderbolt Displays at launch and happen to have it still hanging around our studio.
Some familiarities with some modern upgrades
There are many similarities between both of these displays. Each of these Apple displays measures up to 27 inches on the diagonal and connects to your Mac via Thunderbolt. Albeit different generations of the high-speed connector.
Design and build
Both displays are made of anodized aluminum, though the Studio Display has much slimmer bezels, is overall thinner, and weighs notably less.
The Thunderbolt Display has an older version of Apple's stand that was used with several generations of
iMac
. Users had the option of picking up a VESA adapter kit should they prefer to mount the monitor.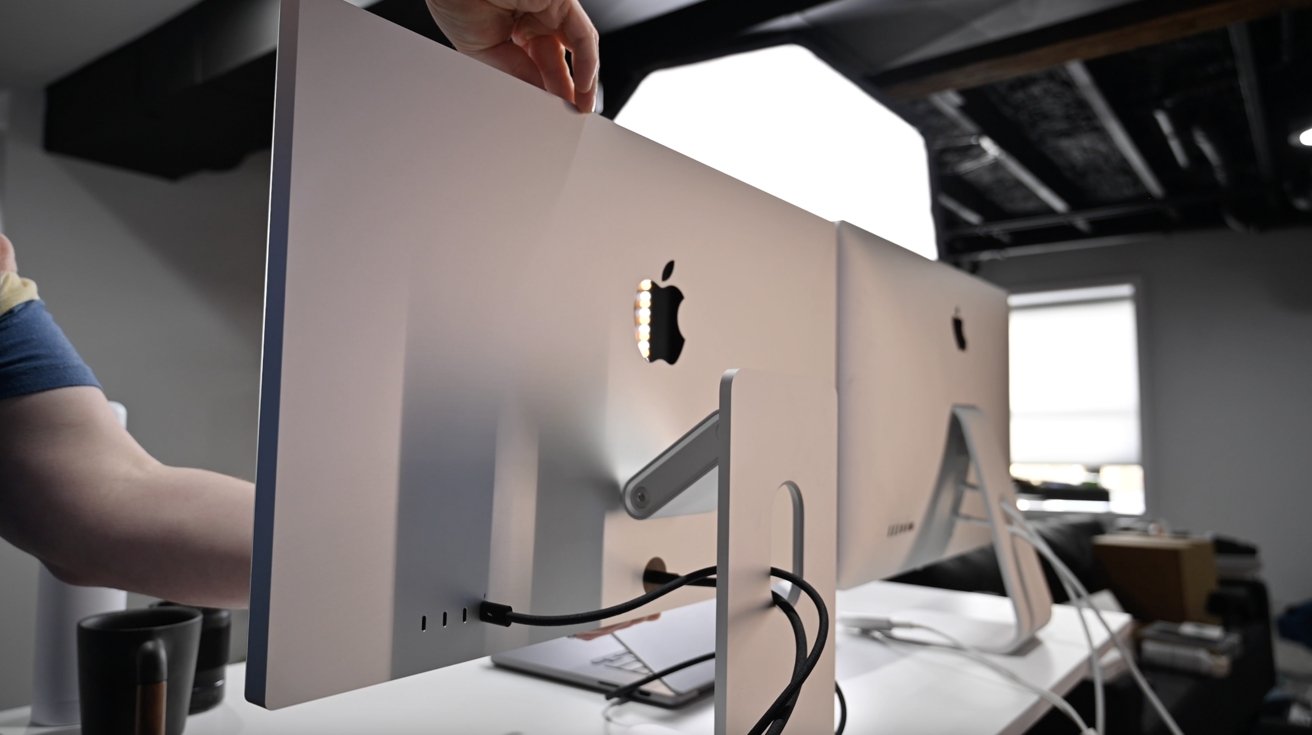 Studio Display stand
With the Studio Display, Apple provided three stand options. The main tilt stand is similar to the 24-inch iMac, but the height-adjustable version is more akin to the Pro Stand found with the Pro Display XDR. There's a VESA option too though you'll need to decide which one you want at the time of purchase.
On the back of the Thunderbolt Display, Apple included:
Three USB-A


FireWire 800


Gigabit Ethernet


Thunderbolt


MagSafe cable -- 85W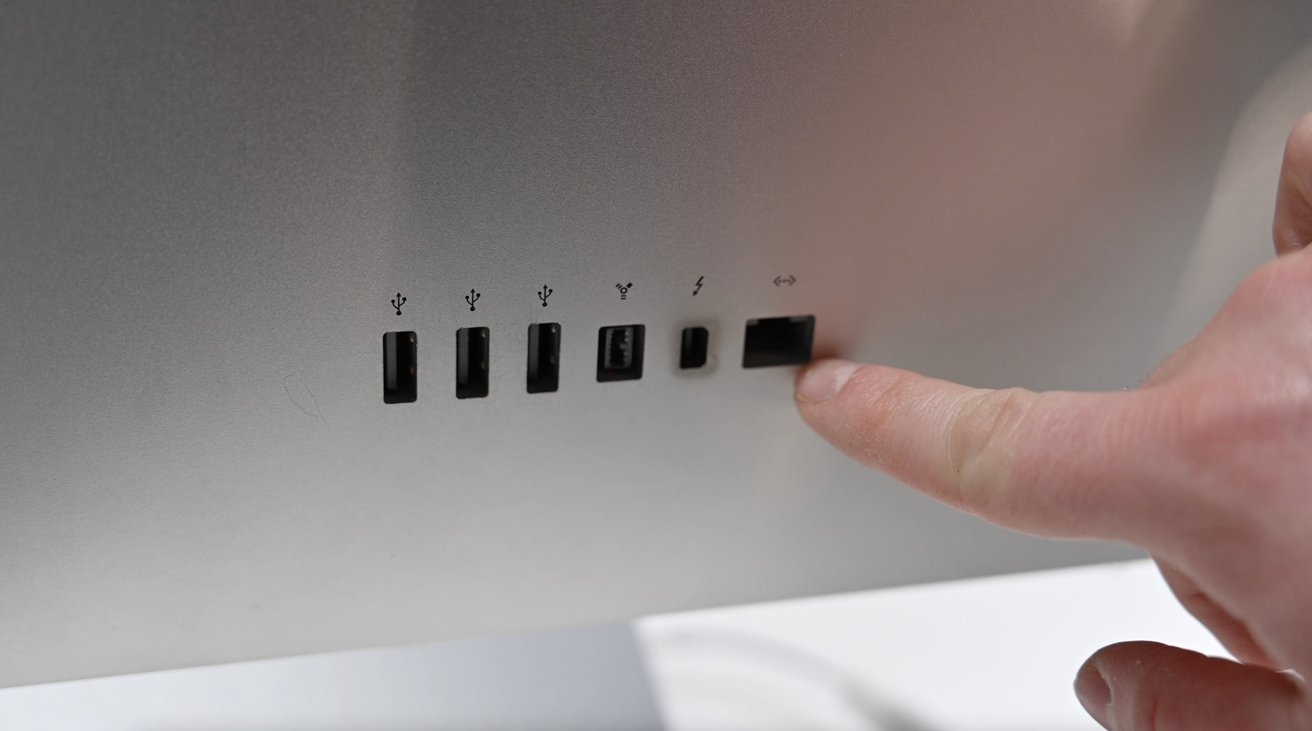 Thunderbolt Display ports
The MagSafe cable is integrated into a perpetually-connected Thunderbolt cable to charge your portable Mac. With the advancements in Thunderbolt, the new Studio Display can deliver up to 96W of power over the single, removable Thunderbolt 3 cable.
Apple drastically simplified the ports with the Studio Display, only including three 10Gb/s USB-C ports. Because of Thunderbolt data limitations, it isn't possible to daisy chain two 5K studio displays like you could the Thunderbolt Display.
Resolution and image quality
The Thunderbolt Display had a resolution of 2560 by 1440 pixels, while the Studio Display doubles that, measuring in at 5120 by 2880. That gives the Thunderbolt Display a pixel density of 108 pixels per inch, and the Studio Display a Retina-quality 218 PPI.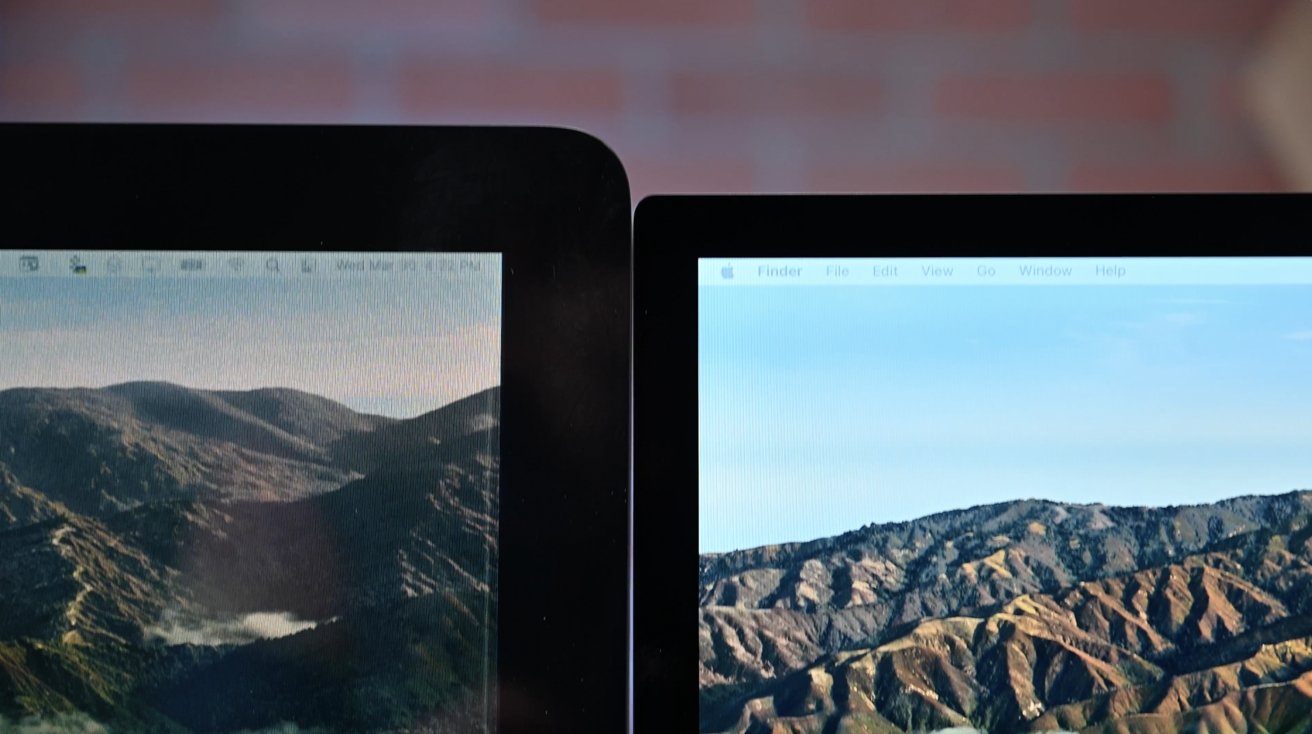 Closeup of both Apple displays
For contrast ratio, the Studio Display has a 1200:1 ratio and the Thunderbolt Display has a 1000:1 ratio. Only a modest improvement for Apple's newest monitor.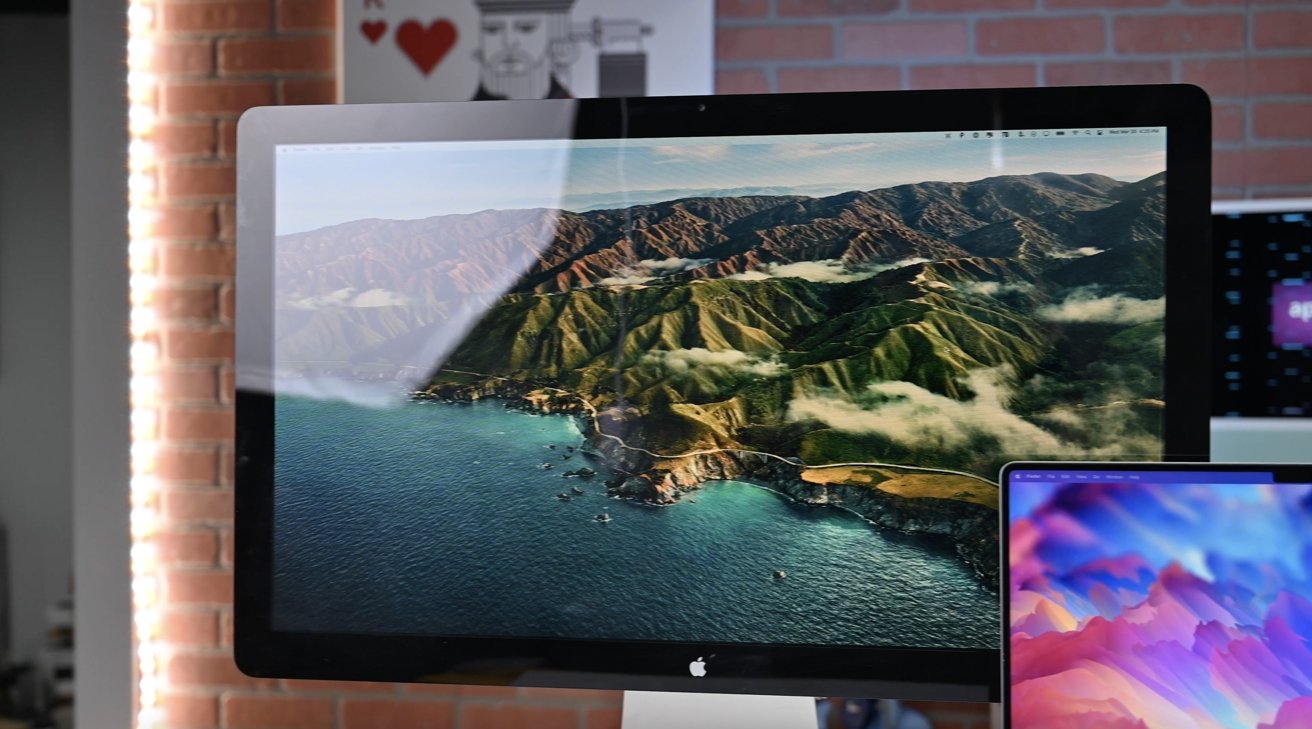 Thunderbolt Display
Looking at them side by side, both displays look good. But the Thunderbolt Display looks a bit dated. It is inset further back from the front glass and it doesn't meet Apple's definition of Retina as the pixels are discernable while sitting from a normal distance.
It also has a slight yellow tint to the image, which may result from the ravages of time. Obviously, the newer Studio Display appeared more accurate.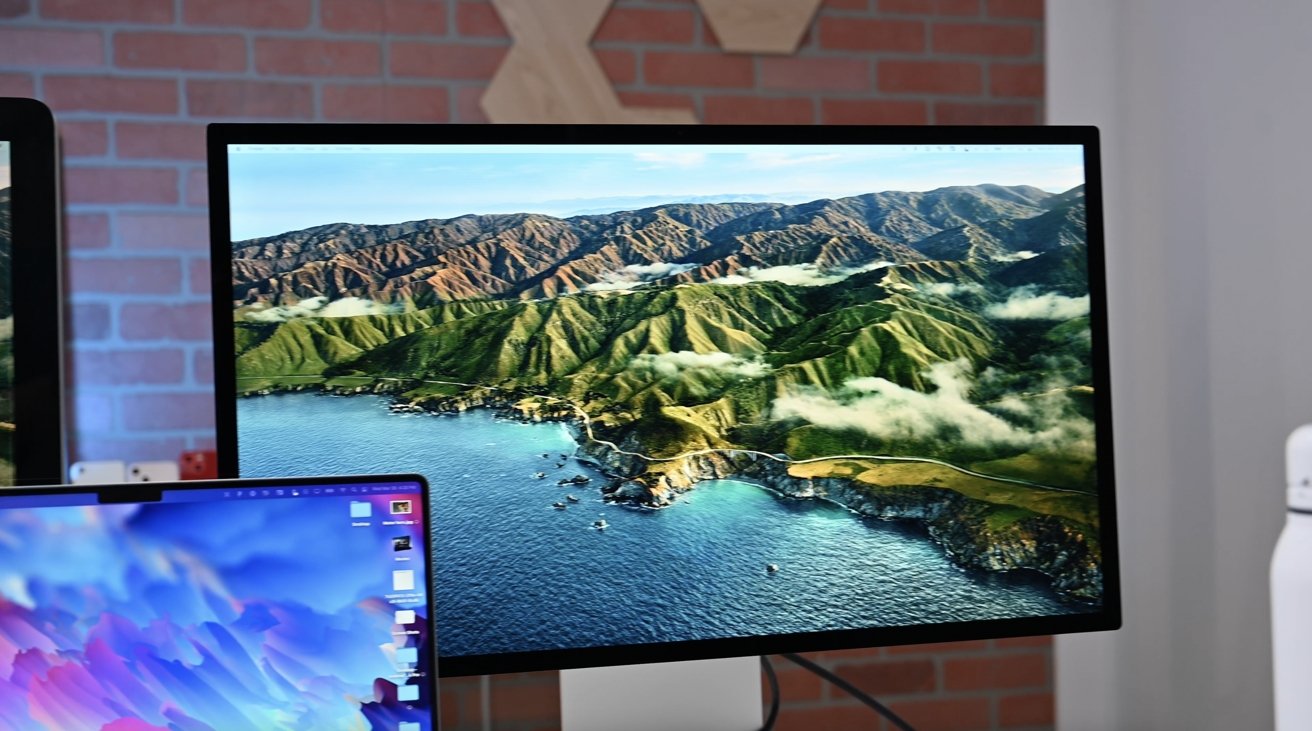 Studio Display
Another big difference is brightness. Apple only had a peak brightness of 325 nits with the Thunderbolt display but the Studio Display can reach up to 600. This was readily apparent when we maxed out both displays.
Cameras, mics, and speakers
Each of the displays has built-in AV peripherals. They have cameras integrated into the top, multiple speakers, and high-quality microphones.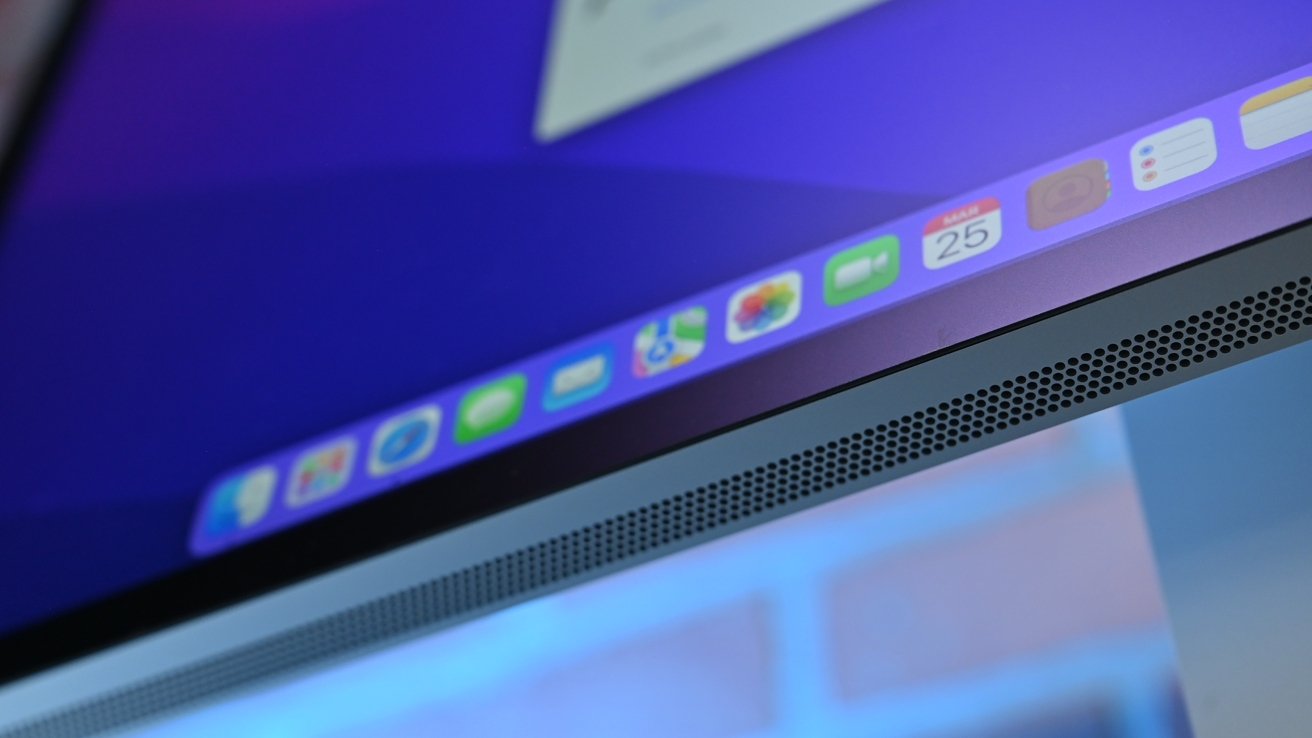 Studio Display speakers
On the Studio Display, Apple has a six-speaker array, capable of putting out above-decent sound. It's the best-sounding monitor that we've tested to date. It also is capable of Spatial Audio, to some degree.
Conversely, the Thunderbolt Display has a 2.1 stereo set of speakers that don't sound half bad for their age.
That Thunderbolt Display has what Apple calls a FaceTime HD camera built-in. This is only a 720p camera, which technically counts as HD. This is below the 1080p resolution of the Studio Display's camera.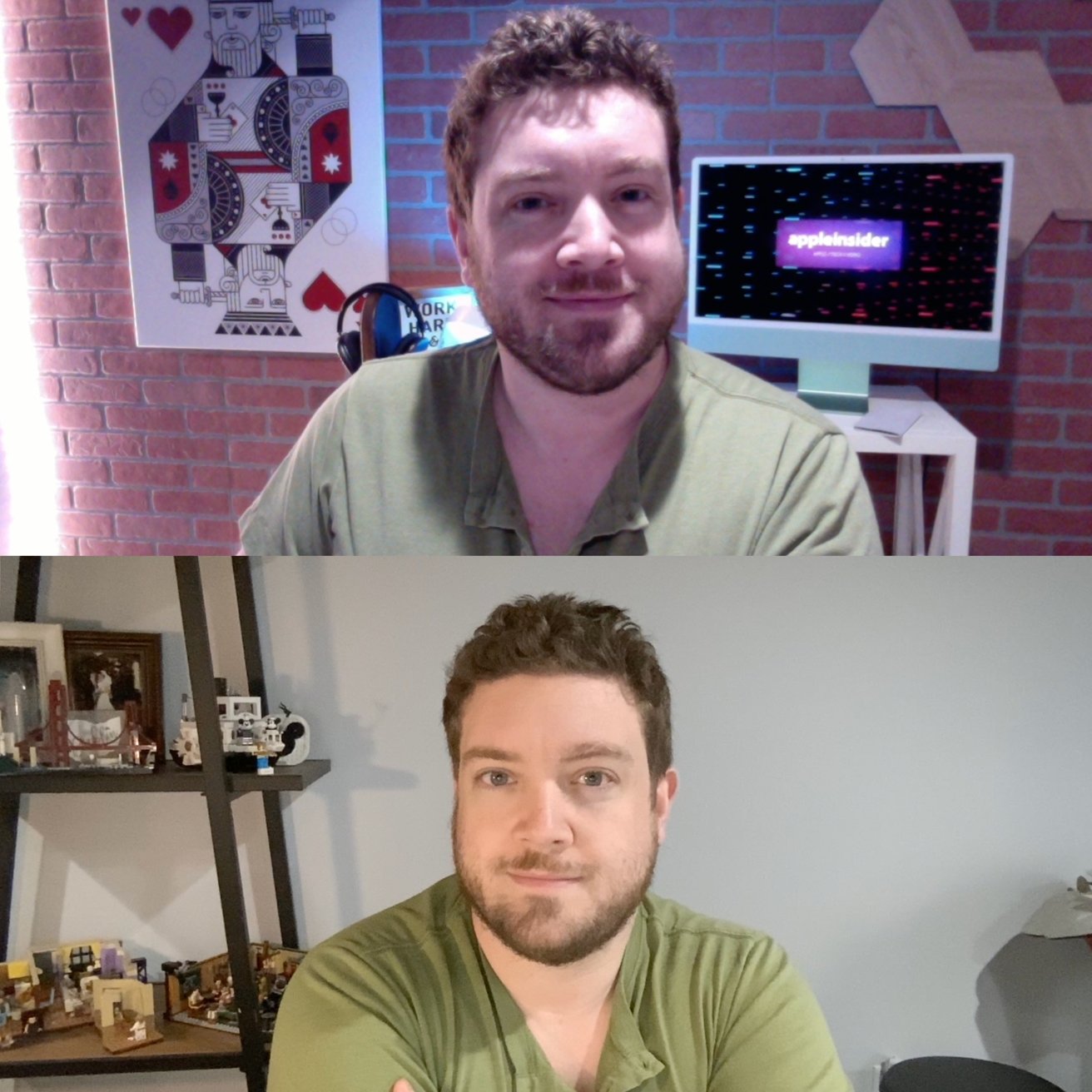 You can see the dramatic difference in the cameras in the shots above. Some issues have been reported on Apple's Studio Display camera, but here it looks miles ahead.
The Studio Display has a 122-degree field-of-view, portrait mode, and Center Stage.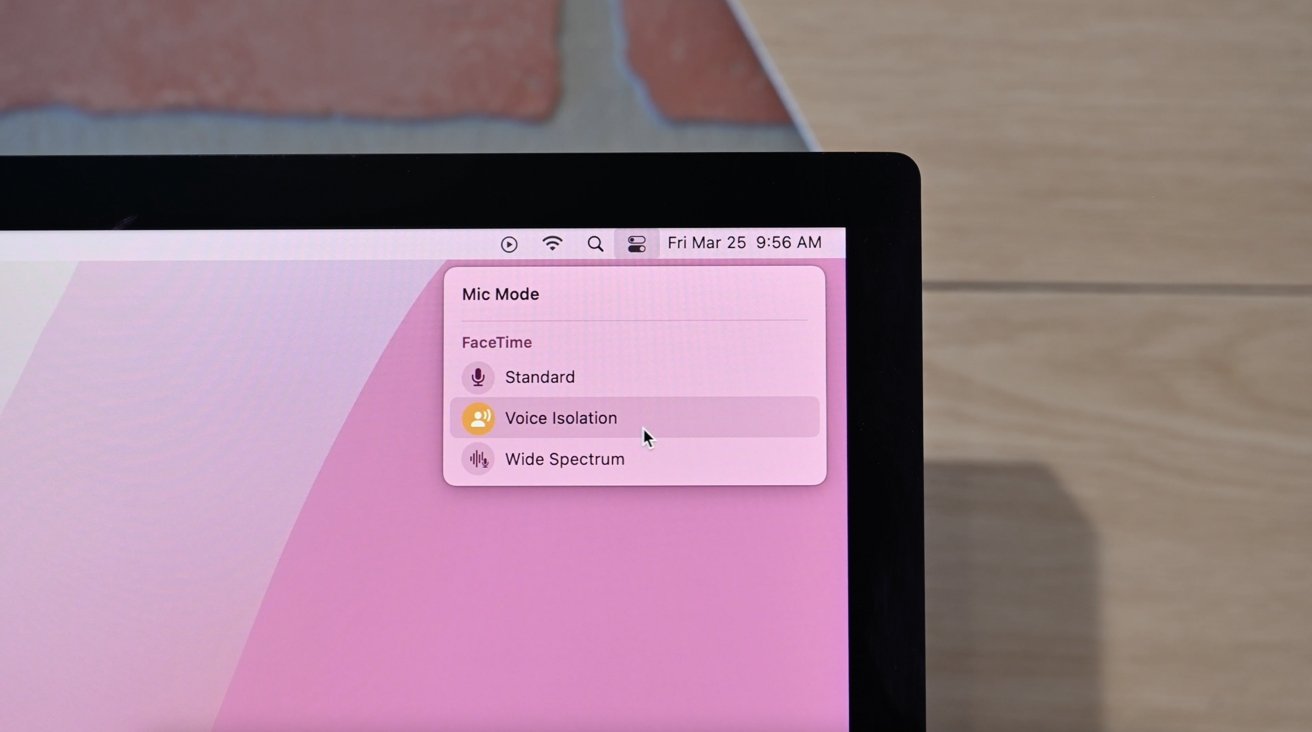 Studio Display offers voice isolation
There is a single mic on the top of the Thunderbolt Display and a trio of microphones on the Studio Display. The Studio Display's microphone array can isolate your voice too, which helps in noisy environments.
Only one is available now
Despite being discontinued in 2016, the Thunderbolt Display still looks surprisingly good. Its design isn't bad, the picture looks good, and it has quite a few good bells and whistles baked in.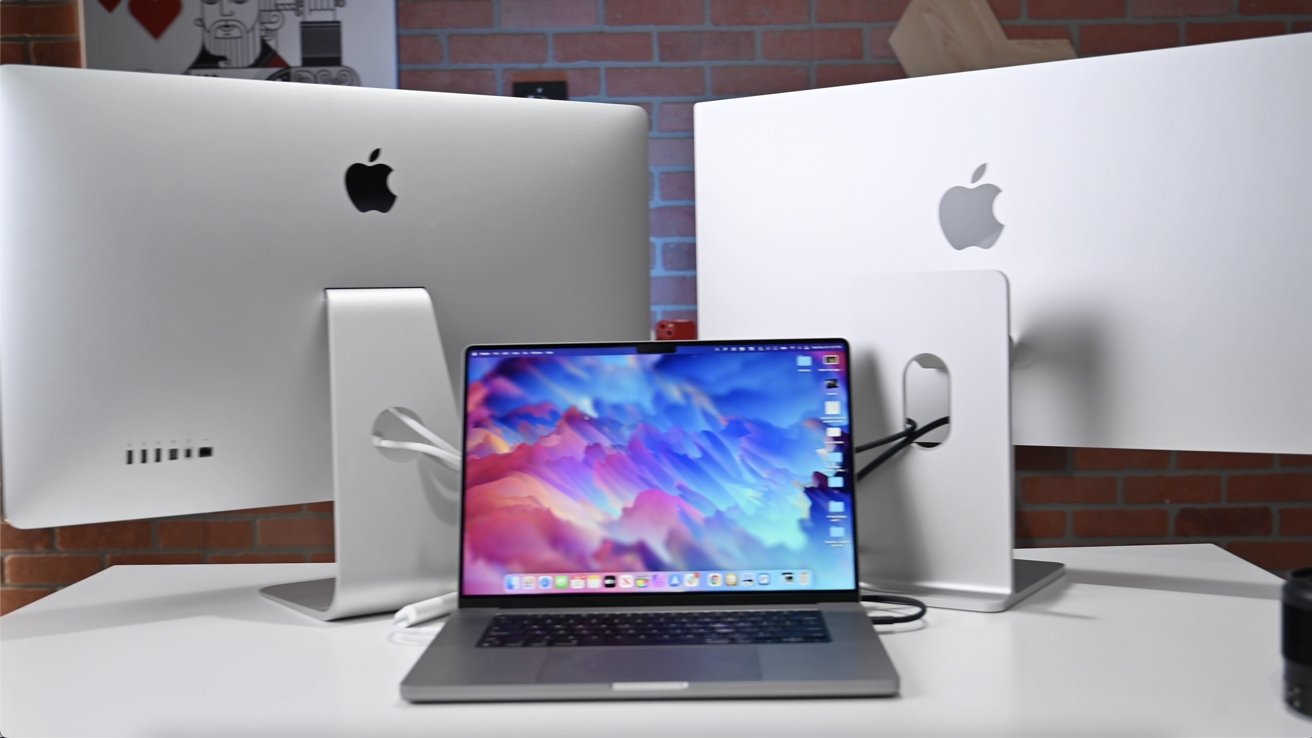 Apple's two Thunderbolt displays
Building on the Thunderbolt Display, Apple has added some unique features. For example -- the nano-texture glass option can drastically reduce glare.
Much is attributed to the A13 Bionic chip that drives the Studio Display, such as voice isolation, Center Stage camera tracking, hey Siri support, and video portrait mode.
We loved using the Thunderbolt Display, and so far, we're enjoying the Studio Display.
Where to buy
Apple Studio Display prices
start at $1,599 for the standard glass model, topping out at $2,299 for the nano-texture glass with a tilt- and height-adjustable stand. Apple Authorized Reseller Adorama is knocking
$50 off AppleCare
for the new display with
this activation link
and promo code
APINSIDER
.
Need help redeeming the coupon? Here are step-by-step
activation instructions
.
You can also order the Studio Display at these retailers:
on eBay
.
Read on AppleInsider