Apple showcases how 'Star Wars' sound artists use 280 Macs
The array of
Mac Pro
, MacBook Pro, Mac mini and iOS devices employed by Skywalker Sound artists is celebrated by Apple on "Star Wars" Day.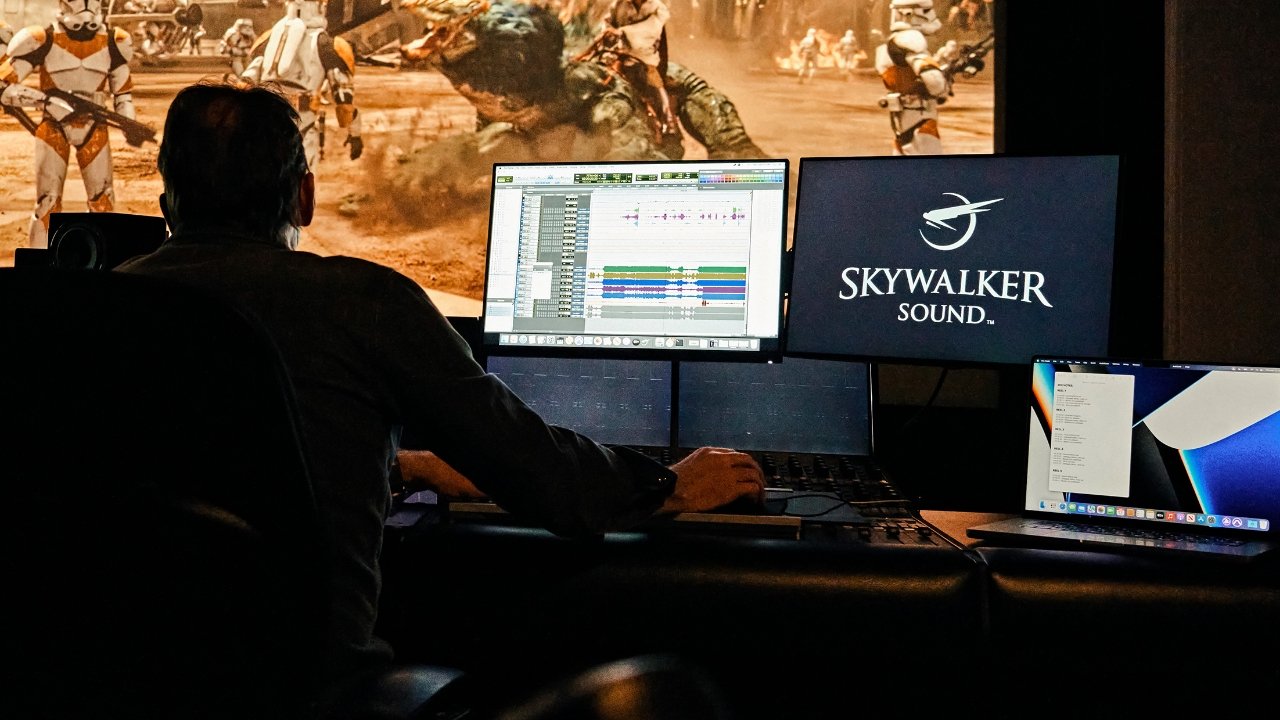 Alongside the
previously announced
"Behind the Mac" YouTube video about the audio artists at George Lucas's Skywalker Ranch is released, Apple has issued a feature article detailing the same work. As part of this, Apple has also announced a special "Star Wars" online "Today at Apple" session.
"With the power of approximately 130 Mac Pro racks, as well as 50 iMac, 50 MacBook Pro, and 50 Mac mini computers running Pro Tools as their main audio application, along with a fleet of iPad, iPhone, and Apple TV devices, Skywalker is advancing sound artistry and reshaping the industry,"
says Apple
in the new article.
Skywalker Sound's artists haven't recently moved to
Mac
, either. Instead, they've been using it throughout the history of their work, and of the whole "Star Wars" franchise.
"I started out with a Macintosh SE, way back," Ben Burtt, perhaps the most famous sound artist of them all, told Apple. "Word processing was a huge leap forward for me as a writer."
"Sound editing in a way is really the same as word processing; cutting and pasting files," he continues. "All the experience I had on the Mac immediately gave me training for what came along in cutting digital sound."
"I started cutting using a Mac with Final Cut in the late 90s, and now have four Mac computers," says Burtt. "Each handles a different process: one for picture editing, sound editing, manuscript writing, I'm completely surrounded. They're labeled Alpha, Beta, Gamma, Delta."
It's also not as if the sound artists all abandon their old technology, even as Skywalker Ranch keeps up to date with the latest Macs.
"I love to play with digital systems that are clocking wrong, meaning the way the bits are flowing," supervising sound editor and sound designer Al Nelson said. "It's broken, it sounds like bad radio. I have a really old PowerBook, and it has certain old software I like to use; I can feed recordings into it and digitally break them."
Current software used by the team centers around Pro Tools for audio recording and editing. They also use the general automation tool
Keyboard Maestro
, plus specialist post-production tool, Matchbox.
All of this can be seen in the new "Behind the Mac" featurette now on YouTube, but much of it will also be demonstrated in the forthcoming "Today at Apple" session.
At 8pm Eastern on Monday, May 9, 2022, Apple will host an online session called "Virtual Studio: Create Creative Vocals with Skywalker Sound." Sound designer Leff Lefferts will show some of Skywalker Sound's projects, and then an Apple Creative Pro will teach using GarageBand to create sounds.
This virtual session is free, but attendees
must register
for a place on the "Today at Apple" site.
Read on AppleInsider