Tronsmart Bang Speaker review: Solidly middle of the road for a portable speaker
Tronsmart's new Bang speaker can pair with up to 100 other Bang units to fill a large space with sound, but there are several spots where the speaker could see improvement.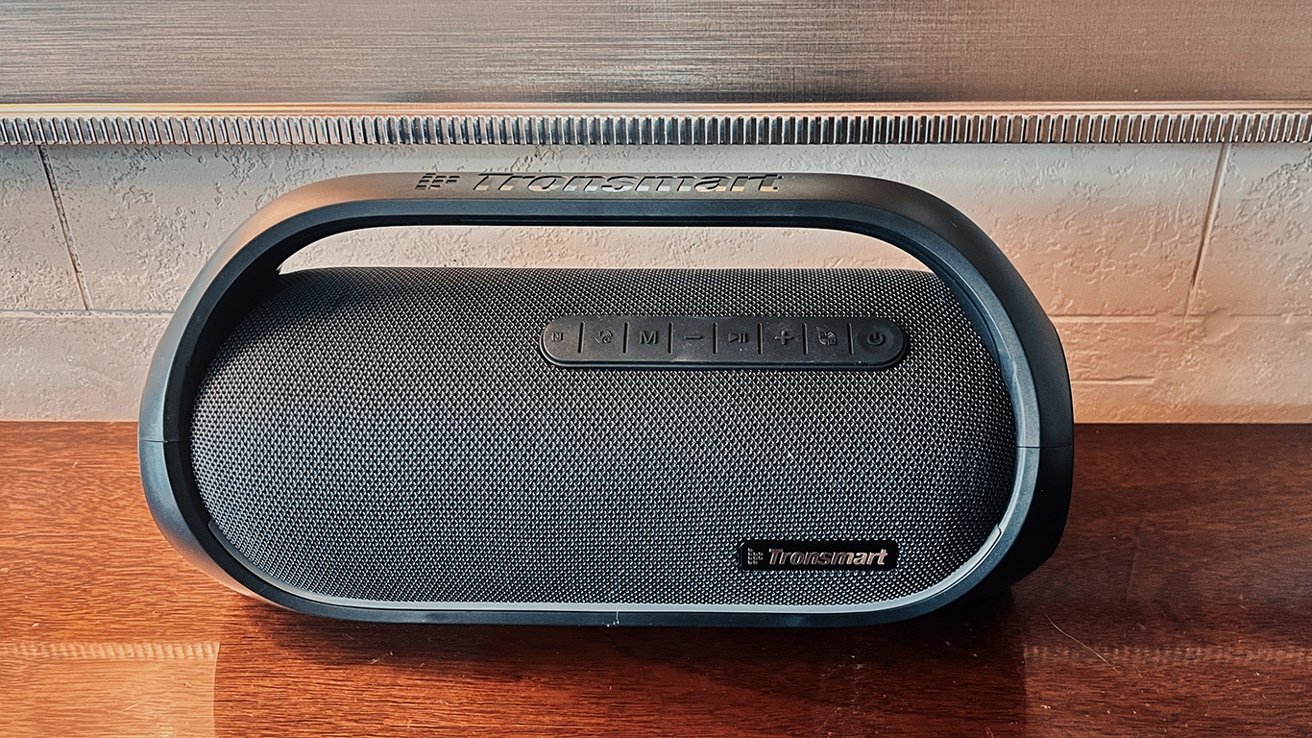 Tronsmart has released a portable speaker designed to get the party started wherever you go. The Bang certainly seems impressive, with an IPX6 rating and the ability to pair 100 units together, but we still wanted to see how it held up to our standards.
Design
We like the design of the Tronsmart Bang quite a bit, taking the form of a cylindrical speaker that features an integrated plastic handle. The all-black design looks pretty slick, though we will note that it makes seeing the buttons rather tricky if you're in a low-light setting.
The buttons are also difficult to understand, and the layout isn't intuitive, so there's a bit of a learning curve here.
Tronsmart has included a button that allows you to pair the device with other Tronsmart speakers, but the icon doesn't convey that. Likewise, the one-touch equalizer button doesn't make much sense, either.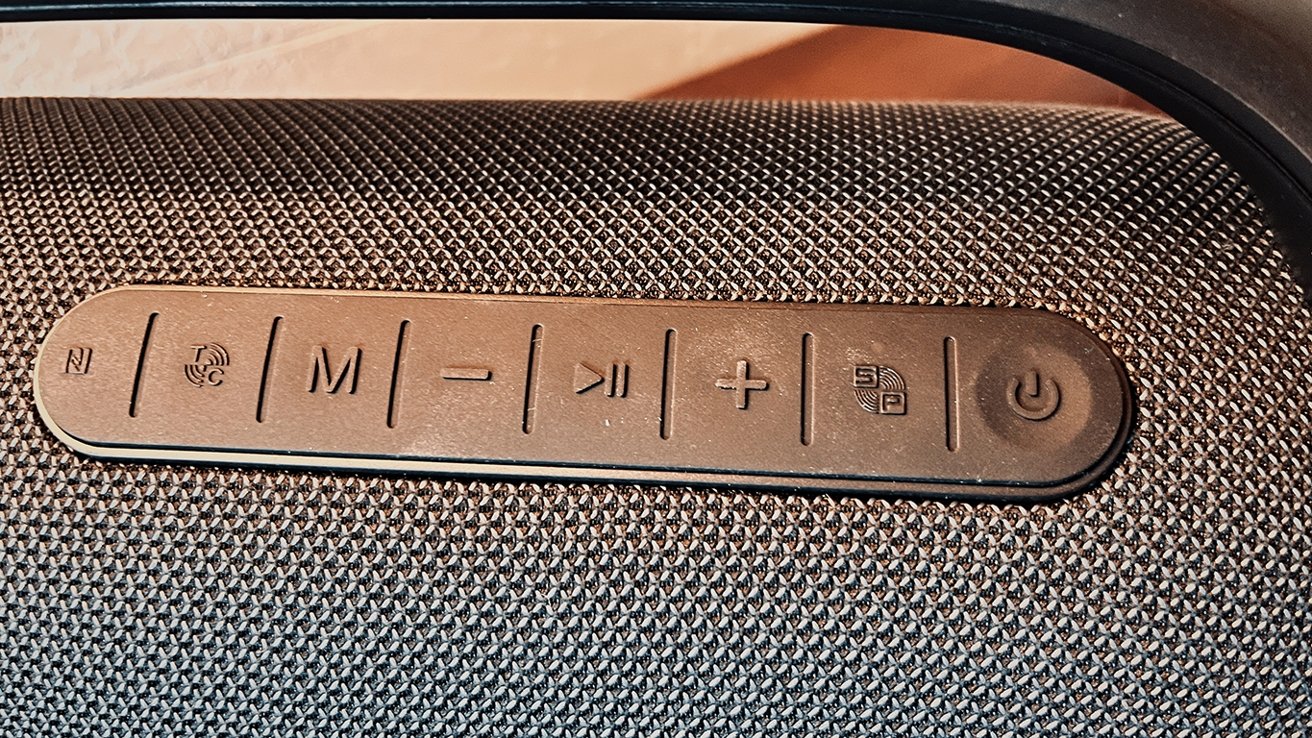 The buttons can be hard to identify in the dark, and the paring and equalizer buttons aren't immediately obvious
We're tech-savvy here at
AppleInsider
, and we still had to take quite a bit of time to read through the included handbook to make sense of it. In addition, we still don't have all of the controls committed to memory.
The Tronsmart Bang features built-in LED party lighting, which is a nice touch. If this doesn't float your boat, or if you'd prefer not to use it, it can also be turned off.
A built-in charging port also allows you to connect smartphones or small electronics.
Lastly, the speaker has an IPX6 rating, meaning that it's pretty water-resistant. So it should be able to handle hanging out poolside -- though you shouldn't submerge it, -- the occasional rainstorm, or even hanging out in the shower, if that's your thing.
Tronsmart says that it's also dust and sand-resistant, but since the IP rating does not say what the speaker is rated at, we feel that it would be too risky to take it somewhere particularly dusty. So we don't think this would be a good companion at the beach.
Pairing
There are two ways to pair the Tronsmart Bang. The first is a standard Bluetooth pairing process where you hold down the device's power button for about three seconds to put it in pairing mode. We paired the speaker with a Mac, a Windows PC, an iPhone, and an iPad without much trouble.
You can also pair the speaker via the integrated NFC chip. However, as the
iPhone
doesn't support NFC pairing, iPhone owners won't be able to use this feature.
The speaker uses Bluetooth 5.0, which means it has a 60-foot range from whatever device it's paired with. Of course, we didn't have a reason to need to get more than 60 feet from the speaker, but we did manage to get about 40 feet away from it with no connection issues.
One of the more interesting features of this speaker is that it can pair with up to 100 other Tronsmart Bang speakers. While that may not be particularly useful for an individual, flexibility is helpful for certain businesses.
We think three or four Bang units paired together would make an excellent weather-resistant sound system for an outdoor restaurant section.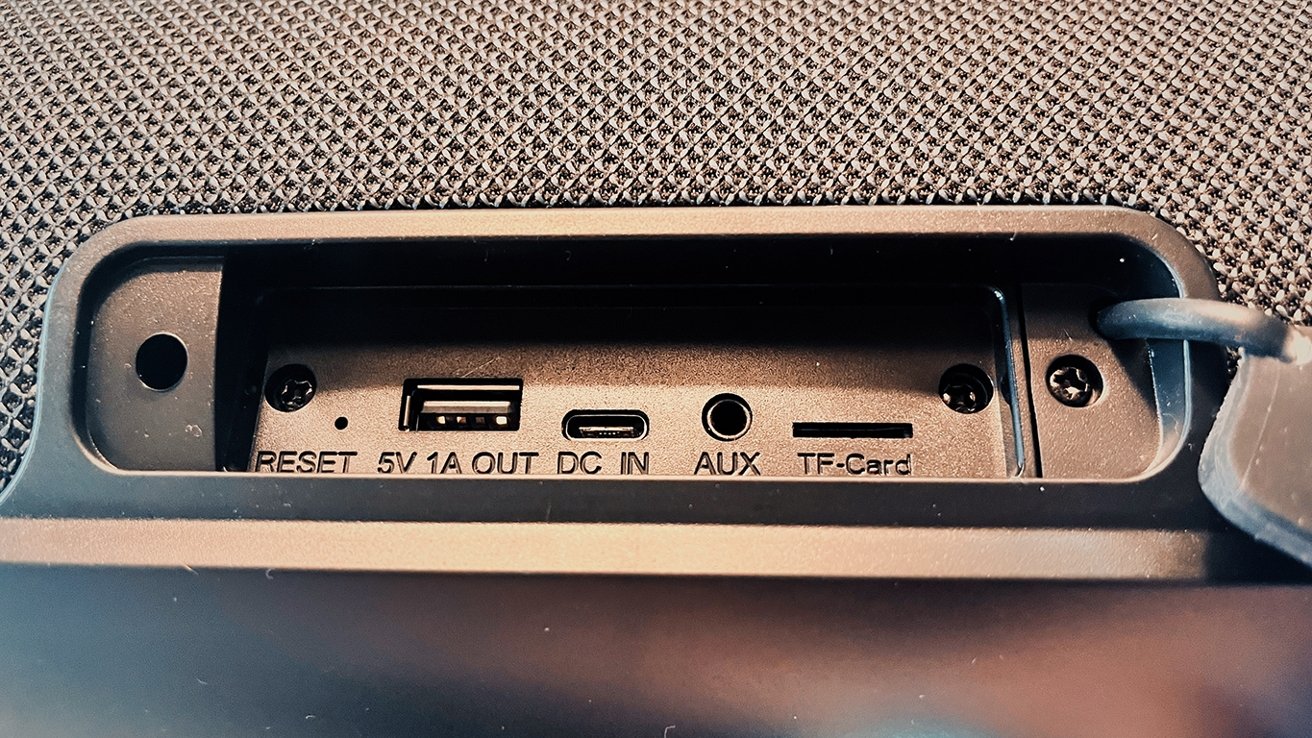 A closeup of the unit's ports
If you don't want to play music over a Bluetooth connection, Bang also features a spot for a flashcard and a 3.5mm aux port.
Sound quality and performance
Because it bills itself as an outdoor/party speaker, we wanted the Tronsmart Bang to sound good at medium to high volume. And, good news -- it does. The bass coverage is solid, the mids are crisp, and the highs are clear without distortion or clipping.
We wouldn't call the sound quality revolutionary, but it is pretty decent. We'd go as far as saying it's a bit above average for its price.
It does fall a bit short at lower volumes, though. Also, we noticed that the audio sometimes sounds muffled if you're playing audio under 15% on the speaker, especially if you're listening to something like a podcast.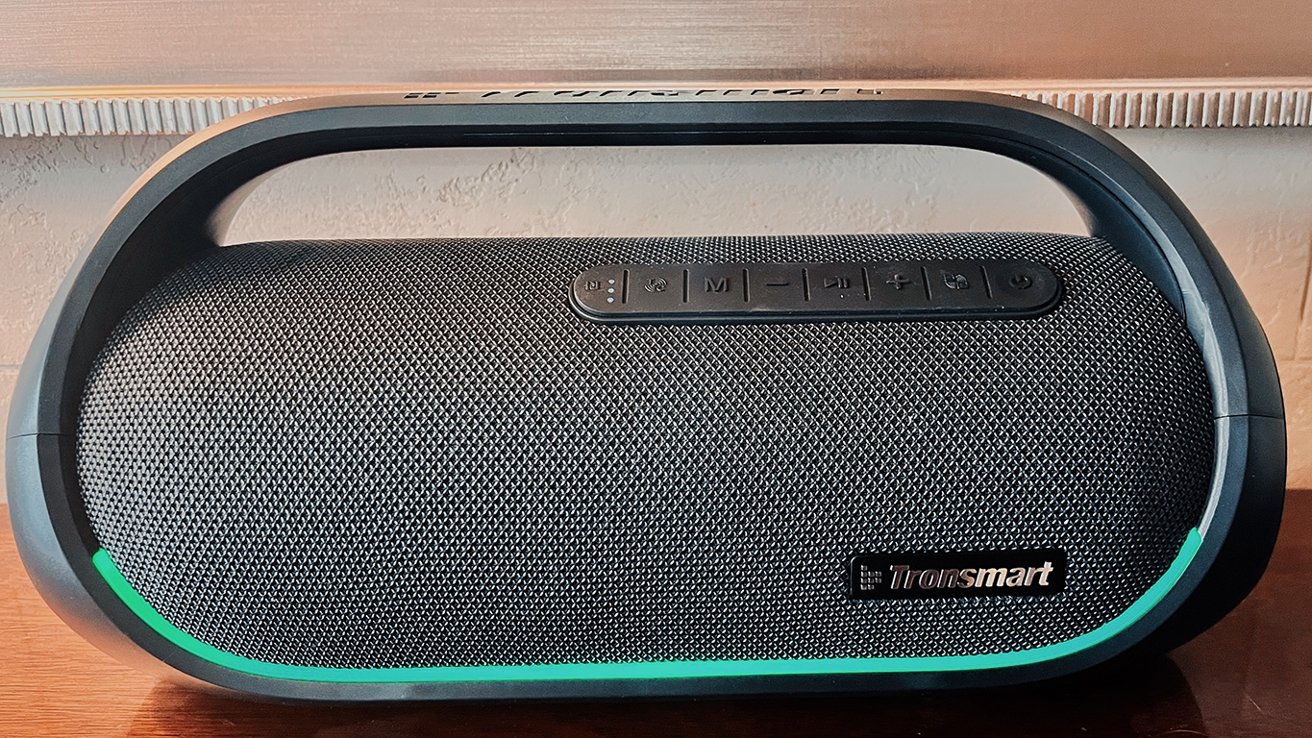 The sound quality wasn't bad enough to make us avoid using the speaker, but not enough for us to prefer using it over something like our
iMac
's built-in speakers, either.
You can also customize the sound quality by using the Tronsmart App. We found that this helped round out the quality for things like podcasts, which we appreciated.
Battery Life
As with all speakers, the battery life is highly dependent on how loud you're playing your audio. The louder the audio, the shorter the battery life.
Additionally, because this speaker features integrated LED lighting, leaving the lighting on can reduce battery life.
We were able to get nearly 13 hours of playtime across three plays at about 30% volume with the LEDs on. Tronsmart notes that you should be able to get up to 15 hours with the LED off at 50% volume.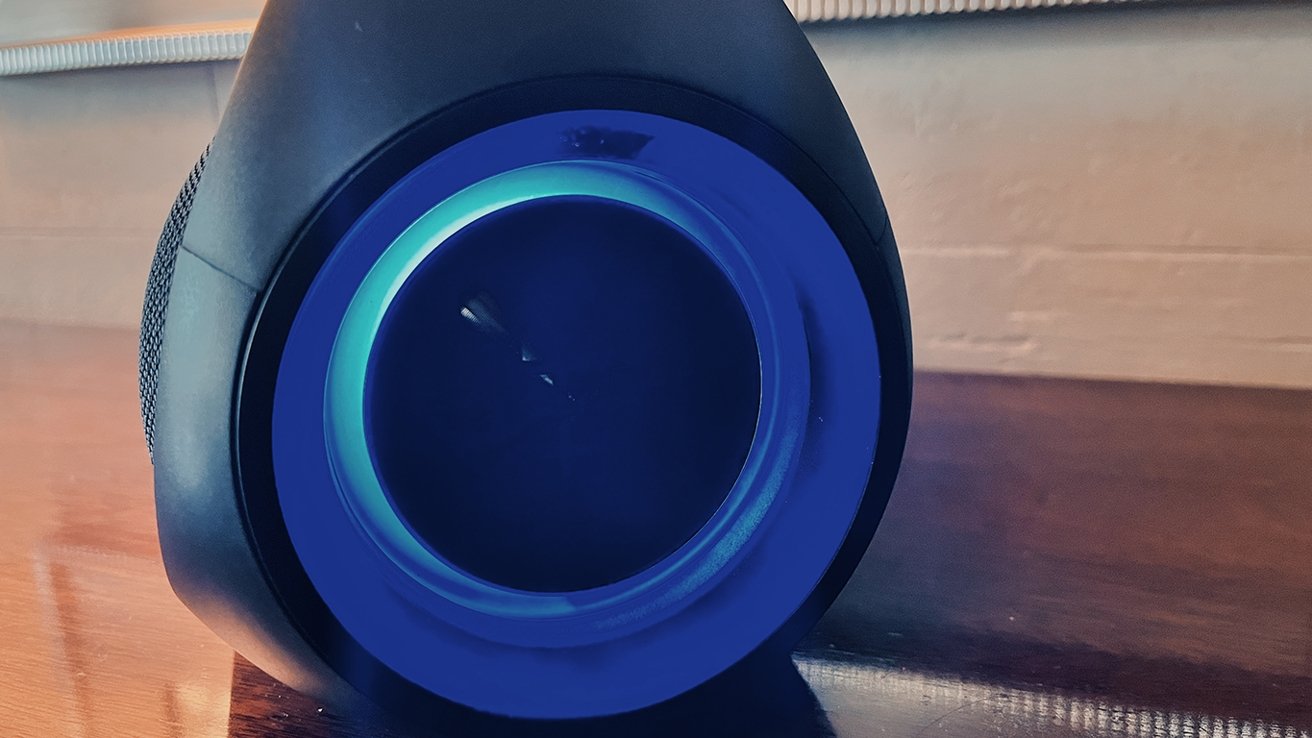 The side LEDs are quite bright
However, this is a speaker that you can use while it's charging, so if you're using it indoors, you can leave it hooked up to USB-C power.
When we fully depleted the battery, we found that it took about 4 hours to fully recharge it using a USB-C 30W PD wall charger.
Buying one
Perhaps one of the most significant downsides to this speaker is that it's currently only available through purchase through Aliexpress.
Aliexpress is hardly a beginner website, and many people may find that it might not find it worth it to shop outside of more familiar retailers. Additionally, it takes a full two weeks for the item to arrive, and you'll need to pay for shipping as an extra charge.
Overall
The Tronsmart Bang is a decent speaker for what it is. The sound quality is good, the design looks nice, the battery life is great, and we like that it's water-resistant.
We aren't the biggest fans of the buttons, though, which hinder the speaker more than help it.
It's certainly an attractive option for businesses that may want to order several speakers rather than just one or two. We wish it was easier to obtain one, though, and hope the seller eventually lists it through Amazon.
Pros
Wholesale option for businesses
Can be paired with up to 100 other units
Decent sound quality for price
Built in charger for keeping smartphones topped up
Cons
Only available to purchase through Aliexpress
Controls are not intuitive
Limited lighting effects
Sound quality at lower levels is lacking
Rating: 3 out of 5
Where to buy
Currently, you can only
purchase Tronsmart's Bang speaker from Aliexpress
, where it retails for $109.99 with an additional shipping cost of $15.79.
Read on AppleInsider