Harber Leather Desk Mat review: a comfortable, desirable Mac accessory
Harber's Leather Desk Mat is a
Mac
desk accessory that's so good you'd think about replacing the desk before you'd let go of it.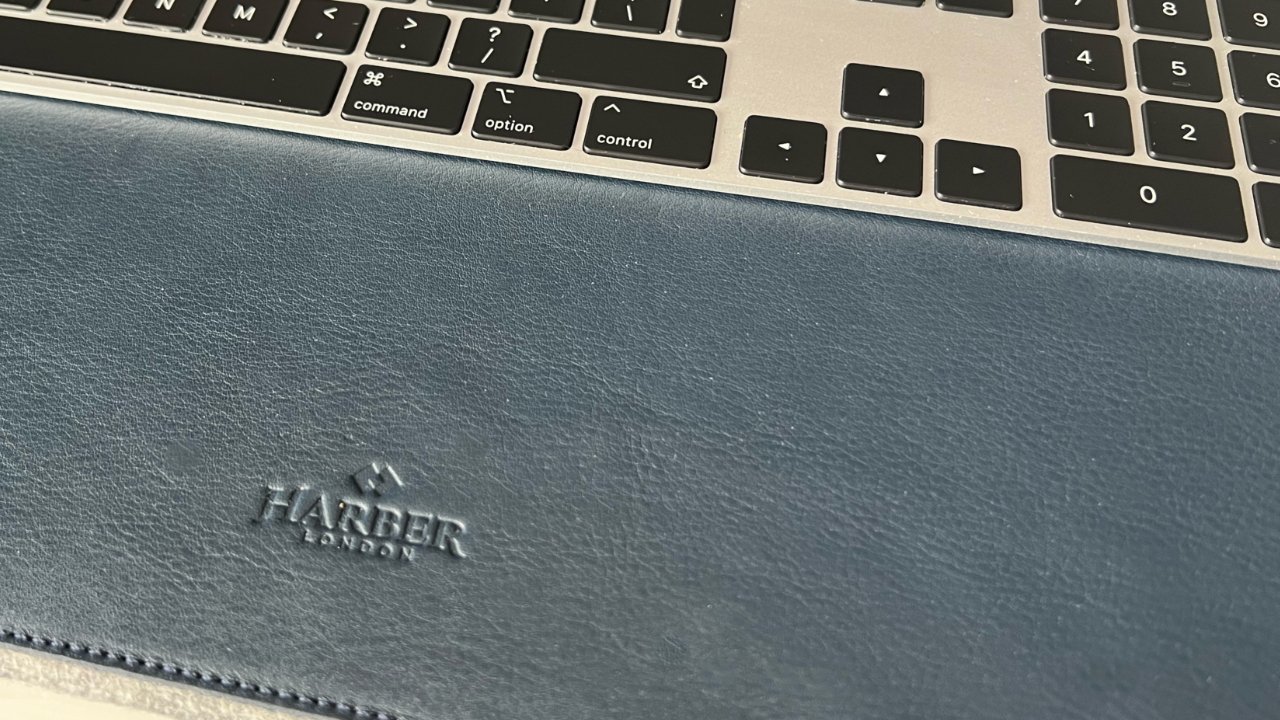 There are obvious reasons you might buy a mouse mat, and you can get one in Harber's
new leather range
in various colors. Just as a small leather mat makes using your mouse more precise, so do the company's larger desk mats.
Strictly speaking, you only need the bit to the left or the right of your keyboard, depending on which hand you use your mouse. And strictly speaking, you don't need one of these if you have a trackpad.
But there is need, and then there is want.
Harber's leather desk mat is a pleasure to use. The way your palms feel against it as you type, the unconscious way you keep adjusting your trackpad, iPhone, and accessories so that they lie neatly on it, it's all a treat.
Design - options and materials
AppleInsider
tested an 80 cm by 32 cm (31.49 inches by 12.59 inches) Leather Desk Mat in navy, with felt padding. There is a smaller version at 50 cm by 30 cm (19.68 inches by 11.81 inches) and a larger one at 80 cm by 45 cm (31.49 inches by 17.71 inches.)
The desk mat is also available in tan or black, and while the default versions use felt padding, there is also a microfibre option.
The quick way to check which one is right for you is to measure your desk and go straight for the largest size you can fit. There is no wasted space because, at the very least, you find yourself stroking it.
This is starting to be a case of too much information. Let us cover the practical issues, then.
This mat is leather, so it will wear over time, but the patina makes it unique and look good in the long term. In the short term, however, you'll keep spotting your fingerprints on it, and stroking turns to rubbing.
Plus, if you eat at your desk, you're going to be wiping this thing down hourly - but it does wipe down, and you genuinely enjoy wiping across it with your hand.
Harber's mat features a cutout. to keep wired keyboards tidy
Design - in use
There's a small cutout section toward the rear edge, about the size of a medium sticking plaster. Using a wired keyboard, you can thread the cable through that cutout as a way to anchor the cord.
If you instead have a wireless keyboard setup, you won't even notice the cutout. It's subtle enough that the first time you thread a Lightning cable through it, you feel you have to pick at the leather to make room.
The mat that
AppleInsider
tested is all leather, and it is made in the same hand-crafted way that Harber's
iPad sleeves
are. The underside of the mat, though, is microfibre.
Depending on your desk type, this is the only downside of the desk mat. The microfibre base means the desk mat can slip around on some surfaces.
In practice, when you've got a keyboard, trackpad, and maybe your
iPhone
on the mat, it isn't so much of a problem. And it certainly isn't when you have a
MacBook Pro
on top of it.
Even so, it would be good to have some way to affix it to the desk just a little more while allowing you to pick it up and wipe.
Should you buy
The Harber desk mat is not a must-buy. That much is certain. It's harder to be sure about whether you should buy it or not because you could get similar practical benefits from purchasing a mouse mat or being a bit tidier.
When the question is about whether you want to buy it or not, things become easy, as it's a resounding yes. Measure that desk of yours, and get the biggest one that will fit.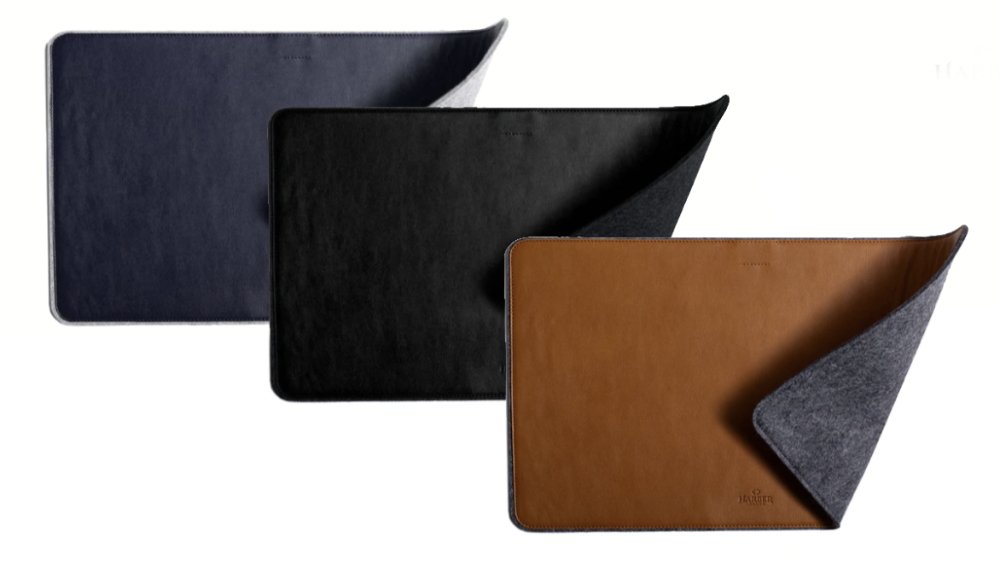 The three colors available
Pros
Hard wearing, hand-crafted leather mat
Feels great
Looks excellent
Works as a mouse mat too
Cons
Needs wiping over
Depending on your desk, can be a little slippy
Rating: 4.5 out of 5
Where to buy
The 80 cm by 32 cm (31.49 inches by 12.59 inches) Leather Desk Mat in navy, with felt padding as reviewed costs $149, direct
from the maker
.
Smaller editions are available for $124, and a larger one at 80 cm by 45 cm (31.49 inches by 17.71 inches) costs $187.
AppleInsider
readers, though, can get 15% off any of these prices at checkout with the discount code
DESKMAT22
.
Read on AppleInsider