Huion Kamvas Pro 24(4K) review: An artist's tablet that can rival Wacom
Huion's Kamvas Pro 24(4K) is a big-screen graphics tablet that promises a lot to digital artists at a reasonable price. Here's what one artist thinks about the creation tool.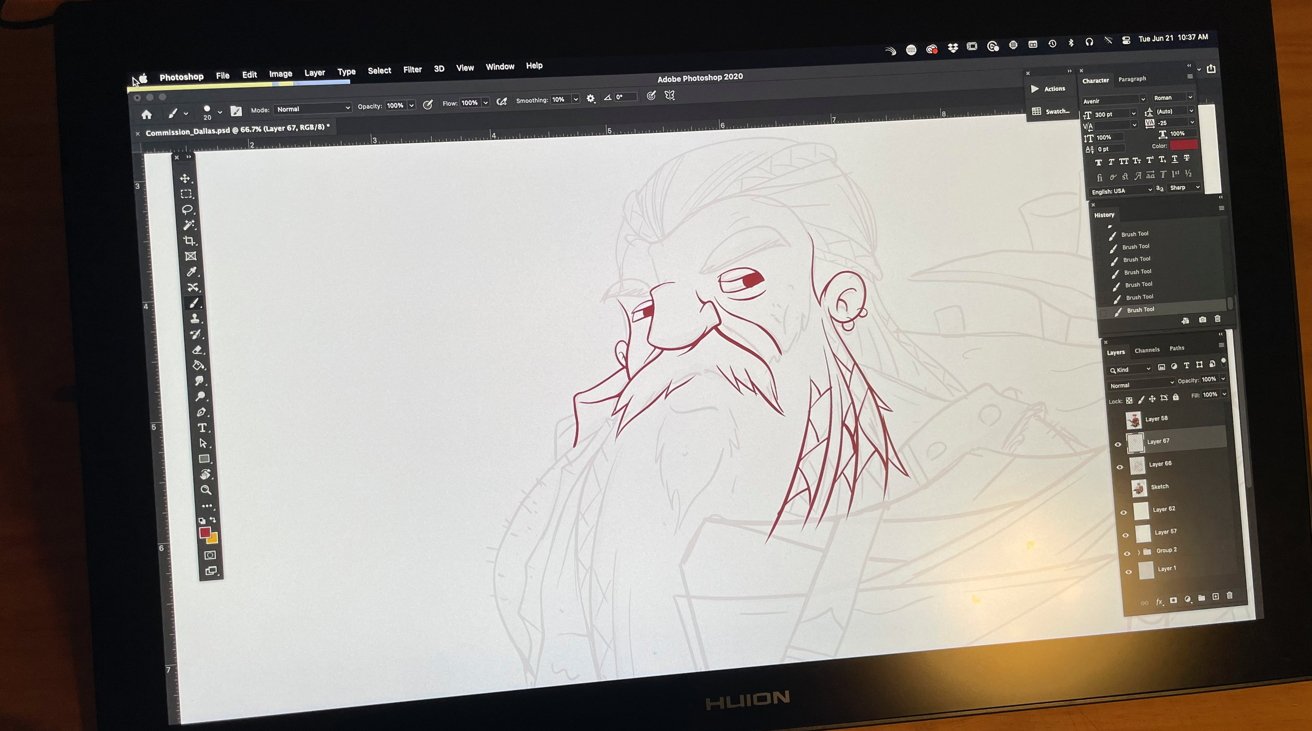 I use display tablets every day, and the Wacom Cintiq 22HD is my daily work tablet and the love of my professional life. I loved it so much, I bought a second when my first succumbed to wear and tear.
The market has seen a rise of companies working to deliver alternatives to Wacom and their products in recent years. Mostly, they miss the mark with cheap parts, sloppy drivers, and a myriad of bugs and growing pains.
However, one of the companies still making strides, Huion, recently released their offering into the 24-inch, 4K tablet pool with the Kamvas Pro 24(4K): A beefy tablet with tons of potential and the eyes of countless artists on it.
Huion provided a Kamvas Pro 24(4K) through
AppleInsider
for review purposes, and I took the tablet out for an extended test drive with two weeks of nearly daily use. Here is what I learned.
Hardware and Specs
The Kamvas Pro 24 arrived from the vendor in excellent condition. Everything was well packaged, and the tablet is enclosed in foam inserts and an ESD static reducing bag for safe transport.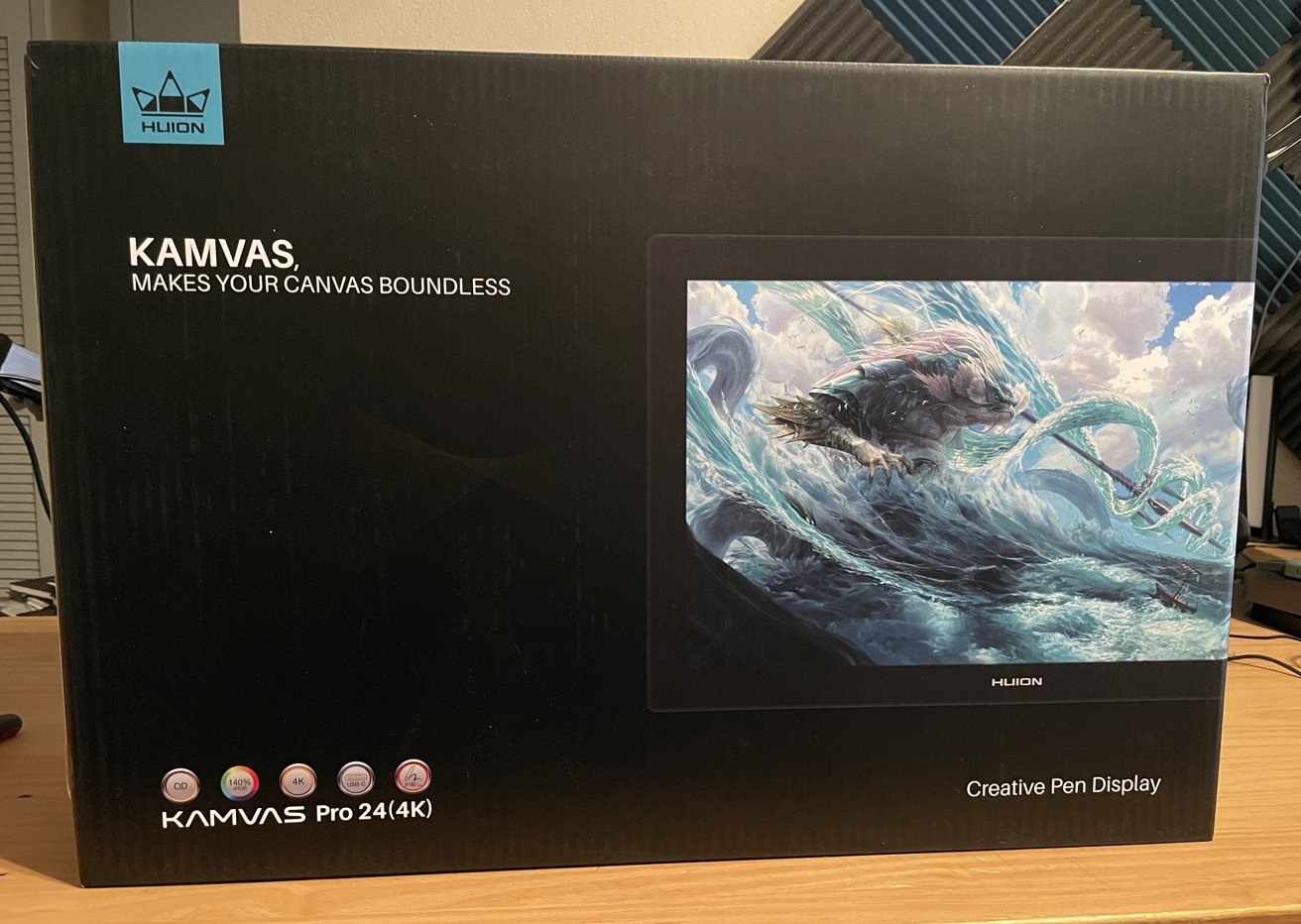 Huion packs the Kamvas Pro 24 neatly in its box.
I mention this because I always worry about damage during delivery, and I love when new hardware arrives in clean and efficient packaging. Huion does not disappoint in this department, as everything is secure, individually wrapped and boxed, and labeled with instructions for installation.
Inside the box is the Pen Display Kamvas Pro 24(4K), a Battery-Free Pen PW517, a Mini Keydial KD100, an HDMI cable, USB-C to USB-C cable (1m), USB-A to USB-C cable, power adapter, AC cable, Pen Holder PH05F, five each of standard and felt nibs, a Pen Nib Clip, a glove, a cleaning cloth, and a quick start guide.
The Kamvas Pro 24 is a large, slightly heavy tablet, measuring 23.8 inches by 14 inches by 0.8 inches. Every inch is utilized without the added weight and bulk of older display tablet cases. The tablet requires a bit of real estate on your desk and certainly is not made for casual travel, but it does not look clunky or tacky.
In the past, I have criticized other manufacturers for making products sleek for aesthetics and hurting the overall performance of products. Huion threads the needle with the Pro 24, creating something visually pleasing and modern while also delivering on performance.
The Pro 24 is sleek and straightforward and that may seem trivial to some. But, in an era where the aesthetics of workstations and battle stations are more prevalent for meetings, live streaming, or social media, the Pro 24 delivers a product that is also nice to look at without feeling cheap or fragile.
For ports, the Pro 24 has single HDMI, DP, USB-C, and power ports, with an additional two USB-A ports for peripherals and an actual headphone jack. This is an incredibly niche feature to add, but it makes so much sense for workstations and cable management if Bluetooth earbuds are not an option.
Currently, I use a 2018
Mac Mini
with a 3.2 GHz 6-Core Intel Core i7, 32 GB of DDR4 RAM, and a Radeon RX Vega 64 via eGPU. This Mac Mini serves as my everyday machine, so I'm fine with the port consumption here. It'll be a little but more of a challenge without using a hub of some sort on an Apple Silicon mini to incorporate it with a host of other peripherals, but the USB-A ports on help that out a little.
Setup
Setting up was incredibly easy, as I had everything powered up and ready to work within a few minutes of unboxing the tablet and cables.
From personal experience, this was such a breath of fresh air. Outside of Wacom, every tablet I test for reviews seems to have one issue or another with drivers, firmware, or other compatibility hurdles that must be leaped through to work.
With the Kamvas Pro 24(4K), the moment that big, beautiful screen lit up for the first time, I was ready to work. I did not need to manually configure pen registration. I did not need to perform updates and restart after restart.
It was on, and I was ready to adjust my personal preferences on pressure sensitivity, tilt, and pen button mapping, all of which required only a few minutes of effort.
Installation is very straightforward if you have a basic understanding of HDMI, USB, A/C, etc. and how to download drivers for hardware installation. However, if you are someone with little to no experience with installing hardware, you may have issues as the Quick Start Guide is bare bones in instruction and a bit hard to read with small off-white text and thin lines on a black background.
It is stylish and modern, but it is not incredibly functional. I know it is a small quibble in the grand scheme of things, but instructions need to be clear and legible.
The Display
With the tablet set up on my desk and powered up, two items of note immediately made me smile. First, the 4K screen is gorgeous.
Huion boasts technical specs of 140% sRGB color gamut, a 1200:1 contrast ratio, 1.07 billion colors, and a viewing angle of 178 degrees.
After seeing the Kamvas Pro 24(4K) side-by-side with my daily use Wacom Cintiq 22HD tablet, I believe it. The difference is staggering and combined with Huion's anti-glare glass surface, I found my eyes far less tired at the end of long workdays.
It is a quality of life feature that professionals are willing to pay a premium on, and it all keeps going back to the feeling that artists designed this tablet for artists.
From the screen's brightness to the sharpness of the colors, I think this tablet is visually above anything else on the market right now.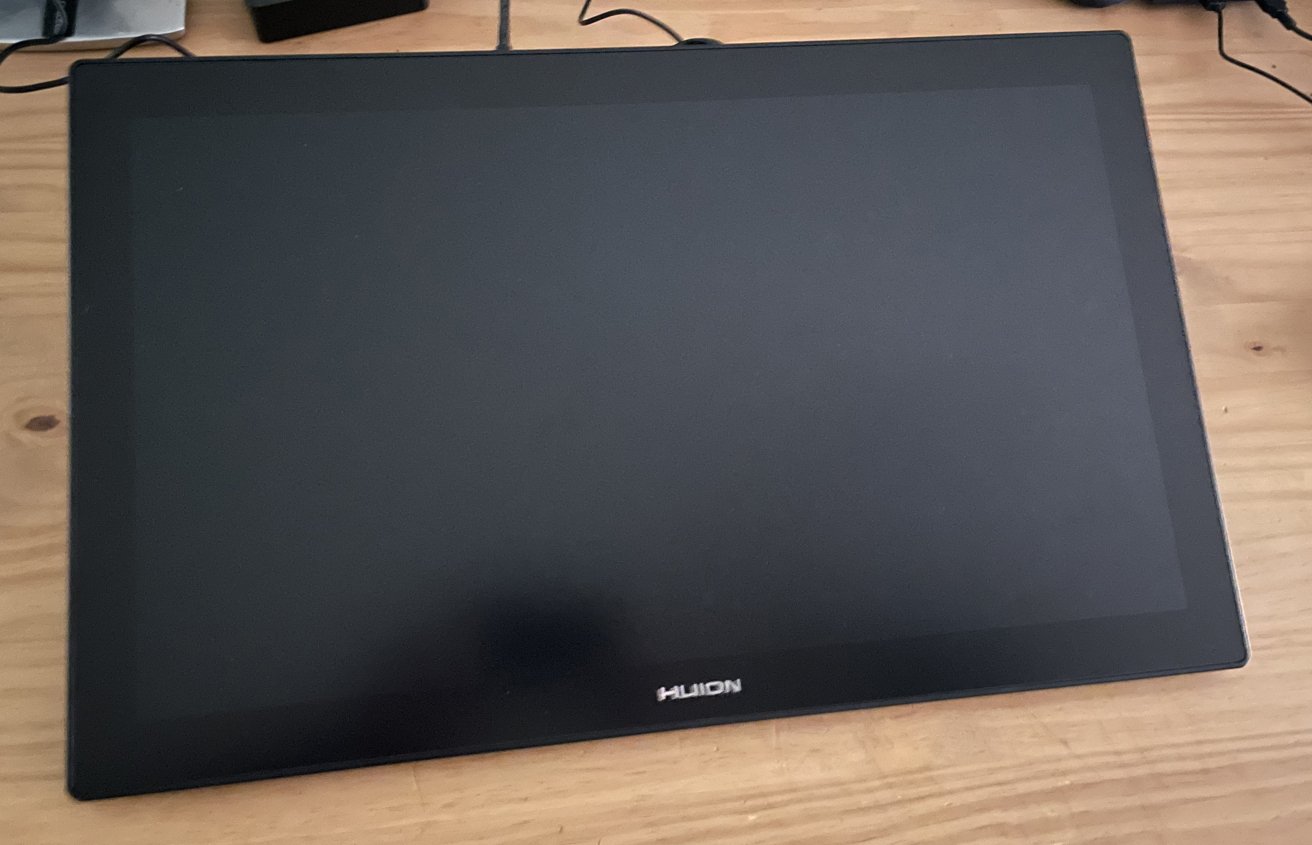 The Huion Kamvas Pro 24(4K) with the display turned off.
The Sound of Silence
The second item that made me smile was the blissful silence that followed powering up the Kamvas Pro 24(4K).
If you read my review of the
Wacom Cintiq Pro 24
, you know one of my big issues with that tablet is terrible fan noise that never relents. This tablet has no fan noises, making this tablet great for full workspace offices and late-night home office use.
It truly looks like an excellent display without the pitfalls that could ruin the overall experience of working on a piece of high-end hardware like this.
I can also report that using the Kamvas Pro 24(4K) for long hours without thunderous fan sounds did not result in hot surfaces or performance issues.
Working Experience
With the tablet set up, I opened the Huion software and spent a few minutes adjusting the pressure sensitivity of the stylus pen, looking for a sweet spot between my existing muscle memory and the new hardware. This long process can take days, as that sliding scale of adjustments moves between artist and tablet to find a comfortable balance.
The software is simple, easy to use, and delivers exactly what you need to dial everything in.
During my initial experience, I was not prepared for the sharpness of the line quality the tablet delivered. Meaning that my lines were snappier, sharper, and at times felt more vector than raster, which my hand and eye did not expect.
It's like driving a sporty, reliable hatchback for years and years, to the level that you know the experience off by heart. And then one day, you get behind the wheel of something new with better handling and more horsepower and hit the gas, with that power catching you off guard.
That was my experience here. The Kamvas Pro 24(4K) reacted to my pen pressure in ways I did not expect, so a re-training period was needed and is still ongoing.
I love the line quality I see when it works perfectly while illustrating in Photoshop, but I have noticed during this period of adjustment that, on occasion, the tablet/pen does not pick up my lines when I apply very gentle pressure, the way a Wacom does. This results in in-line wobble or small gaps, and the adjustment range in the software seems to step over what I need in terms of soft or hard pressure.
The sliders are in the software, and I see a difference between settings, but perhaps it is not as refined as necessary for individual muscle and pressures.
I am also willing to consent that I could help that process by adjusting my levels of pen pressure over time, and if time allowed, I likely would. Again, I think it is a process of the artist learning the new hardware, but I would love to see Huion improve their driver quality.
The pen included is lightweight and sturdy. It does not feel flimsy or easily breakable, and I love the rubber-style grip on the pen. There are also two styles of nib included, with standard plastic nibs accompanied by felt nibs for a marker pen feel.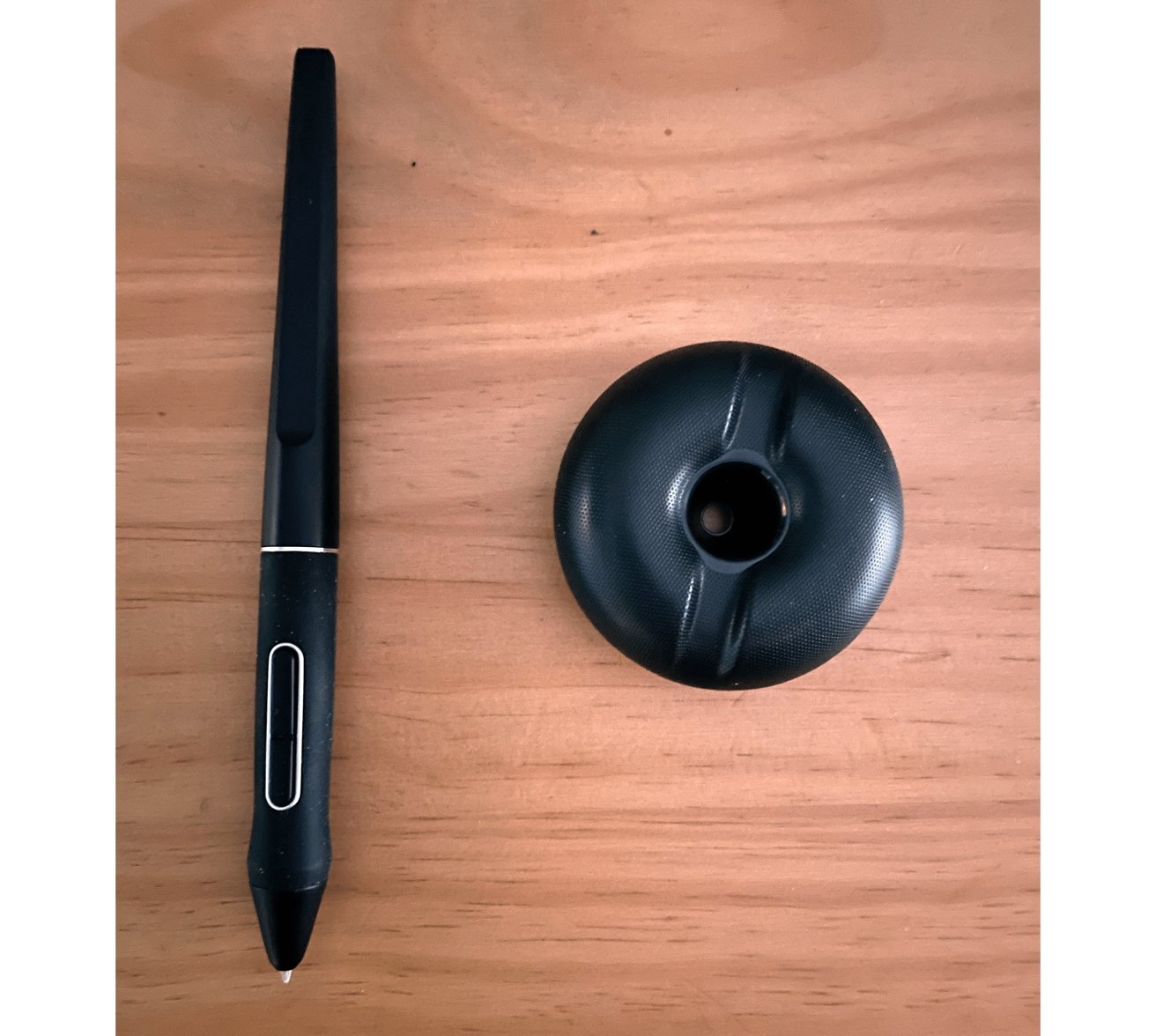 The stylus of the Huion Kamvas Pro 24(4K)
With the anti-glare glass surface of the Kamvas Pro 24(4K), I appreciated having the felt nibs to create a feeling closer to working on paper. The slight drag is more comfortable for me.
You receive five nibs of each style, with a fair warning from me that the felt nibs can and will degrade over time faster than the plastic nibs. Expect to purchase replacements.
Huion also included a Mini Keydial with the Kamvas Pro 24(4K).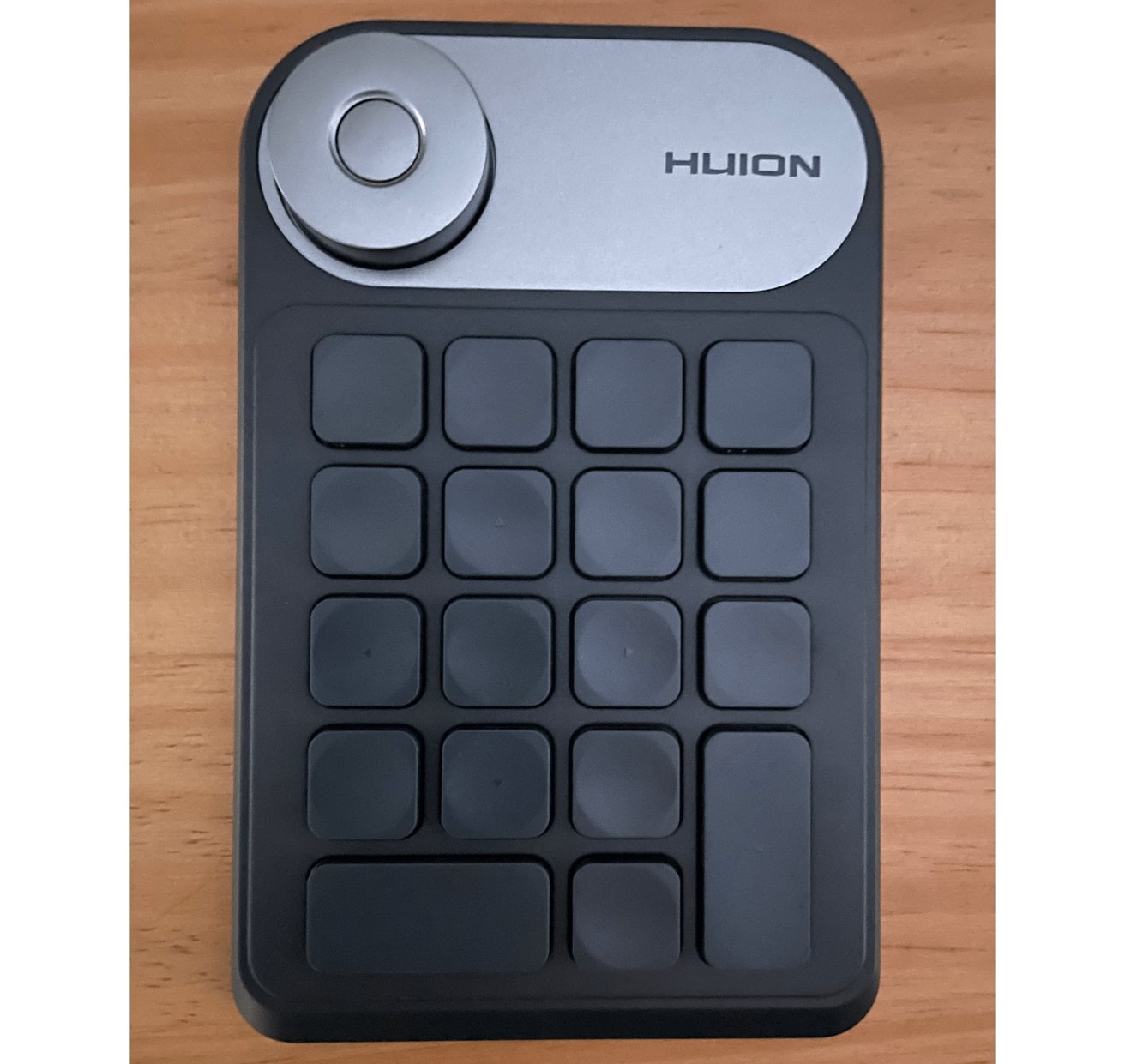 The Huion Kamvas Pro 24(4K) Mini Keydial helps you trigger shortcuts while working.
This is an excellent tool for key commands and shortcuts while using the Pro 24. We have seen small peripherals like this with other tablets, but the size and approach Huion takes with theirs feels better. Again, designed by artists for artists.
The Mini Keydial has a bit of weight to it, and the keys feel good. As someone who uses a wireless mini-Magic Keyboard with a tablet, I can say that if I chose to move to the Mini Keydial full-time, it would be a short adjustment period and would save my poor, belabored CMD and Z keys on all current and future Mac keyboards.
The Enemy of Good Posture
For the good things Huion does with the Kamvas Pro 24(4K), we are once again faced with the issue of a built-in stand that does next to nothing for the user and seems to be merely a means to elevate the tablet for proper airflow for cooling.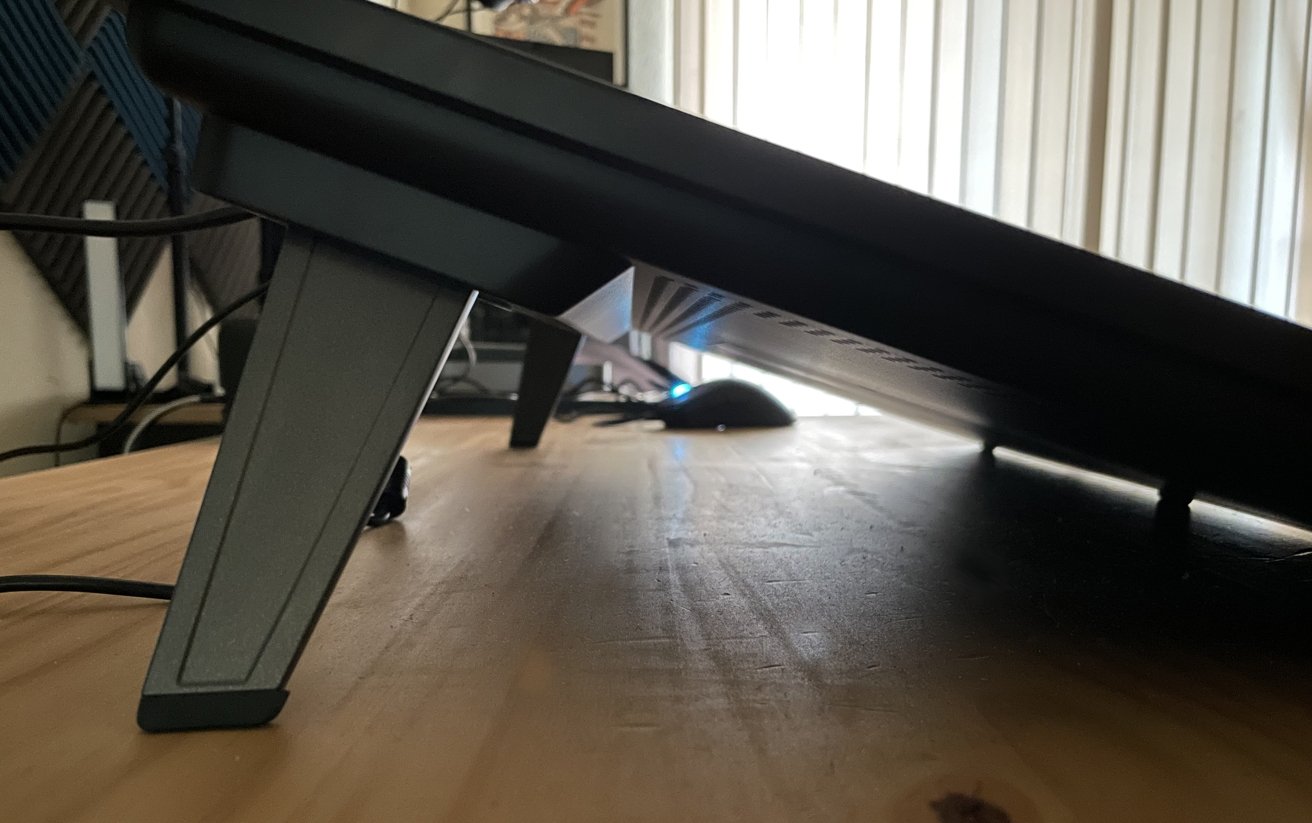 The stand of the Huion Kamvas Pro 24(4K) is basic and will work, but you will seek out better options.
It is the new normal with display tablets in the market: poor tilt and elevation out of the box, but manufacturers will happily sell you a proprietary stand for several hundreds of dollars.
I understand it is all business, but the horrible damage a tablet like the Kamvas Pro 24(4K) could do to my posture and spine would be terrible. It is not a comfortable position to be in for long hours of the workday, even with breaks.
This may not feel terribly important for the hobbyist, but for full-time illustrators, this is long-term damage.
Unsurprisingly, Huion offers a few options in their online store for stands and swing arms for their products to increase the range of tilt and added comfort.
I did not receive a stand or swing arm from Huion for review, so I will not speak about their reliability, however, the Kamvas Pro 24(4K) utilizes standard VESA mounting options without the need for additional pieces and parts. This allows the consumer to pick and choose a stand or swing arm that meets their needs and budget.
I recommend the stand or swing arm have the range to hold heavier monitors and tablets, as the Kamvas Pro 24(4K) comes in at around 14 lbs. (6.3 kg).
In my situation, I have an Ergotron swing arm on my desk and opted to use it. I am happy to report it worked like a dream. It is not a perfect solution, and I wish companies would consider their customers more in this department, but with the standard VESA mounts on the Kamvas Pro 24(4K), the glass is half full.
Pricing and Value
My feelings about the Wacom Cintiq Pro 24 put me in a strange, new place where I will have to choose when my current 22HD Cintiq gives up the ghost. Whether it is better to purchase another 22HD, or purchase a Kamvas Pro 24(4K) instead.
As a full-time illustrator, I love the quality of the Wacom drivers and the stand options for the 22HD. However, the quality of the Kamvas Pro 24 screen, size, and overall potential is impossible to ignore.
Currently, the Kamvas Pro 24(4K) from Huion is available for $1,299 via Huion's
online store
or for the same price
through Amazon
.
The closest comparable tablet on the market as of this writing is Wacom's Cintiq Pro 24, which is available in the Wacom online store for $1,999.
With a $700 difference in price, it comes down to whether the Kamvas Pro 24 is worth the money. For me, the answer is yes.
I think the Kamvas Pro 24(4K) is a very good display tablet, and if you are a hobbyist or someone looking to make a move from a small tablet to your first beefy 4K tablet and upgrade your equipment for personal or professional use, this is a great option. Between the display, the size, and the quiet running, I would not regret owning this tablet at all.
The Kamvas Pro 24(4K) is not cheap. It is still an investment.
The Kamvas Pro 24(4k) brings to light that Wacom is not the only game in town anymore, and companies like Huion are only going to get better and better. The Kamvas Pro 24 is a flagship tablet for Huion that delivers, and very excited to see what they do next.
Suppose Huion can dial in their drivers and eliminate the slight wobbles we see in performance while staying under the average retail cost of the current noisy Wacom tablet. In that case, they will have at least one new customer for life: Me.
Pros
Easy installation
Beautiful display
Large workspace
Zero fan noise
Sturdy construction
USB-A ports
Headphone Jack
Functional and practical Mini Keydial peripheral
Sharp lines for illustration
Native VESA mount options
Costs less than comparable Wacom options
Cons
Occasional wobble in pen pressure sensitivity
Wacom drivers still edge the Kamvas Pro 24 out in quality
Built in stand option is not great
Possible additional cost for stand or swing arm
Not a "cheap" option for a large tablet
Rating: 4 out of 5
Read on AppleInsider