Sonos Ray review: Finally a capable budget soundbar
The Sonos Ray is a new budget-friendly offering from the premium audio maker that now has a more affordable soundbar that sits below the Beam and Arc.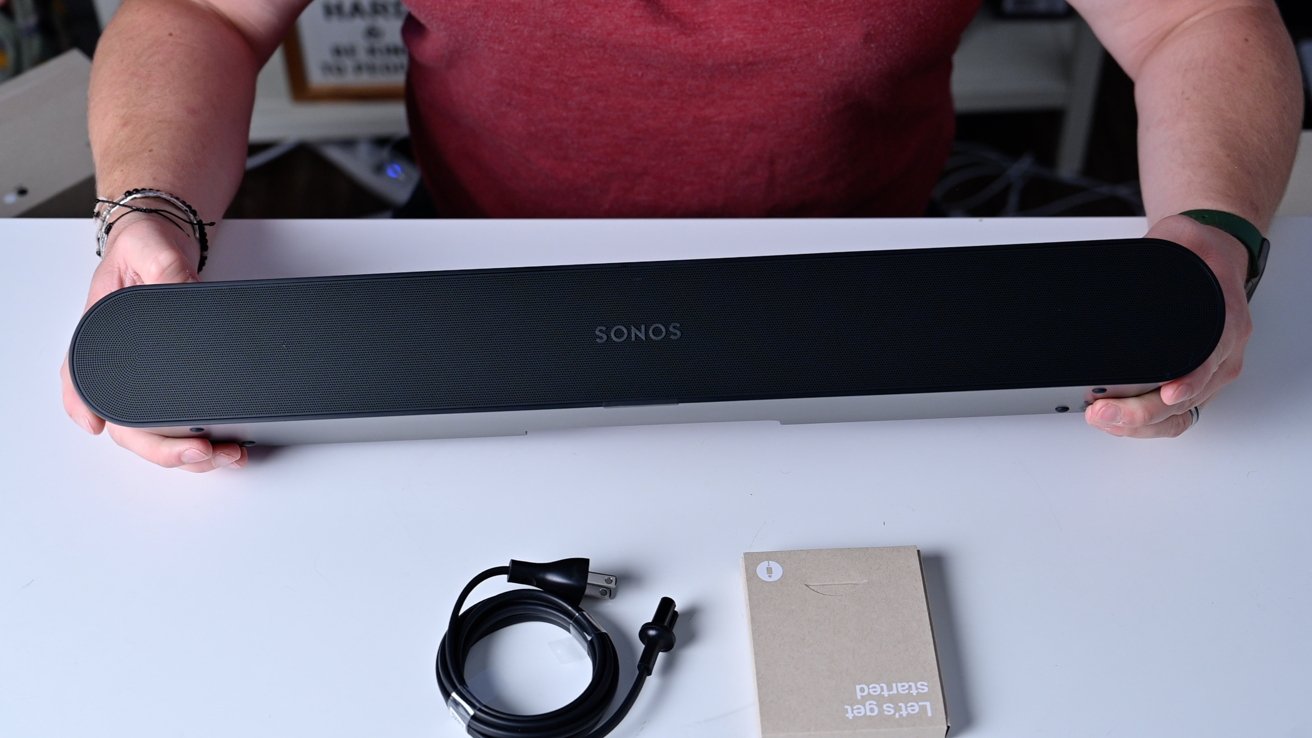 Opening the Sonos Ray soundbar
The Sonos Ray comes in
at less than $300
, making it one of the more affordable speakers from the company. With the popularity of soundbars on the rise, it's a great way to get into the Sonos ecosystem.
Comparatively, the Sonos Beam is
near $500
and the Arc tips the scales at
around $900
. While that makes Ray the seemingly easy choice if you want to save some cash, there are a few caveats to consider.
The Ray itself is just slightly smaller than the Sonos Beam. However, it's a bit narrower and shouldn't have any issue fitting in front of your TV.
It comes in black or white colorways, though we chose the former.
The soundbar has a wholly plastic design, including the front-facing grille. They each look great though we will say the black tends to take on fingerprints.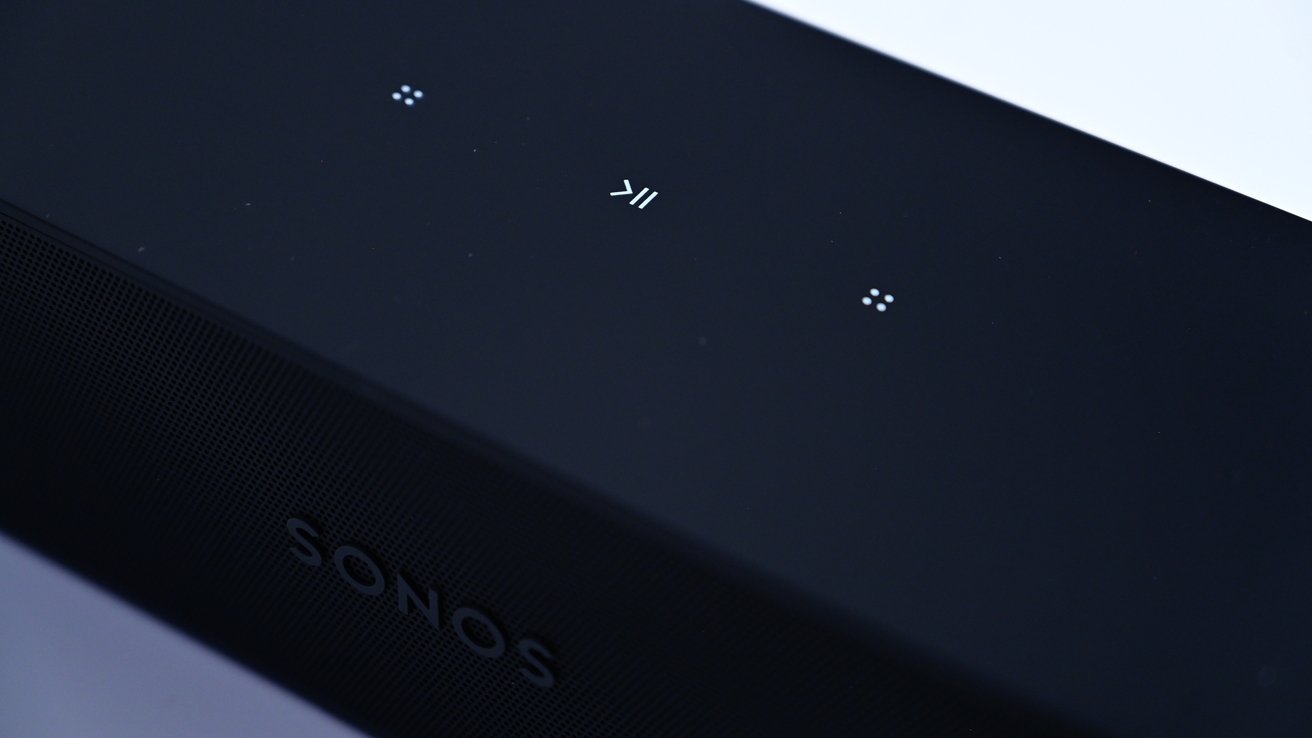 Physical controls on the top of the Sonos Ray
On top of the speaker are your basic controls. They're the same touch-sensitive buttons you see on all other Sonos speakers. In addition, a multi-control button in the center controls playback and volume down and up buttons on either side.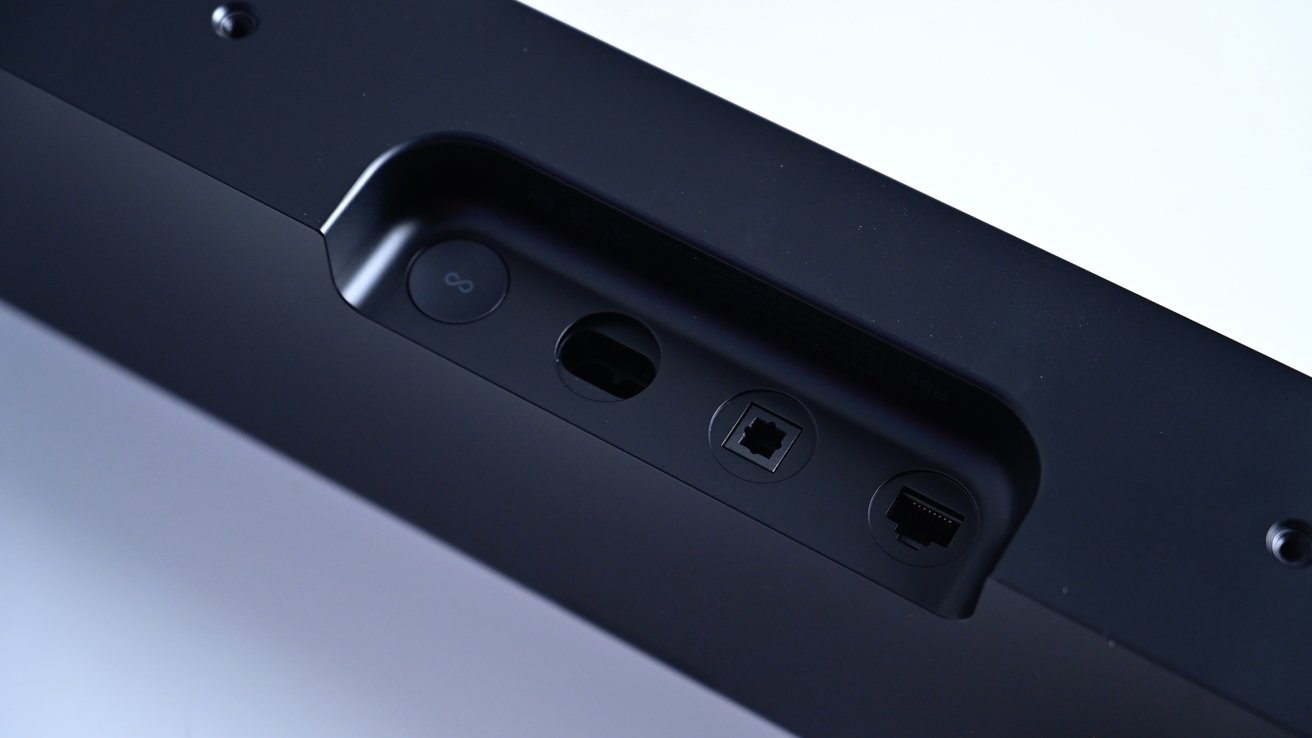 Ports on the back of the Sonos Ray
Around back, you'll find the power input, an Ethernet jack, and an optical audio input. Sonos includes the power cable and an ultra-thin optical cable in the box.
Setup and onboarding
Sonos has a knack for speaker setup that is emblematic of Apple. For example, with the Sonos app open, the speaker will automatically be discovered and appear in a pop-up modal just like a set of
AirPods
.
Since we have other Sonos speakers, the app remembered our credentials and Wi-Fi passcode, so it was able to add it to our account and add it to the home network.
With the speaker added, we could instantly start using it with our television. One last thing you need to do, though, is set up your remote.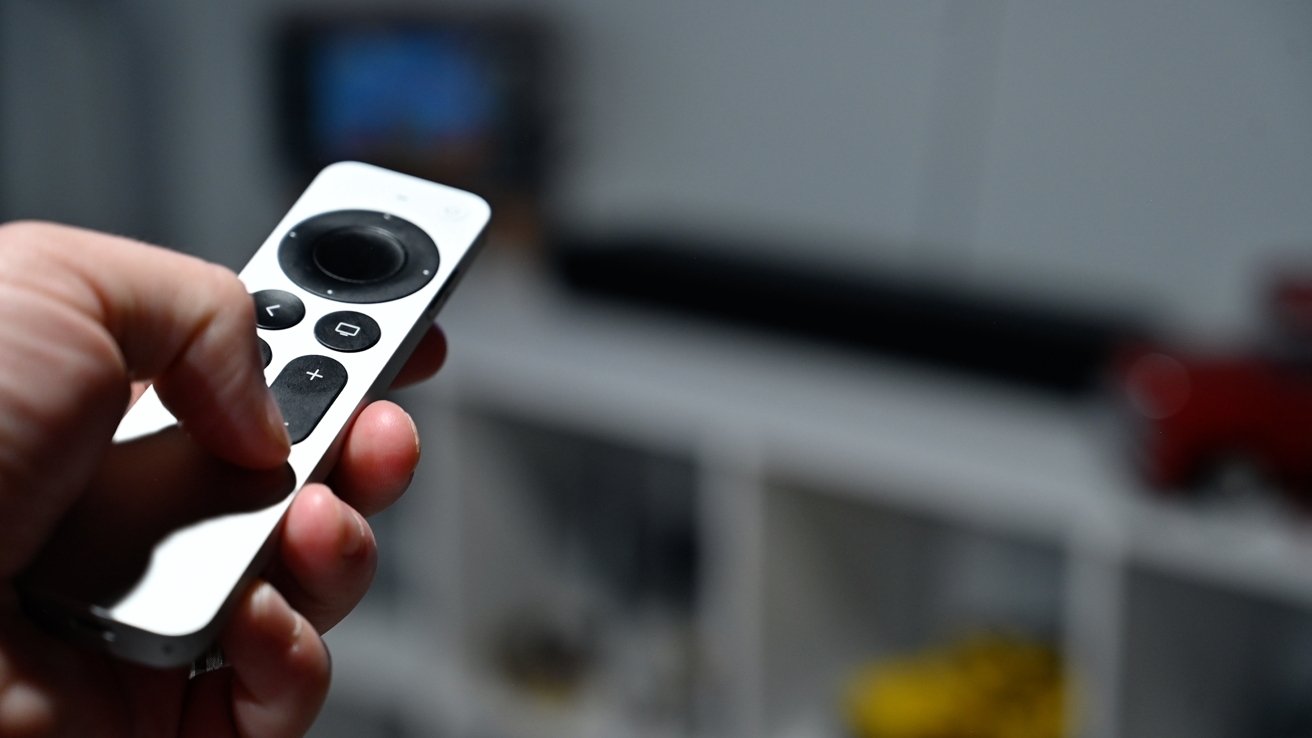 Using our Apple TV remote with the Sonos Ray
Unlike the Sonos Beam and Sonos Arc, the Ray accepts audio via optical. The other two rely on the audio return channel (ARC) for audio. With HDMI ARC, volume commands are passed via HDMI CEC.
Without ARC, the Ray is forced to rely on infrared commands. This is an issue because many modern TVs have Bluetooth or RF remotes.
If this is your TV, you won't be able to control the Ray's volume. Instead, you'll need to use the controls on top of the soundbar, the Sonos app, or pick up a cheap no-name infrared remote on Amazon.
Fortunately for Apple users, the Apple TV Siri Remote can work just fine. It can send audio commands and control volume with minimal hassle.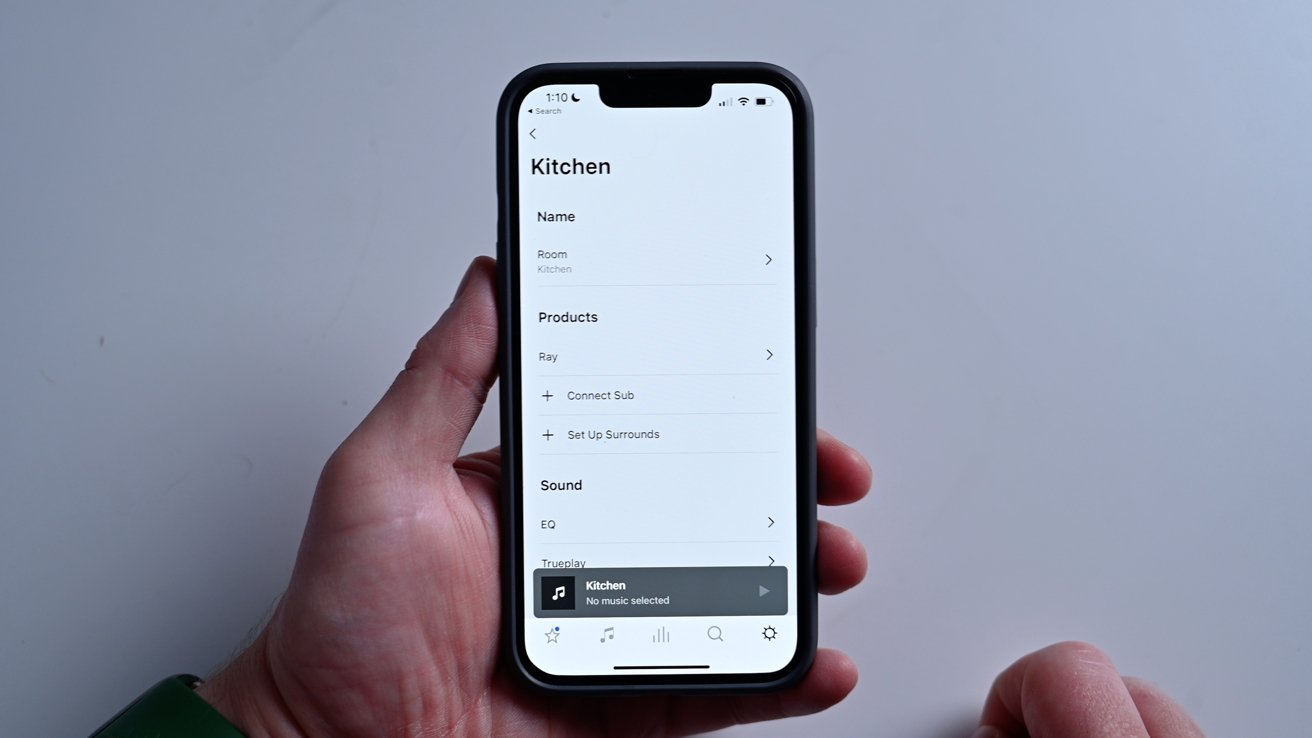 You can add speakers to the Sonos Ray
Unlike many other budget soundbars, the Sonos Ray doesn't include a subwoofer. But there is both good and bad news.
Sonos is a very modular system. You can add on a set of additional Sonos speakers to go from stereo to surround audio. We'd recommend a set of Sonos One SLs or the IKEA Symfonisk picture frame speakers.
There's even a subwoofer option. That subwoofer carries a price tag of $750. You could buy nearly three Sonos Rays for the price of the Sonos Sub (Gen 3).
Recent rumors have pointed to a new, lower-cost Sonos Mini Sub. This is by no means official, but it could be an excellent option for Sonos Ray owners who want a bit more oomph to the bass.
Audio quality
We listened to a lot of audio on our Sonos Ray over the past few weeks, including TV shows, movies, and music.
Our takeaway was that -- especially at the price point -- the Sonos Ray sounds great. It offers an excellent sound experience.
In it are four drivers -- two tweeters alongside two mid-woofers. In addition, physical wave channels help route the audio to the sides to increase the perceived soundstage.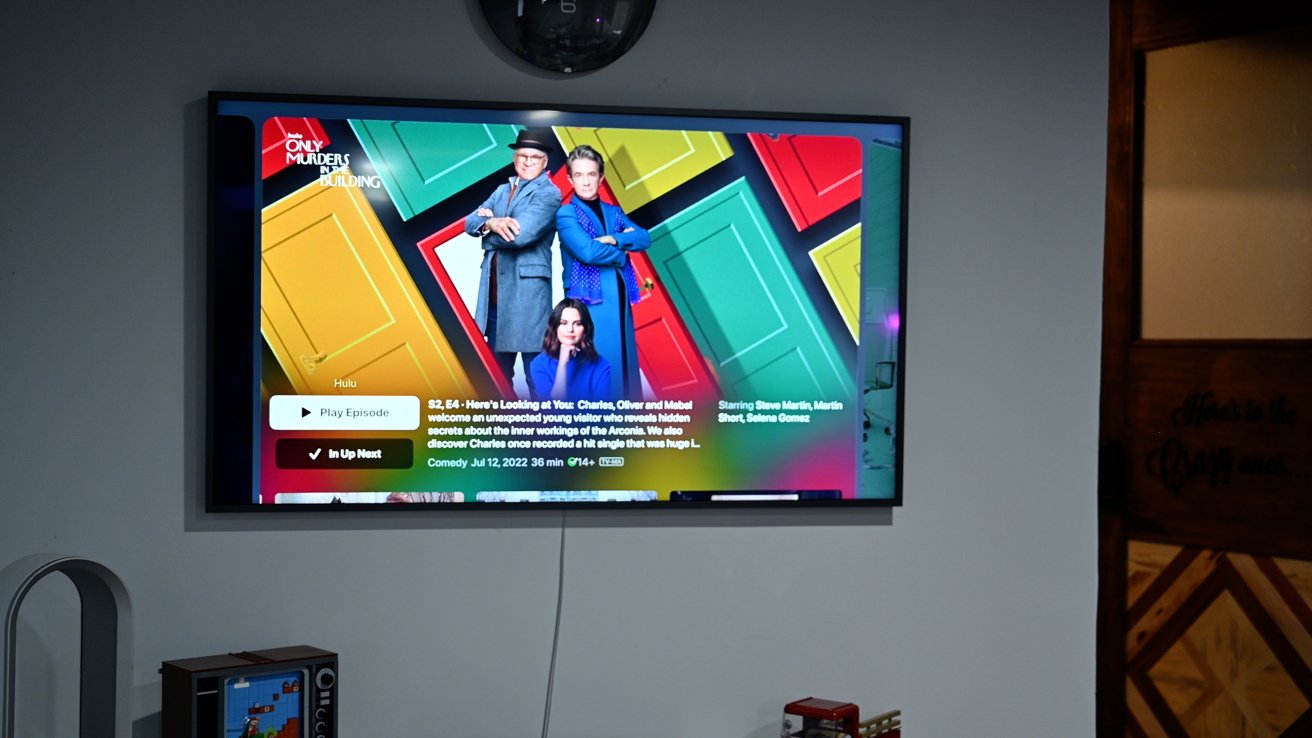 Watching TV on the Sonos Ray
We were especially impressed by the dialogue clarity while watching movies and TV. When listening to your TV speakers, dialogue can often be muddied and hard to parse.
There's no dedicated center channel, yet Sonos was able to design the Ray to help boost audio while letting the rest of the audio come through. This was a significant distinction from the previous $300 Soundbar from Vizio, JBL, and others.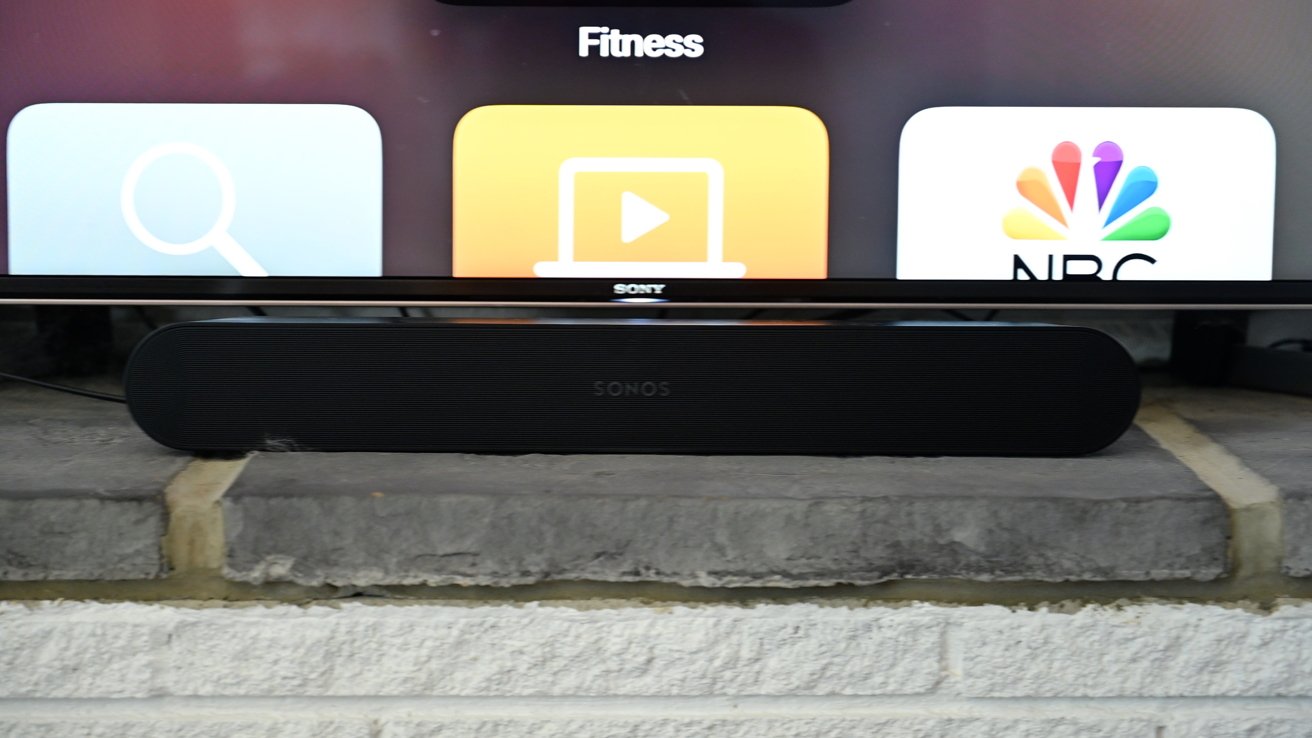 Sonos Ray in our living room
The bass was only okay, though, and left some to be desired. It isn't bad for the size, but while watching movies like Jurassic Park, we wanted to feel those roars in our chest, and we just didn't.
Apple iPhone users are also able to use TruePlay to tune the audio. So, for example, you walk around the room, and the phone's microphone adjusts the audio to your home's acoustics.
AirPlay and HomeKit
Sonos speakers have supported Apple's
AirPlay 2
for ages and the Ray is no different. This is yet another feature that separates the Ray from other budget soundbars.
Most others in this price range will offer Bluetooth audio but not over Wi-Fi -- let alone AirPlay.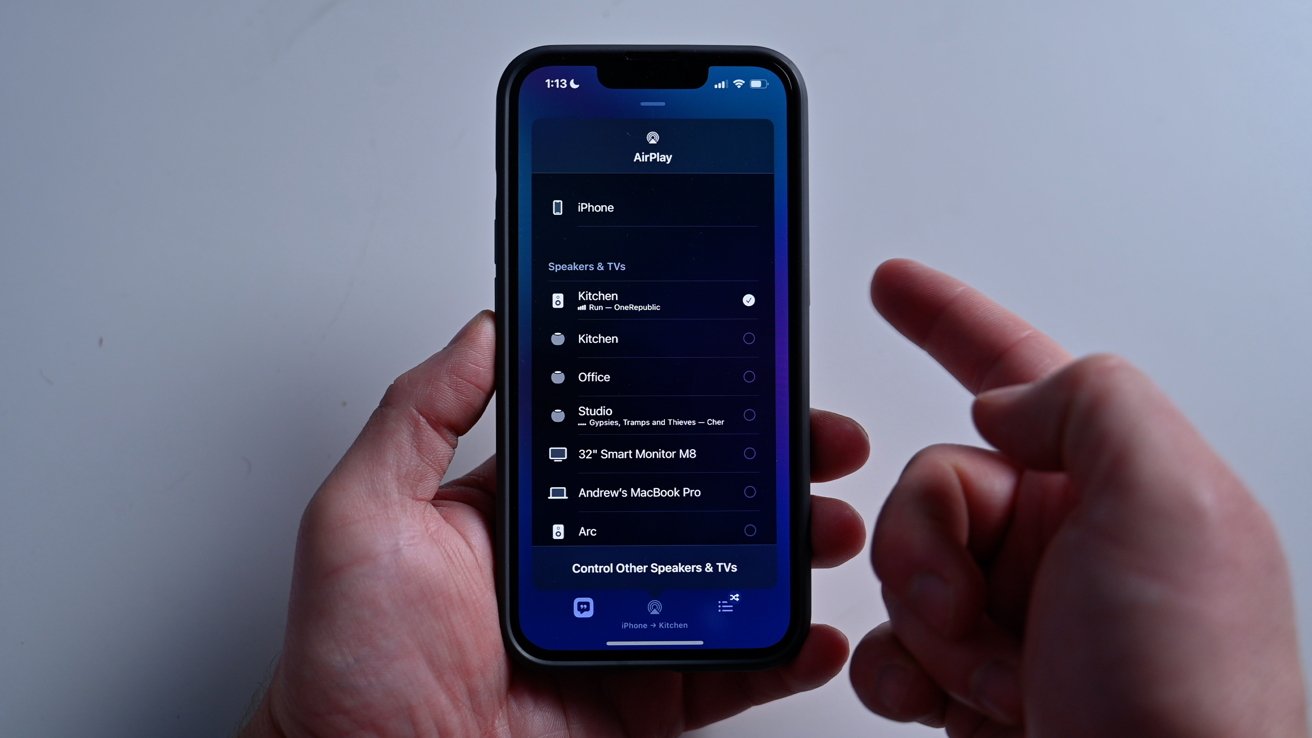 Casting audio to the Sonos Ray with AirPlay 2
Once added to the Sonos app, it will immediately be available as an AirPlay destination from any of your Apple devices in your home. Cast to it from your
Mac
,
iPad
,
Apple TV
, or iPhone.
In our home, we can cast to the Sonos Ray, our
HomePod mini
, and our First Alert Safe and Sound all at once for easy multi-room audio.
If you don't use AirPlay, you can set up multi-room audio from the Sonos app too. The Sonos app also has multiple direct audio sources, including Sonos Radio and many more.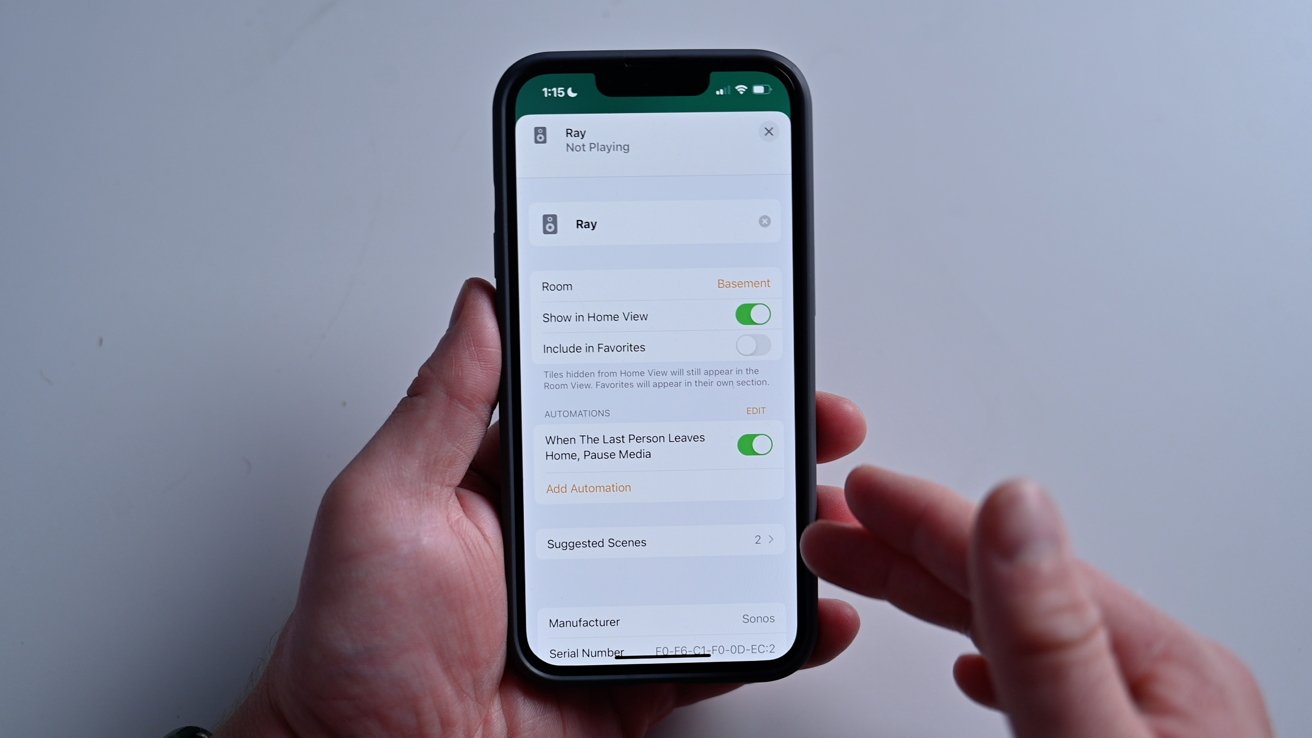 Sonos Ray in the Home app
For power smart home users, the Sonos Ray can be added to
HomeKit
. If you launch the Home app and tap on the Add Accessory button, the Ray will automatically appear.
With it in HomeKit, you can control the speaker from the Home app and include it in various scenes or automations.
For example, you could create a workout scene that will play your pump up playlist on the Ray at the same time it closes your living room blinds and adjusts your lights. Or create an automation routine to stop playing anytime the last person leaves the house.
You could even tie the Sonos Ray to your morning alarm to awaken to your favorite energizing songs.
Should you buy the Sonos Ray?
In our time-testing soundbars, the Ray stands above the rest. It's incredibly capable, with a great array of source options, Wi-Fi connectivity, and excellent sound quality.
Unfortunately, it's held back by the limited remote support and optical audio. As a result, your TV setup may take the Ray out of the running immediately, regardless of how good the rest of its features are.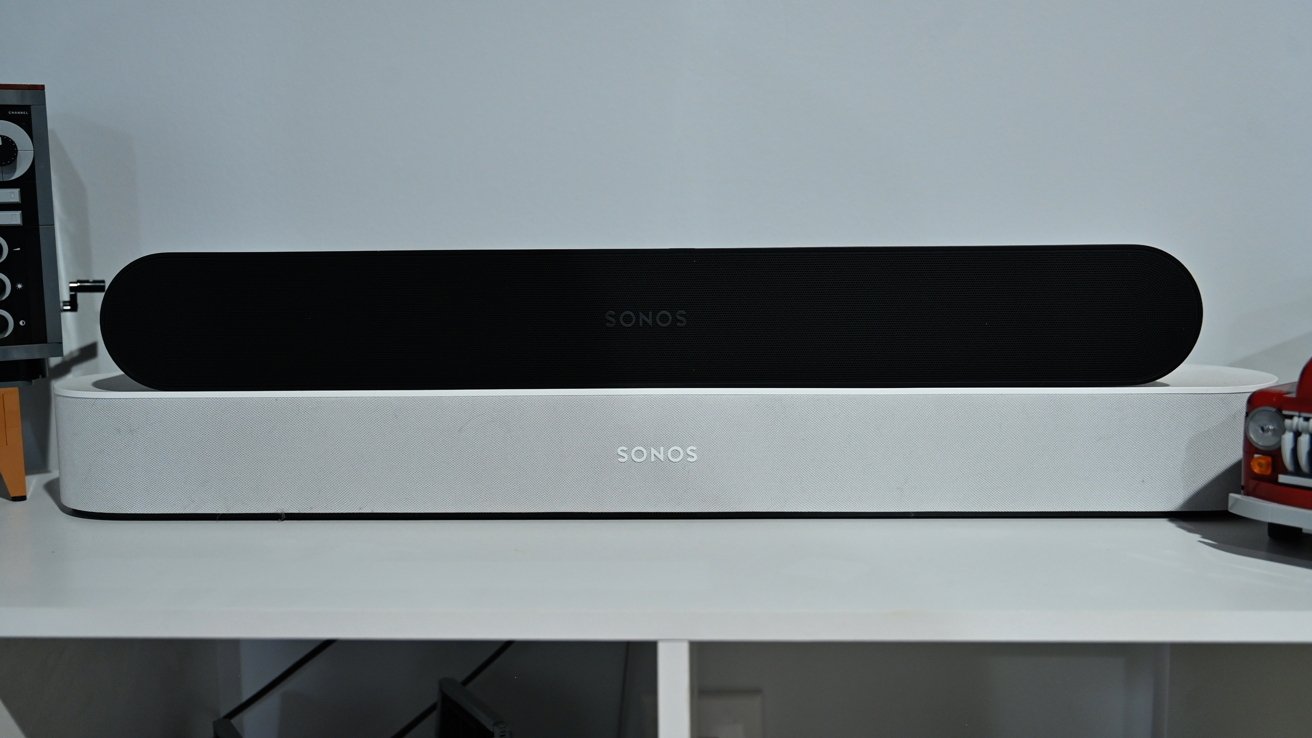 Sonos Ray on the Sonos Beam
In our case, the remote worked just fine from our Apple TV, so it wasn't as a setback as it will be for others. Now, if Sonos would only hurry up and release a more affordable subwoofer.
Pros
Compact design


Great audio quality


Clear dialogue


Ethernet port for connectivity


AirPlay 2 and HomeKit support


Expand system with other Sonos devices
Cons
Optical is only connection option


Optional subwoofer is prohibitively expensive
Rating: 3.5 out of 5
If Sonos does, in fact, launch a more affordable soundbar, our rating would increase to a 4.
Where to buy
The Sonos Ray retails for $279 and can be ordered
from Sonos directly
, as well as
at B&H Photo
and
at Adorama
.
Read on AppleInsider