Breaking down Apple's tricky, 'gravity defying' $83 billion June quarter
Apple again beat Wall Street expectations despite a tough macroeconomic environment and supply chain issues. Here's what analysts thought after the call, and how the earnings compare to pre-pandemic Apple.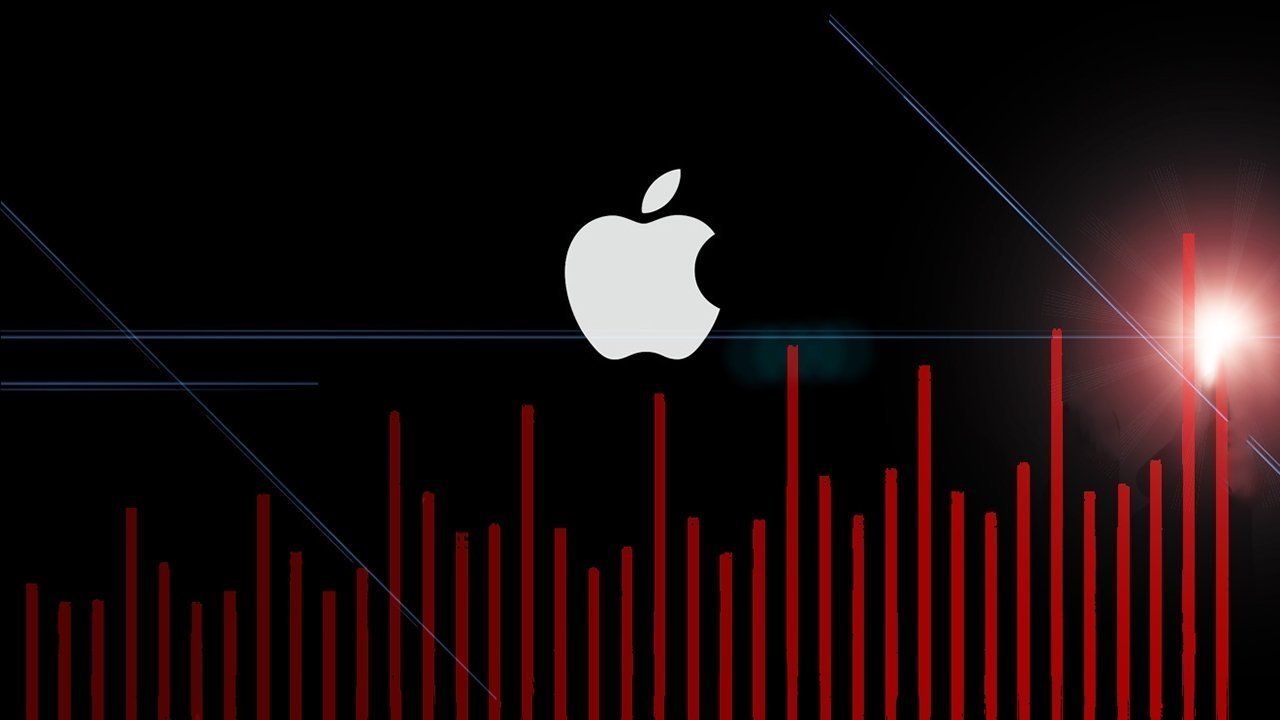 Financial header image
The
iPhone
maker reported $83 billion in revenue, a 2% year-over-year increase. The company's Q3 2022 revenue also came in slightly ahead of Wall Street's consensus, which was closer to the $81 billion to $82 billion range.
Although Apple's Q3 2022 revenue was only 2% higher than the year-ago quarter, it still marked record-breaking revenue and the Cupertino tech giant's best June quarter yet.
Apple quarterly revenue and net profit.
Net profit took a slight dip to $19.4 billion, down from $21.7 billion in Q3 2021.
Importantly, supply headwinds that Apple warned about earlier in 2022 came in lower than it expected. Apple had warned of a $4 billion to $8 billion revenue hit because of ongoing chip shortages and Covid-related lockdowns in China.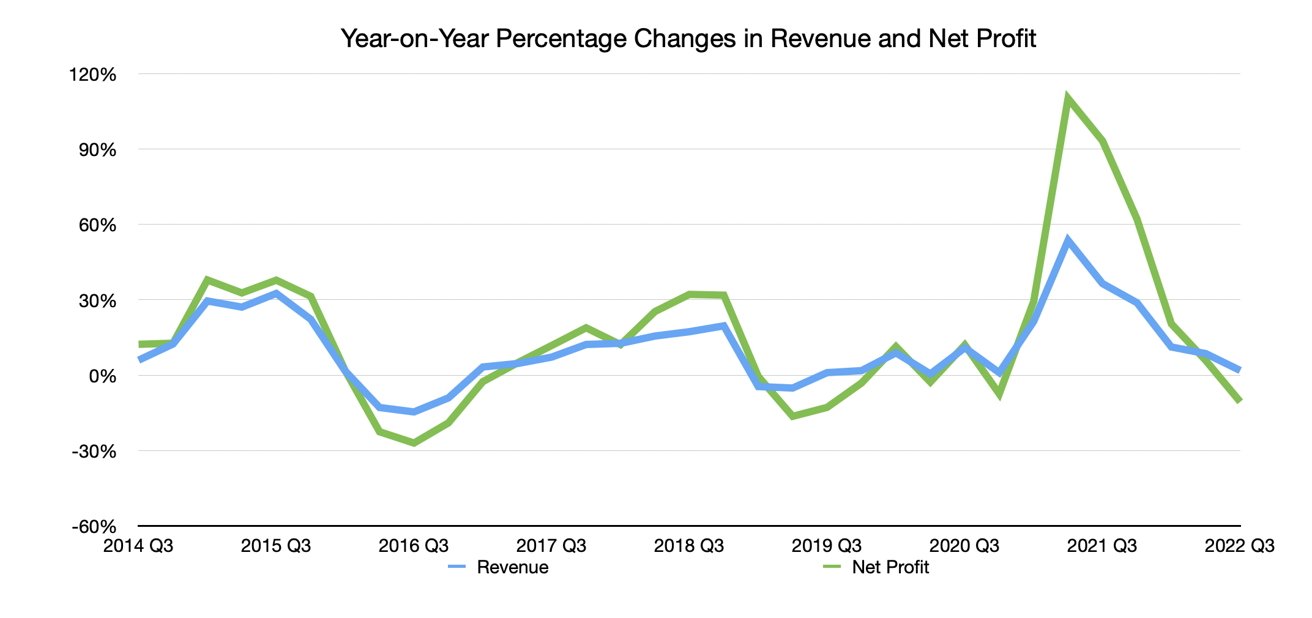 Year-on-year change in Apple revenue and net profit
Apple's iPhone maintained its revenue dominance in the June quarter, raking in $40.6 billion in revenue compared to $39.5 billion in Q3 2021.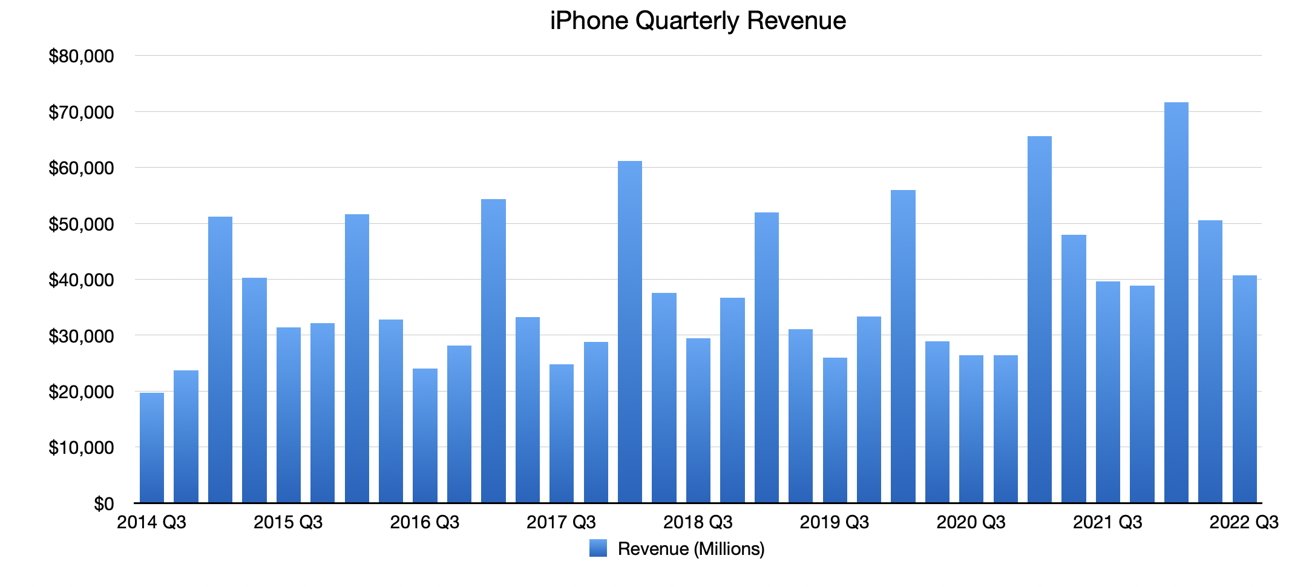 Quarterly iPhone revenue
The company's other products -- including the
Mac
and
iPad
-- were more severely impacted by chip constraints and supply issues.
The iPad dropped to $7.2 billion in revenue, only a slight decrease from $7.3 billion in Q3 2021.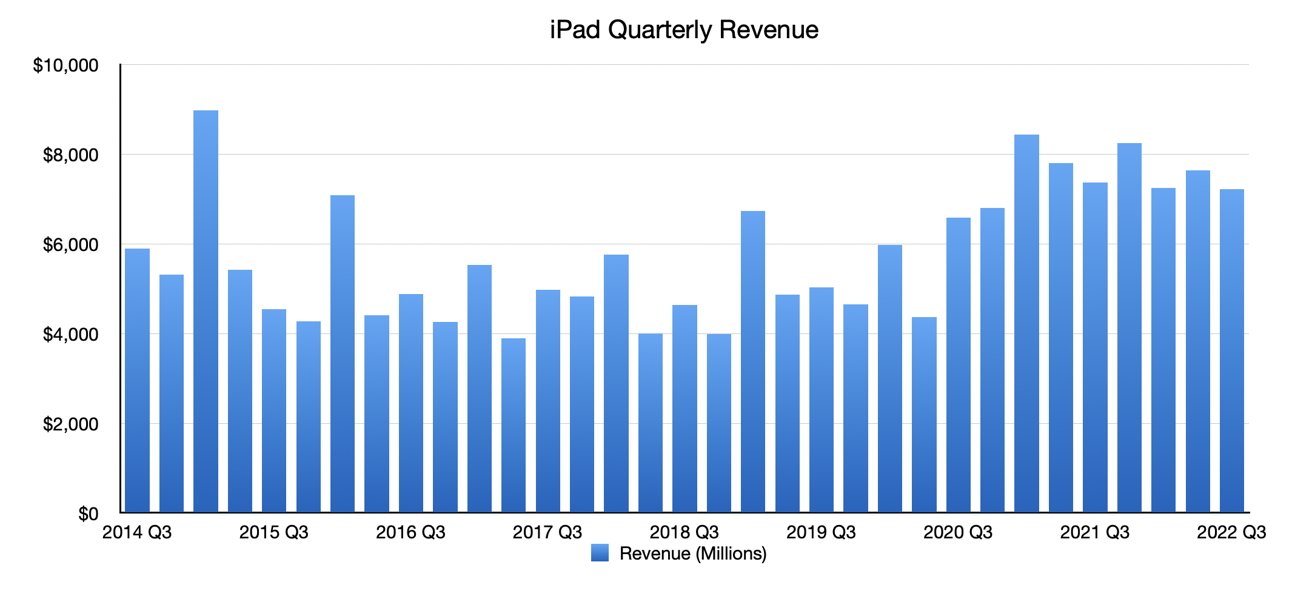 Quarterly iPad revenue
Apple's Mac category dropped to $7.3 billion in revenue, down from $8.2 billion in the year-ago quarter.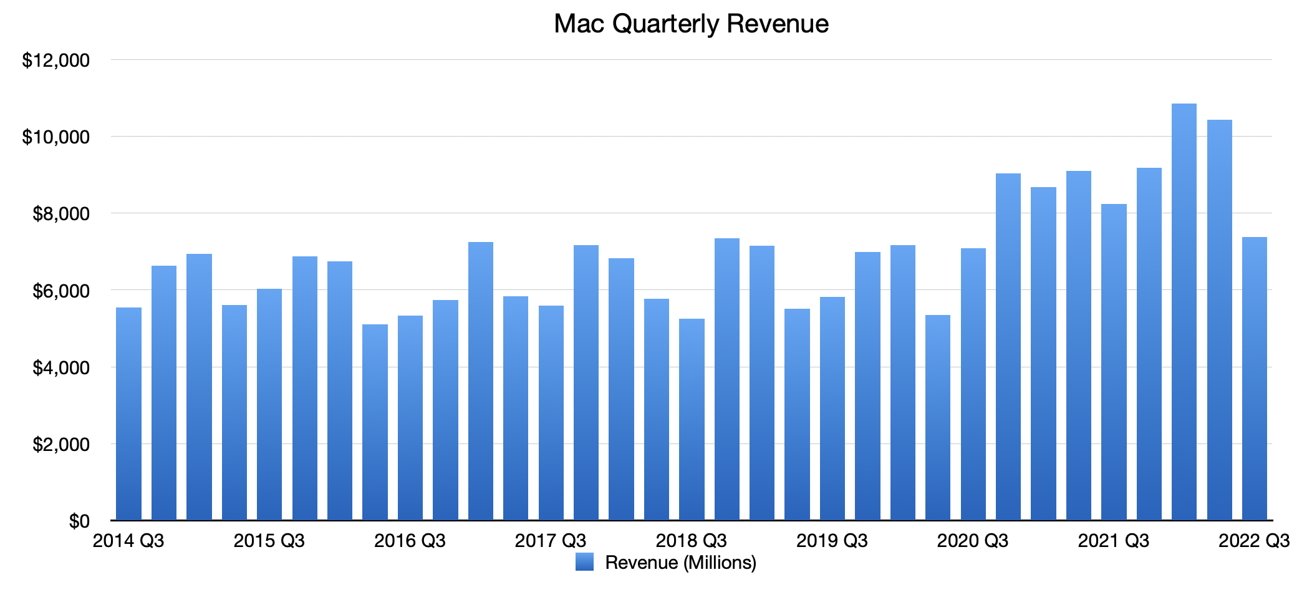 Quarterly Mac revenue.
As far as Wearables, Home, and Accessories, Apple saw revenue of $8.08 billion in Q3 2022. That's down from $8.7 billion that the category made in Q3 2021.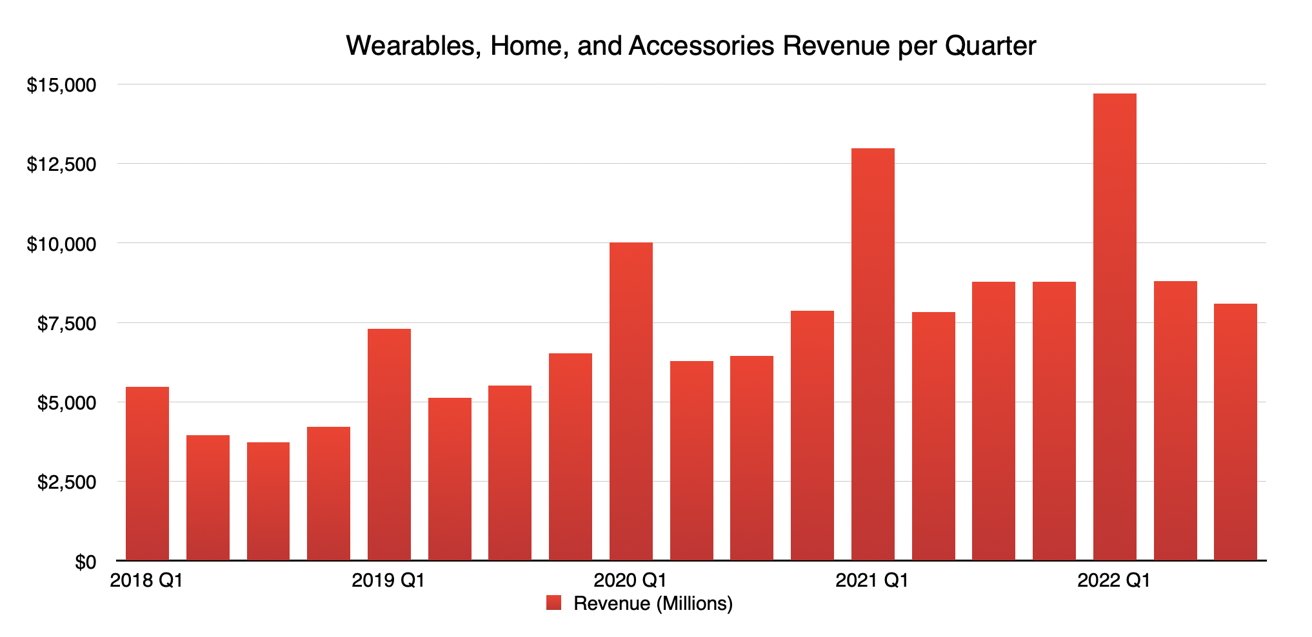 Quarterly Wearables, Home, and Accessories revenue
Services continued to be a strong revenue driver. The category brought in $19.6 billion in revenue during the quarter, up year-over-year from $17.4 billion.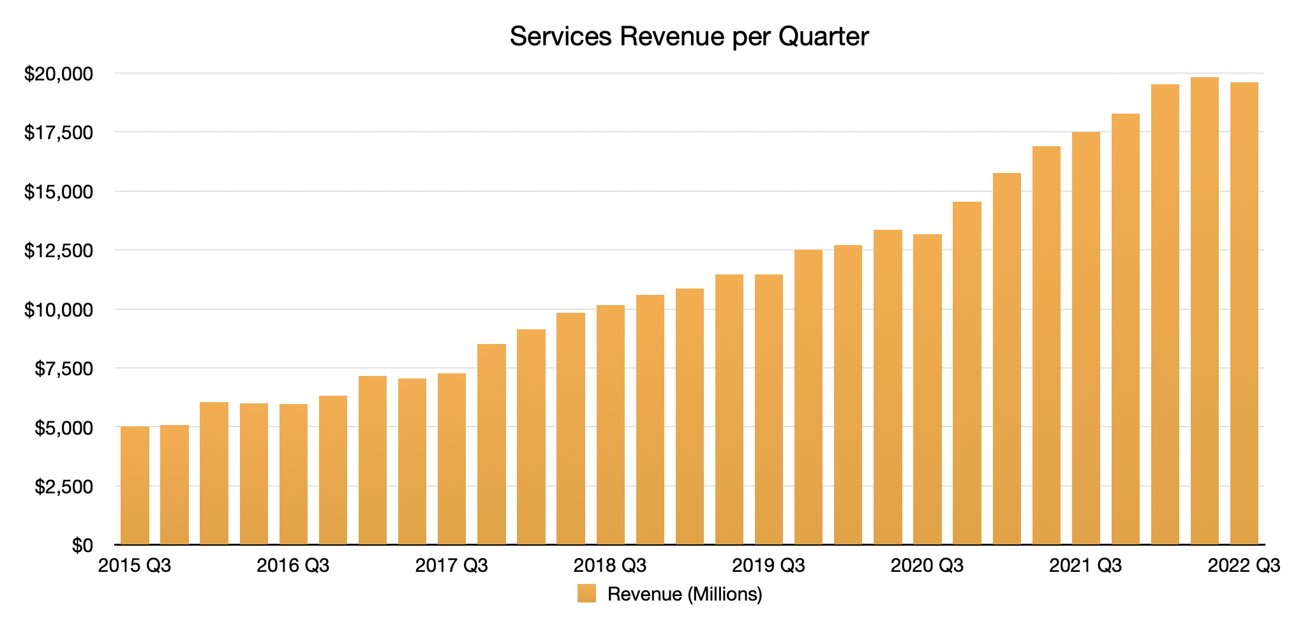 Quarterly Services revenue
Here's what analyst thought about Apple's better-than-expected performance.
Samik Chatterjee, JP Morgan
Samik Chatterjee, lead analyst at JP Morgan, has left his revenue and earnings forecasts largely unchanged in the wake of Apple's solid execution in the June quarter.
The analyst believes that Apple continues to be a save haven investment, particularly as iPhone revenues continue to grow and Services maintains its position as a predictable and resilient measure of earnings and revenue for the company.
Chatterjee maintains his 12-month Apple price target of $200.
Dan Ives, Wedbush
Wedbush analyst Daniel Ives believes that Apple gave a performance in "Top Gun Maverick Fashion" during the June quarter. Ives believes that the results will be a focus among tech industry watchers, and is a "major positive" for both Cupertino and beyond.
Ives also spent time focusing on Apple's performance in China. The company made $14.60 billion, down only slightly from $14.76 billion in Q3 2021 despite Covid shutdowns and other constraints. He believes Apple is well-positioned to benefit from a strong installed base over the next six to 12 months.
The analyst maintains his 12-month Apple price target of $200.
Harsh Kumar, Piper Sandler
Harsh Kumar of Piper Sandler believes that Apple's results are impressive, and he highlights the fact that Apple believes its other revenue growth will accelerate in the September quarter.
Kumar also shines a light on the fact that the current macroeconomic environment has had "no meaningful impact" on Apple's iPhone revenue. Apple also set a record for installed base, which Kumar believes is evidence of brand loyalty and the company's strong performance.
The analyst maintains his 12-month Apple price target of $195.
Erik Woodring, Morgan Stanley
According to Morgan Stanley's Erik Woodring, Apple's iPhone and Services segments were more than enough to offset quarterly weakness in the iPad and Mac categories. Overall, he concedes that Apple's June quarter results were better than he expected.
The analyst has not changed any of his September quarter estimates, and believes that Apple's relatively conservative guidance is justified given the macro environment. He also highlights Apple's gorse margins of 43.3%, which beat out his forecast by 80 basis points and management's guidance of 30 bis points.
Woodring maintains his 12-month Apple price target of $180.
Gene Munster, Loup Ventures
Gene Munster, an analyst and partner at Loup Ventures, believes that Apple is "defying gravity and powering through the early stages of the macro downturn." He attributes the company's strength to the iPhone, which he believes is now an essential product and not a luxury item.
Taking a broader view, Munster believes that Services growth was basically in-line with expectations and that the Mac headwind will be a temporary one. Going forward, he believes Apple's upcoming stacked lineup -- which could include health, AR/VR, and other products -- will be a positive for the company's multiple in future years.
Munster maintains his 12-month Apple price target of $250.
Krish Sankar, Cowen
Krish Sankar highlighted Apple's upside and strong performance during the June quarter -- and its strong iPhone revenue despite a shaky economy. Sankar points out that Apple's performance came amid concerns about the supply chain and smartphone weakness.
Going forward, the analyst believes that Apple will benefit from abating supply shortages in the September quarter. Although the macro environment provides a modest headwind to Services, he still believes the company will continue to deliver long-term growth.
Sankar maintains his 12-month Apple price target of $200.
Read on AppleInsider