Compared: 16-inch MacBook Pro versus MSI Creator Z17
MSI's Creator Z17 notebook is billed as a productivity workhorse with a sleek design. On paper, it's even capable of taking on Apple's creative powerhouse, the
16-inch MacBook Pro
. Here's how they compare.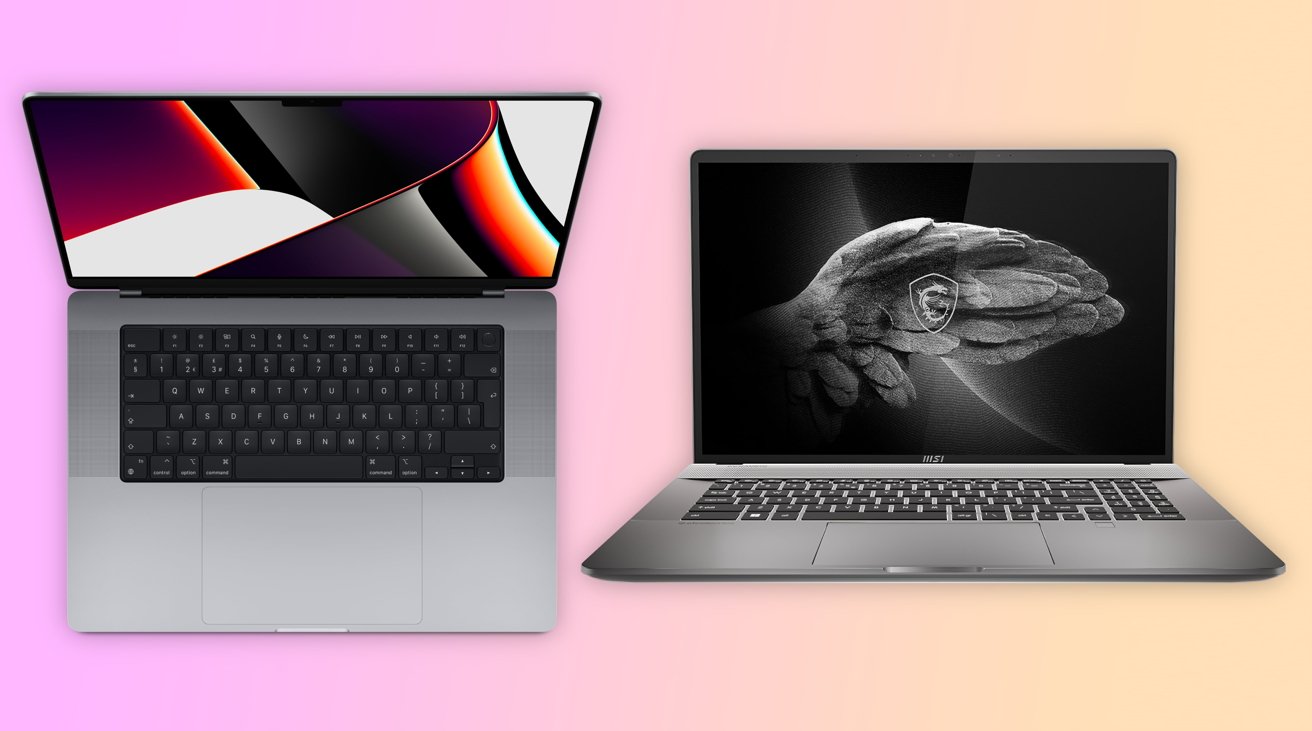 Apple's 16-inch MacBook Pro (left), MSI's Creator Z17 (right)
The company promotes the MSI Creator Z17 as "Tech meets Aesthetic," combining high performance with a sleek appearance. Such a combination should be what most creative professionals should aspire to own.
With its large screen and purported high performance, the Z17 occupies the same space in the market as the 16-inch MacBook Pro.
Apple's largest notebook has a similar high-concept feel about it, in that it's stylish, thin, and offers mounds of performance with its included
Apple Silicon
.
Over half a year after the release of the 16-inch MacBook Pro, MSI's release has a lot to live up to if it wants to take the productivity crown away from Apple.
MSI Creator Z17 vs 16-inch MacBook Pro - Specifications
Specifications
16-inch MacBook Pro (2021)
MSI Creator Z17
Display Size (inches)
16.2
17
Max Resolution
3,456 x 2,234
2,560 x 1,600
Pixel Density
254
177.5
Display Technology
Mini LED-Backlit,
Wide Color (P3),
True Tone
ProMotion
IPS-Level,
165Hz,
16:10 Ratio,
100% DCI-P3 support,
True Color Technology,
Touchscreen
Optional MSI Pen support
Processors
10-core M1 Pro,
10-core M1 Max
Intel Core i9-12900H,
Intel Core i7-12700H,


Memory
16GB Unified Memory,
Configurable to 64GB
32GB DDR5,
64GB DDR5,
Graphics
M1 Pro 16-core,
M1 Max 24-core
M1 Max 32-core
Nvidia GeForce RTX 3080 8GB,
Nvidia GeForce RTX 3080 Ti 16GB,
Nvidia GeForce RTX 3070 8GB,
Nvidia GeForce RTX 3070 Ti 8GB,
Nvidia GeForce RTX 3060 8GB
Storage
512GB, 1TB, 2TB, 4TB, 8TB
1TB, 2TB
2 x M.2 2280 NVMe PCIe slots,
Biometrics
Touch ID
Fingerprint,
Windows Hello Face
Trackpad
Yes, Force Touch
Yes
Keyboard
Backlit with ambient light sensor
Keyboard with per-key RGB
Dimensions (inches)
14.01 x 9.77 x 0.66
15.03 x 10.07 x 0.7-0.75
Weight (pounds)
4.7 (M1 Pro),
4.8 (M1 Max)
5.5
Battery
100WHr
90WHr
Ports
3 Thunderbolt 4 ports,
HDMI,
SDXC card slot,
MagSafe 3,
Headphone jack
2 Thunderbolt 4 ports (1 with 100W PD support,)
1 x USB 3.2 Gen 2,
HDMI,
SD card slot,
Headphone jack
Webcam
1080p FaceTime HD
1080p with IR
Speakers
Six speakers with force-cancelling woofers, Dolby Atmos
4x2W speaker
Microphones
3 with directional beamforming
Internal mic
Networking
Wi-Fi 6
Killer AX Wi-Fi 6E
Bluetooth
5.0
5.2
Power Supply
140W
240W
Price
from $2,499
from $3049
MSI Creator Z17 vs 16-inch MacBook Pro - Physical Features
MSI describes the Z17 as having a "rounded and fluid form with sleek edges," which merges "both postmodernism designs" into its appearance.
In more conventional terms, it's an aluminum notebook using a CNC-tooled body, with a flat top and rounded edges and corners. While touching upon some of the style points of the modern 16-inch MacBook Pro, you can still tell that the Z17 is a very different notebook from the outside.
While both use similar materials and styling, one big takeaway is that the Z17 is a physically larger product in many respects. A lot of this stems from its display size being a bit bigger, so it's not entirely unexplainable.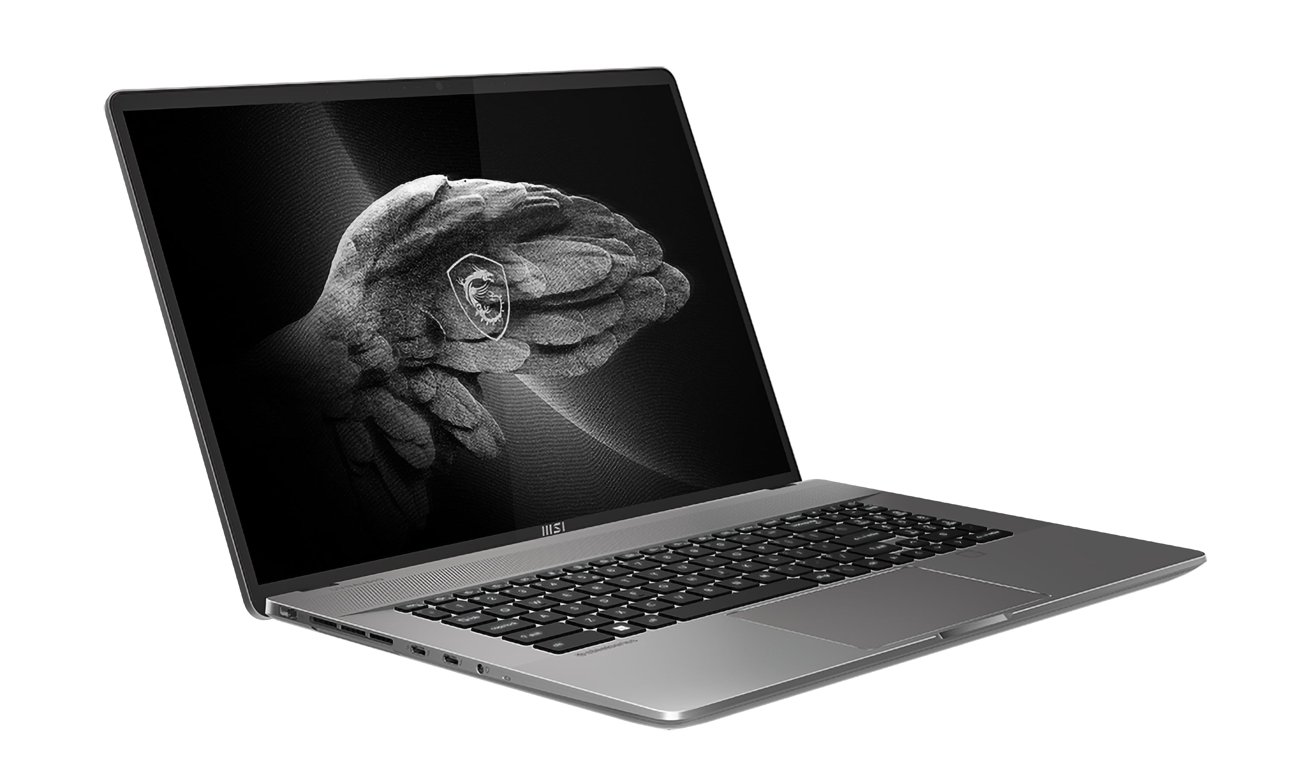 The MSI Creator Z17 has a bigger 17-inch display, but a lower resolution and pixel density.
The 16-inch MacBook Pro has a smaller footprint at 14.01 inches by 9.77 inches versus 15.03 inches by 10.07 inches for the MSI. On thickness, the MacBook Pro is uniformly thin at 0.66 inches, while the MSI tapers slightly from 0.7 inches to 0.75 inches.
Then there's weight. Apple's notebooks weigh 4.7 or 4.8 pounds, depending on configuration, while the Z17 is a hefty 5.5 pounds. That's three-quarters of a pound heavier than the average 16-inch MacBook Pro, or 15% heavier.
While the size difference could be acceptable to most, the weight gain may not be seen the same way.
MSI Creator Z17 vs 16-inch MacBook Pro - Display
The 16-inch MacBook Pro boasts the best display in an Apple notebook, consisting of a mini LED-backlit screen measuring 16.2 inches diagonally. That backlighting brings features including Wide Color (P3) support, True Tone, and ProMotion at up to 120Hz.
Apple's display also has its signature notch at the top, a gap used to house its FaceTime camera. This does eat into the display a bit but only takes out as much depth as the menu bar, and it's also hidden with strategic black sections when an app is displayed fullscreen.
MSI's display is a 17-inch "True Pixel" model, described as being at an "IPS Level" and with 100% DCI-P3 support. At a 16:10 "golden" aspect ratio, the display matches the MacBook Pro.
Beyond just the complete DCI-P3 color gamut support, it also has factory-calibrated Delta-E < 2 accuracy and is Calman Verified for color accuracy.
Like the MacBook Pro, the Z17's display can use a high refresh rate of up to 165Hz. However, Apple's mini LED backlighting has a big advantage over the MSI's display, which uses more conventional LED techniques.
This includes the contrast ratio, which Apple claims is 1 million to 1 for the MacBook Pro, while MSI's notebook appears closer to 1,000:1.
Then there's brightness, which Apple sets the MacBook Pro at up to 1,000 nits of sustained fullscreen brightness, 1,600 nits at peak for HDR content, and 500 nits for SDR content. The Z17 seems to be around 400 nits, far from its rival.
Apple wins big on resolution, with its smaller display offering a 3,456 by 2,234-pixel image and a pixel density of 254ppi. MSI uses a QHD+ screen, which is 2,560 by 1,600 pixels with a pixel density of 177.5ppi, far below the MacBook Pro.
One big plus in MSI's court is that its display is not just multi-touch enabled but also supports stylus input. Using the MSI Pen, there are up to 4,096 levels of pressure sensitivity to play with.
However, while this is a first for a 17-inch notebook, stylus support is usually better suited for tablets and for notebooks that can turn into a tablet. You'll not get the physical support to properly use a stylus on a display unless you're holding it with your free hand.
It's a curious addition but still a positive for MSI.
MSI Creator Z17 vs 16-inch MacBook Pro - Processing and Performance
The 16-inch MacBook Pro uses Apple Silicon, with a choice of three M1chips to use. The base model uses an M1 Pro with a 10-core CPU with eight performance cores and two efficiency cores, 16-core GPU, and 16-core Neural Engine.
The mid-range option is the M1 Max with the same 10-core CPU, 16-core Neural Engine, and a 24-core GPU. The third option is the M1 Max, but with a 32-core GPU.
Apple uses Unified Memory for its MacBook Pro, which reduces data redundancy by sharing the same pool across multiple chip elements. That means adding more memory will affect things like the CPU and the GPU cores at the same time.
The M1 Pro starts with 16GB, but an option for 32GB is available. The M1 Max begins at 32GB, with an option for 64GB.
MSI uses two 12th-gen Intel processors for its notebook range.
The Core
i9-12900H
is a 14-core chip with six performance cores, eight efficiency cores, 20 threads, and max turbo frequencies of 3.80 GHz and 5.00GHz for the efficiency and performance cores respectively.
The
Core i7-12700H
is also a 14-core chip, again with six performance cores and eight efficiency cores, and 20 threads. However, it offers 3.50GHz for its efficiency core max turbo frequency, and 4.70 GHz for the performance core.
Memory capacities start at 32GB of DDR5, reaching a maximum capacity of 64GB. However, MSI lists it as two SO-DIMM slots, so there is the opportunity to upgrade or downgrade.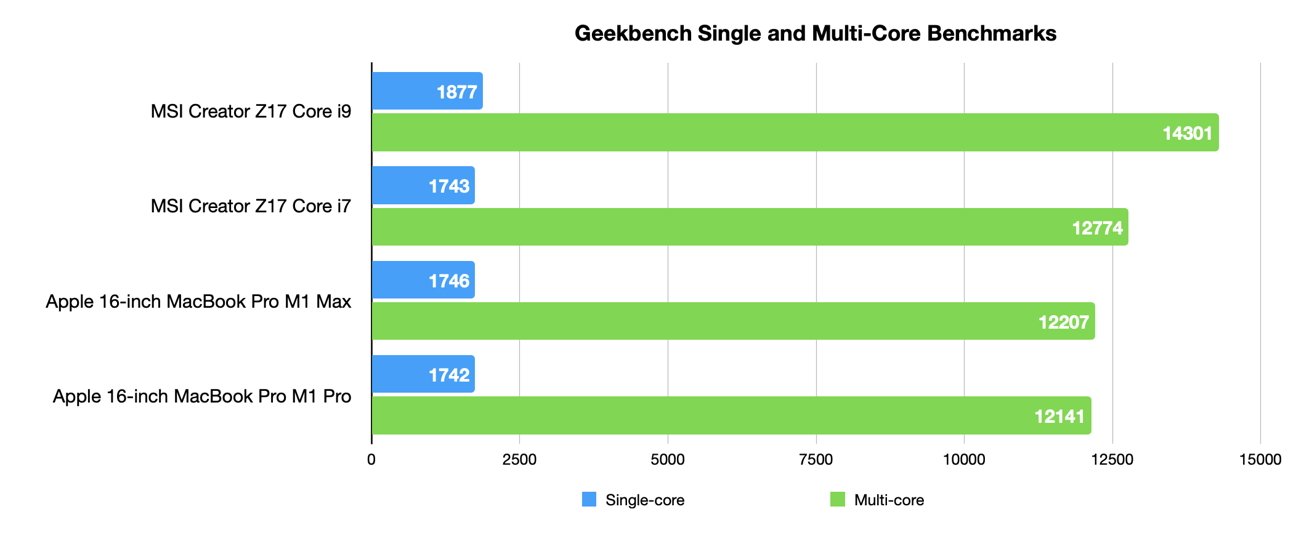 According to Geekbench, the Creator Z17 with the Core i9 can score 1,877 for its single-core test, rising to 14,301 for the multi-core test. The Core i7 version manages 1,743 for single-core and 12,774 for multi-core.
For the 16-inch MacBook Pro, the M1 Pro version is capable of a single-core score of 1,742 and a multi-core of 12,141. The M1 Max manages a similar 1,746 and 12,207 respectively.
It's fair to say that on the CPU side, the M1 chips manage to keep up with the Core i7, but not quite with the Core i9.
MSI Creator Z17 vs 16-inch MacBook Pro - Graphics
The MacBook Pro's M1 chips all use Apple's design of GPU cores, ranging from 16 cores in the M1 Pro to 24 cores and 32 cores in the M1 Max. This is classifiable as integrated graphics, but Apple has previously blown its own horn over graphical performance.
Indeed, when Apple launched the 16-inch MacBook Pro, it actually used MSI notebooks
for its comparisons
. Given the cards being used, we pretty much know the result already.
MSI's Creator Z17 has five different GPU configurations available. They are:
GeForce RTX 3080 8GB,
GeForce RTX 3080 Ti 16GB,
GeForce RTX 3070 8GB,
GeForce RTX 3070 Ti 8GB,
GeForce RTX 3060 8GB.
Turning to Geekbench's browser for OpenCL results, the M1 Pro manages a comfortable 35,724 points, while the M1 Max can hit 56,581.
The GeForce RTX 3060 "Laptop GPU" is listed as getting to 92,420. The similar notebook version of the 3070 gets to 111,099, while the Ti stretches to 119,528.
The RTX 3080 manages 123,019, while the Ti variant gets a bit further to 136,008.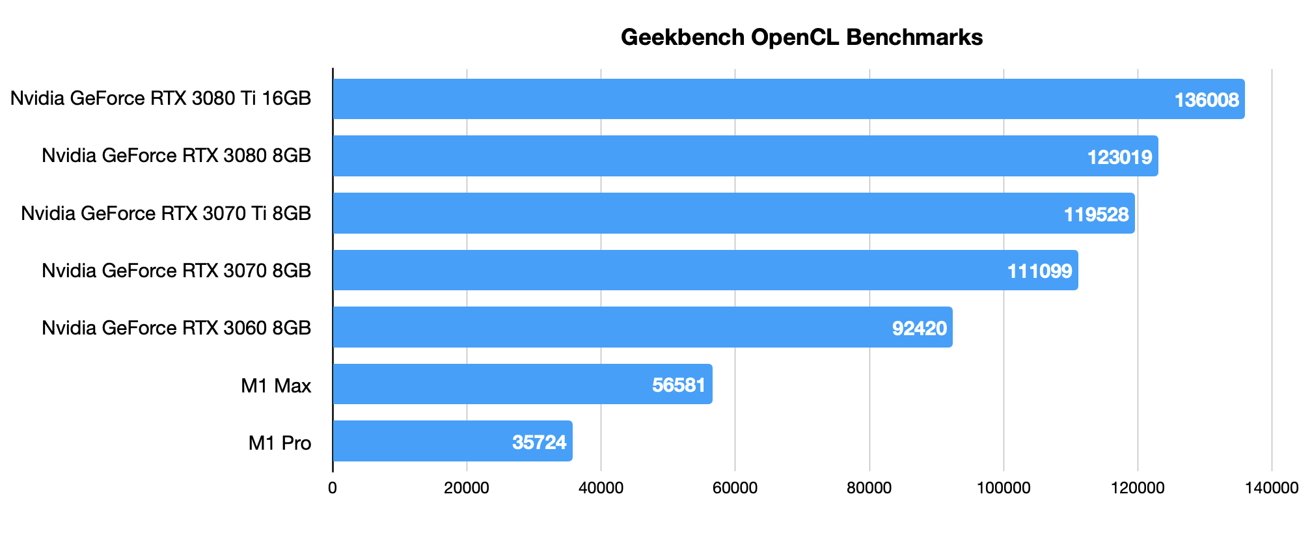 This is a repeat of the situation
AppleInsider
wrote about in November, when the 32-core M1 Max went against the GeForce RTX 3080 16GB in the MSI GE76 Raider.
However, at the time testing determined that while the MSI GPU was overall better, there was a significant variance when using a battery or an outlet. Meanwhile, tests of the MacBook Pro showed identical scores regardless of power source.
We doubt that this will have changed on MSI's side. While it will undoubtedly be better graphically, it won't necessarily offer the same known quantity of performance that the MacBook Pro does.
MSI Creator Z17 vs 16-inch MacBook Pro - Cameras and Biometrics
Both notebooks have a built-in camera of a similar base specification, but then the two go off in different directions.
The MacBook Pro goes for a 1080p
FaceTime
HD camera stuffed into the notch in the display. The camera is an improvement on the 720p version previously used in Apple's notebook lineup and benefits from advanced image signal processing in the M1 to improve the picture it creates.
MSI's camera is also a 1080p shooter, again quietly located at the top of the display, but within the thin bezel.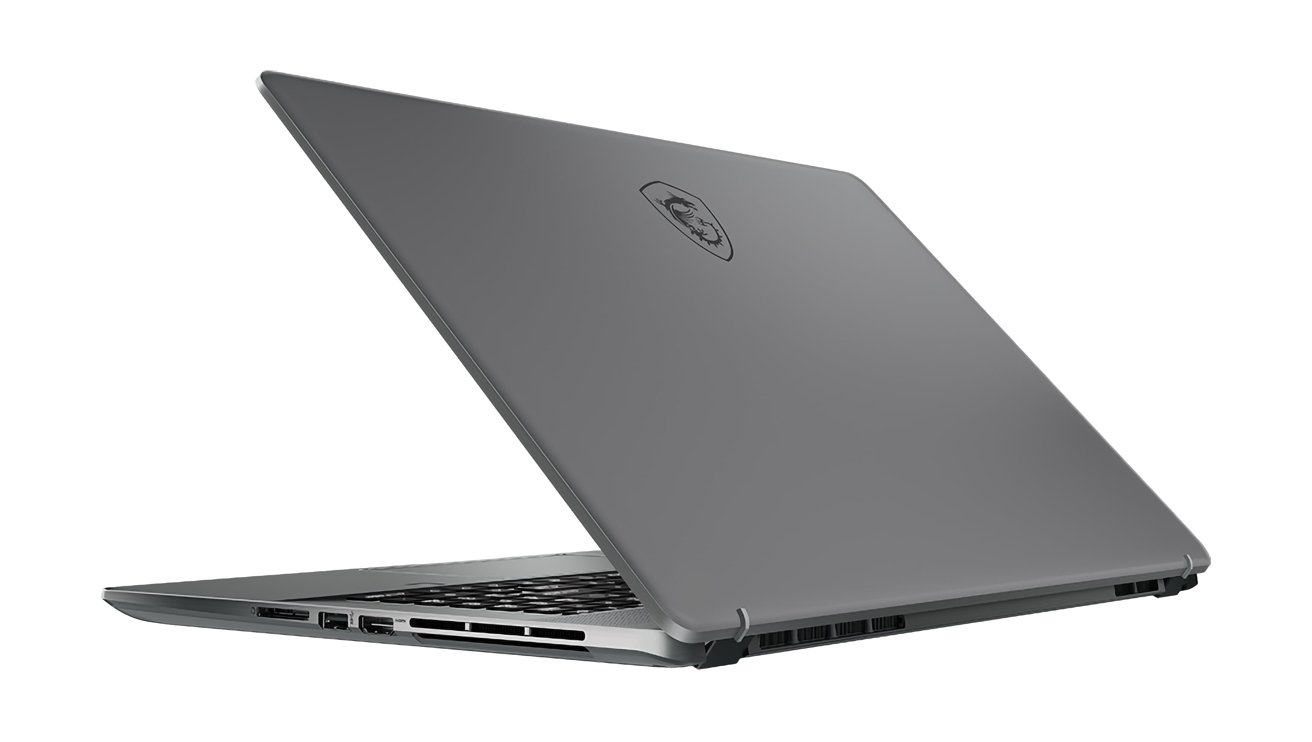 The Z17 is quite MacBook Pro-like in its appearance.
The camera comes alive with IR imaging, which used to power the Windows Hello biometric security. Apple could've included a TrueDepth camera array in the notch to provide
Face ID
, but it didn't.
Speaking of biometrics, both notebooks offer a fingerprint reader for authentication.
Touch ID
may not necessarily be as secure as Face ID against false positives, but it's still better than repeatedly typing in a password.
MSI Creator Z17 vs 16-inch MacBook Pro - Connectivity
The MacBook Pro includes three Thunderbolt 4 ports, an HDMI port with 8K30 support, an SDXC memory card slot, a headphone jack, and MagSafe for charging. All of the Thunderbolt 4 ports can be used to handle video and charging duties.
The Z17 incudes two Thunderbolt 4 ports, but while both can handle an 8K display and up to 40Gbps for data transfers, they vary in power. One supports Power Delivery up to 100W for input and up to 9V/3A for output, while the other only manages up to 5V/3A output.
MSI's notebook also includes a headphone jack, an HDMI port, and a USB 3.2 Gen 2 Type-A connection.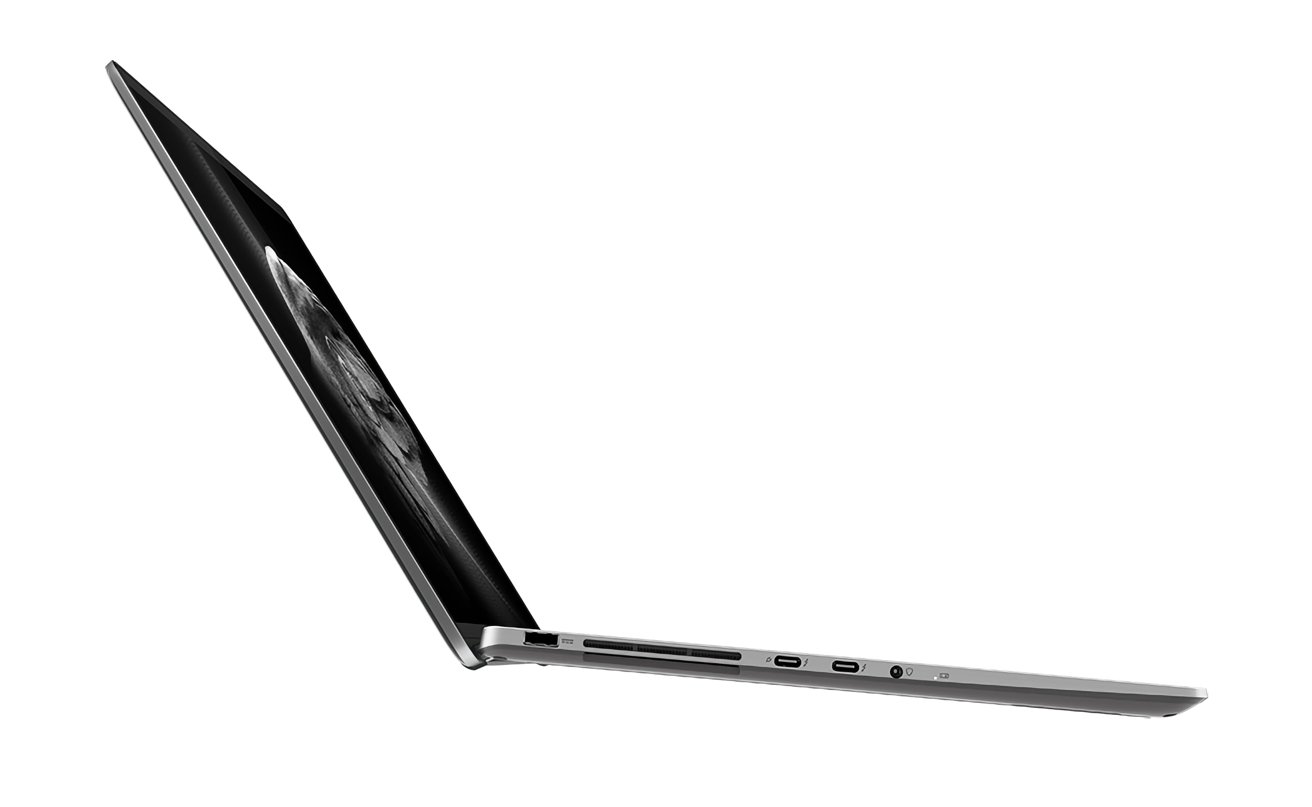 MSI includes a good selection of ports on the Creator Z17.
On the wireless side, the MacBook Pro can connect using Wi-Fi 6, while the Z17 offers Killer AX Wi-Fi 6E support. MSI also leads with Bluetooth, supporting 5.2 to Apple's Bluetooth 5.0.
MSI Creator Z17 vs 16-inch MacBook Pro - Power
The MacBook Pro houses a 100WHr lithium-polymer battery, capable of up to 21 hours of Apple TV app movie playback, or up to 14 hours of wireless web access. Chargeable via Thunderbolt or MagSafe 3, it works with a 140W USB-C power adapter and has a fast-charging capability.
According to MSI, the Creator Z17 includes a 90WHr 4-cell battery. It's supplied with a 240W power supply for recharging via its dedicated port.
Like other notebook producers boasting of high performance, MSI doesn't talk about how long that battery actually lasts under load. Not even the manual says how long it is supposed to last.
This generally isn't a good sign regarding a device's battery life, so it's safe to say the Z17's active time will be a few hours in length when not connected to an outlet.
Then again, if you're a content creator pushing the hardware as much as possible, you're probably not going to be that far from a power outlet when getting down to work.
MSI Creator Z17 vs 16-inch MacBook Pro - Audio
Both notebooks have a combined headphone and microphone socket, but Apple's version offers support for high-impedance headphones.
The MacBook Pro has a six-speaker sound system with force-canceling woofers and wide stereo sound. It also supports spatial audio through its built-in speakers and when used with AirPods models with dynamic head tracking functionality.
MSI uses four 2W speakers, with processing handled by Dynaudio and DTS.
For collecting audio, MSI lists its notebook as having an internal mic, while Apple uses a trio of mics with directional beamforming.
MSI Creator Z17 vs 16-inch MacBook Pro - Storage
The 16-inch MacBook Pro starts with 512GB of storage, with options for 1TB, 2TB, 4TB, or 8TB capacities.
MSI's listings for the Creator Z17 mention 1TB and 2TB capacity options. However, there is an opportunity to go further here.
While Apple doesn't allow users to modify the storage, MSI lists its notebook as having a pair of M.2 2280 NVMe PCIe slots. A user with the right tools and hardware can replace or add to the built-in storage by adding more drives.
MSI Creator Z17 vs 16-inch MacBook Pro - Pricing
The M1 Pro MacBook Pro with 16GB of memory and 512GB of storage retails for $2,499, although it's currently
significantly discounted
. Going to the M1 Max with the 24-core GPU with 32GB of memory and 512GB of storage is $3,099 (
check prices
), with the 32-core GPU version $3,299 (
check prices
).
Upgrading the memory from 16GB to 32 is $400, and another $400 from 32GB to 64GB, depending on the chip.
A storage upgrade on the MacBook Pro from 512GB to 1TB is an extra $200, with a further $400 to get to 2TB, an additional $600 on top again for 4TB, and $1,200 even more for 8TB.
A fully spec'd out 16-inch MacBook Pro with the 32-core GPU M1 Max, 64GB of Unified Memory, and 8TB of storage will cost you $6,099 (on sale for
under $5,800
).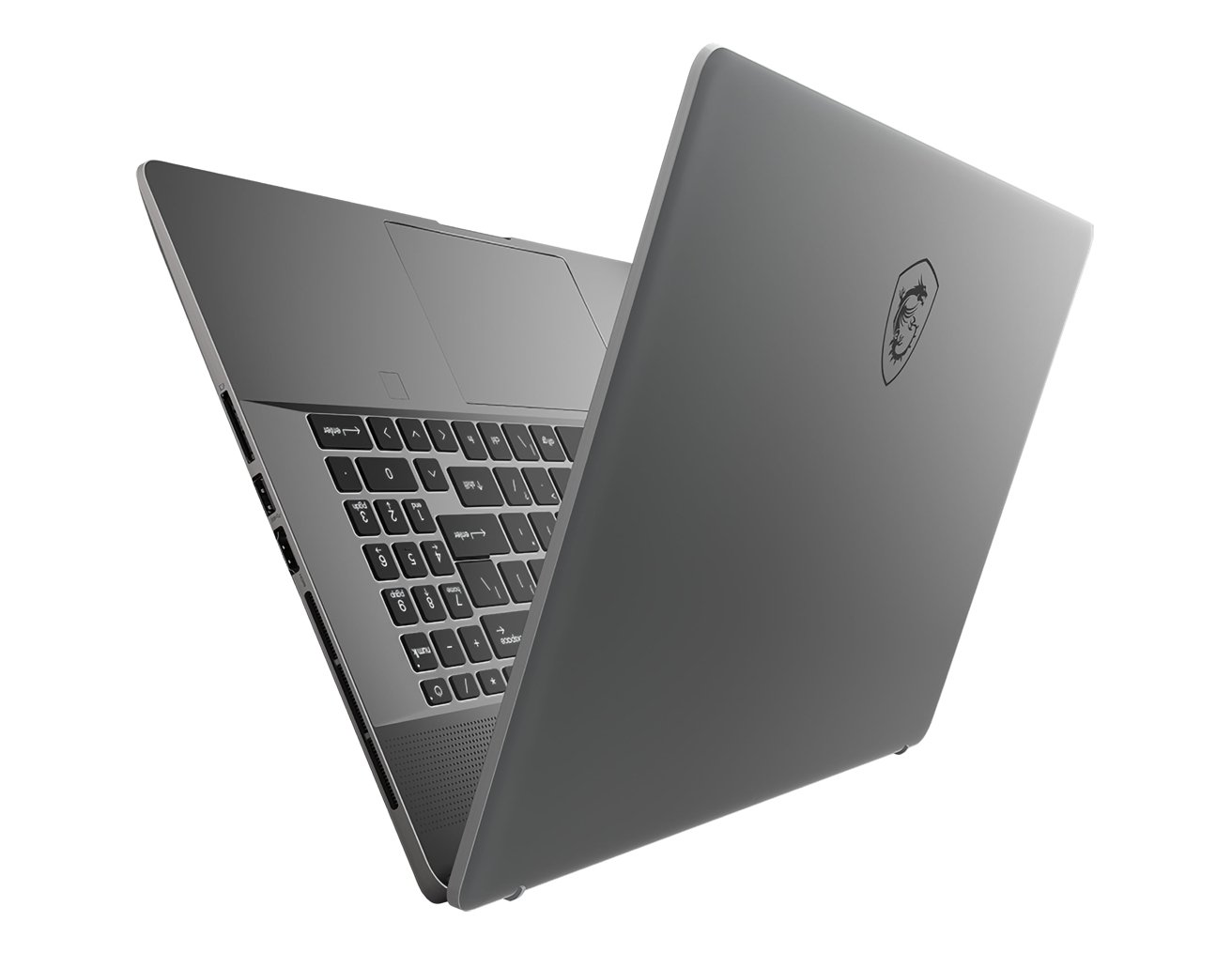 The MSI Creator Z17 certainly is a powerhouse, but it's not a MacBook Pro.
MSI doesn't offer a configurator, but versions sold via B&H Photo give enough of a comparison.
The cheapest option listed, packing the Core i7, RTX 3070 Ti, 32GB of memory, and 1TB of storage,
is $3,049
.
At the other end of the pricing scale for that retailer, there's the
$4,499 option
that includes the Core i9, RTX 3080 Ti, 64GB of memory, and 2TB of storage.
For reference, a 2TB build of the 16-inch MacBook Pro ranges from $3,099 to $4,299.
Partially better, partially worse
Depending on how you look at the MSI Creator Z17, it's either a better system than the 16-inch MacBook Pro or doesn't do enough. Both senses are true, to a point.
MSI has built a high-performance machine with better graphical capabilities and edges ahead of the CPU if you consider the Core i9. It also has a bigger display and a seemingly reasonable price point at the high end.
But then you have to take into account that the performance gains come at a cost to battery life, as you're not going to get full-bore performance for more than a few hours. In Apple's favor, it leans heavily on its power-saving know-how to create a notebook that works hard for a long time under the battery.
Then there's the display. Sure, it's a bit bigger on the MSI, and it makes a song and dance about color accuracy, but Apple's version has a far higher resolution and all of the benefits of mini-LED backlighting.
Put against the MacBook Pro at similar storage capacities, and its price advantage is nullified.
In November, in pitting the MSI GE76 Raider against the 16-inch MacBook Pro, we pointed out graphical performance isn't everything and that the MacBook Pro did a lot of things better. While the Creator Z17 is a thinner and more MacBook Pro-like device, it's still the same story.
MSI has come up with a very good notebook in the Creator Z17, one that is quite Mac-like in its appearance. It's not a MacBook Pro, but it's still a commendable option for Windows users.
Where to buy
The MSI Creator Z17 is
already on sale
at B&H Photo, with discounts of up to $100 off at press time.
Apple's 16-inch laptop is also discounted, with every configuration up to $300 off thanks to exclusive
MacBook Pro deals
found in our
16-inch MacBook Pro Price Guide
.
Read on AppleInsider