Compared: Apple Watch Series 8 vs Google Pixel Watch
Google's Pixel Watch is a brand new competitor to the market-leading Apple Watch. Here's how Google's new wearable fares against the
Apple Watch Series 8
.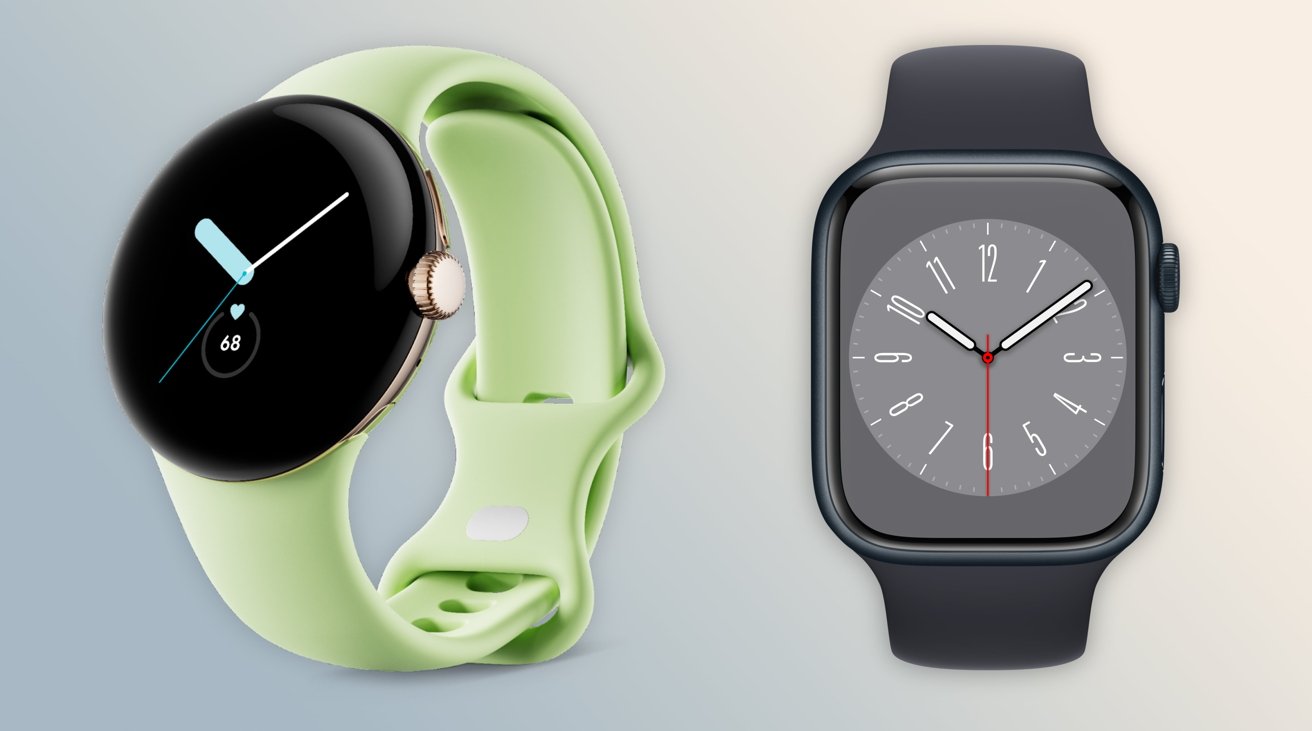 Google Pixel Watch (left), Apple Watch Series 8 (right)
Debuting alongside the Pixel 7 and Pixel 7 Pro on October 6, the Google Pixel Watch is a smartwatch that offers an
Apple Watch
-like experience but in a highly focused Android way.
Indeed, at face value, there are a lot of general features the two product lines share. Both connect to your smartphone, providing on-wrist connectivity and apps and fitness capabilities.
Much of the latter is driven by Google's use of Fitbit technology and software that the search giant
acquired and absorbed
.
With Apple Watch Series 8 servicing
iPhone
users while the Pixel Watch caters to Android users, each ecosystem now has a powerful wearable and lifestyle computing device that can always be with them, and pushes the wearer into being more healthy.
Here's the tale of the tape.
Google Pixel Watch vs Apple Watch Series 8 - Specifications
Specifications
Google Pixel Watch
Apple Watch Series 8
Price (starting)
$349
Check prices
$399.00
Check prices
Sizes
41mm
41mm, 45mm
Display
AMOLED,
Always-on display
1,000 nits of brightness,

3D Corning Gorilla Glass
LTPO OLED Retina,
Always-on display,
1,000 nits brightness,
Increased crack-resistance
Case Materials
80% Recycled Stainless Steel
Aluminum,
Stainless Steel
Processor
Exynos 9110 SoC,
Cortex M33 co-processor
S8 SiP
Health Sensors
Optical heart rate sensor,
Blood oxygen sensor,
Fall Detection
Third-generation optical heart sensor,
ECG,
Blood oxygen sensor,
Temperature sensor,
Fall Detection,
Crash Detection with watchOS 9
Water Resistance
5 ATM
50 meters
Dust Resistance
None
IP6X
Battery Life
Up to 24 hours
Up to 36 hours with Low Power Mode
Recharging
USB-C Magnetic Charging Cable,
Fast Charging
Wireless,
USB-C Fast Charging
Connectivity
LTE,
UMTS,
Wi-Fi,
Bluetooth 5.0,
NFC
GPS/GLONASS/Beidou/Galileo
LTE,
UMTS,
Wi-Fi,
Bluetooth 5.3,
NFC,
GPS/GLONASS/Beidou/Galileo/QZSS
Ultra Wideband
Other Sensors
GPS,
Compass,
Altimeter,
Accelerometer,
Gyroscope,
Ambient Light Sensor,
Multipurpose electrical sensor


GPS/GNSS,
Compass,
Barometric altimeter,
Accelerometer,
Gyroscope,
Ambient light sensor
Colors
Matte Black Case/Obsidian Active Band,
Polished Silver Case/Chalk Active Band,
Polished Silver Case/Charcoal Active Band,
Champagne Gold Case/Hazel Active Banc
Starlight,
Midnight,
Silver,
Product(RED),
Gold,
Graphite
Google Pixel Watch vs Apple Watch Series 8 -
The Apple Watch Series 8 follows the already-established pattern of a square-ish display in a rounded-square body made from aluminum or stainless steel, depending on the model. That display is protected by Ion-X glass on aluminum models, and sapphire crystal on the steel.
Google's Pixel Watch instead goes for a circular face and screen, mimicking the often round face of traditional wristwatches. It's held in a stainless steel case, with the screen protected by custom 3D Corning Gorilla Glass 5.
While Apple offers two sizes of Apple Watch, measuring 41mm and 45mm, Google instead opts for just one, with a 41mm diameter. This lack of a size option could be an issue for people with large wrists, who may not be comfortable wearing a watch meant for smaller ones.
In pure dimensions, the Apple Watch's 45mm model is 45mm by 38mm by 10.7mm, while the 41mm is 41mm by 35mm by 10.7mm. The Pixel Watch is 41mm in diameter with a 12.3mm height, making it a little bigger than the 41mm Apple Watch.
For weight, the Apple Watch is either 38.8 grams or 51.5 grams for the 45mm, depending on the material, while the 41mm is either 32 grams or 42.3 grams. The Google Pixel Watch at 36g is between the weights of the 41mm Apple Watch variants, despite being physically bigger and thicker.
Google Pixel Watch vs Apple Watch Series 8 - Screen and Operation
Behind the glass is the Apple Watch display, which is an always-on Retina LTPO OLED panel. The 45mm model has a bigger display and resolution at 396 by 484 pixels than the 41mm model's 352 by 430 pixels, each having a pixel density of 326ppi.
The circular screen of the Pixel Watch doesn't have a reported resolution, which makes sense given its shape, but Google offers a pixel density of 320ppi, close to the Apple Watch.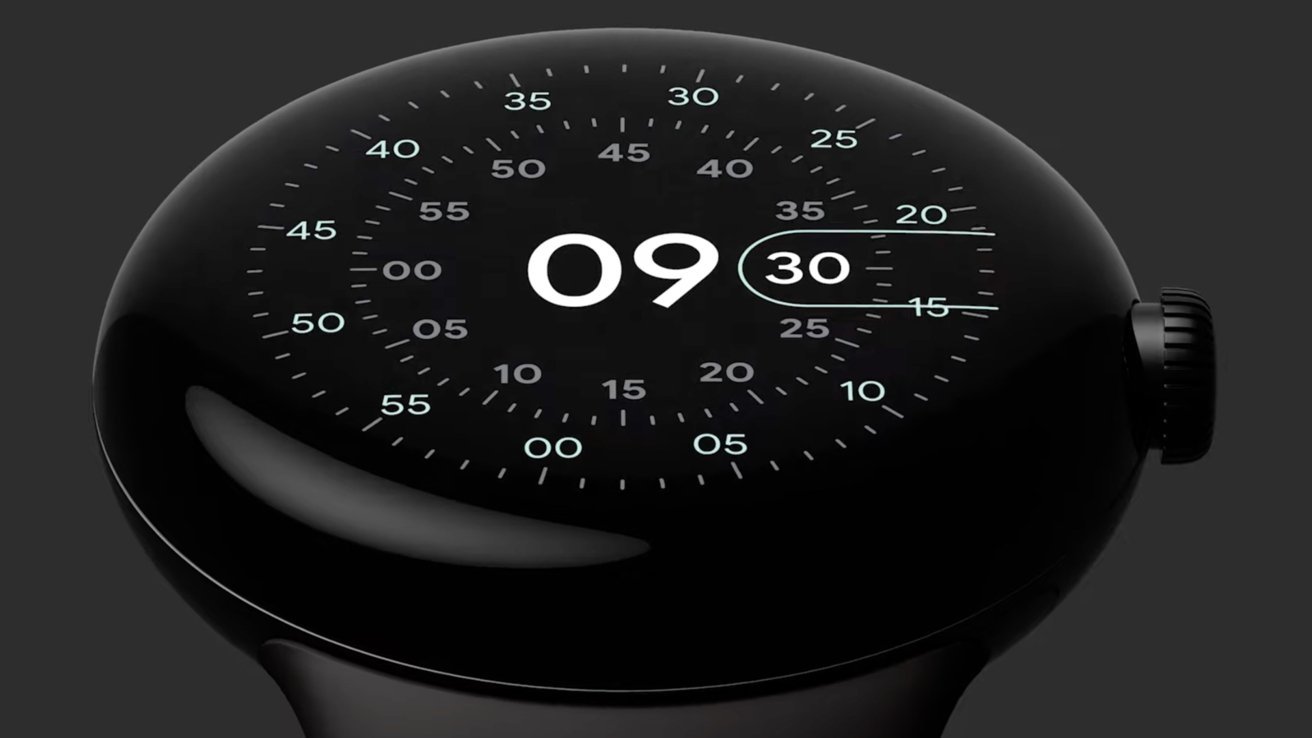 Google went for a circular screen for the Pixel Watch.
That round screen is an AMOLED display with DCI-P3 color coverage, and like Apple's version, it's always on too.
Both smartwatches will give you basic information onscreen without necessarily waking fully and wasting power.
When awake, the Pixel Watch can output up to 1,000 nits of brightness. The Apple Watch can manage the same level.
Both watch families function similarly, in terms of interacting with each's operating system. WearOS 3.5 for the Pixel Watch,
watchOS 9
for the Apple Watch
You have a virtual assistant to speak to, in the form of
Siri
and Google Assistant respectively, as well as a touch screen.
There are also side buttons on both, as well as a crown, referred to as a Digital Crown by Apple and a Haptic Crown by Google.
Some may consider Google's approach to be following Apple's lead here. But really, it's a smartwatch, so there are only so many valid ways to interact with it, so similarity in control schemes is to be expected across the industry.
Google Pixel Watch vs Apple Watch Series 8 - Health and Fitness
For each smartwatch, Apple and Google boast about their fitness and health-related credentials. Though there is a lot of face value similarity, they approach it all in different ways.
For a start, consider the sensors on the back of each watch. Apple's third-generation optical heart sensor, along with ECG capabilities, can monitor how fit you are and check for signs of AFib.
Apple also includes a temperature sensor, which can be used for reproductive health tracking. There's even a blood oxygen sensor, which is helpful during strenuous workouts.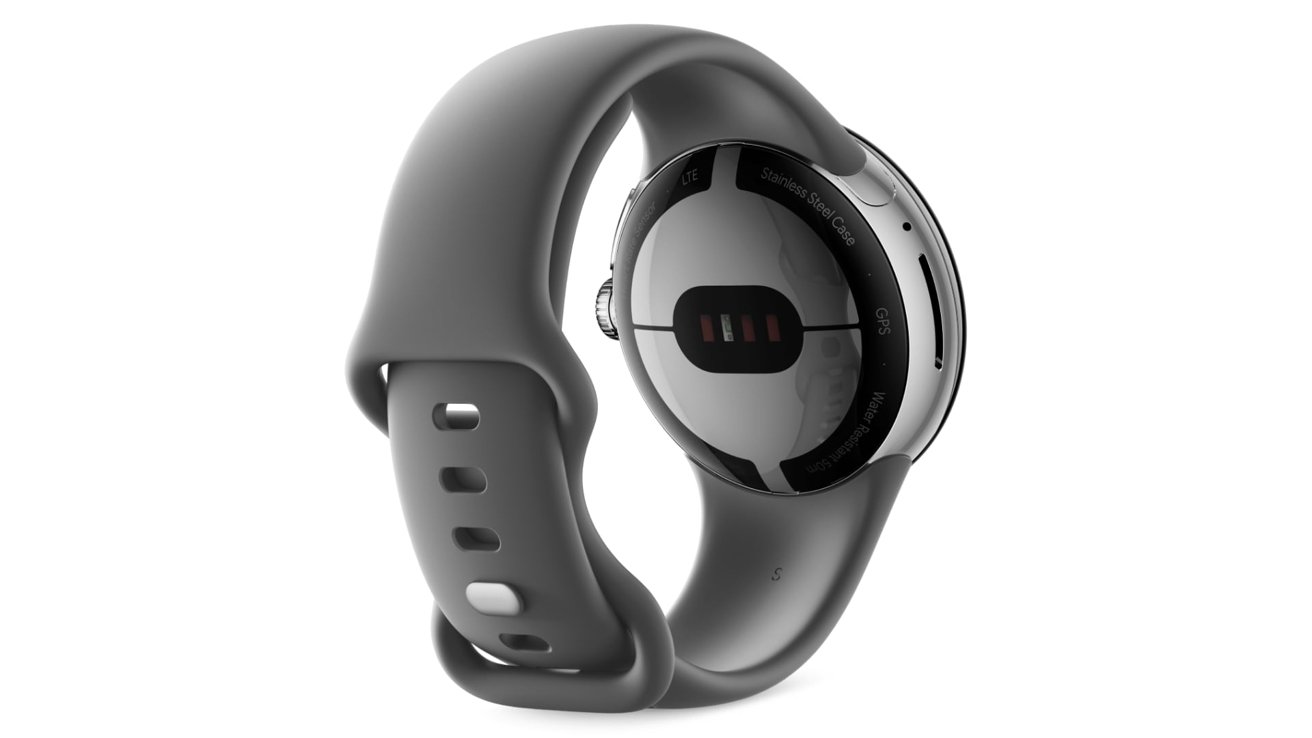 The optical sensor on the back of the Google Pixel Watch.
All of these are fed into Apple's self-created systems for Fitness and Health, where it is securely stored and analyzed in various ways.
The Pixel Watch also has a rear-mounted optical heart rate sensor and a blood oxygen sensor, though it lacks a temperature sensor. While not listed as a distinct sensor, the Pixel Watch can record an ECG and tell the user if there are signs of AFib.
In the case of the Pixel Watch, you can instead feed your health metrics into a Fitbit account. While Google has made assurances to regulators concerning
Fitbit user data safety
for the next few years as part of its acquisition of the fitness device maker, there's no guarantee that the data won't get absorbed into the larger Google data machine at a later time.
In either case, you aren't necessarily tied to the preinstalled health systems. You could use third-party apps, downloadable and installable, to continue your health journey.
Both ecosystems also benefit from fall detection and an emergency alert system, though Apple also incorporates Crash Detection into its smartwatch.
Google Pixel Watch vs Apple Watch Series 8 - General Usage
There are quite a few core elements that modern smartwatches share, albeit done in their own ways.
You can connect the smartwatches to smartphones and view notifications, but to their own ecosystems. The Apple Watch pairs with an iPhone, while the Pixel Watch will work with any Android device running Android 8.0 or later.
In each case, you can get a model that works on Wi-Fi or has a built-in cellular connection. You can add 4G to each watch, which will provide a data connection for calls, texts, downloading apps, and to work with online services, all without relying on having the paired smartphone nearby.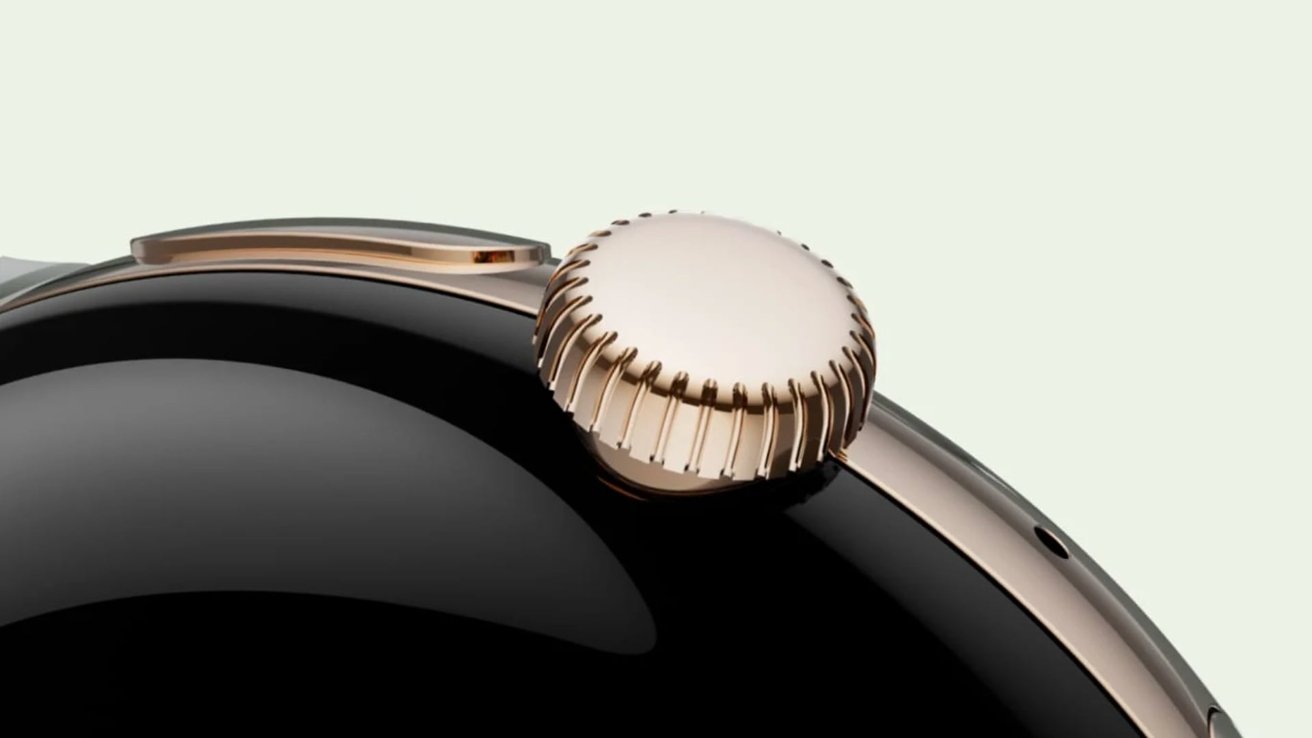 Apple and Google both rely on a crown to control their smartwatches.
You can download and install apps onto each device, from the
App Store
and Google Play respectively, see and manage notifications, and so on. There are basic apps for each ecosystem covering essential tasks, like navigation, email, and calendars, along with music playback.
There's also mobile payments, provided by
Apple Pay
and Google Wallet on each device.
Google Pixel Watch vs Apple Watch Series 8 - Other Elements
Powering the Apple Watch is the S8 chip with a 64-bit dual-core processor, the W3 wireless chip, and the U1 chip for Ultra Wideband communications. Google opts for the Exynos 9110 SoC with the Cortex M33 co-processor.
Aside from 4G cellular, each watch has Wi-Fi 802.11n capabilities and Bluetooth support, though Apple wins with 5.3 support to Google's Bluetooth 5.0. Apple's use of U1 also means you can take advantage of
Find My
local searching using Ultra Wideband, if you happen to misplace your Apple Watch.
Each also has 32GB of memory, allowing for app storage and data, such as downloaded music.
Aside from the previously-mentioned health sensors, both include a compass, altimeter, accelerometer, gyroscope, and an ambient light sensor. Google also has an ambiguously-named "multipurpose electrical sensor."
Both will last a day of usage, with Apple saying the Series 8 can go for "up to 18 hours" with up to 36 hours under Low Power Mode. Google claims up to 24 hours of usage.
Both charge magnetically using a USB-C magnetic charging cable. Fast charging is available for each, with the Apple Watch managing 80% charge in 45 minutes, while the Pixel gets 50% charge in 30 minutes 80% in 55 minutes, and 100% in 80 minutes.
Apple claims the Apple Watch is rated to IP6X for dust resistance, while it is water resistant to 50 meters. Google's Pixel Watch doesn't have an IP rating, but it is said to handle 5ATM, meaning it can survive a depth of 50 meters.
Google Pixel Watch vs Apple Watch Series 8 - Pricing
The Apple Watch Series 8 starts from $399 for the 41mm aluminum casing for the non-cellular GPS version, rising to $429 for the 45mm model. Adding cellular is a $100 premium, regardless of size.
Stainless Steel versions start from $699 for the 41mm, $749 for the 45mm. Cellular connectivity is standard.
The Google Pixel Watch starts from $349 for the non-cellular model, $399 for the cellular-equipped version.
Great for Each Ecosystem
The Apple Watch is the defacto smartwatch for iPhone owners and one that has seen off a lot of competition over the years from Android-centric rivals.
The Google Pixel Watch is the latest in a line of competitors attempting to take on Apple's long-reigning wearable, and given what it includes, it's a pretty good match. On a specification basis, Apple still leads the race, thanks to features like the temperature sensor, more robust dust resistance, Ultra Wideband, and giving users more options.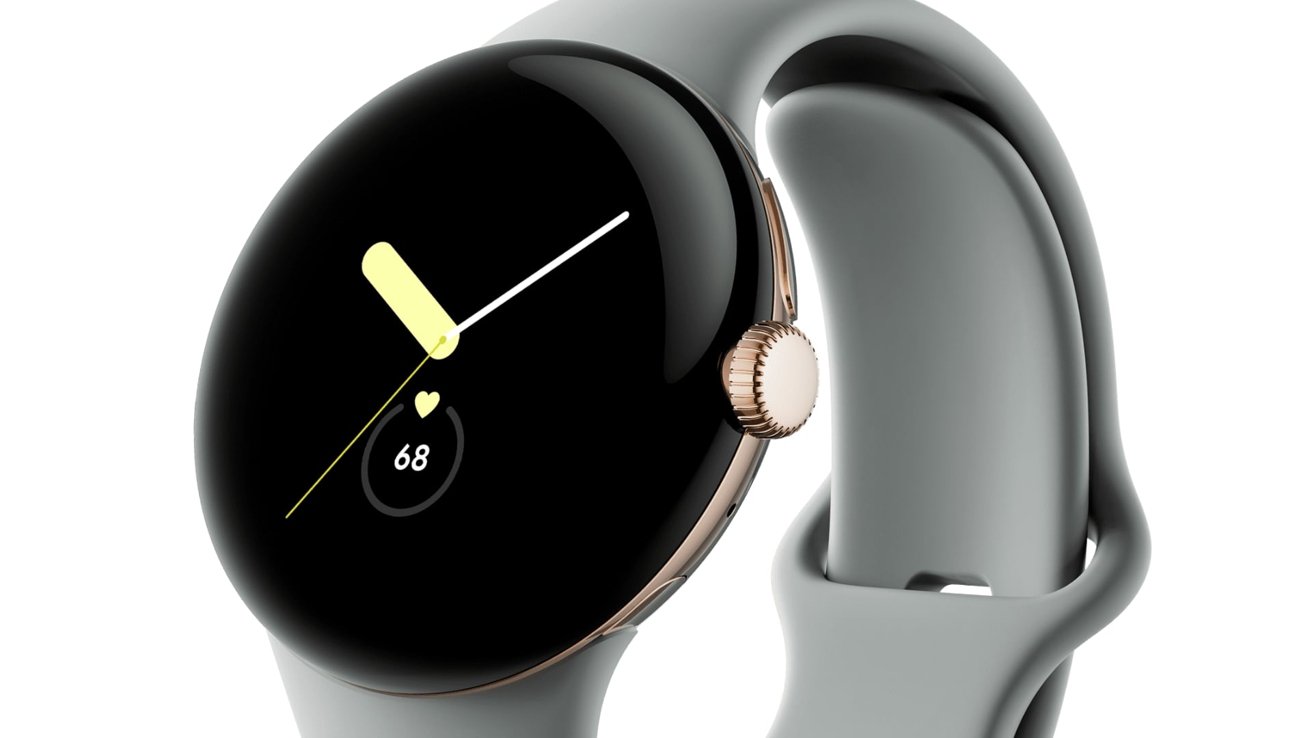 The Google Pixel Watch is a great wearable option for Android users.
That being said, it's also quite harsh to put Google's device in direct competition with Apple's hardware. Since the Apple Watch is aimed at iPhone owners and the Pixel Watch is more for Google Pixel owners and those using Android smartphones, there is a form of built-in divide for the audience's attention.
You can't use an Apple Watch on Android, and the Pixel Watch won't do much for iPhone users. If you want an Apple Watch, you'll care more about iPhones than Android, and vice versa for the Pixel Watch.
In its own right, the Google Pixel Watch is an excellent smartwatch on paper, and certainly a rival to the Apple Watch. It's just that each caters to its own ecosystem and probably won't encroach on the other's turf that much in the future.
Where to buy the Apple Watch 8 & Google Pixel Watch
Apple Watch discounts
are in effect on the Series 8, narrowing the gap between the Google Pixel Watch's starting MSRP and the aluminum S8.
At the time of publication, readers can save up to $50 on
select S8 styles at Amazon
. Or enjoy $15 off AppleCare for the Series 8
with this cost-saving link
and promo code
APINSIDER
at Apple Authorized Reseller Adorama.
Comparing prices on the S8 is easy with the best offers at your fingertips in our
Apple Watch Series 8 Price Guide
.
If you prefer to pick up a Pixel Watch instead,
Best Buy
is taking orders for Google's wearable, with prices starting at $349.99.
Read on AppleInsider