Apple Music's Spatial Audio spreads to Mercedes-Benz vehicles
The Spatial Audio feature of
Apple Music
is expanding beyond earphones, with Mercedes-Benz adding support for it to the car manufacturer's infotainment system.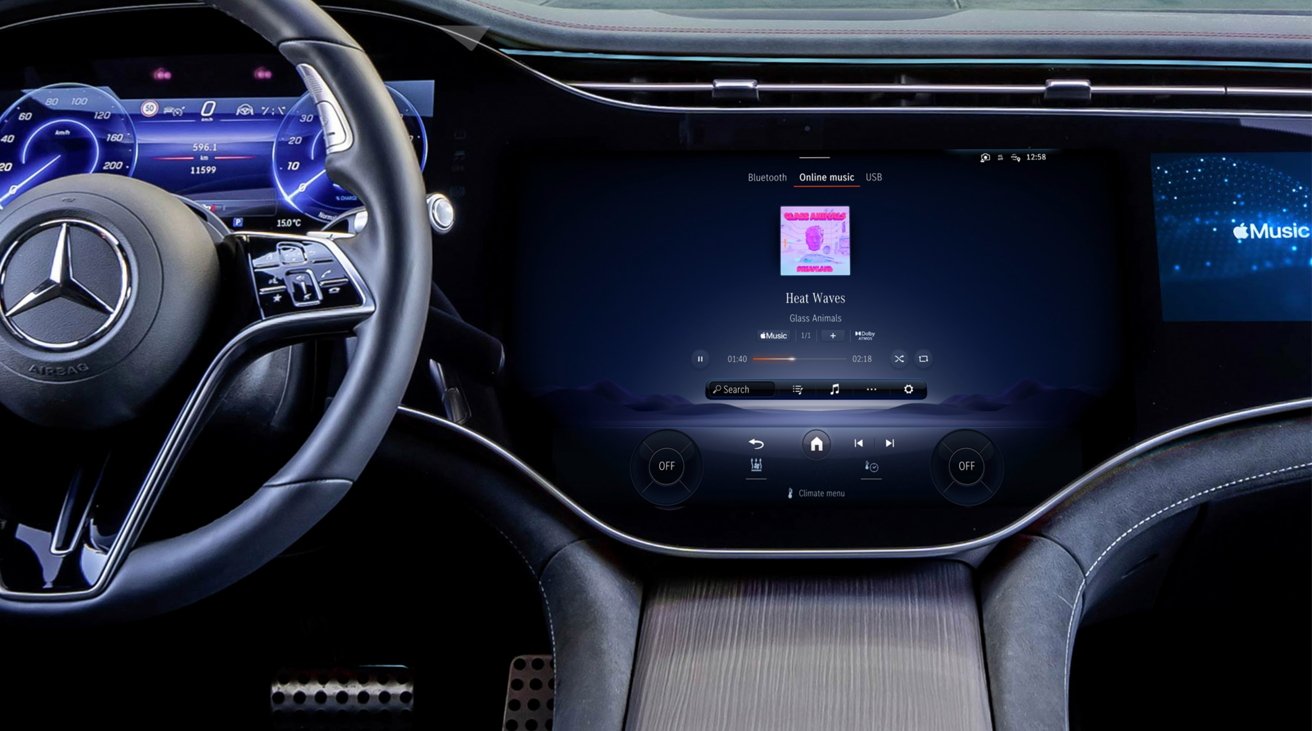 A Mercedes infotainment system playing Apple Music. [Apple]
The partnership,
announced
on Sunday, has Mercedes-Benz adding
Spatial Audio
with support for Dolby Atmos as a native experience to its infotainment systems. Rather than relying on motion-tracking hardware in headphones like
AirPods Max
, it instead uses the speaker system installed into the vehicle.
It is available as part of the MBUX infotainment system in Mercedes-Maybach models, the EQS and EQS SUV, and the EQE and S-Class vehicles.
The first vehicle to offer the feature to owners is the limited edition Mercedes-Maybach by Virgil Abloh, which shipped in September. It uses a Burmester high-end 4D sound system which includes 31 speakers, with six 3D speakers playing from above, four near-ear speakers in the front seats, eight sound transducers in the seats, two amplifiers, an 18.5-liter subwoofer, and 1,750 watts of power.
Spatial Audio will be rolled out to other models "soon," according to Apple.
To use the feature, drivers also have to subscribe to Apple Music, which includes a growing catalog of Spatial Audio tracks. Apple Music also includes curated Spatial Audio playlists, including Driving in Spatial Audio.
"Sound quality is incredibly important to Apple Music, which is why we are so excited to be working with Mercedes-Benz to make Spatial Audio on Apple Music available natively in the car for the first time," said Oliver Schusser, Apple's vice president of Apple Music and Beats. "Spatial Audio is revolutionizing the way artists create and fans listen to music, and it's an experience that is impossible to explain in words; you have to hear it for yourself to appreciate it."
Mercedes-Benz Group AG's chief technology officer Markus Schafer calls the addition "a benchmark music experience unparalleled in the industry." Proud to be selling the first non-Apple product to support Spatial Audio, Schafer claims "This seamless experience shows how in-car entertainment can reach exciting new levels by perfectly integrating hardware and software."
Read on AppleInsider