Compared: M2 iPad Pro vs M1 iPad Pro
Posted:
in iPad
edited October 2022
Apple's 2022 update to the
iPad Pro
lineup introduces its newest Apple Silicon chip to its tablet range. Here's how the latest iPad Pro models compete against Apple's 2021 generation.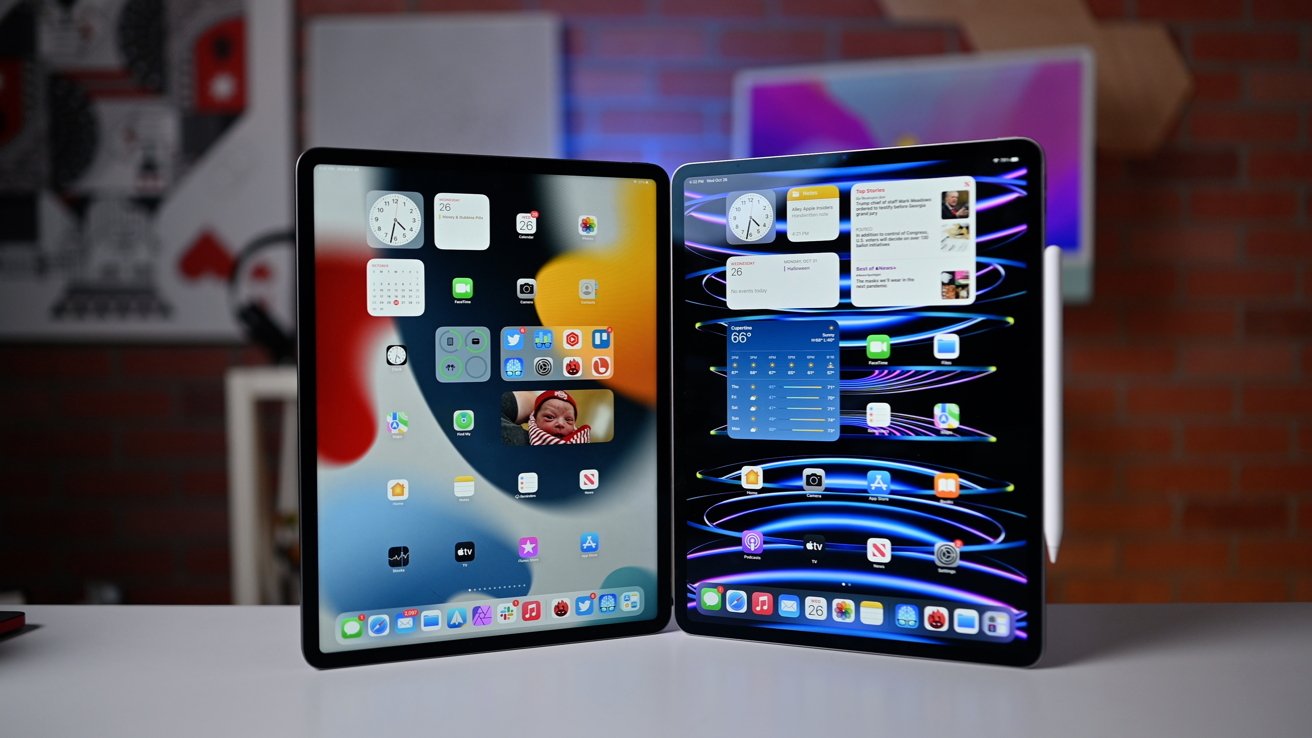 M1 iPad Pro vs M2 iPad Pro
As anticipated by analysts and leakers, Apple launched the
2022 editions
of the iPad Pro on Tuesday, albeit via press releases and an online store update rather than a full-blown event.
Apple's refresh to the line introduces one extremely major change, that of the switch over from
M1
to
M2
. The change in chip should provide a considerable performance boost for those buying it over the previous generation.
The update to the chip isn't the only thing Apple changed in its fifth-generation
12.9-inch iPad Pro
and third-generation
11-inch iPad Pro
. There are other improvements and changes, but the headline item drowns them out.
This is what Apple has altered in its premium tablet lineup, compared to the previous generation introduced approximately a year and a half previously.
2022 iPad Pro vs 2021 iPad Pro - Specifications
Specifications
2022 iPad Pro
2021 iPad Pro
Screen size (inches)
11,12.9
11,12.9
Base price
$799, $1,099
$799, $1,099
Processor
M2
M1
Resolution
2,388 x 1,668,
2,732 x 2,048
2,388 x 1,668,
2,732 x 2,048
Pixel Density (dpi)
264, 264
264, 264
Brightness (nits)
600 (11-inch maximum)
1,000 (12.9-inch full-screen)
1,600 (12.9-inch peak brightness HDR)
600 (11-inch maximum)
1,000 (12.9-inch full-screen)
1,600 (12.9-inch peak brightness HDR)
Display type
Mini LED (12.9 only),
Liquid Retina,
ProMotion,
True Tone,
Wide color (P3),
Fully Laminated
Mini LED (12.9 only),
Liquid Retina,
ProMotion,
True Tone,
Wide color (P3),
Fully Laminated
Apple Pencil
Second Generation
Second Generation
Smart Connector
Yes
Yes
Dimensions (inches)
9.74 x 7.02 x 0.23,
11.04 x 8.46 x 0.25
9.74 x 7.02 x 0.23,
11.04 x 8.46 x 0.25
Weight (lbs)
1.03, 1.5
1.03, 1.5
Capacities
128GB, 256GB, 512GB, 1TB, 2TB
128GB, 256GB, 512GB, 1TB, 2TB
Rear camera (MP)
12 wide, 10 ultra wide, LiDAR
12 wide, 10 ultra wide, LiDAR
Front camera (MP)
12MP TrueDepth
12MP TrueDepth
Video recording
4K at 24/30/60fps (wide) and 60fps (ultra wide)
4K at 24/30/60fps (wide) and 60fps (ultra wide)
Biometric
Face ID
Face ID
Speakers
4
4
Port
Thunderbolt 4
Thunderbolt 4
2022 iPad Pro vs 2021 iPad Pro - Physical Appearance
Apple has kept to a formula for its tablets. Many external elements have stayed fairly static over the last few generations.
The 2021 iPad Pro has 12.9-inch and 11-inch displays, as did the previous two iterations. They're encased in a recycled aluminum enclosure, with flat sides and a distinct aesthetic that screams iPad Pro.
Given the internals-only upgrade, the 2022 iPad Pro designs are practically identical to the 2021 versions.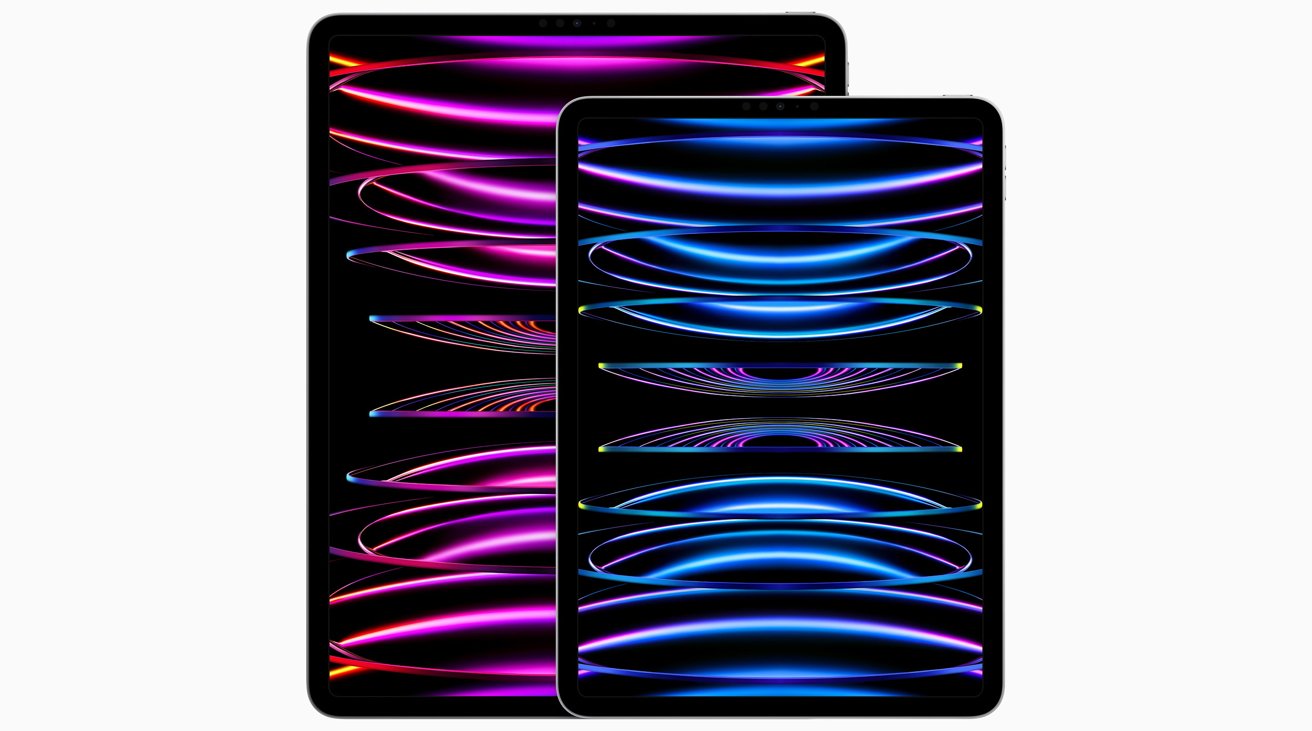 There is no relative difference in physical dimension and weight between the 2021 and 2022 iPad Pro models.
On size, both vintages have the same overall dimensions. The 12.9-inch iPad Pro measures 11.04 inches tall, 8.46 inches wide, and 0.25 inches thick for each. The 11-inch versions are 9.74 inches tall, 7.02 wide, and 0.23 inches thick.
Except for the 12.9's thickness, these dimensions haven't changed since the 2018 iPad Pro.
On weight, the 2021 releases measured in at 1.5 pounds for the 12.9-inch model, 1.03 pounds for the 11-inch version. The 2022 models are, again, the same.
2022 iPad Pro vs 2021 iPad Pro - Displays
In the 2021 refresh, Apple introduced a big change to its 12.9-inch model, adding mini LED backlighting and turning it into a Liquid Retina XDR display. This included using 10,000 mini LEDs, creating 2,596 local dimming zones, and an OLED level of boost to performance.
The 11-inch version languished with an LED backlight system, and there was a considerable difference on display.
With the 2022 models, neither has undergone a major change, with the 11-inch frustratingly not gaining mini LED.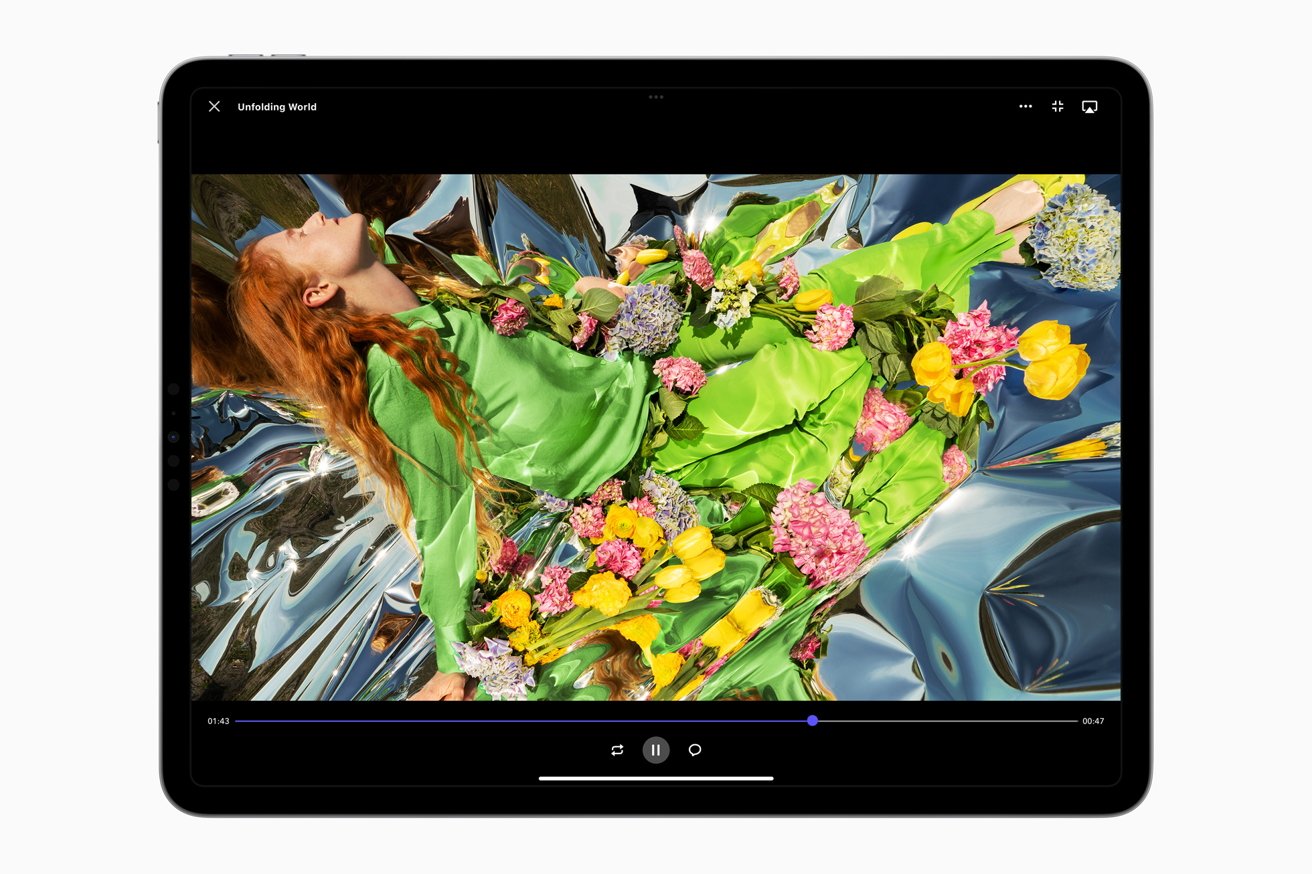 The 12.9-inch iPad Pro continues to use mini LED, while the 11-inch gets left behind.
While the 12.9-inch had up to 1,600 nits of peak brightness using HDR content and 1,000 nits for full-screen content, the 11-inch could only manage 600 nits. The 12.9 also boosted its contrast ratio to 1 million to one, as well as providing far better color representation.
These figures remain the same in 2022.
On other display elements, the resolutions are the same across the board, at 2,388 by 1,668 for the 11-inch models, 2,732 by 2,048 for the 12.9-inch. All screens have a pixel density of 264 pixels per inch.
All models also have support for Wide color (P3), Pro Motion, True Tone, and are fully laminated.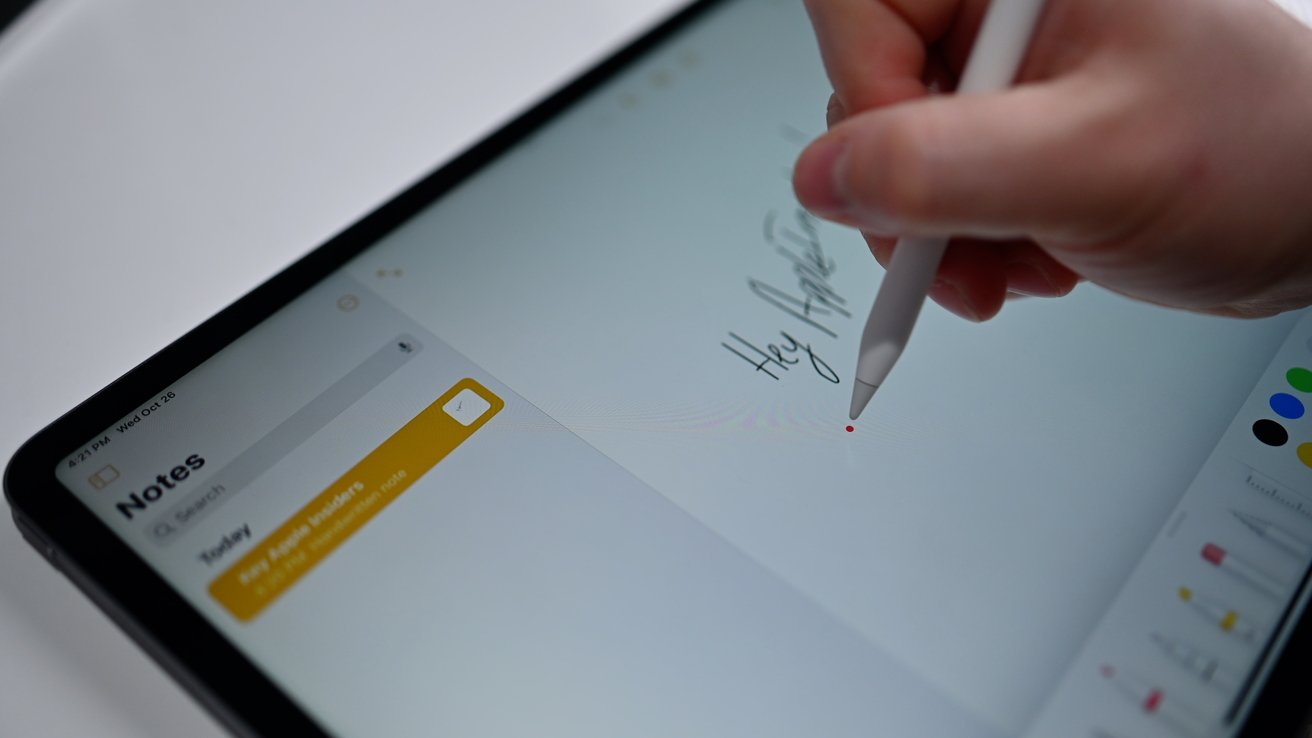 Hover preview effect of Apple Pencil
One difference in the display is the
Apple Pencil
support. Both use the second-generation Apple Pencil, but now the M2 versions boast of "Apple Pencil hover" in detecting the tip up to 12mm away from the display.
2022 iPad Pro vs 2021 iPad Pro - Performance
As expected for 2022's update, Apple has incorporated the M2 chip, moving on from using the M1 in the previous year's releases.
The M2 has the same 8-core arrangement as the M1, including four performance cores and four efficiency cores, but Apple claimed at launch the M2's CPU is 18% faster than the M1.
Then there's the GPU, with the 8-core version used in the M1 competing against the M2's version, which is claimed to be better.
The 16-core Neural Engine in the M2 is still a 16-core version, but one that operates at up to 15.8 trillion operations per second, 40% better overall than the M1's version.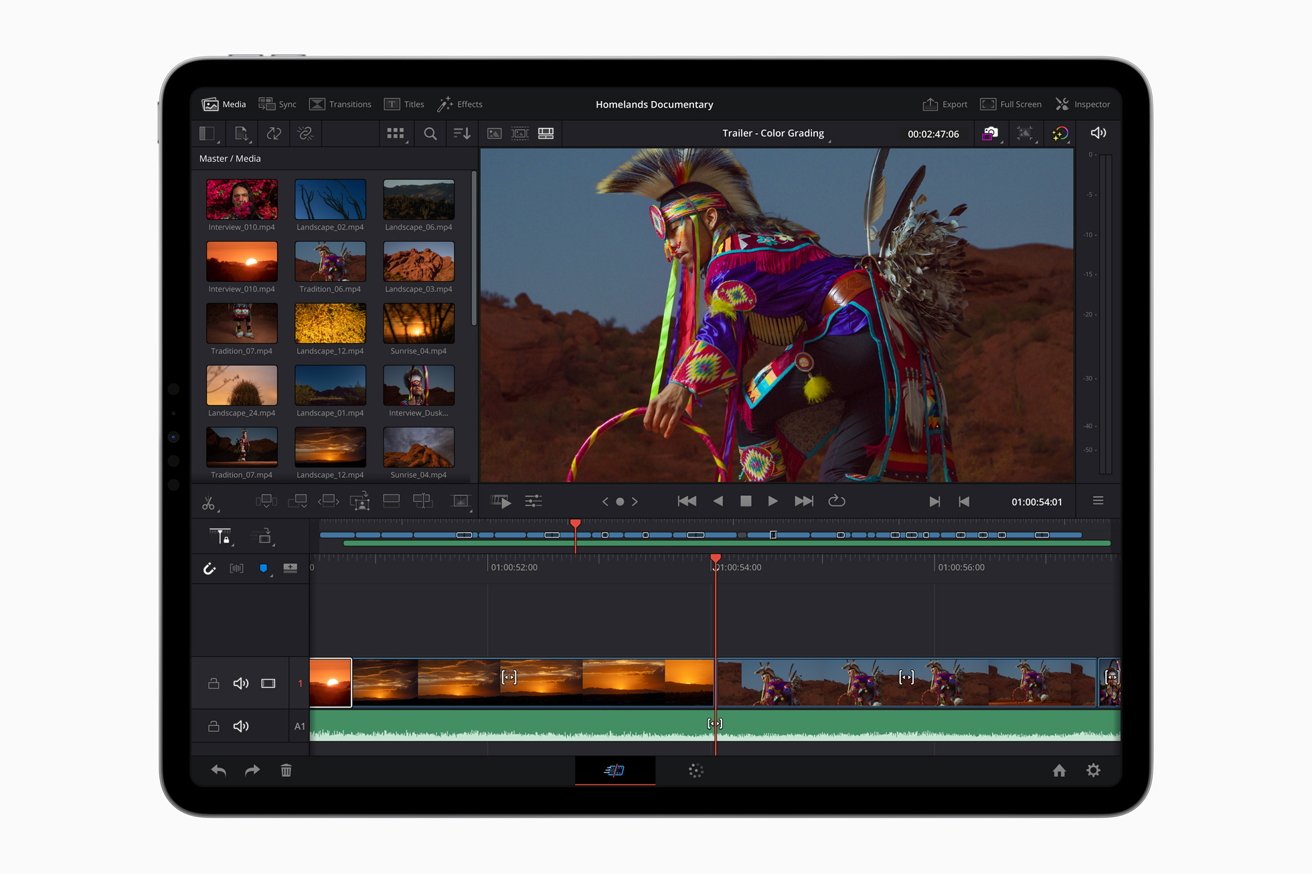 The M2 Media Engine will make video editing and playback better on the 2022 iPad Pro
Of course, the Media Engine in the M2 is a big plus for those who deal with video. Consisting of a dedicated video decode engine, encode engine, and ProRes encode and decode engines, the Media Engine helps keep video running as fast as possible without taxing the CPU.
In typical fashion, we pit the last-gen devices against the current-gen in a series of benchmarks. On Geekbench 5, we saw the single-core score jump from 1711 to 1904.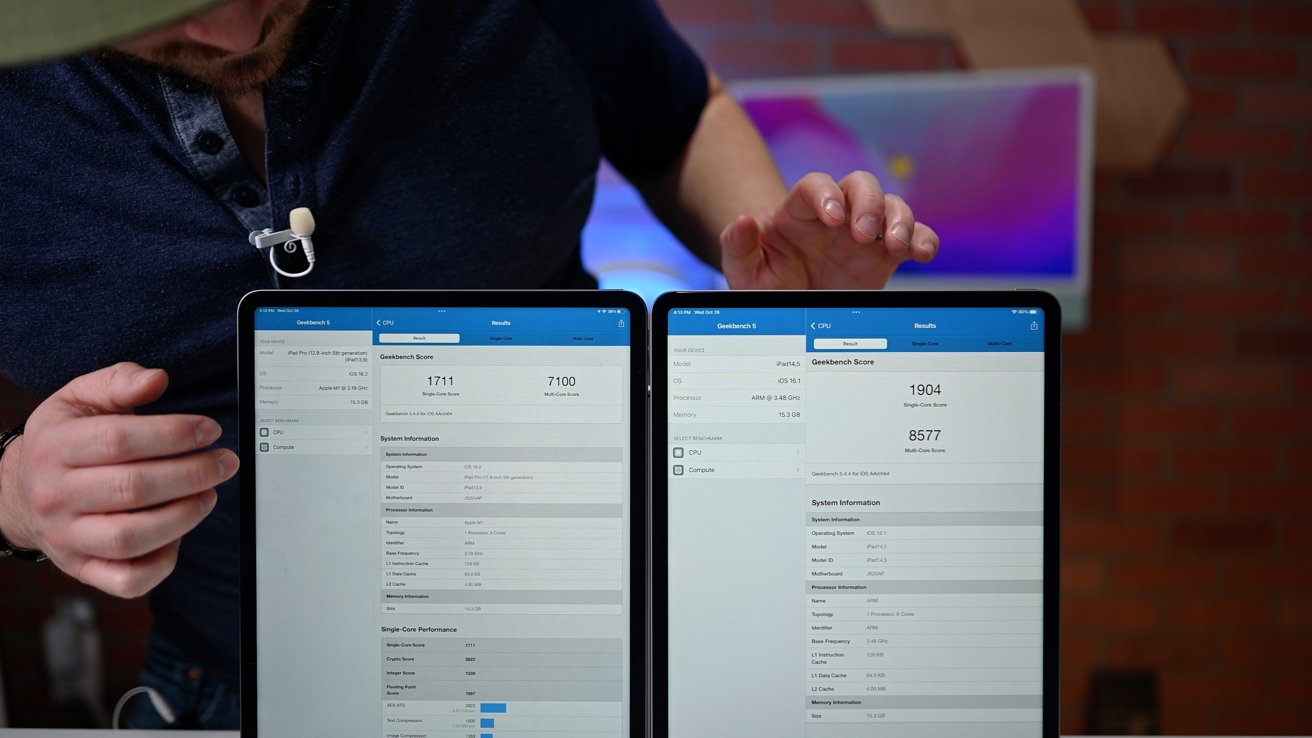 Geekbench 5 benchmarks (M1 iPad Pro left, M2 iPad Pro right)
That's just about spot on with the 15 percent faster CPU that Apple had promised. We saw more than a 15 percent boost on the multi-core test, going from 7100 to 8577 year-over-year.
Running the Geekbench 5 Compute graphics benchmarks with Metal, we saw a substantial boost, going from 20928 to 33313. That's nearly a 60 percent graphics boost.
In Core ML testing, the Geekbench ML test went from 997 to 1233 displaying a notable improvement on machine learning performance.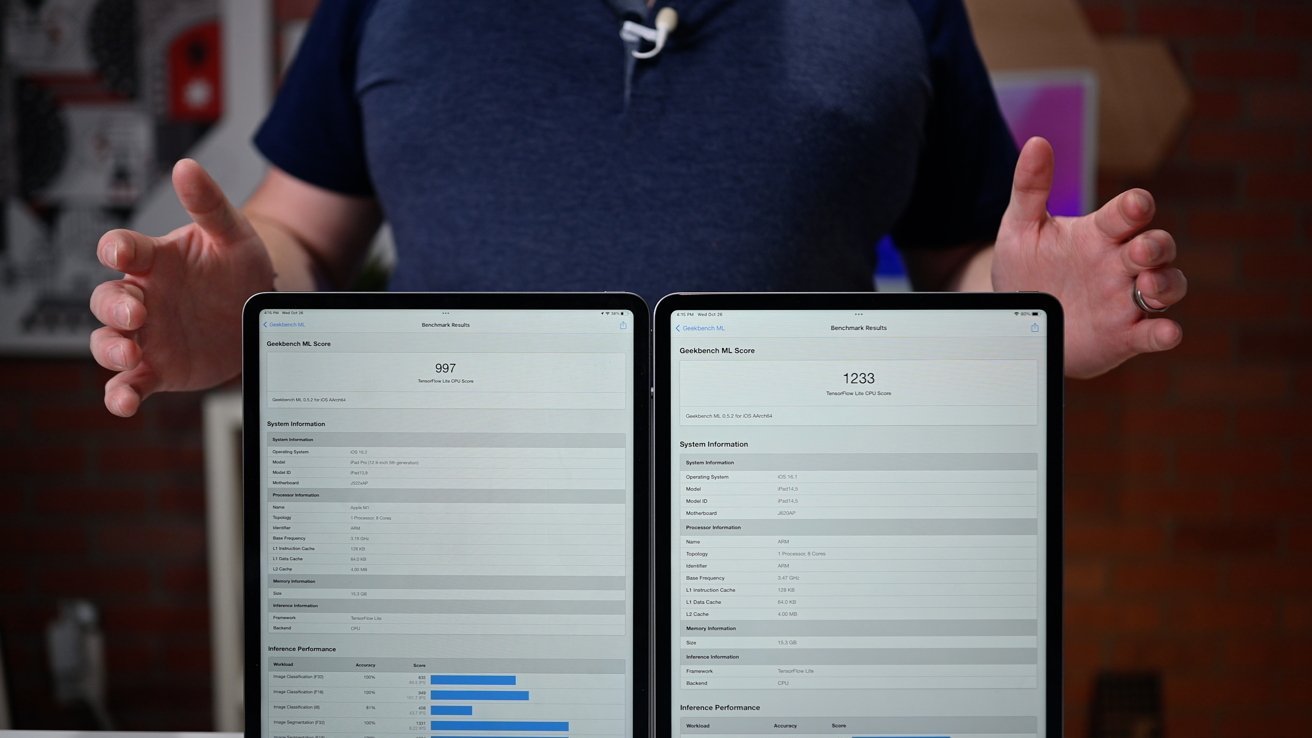 Geekbench ML benchmark (M1 iPad Pro left, M2 iPad Pro right)
Lastly, we tried out the comprehensive Antutu benchmark. This long test stresses various parts of the system and provides a cumulative score.
Our total score went from a 1245660 to a 1453870. The biggest gains were in the graphics and the CPU with the UX and memory scores showing only modest gains.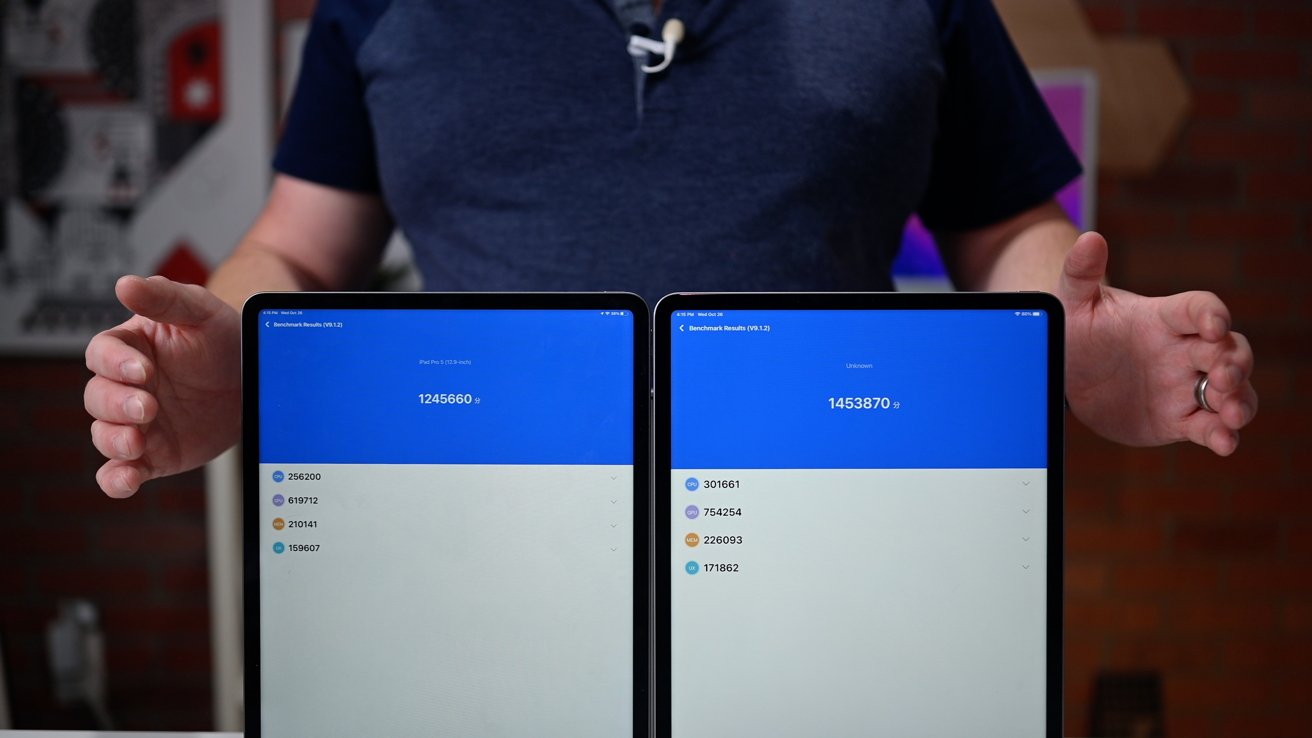 Antutu benchmark results (M1 iPad Pro left, M2 iPad Pro right)
2022 iPad Pro vs 2021 iPad Pro - Cameras and Audio
On the back of the 2021 iPad Pro models, you'll find a 12-megapixel f/1.8 Wide camera and a 10-megapixel f/2.4 Ultra Wide sensor. Combined, this provides a 2x optical zoom out and a 5x digital zoom in.
For video, you could create a 4K recording at 60fps, with extended dynamic range for up to 30fps, and Slo-mo 1080p video at up to 240fps.
This is exactly the same for the 2022 models, except that they can also handle ProRes 4K video recording at 30fps on all storage capacities bar for the 128GB, which can do 1080p.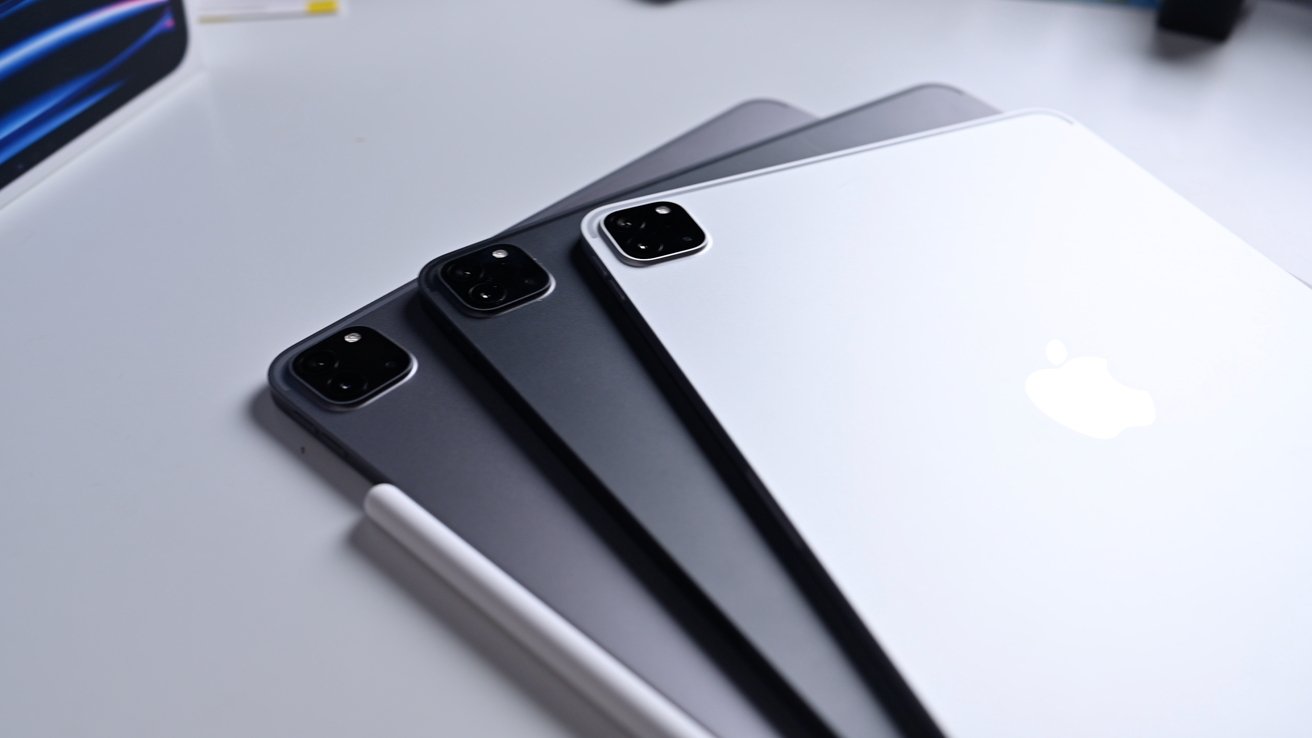 Cameras on the M2 and M1 iPad Pros
Around the front of the 2021 models, the TrueDepth camera sports an Ultra Wide lens, with a 12-megapixel f/2.4 shooter capable of a 2x digital zoom out. This camera helps provide Portrait mode shots with Depth Control, Portrait Lighting, 1080p video at 60fps, Cinematic video stabilization, and support for Animoji, Memoji, and
Face ID
.
Again, there's no difference in specification for the 2022 model's TrueDepth camera.
For audio, the 2021 and 2022 iPad Pro models all include the product line's signature quad-speaker system for "four-speaker audio." It's a neat trick that uses a speaker in each corner to provide stereo sound, regardless of orientation.
The microphones in each consist of five "studio-quality" microphones.
2022 iPad Pro vs 2021 iPad Pro - Connectivity and Battery
If you want to physically connect something to the 2021 iPad Pro models, you could do so in two ways. The main one was via the Thunderbolt/USB 4 port, a USB-C connection at the base that was also used for charging and to attach to USB-C accessories like external drives or to DisplayPort displays.
There's also a smart connector on the rear, designed to work with accessories like the
Magic Keyboard
without occupying the Thunderbolt port or using wireless connectivity components.
As you can probably guess by now, Apple didn't mess around with this at all for the M2 iPad Pro range.
External displays can be used via the included Thunderbolt port.
For wireless connectivity, the 2021 models both have Wi-Fi 6 and Bluetooth 5.0. The 2022 models benefit from upgrades to Wi-Fi 6E and Bluetooth 5.3, but this will only be useful if you have the network infrastructure or supportive peripherals that can take advantage of the newer standards.
On to cellular, and again there's no change. They have 5G support, including both sub-6GHz and mmWave bands, as well as Gigabit LTE.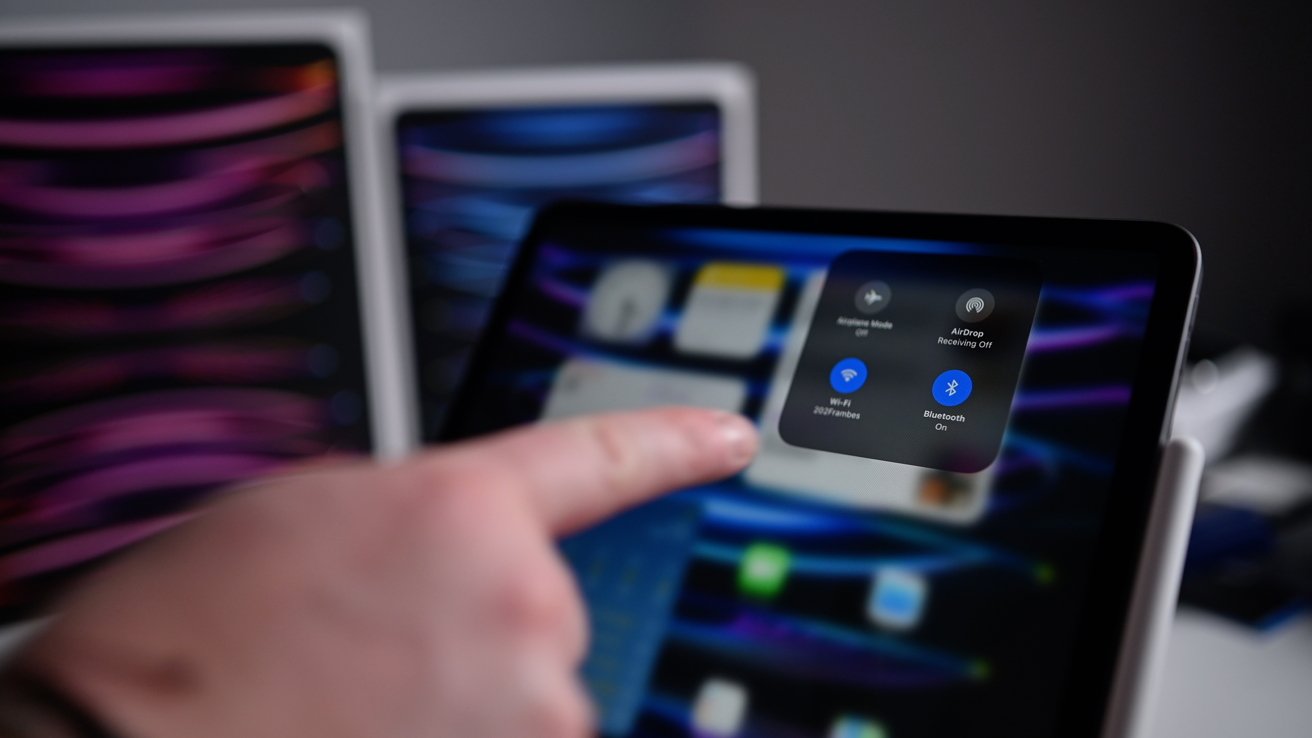 Wi-Fi 6e and Bluetooth 5.3 on the 2022 M2 iPad Pro
While Apple has moved to eliminate physical SIM cards in its
iPhone 14
for the U.S., you will still be able to use a physical nano-SIM or an eSIM in the 2022 iPad Pro, just like the class of 2021.
The battery capacities of 28.65Wh and 40.88Wh for the 11-inch iPad Pro and 12.9-inch iPad Pro carry over from 2021 to 2022, along with the claimed battery life. As usual, it's 10 hours of viewing video or web surfing on Wi-Fi, 9 hours on cellular.
2022 iPad Pro vs 2021 iPad Pro - Capacity and Pricing
The 2021 iPad Pro range started from $799 at launch for the 11-inch Wi-Fi model, which got you 128GB of storage. Going to 256GB raised the price to $899, 512GB cost $1,099, 1TB was $1,499, and 2TB was $1,899.
The 12.9-inch version started from $1,099 for 128GB, with the capacities priced at $1,199, $1,399, $1,799, and $2,199 respectively.
For both models, going for the Wi-Fi + Cellular version cost an extra $200, making the starting prices $1,099 and $1,299, depending on the size.
The most expensive 2021 iPad Pro model was the 12.9-inch Wi-Fi + Cellular 2TB version, priced at $2,399.
Apple hasn't changed the pricing for the 2022 iPad Pro models, with each configuration priced exactly the same as its 2021 counterpart.
2022 iPad Pro vs 2021 iPad Pro - Should you upgrade?
It is always hard to recommend users to upgrade their Apple products between sequential generations when there's very little difference between them. For the 2022 iPad Pro, the spec-bump problem has arrived once again.
Except for the change to the M2 chip, Wi-Fi and Bluetooth improvements, and sensing when the Apple Pencil is close to the display, there are no other material changes to concern those who bought the M1 version.
The lack of mini LED in the 11-inch model is a bit of a miss from Apple, but understandable if the company is trying to keep the 12.9-inch model a bit special compared to its stablemate.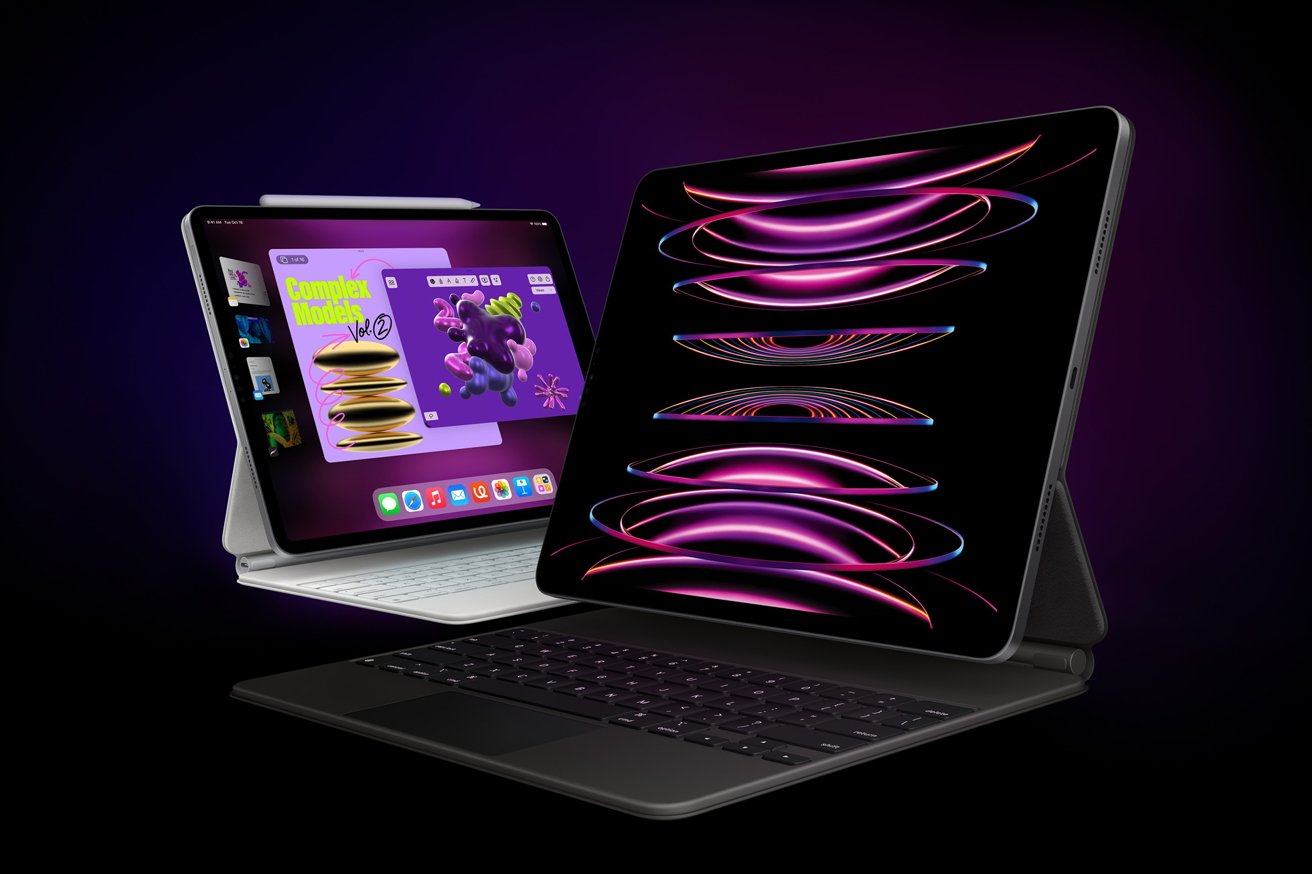 These are the 2022 M2 iPad Pro, but they do look a lot like the M1 models.
For people on older non-M1 generations of iPad Pro, or those looking to shift their working life onto a tablet, the 2022 iPad Pro models are still a great option to purchase.
Existing M1 owners probably won't see much to warrant an upgrade, even with the M2 performance bump, though content creators may still make the leap.
The M2's inclusion of the Media Engine for chewing through video could make the iPad Pro a great creative production tool. Videographers, YouTubers, and others in the field will see it as a viable option for work once sufficient tools are in place.
With
DaVinci Resolve
arriving on iPad before the end of 2022, that makes it even more attractive.
Even with the lack of physical changes, mostly static features, and relatively few new additions, the M2 iPad Pro continues to be a top choice for tablet buyers wanting high performance while on the move.
Where to buy Apple's iPad Pro
The new M2 iPad Pro can be purchased in 11-inch and 12.9-inch configurations from popular Apple resellers, with the latest offers available in our
M2 11-inch Price Guide
and
M2 12.9-inch Price Guide
. At press time, Apple Authorized Reseller Adorama is knocking $29.01 off AppleCare for either size model
with this activation link
and promo code
APINSIDER
.
Closeout
iPad deals
are also in effect on M1 models, with the lowest prices at your fingertips in our
M1 11-inch iPad Pro Price Guide
and
M1 12.9-inch iPad Pro Price Guide
.
Read on AppleInsider