Victor Newbury Music Center review: an attractive, well-designed record player with bonus ...
Don't break the bank or waste space trying to accommodate all your favorite music types -- the Newbury Music Center can play your favorite CDs, records, Bluetooth audio, and more.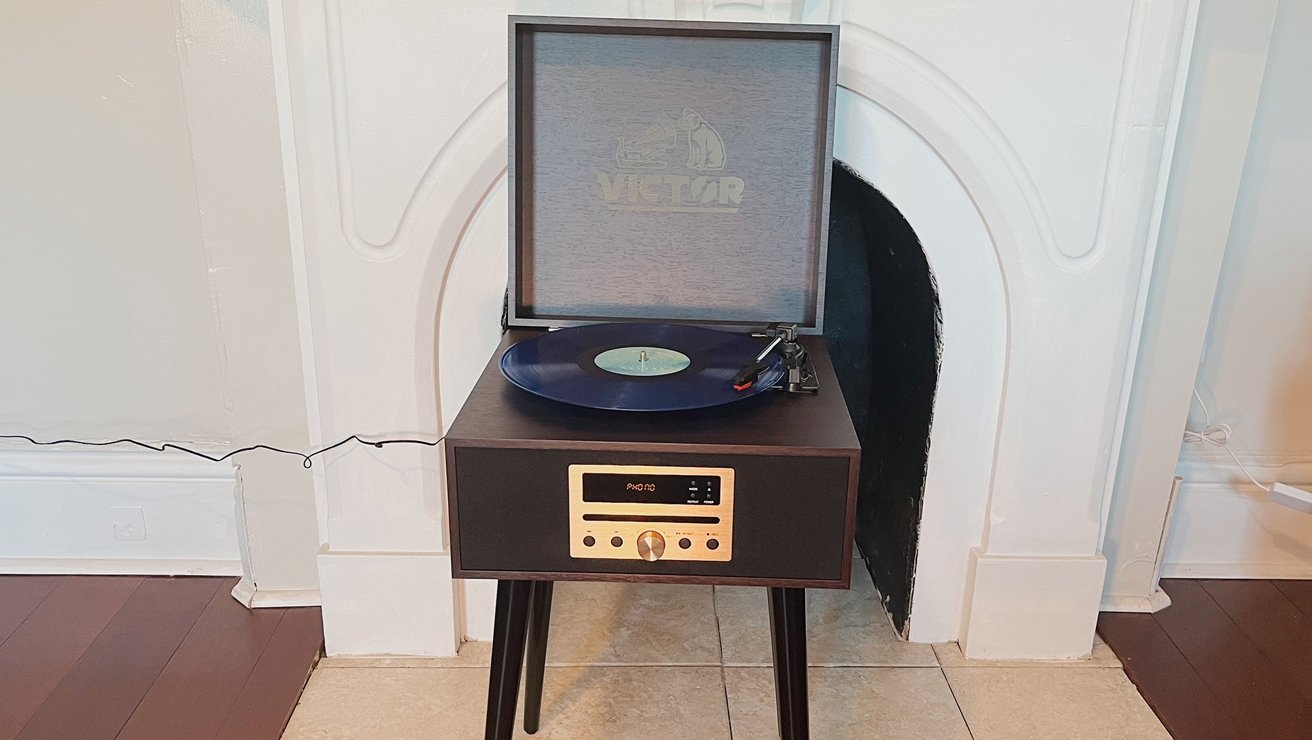 Whether you're just starting your music journey or if you've been collecting for a long time, it can be daunting trying to find audio equipment that fits well in your home.
The Newbury Music center is designed to take the place of multiple pieces of audio equipment, making it perfect for small spaces. It plays your CDs, records, and Bluetooth audio -- and even features an FM Radio tuner.
Design
We love the design of the Newbury 8-in-1 Music Center. It features chair-height tapered legs and invokes a mid-century design that we think looks great.
It comes in two colorways, Mahogany and Espresso. We received an espresso one to review.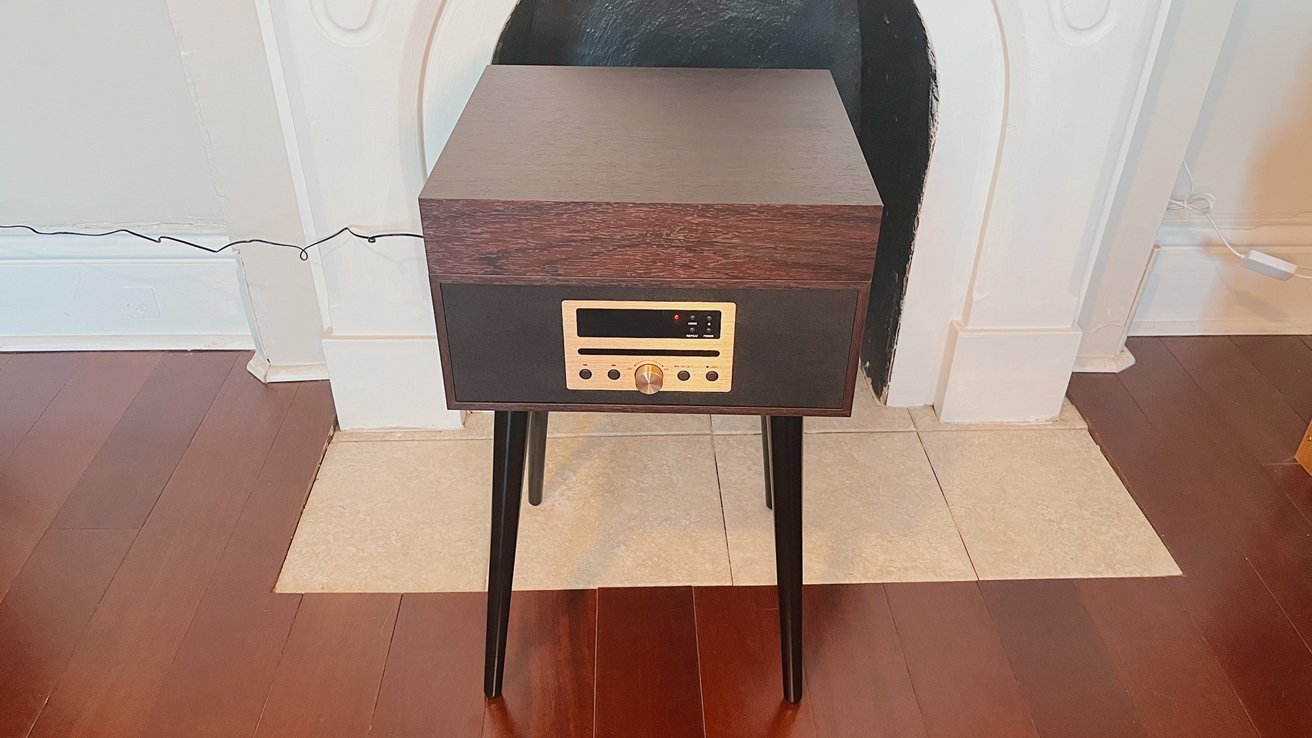 The lid closes to keep your turntable dust free
The front of the Newbury features an attractive brass faceplate that houses the controls. Victor also includes a separate remote control, which we thought was an excellent addition.
If you'd rather have it on a tabletop, the manufacturer also includes some table-height feet.
It spins records
The most significant selling point of the Newbury is the 3-speed turntable housed under the lid at the top. It's a reasonably standard turntable; thankfully, the stylus is replaceable.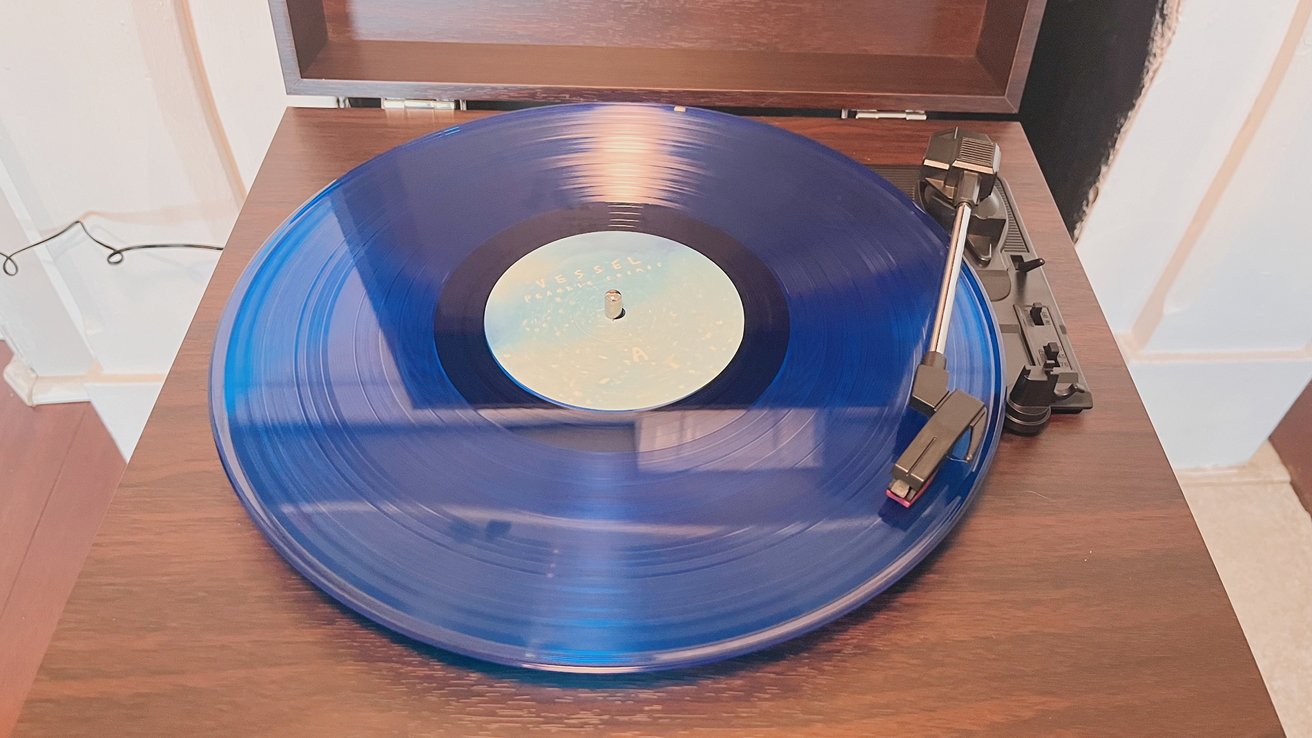 View of the turntable with a record
When we tested it, there was no skipping, and the speed was consistent, which made for a pleasant listening experience.
As a bonus, a 45 RPM 7" single adapter is included, too.
...and plays CDs, too!
Of course, it's not just a record player. It also plays CDs.
We absolutely loved this feature, as many of us still have our music collections from days gone by, and as expected, that includes a lot of CDs as well.
Bluetooth in, Bluetooth Out
The Newbury features a dual Bluetooth mode, which is excellent. If you'd like to pair your iPhone or Mac with it and listen to music from Apple Music, you can.
But if you want to pair it with an existing Bluetooth speaker, you can do that, too. This is great if you've got a Bluetooth speaker you're already quite fond of.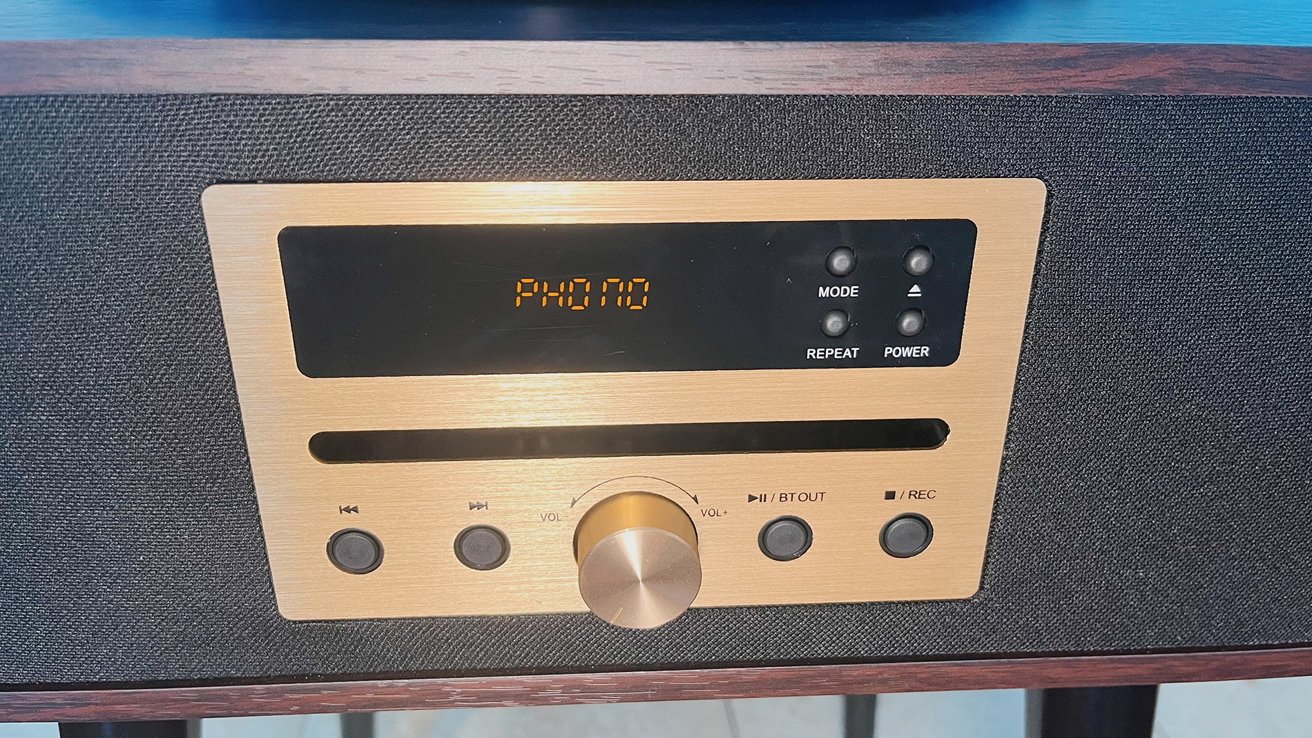 View of the front panel
We tested the Bluetooth In and Bluetooth Out features with no problems -- it worked exactly as it should.
We should also mention that there's a pair of 3.5mm audio jacks, which allows you to connect other devices to your Newbury. One is a Line In, while the other is an Audio Out.
For instance, you can connect a Walkman cassette player and use your Newbury's speakers to play your favorite cassettes. Or, if you'd rather connect a speaker to your Newbury, you can also do that.
FM Radio
We'd be remiss not to mention the FM Radio feature. You can listen to the radio, and when you use the scanner feature, it'll automatically save all stations it finds as presets.
While the FM radio works, it's not the best. This is partially due to the style of antenna used -- a floppy, single wire that we found worked better if we lifted it upward.
We would have preferred a rigid, extendable antenna, as we've got another radio that uses one, and it works much better.
However, if you don't listen to the radio often, there's hardly any reason to be concerned with this -- we see it purely as a bonus feature.
Record your records... or your CDs
If you'd like to record the music from your records or CDs, the Newbury comes with a handy feature that allows you to record the audio to a thumb drive.
This is great if you've got some obscure records or CDs in your collection that you'd like to make digital copies of.
We tested the feature and found that it worked well. You do need to manually start and stop for individual tracks or do final editing in a sound editing app.
Sound quality
Overall, the Newbury is a nice little all-in-one music system. The speakers are sufficient for normal use, and at average volumes, it provides clear mids and crisp highs.
It doesn't offer much in the way of bass, but it doesn't sound too thin, either.
The soundstage is a bit cramped, which is to be expected. It's not a very large speaker, and while there is some channel separation, it's not much.
Still, we found the experience to be enjoyable all around.
However, this is not the tool for a boisterous party. The maximum volume isn't terribly loud -- we measured an average of 72 decibels from six feet away -- and the audio can distort a bit at higher levels.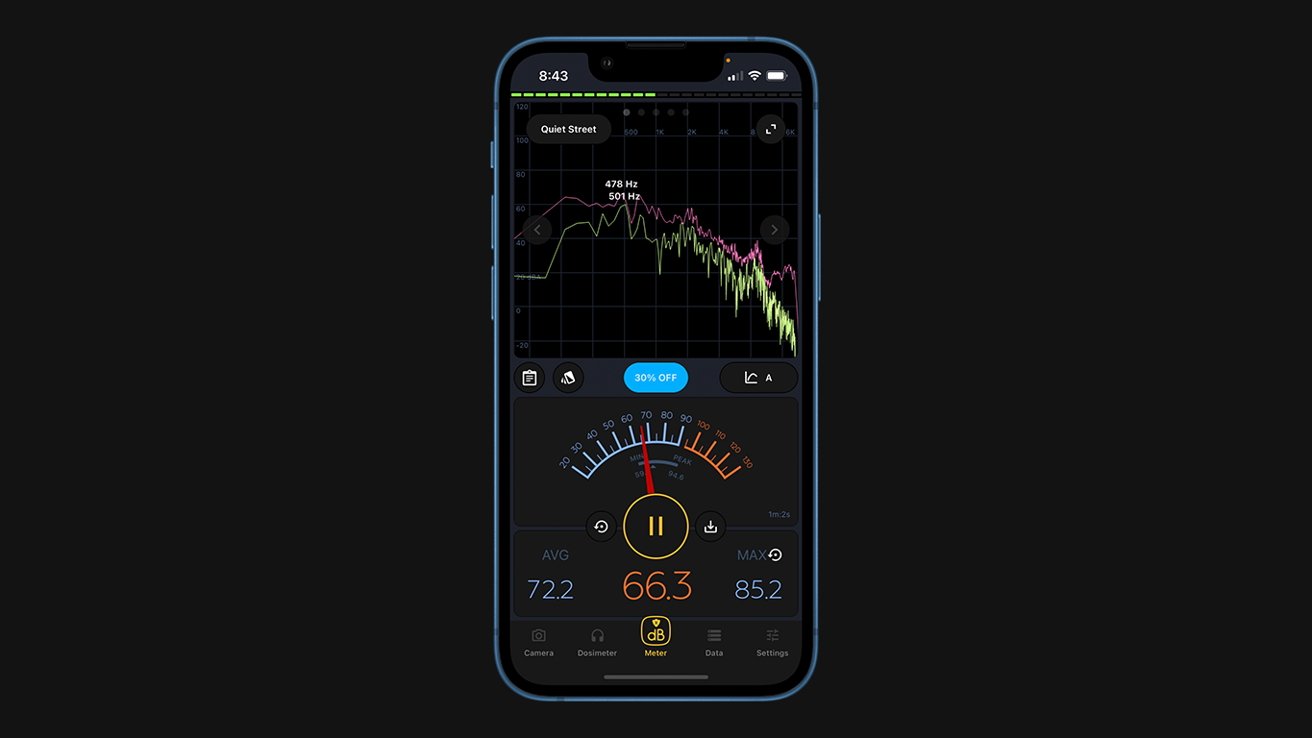 The Newbury Music Center is better geared toward smaller, intimate listening sessions.
It's best suited to small-group listening sessions or everyday listening. If you'd like to use it in louder scenarios, we'd suggest pairing it with a more substantial Bluetooth speaker.
Who the Newbury Music Center is for
We think the Newbury would make an excellent addition to a first apartment or casual music listener home. Its entry price point and attractive design make it a fantastic addition to nearly any space.
Real audiophiles will want to invest in something at a higher price point as this lacks the depth that serious listeners may be looking for.
Pros of the Newbury Music Center
Attractive, retro design
Plays records, CD, and audio streamed from Bluetooth sources
Dual Bluetooth function
Records records, CDs to thumb drive
Cons of Newbury Music Center
Lacks deep bass
Distorts at higher volumes and maximum volume is relatively low
FM radio feature feels like an afterthought
Rating: 3.5 out of 5
Where to buy
You can
pick up a Newbury Music Center
from Victor for $179.99
Read on AppleInsider