Court approves Apple's $50M settlement to end Butterfly Keyboard lawsuit
A court has given its preliminary approval to a $50 million settlement ending the Butterfly keyboard class-action lawsuit against Apple.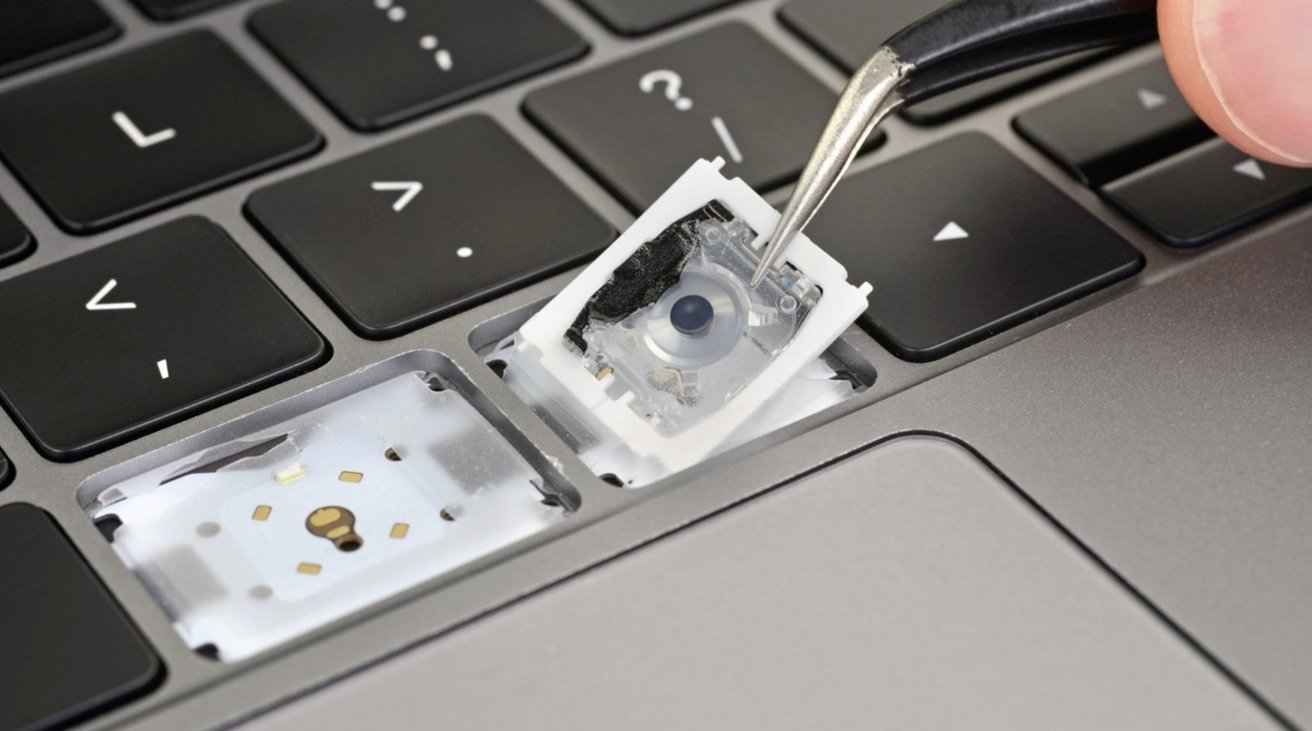 Apple's Butterfly keyboard mechanism and membrane
Originally agreed by Apple
in July
, the U.S. District Court for the Northern District of California has granted the preliminary approval for a settlement, in the class-action lawsuit concerning the controversial "Butterfly" keyboard mechanism.
Filed on November 28, the order granting the approval signed by Judge Edward J. Davila now means Apple will be paying $50 million to settle the legal action.
The lawsuit, which gained class-action status
in 2021
and originated in 2018, applies to owners of the MacBook,
MacBook Air
, and
MacBook Pro
models released in 2015 and 2016. Specifically, it applies to anyone who went to Apple or an authorized service provider for a "Topcase Replacement" or "Keycap Replacement" within four years of buying an affected Mac.
The settlement applies to seven states: California, Florida, Illinois, Michigan, New Jersey, New York, and Washington.
Under the settlement, law firms Girard Sharp LLP and Chimicles Schwartz Kriner and Donaldson-Smith LLP are able to claim up to $13.6 million in attorney's fees and up to $2 million in litigation costs. The common settlement fund also includes a provision of $1.4 million in settlement administration costs, and up to $5,000 to be paid to class representatives.
The remaining funds, which will be around $33 million after deductions, will be paid out to class members. Those affected can still utilize Apple's Keyboard Service Program, assuming that they have eligibility remaining.
It is unknown how much each claimant will receive, but it is likely to be higher than what was handed out in the iCloud class action settlement
earlier in November
.
Following the release of the Butterfly mechanism in Apple's notebook line, users soon ran into issues with the keys sticking and becoming unresponsive over time. It was thought the problem was the mechanism, which was prone to clogging very easily by debris and dust.
To mitigate the issue, Apple told users
how to clean
a clogged keyboard, and launched a
keyboard service program
in June 2018 over the issue.
Apple also added a
membrane
to the mechanism in 2018, claiming it was to make the keyboard "quieter." However, while seemingly meant to help eliminate some debris, Apple denied it was intended to
improve reliability
.
Though initial reports were anecdotal, service data
collected by
AppleInsider
for the first year of each MacBook Pro model's release found that the butterfly keyboard failed twice as often as its predecessors in that time.
Read on AppleInsider