Apple has its own social networking services, but won't call them that
After a few failed attempts at building wider social networks, Apple has hit upon a smaller-scale strategy that allows users to share items to the big social sites with ease, and on a more personal level as well.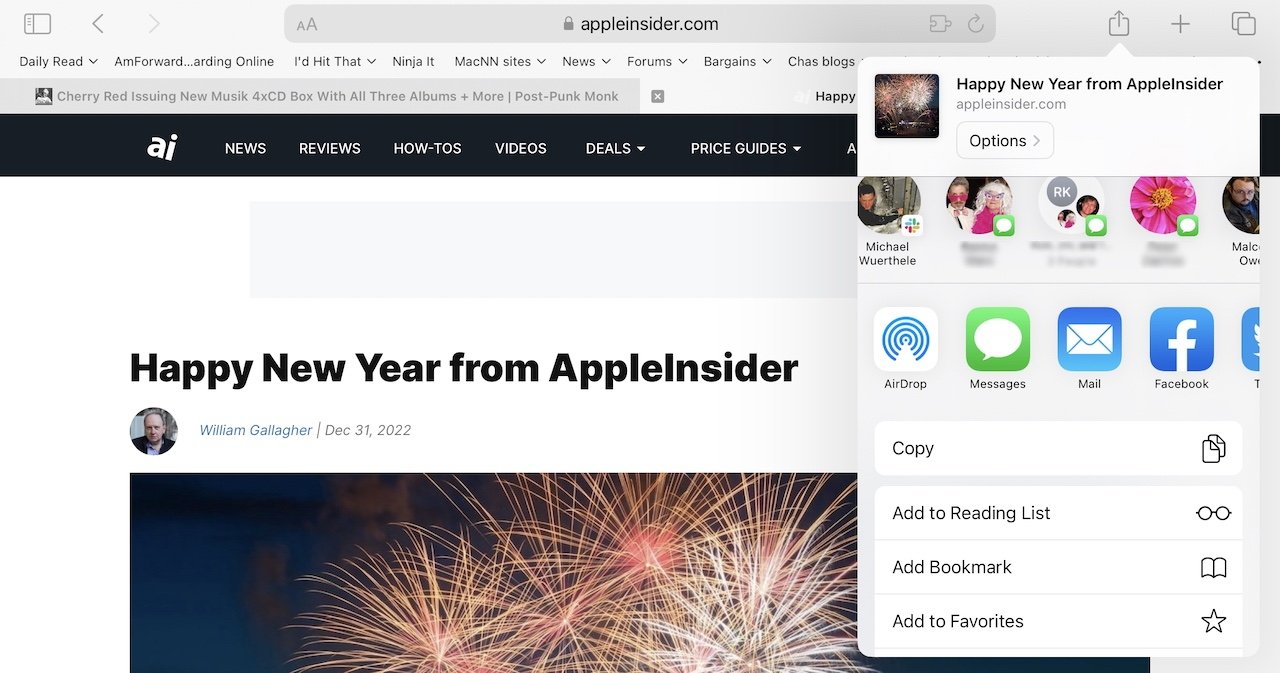 We don't often think of Apple's various efforts at helping users engage each other as a "social network" in the same sense as Tik Tok, Instagram, FaceBook, Snapchat, Mastodon, or what's left of Twitter. But, there is a social "element" built into many of Apple's popular apps.
After a few
failed attempts
to be truly "social," the company's approach is now focused on smaller "communities" of friends, family, or other groups.
For example, you can compete against friends playing the same games, whether in
Apple Arcade
or through many third-party apps, as long as they support Game Center. More recently, Apple introduced a new way to share photos among your friends or family with
iCloud Photo Library
, and has made it easy to pin group chats and do more together in Messages and
FaceTime
.
You'll notice that the key dependency behind Apple's "social" opportunities mostly revolves around others in your circle who are also using Apple products and services. Although of course interacting with all the big social networks and rival services (like those from Google and Microsoft) are supported, this is largely the responsibility of those other companies -- made painless for users by Apple's
App Store
marketplace.
For several years now, the "share sheet" and its corresponding icon in most apps -- including many third-party ones -- has been the chief way to send items from your own libraries, or from the web, to individuals or groups. Apple, though, takes a strong interest in helping users to share content on a smaller scale -- to their loved ones and real-life contacts, in particular.
Being "social" in Game Center, Music, and Photos
Game Center
, which is supported in many
iOS
/
iPadOS
and
Mac
games, allows players to play along with or against friends, or find other players to set up competitions. Depending on the game, there may be a leaderboard, achievements, real-time multiplayer matches, or points rewards.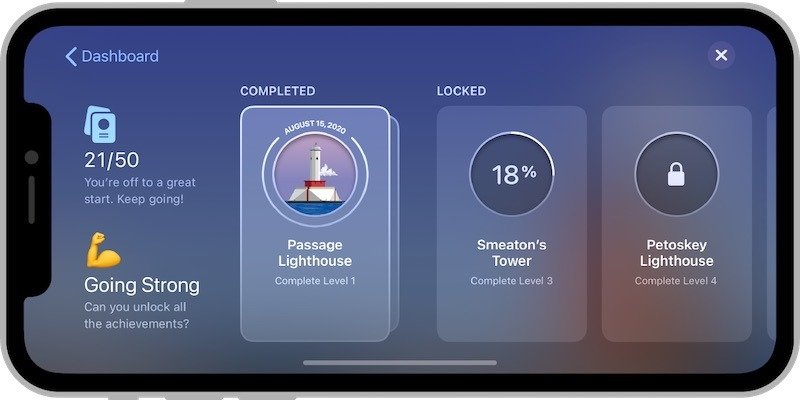 Apple's redesigned Game Center for iOS/iPadOS and macOS 14
Apple's Music app also has
a social element
, where users can post profiles that feature what they are listening to, and see the profiles of friends. This is intended to help you discover new artists and music, and recommendations from friends you know and trust.
Another important element of
Apple Music
is the ability to search playlists posted by other users, and make your own playlists available for others to find. These playlists are shareable on other websites and social media sites as well, widening the circle of people you can share your musical interests or discoveries with.
There are even third-party tools designed to
transfer playlists
in Spotify to
Apple Music
or vice-versa. It is also now possible to use
a shortcut
to share a created playlist in Apple Music to your friends who use Spotify -- or in the other direction -- via social media, though it requires a bit of configuring.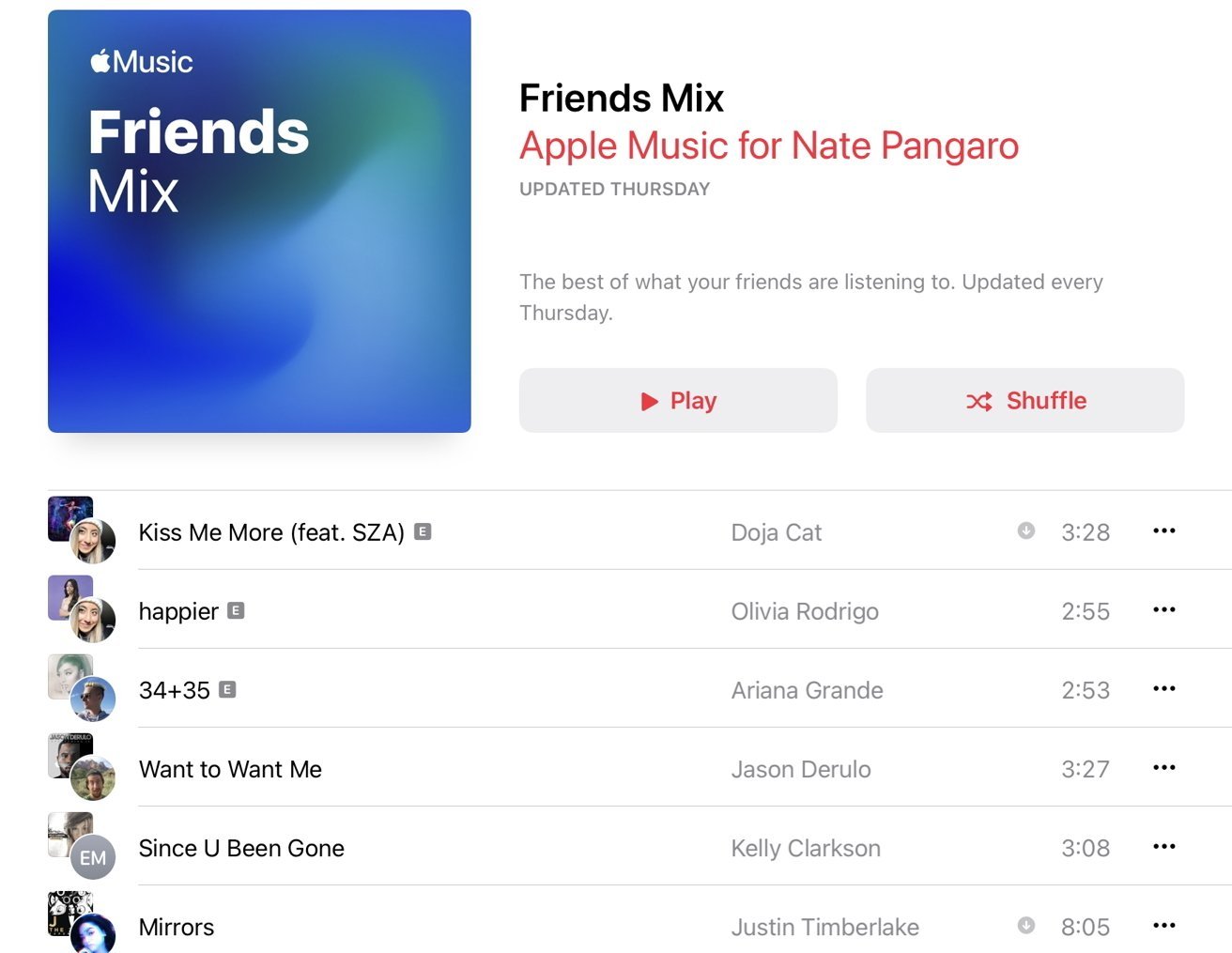 The "Friends Mix" is a great way to sample what your friends are listening to.
The Photos app can also, of course, let you upload pictures to social media sites, or save photos posted by others. Once again, Apple's built-in features make it easy to share photos directly to your more personal circle of friends and family, but also to the wider world if desired.
By sharing via Messages, Email, or AirDrop, there are a variety of ways to send or share pictures to people directly. Photo's Shared Albums features allows users to create albums and invite friends and family who are also using Apple devices to contribute pictures, Live Photos, and videos.
Being "social" with Messages, and Group FaceTime
As we've seen, Apple's own implementation of social features now is largely based around "small world" ideas -- real-world friends, family, and your social-media friend circle -- and less around "whole world" public sharing such as websites or public pages on social media. Apple has toyed with "whole world" sharing before, with
iWeb
and Ping (later Connect) efforts that didn't fully take off, going all the way back to the pioneering concept behind
eWorld
.
This strategy has led to greater success, with Messages and Group FaceTime,
in particular
, being extremely popular, with AirDrop having also found a sizable audience -- and some notoriety -- with the public. The ability to create group chats and pin them has proven to be a big hit, even finding popularity in business environments.
Apple has also augmented Messages and
FaceTime
with an additional social feature:
SharePlay
, which allows a group to listen or watch together to movies, audio, and other media. A number of third parties have opted into the technology, and in general, the public has embraced Apple's version of "listening/viewing parties", especially for people who can't be together in person.
FaceTime has long been seen as the highest-quality of the various video-calling services, but it was limited to just Apple users (unlike Messages) until the company created a way for others to join
via web links
.
Additional features in FaceTime like
Center Stage
(available on devices with ultrawide cameras) can "move" the focus or create a brilliant "top-down" effect for demonstrations, leveraging the power of Apple's M-class chips and the outstanding cameras in
iPhones
.
The feature set and privacy of Group FaceTime audio or video calling make it nearly effortless for small groups to enjoy conversations or meetings, for free, worldwide -- and have turned it into an invaluable resource for travelers.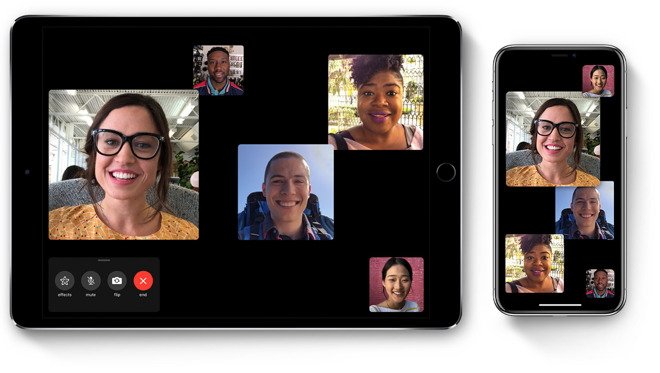 Group FaceTime uses size and emphasis to let you know who's talking in a group.
AirDrop -- the epitome of Apple's "small world" social strategy
By contrast, Apple's popular AirDrop technology has been used for
over 10 years
to quickly send files, photos, or other media from an
iPhone
exclusively to nearby Apple devices. This can either be targeted directly to a nearby device or sent out to everyone in a small radius (typically 30 feet or so) with an Apple device nearby that has Wi-Fi and Bluetooth turned on.
One of the first mass uses of AirDrop was to send and receive contact information at technology gatherings like CES, but friend and family groups have also adopted it. It is pretty simple to explain, even to people who aren't adept with technology, how to turn on AirDrop at least temporarily on their iPhone,
iPad
, or Mac.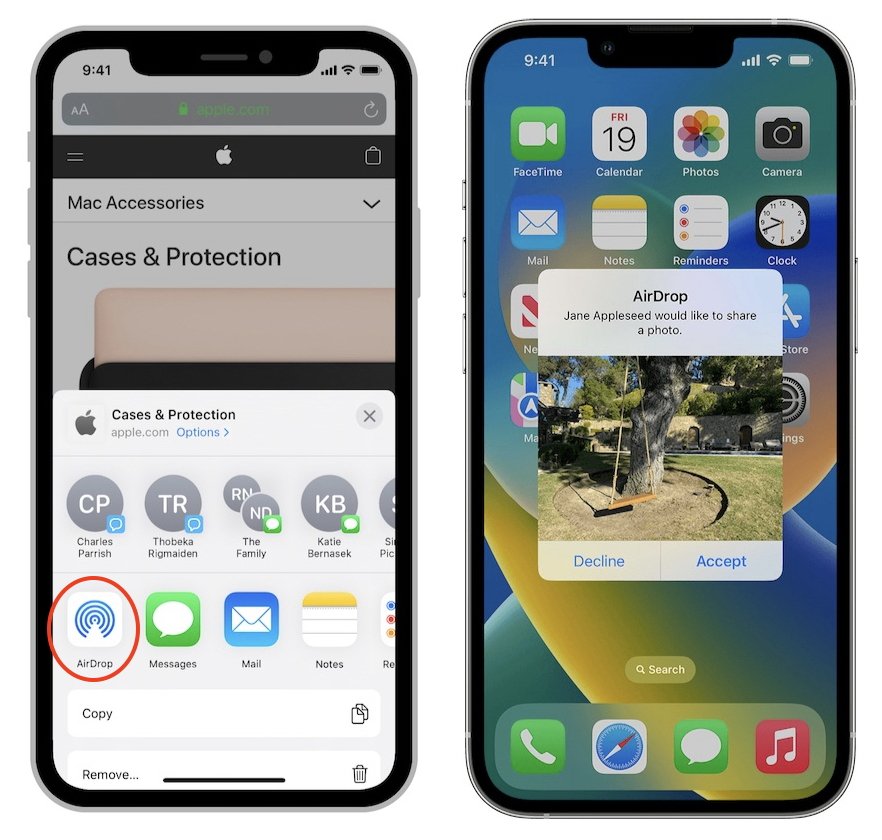 AirDrop from the sender (L) and receiver's (R) point of view.
Of course, if a user has their AirDrop settings to send to, or receive from, "everyone," there is an
opportunity for abuse
. Apple recommends a default setting of "Contacts Only," but there are times when "Everyone" will help you send or receive easily in a group.
Apple has recently changed AirDrop's "Everyone" status to only be active for 10 minutes, first in China and
then worldwide
. It is unclear if Apple initially did this in response to the Chinese government's displeasure at protesters
using the feature
to share information, but it can also be a help in preventing unwanted visuals appearing as part of the "accept or reject" process.
At present, more traditional methods like email or text messaging must be used if a recipient is using a non-Apple platform. However, since it is built on common networking standards like Bluetooth and Wi-Fi, Apple could consider expanding AirDrop compatibility to Windows or perhaps even Android.
Apple's philosophy has the side-effect of mostly relying on Apple's technology -- and leveraging FOMO (the fear of missing out) to convince family and friends to buy in on Apple products as well.
Read on AppleInsider