Plugable reveals first Thunderbolt 4 dock, 11 port USB-C hub, 240W cable during CES 2023
The Plugable 16-in-1 Thunderbolt 4 Quad Dock is the first of its kind from the company, which was revealed during CES alongside a USB-C dock and 240W cable.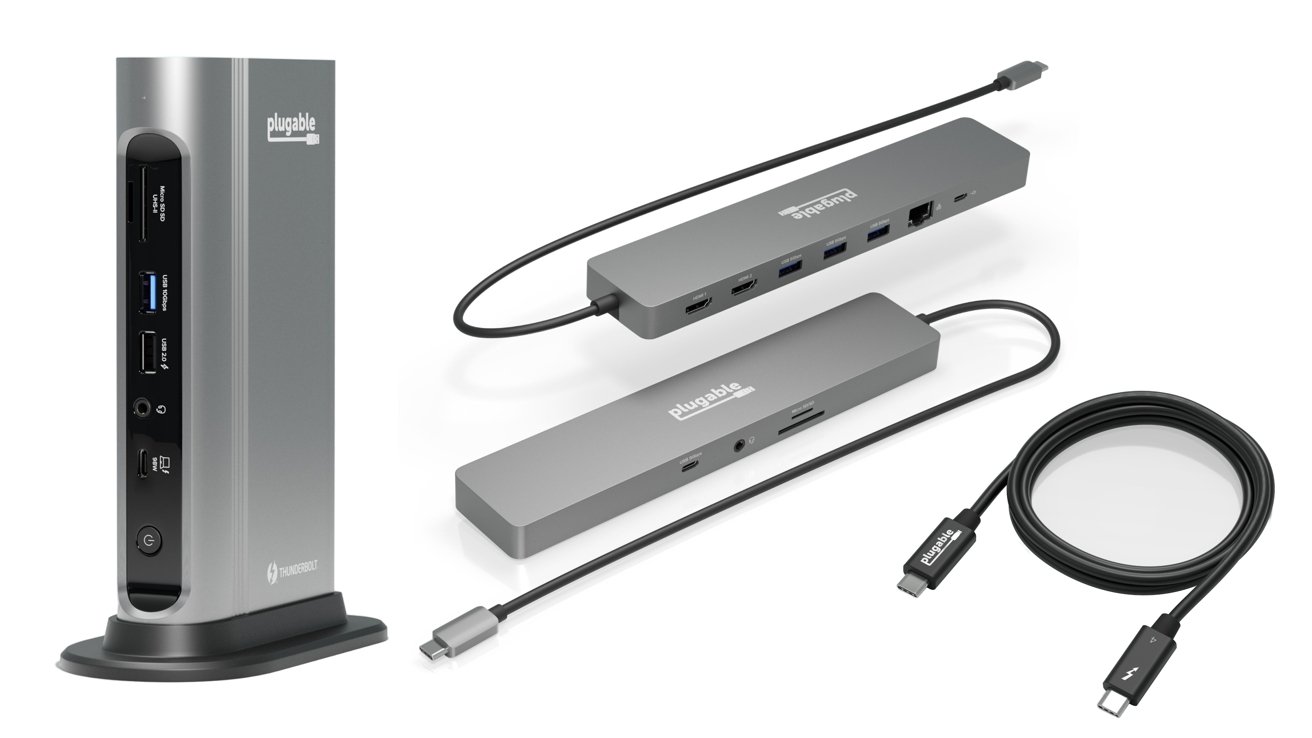 Plugable's new docks and cables from CES
Thunderbolt 4 has permeated through many popular consumer products like the
MacBook Pro
and various Windows PCs. To take advantage of this, Plugable has announced its first Thunderbolt 4 dock alongside some other high-end accessories.
Thunderbolt 4 Quad Dock
The 16-in-1 Thunderbolt 4 Quad Dock from Plugable uses the Intel Goshen Ridge chipset for powerful connectivity to multiple displays. Windows users can run four 4K 60Hz displays, while Macs running the
M1 Pro or M1 Max
processors can run two 4K 60Hz displays.
Ports include a 100W Thunderbolt 4 output port, three USB-A 10Gbps ports, two USB-A 5Gbps ports, a USB 2.0 Type-A port, a USB-C 10Gbps port, a 2.5Gbps Ethernet port, two HDMI ports, two DisplayPort ports, a headphone jack, an SD card slot, and power in.
Pre-orders are available now on
Amazon for $299
and will be released on January 17th.
USB-C 11-in-1 Hub
Plugable's USB-C 11-in-1 Hub connects via an integrated USB-C cable to add 11 ports to a
Mac
or PC. It offers 100W USB-C passthrough charging and smart power provisioning to ensure all attached devices get the power they need.
Ports include two HDMI ports, three USB-A 5Gbps ports, a Gigabit Ethernet port, a USB-C 5Gbps port, a headphone jack, an SD card slot, a micro SD card slot, and USB-C 100W charging port.
Windows users can attach up to two 4K 60Hz HDMI displays. However, Mac users can only attach one 4K 60Hz display since
macOS
lacks MST support.
The USB-C 11-in-1 Hub can be ordered now from
Amazon for $79
.
240W Thunderbolt 4 and USB 4 cables
Plugable is also expanding its Thunderbolt 4 and USB4 cable offerings with 240W EPR cables. They are passive cables with 40Gbps transfer speeds and are 3.3 feet long.
Both cables ship on January 11th. The Thunderbolt 4 cable is
$29.25 on Amazon
, while the USB-C cable is
$25.95
on Amazon.
AppleInsider
will be covering the 2023 Consumer Electronics Show in person on January 2 through January 8 where we're expecting Wi-Fi 6e devices, HomeKit, Apple accessories, 8K monitors and more. Keep up with our coverage by downloading the
AppleInsider app
, and
follow us on YouTube
, Twitter
@appleinsider
and
Facebook
for live, late-breaking coverage. You can also check out our official
Instagram
account for exclusive photos throughout the event.
Read on AppleInsider