Lockly Smart Safe pings your iPhone with tamper alerts
The Lockly Smart Safe offers biometric security for your possessions, one that can also be fully controlled from the comfort of your
iPhone
.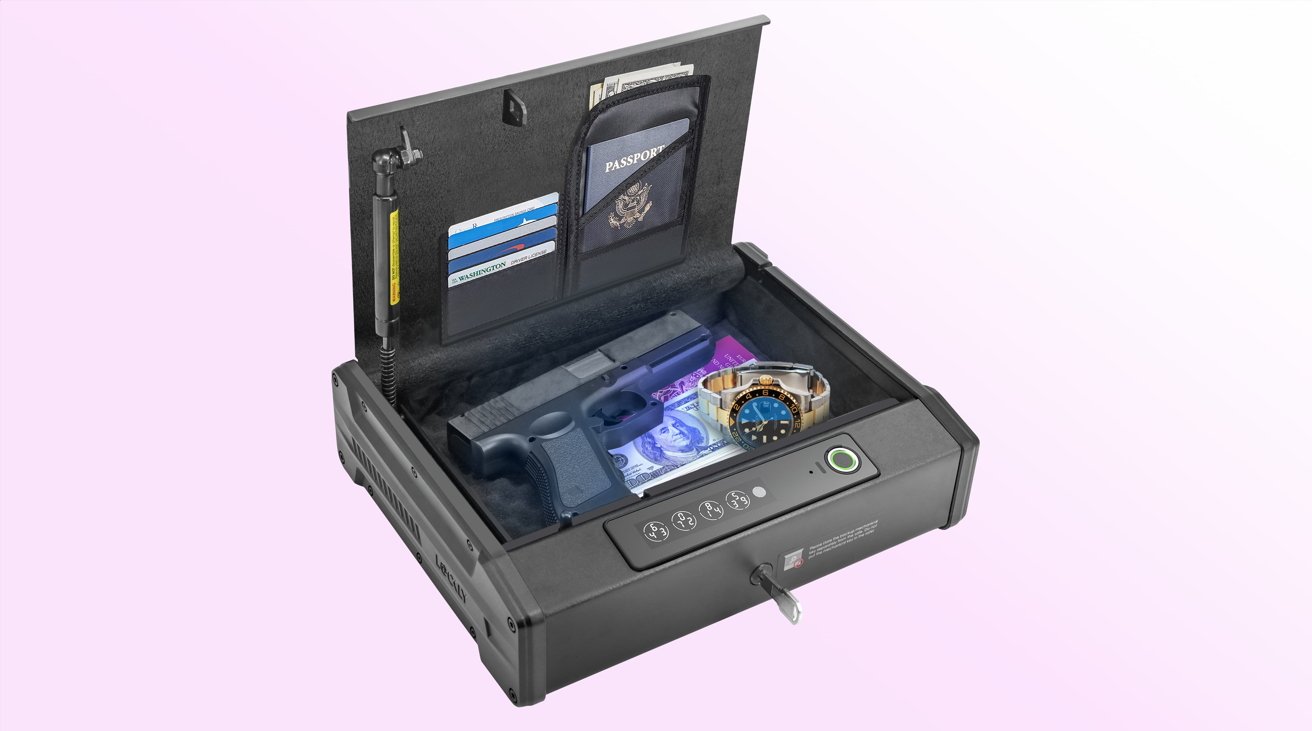 Lockly Smart Safe
Measuring 12.6 inches by 10 inches and 3.2 inches thick, the
Lockly
Smart Safe can be mounted to a surface as a discrete storage space. Made from fortified 2.5mm alloy steel with a corrosion-resistant coating and fireproof interior inlays, it's also highly protective of whatever's kept inside.
As a smart safe, it goes beyond the traditional unlocking by physical keys, as it also offers a number of smart management options. For example, a digital keypad that prevents codes from being guessed by shuffling the number locations, and having support for up to 60 access codes.
There's also a 3D biometric sensor that can recognize a fingerprint in less than a fifth of a second, and also supports up to 99 fingerprints.
The more interesting elements involve smartphones, with it having
iOS
and Android companion apps for managing the safe. Connecting via a secure link Wi-Fi hub, you can perform numerous actions with the safe, both locally and remotely, from your iPhone.
You can lock and unlock the safe, check its status, track the history of anyone accessing it, and set up unique users for the safe remotely, including one-time codes. If anyone tries to tamper with the safe, you'll also get notifications right on your device.
The connectivity also helps with the setup of other smart devices, as stored fingerprints and access profiles can be copied and transferred from smart locks to the Lockly Smart Safe wirelessly. An iGenie Mode also allows for the synchronized unlocking of the safe with a Lockly smart lock during an emergency, by entering an emergency access code from your door lock.
Once installed, the safe runs from four AA batteries, and can last for up to 18 months before needing a battery replacement.
The Lockly Smart Safe will be available in the spring, priced at $349.99.
AppleInsider
will be covering the 2023 Consumer Electronics Show in person on January 2 through January 8 where we're expecting Wi-Fi 6e devices, HomeKit, Apple accessories, 8K monitors and more. Keep up with our coverage by downloading the
AppleInsider app
, and
follow us on YouTube
, Twitter
@appleinsider
and
Facebook
for live, late-breaking coverage. You can also check out our official
Instagram
account for exclusive photos throughout the event.
Read on AppleInsider