Logitech MX Keys Review: Smart choice for multi-device users
The Logitech MX Keys is a Mac-compatible keyboard that rivals the Apple Magic keyboard and is a noteworthy option for users looking for a cheaper solution without sacrificing function and durability.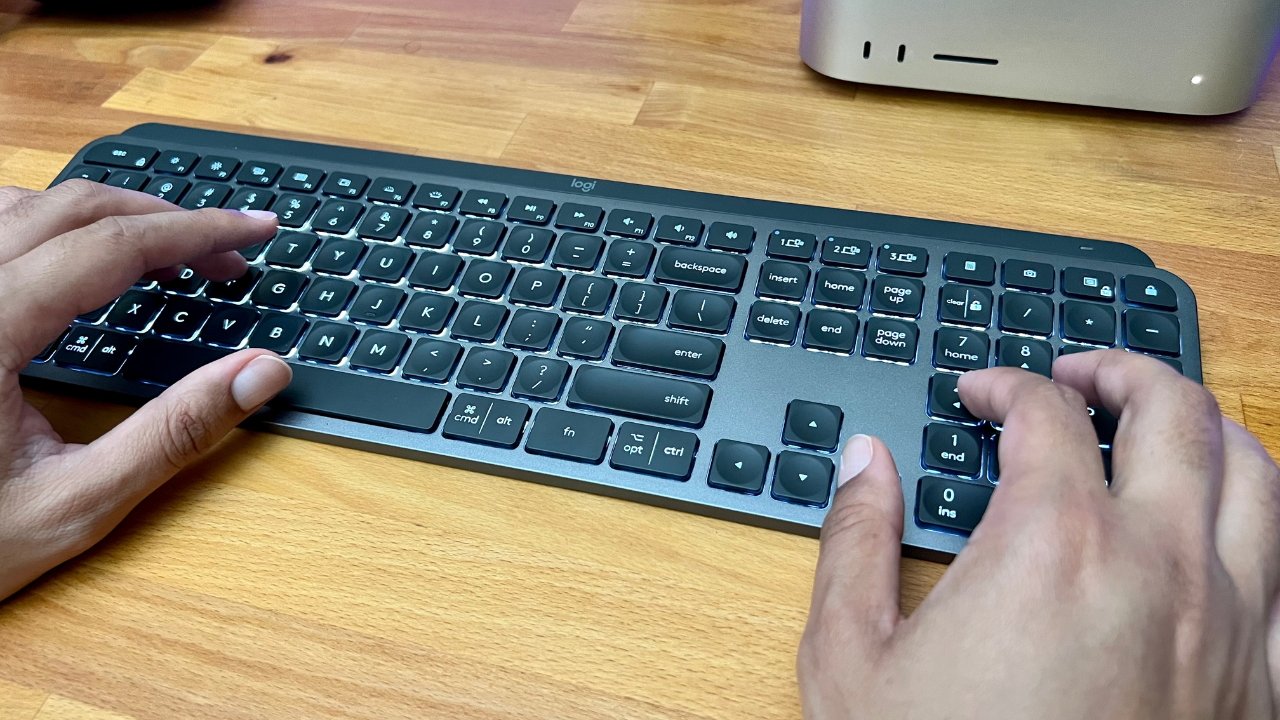 Logitech MX Keys Review
The Apple
Magic Keyboard
is good, but Logitech MX Keys is an excellent choice for users who need a budget alternative. Logitech MX Keys is a flat, laptop-style chiclet keyboard. We like its customizations and stable wireless connection, but the initial setup for
Mac Studio
was tricky.
USB port and universal receiver
Logitech MX Keys come with a USB-A to USB-C charging cable and a Logitech universal receiver. If you already use a Logitech mouse, the receiver connects the Logitech mouse and keyboard to your Mac Studio without taking up yet another precious USB port.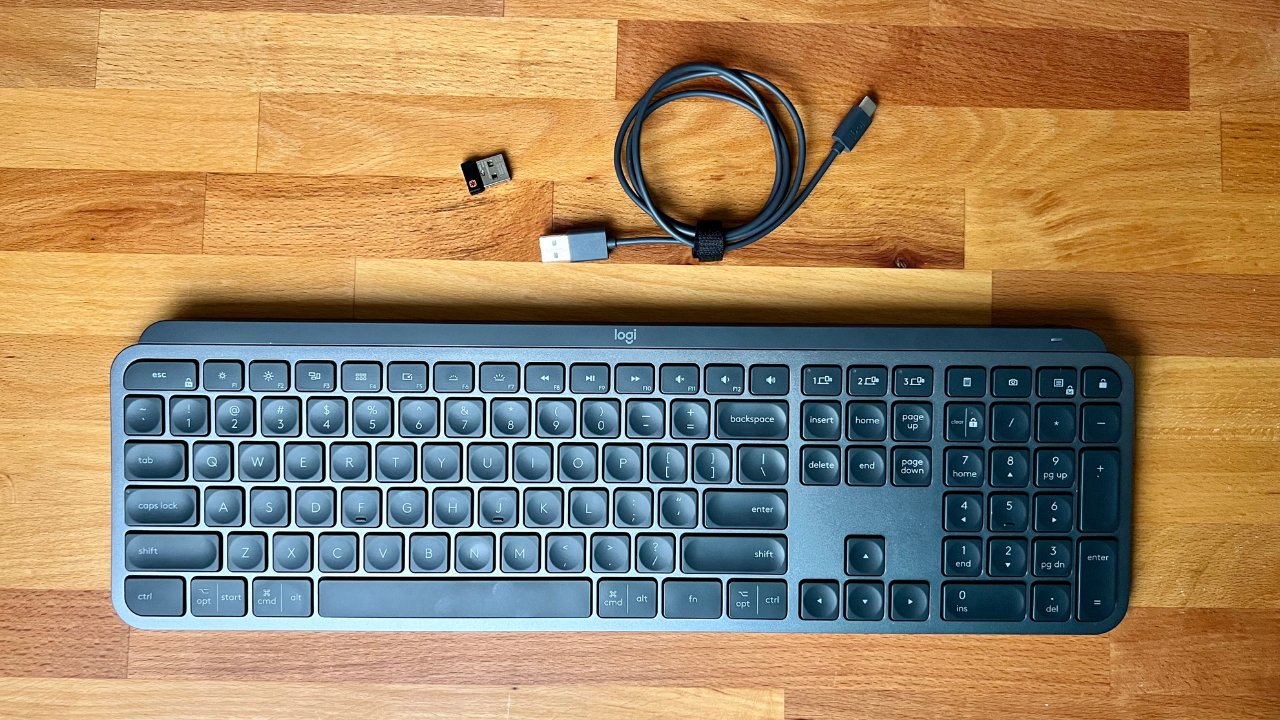 Logitech MX Keys comes with a charging cable and dongle
The back of the keyboard has a USB-C port to plug in the charging cable. The charging cable is USB-A, so you would need an adapter if using a modern Mac, but if you have a Mac Studio set up, it plugs right into the Mac Studio without needing an adapter.
Logitech claims that a full charge lasts up to 10 days or up to five months with backlighting turned off.
Logitech MX Keys is compatible with Windows,
macOS
, Linux,
iOS
, and Android systems, and you can connect up to three devices. Switching devices was easy and smooth using easy-switch keys above the number pad.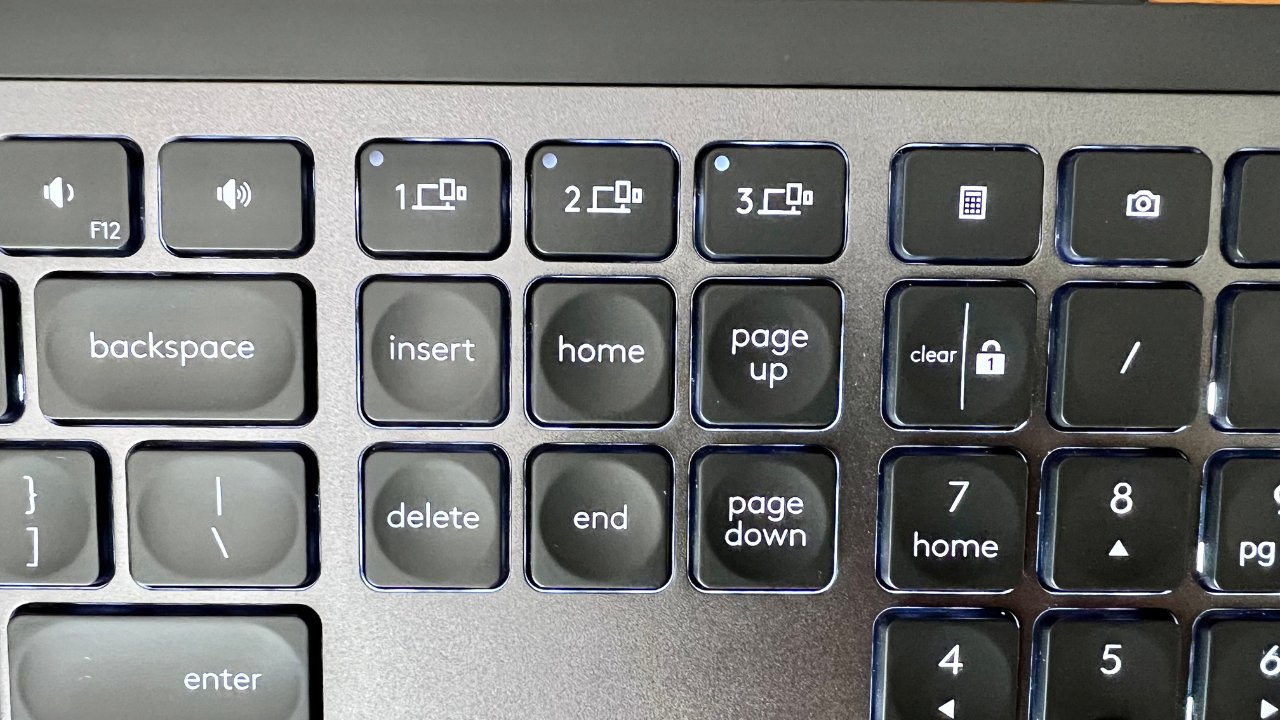 Switch devices easily with a quick tap
If your workflow includes toggling back between Mac,
iPad
, or even a Microsoft laptop, you can use the same keyboard for all these devices. For example, you can use Logitech MX Keys to type on a MacBook and Microsoft laptop at the same time.
Automatic backlighting
If you keep a dark office aesthetic or work late into the night, it can be hard to type in the dark. This keyboard has responsive backlighting that illuminates according to its environment.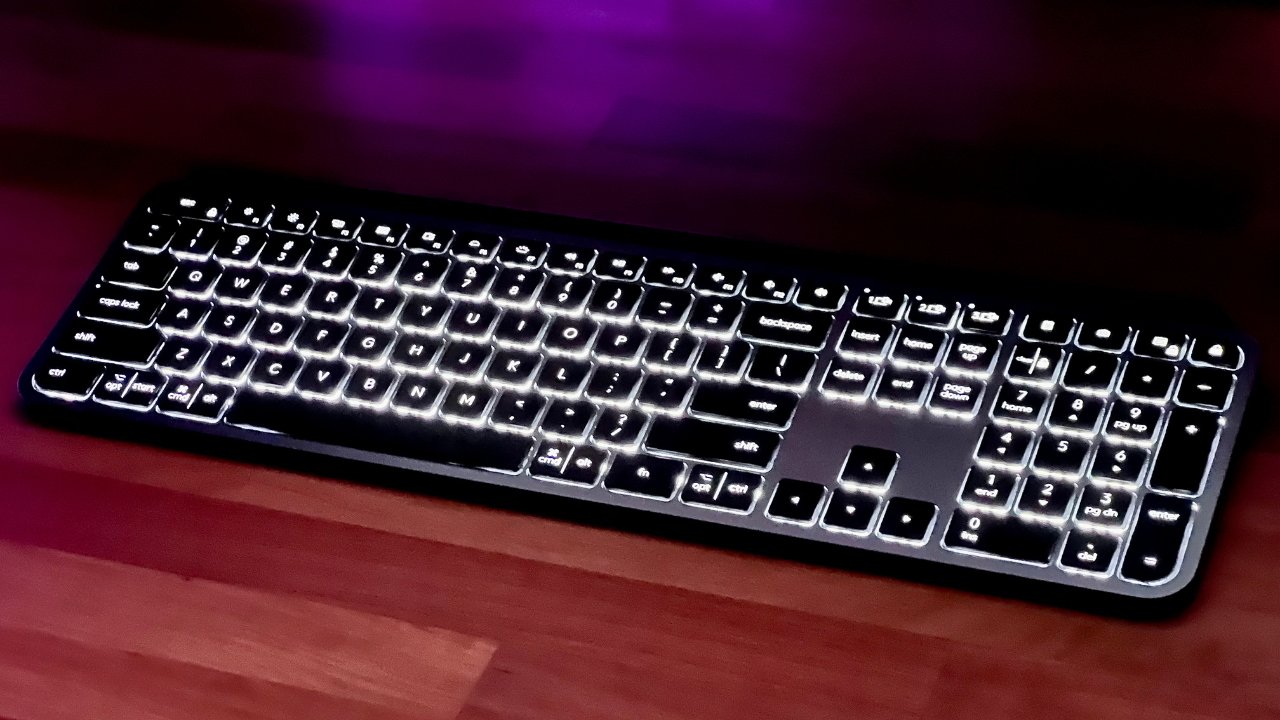 Automatic backlighting responds to hand movement
The Logitech MX Keys have proximity sensors. These sensors turn on the backlighting on the keys as they sense your fingers, even if you wave your hands above the keyboard or rest your fingers lightly on the keys.
The auto lighting helps to improve the battery life when using this wirelessly, but some users want to keep the keyboard lights on continuously. You can plug in this keyboard, but you will also have to live with a blinking green charging indicator.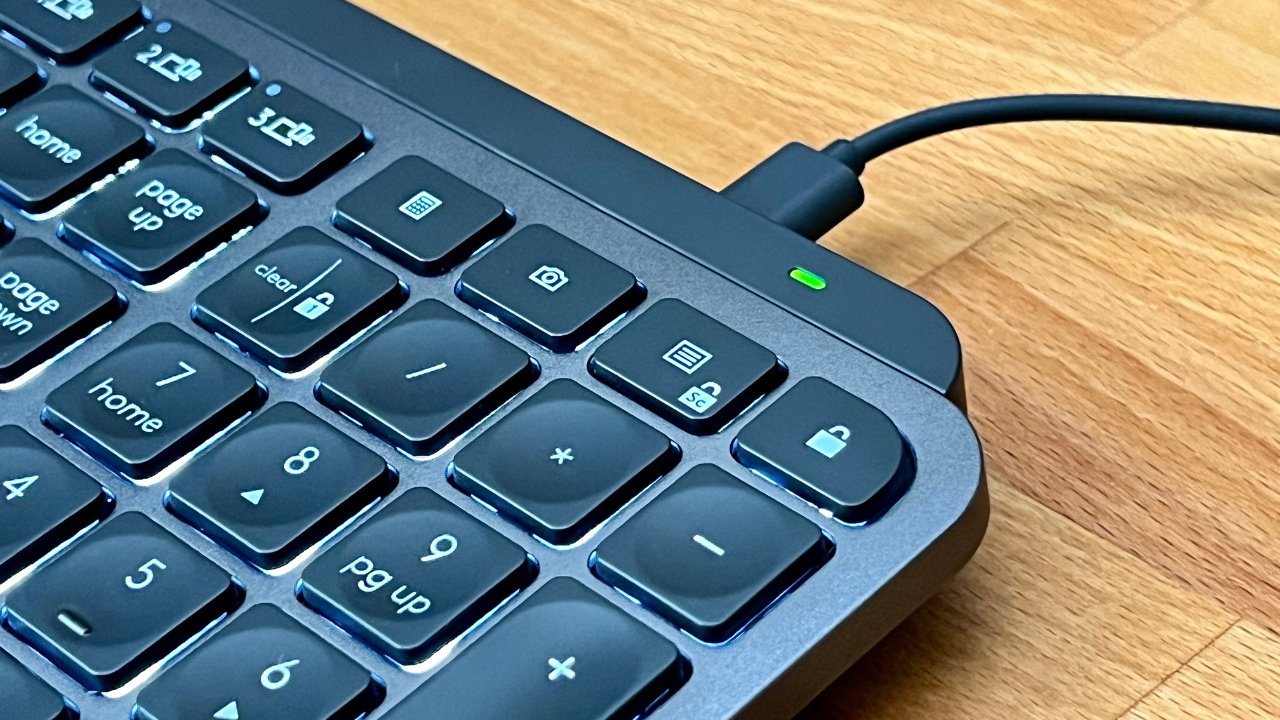 Green charging indicator when plugged in using a USB-C to USB-A cord
You can adjust the keyboard brightness with a quick tap on the function keys and go as low as turning off the backlighting entirely. These function keys are at the top row of the keyboard for easy access to commands such as screen brightness, app view, and media controls.
Slim chiclet style
Logitech MX Keys feels premium compared to Mac's Magic Keyboard with its aluminum build. It has a heft with its weight of 1.9 pounds, but still slim enough to be compact. There is a slight angle, but not nearly enough to accomplish much ergonomics.
For a flat laptop-style keyboard, typing on this is still an instant upgrade if you are used to a MacBook's keyboard. Users can enjoy satisfying bouncy feedback with every tap of this chiclet keyboard.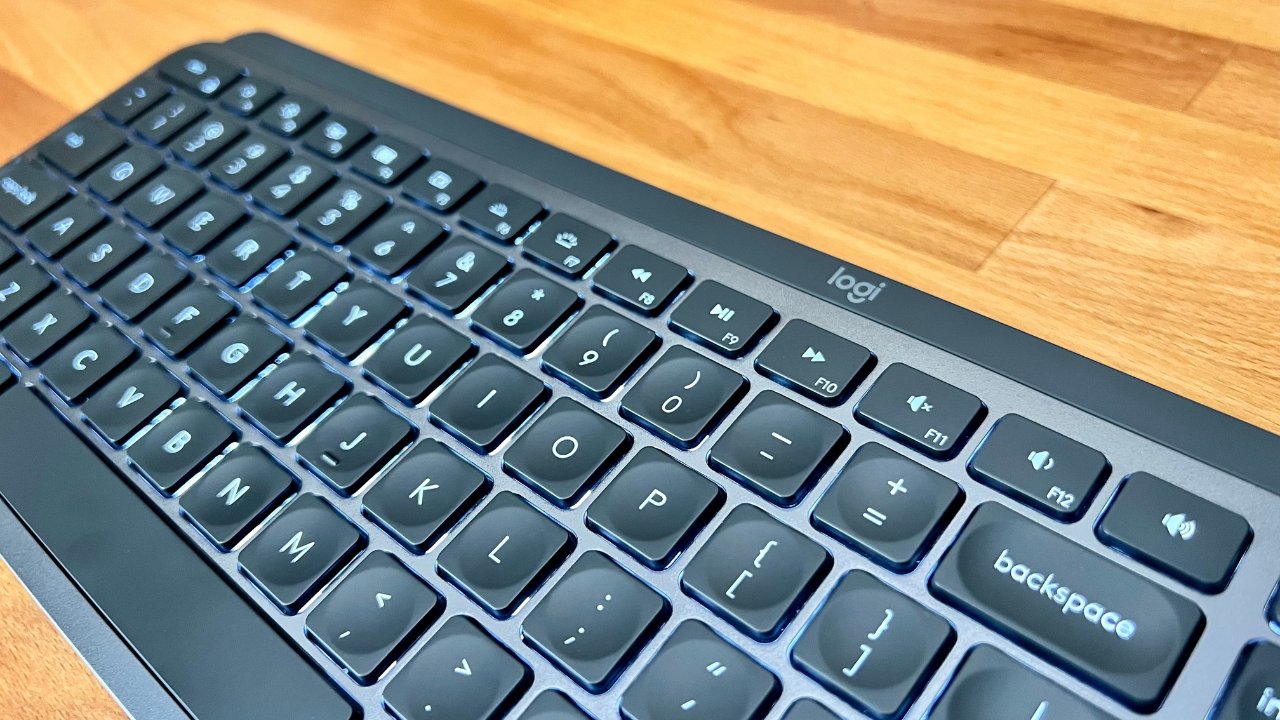 Aluminum build, slim design
Logitech MX Keys' slim design allows it to slide into a minimal desktop, but it does not sacrifice comfort for a compact design. It has a number pad which is helpful if you work with numbers a lot, either for accounting or for shortcuts in
software like Blender
.
You can hardwire this keyboard to a Mac Studio with the included charging cable or a MacBook with an adapter or a dock. We preferred using Bluetooth because we already had a universal receiver for a Logitech mouse, and the connection was stable and smooth.
Logitech MX Keys - Setup
You have the option to program shortcuts using the Logitech Options software. Setting your customizations is useful for quick maneuvers as you work in different programs.
Setting up an Apple keyboard with a Mac is easy because it looks for the connection wirelessly when you turn on the device, or you could use a cable to plug it straight into the Mac to pair it. Here is where an Apple keyboard has an advantage over a third-party keyboard because of the extra steps needed for the initial setup.
When you first turn on a new Mac, it will ask you to pair a pointer device such as a keyboard. macOS does not allow you to pair third-party input devices using Bluetooth during the initial setup. However, here is a workaround we used.
We used a Logitech unifying dongle that has already paired a Logitech device with an existing Apple device. We plugged this pre-paired dongle into a new Mac, and it recognized the new wireless keyboard when we selected the correct input channel.
For example, if you use a Logitech wireless mouse with a unifying dongle on a MacBook, plug in this same dongle to your other Mac. The other Mac will recognize your new Logitech keyboard when you turn it on. The connection was stable and smooth once paired.
Logitech MX Keys - Pros


Customizable keys with Logitech Options software


Multi-device


Multi-OS


Adjustable and responsive backlighting


Smooth and stable Bluetooth connection
Logitech MX Keys - Cons


Not ergonomic


USB-A receiver needs a dock or adapter for MacBook


Tricky initial setup with Mac Studio


Logitech MX Keys is an excellent Mac wireless keyboard for budget-conscious users who value a fluid and productive workflow. The customizations and multi-device functions are helpful to working faster, Bluetooth connection is reliable even when switching devices, and automatic backlighting makes it a good companion when work gets tough well into the night.
Rating: 4 out of 5 stars
Where to buy
Logitech MX Keys with a number pad retails
for $119.99 from Logitech
. Get it at a slight discount
for $114.99 from Amazon
.
Read on AppleInsider