Documents 8.3.3 review: File manager best for PDF and MP3
The Documents app by Readdle is a self-proclaimed super app to organize files across devices and cloud-based platforms, but its strength may also be its weakness.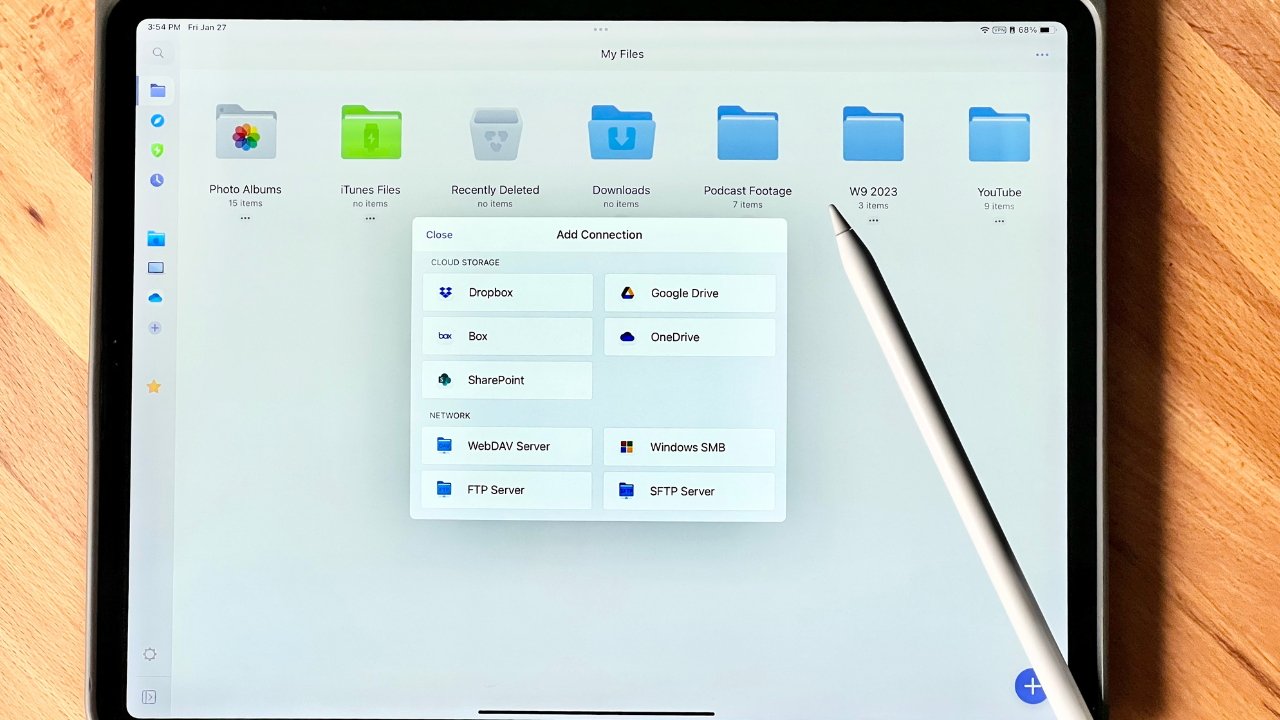 Documents files manager app by Readdle
Readdle's Documents app is a popular file manager app with over 400,000 ratings in the
App Store
. In addition to being a feature-rich file manager, it has the capability of a media player, PDF editor, and a VPN-enabled browser.
If you desperately need to improve your file management system, the Documents app has many features so you can finally unearth long-lost files from the dark corners of your cloud servers. On top of that, if your work includes lots of PDFs and videos, it can help you in ways that Apple's Files app can't.
Comparing Documents to Files
The Documents app sets itself apart from Apple's Files app because it comes with more PDF features and MP3 functionality. This app can save you precious minutes during your workday.
If you work with text documents a lot, the Documents app and the Files app have similar features. However, Documents allows you to convert a text document into an editable PDF when you save it to Documents.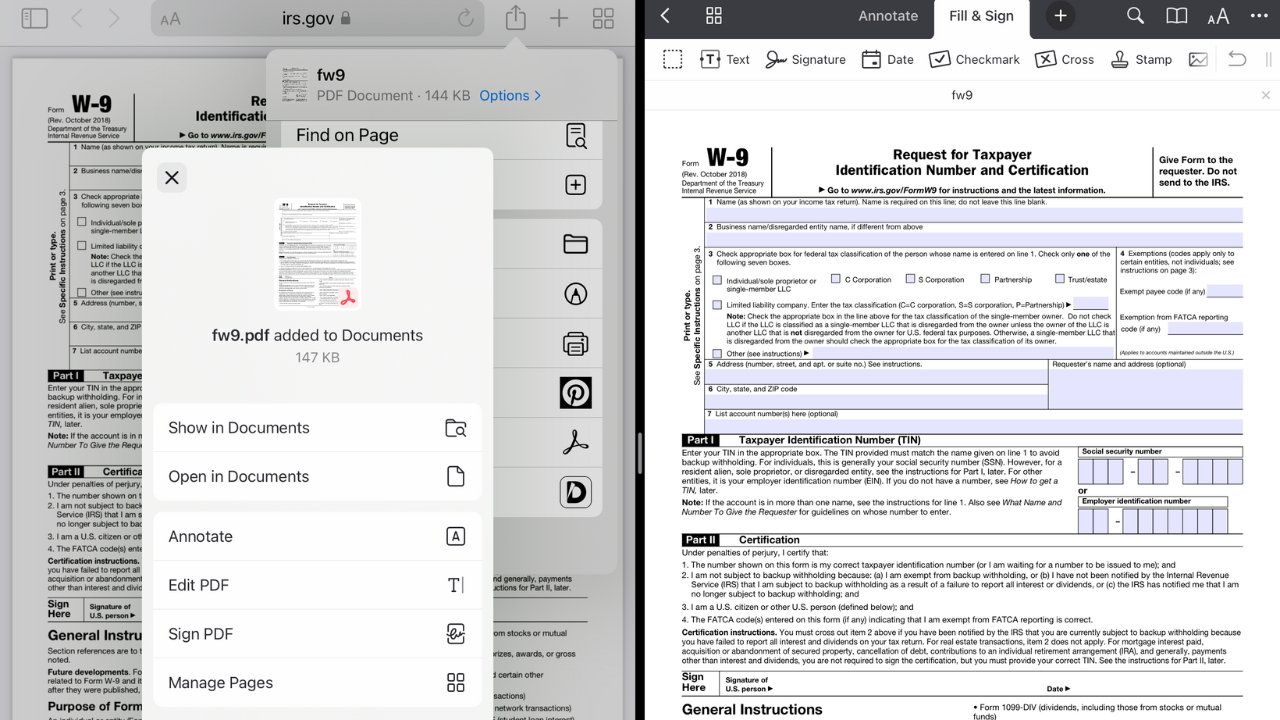 PDF functions in Documents by Readdle
If you regularly edit and sign PDFs, the Documents app allows you to fill out the form, markup, modify text and images, and sign it without importing it into Adobe Acrobat Reader. This way, you can access your editable PDF files across all devices without bouncing between Files and Adobe Acrobat Reader.
Apple Files app allows you to trim the video right in the app, a helpful feature that the Documents app lacks. However, Documents has a nifty button to extract MP3 from video files, which many video creators and podcast hosts would appreciate.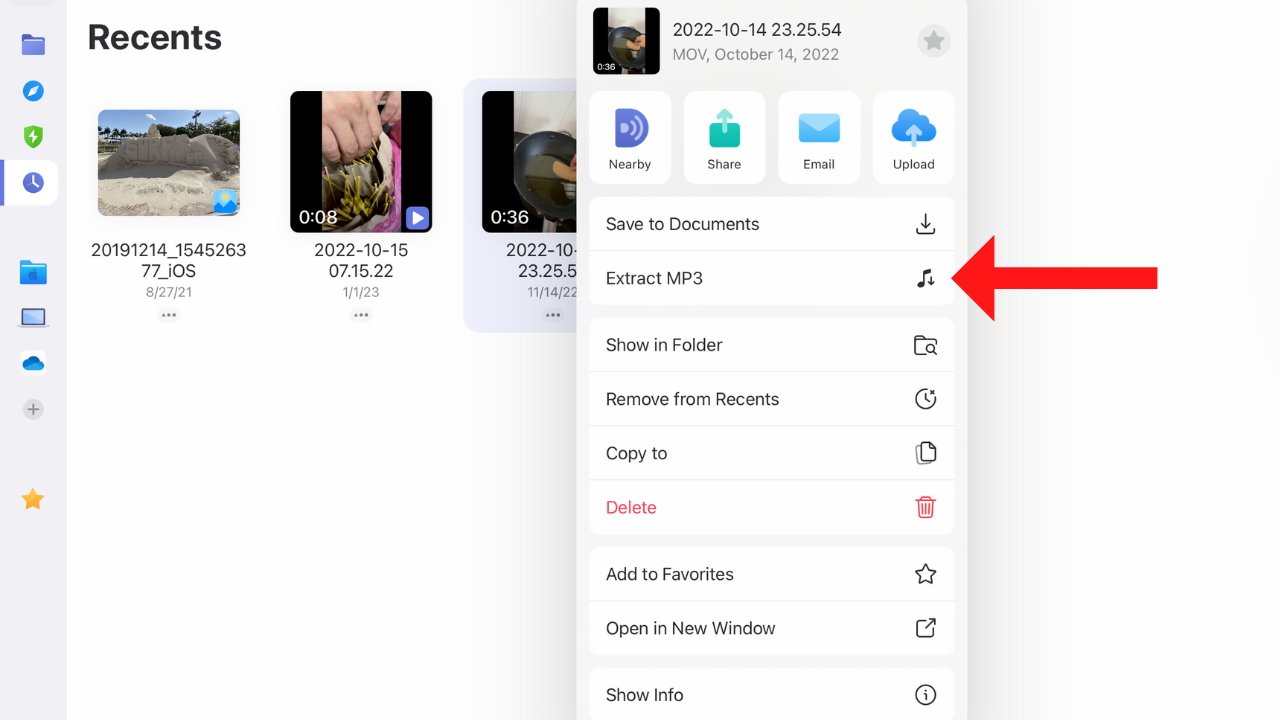 Extracting MP3 from a video in the Documents app
The Documents app has a feature called Smart Actions that intuitively helps you speed through the stages of a task. This pop-up window is small enough to not overtly distract you while substantial enough to help you move faster.
For example, if you move a photo into a folder, a Smart Actions window will suggest the next step, such as to open, share, or show. You can then go to your next step with a quick tap instead of opening a folder, finding the photo, and then choosing to open, share, or show the picture.
Built-in VPN and browser
There is a built-in VPN and internet browser in the Documents app. Once the VPN is connected in Documents, we didn't encounter any lagging issues.
Once you activate the VPN in Documents, it will work across all your apps even if you close the Documents app. A VPN provides an extra layer of security when browsing the internet and may help you bypass geo-blocked websites.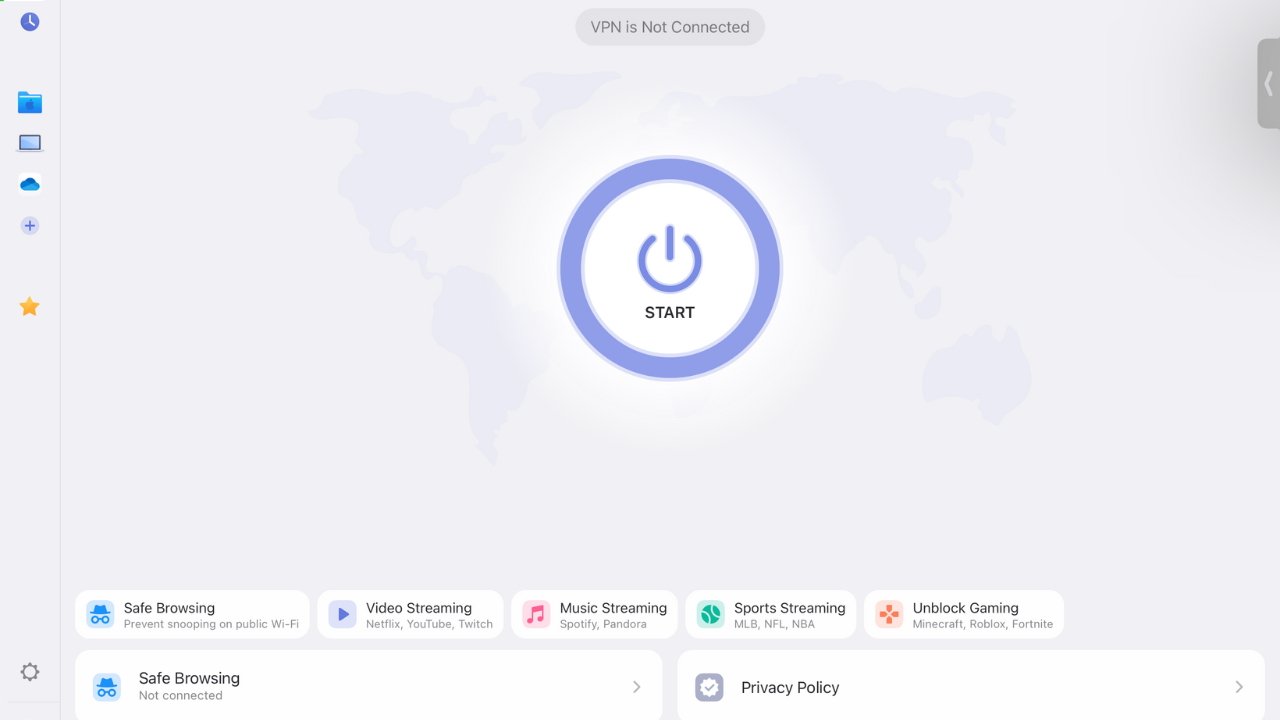 Readdle's Documents app comes with a VPN
There are different VPN modes depending on your needs. There is a VPN mode for safe browsing, video streaming, music streaming, sports streaming, and unblocked gaming. If you want to use a VPN service without having to track yet another subscription fee from a VPN provider, this could be a viable solution.
Before considering upgrading to the Documents app's VPN service, research it to ensure it meets your security needs. However, this is still a capable app for managing files across all your devices and cloud accounts even without the VPN.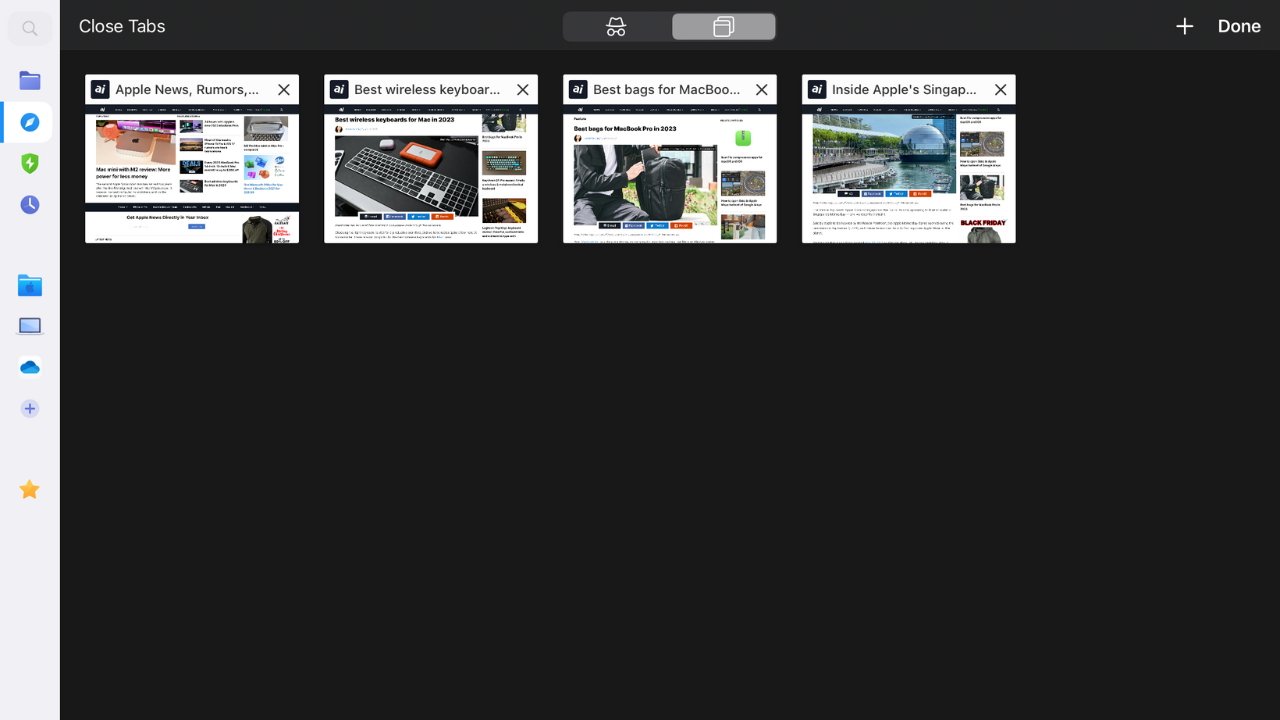 Documents comes with a built-in internet browser
The built-in browser on the Documents app worked as expected, allowing you to toggle between standard tabs or privacy tabs. As with other browsers, you can add bookmarks, share the webpage, and save the webpage as a PDF.
While the developers were very generous with features like the VPN and browser, some users may find it overwhelming and counterproductive to have so many features. Whether this is a good or bad thing depends on the needs of the user, but we view it as a pro because it is a thoughtful option for power users.
The biggest drawback was the user interface. The massive icons look outdated and amateur, but if you can get past the UI, its rich features can help you fully organize your files across devices and maximize your productivity.
Setting up the Documents app
Download Documents to your
iPhone
,
iPad
, and
Mac
to access your files from all devices. You can also connect it to a NAS device or network storage at your home or office.
You can connect all your files from various cloud-based file services such as
iCloud
, Dropbox, Google Drive, and OneDrive. Having all your cloud accounts on one app is the key to getting all your jumbled files neatly arranged into one app.
For example, if your work requires storing files on various cloud-based services, you can have it all on one app instead of juggling between Google Drive and Dropbox constantly.
If you frequently have to share or email documents, these options are prominently shown at the top of the drop-down menu when you long-hold on a file icon or click the ellipses to reveal options.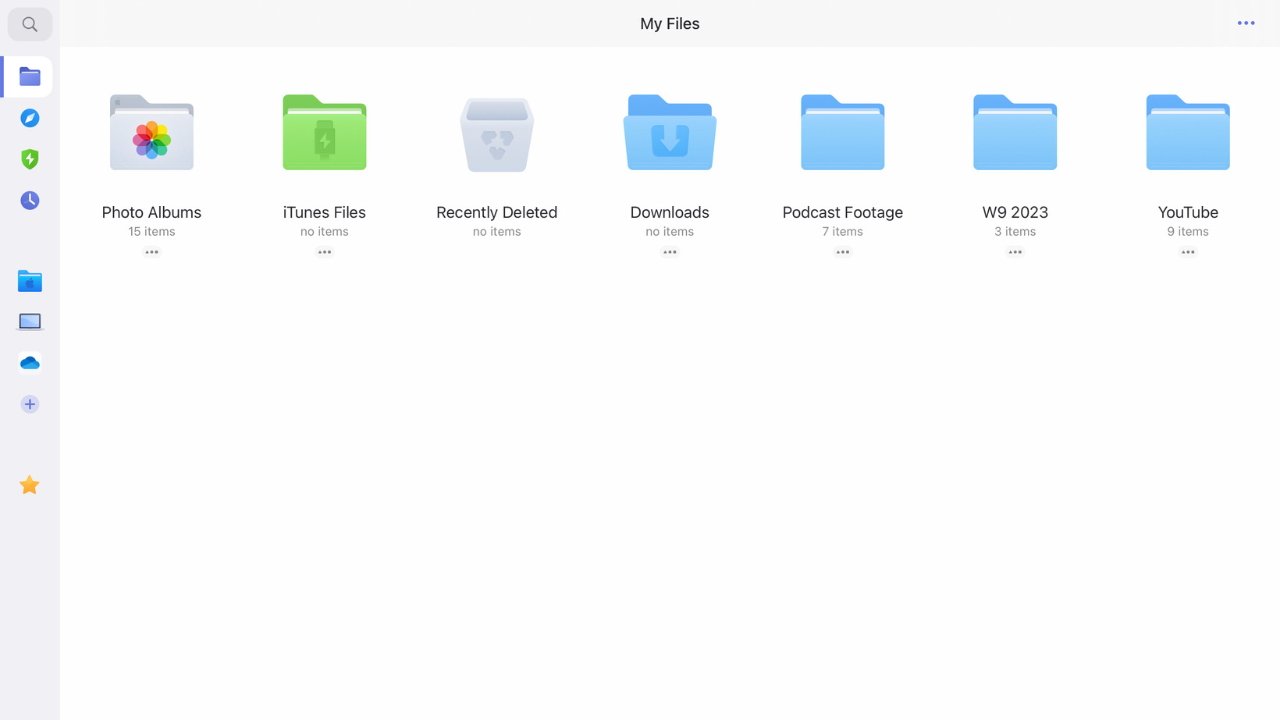 Readdle's Documents UI and icons
Once connected, all folders will appear in the My Files tab. You can create folders like photos, work, personal, and email attachments to populate the My Files tab.
Click on the plus icon on the bottom right to import new files from your device or cloud server. Depending on the extent of digital chaos, it will take time to clean up your folders, but this is a powerful app to help you to do that.
If you're using this on an iPhone or
iPad
, it requires
iOS 14
or later and
iPadOS
14 or later. You can also use this on a
Mac
, but it requires macOS 11 or later and a Mac with Apple
M1
chip or later.
Documents - Pros


Organize files from multiple cloud-based services


Access your files across all devices


Useful PDF functionality


Extract MP3 from videos


Built-in VPN and browser


Documents - Cons


UI can be an eyesore with large icons


Rating: 4 out of 5 stars
From the standpoint of a files manager app, the Documents app is powerful and quite generous in its features. It does what it is supposed to do in organizing and accessing your files across all your devices and cloud-based platforms. On the other hand, some users may find it too complicated because of its extra features, like a VPN and browser.
Not everyone will appreciate the built-in VPN or browser, especially if they are loyal to more mainstream browsers like
Safari
or Chrome. The UI with outdated, large icons can be off-putting to modern users. Still, if you value function over looks, you will enjoy having a robust file manager with PDF editing and audio extraction capabilities.
Where to download
Readdle's
Documents app
is free to download from the App Store, but you can upgrade for complete VPN and PDF editing features. Subscription plans start at $9.99 monthly to $89.99 yearly.
Read on AppleInsider