14-inch MacBook Pro review: A true spec bump to an existing powerhouse
The refresh of the
14-inch MacBook Pro
brings with it a hefty performance increase, giving content creators serious power in a very portable form-factor.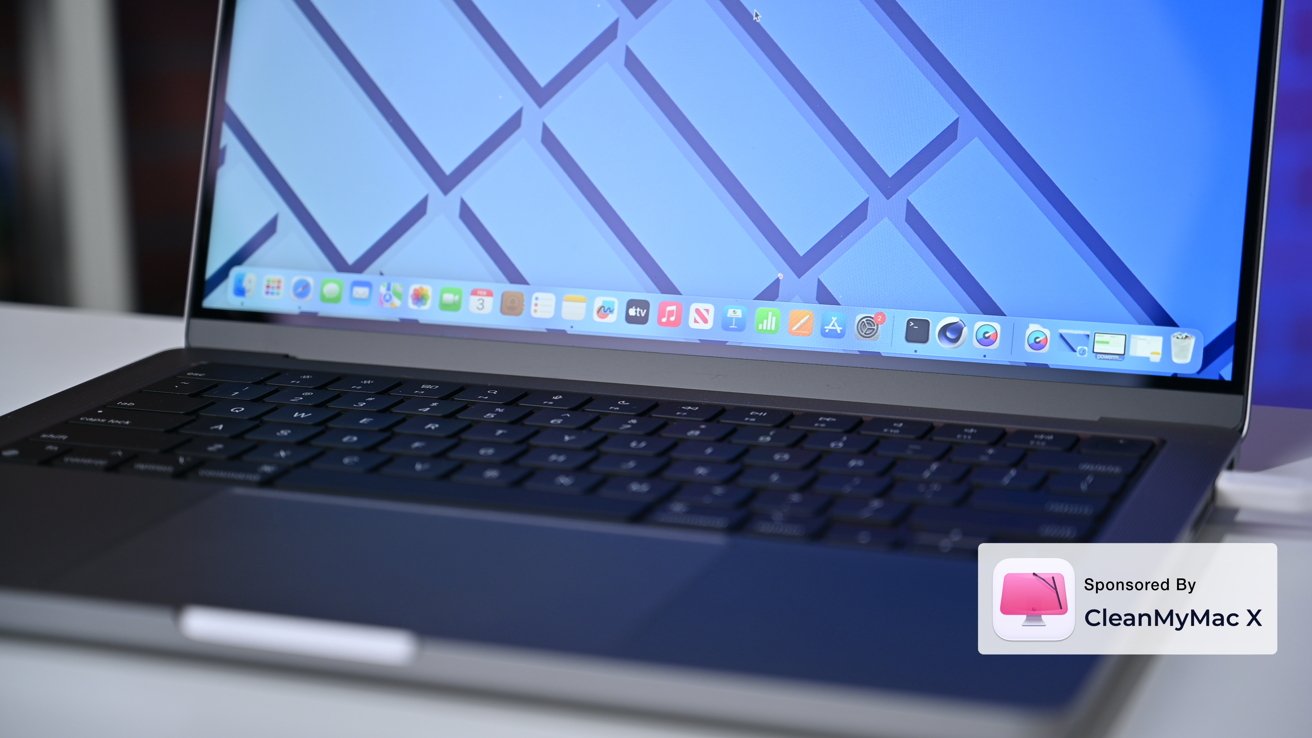 14-inch MacBook Pro (2023)
Updated February 15 with Geekbench 6 scores
Part of the surprise January Mac updates, Apple launched a revised 14-inch MacBook Pro. As expected from near the start of a product line, both for the 14-inch model and
Apple Silicon
itself, a second-generation release is more of a refinement of a just-established format instead of a radical overhaul.
The second-generation 14-inch MacBook Pro is the definition of a "spec-bump" release, as anyone looking at the new model and the predecessor will find that the changes that matter are all internal, not external.
Chiefly, we're talking about a switch from M1 Pro to M2 Pro for the base model, M1 Max to M2 Max in the upper tier.
That said, an unchanged outer appearance isn't necessarily a bad thing. Especially if what Apple started from was a great notebook to begin with.
M2 Pro 14-inch MacBook Pro - Design
Apple's introduction of the 14-inch MacBook Pro in 2021 was major, providing a bit of a size increase over the entry-level
13-inch MacBook Pro
and a design refreshed in many different ways.
For the 2023 model, there's no changes to report, but that's because there's nothing for Apple to really change so early in the life cycle.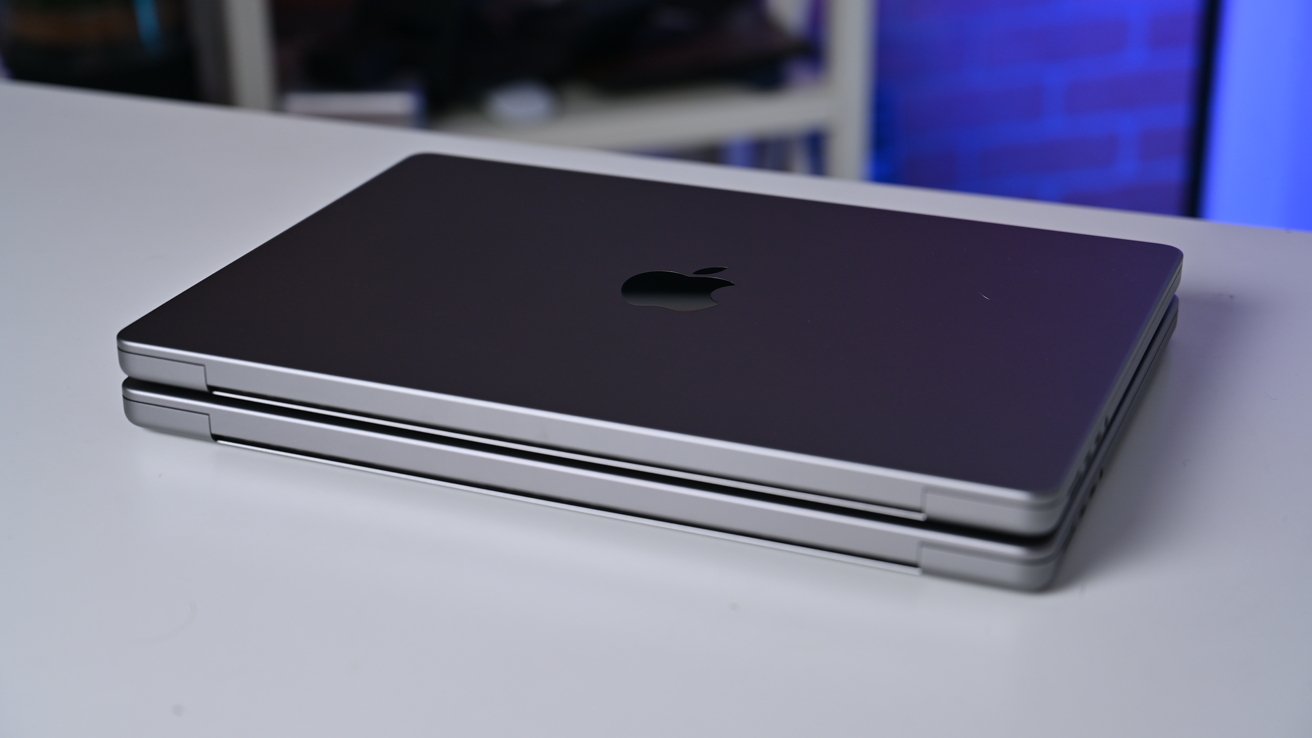 The design is unchanged
It's still unmistakably a MacBook Pro with its aluminum enclosure and flat structure, complete with rounded corners. You would know what it was even if the Apple logo on the lid was covered up.
Using the divot at the front to lift the lid, you're greeted by a keyboard, the giant Force Touch trackpad, and grilles to either side of the typing surface. Looking upward, it's a large display with thin bezels.

The design itself hasn't changed, with Apple appearing to use an identical enclosure construction. That means it's still 0.61 inches thick, 12.31 inches wide, and 8.71 inches deep.
The weight of 3.5 pounds is also identical to its predecessor, though anyone who goes for the upper-end M2 Max will see the weight tick up to 3.6 pounds.
M2 Pro 14-inch MacBook Pro - Display
Once again, the screen is still a 14.2-inch mini-LED-backlit Liquid Retina XDR display, with the backlighting providing fantastic brightness, contrast, and color representation.
That means you're getting up to 1,000 nits of full-screen brightness and 1,600 nits of peak HDR brightness, along with a more conventional 500 nits for standard usage. That contrast ratio is also a still-impressive 1,000,000:1.
The resolution of 3,024 by 1,964 is a carry-over from last time, and with a pixel density of 254 pixels per inch, it's nothing to complain about here.
What will get some negative comments is the continued use of the notch in the top. While it houses the
FaceTime
camera, it's still not using a
Face ID
-like system, which is a missed opportunity for adding the security feature to the notebook line.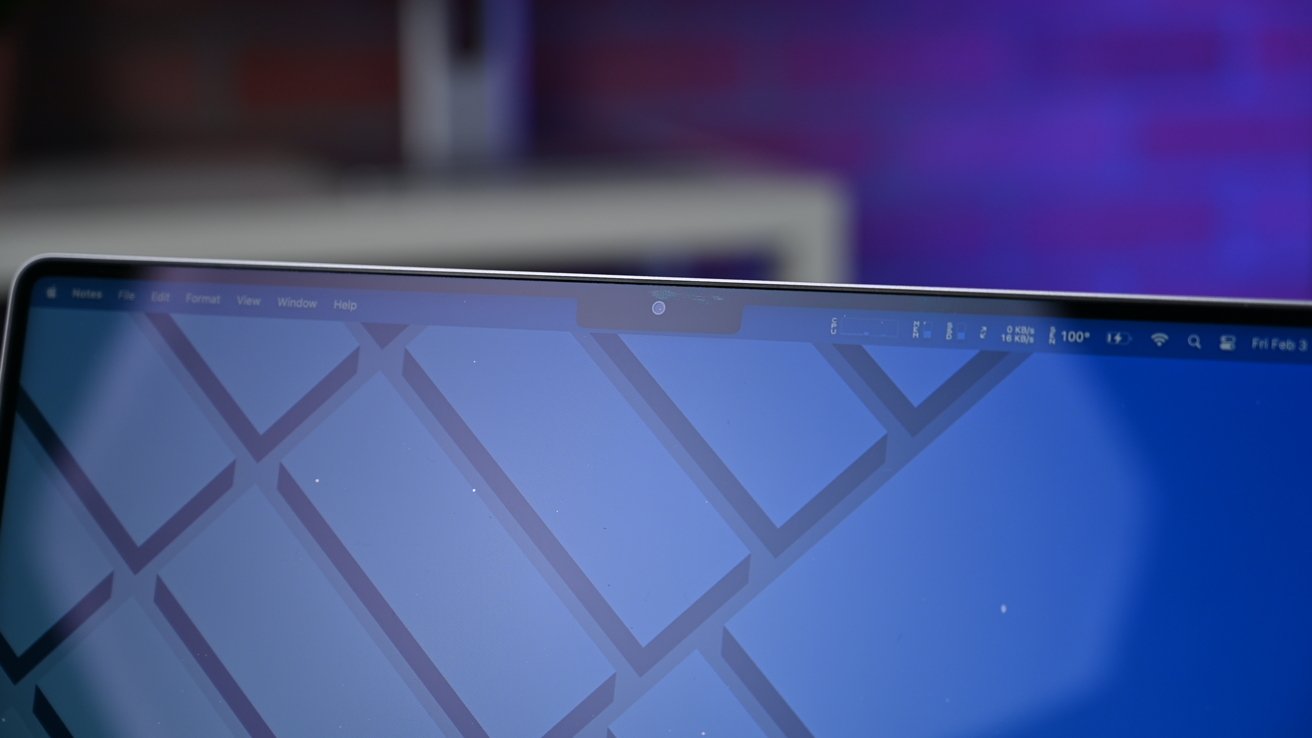 Notch on the 14-inch MacBook Pro
That notch does eat into the top of the display, so you lose a bit in the middle of the menu bar, but like last time, the extra pixels and 0.2 inches of screen evens things out.
In full-screen mode, where the Menu bar disappears from view, the notch also vanishes with the inclusion of a black bar at the top of the display. You still have a generous resolution and a 14-inch display to play with here, so there shouldn't be a problem for most users.
The screen is also ProMotion-enabled, so it can adapt its refresh rate at up to 120Hz, along with fixed refresh rates going up to 60Hz.
Wide Color (P3) support is also included, as well as Apple's True Tone technology, for when you have to move the MacBook Pro from one environment to another.
The display in the 14-inch and
16-inch MacBook Pro
line all use a technology called
pulse width modulation
to regulate refresh and display flicker. In theory, this is invisible to the naked eye, and health condition-related sensitivity to the refresh rate appears more common with OLED screens than mini LED like in the new portable.
This sensitivity is very rare, and not even close to a large percentage of people with epilepsy or migraines will have an issue. But, keep it in mind when you're looking at any Apple Silicon MacBook Pro.
In short, if you're not having a problem looking at an
iPhone
released since the iPhone X, then you probably won't with the MacBook Pro.
As with any display technology, or even fluorescent light bulbs for that matter, if you're having headaches, disrupted consciousness, or other medical symptoms while using any device, talk to your doctor.
M2 Pro 14-inch MacBook Pro - CPU, GPU
Since the previous 14-inch MacBook Pro offered users the choice of the M1 Pro and M1 Max, it makes sense for the new version to offer the same, but on a new generation of chip.
The base M2 Pro includes a 10-core CPUT, with 6 performance cores mixed in with four efficiency cores. There is an alternate version with the 12-core edition including two more performance cores.
That's mixed in with a 16-core Neural Engine that's also 40% faster than the M1 counterpart.
On the GPU side, there's a 16-core GPU in the base chip, while the 12-core CPU has a 19-core GPU instead.
Both M2 Pro versions also have 200GB/s of memory bandwidth, along with the Media Engine. This latter element provides hardware-accelerated encoding and decoding of H.264, HEVC, ProRes, and ProRes RAW footage, complete with dedicated decode and encode engines, and ProRes encode and decode engines.
Of course, if the M2 Pro wasn't enough, there's always the M2 Max, chips, with higher memory bandwidth, 30c-re and 38-core GPUs, and a more impressive Media Engine.
On to unified memory, which is used by all parts of the chip, including the CPU and GPU, with a giant pool of memory minimizing data duplication. The M2 Pro models start at 16GB, with an option to go to 32GB.

There are other memory capacities available, consisting of 64GB and 96GB, but you have to move to the M2 Max chips for those.
During our testing, we compared the new base model M2 Pro 14-inch MacBook Pro against the step-up M1 Pro 14-inch MacBook Pro. Both machines have 10-core CPUs as well as 16-core GPUs. Despite comparing an upgraded older model to the new base model, the M2 Pro still outperforms.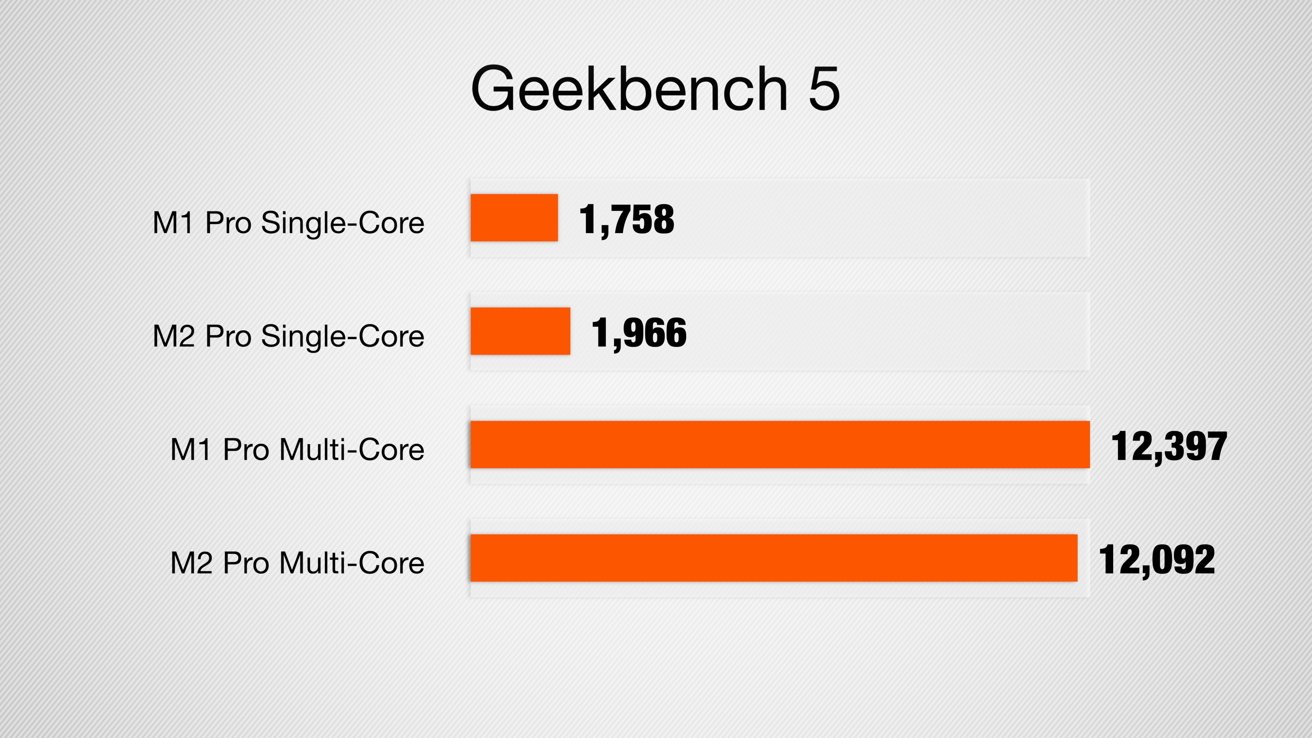 Geekbench 5 CPU results
This year's base model beats the performance of the upgraded M1 Pro with the former scoring 1966 on the single-core Geekbench 5 test and the latter notching a 1758. Despite these single-core gains, the multi-core isn't quite as steller.
We ran the test multiple times and saw the M2 Pro get a 12092 on the multi-core test and the M1 Pro score 12397. The M1 Pro consistently scored higher on the multi-core test. Again, though, this is a base machine versus the older step-up model.
Plus, most daily tasks will be single-core tasks yielding a slightly snappier machine for common use cases.
We also tested using the new Geekbench 6 application which resulted in a 2633 single-core and a 11917 multi-core score.
Cinebench R23 echoed that with a 12292 multi-core score for the M1 Pro and an 11811 for the M2 Pro.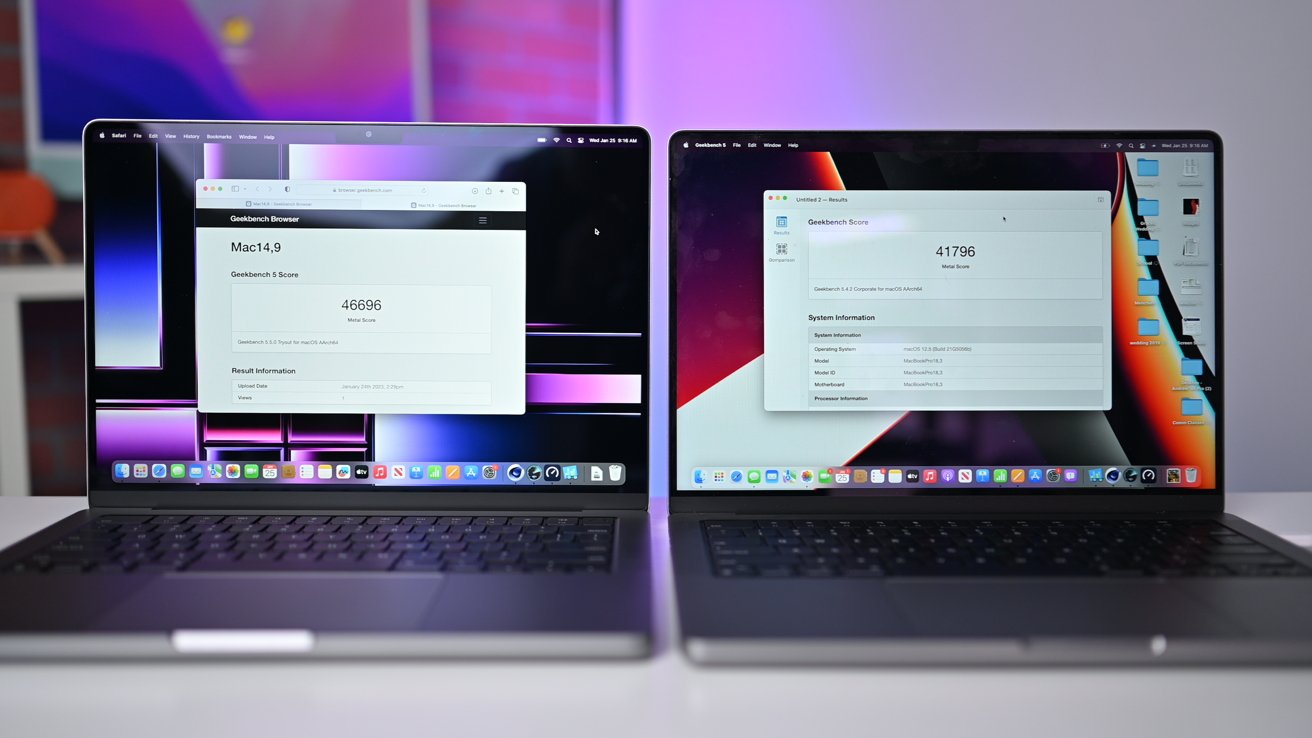 Graphics benchmarks
Graphically, the new M2 Pro is a beast. When comparing the 16-core M2 Pro GPU to the 16-core M1 Pro GPU, the new model got 41796 on the Geekbench 5 Compute test running under Metal, 10% more than the M1 Pro's 41796.
The updated Geekbench 6 Compute test earned 73605 when running under Metal.
We also ran a prolonged stress test, maxing out the CPU to see how performance held up over nearly two hours of pushing it to the limits. The CPU ramped up to 3.2GHz, above the 3GHz speed of the M1 Pro.
The temperature jumped to roughly 195F during the test, staying slightly cooler than the larger 16-inch MacBook Pro that crossed the 200F threshold. After 10 consecutive runs of Cinebench R23, we did see some drop in score but nothing drastic.
Our initial scores at the beginning were around 11600 though they dipped to 11500 by the end. This is well within the margin of error,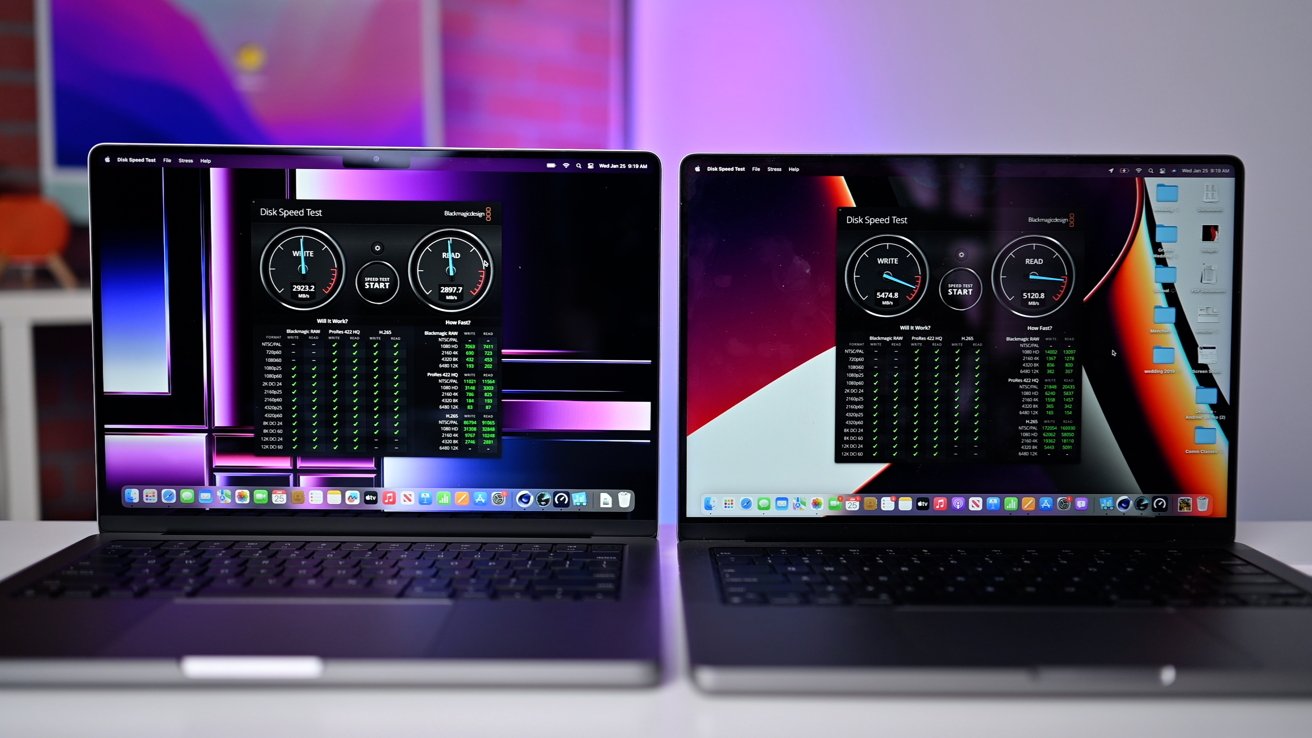 Blackmagic Disk Speed test results (2023 left, 2021 right)
Let's talk about that SSD speed in the 14-inch MacBook Pro's lowest-end configuration. Apple has gone with fewer flash chips on the lower configuration, because relatively speaking, 128GB modules are getting expensive, and it's more cost-effective for Apple to use fewer, higher-density chips.
Where the 2021 model 14-inch model delivers over 5 gigabytes per second read and write, the base configuration of the 2023 delivers a bit more than half that.
We've spoken about this with the M2 Mac mini,
MacBook Air
, and 13-inch MacBook Pro, and we didn't think it was a big deal there. We do think it is at the $2000 price point.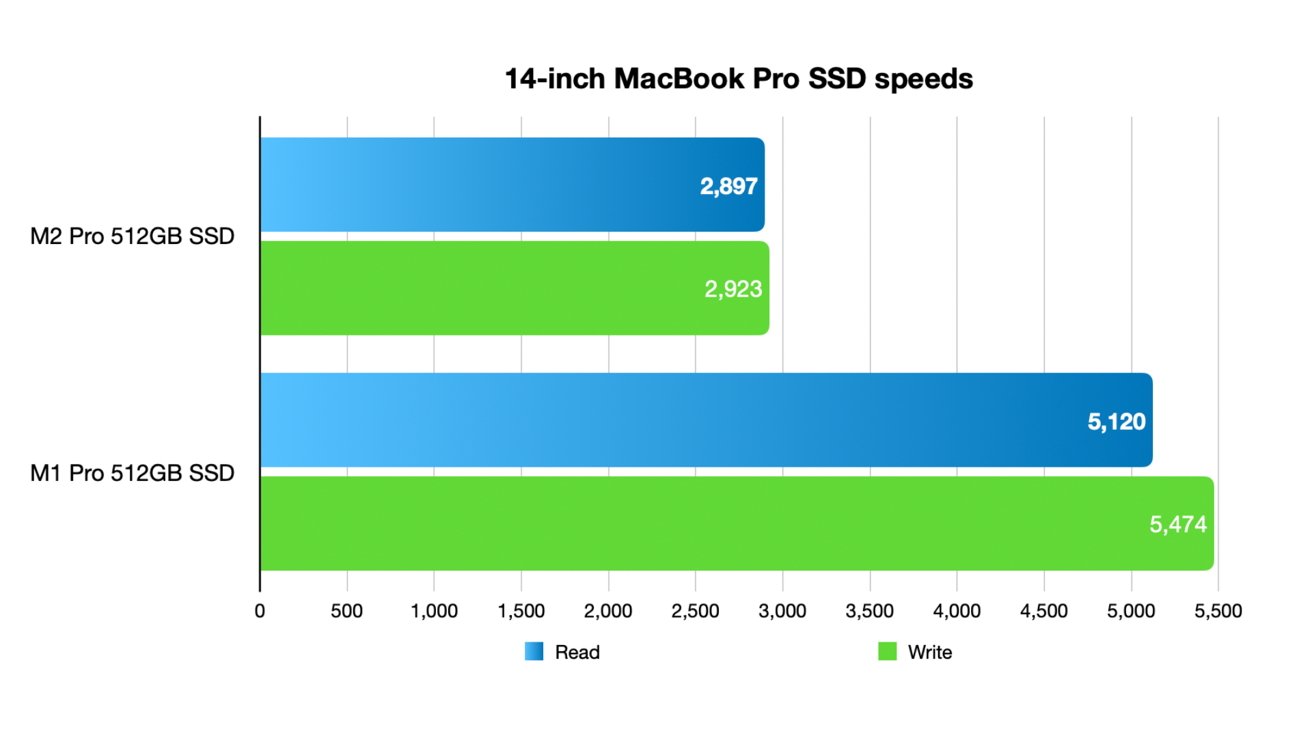 This is the machine where folks decide that they want to spend the money on a 4K HDR video workflow, or something more performant than the hardware intended for the mass-market. Plus, modern
macOS
leans heavily on virtual memory, even with upgrades, and while it's small, the slower SSD does make a difference in that too.
Yes, you can reclaim the speed for $200 by upgrading the storage to 1TB -- but at $2000 to start, you shouldn't have to.
M2 Pro 14-inch MacBook Pro - Noise and thermals
Strictly from a noise standpoint, in a 37 dBa room, the 2018 i9 MacBook Pro under heavy load hits about 45 dBa at about a meter from the unit. The 14-inch Intel-based MacBook Pro hit a maximum of 44 dBa, with the fan not kicking in until the chips hit about 180F. This is more or less the same as the 2021 model.
The machine cools down very fast, though. Even under maximum load, the fans only run at about 4000 RPM for a few seconds, then drop back down to about 3200 RPM. The fans sound a little bit different than the 2021 model, spinning up, down, and up again if necessary a bit faster faster than the 2021 model, rather than maintaining speed like the previous. This is a hair more noticeable, but you still need to be paying attention to it to hear it.
At idle, the fans can't be discerned when running at between 1800 and 2100 RPM.
The 14-inch MacBook Pro retains the same hotspot location around the G, H, and J keys as its predecessors. Where the 2018 MacBook Pro peaked at about 107F in those areas, the 2023 14-inch model peaks at about 86F -- which is about the same as the 2021 model.
M2 Pro 14-inch MacBook Pro - Connectivity
When Apple brought out the 14-inch MacBook Pro, it decided to switch tactics. Instead of continuing to force everyone to use only Thunderbolt and spawning an entire dongle and dock industry, it relented and offered more ports.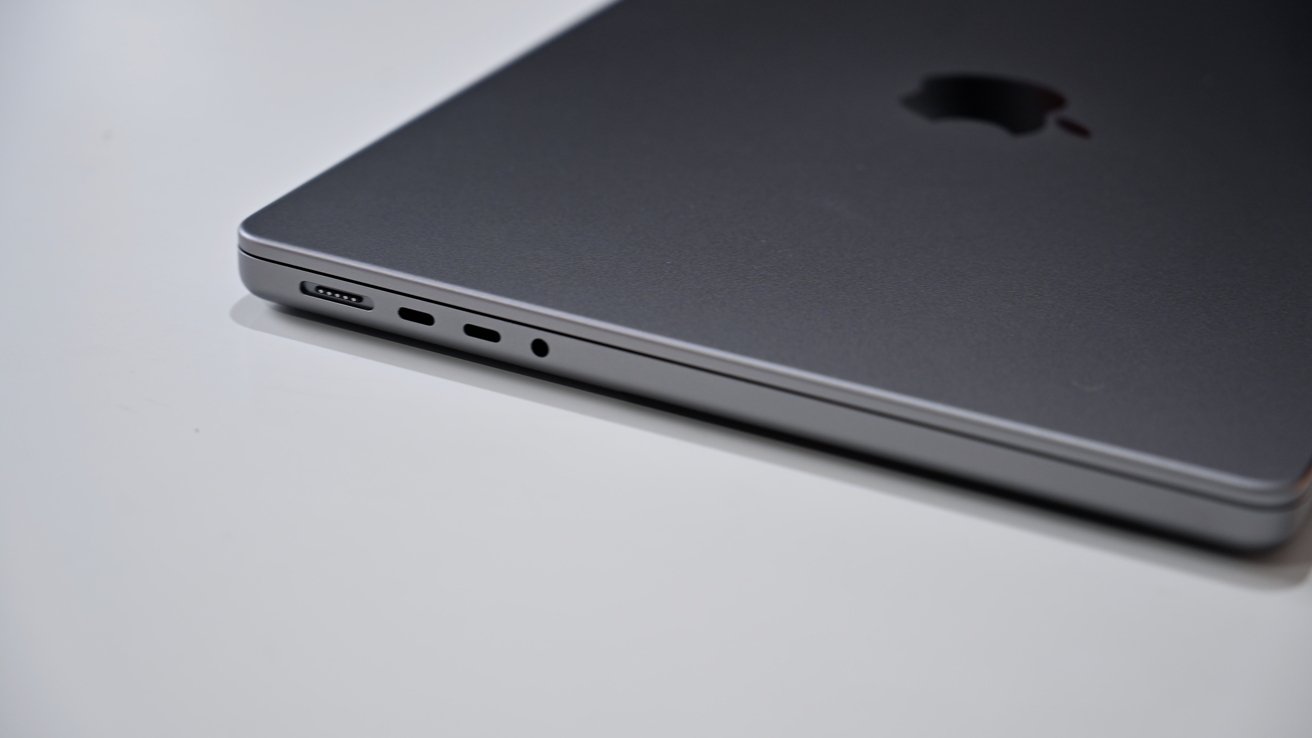 14-inch MacBook Pro ports
The 14-inch MacBook Pro has three Thunderbolt 4 ports, with two on the left and one on the right-hand side. This is one fewer than the four-port models we have seen in the past with Intel.
On the left side, there's a
MagSafe
3 connection, the revival of Apple's safe charging system, as well as a 3.5mm headphone jack. On the right is an SDXC memory card slot and a HDMI port, which makes it easier for videographers to load footage in, and to use the MacBook Pro with a TV for presentations.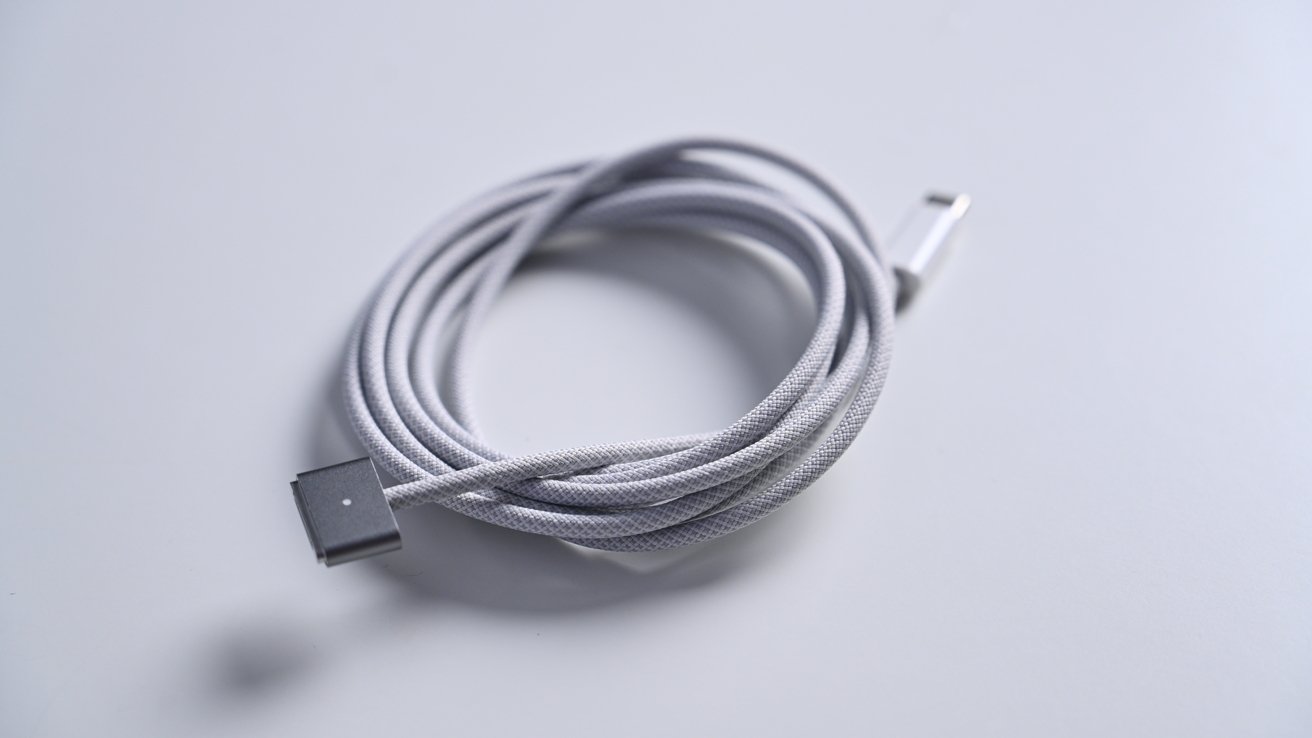 Space Gray MagSafe 3 cable
We'd still rather have four Thunderbolt ports. This is controversial, and we're not penalizing the machine for it because we're smart enough to know that our workflow is not the universal one.
The SD card reader has its uses, but it's only adequate for speed. Thunderbolt literally contains HDMI, and yes, we'd rather have a fourth 40 gigabit per second port that can do data and video, than a dedicated port for video, regardless of how ubiquitous it is.
On the wireless side, the Wi-Fi 6 has been replaced by Wi-Fi 6E support, which can offer more wireless networking bandwidth if the network's infrastructure supports it. With that, and a properly outfitted network, wireless speeds are better.
In a real-world environment about 25 feet and a wall away from the wireless router, we about 1.2 gigabits per second transfer on a Wi-Fi 6e network, about about 800 megabits per second with a Wi-Fi 6 router in the same place.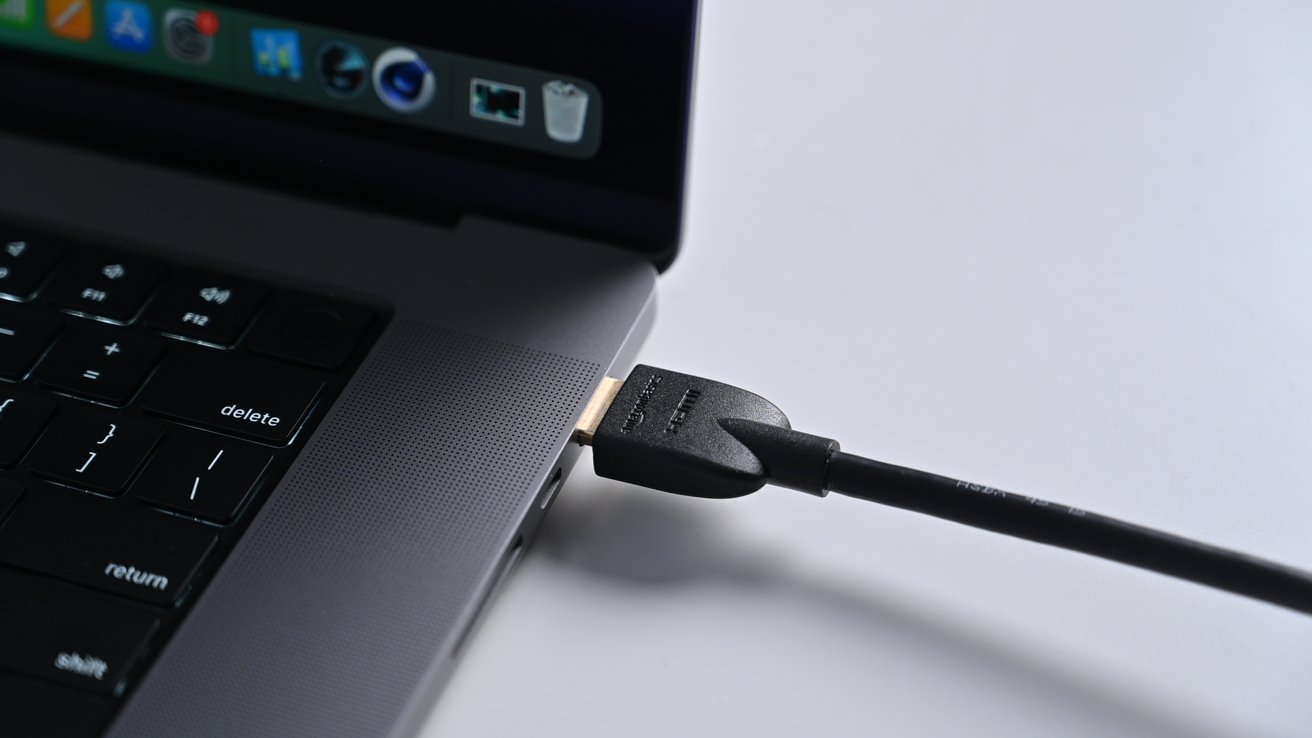 HDMI output
This isn't intended as a manifesto on Wi-Fi 6 versus Wi-Fi 6E. If you've got the network infrastructure, it'll be faster. If you don't, it won't. New network hardware isn't free, and it's certainly not cheap.
Bluetooth 5 has also been updated to Bluetooth 5.3. In February 2023, this is mostly for future-proofing.
M2 Pro 14-inch MacBook Pro - The Keyboard
Much like the enclosure hasn't changed, neither has the keyboard of the 14-inch MacBook Pro. The
Magic Keyboard
continues to be an excellent replacement of the troubled Butterfly mechanism.
The
Touch Bar
is still gone, so at the top of the 78-key keyboard is a set of 12 full-height function keys, as well as a
Touch ID
button in the top-right corner.
Below, the Force Touch trackpad offers great cursor control, complete with pressure-sensitive features like Force clicks, and Multi-Touch gestures.
We didn't have any complaints about this keyboard when it launched, and we still don't now. It's still an excellent keyboard, and easy to type on, so we aren't going to belabor keypress force or travel again.
M2 Pro 14-inch MacBook Pro - Power and Battery
The battery life in the 2021 model was a fantastic leap forward for the MacBook Pro line, with up to 11 hours of wireless web surfing or up to 17 hours of
Apple TV
app movie playback possible from a single charge. For 2023, things have gotten even better.
You can now get up to 18 hours of Apple TV app movie playback, or up to 12 hours of wireless web browsing, adding an hour to the usage time.
Apple is still using a 70-watt-hour lithium polymer battery. The changes are all in power efficiency of the new chip.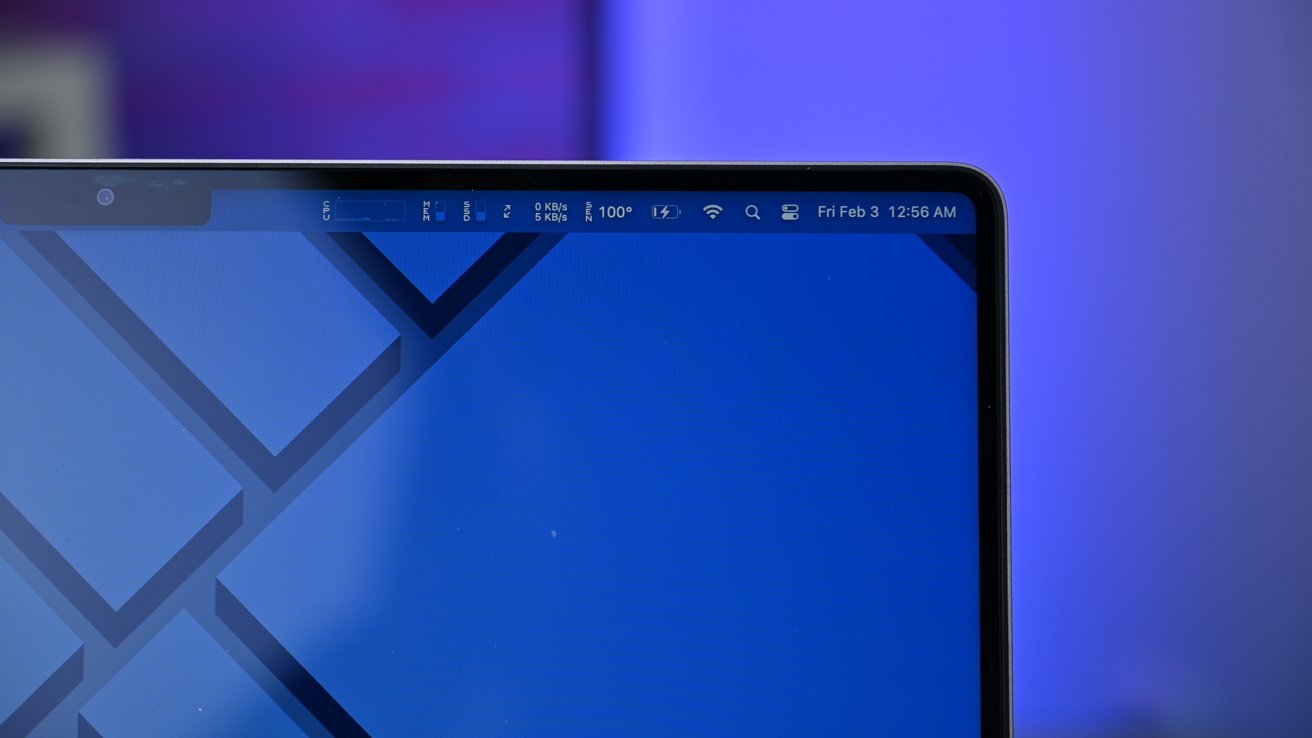 Charging the battery on the 14-inch MacBook Pro
To get power into the 14-inch MacBook Pro, you can use the included 67W USB-C Power Adapter with the base 10-core CPU, but going for the 12-core CPU version upgrades you to the 96W USB-C Power Adapter instead.
You also have the choice of recharging via any USB-C port on the MacBook Pro, or using MagSafe 3. The MagSafe option is best for safety, to protect against a yanked notebook from people passing by.
Our favorite charger for the machine on a desktop remains a Thunderbolt dock. In practice, docks that provide as low as 40W still provide enough power to keep the battery up to 100% while performing normal workflows.
And, as before, the docks that provide 15W will help and are better than no power at all. They won't keep the battery topped off under any usage at all, though.
M2 Pro 14-inch MacBook Pro - Camera and Audio
Hidden in the notch is a 1080p FaceTime HD camera, unchanged from the last release. It's assisted by an image signal processor, which improves the picture beyond the camera's standard feed with thanks to Apple's computational photography smarts.
This is still good, and effectively unchanged from the 2021 inclusion of the same technology.
On the audio side, there's a six-speaker sound system, combining high-fidelity speakers with force-cancelling woofers. Capable of a wide stereo sound, the speakers also support Spatial Audio when playing music or video using Dolby Atmos.

And as before, they sound great on the 14-inch MacBook Pro, and a bit better on the 16-inch MacBook Pro. So much so, that we've seen reviews from 2021 from Windows-centric publications that call them the best speakers that they've ever heard on a laptop.
If you own
AirPods
that support Spatial Audio with dynamic head tracking, you can also use them with the MacBook Pro too.
Audiophiles will be able to take advantage of the 3.5mm headphone jack, which includes support for high-impedance headphones.
For capturing audio, there's a trio of studio quality microphones in an array, complete with a high signal-to-noise ratio and directional beamforming.
M2 Pro 14-inch MacBook Pro - Configuration options
The M2 Pro 14-inch MacBook Pro starts from $1,999, equipped with the 10-core CPU and 16-core GPU, 16GB of unified memory, 512GB of SSD storage, and the 67W USB-C Power Adapter.
Upgrading to the 12-core CPU version of the M2 Pro, which includes a 19-core GPU, is $300 on top of the base price. The M2 Max with the 30-core GPU is $500 more from the base, and the 38-core GPU option is $700 more from the base cost.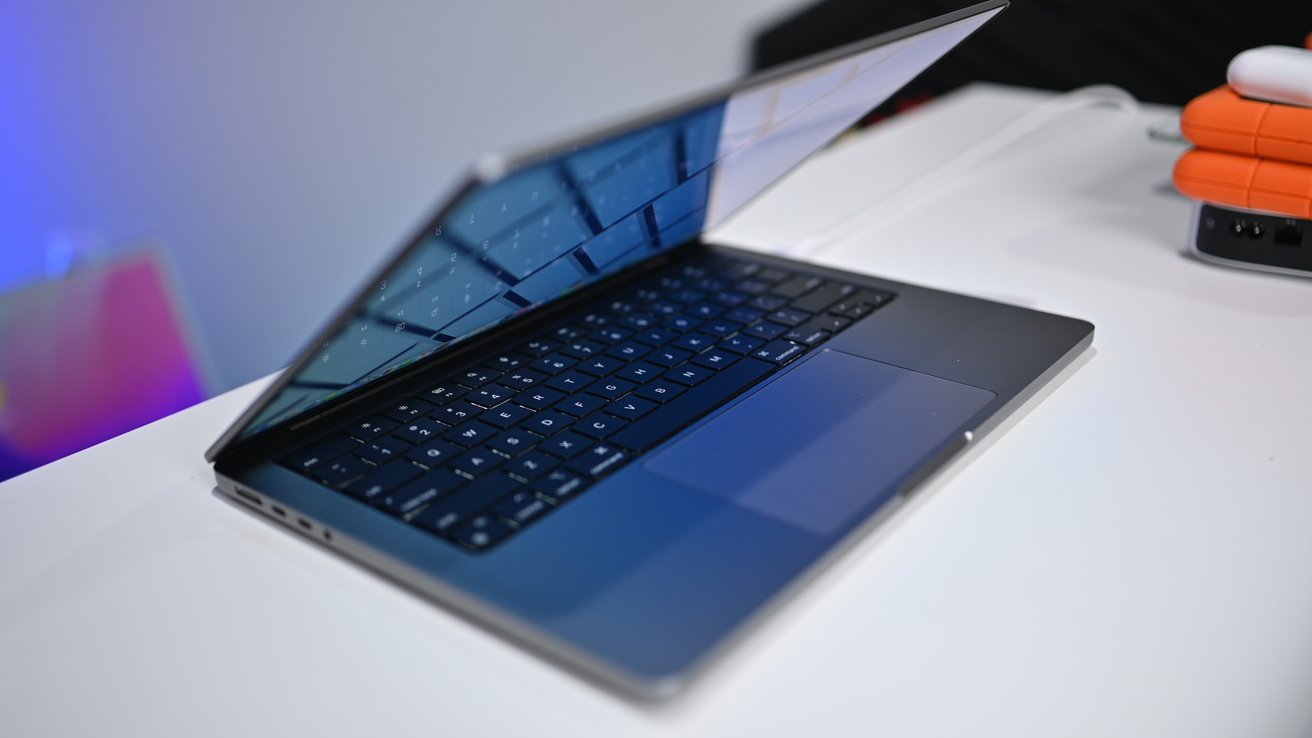 M2 Pro 14-inch MacBook Pro
Increasing the memory to 32GB costs $400. If you want 64GB, which is another $400 again, you have to go for an M2 Max upgrade, while 96GB is $400 pricier still and requiring the top-end chip.
If you want more storage than 512GB, you can go to 1TB for an extra $200. From 1TB to 2TB is another $400, with 4TB $600 more costly, and from 4TB to 89TB is a wallet-choking $1,200 more.
For the lowest-spec M2 Pro, you can upgrade the charger to the 96W version for $20. It's included by default with all other chip choices. It's a worthwhile upgrade.
A worthy spec-bump
The 2023 14-inch MacBook Pro is as pure a spec-bump update to an existing model as you will get from Apple. It started with a great base in the 2021 14-inch MacBook Pro, switched some of the insides, and called it a day.
And, that's fine.
The 14-inch MacBook Pro is a solid machine, and the additional speed versus the M1 model is nice. The "tragedy" of the line is the notably slower SSD on the lowest-end configuration, which otherwise, this model would have gotten a 4.5 out of 5.
M2 Max 14-inch MacBook Pro Pros
Design still feels new and looks great


Good CPU and GPU gains over M1 models


Connectivity future-proofing


Memory maximum has increased for bigger workflows
M2 Max 14-inch MacBook Pro Cons
FaceTime camera is only adequate


A $2000 machine should have better SSD speeds than this
Rating: 4 out of 5
as reviewed.
Where to buy Apple's 14-inch MacBook Pro at a discount
Every 2023 14-inch MacBook Pro configuration
is eligible for triple-digit
savings with promo code
APINSIDER
at Apple Authorized Reseller Adorama.
At press time, the
MacBook Pro deals
range from $100 to $250 off MSRP, so whether you're looking for the lowest price on a configuration in this 14-inch MacBook Pro review or prefer a model with 96GB memory, the cheapest prices are at your fingertips in our
2023 MacBook Pro 14-inch Price Guide
.
Read on AppleInsider