Who predicted Apple's Christmas quarter right & who was wrong?
Stock analysts get paid to have opinions -- and they're not always great. Here's who was right about Apple's Christmas quarter -- and who was wrong.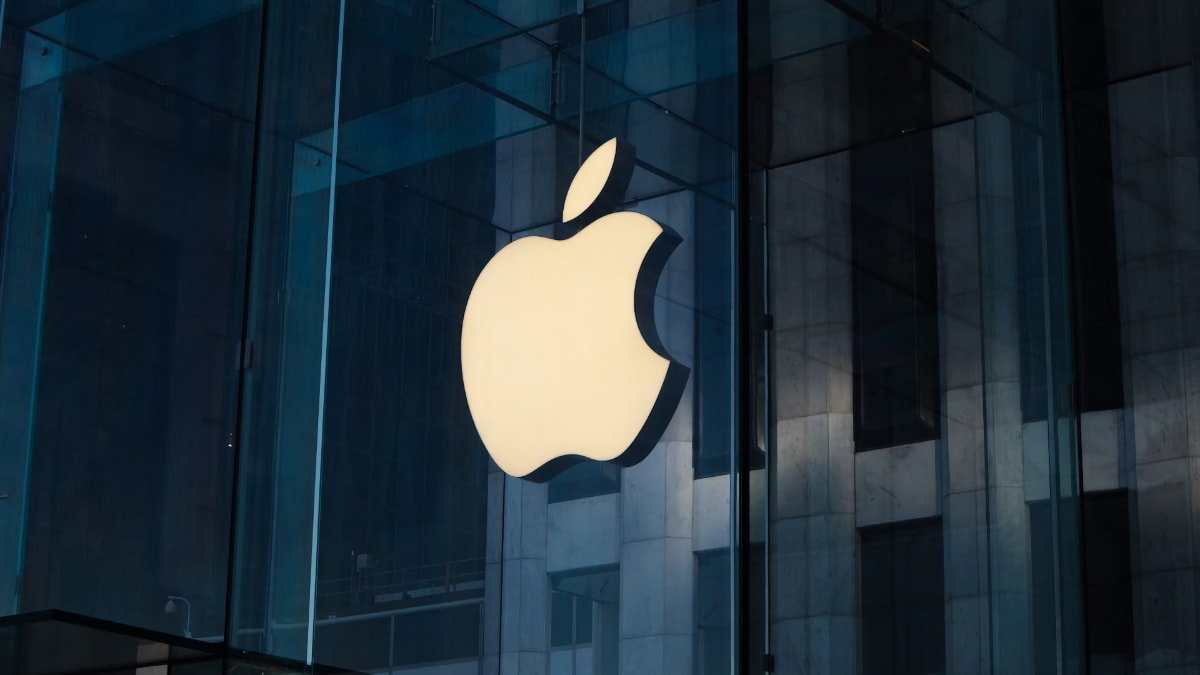 Analyst predictions for Apple
The company reported $117.15 billion in revenue for its first quarter results of 2023, a decline from the $123.9 billion reported in quarter one of 2022. The $1.88 earnings per share for the quarter is lower than the $2.10 recorded in the same period last year.
Before the earnings call on Thursday, the Wall Street consensus on Apple's shares before the results release forecast an average revenue of $121.2 billion and an earnings-per-share of $1.94.
The iPhone brought in $65.78 in revenue for the quarter, down from $71.6 billion seen the year-ago quarter, while Mac revenues were down year-on-year at $7.74 billion versus $10.8 billion.
Revenue from iPad rose to $9.4 billion from $8.4 billion last year. Wearables, Home, and Accessories reached $13.48 billion, down year-on-year from $14.7 billion.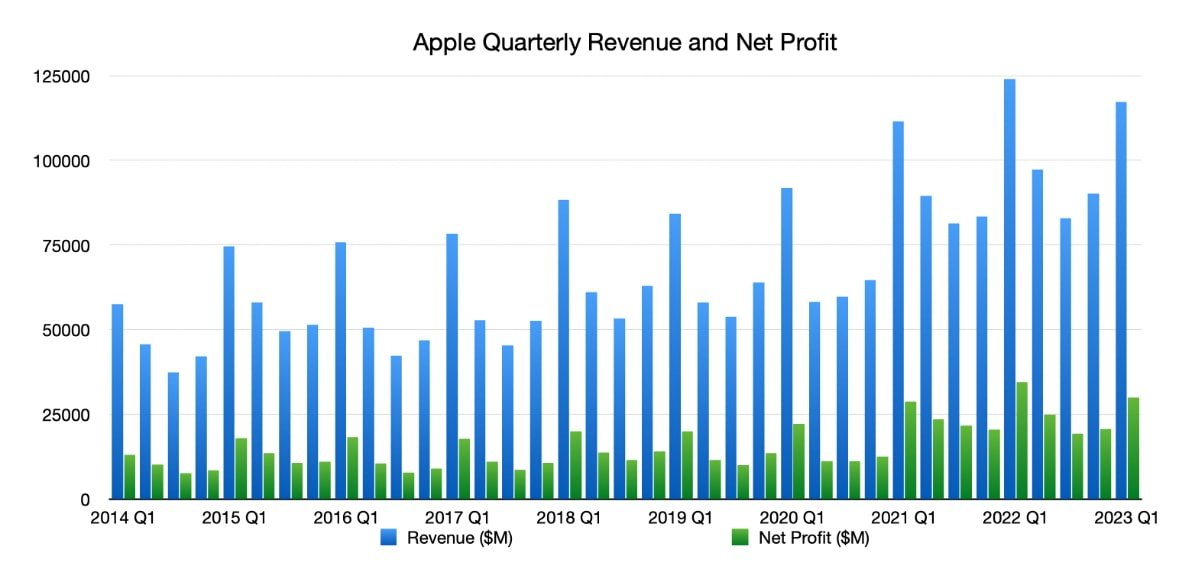 Apple's quarterly revenue and net profit
The Services businesses continued its growth to $20.77 billon for the quarter, up from $19.5 billion.
Here are some of the predictions from analysts
before the
earnings call and how accurate they were.
Wedbush
Analysts Daniel Ives and John Katsingris believed that demand for the
iPhone 14 Pro
was more stable than anticipated, but Apple CEO
Tim Cook
said iPhone production issues were the
primary reason
for the earnings miss.
Specifically, the iPhone 14 Pro faced significant challenges related to COVID-19 and foreign currency exchange rates due to a strong dollar.
Wedbush had lowered its price target for AAPL from $200 to $175, even though analysts said "Apple remains our favorite tech name" and maintained their Outperform rating.
After the earnings call,
it raised
its target to $180, citing stable iPhone growth.
JP Morgan
Samik Chatterjee of JP Morgan warned investors it believed demand was falling slightly across the entire Apple product catalog.
High demand for the iPhone 14 Pro models was a factor in production challenges, though it did
catch up
with demand in January.
On another
positive note
, two out of every five tablets sold over the holiday quarter were Apple's iPad, and sales of the device are still increasing.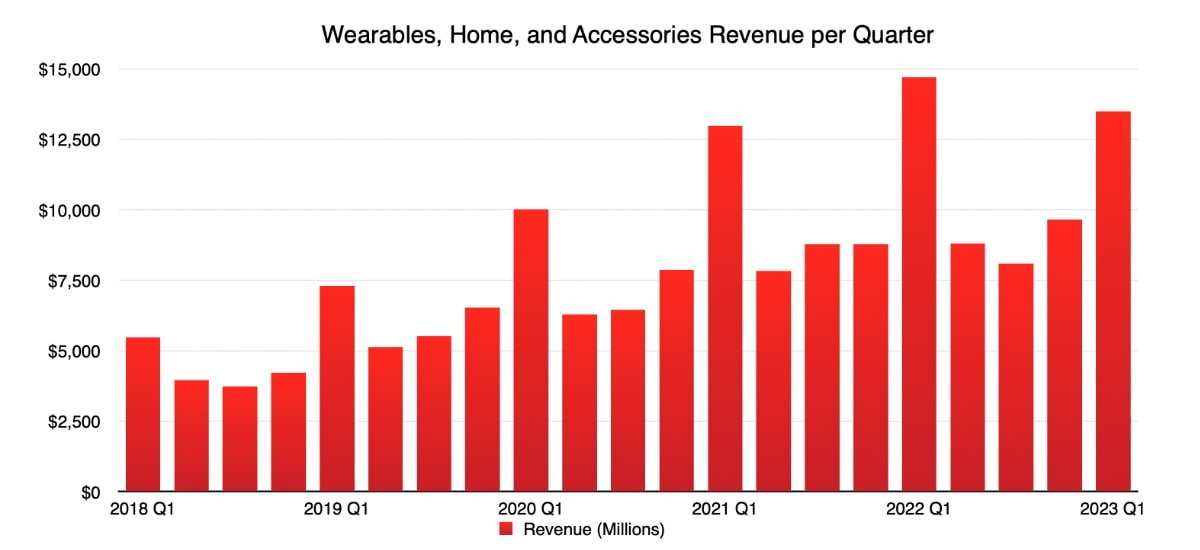 Wearables and other revenue
Apple had also said that popular demand from customers was a primary factor in
the return
of the HomePod. "We really did hear from our customers this growing interest for more powerful and richer acoustics of a larger speaker," an Apple spokesperson said.
Canaccord
Canaccord Genuity Capital Markets reduced its price target for Apple from $200 to $170 while maintaining a "buy" recommendation for the company. It also forecasted $68.3 billion for first-quarter iPhone sales, with a full-year estimate of $199.6 billion.
Canaccord believed that demand for the iPhone 14 Pro models was "disappointing" but thinks some lost December sales will be pushed later into March.
The firm also estimates that other Apple hardware will face a decline in demand, such as the new Macs Apple released in January.
Apple had posted a year-over-year decline in Mac revenue at $7.74 billion versus $10.8 billion a year ago.
Morgan Stanley
Morgan Stanley believed a slight Services overperformance would compensate for their prediction of an 11% year-over-year drop in iPhone revenue, along with better than expected shipments for iPad and Mac.
The Services business did set a
new record
for Apple and surpassed the expectations set by Wall Street, and iPad sales had a strong holiday quarter worldwide.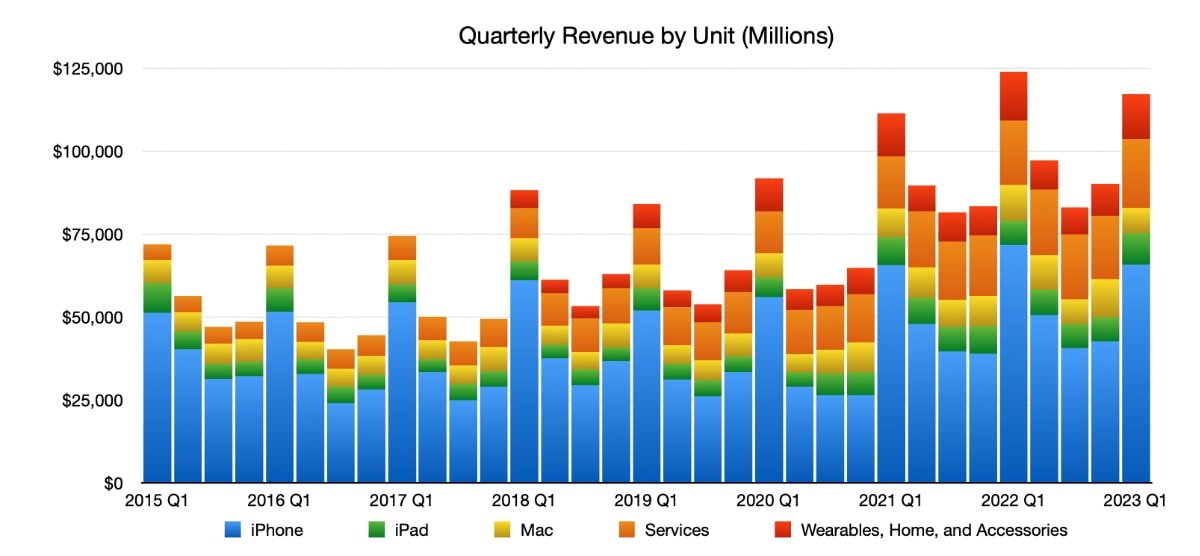 Quarterly Revenue by Unit
The company reported a revenue of $20.77 billion for the segment versus the estimated figure of $20.67 billion, which was up 6.4% year-over-year.
Apple Services
also have
over 935 million subscribers, up from 900 million in 2022.
The firm estimated reported revenue of $122.8 billion, up from an earlier expectation of $120.3 billion, which was higher than consensus. Morgan Stanely believes that iPhone revenue will be down 4% year-over-year because of the $916 average selling price.
Rosenblatt
On January 13, Rosenblatt Securities reduced its price target by $24 down to $165, with iPhone production delays and "macro services headwinds" to blame. It also agreed with reports that revenue from the App Store has slowed.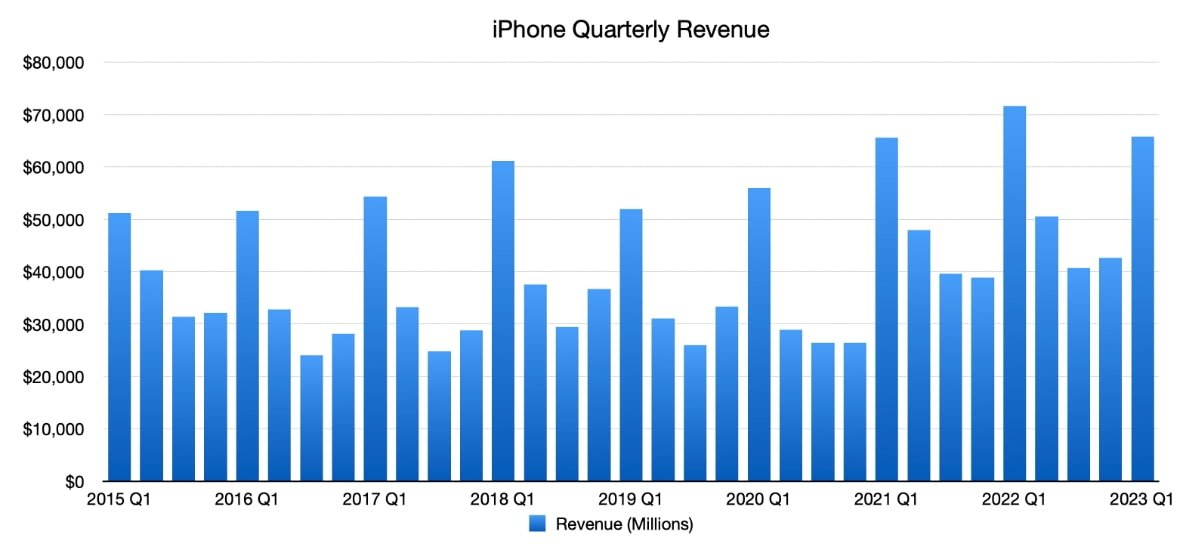 iPhone quarterly revenue
For example, a report on January 11
estimated
a 7% to 8% drop in revenue based on factors such as softness in digital advertising and gaming.
But Apple Services continued its growth, though Apple didn't break out the numbers from the App Store.
UBS
UBS had expected a December revenue of $120.3B and an EPS of $1.93, both of which were more positive than Apple's actual results of $117.15 billion and $1.88 EPS.
Due to weak holiday sales of Pro-model iPhones brought on by the Zhengzhou plant problems, UBS predicts 79 million devices will ship in the quarter, down from the consensus projection of 80 million.
However, despite the reduced sales, UBS believes that Apple's financial situation may benefit from the strong Euro, Pound, Yen, and Yuan currencies relative to the dollar.
Deutsche Bank
Deutsche Bank had cut its price target from $170 to $160 while maintaining a "buy" rating. It had expected Apple to report at or slightly above its estimates.
The bank also believed that Apple would benefit from a favorable foreign exchange environment, which could help the Products and Services businesses. That factor "should at least offset the weaker consumer spending in the quarter," analysts said.
A January 12 report
showed a
decline in consumer spending for mobile games and apps. If that was true, other services might have helped compensate for an App Store drop since the segment hit a new record of $20.8 billion.
Bank of America
Analysts predicted demand for the iPhone 14 Pro models might be weaker than anticipated in the first half of 2023, but supply and demand have since equalized.
They forecasted revenue of $120 billion, which was more significant than Apple's results. Their guidance for the March quarter is $96 billion to $97 billion.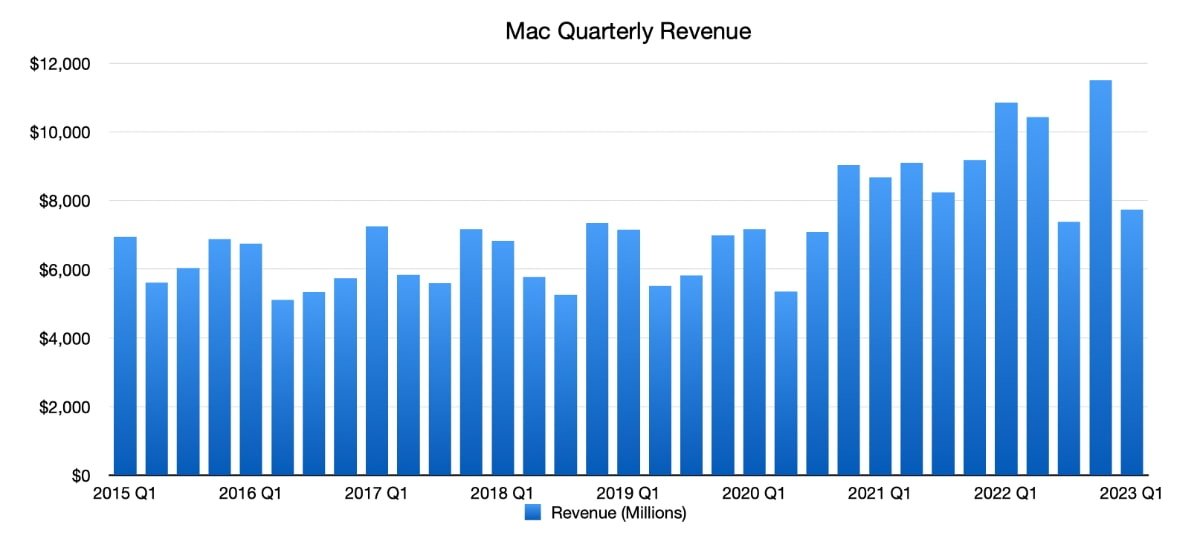 Mac Quarterly Revenue
The bank maintains a neutral rating for Apple with a lowered price target from $154 to $153.
Cowen
Cowen analysts predicted a drop of approximately 8 million iPhone units to around 74 million in total. The forecast was due to Foxconn factory shutdowns in China that hampered production.
However, they believed iPad sales would benefit from seasonality and improved component availability, and the iPad did have a strong holiday quarter, with sales still increasing.
They forecast revenue of $118.8 billion which would be down 4% year-over-year, and an EPS of $1.90. The analysts were close to the mark, as Apple reported $117.15 billion in revenue and $1.88 EPS.
Read on AppleInsider