Native Union Belt Cable Duo: An 'impossible' Lightning and USB-C cable
Posted:
in iPhone
edited February 6
The all-new Native Union Belt Cable Duo stands on its own as the only Apple-certified Lightning cable that can also be used as a
USB-C
cable with your other devices.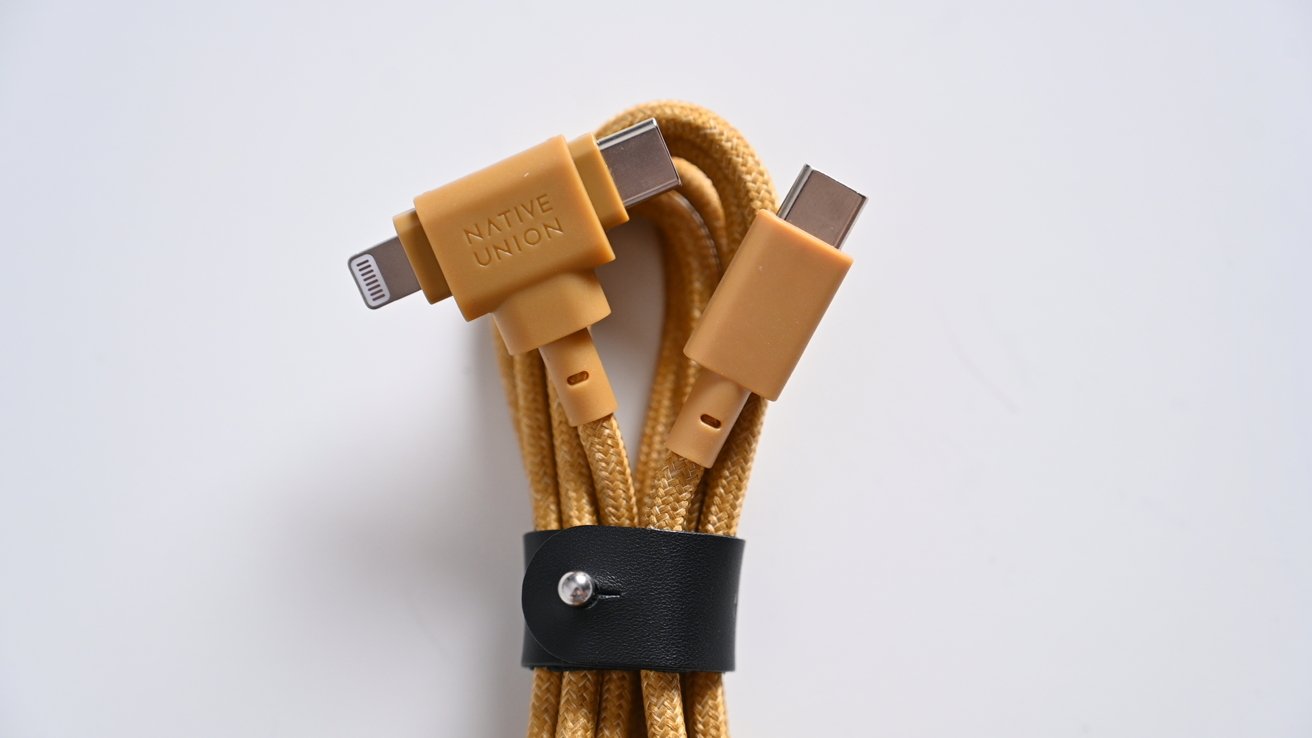 The Belt Cable Duo
Apple doesn't often publicly provide details on the intricacies of its MFi program, binding manufacturers to tight NDAs for sharing information. It's why you won't see anyone comment on the strict limitations Apple puts on officially licensed products.
Some details, however, manage to leak out. For example, we learned recently how Apple had changed its MFi spec to allow
MagSafe
devices to use different materials to cover the charger instead of just the white rubber pad.
Apple also strictly prohibits adapters with a female USB-C port on one end and a male Lightning connector on the other. USB-C to Lightning cables are allowed, but the adapters are taboo.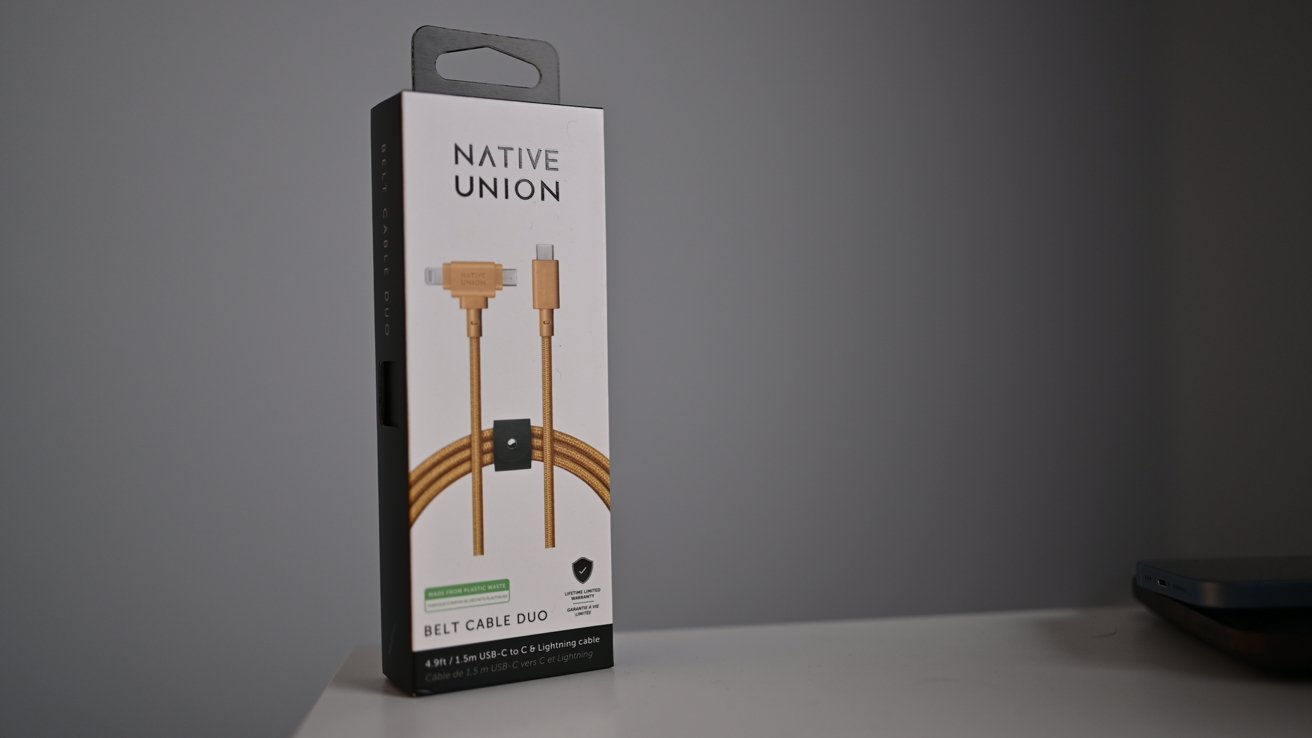 Belt Cable Duo box
This meant manufacturers have -- to date -- been prohibited from creating a wholly universal USB-C cable with a removable Lightning adapter. Users always had to have a USB-C cable for their
Mac
or iPad, and Lightning for their iPhone.
Native Union has now found a loophole, creating what it has called the "impossible" cable. One cable for your Mac, iPhone, and iPad.
How it works
The Belt Cable Duo -- as it is officially called -- abides by Apple's rules because it doesn't use an adapter. There is a USB-C connector on one end and a "T"-shaped connector on the other with both Lightning and USB-C.
It works as a single-piece USB-C to Lightning cable when connected to your
iPhone
but flips over to USB-C when needed.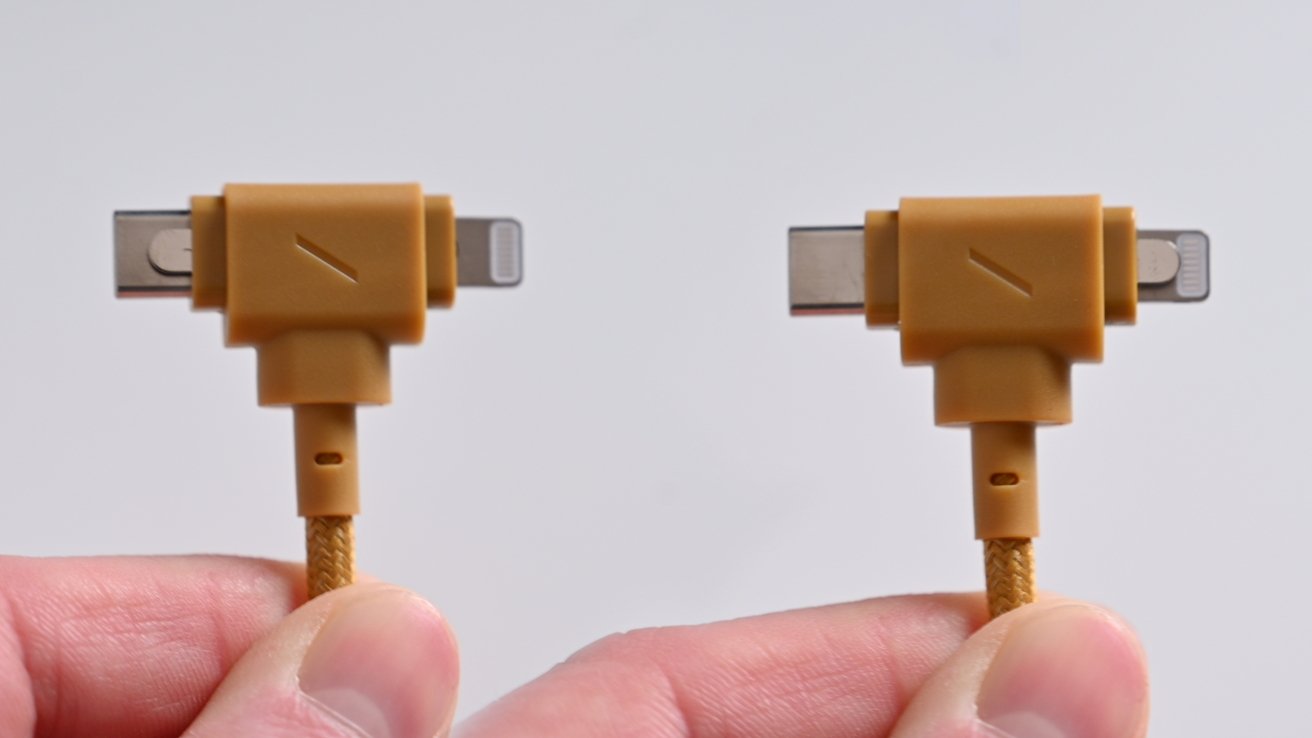 Using USB-C or Lightning
Native Union makes this work with a small sliding pin it calls Slide Lock. As you connect the cable to a device, a thin piece of metal gets pushed to the opposite side. This changes which end is "active" and lets it work with USB-C or Lightning devices.
This small metal shim also prevents you from connecting two devices simultaneously to that end of the cable. When you connect your iPhone, that shim prevents any USB-C device from connecting to the other side of the "T."
A strong, multi-purpose Lightning cable
Native Union didn't just make a unique cable, it has created an exceptionally high-quality cable at the same time. The housing ends are tough and made from 100% recycled thermoplastic elastomer (rTPE) and recycled thermoplastic polyurethane (rTPU).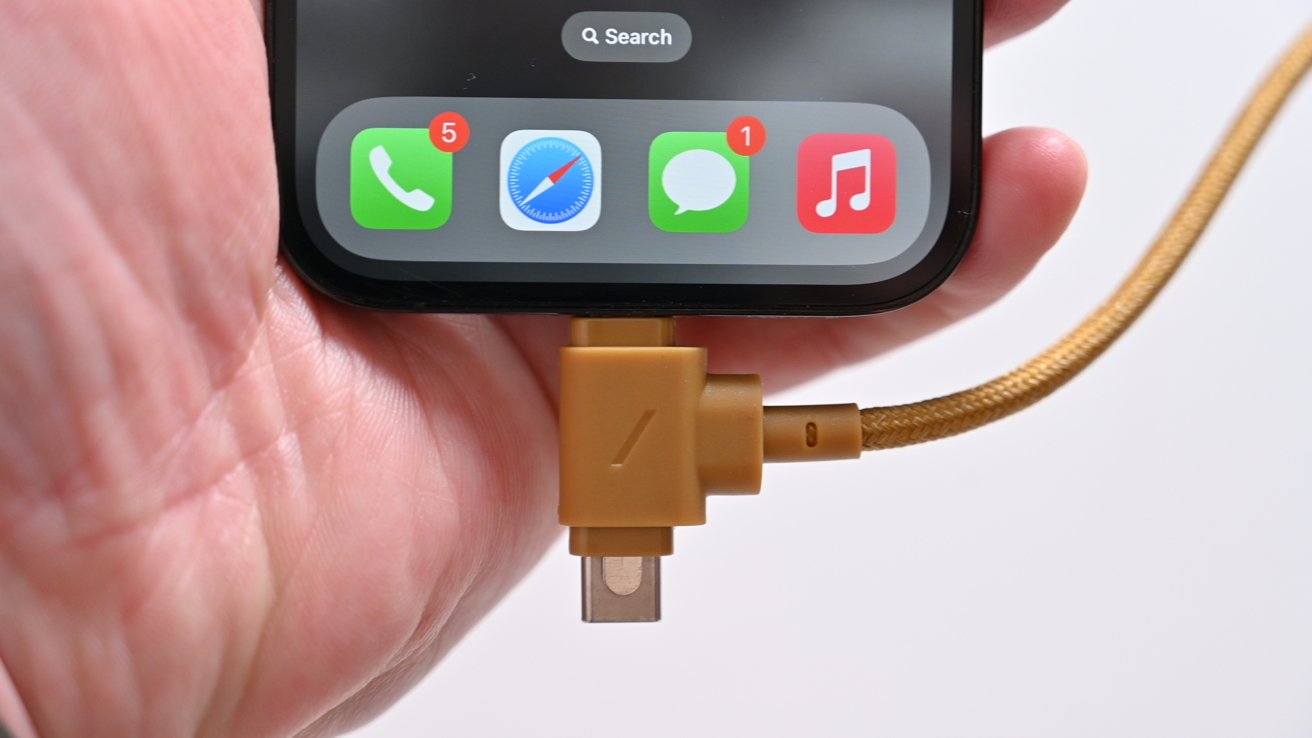 Belt Cable Duo Lightning mode
The body of the cable is reinforced with 100% recycled polyethylene terephthalate (PET) nylon which makes it feel nicer, more durable, and resist tangles. We have the Kraft colorway though there is a Cosmos and Zebra version too that looks striking.
In the middle of the cable is an integrated leather cable tie to keep it organized while not in use. The cable tie is made from 75% recycled bonded leather and has a metal pin to hold it in place.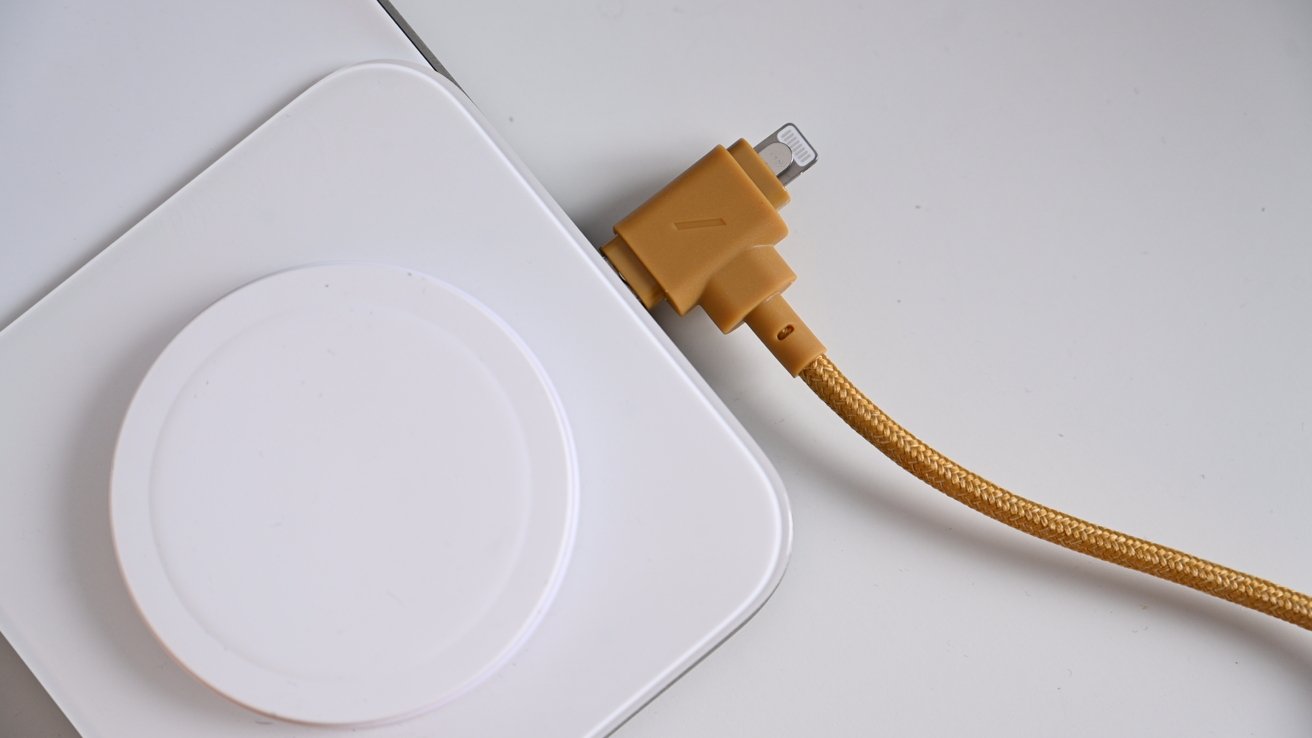 Belt Cable Duo USB-C mode
As for speeds, as it is an officially certified Lightning to USB-C cable, it supports Fast Charging on iPhones to deliver a 50 percent charge in less than 30 minutes. On the USB-C side, it can handle up to 60W of power to your Mac.
If there was one thing we'd change, we'd love to have at least 100W of USB-C PD support for larger portable Macs.
When considering a Lightning cable, we'd highly recommend picking up the Belt Cable Duo, as you'll get twice as much functionality out of it for your money. It's strong, fast, and immensely capable.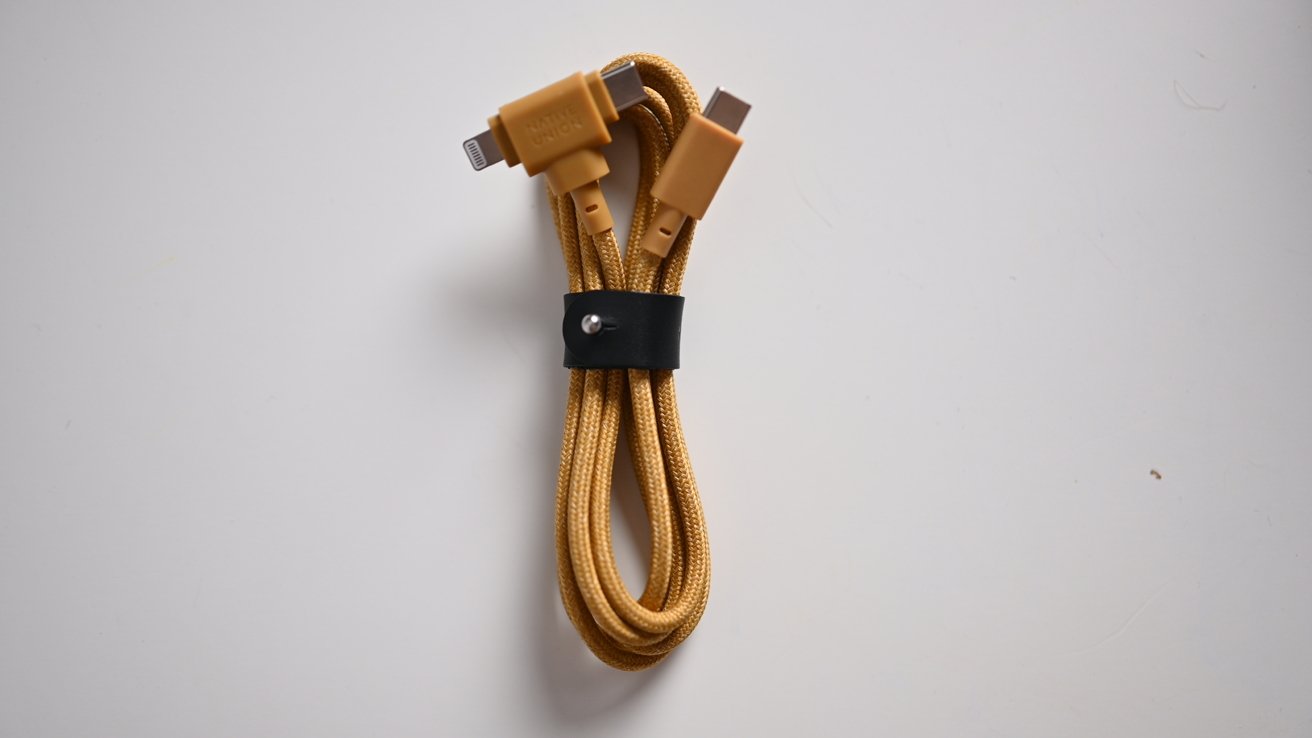 Belt Cable Duo wrapped up
Native Union Belt Cable Duo Pros
Great color options


Strong, eco-friendly cable


Only dual USB-C Lightning available


Certified and tested by Apple


Integrated cable tie
Native Union Belt Cable Duo Cons
Not the cheapest Lightning cable on the market


Only 60W USB PD speeds for Mac and other devices
Rating: 4 out of 5
Where to buy
Grab the Native Union Belt Cable Duo from
Amazon for $49
as well as on
Native Union's website
.
Read on AppleInsider