M2 Pro Mac mini review: Best price to performance Apple Silicon yet
The M2 Pro version of the
Mac mini
offers extra performance grunt to the compact Mac, in a package that hits the sweet spot, and threatens its larger stablemate, the Mac Studio.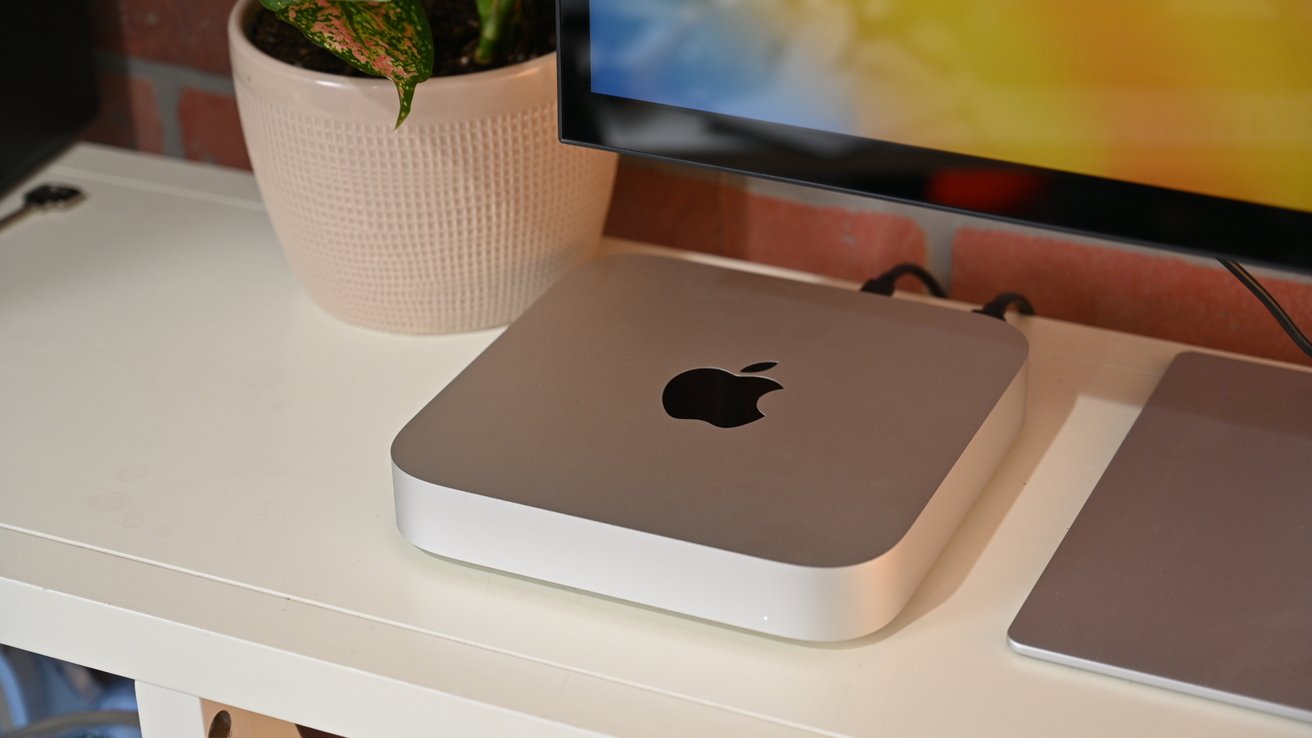 The M2 Pro Mac mini
Updated February 15 with Geekbench 6 scores
The Mac mini has always been an effective entry-level option for upgraders and switchers who already have a keyboard, mouse, and display, but just need the brains of the operation.
There has always been a narrow computing power range in that small block, but until now, it never spanned that much of the performance spectrum. If you wanted more power than that fairly small range, you could get a
MacBook Pro
, a
Mac Pro
, or more recently, a
Mac Studio
.
Even going into the
Apple Silicon
era, the first wave of releases only offered minor variations of the
M1
, with no option for anything more impressive like the M1 Pro, M1 Max, or M1 Ultra. Stretching that far means a change to an entirely different model.
However, for the 2023 model, Apple's spec bump update is a fair bit beyond what happened last time. Sure, you could get an
M2
chip, but now you can go up to an M2 Pro if you need that extra performance.
Providing access to two chip tiers means you could use it as an entry-level model or opt for something more impressive.
We keep saying that the Mac mini is a known quantity in Apple's lineup. The M2 Pro option brings it to a new and exciting level.
M2 Mac mini and M2 Pro Mac mini vs M1 Mac mini -- Specifications
Specifications
M1 Mac mini (2020)
M2 Mac mini (2023)
M2 Pro Mac mini (2023)
Starting price
$699
Best M1 Mac mini prices
$599
Best M2 Mac mini prices
$1,299
Buy now
Dimensions (inches)
1.4 x 7.7 x 7.7
1.41 x 7.75 x 7.75
1.41 x 7.75 x 7.75
Weight (pounds)
2.6
2.6
2.8
Processor
Apple M1 8-core CPU
Apple M2 8-core CPU
Apple M2 Pro 10-core CPU,
Apple M2 Pro 12-core CPU
Graphics
8-core GPU
10-core GPU
16-core GPU,
19-core GPU
RAM
8GB, 16GB
8GB, 16GB, 24GB
16GB, 32GB
Networking
802.11ax Wi-Fi 6 wireless networking
IEEE 802.11a/b/g/n/ac compatible,
Bluetooth 5.0,
Gigabit Ethernet, 10Gig upgradable
802.11ax Wi-Fi 6E wireless networking
IEEE 802.11a/b/g/n/ac compatible,
Bluetooth 5.3,
Gigabit Ethernet, 10Gig upgradable
802.11ax Wi-Fi 6E wireless networking
IEEE 802.11a/b/g/n/ac compatible,
Bluetooth 5.3,
Gigabit Ethernet, 10Gig upgradable
Storage
256GB, 512GB, 1TB, 2TB
256GB, 512GB, 1TB, 2TB
512GB, 1TB, 2TB, 4TB, 8TB
Display Support
Maximum of 2:
One 6K 60Hz over Thunderbolt
and one 4K 60Hz over HDMI
Maximum of 2:
One 6K 60Hz over Thunderbolt
and one 5K 60Hz over Thunderbolt
or 4K 60Hz over HDMI
Maximum of 3:
Two 6K 60Hz over Thunderbolt
and one 4K over HDMI.
Up to 8K resolution or 240Hz possible over HDMI
Ports
HDMI,
Two Thunderbolt 4,
Two USB-A,
Gigabit Ethernet,
3.5mm headphone
HDMI,
Two Thunderbolt 4,
Two USB-A,
Gigabit Ethernet,
3.5mm headphone
HDMI,
Four Thunderbolt 4,
Two USB-A,
Gigabit Ethernet,
3.5mm headphone
M2 Pro Mac mini - Design
If you've just finished reading the M2 Mac mini
review
, you are probably expecting that this is going to be highly similar in many ways. You would be right.
Many elements of the M2 Pro Mac mini are unchanged from the M1 or M2 versions.
The M2 Pro Mac mini is still 7.75 inches wide and deep and 1.41 inches in height, so it'll still slot in with any docks or accessories that rely on the physical dimensions of the model.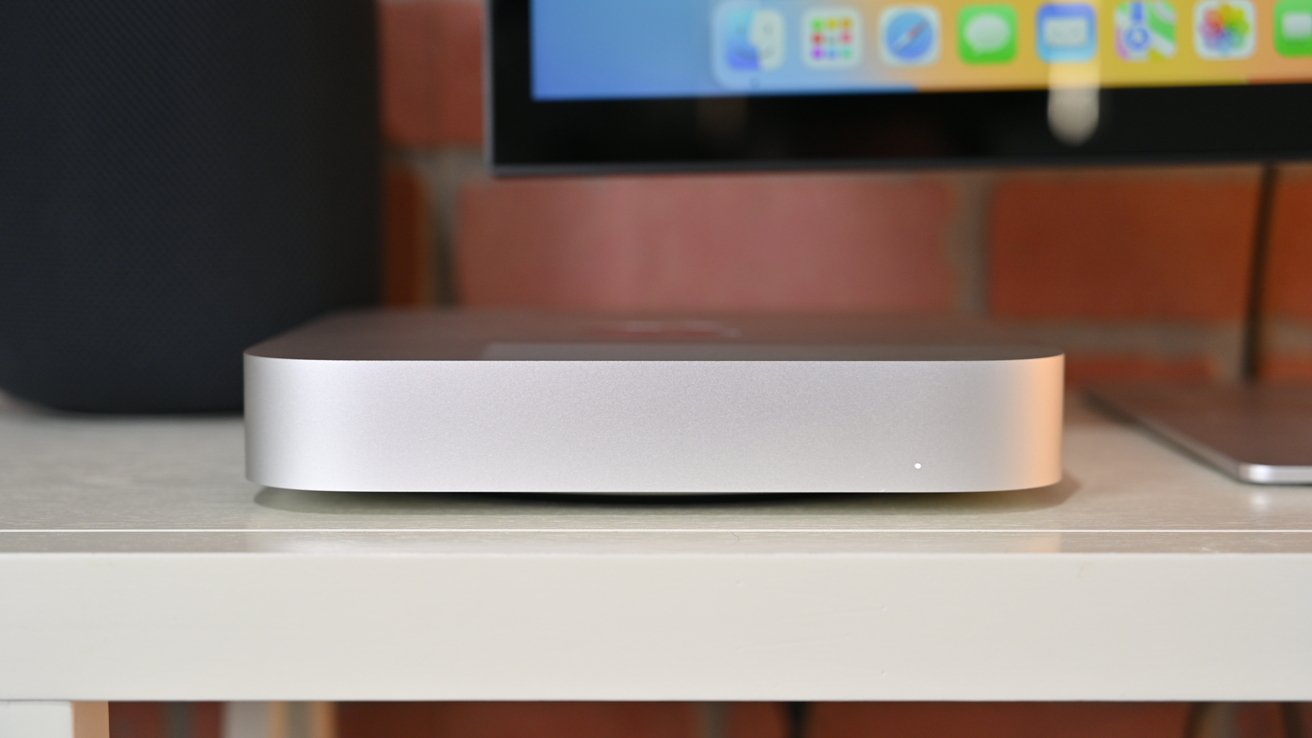 M2 Pro Mac mini has the same form factor
This curved square of aluminum is a little heavier in its M2 Pro variation, weighing in at 2.8 pounds or 0.2 pounds heavier than the non-Pro edition. The weight difference is likely due to a change in thermal management rather than an externally-present change.
One of the only real signs it's an M2 Pro model is around the back, where the ports reside. Instead of two Thunderbolt 4 ports, the count has increased to four.
Apple knows what it's doing when it considers target audiences. The M2 variant will appeal to families and casual users who don't have a lot of peripherals. Not only do "pro" users often have more gear to attach, but there is an increased likelihood they're high-speed Thunderbolt devices.
We'd have loved to have a couple of front-facing ports for quickly connecting a charger or flash drive, but that's what the Mac Studio is for.
While Apple is rumored to be working on a significant change to the design, including plexiglass-like covers, it's not here, and it's not clear if it ever will be. That's not a bad thing, as the current design of the Mac mini has stayed around for so long because it works so well.
It's a shame that it's not all-new, but it's not a problem either.
M2 Pro Mac mini - Power and performance
There are two variants of the M2 Pro available to purchase. The first is the 10-core version, which includes six performance cores, four efficiency cores, and a 16-core GPU.
The other is a 12-core model with eight performance cores and four efficiency cores, plus an upgraded GPU with 19 cores.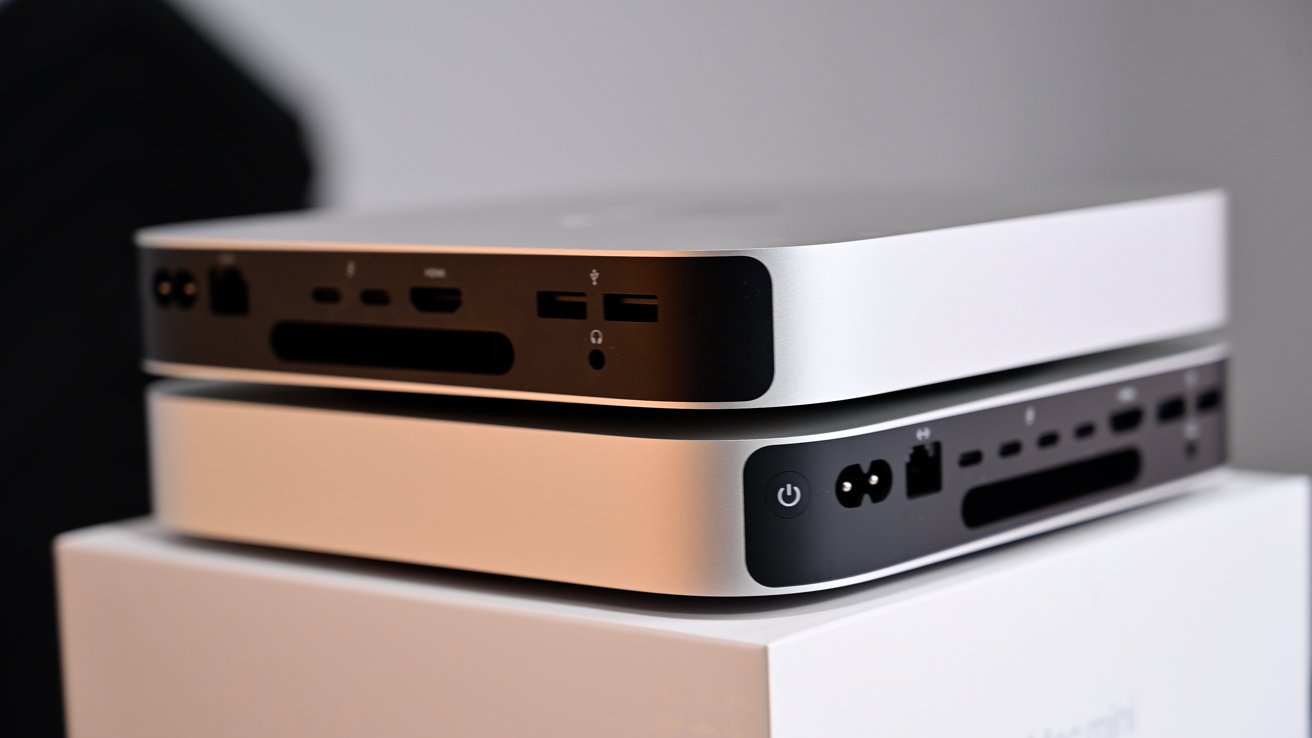 The M2 and M2 Pro versions are very similar
There's also the 16-core Neural Engine in the M2 range, which sees its performance boosted from 11 trillion calculations per second in the M1 to 15.8 trillion.
Both M2 Pro versions have a memory bandwidth of 200GB/s, double the M2 variants. The amount of unified memory available is also higher, starting at 16GB and going up to 32GB.
Like the M1 Pro, the M2 Pro continues to house the Media Engine, namely hardware-accelerated encoders and decoders for H.264, HEVC, ProRes, and ProRes RAW footage. Here, there's one each of the video decode and encode engines, plus a dedicated ProRes encode and decode engine.
In this review, we tested the 12-core M2 Pro with the 19-core GPU, 512GB of SSD storage, and 166GB of memory. Other than the memory and storage, this machine is maxed out.
M2 Pro Mac mini - Connectivity
The back of the Mac mini has always been where Apple congregates the ports, and given the thin box design, it makes sense to do so from a manufacturing standpoint. Since it also pushes all the wiring to the rear, it's good for aesthetic reasons too.
Like the M1 and the M2 models, the back includes the 40Gb/s Thunderbolt 4 ports, which support USB 4, USB 3.1 Gen 2, DisplayPort, and other older standards. With four ports instead of two, this can enable more hardware to be connected directly to the unit, without running out of connections.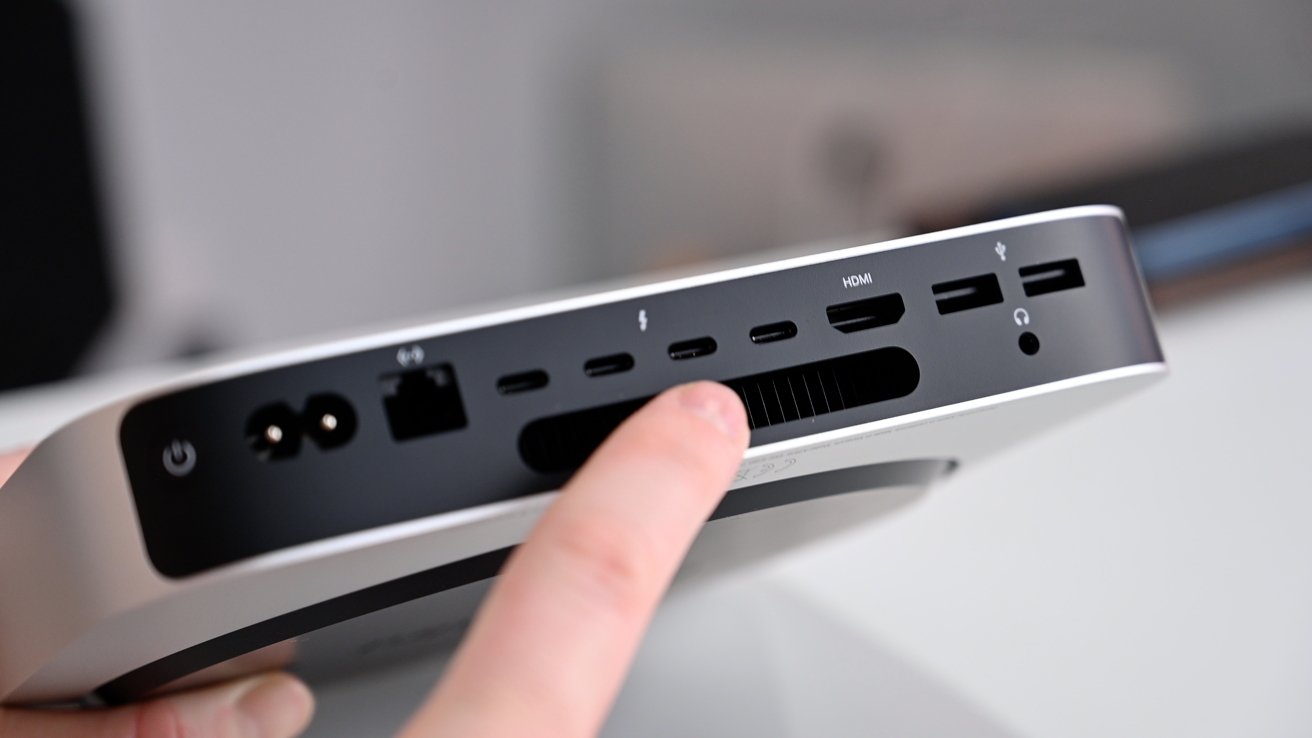 M2 Pro Mac mini ports
To the right are two USB-A ports and a 3.5mm headphone jack with support for high-impedance headphones. Access is still awkward if you're reaching around blindly and one of the USB ports is occupied, but it's not a massive headache.
There's also the customary HDMI port, in case you don't have a DisplayPort or USB-C display.
For the Pro model, the supported display count is higher, from two to three displays. It's possible to have two 6K 60Hz screens over Thunderbolt and one 4K 60Hz HDMI display running simultaneously, or one 6K 60Hz over Thunderbolt and a 4K 144Hz screen over HDMI.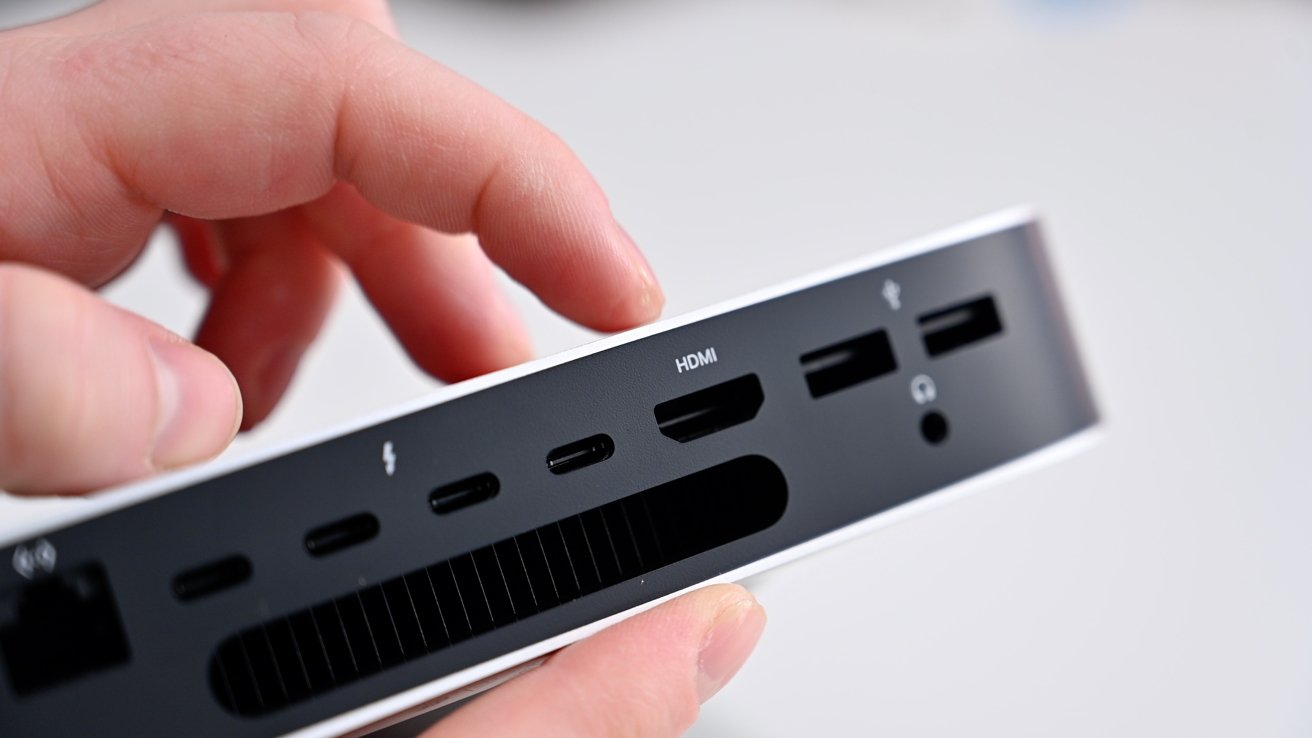 Improved HDMI output
If you use one monitor, that HDMI port can handle an 8K picture at 60Hz, or a 4K resolution at 240Hz.
To the left is the Gigabit Ethernet port, upgradable to 10Gb Ethernet if you need the extra speed, the power connection, and the power button.
For wireless connectivity, Apple includes an update to Wi-Fi 6E, which will be helpful on Wi-Fi networks that support the standard. Bluetooth 5.3 is also in use instead of Bluetooth 5.0.
The headphone jack and the typical built-in speaker handle Non-HDMI audio duties. That speaker will do at a pinch, but you're better off employing a TV's speakers over HDMI or hooking up something to that headphone jack.
M2 Pro Mac mini - Configuration options
The base M2 Pro Mac mini is $1,299, which nets you the 10-core M2 Pro with the 16-core GPU, 16GB of unified memory, and 512GB of SSD storage.
Upgrading to the M2 Pro with the 12-core CPUT and 19-core GPU costs an extra $300. If you want 32GB of memory, that's $400 more, and 10-gigabit Ethernet is $100 extra.
Storage upgrades, as usual, are expensive at the time of configuration. From 512GB to 1TB, it's an extra $200, with another $400 getting you to 2TB, a further $600 again to 4TB, and an eye-watering $1,200 on top of that to get the 8TB model.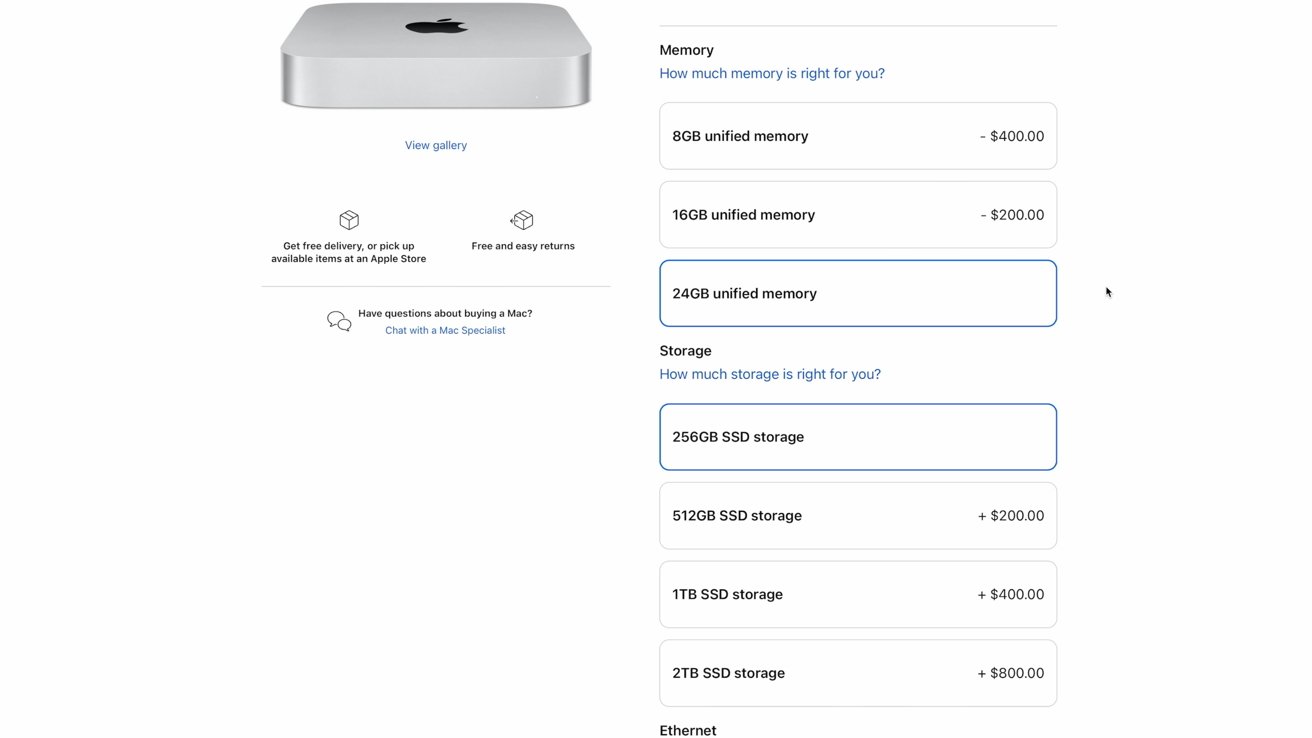 Memory upgrade options on M2 Pro Mac mini
With the top chip and memory, the price for the unit goes from $1,299 to $1,999, if you keep storage at 512GB. Bumping up to 8TB as well brings the maximum cost to $4,499.
Since you cannot upgrade or change internal components after purchase, a recommendation for saving money would be to put the budget into the memory and chip upgrades and minimize your storage increase.
Using an external SSD or NVMe drive attached to one of the four Thunderbolt ports will still give you high-speed and accessible storage with real-world speeds of up to about 3GB/s, and notably less expensive than Apple's pricey upgrades.
M2 Pro Mac mini - Performance
The M2 Mac mini had a solid improvement compared to the M1, so we expected similar results on the M2 Pro. As it uses the same CPU cores, just more of them, the single-core Geekbench 5 results are nearly identical.
We got 1951 on the M2 and 1953 on the M2 Pro. These compare favorably to 1688 scored by the M1, representing a roughly 15 percent gain. Apple promised up to 18 percent faster CPU, so these numbers aren't far off.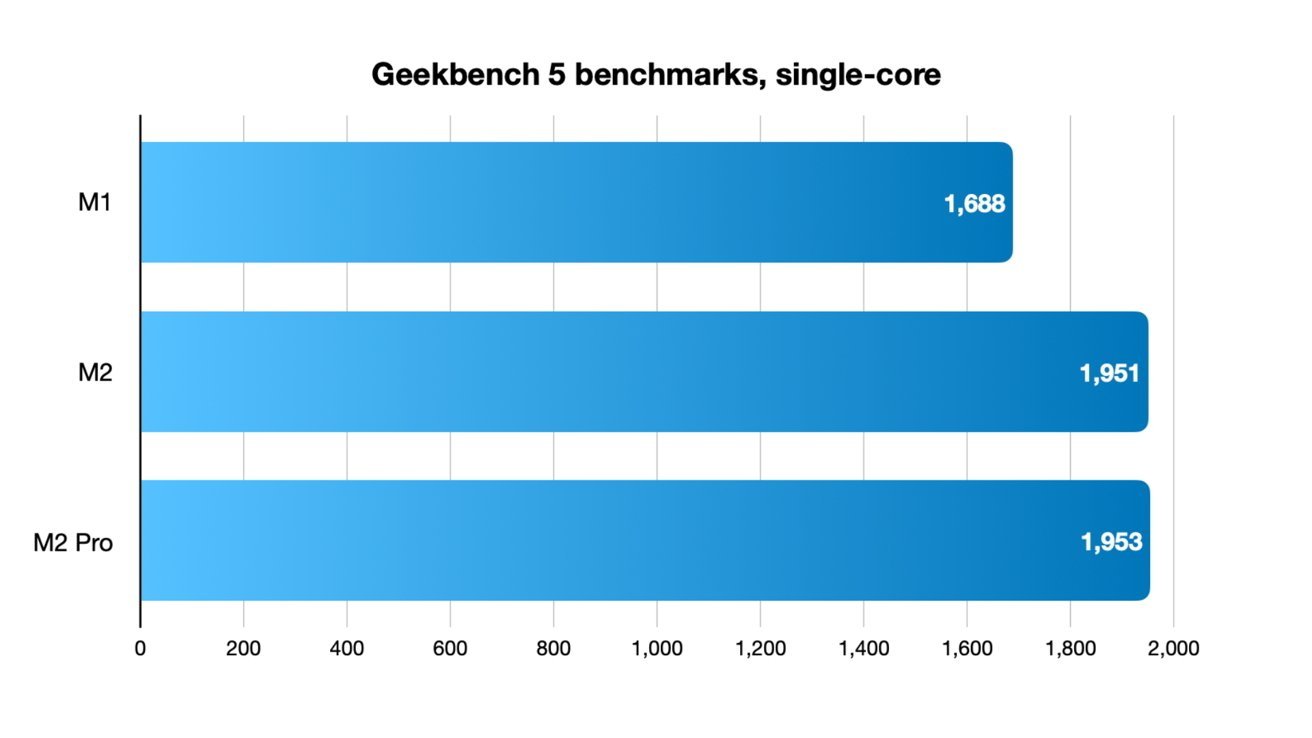 Single-core Geekbench results
With the additional cores, the M2 Pro version of the Mac mini flies. It notched an impressive 15172 on the multi-core test. Again, that's comparing the 12-core M2 Pro versus the 8-core M2.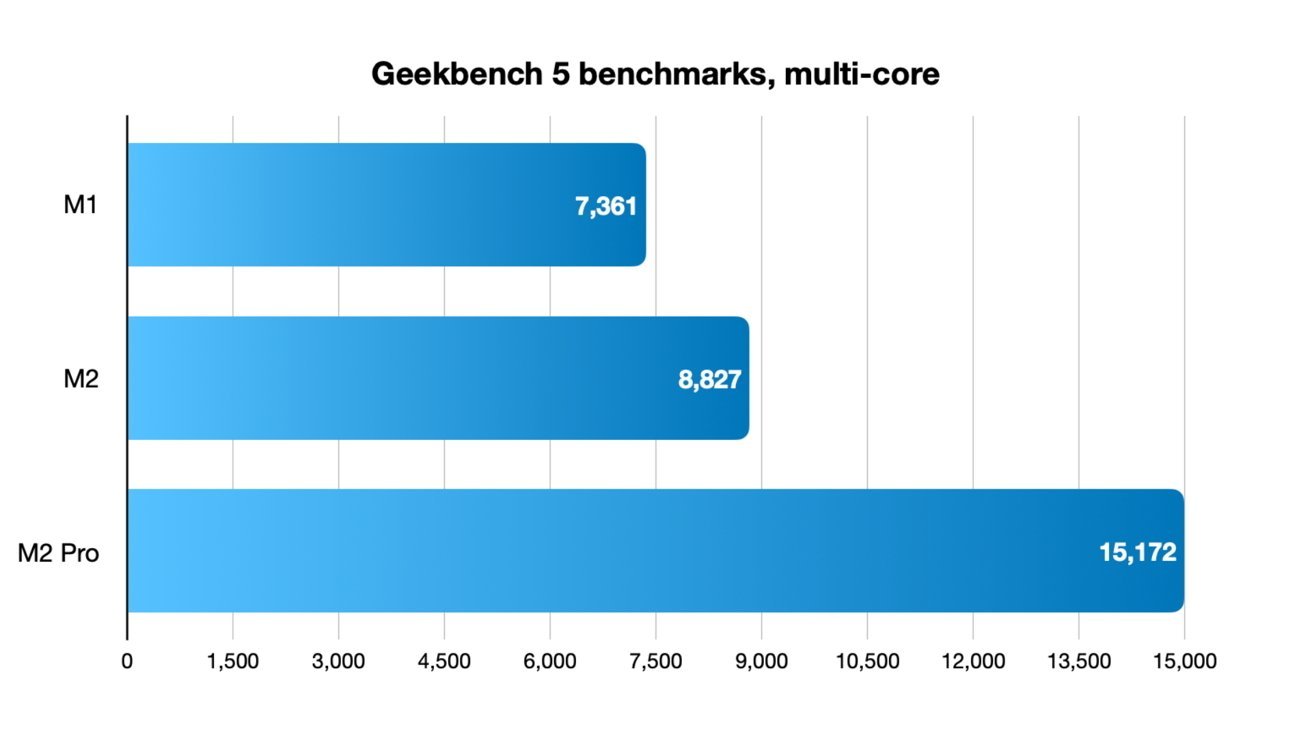 Multi-core Geekbench results
Under the newly-released Geekebench 6, we saw 2656 and 14317 on the single and multi-core tests respectively.
On Cinebench R23, the M2 Pro Mac mini earned a 14792 on the multi-core test, which is incredible when the M1 Max Mac Studio only scored 12389.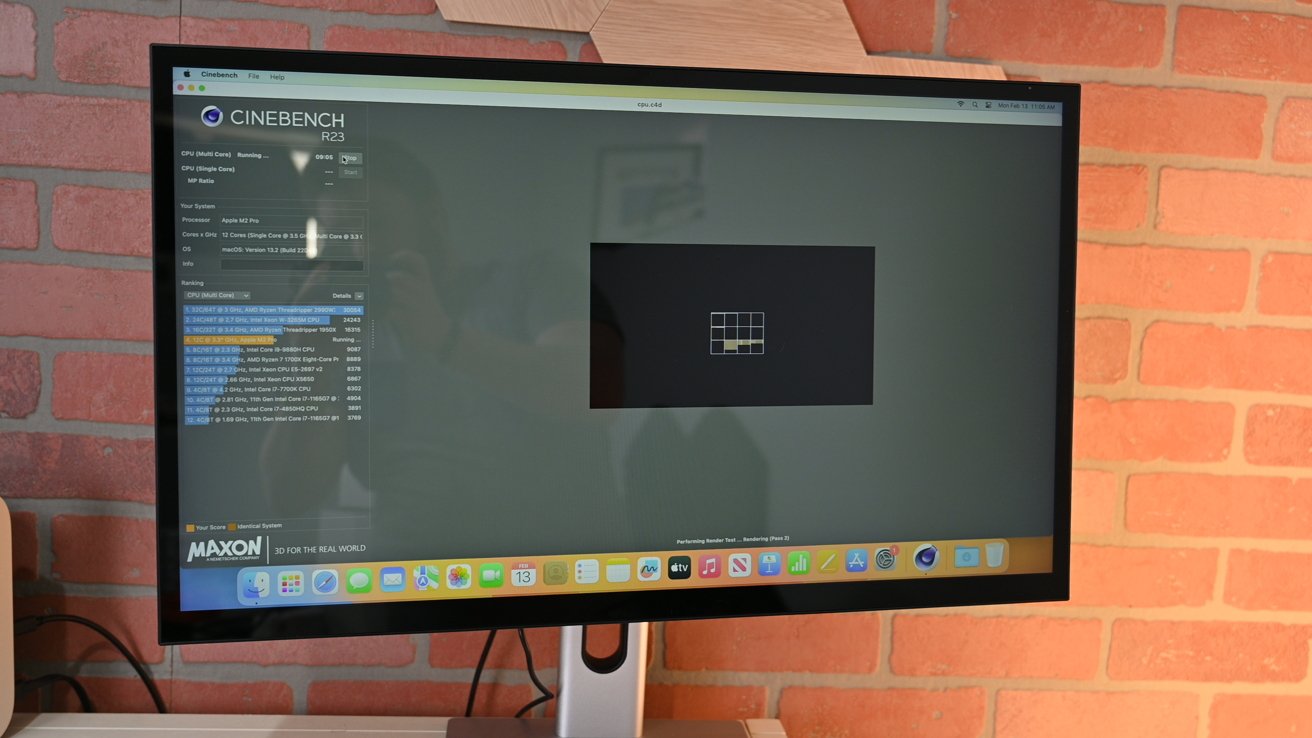 Running Cinebench R23
A Mac Studio mini?
The M2 Pro edition of the Mac mini puts the pint-sized processing device into new territory. Sure, it provided more than enough performance for computing tasks in its previous guises, but now it's pushing to new heights.
Indeed, with high performance in the Mac mini form, it does raise the question of whether it's worth getting the M1 Max-equipped Mac Studio.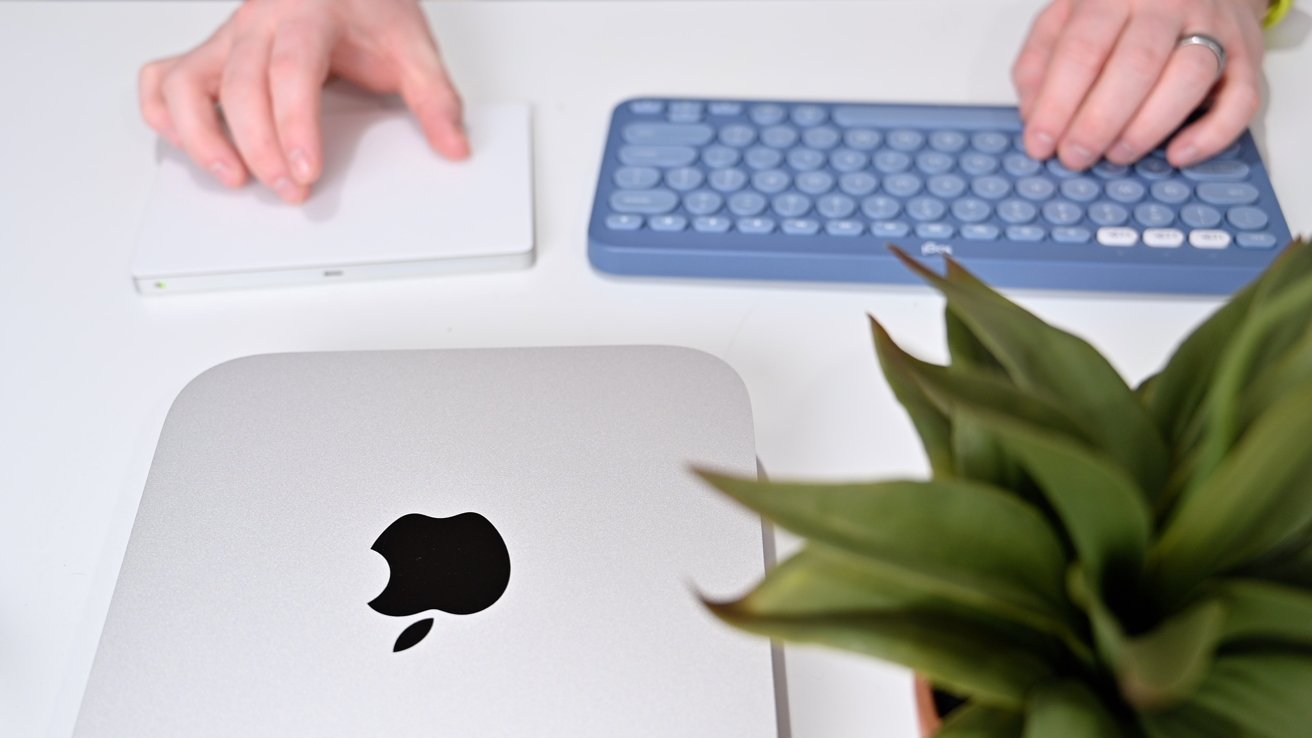 Bring your keyboard, mouse, and display
We've
already said as much
, arguing that the new low-cost M2 Pro Mac mini is a far better buy than the
entry-level Mac Studio
.
The 12-core M2 Pro outpaces the 10-core M1 Max found in that machine. You can pick up the new 10-core M2 Pro Mac Mini for $1,300 while the M1 Max
Mac Studio starts at $2,000
-- a $700 savings with similar performance.
Spending another $300 gets you a 12-core M2 Pro Mac mini, still a $400 savings and now better performance. Mac Studio has more ports, but if you're comfortable with Ethernet, four Thunderbolt, HDMI, and two USB-A, the Mac mini wins out.
Plus, the Mac mini has extra benefits the Mac Studio doesn't, such as support for 4K 240Hz and 8K displays.
There are still many justifications for going to the Mac Studio, including the far higher CPU and GPU core counts, higher memory options, and the sheer novelty of having something that looks like a chunky Mac mini on your desk.
The Mac Studio is still the choice of users who want Apple Silicon performance on their desks. The M2 Pro Mac mini doesn't quite reach that level, but it still offers more than enough to keep demanding users happy without needing to pay for the steroid-consuming Mac Studio.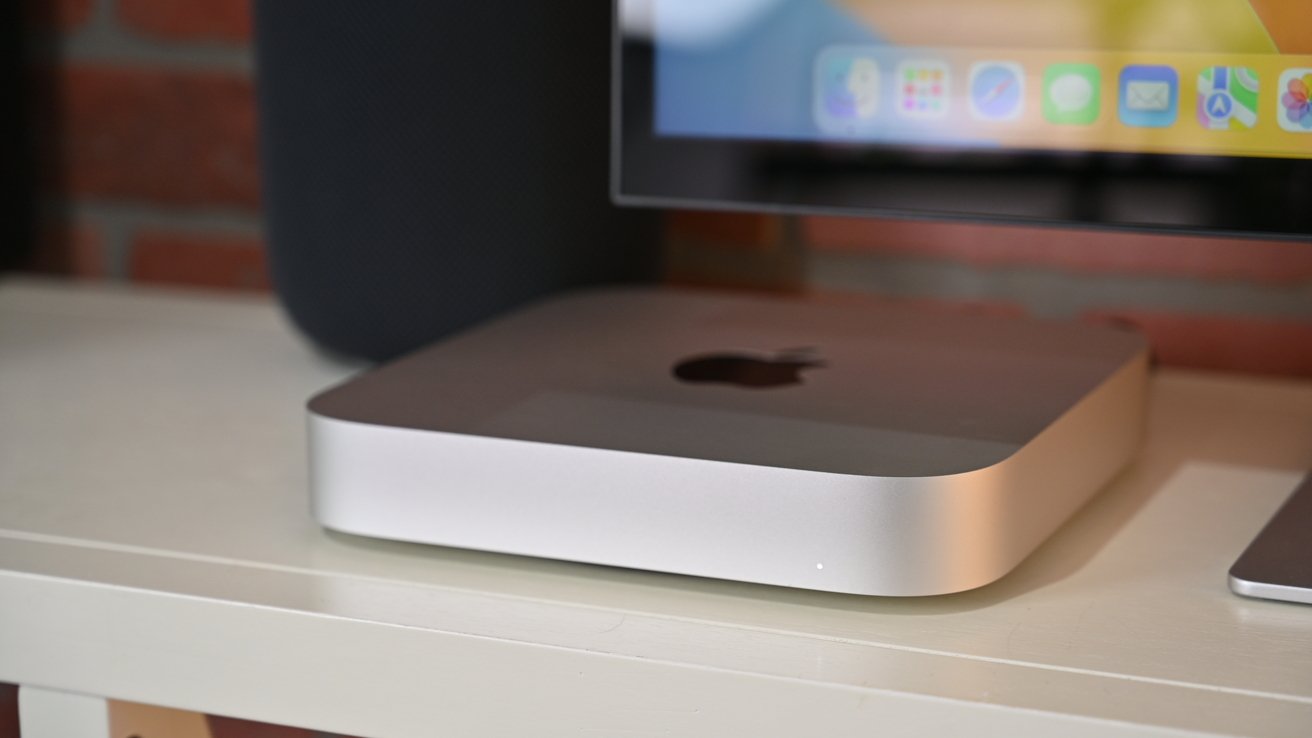 The new Mac mini is a great machine
If Apple comes out with an M2 version of the Mac Studio housing an M2 Max and M2 Ultra, the M2 Pro Mac mini will easily slot in as the option between the M2 value proposition and the upper tier model.
But for the moment, it is a great desktop option if performance is needed, but the cost is still a factor.
M2 Pro Mac mini Pros
M2 Pro chip


Upgraded CPU and GPU performance


Compact and understated design


Four Thunderbolt ports


Improved HDMI output for high-end workflows


Wi-Fi 6E


Lots of existing peripherals to match the existing form factor
M2 Pro Mac mini Cons
High cost for memory and storage upgrades


No user upgradability


No front-facing ports
Rating: 4.5 out of 5
Where to buy the M2 Pro Mac mini at a discount
Every 2023 Mac mini is discounted
by up to $200
with promo code
APINSIDER
at Apple Authorized Reseller Adorama.
The
best Mac mini deals
are at your fingertips in our
Mac mini Price Guide
, which is updated daily.
At press time, the M2 Pro Mac mini review spec with a 10-core CPU, 16-core GPU, 16GB of memory and a 512GB SSD is
on sale for $1,199
when you apply the APINSIDER coupon. Need help? Here's
step-by-step instructions
.
Read on AppleInsider