Crime Blotter: 'Mardi Gras bandits' arrested for stealing iPhones in New Orleans
In the latest Apple Crime Blotter, an Apple Store theft in New Jersey, a carjacker forces victim to drive home for Apple ID, and Nigerian celebrities fight over a stolen iPhone.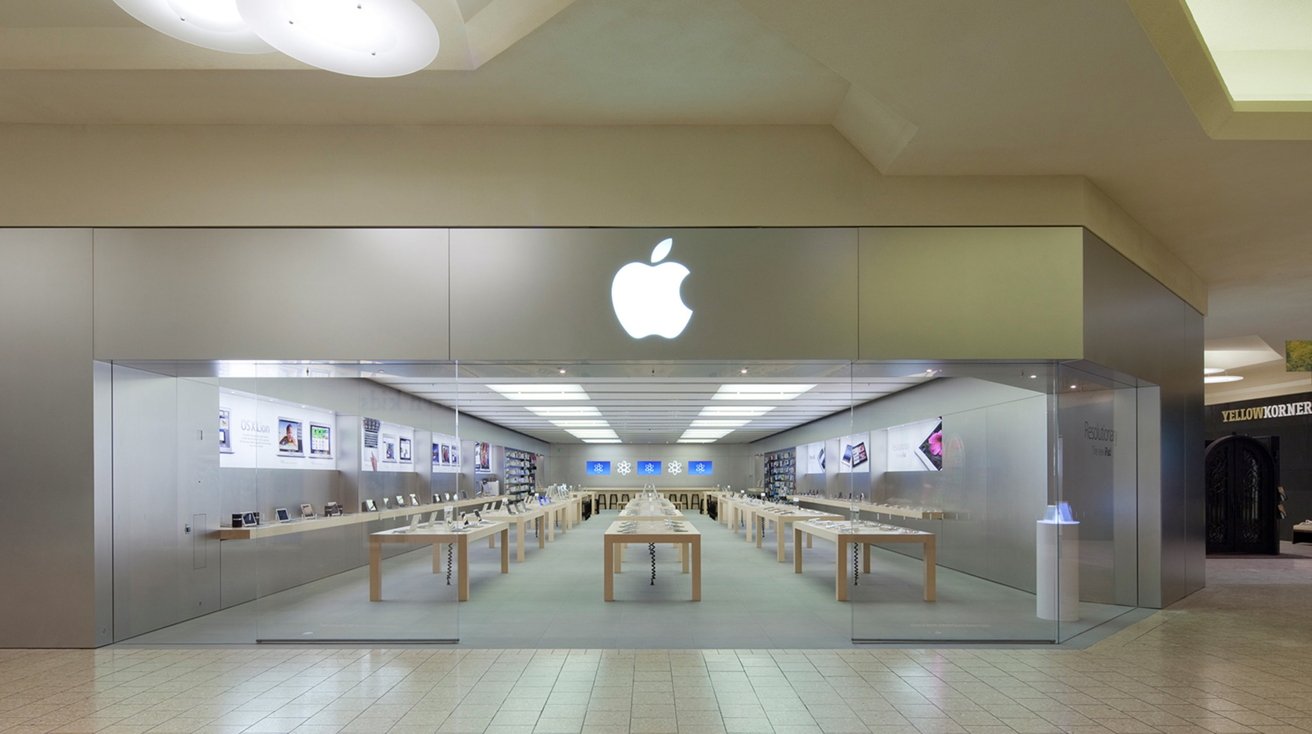 The Apple Store in Short Hills, NJ
The latest in an occasional
AppleInsider
series, looking at the world of Apple-related crime.
Man arrested for theft of $6,000 in merchandise from Apple Store in New Jersey
Police in Millburn, N.J., arrested a man in mid-January on charges that he had stolen
more than $6,000
worth of merchandise from the Apple Store at the Short Hills Mall. According to
Tap Into Millburn/Short Hills
, the 41-year-old man was caught in the mall's parking lot.
The Brooklyn resident was arrested and charged with shoplifting, receiving stolen property, and possession of drug paraphernalia.
40 iPhones stolen in New Orleans by "Mardi Gras bandits"
Four people
were arrested
for stealing 40 iPhones and other items from attendees at the annual Mardi Gras parade in New Orleans.
The New York Post
, which called the four people "Mardi Gras bandits," reports the quartet came from Miami and traveled to New Orleans.
The ring was caught after one victim traced his stolen iPhone to an Airbnb in Tickfaw, La., where the 40 phones were located.
Pickpocket in New York has stolen numerous items, including Apple products
A single thief has committed
numerous robberies
all over New York City between December and February, including Apple items in "most reported incidents," the NYPD told
New York Patch
.
One robbery, which took place in Brooklyn, entailed the man claiming to have a gun and stealing a woman's bag, which had an iPad inside it. In another case, also in Brooklyn, the man grabbed a MacBook Air from a woman's hand on a subway staircase. Other thefts involved AirPods and iPads.
Carjacker accused of forcing iPhone owner to drive home for Apple ID
Amid stories this week about
the nightmare scenario
that can unfold if an iPhone and passcode are stolen at the same time, something similar nearly took place in Florida in mid-February.
Click Orlando
writes a man in the Orlando area
was carjacked
at a gas station, and the assailant got into the passenger seat, demanded all of the driver's possessions, and even fired a shot into the windshield.
After stealing an iPhone, a gold chain, and the man's wedding ring, per the report, the driver demanded the driver's Apple ID, and when the driver didn't know it, the carjacker demanded that he drive home and get the information from his wife. When the man went inside his home, he instead locked the doors and called the police.
The 19-year-old alleged carjacker was later arrested and charged with carjacking with a firearm, grand theft, firing a gun in public, aggravated assault, kidnapping, and criminal mischief.
Russian soldier, accused of stealing AirPods from Ukraine during 2022 invasion, is identified
When Russian forces invaded Bucha in Ukraine in March of 2022, according to multiple human rights organizations
cited by
Yahoo News
, they "killed hundreds of civilians and committed a horrific assortment of war crimes, including the unlawful appropriation of property."
While it's far from the biggest crime of a very calamitous war, among that appropriated property was a pair of AirPods.
Ukrainian researchers say they have used Find My iPhone to identify a Russian soldier who stole a pair of AirPods from a Ukrainian home in 2022. According to
Yahoo News
, an open-source intelligence firm called Molfar made the discovery. The AirPods were stolen in March of 2022, the second month of Russia's invasion of Ukraine.
iPad belonging to Member of Parliament was stolen from pub
In what one expert called a "worrying security breach," the government-issued iPad belonging to a member of the British Parliament
has been stolen from a pub
.
Metro
reports the incident took place in February of 2022.
The MP was not named, and the location is redacted in the official report, listed only as "pub." The CEO of a British cybersecurity firm told the newspaper that "a stolen device is worrying news for a business, and even more concerning when it's the higher levels of government."
The same newspaper had reported
in December
that British House of Commons and House of Lords had 32 different officially issued devices, including iPhones, iPads, and laptops, go missing in the first 11 months of 2022.
iPad among items stolen when a man allegedly robbed same Nashville pizza place four times
The same man
has been accused
of robbing the same pizza restaurant in Nashville four times in the span of a month.
According to
WITN
, police say the same 46-year-old man repeatedly robbed the pizza place in October and November, although he stole different things each time, including beer, food, a speaker, a tip jar, and an iPad. The man, police told the station, had broken a window in the first robbery and entered through that same window subsequent times.
The man was charged with multiple counts of felony burglary, theft of property, and vandalism, and police say they found "numerous cans of beer" from the restaurant in his possession.
iPhone stolen as part of "strange" package theft
A North Carolina man who had ordered a new iPhone had the device stolen right out of the hands of a FedEx delivery driver as he approached the man's home, in a case that police are calling "strange."
WCNC
explains the thief
appeared to know
that the iPhone was going to be delivered to that location at that time. The theft was caught on tape by the man's security camera.
However, no arrest had been made at the time of the
WCNC
report.
Macbook Air, iPad Mini stolen from woman's car during funeral
A woman in Dearborn, Mich., had $1,700 worth of items stolen from her car while she
attended a funeral
. According to the
Press and Guide
, the items included a Macbook Air, iPad Mini, and Android phone, as well as her wallet and credit cards.
Nigerian celebrity ex-couple feuds over stolen iPhone and MacBook
An afrobeat music star and his "estranged lover," an actress,
are sniping
at one another in the Nigerian press in a dispute over an iPhone.
The Whistler
reports that Abbey Elias, also known as "Skiibii," has been accused by actress Dorcas Shola Fapson of stealing her iPhone, MacBook, and other items during a vacation in Zanzibar.
However, Skiibii claims that both were robbed during the vacation. He said the matter had been referred to police in Tanzania, and he later bought Fapson a new iPhone once they returned to Lagos. In addition, he claimed that he had purchased Fapson a new MacBook Pro, but she didn't bring it on the trip and it was an older computer that was stolen there.
Read on AppleInsider