iPhone 14 Pro vs Samsung Galaxy S23 Ultra - compared
Posted:
in iPhone
edited March 1
Samsung's Galaxy S23 Ultra is a high-end smartphone that aims at Apple's
iPhone 14 Pro
with a 200-megapixel camera and a high-resolution 6.8-inch display, as well as a stylus.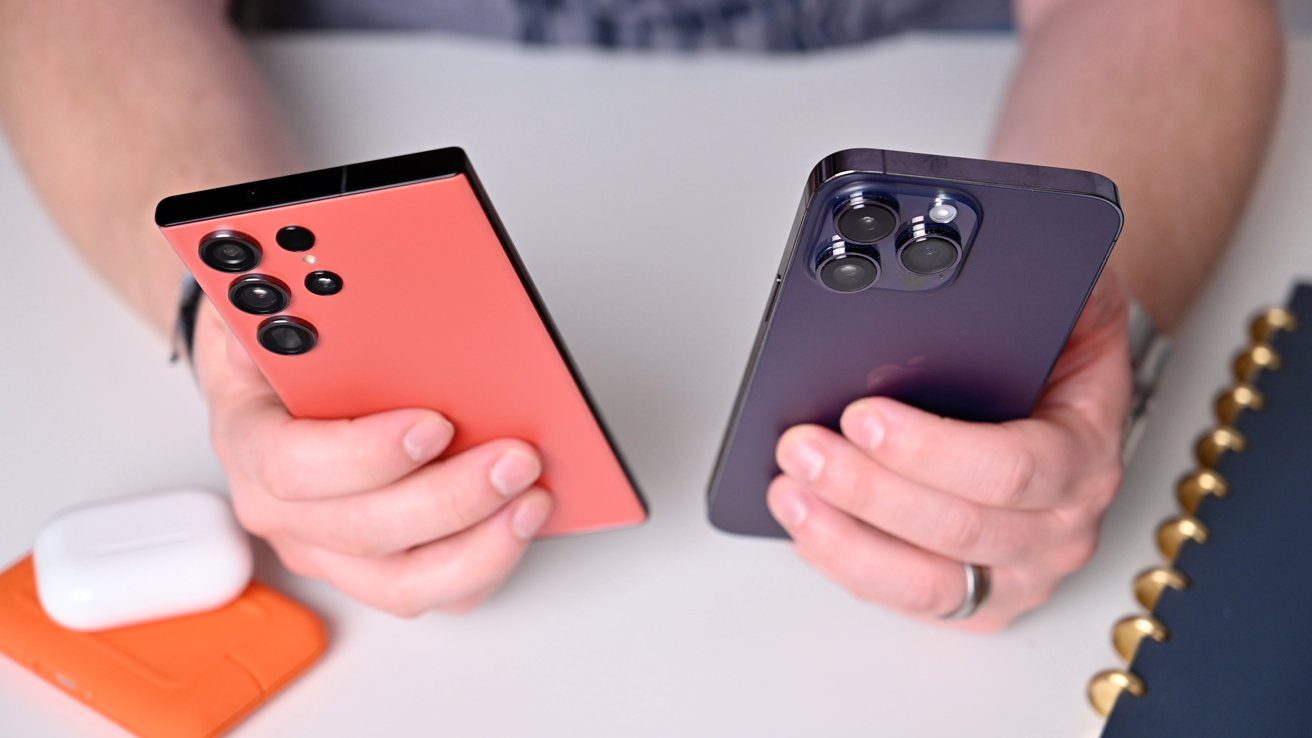 Samsung's flagship Galaxy lineup is arguably more diverse than Apple's
iPhone
range. Instead of two tiers of devices and two different sizes to choose from in the
iPhone 14
and iPhone 14 Pro family, the
Galaxy S23
offers three variants, with a more expansive variety of specifications to choose between.
At the top end of the range is the Galaxy S23 Ultra, which isn't only larger than the Galaxy S23 and S23+ but comes with more cameras, a massive 200MP sensor, and stylus support.
It, therefore, is only applicable to put the Galaxy S23 Ultra against the iPhone 14 Pro range, its main rival at the top of the smartphone food chain
Galaxy S23 Ultra vs iPhone 14 Pro - Specifications
Specifications
Samsung Galaxy S23 Ultra
iPhone 14 Pro
Price (starting)
$1,199.00
Buy at Samsung
$999.00
Check prices
Dimensions (inches)
6.43 x 3.07 x 0.35
5.81 x 2.81 x 0.31
Weight (ounces)
8.25
7.27
Processor
Qualcomm Snapdragon 8 (Gen 2)
A16 Bionic
Storage
256GB
512GB
1TB
128GB
256GB
512GB
1TB
Display
6.8-inch Dynamic AMOLED 2X
6.1-inch Super Retina XDR
Resolution
3088 x 1440 at 500ppi
2556 x 1179 at 460ppi
Biometrics
Ultrasonic in-screen fingerprint reader,
Face unlock
Face ID
Connectivity
Bluetooth 5.3
Wi-Fi 6E
Bluetooth 5.3
Wi-Fi 6
Rear Cameras
200MP Main
12MP Ultra Wide
10MP Telephoto 3x optical zoom
10MP Telephoto 10x optical zoom
48MP Main
12MP Ultra Wide
12MP Telephoto
Front Camera
12MP
12MP TrueDepth
Battery
5,000mAh
3,200mAh
Colors
Phantom Black
Cream
Green
Lavender
Graphite
Lime
Sky Blue
Red
Space Black
Silver
Gold
Deep Purple
Galaxy S23 Ultra vs iPhone 14 Pro - Display
It's fair to say that Samsung has gone all out with its S23 Ultra screen, measuring 6.8 inches in size. That diagonal is larger than the 6.1-inch iPhone 14 Pro screen and even eclipses the 6.7-inch iPhone 14 Pro.
On the resolution side, Samsung also takes the lead in that it has a 3,088 by 1,440 screen, giving it a pixel density of 500 pixels per inch. By comparison, the 2,556 by 1,179-resolution iPhone 14 Pro and the 2,796 by 1,290 Pro Max have equal densities of 460ppi.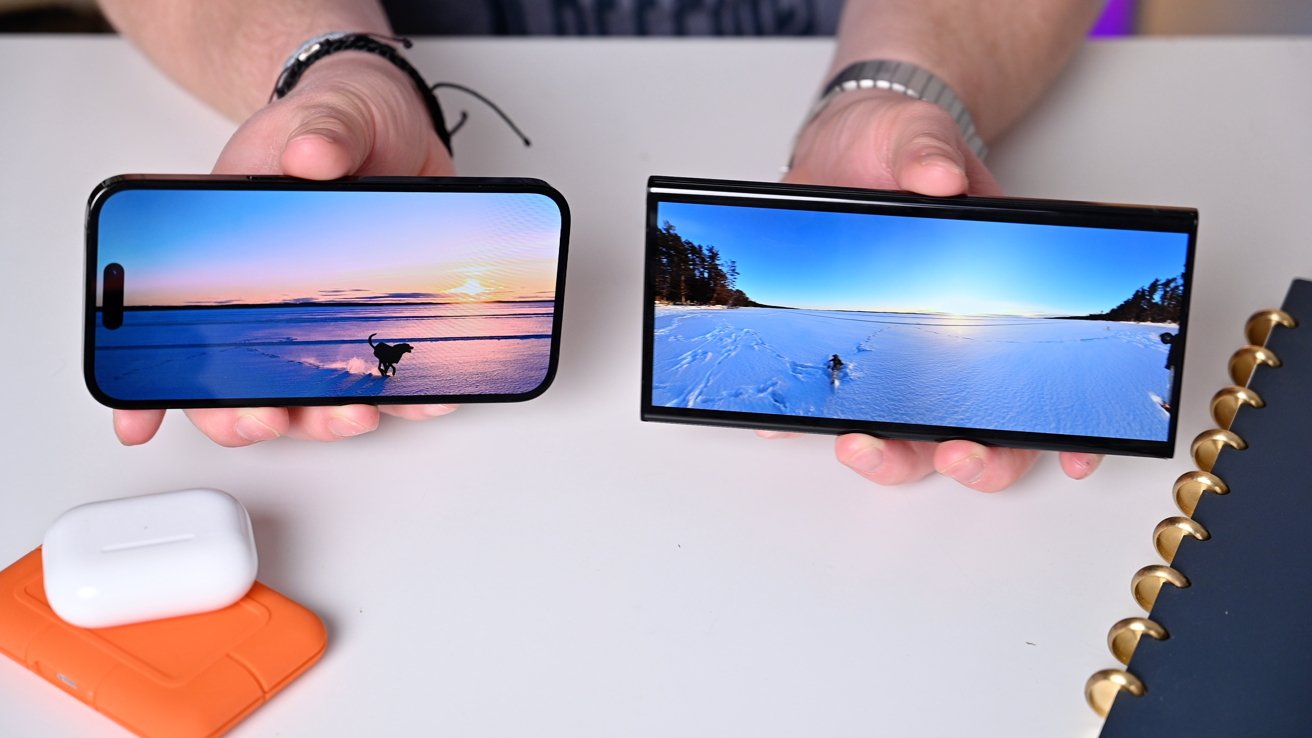 iPhone 14 Pro and S23 Ultra displays
Samsung employs an always-on Dynamic AMOLED 2X display, which can reach up to 1,750 nits of brightness, and has a contrast ratio of 3,000,000:1. HDR10+ certified, the screen also offers 100-percent coverage of mobile color volume in the DCI-P3 color range.
The iPhone has an all-screen, always-on OLED with HDR support, wide color (P3) coverage, and True Tone. Its contrast ratio of 2,000,000:1 is a little lower, but its 1,000 nits of typical maximum brightness, 1,600 nits of peak HDR brightness, and 2,000 nits of peak outdoor brightness fend off the Ultra.
Both display types offer adaptive refresh rates up to 120Hz, under the ProMotion banner for the iPhone, with Samsung also boasting a 240Hz touch sampling rate in Game Mode. In theory, this will make mobile gaming controls more responsive.
Galaxy S23 Ultra vs iPhone 14 Pro - Processor
Apple's iPhone 14 Pro uses the A16 Bionic chip, a hexacore CPU with four efficiency and two performance cores. That's paired with a 16-core Neural Engine capable of nearly 17 trillion operations per second and a 5-core GPU.
By contrast, Samsung uses the Qualcomm Snapdragon 8 Gen 2 Mobile Platform, which is an octa-core chip that includes one 3.36GHz Kyro Prime core, four 2.8GHz Kyro Gold cores, and three 2.0GHz Kyro Silver cores.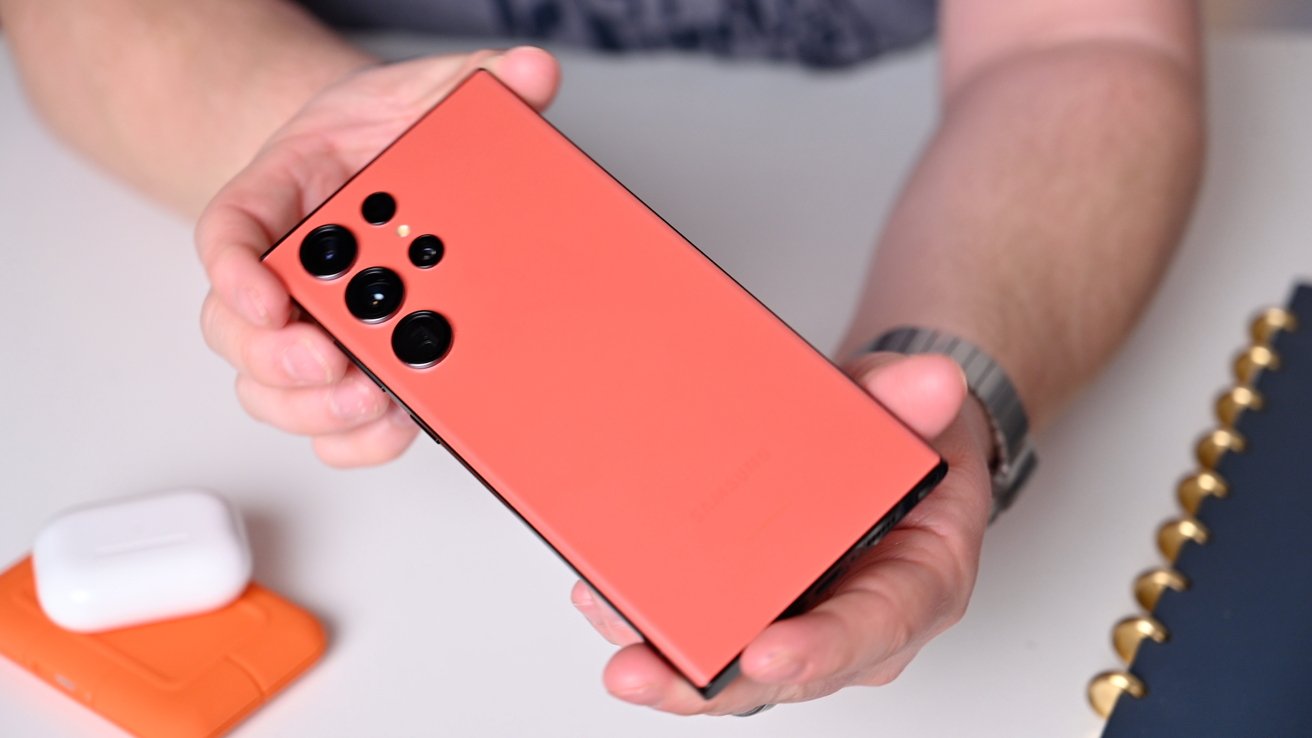 Samsung S23 Ultra
The chip also boasts an Adreno GPU with hardware-accelerated ray tracing for improved lighting and shadows in gaming and a 4.35x faster performance in machine learning tasks over the previous generation.
The Snapdragon also features Real-Time Semantic Segmentation, namely computational photography processing that uses noise reduction, sharpening, and color correction in up to eight photo layers. That's in comparison to Apple's computational photography advancements.
Other elements in the Snapdragon chip include an improved Bokeh Engine 2 for adjusting the quality of a blurred background and the intensity and shape in both photos and videos, local tone mapping, image stabilization, and improved auto exposure over the Gen-1 chip.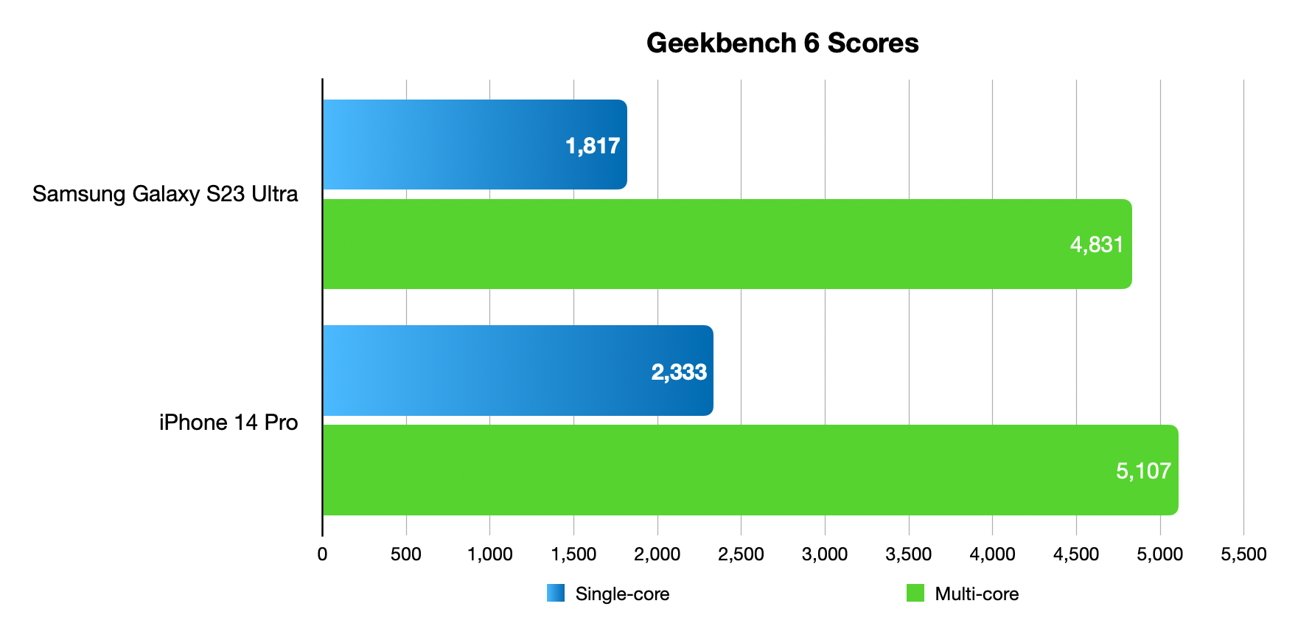 Geekbench 6 results
In terms of how this shakes down in benchmarks, the Galaxy S23 Ultra manages 1,817 in our running of Geekbench 6's single-core tests, and 4,831 for the muli-core trials. By contrast, the iPhone 14 Pro's single-core result of 2,333 is 28% better than the Samsung, and the 5,107 multi-core score is 5.7% better too.
On the 3DMark Wild Life Extreme cross-platform gaming benchmark, things turn around a bit here.

3DMark Wild Life Extreme scores
The S23 Ultra achieves a score of 3,817 to the iPhone 14 Pro's 3,157, which is a 20% swing in favor of Samsung. The average FPS is also higher for the S23 Ultra at 22.9fps against 18.9 for Apple.

3DMark Wild Life Extreme average FPS
What this indicates is that the iPhone 14 Pro's A16 Bionic is a great chip in general, but in gaming-specific tasks, Samsung's S23 Ultra takes the lead.
Galaxy S23 Ultra vs iPhone 14 Pro - Battery
The battery life of the iPhone 14 Pro and Pro Max are extremely high, at up to 23 hours and 29 hours respectively for local video playback, or up to 20 hours or 25 hours for streaming video. Similarly, audio playback hits 75 hours on the Pro, and 95 hours on the Pro Max.
Samsung doesn't state how long the battery in the S23 Ultra can last, but we know it's the biggest of the range at 5,000mAh. This isn't a good measure of how much battery life you can get out of it, as it depends on what you're doing and other things, but that quantity should last quite a while.
For recharging the devices, the iPhone 14 Pro supports
MagSafe
wireless charging at up to 15W, Qi wireless charging up to 7.5W, and charging through Lightning. There's also a fast-charge capability, with it able to reach 50% charge in around 30 minutes when using a 20W or higher adapter.
Samsung includes a 45W USB PD 3.0 compliant super fast wired charging component, as well as support for Fast Wireless Charging 2.0.
As a neat party trick, Wireless Powershare allows you to recharge another Qi-compatible device using the Galaxy S23 Ultra's own charging coil and battery.
Yes, that means it is possible to recharge an iPhone using Samsung's Wireless Powershare feature.
Galaxy S23 Ultra vs iPhone 14 Pro - Cameras
Apple's iPhone 14 Pro camera system consists of three imaging sensors on the rear, albeit with a step up from previous generations.
The star of the iPhone show is the main camera, which has a high 48-megapixel resolution, sensor-shift optical image stabilization, and a Quad Pixel arrangement. This latter point combines every four pixels into one larger quad-pixel equivalent to 2.44 microns, which helps with low-light imaging.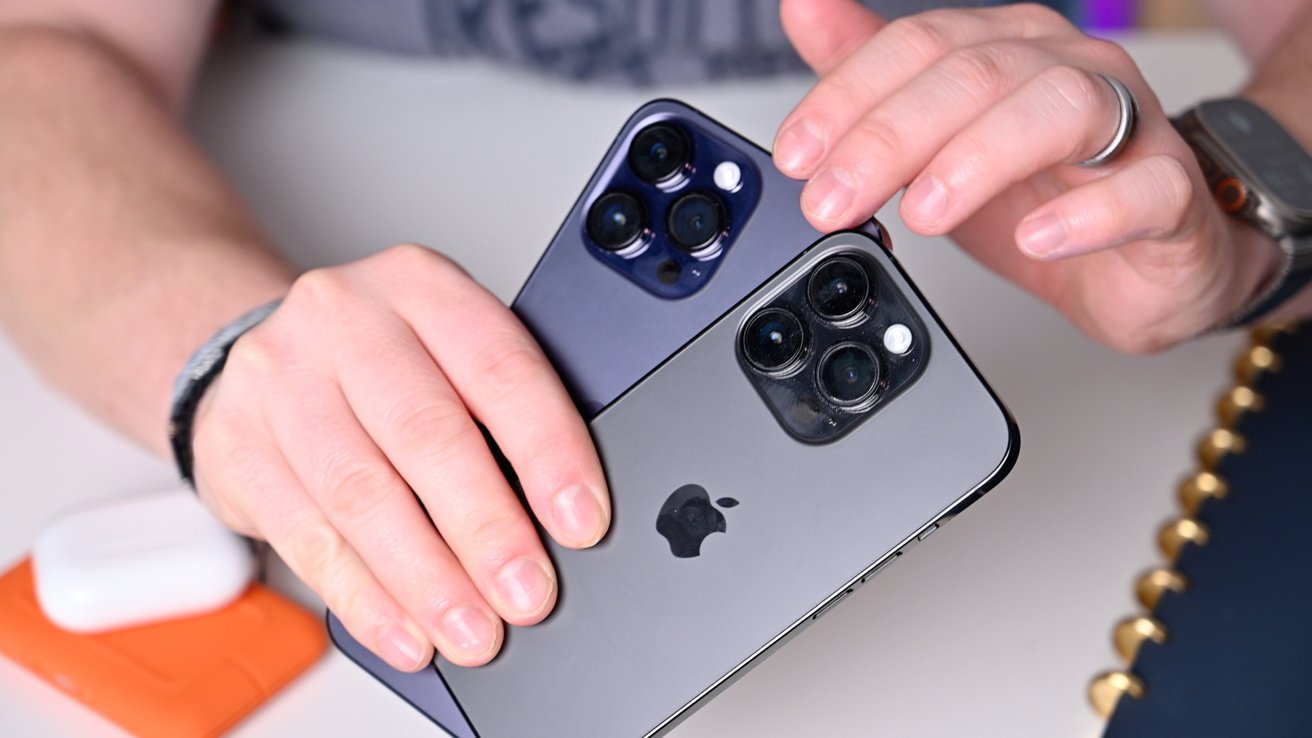 iPhone 14 Pro and iPhone 14 Pro Max cameras
There's also a 12-megapixel Ultra Wide camera with OIS that can be used for macro shots. Lastly, a 12-megapixel 3x Telephoto lens, which again includes OIS.
Apple does use the main camera to produce a phantom fourth lens, which offers a 2x optical zoom as well as sensor-shift OIS, but it's a crop of the 48MP sensor.
The features of Apple's cameras range from Deep Fusion computational photography to various Portrait Mode and Portrait Lighting options, Photographic Styles, Night Mode portraits enhanced by a LiDAR scanner, and a 15x digital zoom.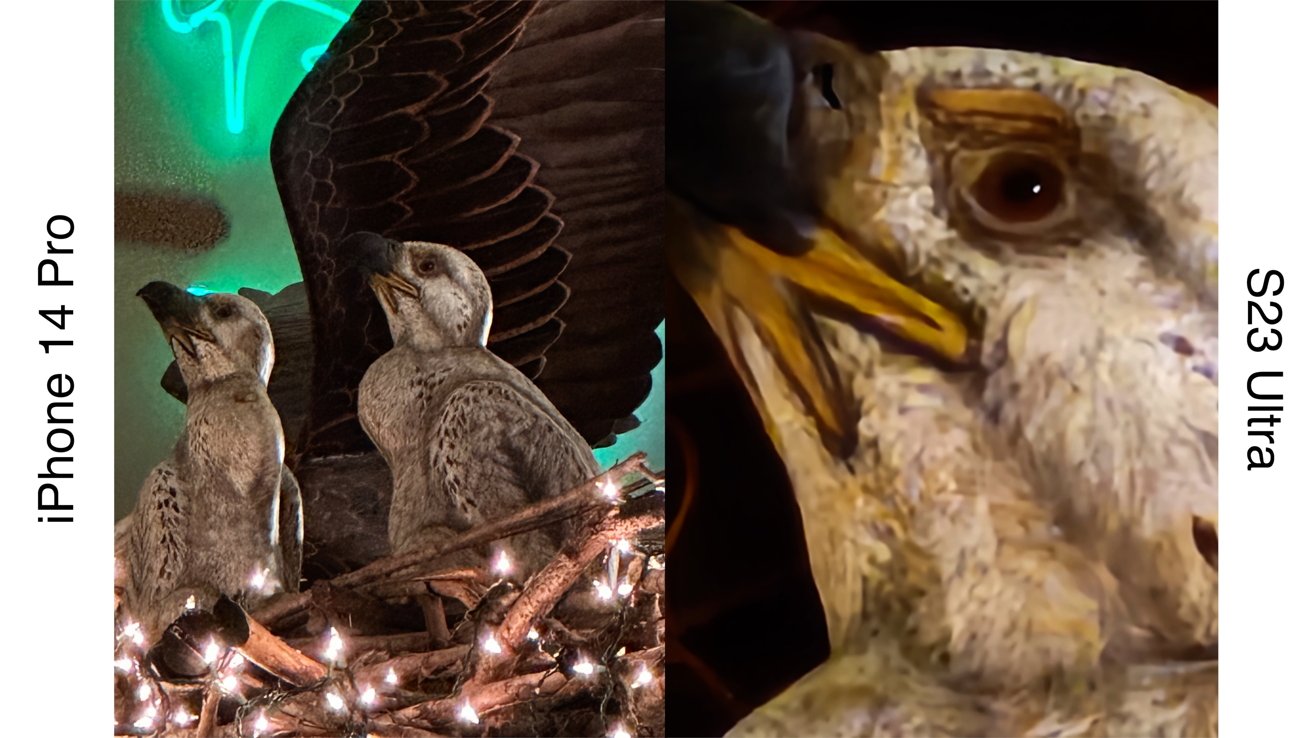 A 15X digital zoom photo on iPhone 14 Pro and 100X digital zoom on S23 Ultra
Samsung's highest-end device includes four cameras, starting with a 12MP ultra-wide camera, along with a pair of 10MP telephoto cameras offering 3x and 10x zoom levels.
Lastly, there's the 200MP wide camera, which has an F1.7 aperture and a pixel size of just 0.6 microns. However, it can output images at 12MP with an equivalent pixel size of 2.4 microns, using a similar trick to the iPhone's Quad Pixel.
These cameras are all equipped with OIS, as well as a laser autofocus system.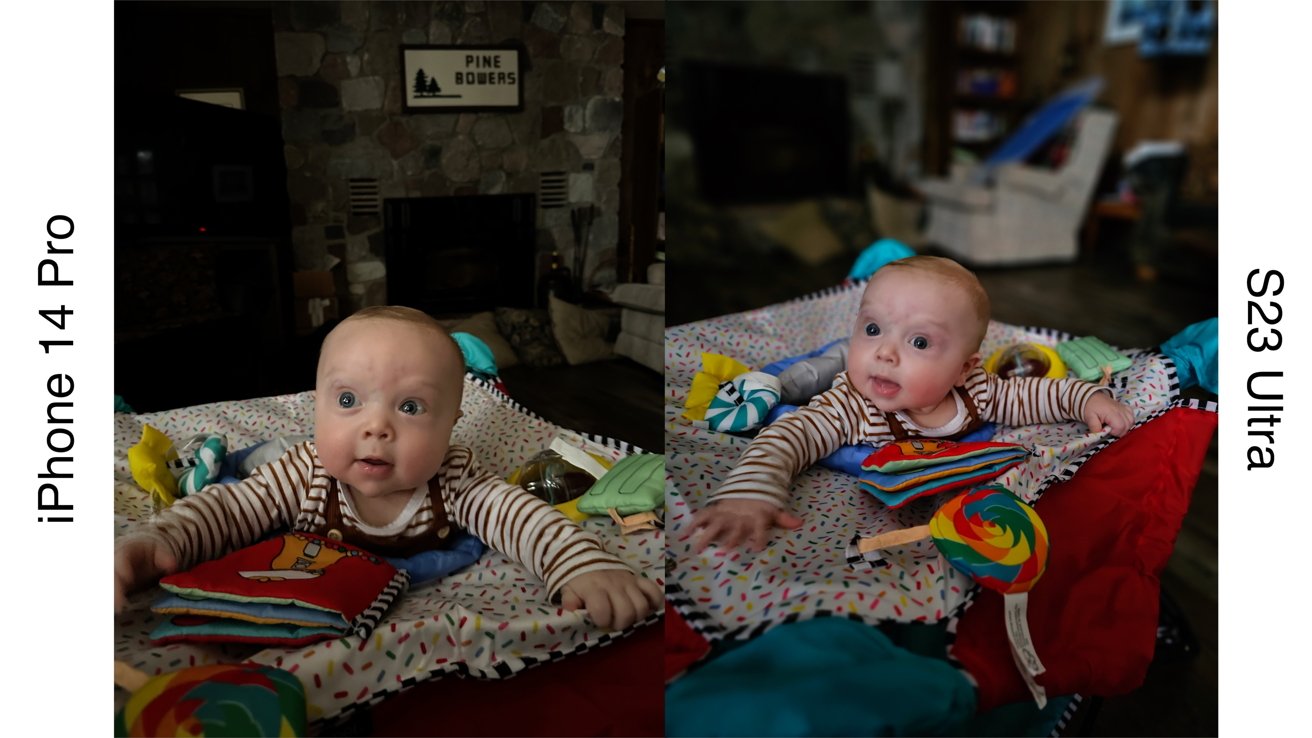 Low light interior shot with iPhone 14 Pro and S23 Ultra
The zooms of the cameras also lean heavily on machine learning for something Samsung calls Space Zoom. A 30x Space Zoom and 100X Space Zoom is available by augmenting the 3x and 10x optical telephoto cameras with Samsung's AI Super Resolution technology.
This sounds impressive, but the company admits that there may be "some image deterioration" if you zoom in past the optical zoom point, so don't expect perfect-quality images under these conditions.
Samsung also adds in its various other smart modes, including a scene optimizer, shot suggestions, panorama, food and night modes, and portraits.
For video, Apple includes 4K HDR Dolby Vision video at up to 60fps, a Cinematic mode at 4K with HDR at 30fps, a 2.8K Action Mode at 60fps, and 240fps 1080p Slo-mo video. For professionals, ProRes support is also included.
Samsung boasts 8K video at up to 30fps, 4K HDR10+ at 60fps, a Super Slo-Mo at 1080p 960fps, and even a 4K Hyperlapse video function.
At the front, Apple continues to use a 12-megapixel TrueDepth Camera array, which includes HDR 4K Dolby Vision support at 6-fps, Pro Res support, 120fps Slo-mo at 1080p, and a variety of portrait and other photo modes.
Around the front of the Samsung is a 12MP Selfie camera, though not one that offers the same depth mapping capabilities as Apple's version.
Galaxy S23 Ultra vs iPhone 14 Pro - Biometrics
Apple's settled into a fairly standard routine when it comes to biometric security, with its main iPhone releases using
Face ID
. This reliable system needs you only to look at the TrueDepth camera array for it to recognize you and grant you access, aided by its depth-mapping capabilities.
It wasn't necessarily the best option during the pandemic when face masks hindered progress, but it was still secure. There's a million-to-one false positive rate, which should instill confidence in most people's eyes.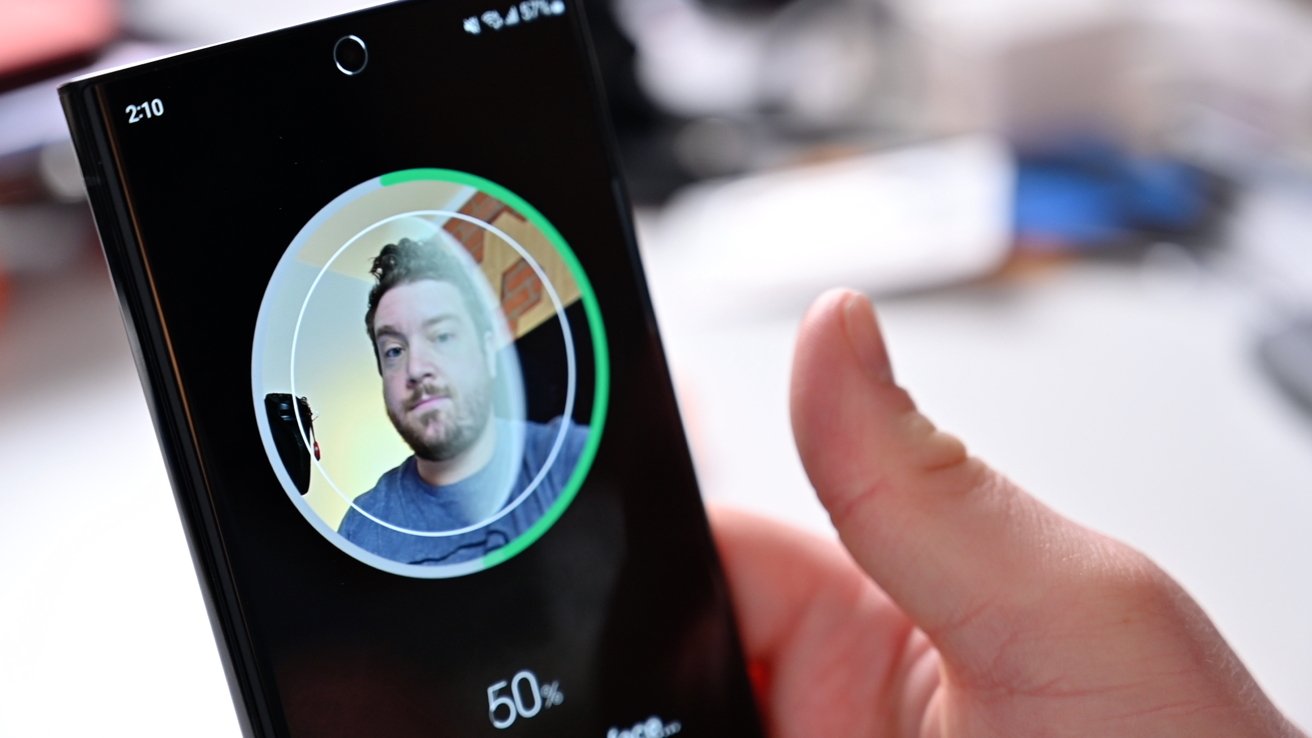 Samsung facial recognition
Then there's the Galaxy S23 Ultra, which relies on two different biometric systems. There's face recognition, but without the same depth-related data that Apple's version uses to full advantage.
The other is fingerprint recognition, using an ultrasonic system built into the display. This is handy for when you don't want to use your face to unlock or to do so discretely and is a decent alternative that Apple no longer offers on its flagship devices.
Galaxy S23 Ultra vs iPhone 14 Pro - Other features
On the connectivity side, both offer 5G service including mmWave. Wi-Fi 6E support is available on the S23 Ultra while Apple uses Wi-Fi 6, though this is only really a bonus if you have the networking infrastructure to support it.
Bluetooth 5.3 is offered across the board, as is NFC, and Ultra Wideband support.
Audio extends to stereo on both devices, complete with Dolby Atmos support. Apple also includes Spatial Audio, which works best with supportive
AirPods
models.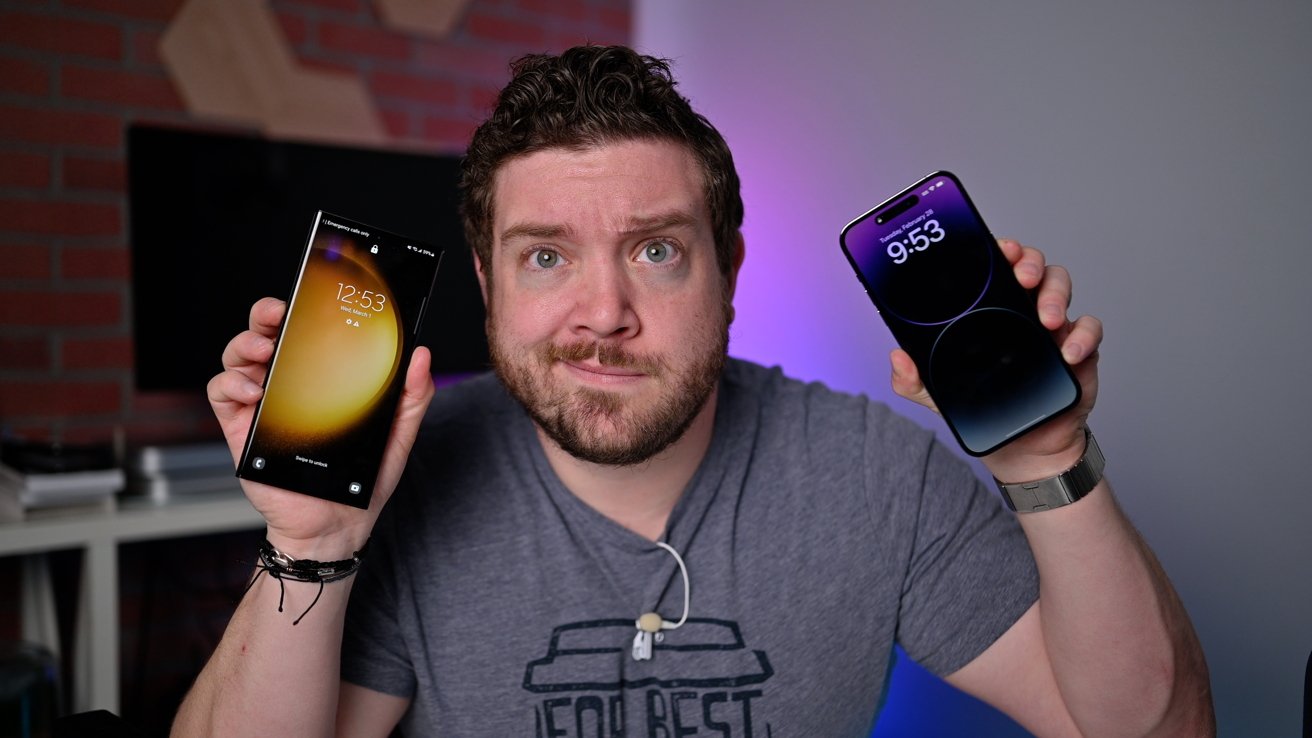 iPhone 14 Pro and Galaxy S23 Ultra
Apple and Samsung each claim IP68 water and dust resistance, with Samsung claiming survival at a 1.5-meter depth for up to 30 minutes, whereas Apple extends the depth to 6 meters.
Borrowing from the Note series, Samsung does include an S Pen with the Ultra, a compact stylus that stores inside the body of the smartphone, and offers 4,096 pressure levels. There is no active stylus support in the iPhone, except for those cheap capacitive ones that act like a finger and don't have pressure sensitivity at all.
Galaxy S23 Ultra vs iPhone 14 Pro - Pricing
The iPhone 14 Pro starts from $999, which includes 128GB of storage. An upgrade to 256GB is available for $1,099, 512GB for $1,299, and 1TB for $1,499.
The iPhone 14 Pro Max starts at $1,099 for the same 128GB capacity, a $100 premium on the smaller model. The other capacities are the same and cost $100 more than the non-Max, so it tops out at $1,599.
Samsung starts its Galaxy S23 Ultra at $1,199.99 with 256GB of storage, 512GB for $1,379.99, and 1TB for $1,619.99.
You can get the iPhone 14 Pro in a choice of four colors: Space Black, Deep Purple, Gold, or Silver.
Samsung has eight colorways for the Ultra, split into two groups. The basic colors are Green, Phantom Black, Lavender, and Cream, but there are Samsung.com exclusives of Lime, Sky Blue, Graphite, and Red.
Galaxy S23 Ultra vs iPhone 14 Pro - What to Buy
The Samsung Galaxy S23 Ultra is a great example of a smartphone. It has the performance and the large high-resolution display that someone wanting a premium device would want.
The camera situation is also well thought out, and having a 200MP camera sensor and Space Zoom are certainly excellent marketing points. Whether the quality of the image from that small pixel size or at that digital zoom range is worth it is another matter entirely.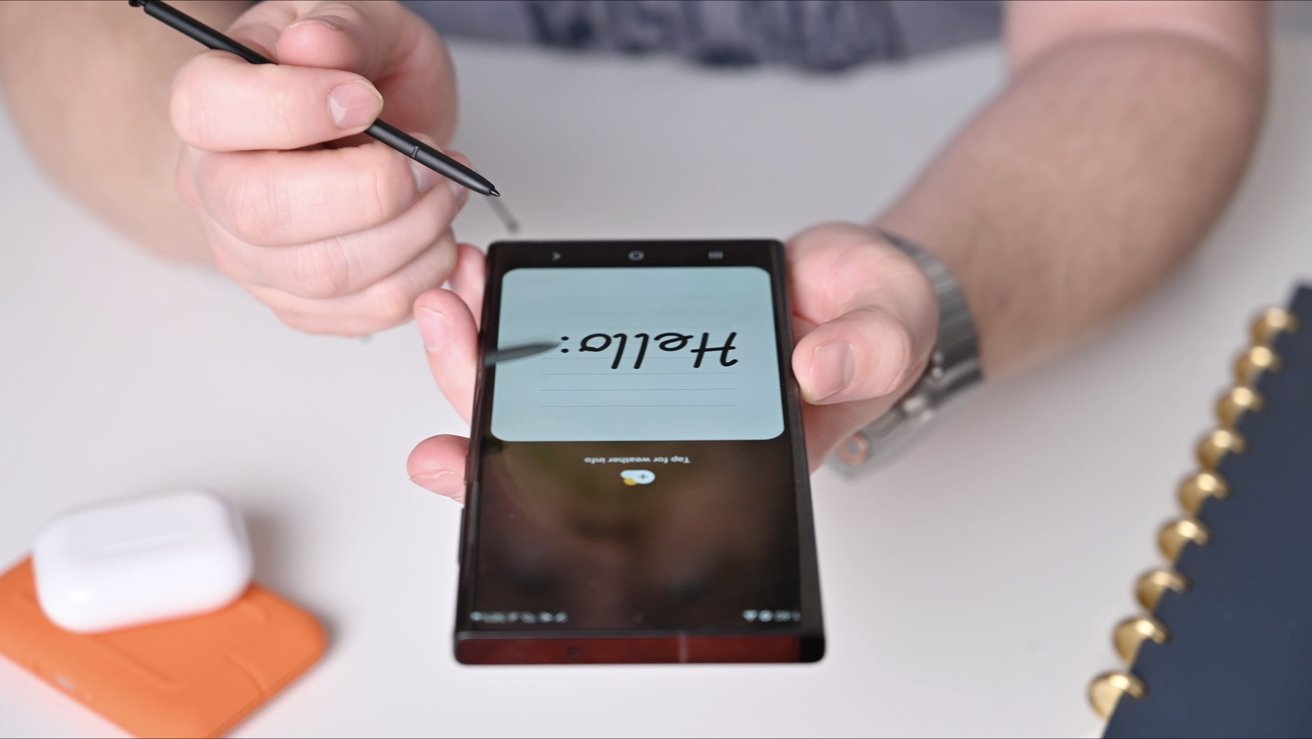 The S Pen on the S23 Ultra
Adding in the S Pen also brings the giant smartphone into the same territory as the Note line, making it more useful as a productivity device.
Even with the added extras, there are still a lot of qualities shared between the two rivals. We're talking premium smartphones that will handle whatever you throw at them, so there's little to complain about here at all for the platform agnostic.
Sure, there are going to be benefits of going one way or the other, such as Apple's whole ecosystem interconnectedness and efficiencies in controlling the entire software-hardware stack, but that's very much a personal preference.
Samsung's Galaxy S23 Ultra may catch your eye, and that's perfectly OK if you're willing to make the switch.
Where to buy
If the Samsung Galaxy S23 Ultra sounds like the phone for you, it can be ordered
at Samsung.com
and
Amazon.com
.
Prefer Apple's offering in the iPhone 14 Pro Max vs Samsung S23 Ultra matchup? There are plenty of
iPhone deals
going on now at wireless carriers, offering steep discounts on the devices especially with a qualifying trade. You can jump straight to the offers below or check out our
iPhone 14 Pro Max Price Guide
:
Read on AppleInsider