HyperDrive Thunderbolt 3 Mobile Dock review: Convenient port expansion for MacBook Pro
Countless docks aim to bring more ports to Apple users, but the HyperDrive Thunderbolt 3 Mobile Dock specifically targets MacBook Pro owners.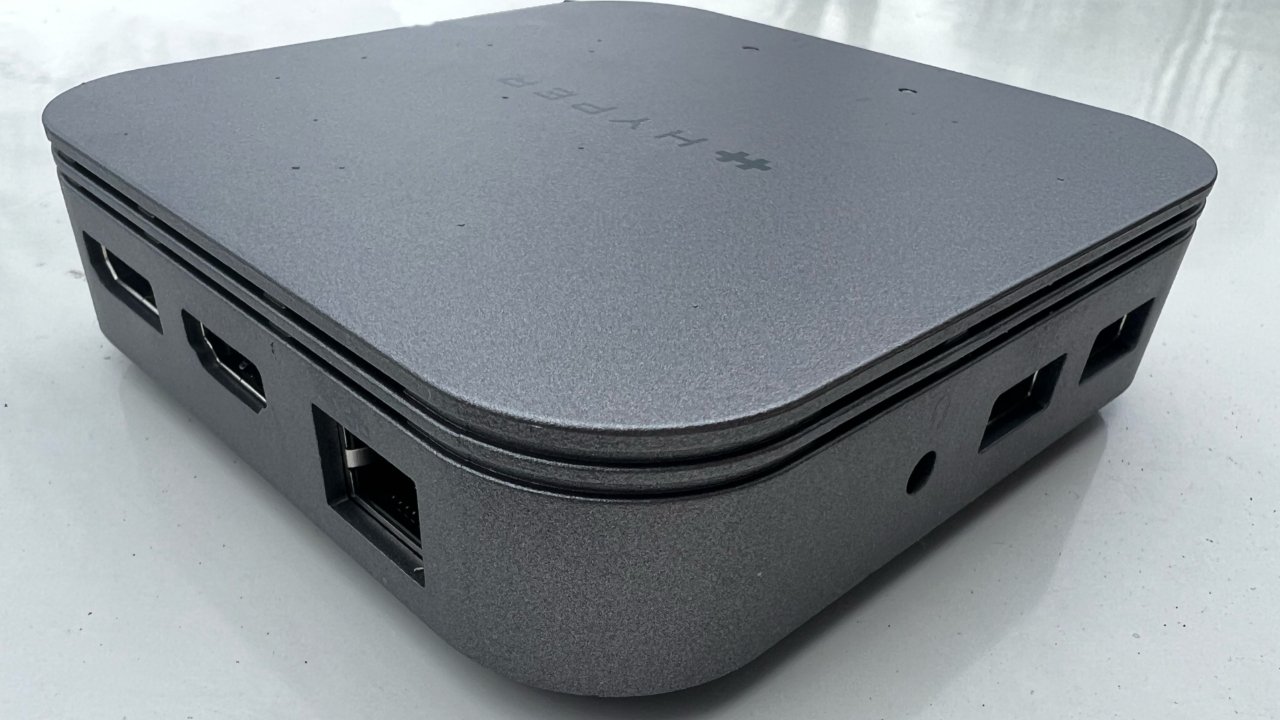 Apple has slowly brought back ports that it initially cut in the move to Apple Silicon. But that move has unfortunately coincided with the transition to USB-C.
So it's common to find that you need one more port than you have on your Mac. Or that you only have a USB-C port when you want to connect an older USB-A device.
The solution has long been a dock, and Hyper
already has
a Thunderbolt 4 Power Hub that's meant for desktop use. However, this HyperDrive model is instead aimed at MacBook Air and MacBook Pro users who still have USB-A devices. Or who want to connect those laptops to a monitor.
HyperDrive -- design
In size and shape, the HyperDrive Thunderbolt 3 Mobile Dock resembles the latest Apple TV 4K. It has a similar width and depth at 3.94 inches square, compared to the Apple TV 4K's 3.66 inches.
Its height is similar, too, with the HyperDrive coming in at 0.98 inches tall, compared to Apple's device at 1.2 inches. Its weight is fractionally lighter, too, at 7.05 ounces instead of 7.3 ounces.
Within that small and light size, the HyperDrive offers seven ports:


Thunderbolt 3 at 40Gbps


2 x 10Gbps USB-A


DisplayPort 1.4 (supporting up to 30Hz at 8K resolution)


HDMI 2.0 (supporting up to 60Hz at 4K resolution


1Gb Ethernet


3.5mm audio jack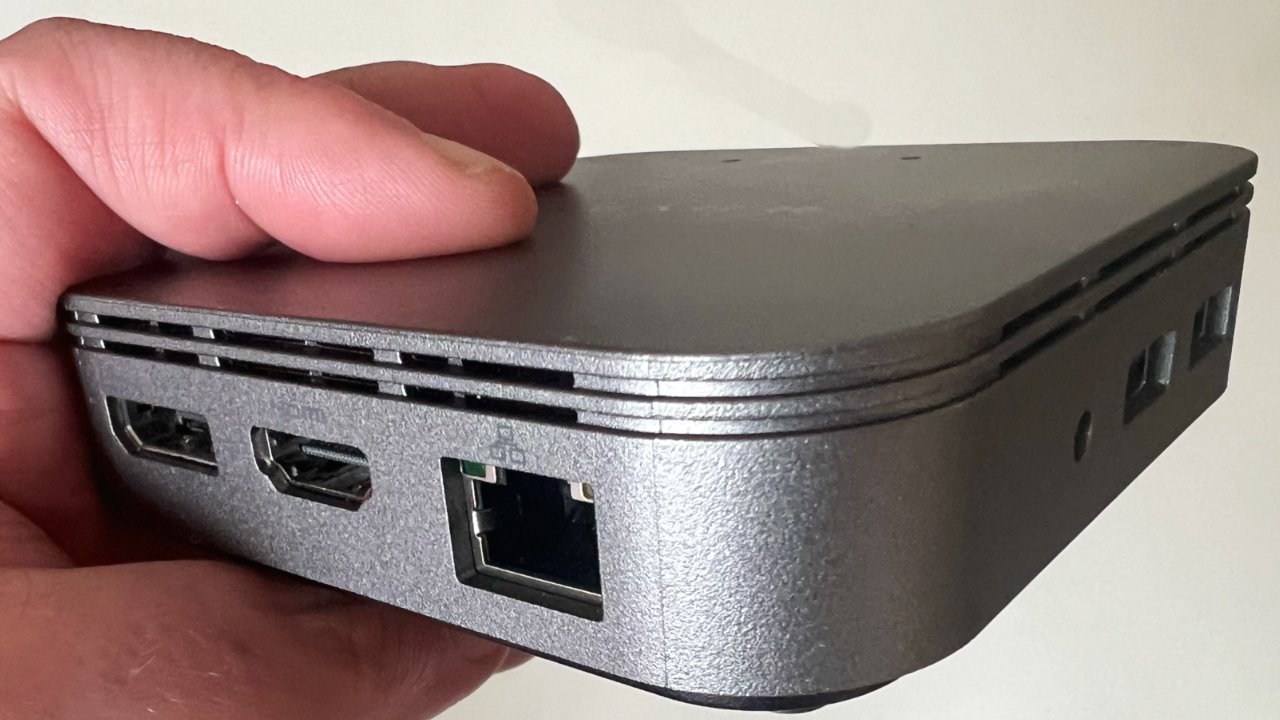 There are ports on each side, meaning clear access to everything
The option for up to two displays depends on the Mac you connect the dock to.
It seems a bit generous to count the headphone jack as one of the seven ports, especially since it's superfluous when you're connecting this dock to a MacBook Pro or MacBook Air. Those devices have their own 3.5mm jack plugs on the side, and the dock's short cable makes them no more or less convenient.
If you use the dock with a Mac mini, however, it lets you bring most of that machine's ports around to the front, where they can be more accessible.
You won't bring the dock far, though, as it comes with a short -- approximately 11 inches or 30 cm -- cable. That's typical for a dock, and you wouldn't want more to carry when traveling, but the cable is also hard-wired in.
That means the semi-rigid cable can't be swapped out, and it also can't be wound around the device. So you have to be conscious of it and careful when packing to travel.
It's also a Thunderbolt 3 cable, which means that the Thunderbolt 3 port on the HyperDrive is a pass-through connector. It provides 60W power delivery, but overall the device doesn't offer any extra Thunderbolt 3 ports, it simply doesn't take up what could be your only one.
HyperDrive - in use
Nonetheless, this is a handy dock to have. You need to be at a desk, as otherwise the short cable also means the dock would be hanging over your legs, but if you are, it couldn't be simpler to use.
Just plug the dock's cable into a USB-C port on your Mac, then connect anything you need to the dock's own ports.
The manufacturer says that the Mac's USB-C port must support Power Delivery, DisplayPort Alt Mode and Thunderbolt 3 / 4, USB4, 3.2 Generation 1 or 2).
The company also notes that you can't charge iPads using the dock, though otherwise it works with them.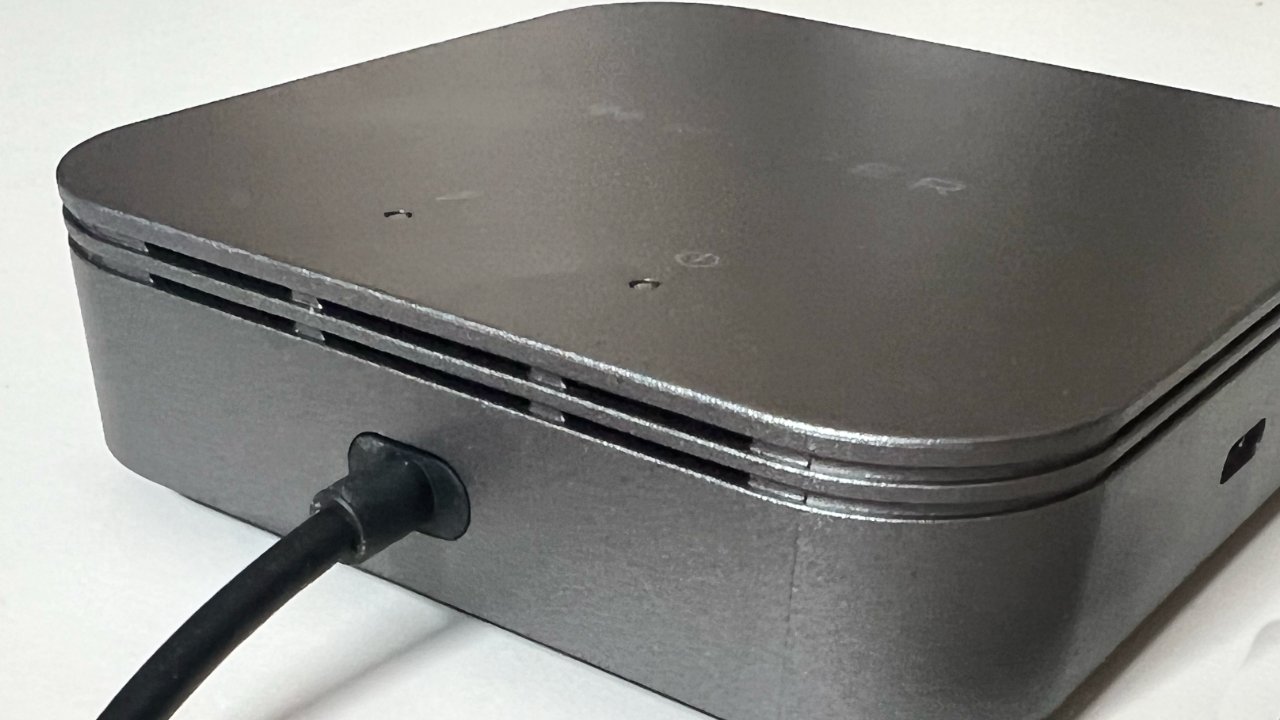 The dock is small and light, but the cable is hardwired in, and short.
So it's definitely a case of no fuss convenience, so long as the dock is offering the ports that you need. For the MacBook Air, it would be handy to have one more Thunderbolt port, for instance, as it would with the 2020 M1 Mac mini.
HyperDrive Thunderbolt 3 Mobile Dock Pros


Lightweight


Doesn't need separate power supply


Provides a good range of ports


HyperDrive Thunderbolt 3 Mobile Dock Cons


Doesn't add an extra Thunderbolt port


Cable is hard-wired in


Expensive unless you need all its ports


Rating: 3.5 out of 5
The HyperDrive Thunderbolt 3 Mobile Dock costs
$199.99 on Amazon
.
Read on AppleInsider