HyperPack Pro review: A lot of room for a lot of tech
The HyperPack Pro aims to elevate the humble backpack to an easily locatable container that can also handle all the hardware of a power user's portable workspace.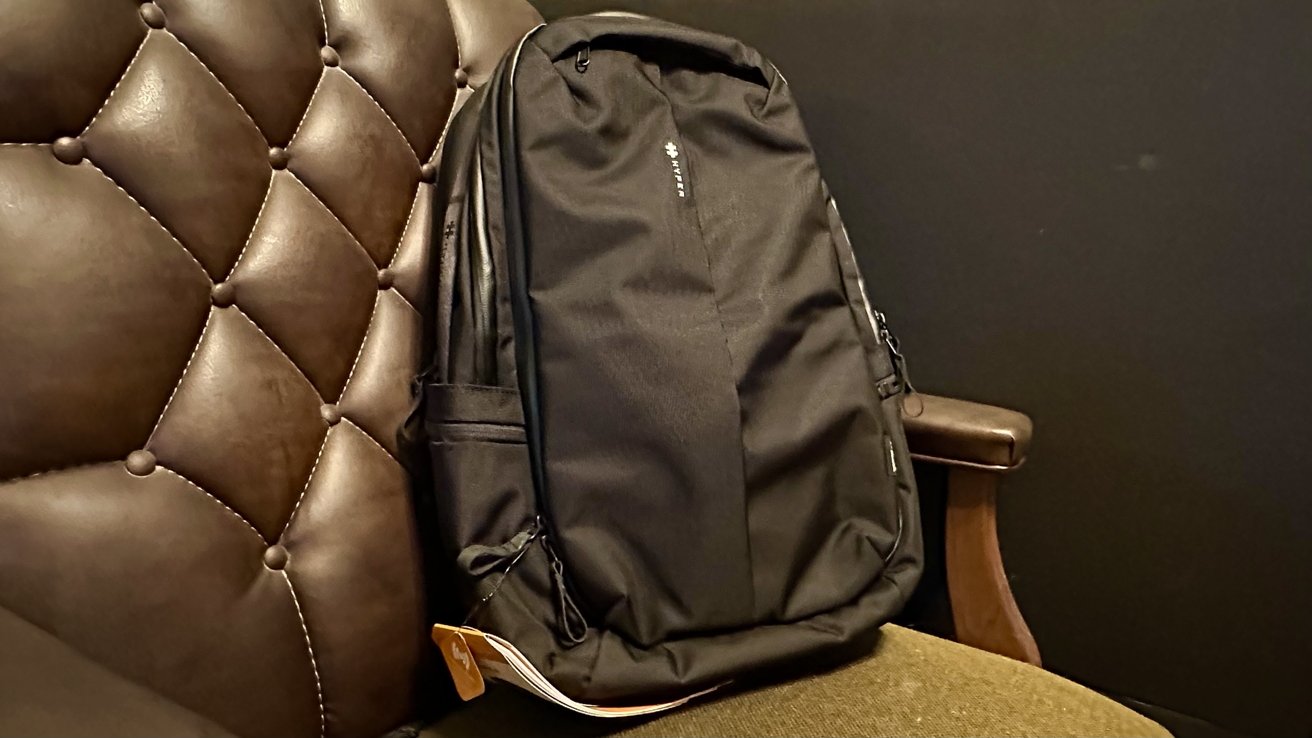 HyperPack Pro
As technology continues to advance forwards, more of the products we use nearly every day seem to get upgraded to do tasks they originally could not. The HyperPack Pro takes the ordinary backpack and allows you to be able to locate it and carry all the tools you need in a strong and resistant design.
Portability, security, and safety are areas that Hyper hopes to achieve with its new backpack. With Apple's
Find My
network being supported -- and more pockets within each compartment than there are to count on one hand -- the HyperPack Pro makes some promising arguments that it is the ultimate backpack to have.
If you carry a lot of wires and devices around and need something to carry them in that is portable and comfortable to wear, then the HyperPack Pro may be an option to look at as long as you can afford the retail price for it.
The design that keeps on giving
The HyperPack Pro may look sleek at first glance, but once you fully open it, you will see how deep and expandable the backpack is.
Each compartment of the backpack has different pockets that vary in size, depth, and usability. Some pockets can be used for anything, and others have a more distinct purpose.
Notebook/back compartment
When you look at the back compartment of the backpack, you will see it has deep pockets and sleeves that allow you to be able to store multiples device in there without the need to worry about space.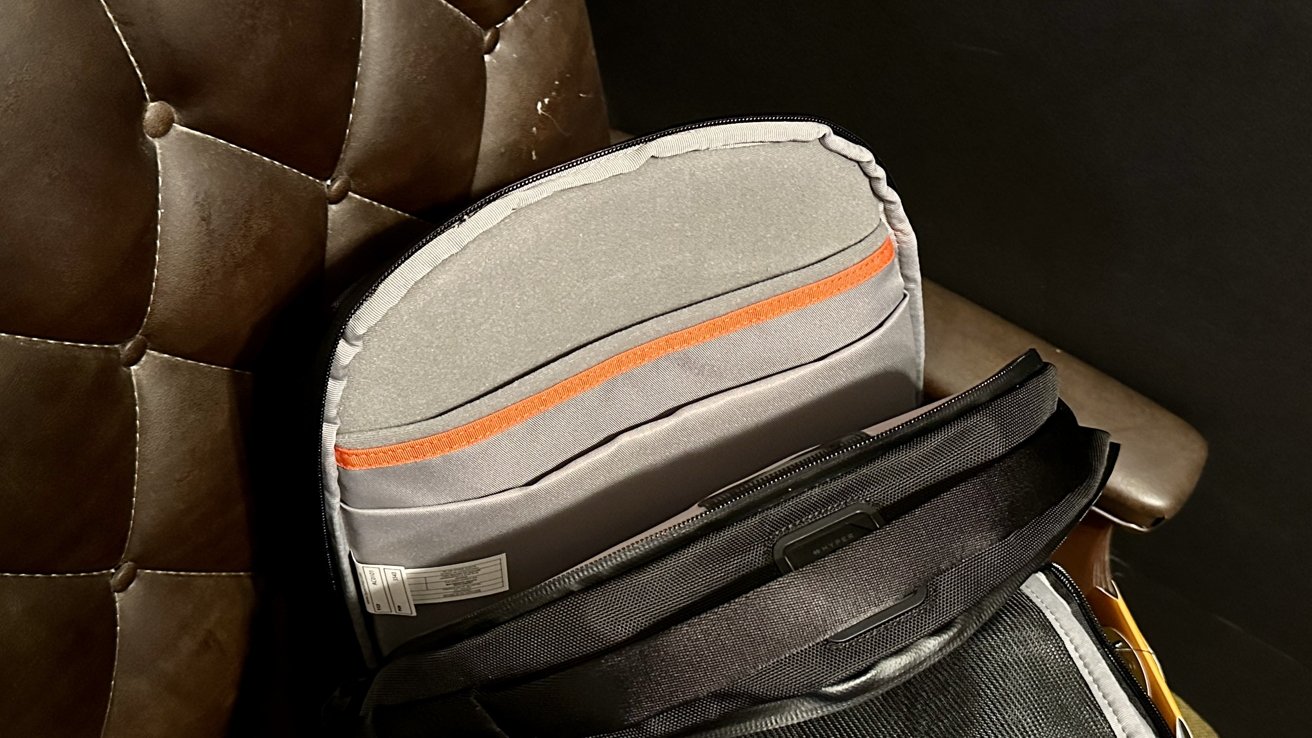 Notebook/back compartment
The back pouch can hold a device that is as big as the
16" MacBook Pro
. The pouch in front of the one in the back is meant for smaller devices -- like a
13" MacBook Air
or
13" MacBook Pro
.
Catch All compartment
The Catch All compartment is the biggest and deepest area of the backpack in that you can store all your miscellaneous devices and accessories. You can place your headphones and notebooks in there, or any other materials that you would like to take around.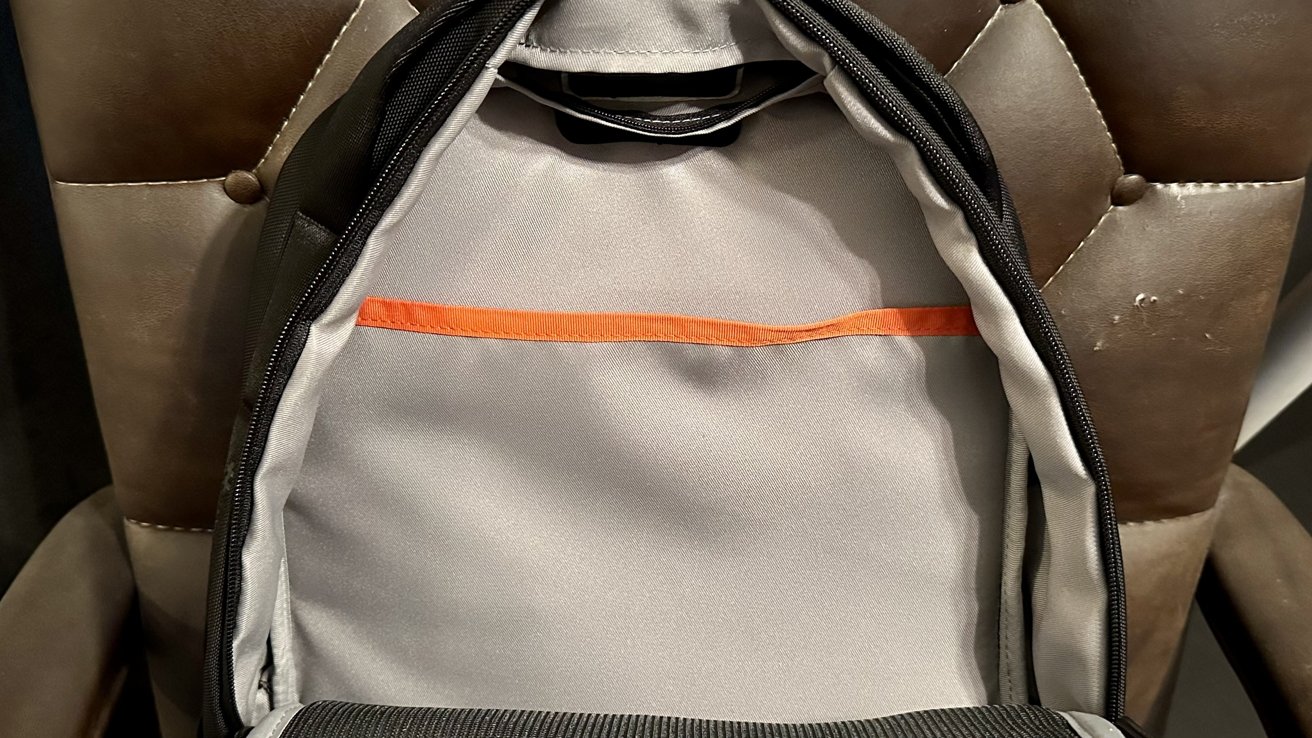 Back compartment for notebooks and tablets
Two mesh pockets can hold wires and cords for you to use later if you need them to power your devices or plug into an external monitor.
Another device sleeve allows you to hold up to a 13" MacBook or tablet.
Tech Organization compartment
This compartment contains anti-scanning patting and more pockets to store more accessories and devices while you are on the go.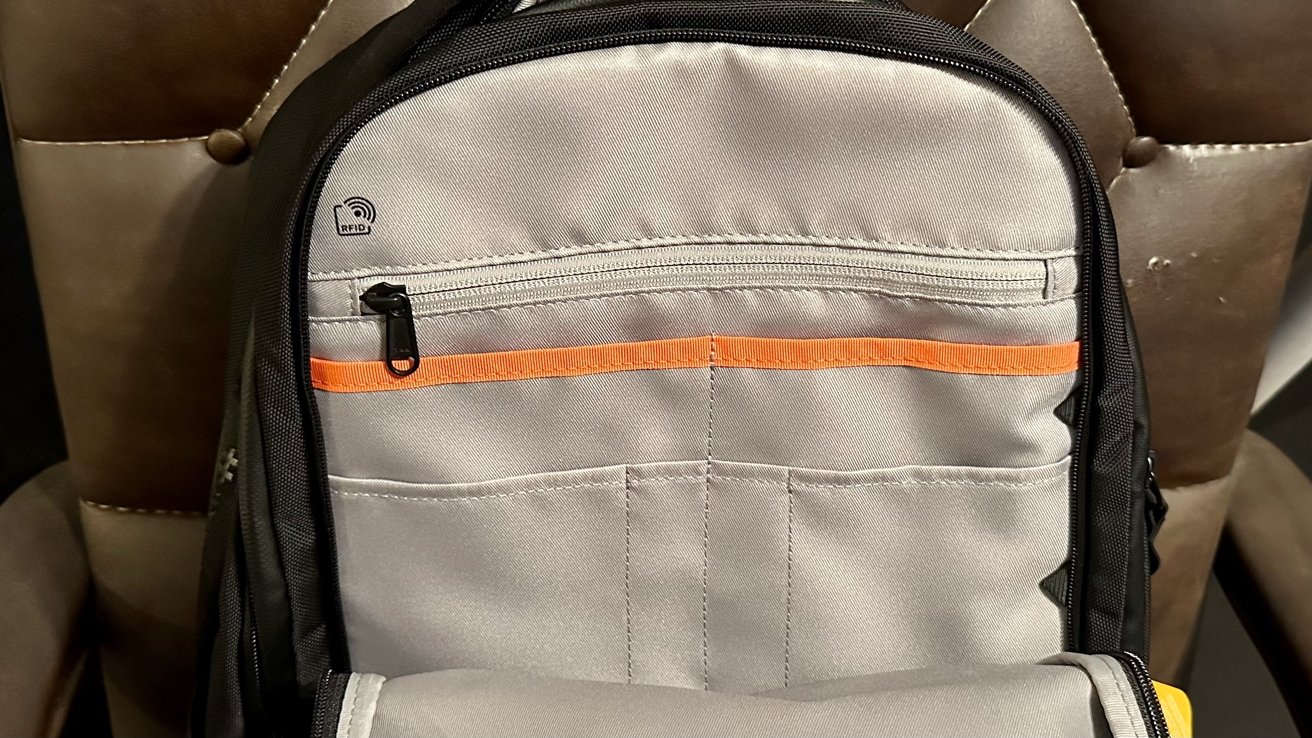 Tech Organization compartment
On the top is an RFID compartment that allows you to store items you do not want to be scanned. This could range from passports, credit cards, or any other valuable items you are carrying with you.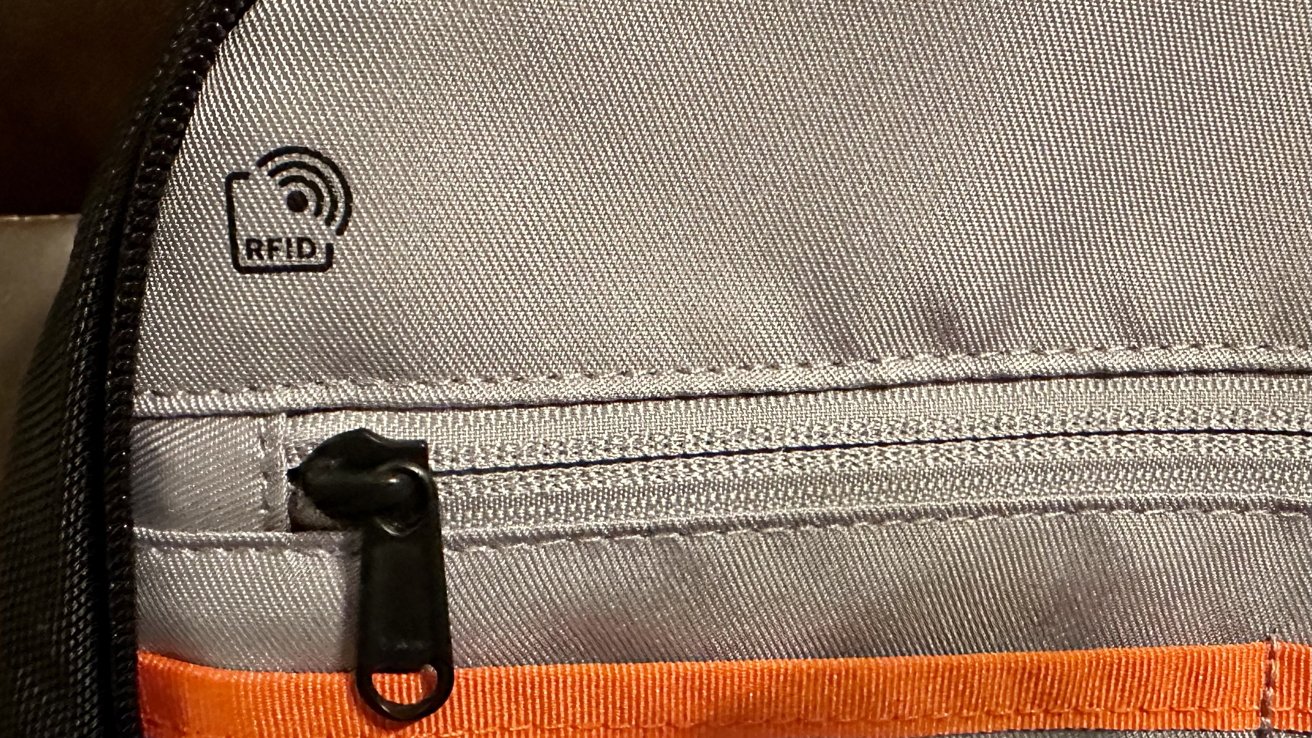 RFID zippered pouch
Below that are pockets topped with an orange header that is good to fit phones, wallets, small devices, or portable chargers and/or hard drives. Underneath the orange pockets are smaller pouches that are good to hold AirPods or any other small earbuds.
On the bottom of the Tech Organization compartment is a mesh zipped-up pocket that allows you to store a portable battery inside of it. The pocket can hold beefy battery packs, so do not think it can only carry small ones.
Along the sides of the compartment are little looped hooks that allow you to run a charging cable from the battery pack to any of your devices without the wire fumbling around freely and getting in the way of you accessing the items in your bag.
Through the HyperPack Pro, you will see a little opening labeled "Power Pass Thru", this allows you to thread the charging cable through it and access other compartments through the backpack. This is great because it allows you to keep your battery pack in the Tech Organization compartment while still being able to charge your
MacBook
or
iPad
that is in the back.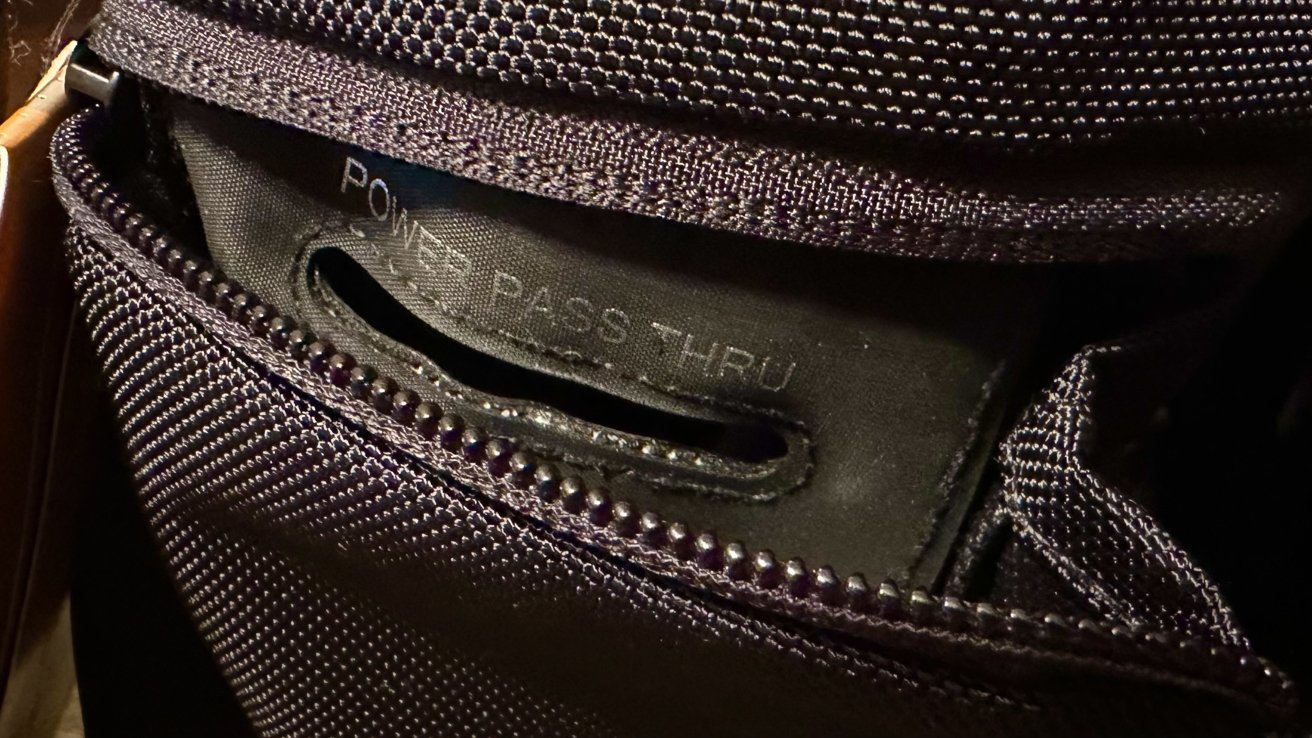 Power Pass Thru cutout
Side compartments
On the right side of the backpack is a MagSafe compatibility charging pouch that allows you to run a
MagSafe
charging puck through the Power Pass Thru -- from the portable battery pack you have -- and store it in a tiny pocket within the side compartment.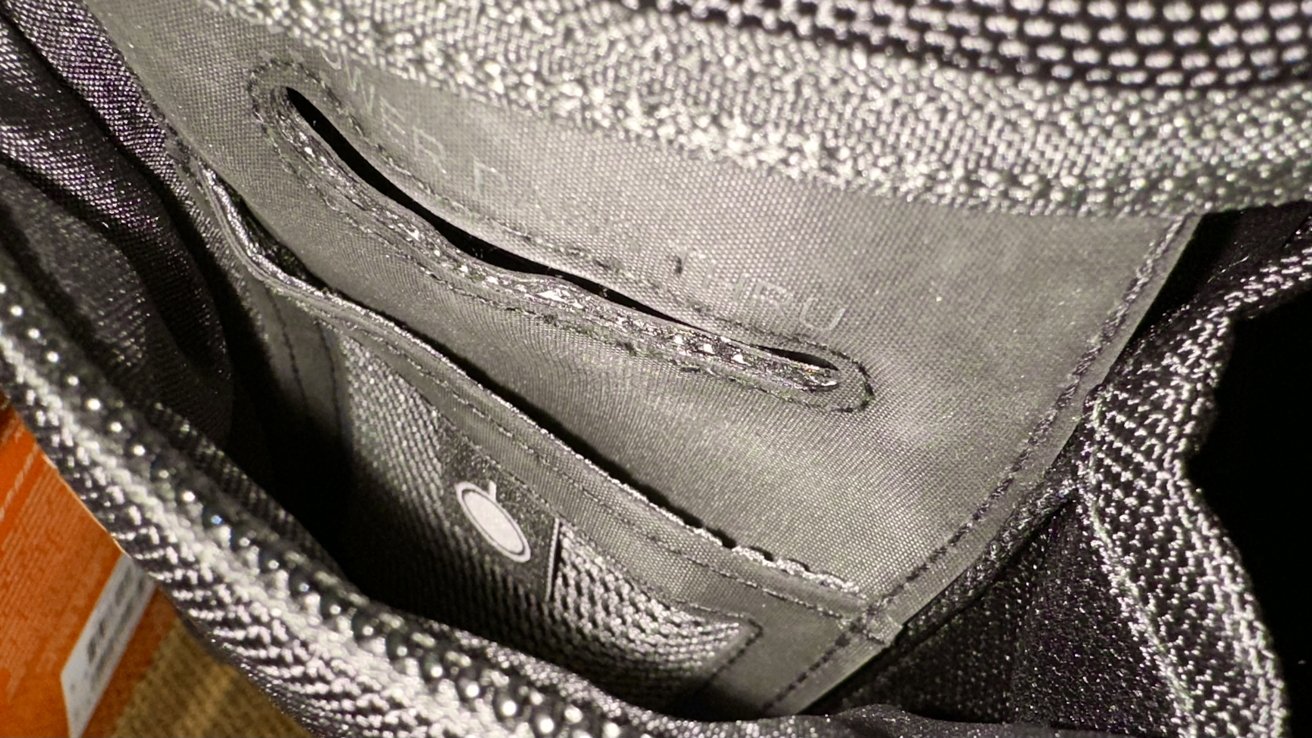 MagSafe side compartment
You can place any MagSafe compatibility device within the right-side compartment and it will snap instantly to the puck and start charging.
The left side of the backpack has a pocket that can hold a water bottle of up to 1 liter (34 ounces) in capacity. The pocket is deep and wide enough to keep your bottle secure and your mind at ease from worrying about the water bottle falling out.
Front compartments
In the front of the backpack is a compartment that opens with a zipper that runs directly down the middle from nearly top to bottom. It blooms open outwards and has a lot of room to hold bulky items inside of it -- especially a windbreaker.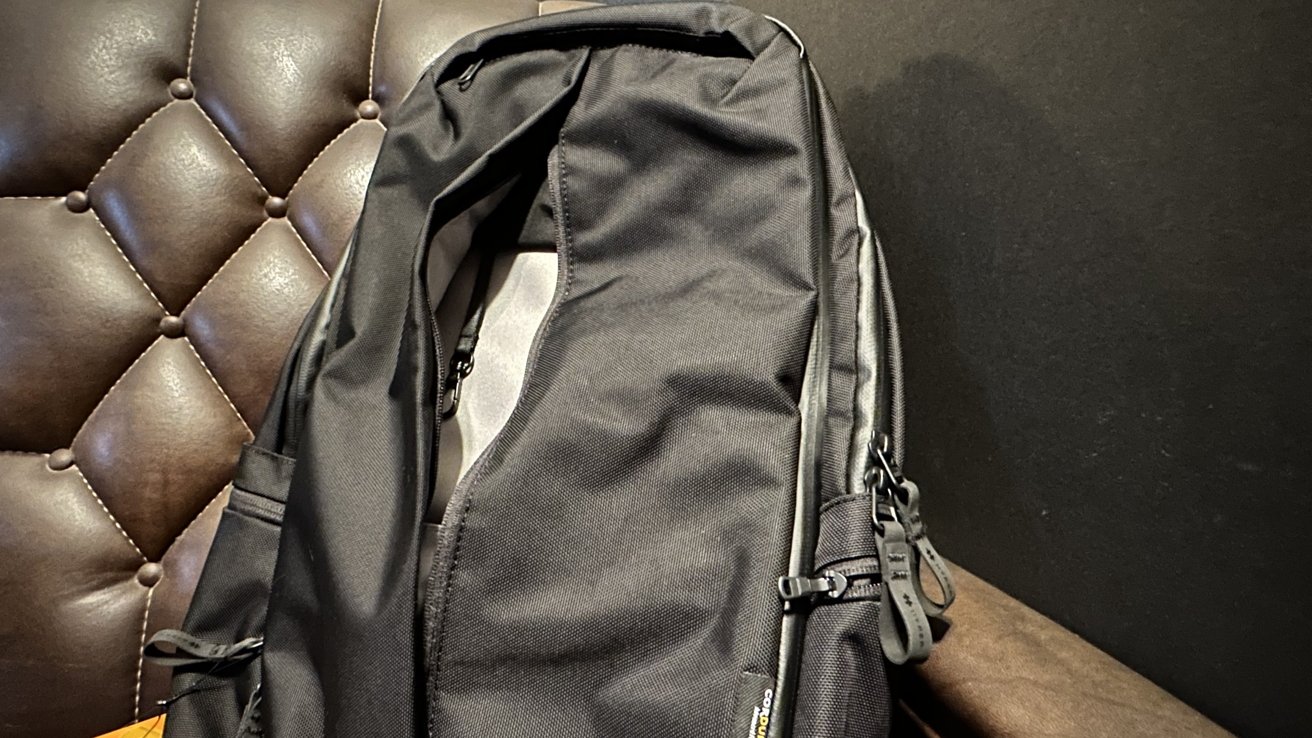 Open front compartment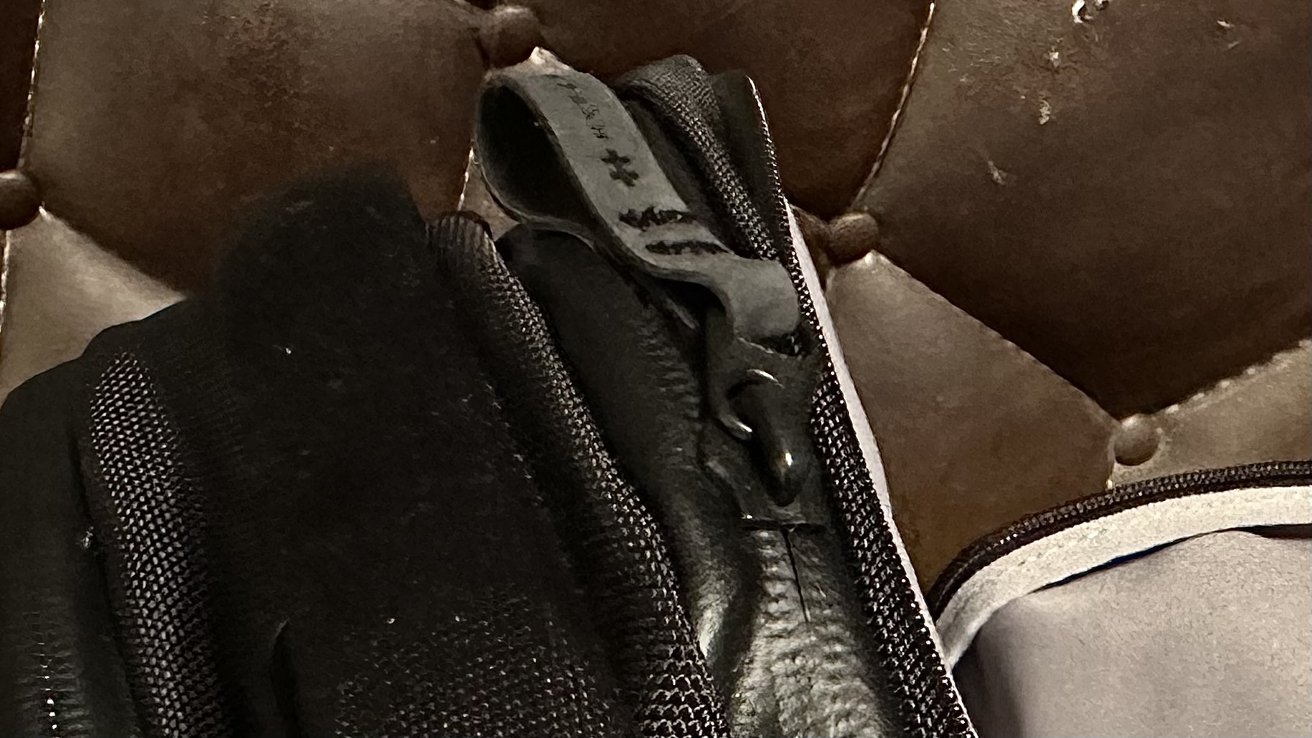 Interlock zippers
Above that is a glasses holder that has a micro-fiber lining inside of it. This allows for your glasses -- if it is reading, sunglasses, or any kind -- to not get scratched or ruined while being carried in there.
Bottom back compartment
By your lower back is another compartment that opens via a zipper across the lower half of the backpack and allows for additional items to be stored there.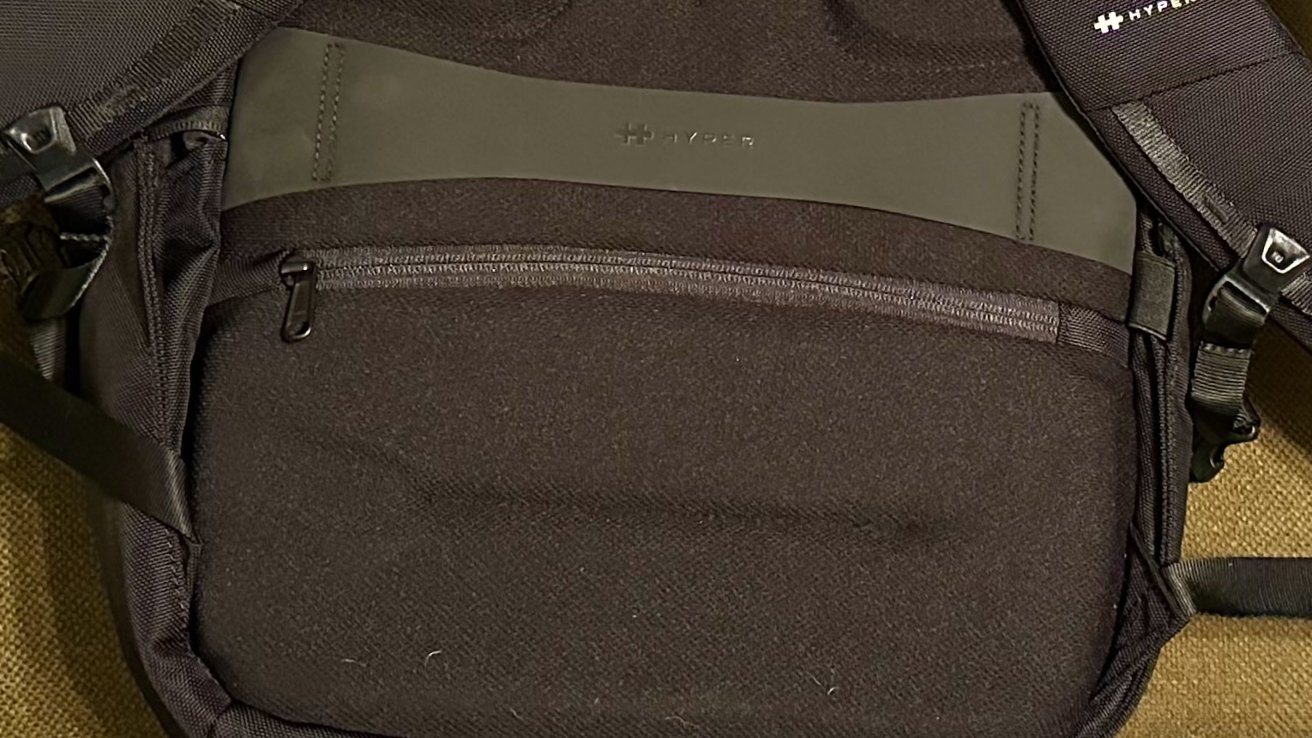 Luggage strap and lower back compartment
This is a good area to store valuable items -- like a passport, wallet, and/or credit cards -- while carrying the backpack around. It is located by your lower back, so thieves cannot access it when it is on you.
Exterior design
The exterior is not made out of flimsy material, it is tough and strong, and can withhold the weight and conditions you may put it through.
HyperPack Pro is made out of 1260D Cordura Nylon fabric, which makes it water resistant, and the zippers have an interlocking design that prevents people from easily opening it to take what is inside. The material is rated at IPX4 Water Resistant.
A side handle is also present on the left side of the backpack to allow you to carry it with one hand.
The back has a luggage strap that allows you to place the backpack on the handles of your luggage bag when traveling if you do not want to wear it on your back.
Find My support
The headlining feature that the HyperPack Pro has is its integration with Apple's Find My network and your ability to locate your backpack from Find My.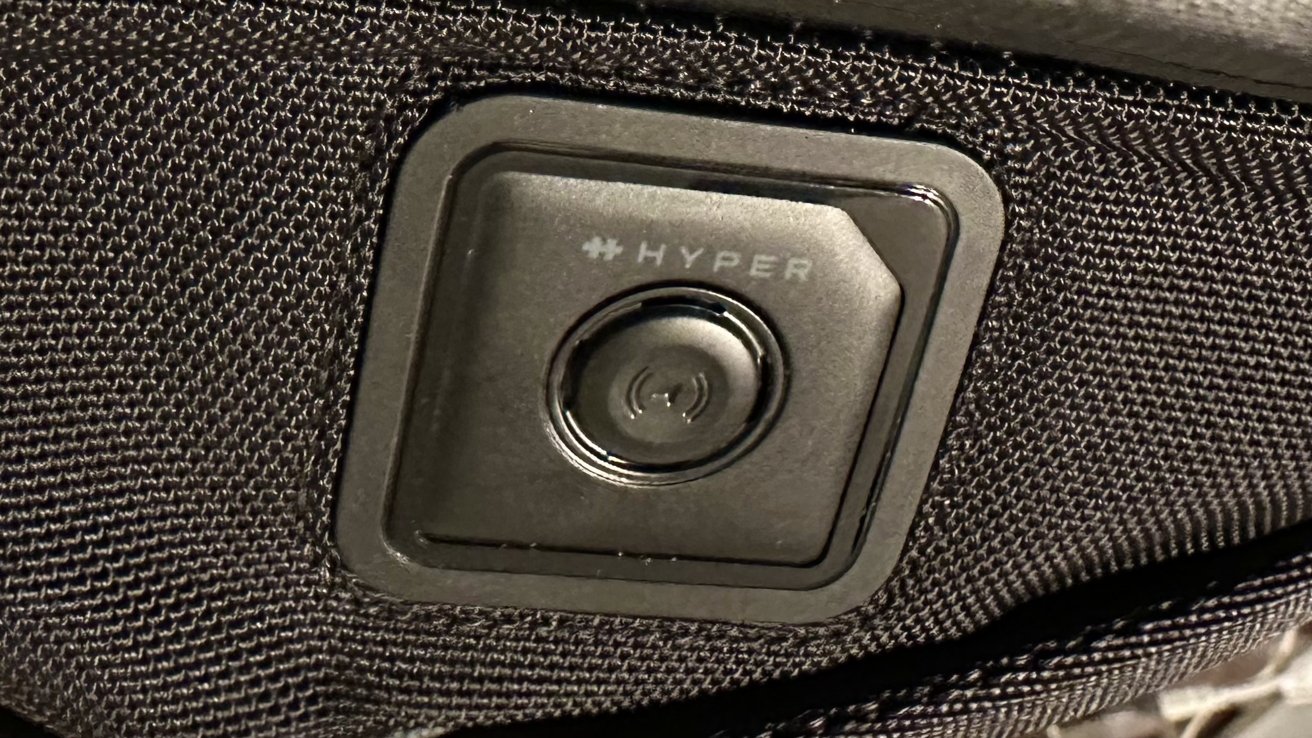 Find My connection button
Setting it up is pretty simple, you press down the button -- that is located on the top of the backpack -- for five seconds until it appears in the Find My app. The backpack will beep to let you know it is ready to pair.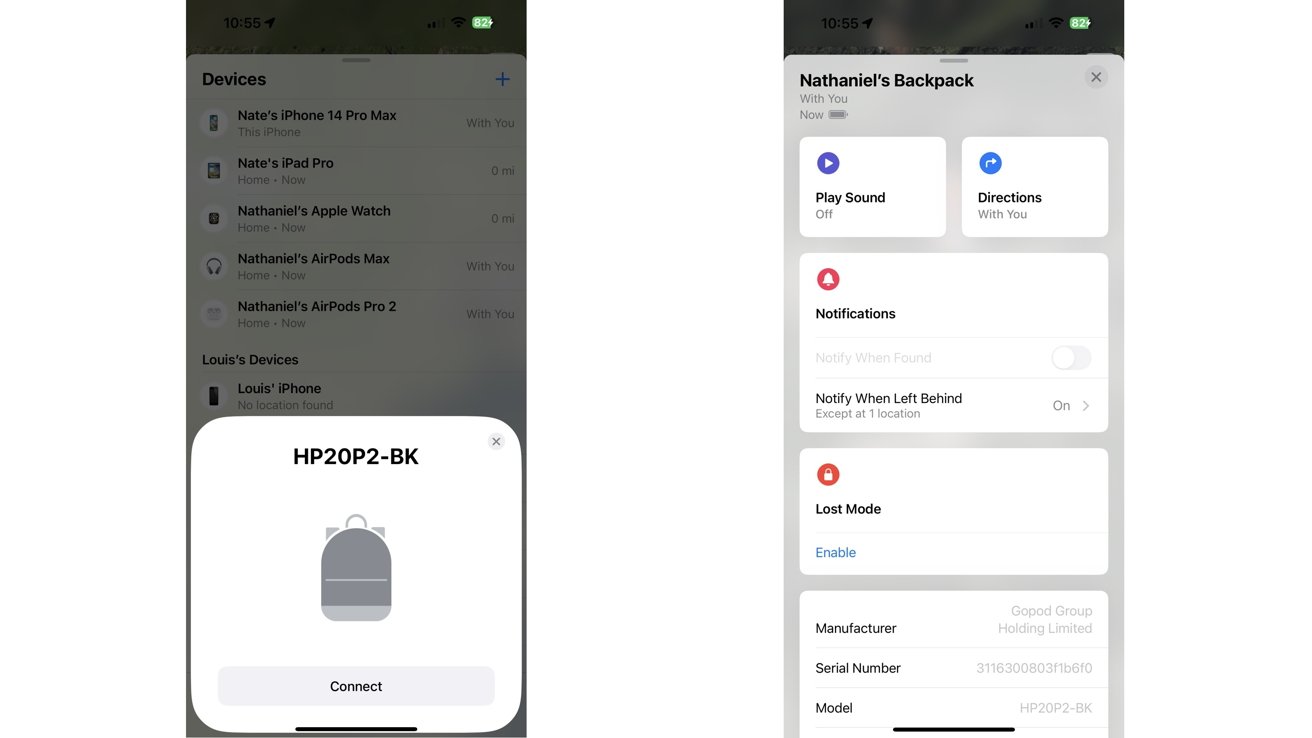 Find My setup
Within the back compartment, on the top, is a pouch that you can open and access the battery to the locator. The backpack uses CR2032 batteries -- the same that
AirTags
use.
Having the tracker incorporated into the backpack is good to have when traveling because it will notify you on your
iPhone
if you leave it behind.
If you cannot find your backpack, you can trigger a sound from it. The sound pings at 90db, and is a different sound than what an AirTag would make.
There is no Precision Finding available with the HyperPack Pro currently. This feature -- which can be found on AirTags -- allows you to use your iPhone to be guided precisely to your item.
More than just an ordinary backpack
The HyperPack Pro offers more than the traditional backpack does in the sense of portability, durability, and security shown through its whole design.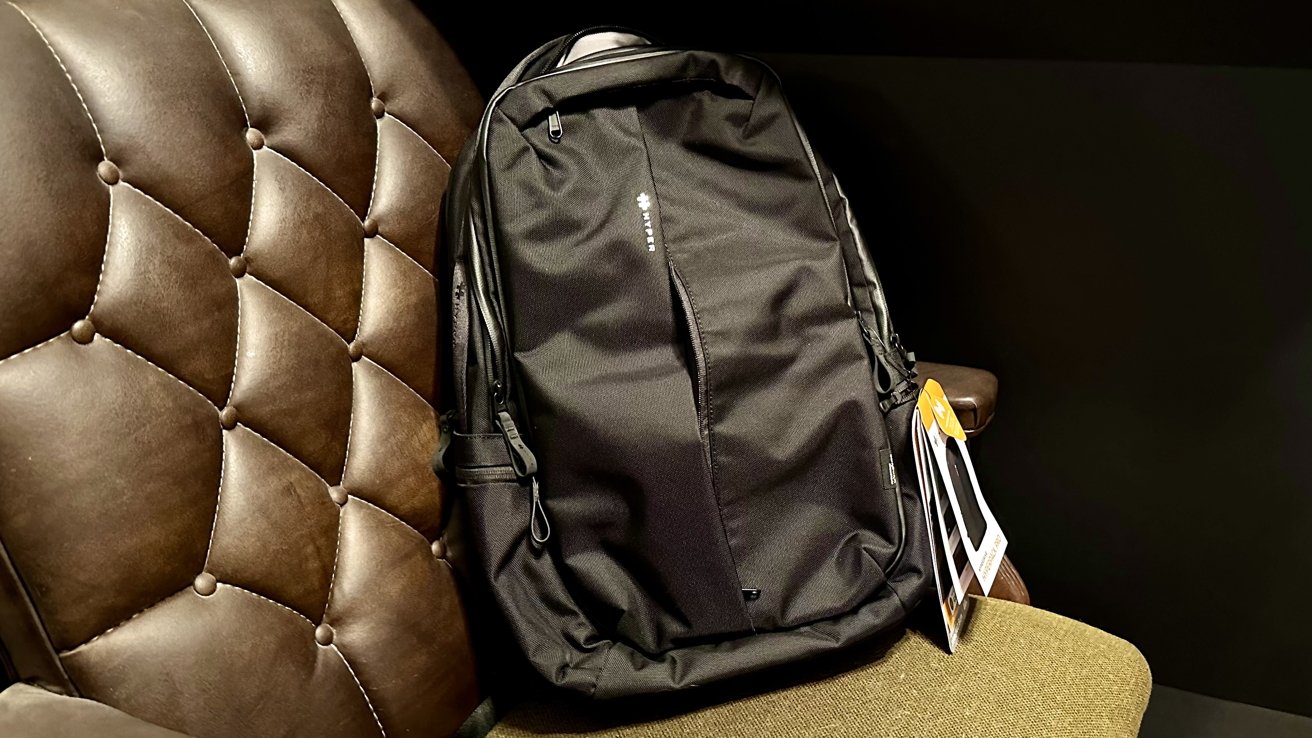 HyperPack Pro
The material it is made out of is tough and resistant to water -- and other spills -- and can withhold everyday use. You can tell how strong the material is by just feeling the exterior.
The interlocked zippers allow for security and ease of mind knowing that no random stranger can come up behind you, open your bag, and take something out of it.
All the compartments offer a lot of space -- that all allocate from the 22L capacity the backpack can hold -- and some sleeves and pockets can fit devices as big as the largest MacBook Pro to the size of AirPods.
The MagSafe side compartment is a nice touch if you have a MagSafe charging puck and a compatibility device, but if you don't, you can still use it as a way to charge your devices through the Power Pass Thru -- which is a great design choice to allow power to be accessible within each compartment.
The Find My integration is a nice touch, but it can make you wonder if you can get the same level of security by attaching an AirTag to a regular backpack. You can, but the only differences would be that the AirTag could be easier for someone to remove and that the sound from it may be muffled from within the backpack.
The HyperPack Pro is an amazing backpack that offers a lot of storage, security, and durability integrated within it. The biggest drawback is the price, which is supposed to be $200 when it hits retail shelves.
If you travel a lot, have a lot of devices to take with you, and can afford the asking price, then the HyperPack Pro may be the best backpack for you. It is the near-perfect backpack for any device-heavy traveler.
HyperPack Pro - pros
A lot of room


Multiple compartments


Water resistance


Find My support


Strong durability


RFID anti-scanning protection


A convenient way to charge while traveling
HyperPack Pro - cons
High price tag


No Precision Finding
Rating: 4 out of 5
Where to buy the HyperPack Pro
You can help fund the HyperPack Pro on its
Indiegogo page
, and if you spend $120, you can get the product early before it becomes available in stores. Once it does, it will be $200.
Read on AppleInsider