BenQ PD2725U review: Not even close to a Studio Display substitute
The 27-inch, 4K BenQ PD2725U monitor is advertised as a "Mac compatible" display, and it worked with our
MacBook Air
with M2 -- but it's clear this display wasn't designed for Mac users.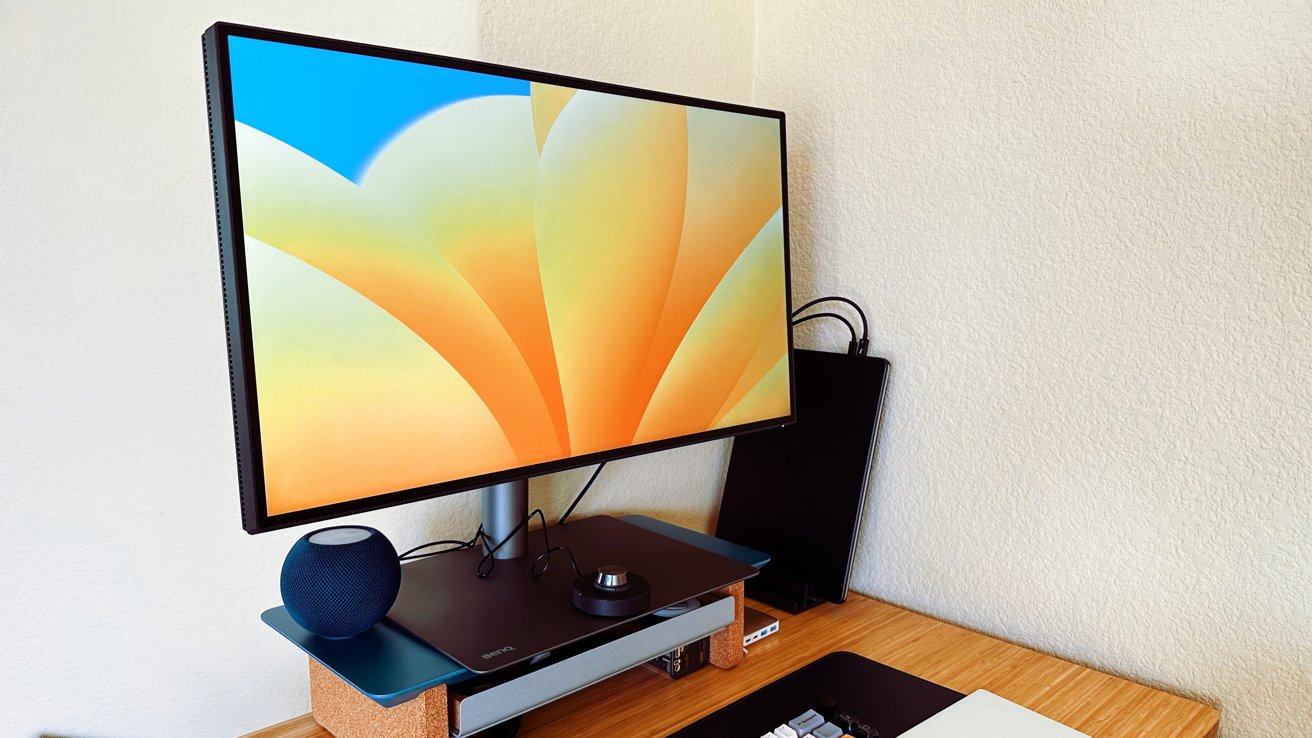 BenQ PD2725U
The obvious thing worth pointing out is that this is a 27-inch monitor with a 4K resolution. Apple's
macOS
looks the best when there's a certain number of pixels per inch, and this monitor with 163ppi falls short -- it's not in the retina range.
BenQ pushes the PD2725U as a color-accurate display, presumably to target photographers and designers, but the non-native resolution issue remains glaring.
Even for us, primarily using the monitor for writing and basic image manipulation, the monitor felt lackluster with less-than-crisp text, and strangely larger UI elements.
BenQ PD2725U monitor review - Look and feel
BenQ calls the PD2725U a designer monitor and lists it on its website under a section for professionals. In this case, we're assuming that BenQ's classification of pro is different than Apple's.
The specs that jumped out to us were the display's 163 pixels per inch and 400 nits of peak HDR brightness -- 250 nits of brightness on average.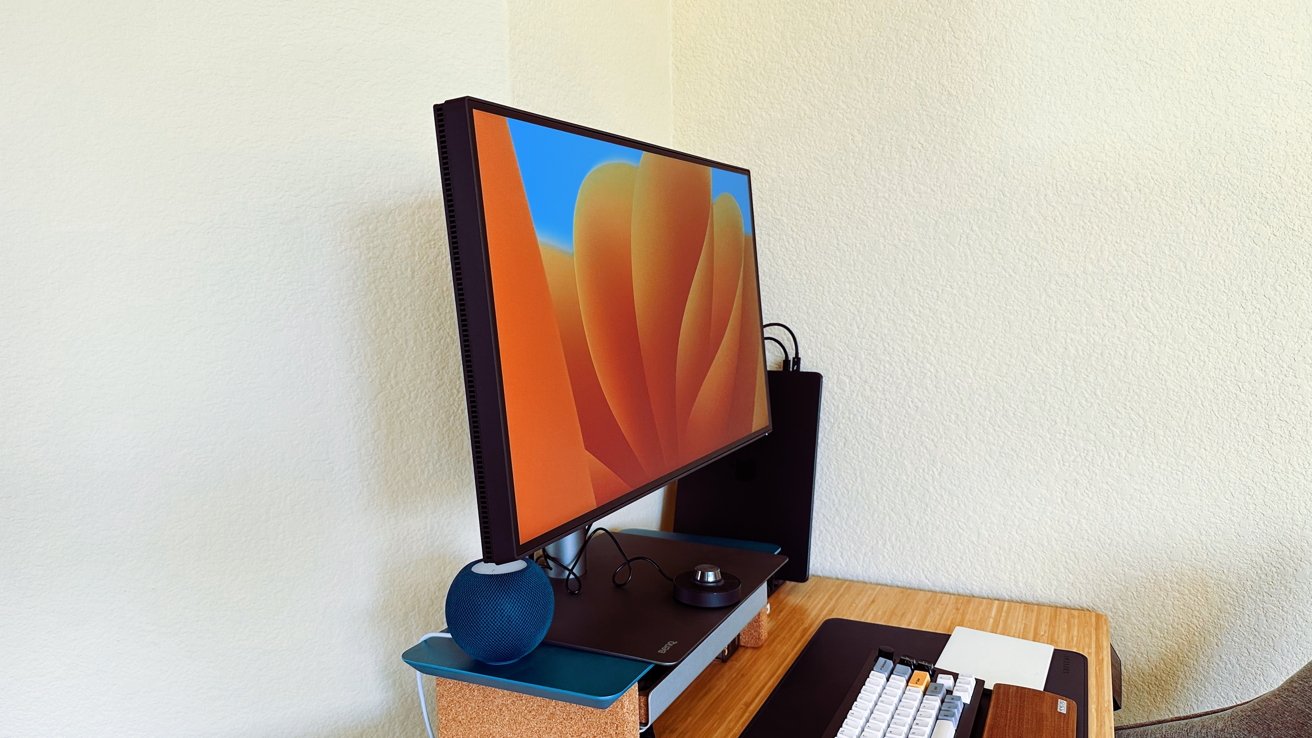 BenQ PD2725U is 27 inches with a 4K resolution
If your goal is strictly color reproduction, using BenQ's software may be helpful. The company has proprietary software to ensure the design you see on screen is what you see when printed on paper. We'll assume the category of professionals targeted with this monitor is more niche than we can appreciate, very focused on specific color reproduction.
For us, however, using the monitor more broadly and for everyday tasks, we much preferred our
Studio Display
for the complete experience, from visuals and built-in speakers to exterior design.
Going with Apple's Studio Display completes the circle of computer, operating system, and monitor. It simplifies the settings and configuration process. As we've discussed before,
display scaling
will help the visual impacts of macOS user interface for non-retina monitors, but it's not perfect.
It was hard to find a sweet spot between items being too large or too small on screen when we sat about 22 inches away. Windows took up more room and decreased the usefulness of having a screen of this size on our desk.
BenQ PD2725U monitor review -- Stand and cord organization
Right out of the gate, we liked the BenQ adjustable stand that the monitor came with -- included in the price even!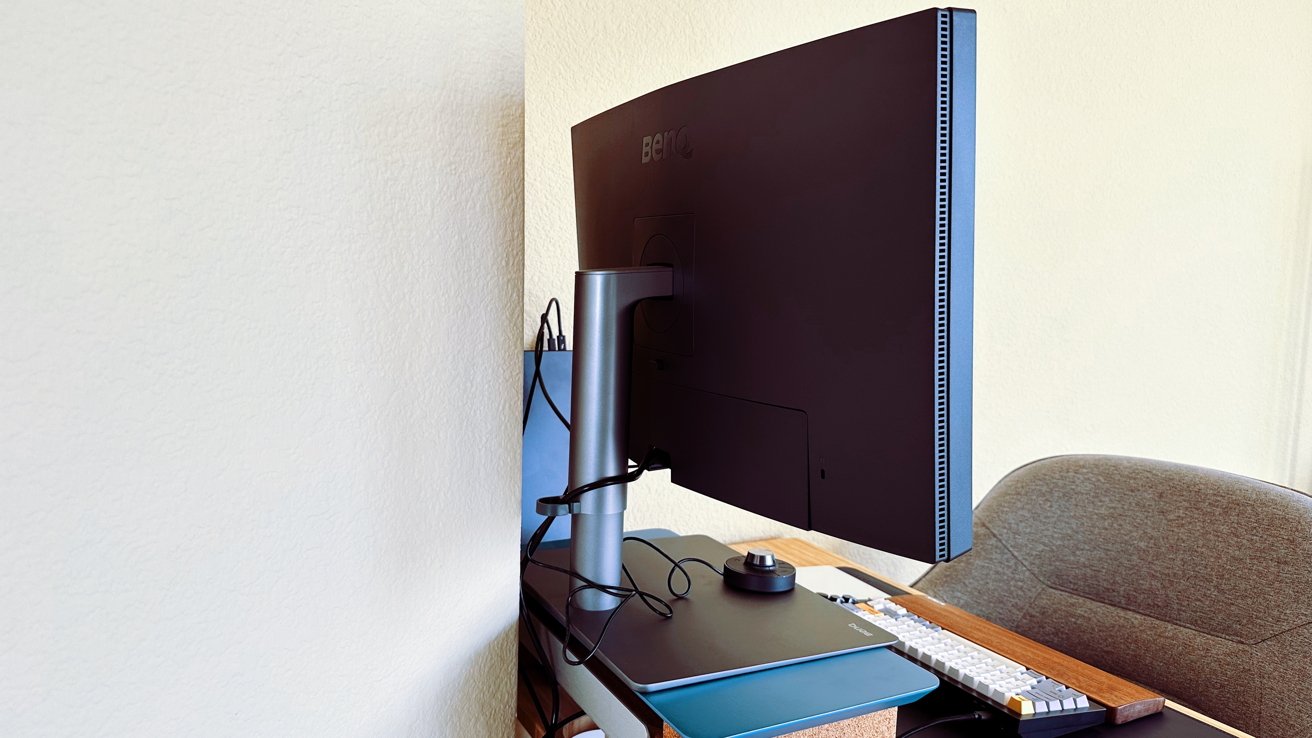 The back of the monitor
The stand is not revolutionary in its mechanics, but it works well to push it up or down with a single finger and stay at the desired height. That was the primary highlight of the product.
The actual footprint of the stand was massive. The ports on the back were difficult to get to and then covered by a plastic piece that was not easy to snap on or off.
We liked that the monitor came with nearly every cable you would want to use, including Thunderbolt, HDMI, Display Port, and USB-C. Unfortunately, the Thunderbolt 3 cable in the box is only 27 inches from tip to tip. Apple's included cable looked massive at 39 inches.
On the back are two HDMI 2.0 inputs, one DisplayPort 1.4 input, and two Thunderbolt 3 ports. The first Thunderbolt 3 port supports 65W of power delivery, while the second supports up to 15W.
There's also KVM functionality to connect two computers and switch back and forth between them.
The BenQ PD2725U comes with the Hotkey Puck G2. It's a controller to adjust the monitor settings without reaching for the buttons behind it.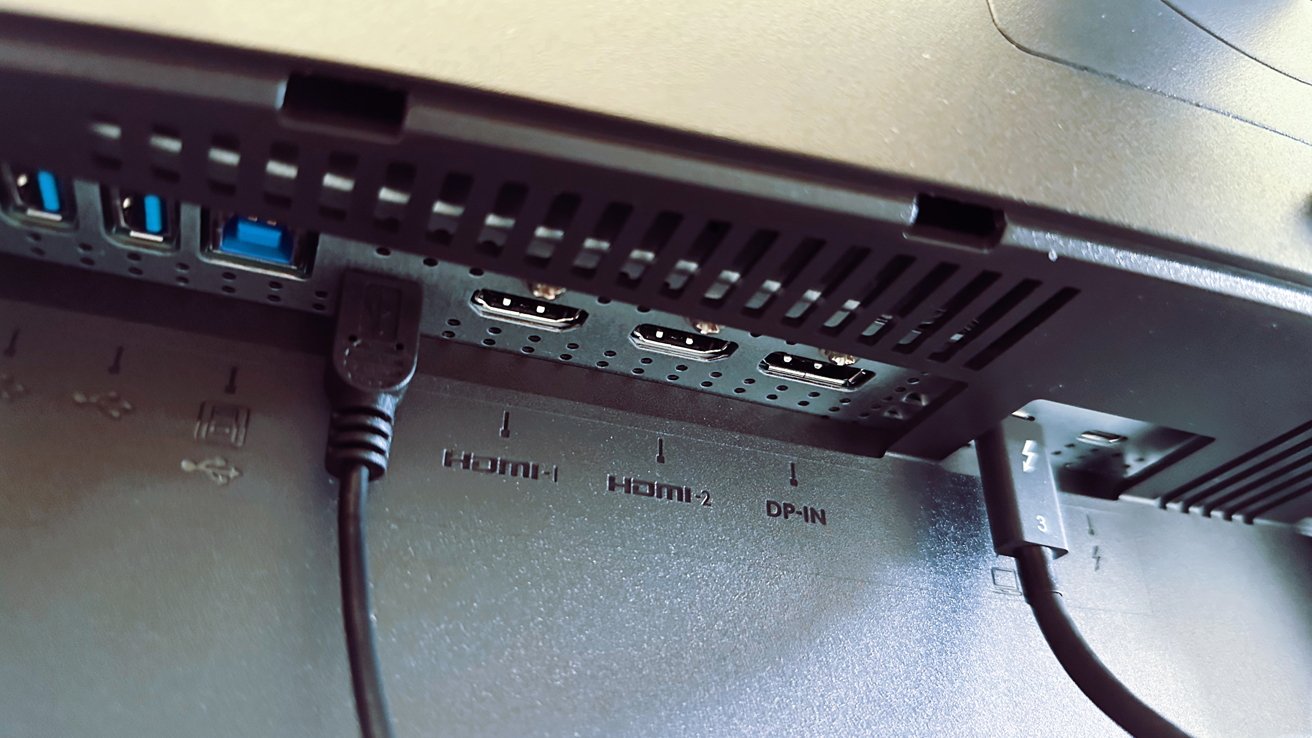 The monitor's ports
The idea is cool, but the puck accessory is another cord strung across the desk. The keys on the puck can be set for different color profiles if you want quick access to multiple ones.
BenQ PD2725U monitor review -- Sound and video
The sound was terrible, and there was no video camera. However compromised the video camera might be on the Studio Display, one is still integrated as an option.
The two 2.5W speakers on the PD2725U were not good by any standards. They sounded thin and hollow for both spoken word and music. One example of this: we couldn't tell whether the sound was coming out of a closed MacBook Air or the monitor's speakers at one point.
Even compared to dedicated desktop speakers, the Studio Display's audio sounded respectable.
Studio Display or BenQ PD2725U?
This BenQ monitor retails for $899. At full retail price, this is not the all-purpose 27-inch monitor we would spend that kind of money on to use with our Mac.
Right next to the product's name, when you go to buy it on BenQ's website, it says, "Mac compatible." That's what it felt like to use it. The monitor was compatible, but it didn't feel like it had Mac users in mind when it crafted this product.
Photographers and designers concerned with color reproduction may find BenQ's features like Paper Color Sync -- software that simulates paper printing results -- useful. However, those professionals will also be frustrated with the 4K resolution at a 27-inch size when connected to their Mac.
For non-professionals, a $700 price difference between Apple's Studio Display and the PD2725U could be a hurdle for people on a budget.
In this case, we recommend shopping for a less expensive monitor. Dell's
S2722QC
, for example, will be able to cover the same general purpose computing needs for $400.
There's also the option of buying a refurbished Studio Display directly from Apple for $1,360 if you're set on a first-party solution.
On steep sale, the BenQ PD2725U likely has its place in plenty of corporate workplaces with Thunderbolt 3 connectivity and an eye on color reproduction. But, it's probably not for most Mac users.
BenQ PD2725U monitor review -- Pros
Height adjustable stand worked well


Array of port options was handy
BenQ PD2725U monitor review -- Cons
Non-native Mac resolution


Port connections were difficult to get to


Poor sounding internal speakers
Rating: 2.5 out of 5
This monitor is available for purchase at
B&H Photo
for $849.99 or directly from
BenQ
for $899.
Read on AppleInsider