Inside Apple Fifth Avenue: Iconic retail design above and below the surface
While walking down Fifth Avenue in New York, you can't miss the glass Apple Store that shines a light on the company's core values from the inside out. AppleInsider checks it out.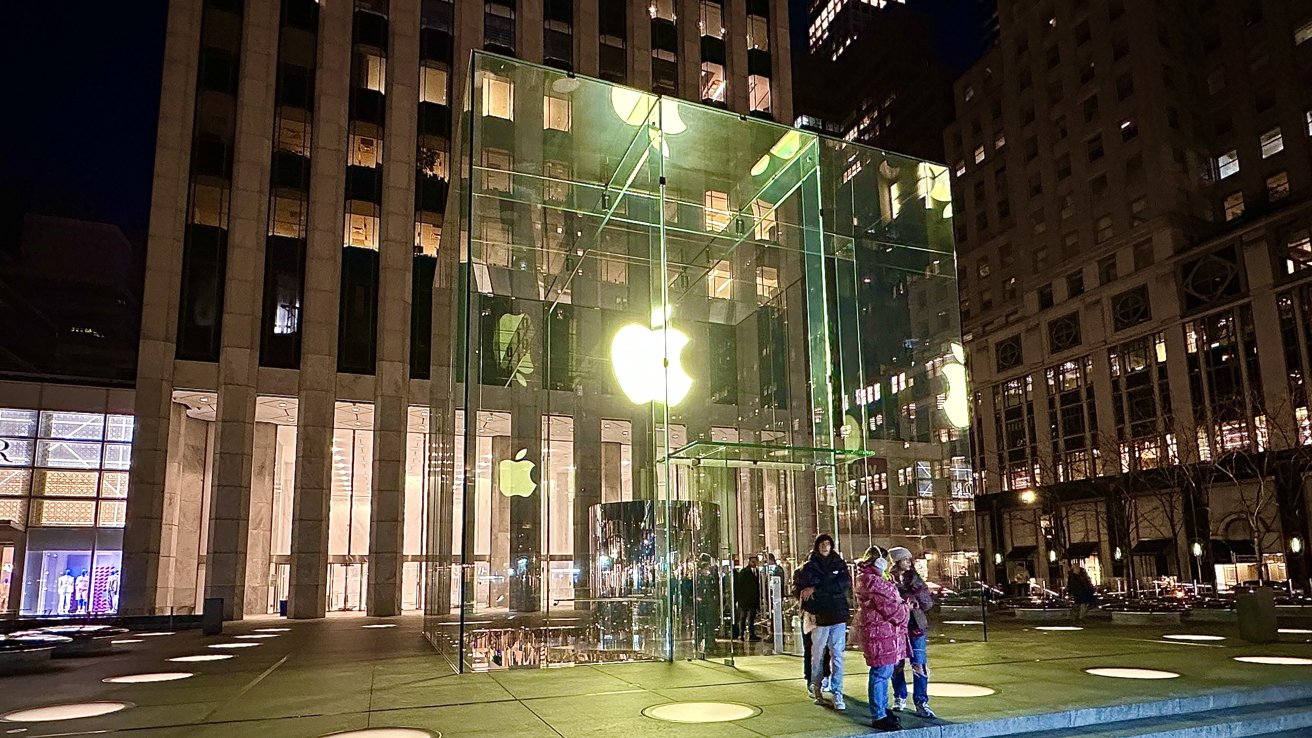 Exterior of Apple Fifth Avenue
Apple originally did not want to build on Fifth Ave, and never had any interest in the idea. It wasn't until Harry Macklowe, the purchaser of the General Motors Building, pitched the idea for Apple to build a retail store to
Steve Jobs
in 2003 that Apple started making plans to do so.
Apple Fifth Ave sits distinctly in the center of its self-made plaza, where hundreds of people visit that location every day to view and admire the beautifully crafted architecture. From the beginning, the store was a hit -- attracting many people to it daily, but as the years went on, Apple Fifth Avenue became less of a retail store and more of a landmark in New York City.
The history of the iconic design
Apple Fifth Avenue has undergone multiple renovations from the inside out, but it originally opened on May 19, 2006, as Apple's 147th retail store. It immediately drove customers to its door and made roughly $1 million a day.
The original idea for the design was thought up by Steve Jobs when the space was proposed to him in 2003. It was later constructed and designed by several architects and designers, including Bohlin Cywinksi Jackson, who worked on the Soho Apple Store.
The original cube design was supposed to be 40 feet tall, but Macklowe believed that that would violate zoning restrictions and obscure the environment around it.
After seeing a mock-up constructed during the later hours of the night, roughly around 2 a.m., Apple executives realized that 40 feet was not the right height. They agreed and approved that a 30-foot design would be a better fit after the original design was demolished and a smaller design was revealed.
Apple Fifth Avenue was constructed in secret, and the prototype model was built in a warehouse that was located by Apple Campus in Cupertino, California.
Renovations
In 2011, Apple Fifth Avenue underwent a five-month-long renovation that simplified the store's glass exterior from 90 panels to 15. The renovation also resulted in minor changes to the surrounding plaza.
From 2017-to-2019, the store went under another renovation, this time to demolish the original store design and build a bigger and more immersive one. While the construction was being done, Apple made a temporary store within the General Motors Building until the renovations were complete.
Apple doubled the size of its Fifth Avenue store by digging deeper into the ground and raising its ceiling level. They also tweaked the design to allow more natural light to come in.
"Our customers are at the center of everything we do, and Apple Fifth Avenue is for them, to inspire them, and to provide the very best place to discover our newest products," said
Tim Cook
, Apple's current CEO, when the store reopened. "It's unique among Apple stores, and today it returns even more welcoming, and even more beautiful than ever. We're so proud to be a part of this great city where so much happens every day."
The store reopened after its latest renovation on September 19, 2019 -- partnering with the launch of the i
Phone 11
and
Apple Watch Series 5
. It also resumed its 24/7, 365 days a year, in-person support in the store.
Inside the cube
Before walking in, make sure to take note of the plaza surrounding the iconic cube design that offers 28 honey locust trees bordered with linear fountains. It's a great place for a group of people to gather and relax on a nice day.
Walking into Apple Fifth Avenue is unlike walking into any other of Apple's stores. As the store is built around a novel design, the way you enter is unique as well.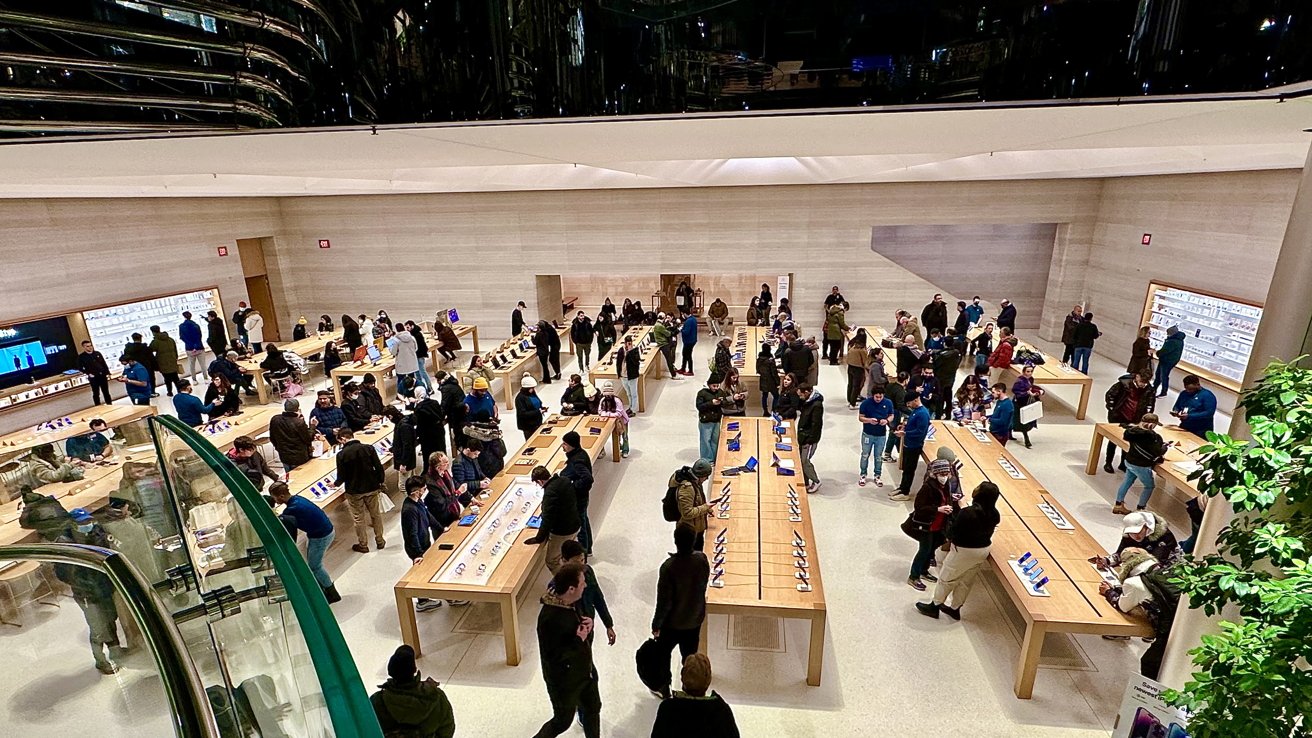 Overview of retail space at Apple Fifth Avenue
When walking through the glass doors, you have the option of taking the stairs or the elevator. If you can, it is highly recommended that you take the stair route to take all the sights Apple Fifth Avenue offers.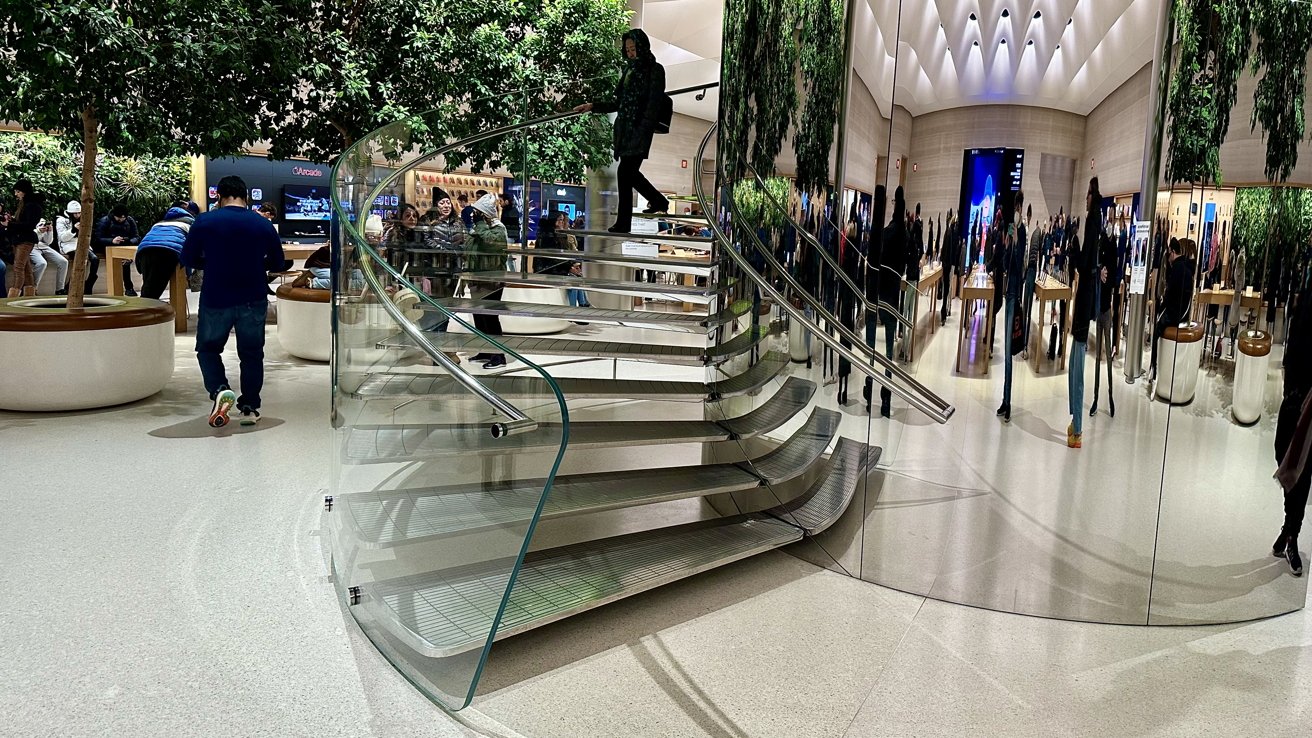 Stainless steel spiral staircase
While walking down the spiral stainless steel staircase that wraps around the cylinder-styled elevator -- which may look like the Mac Pro from 2013 to some -- you will get a beautiful overview look of the whole Apple Store from wall to wall.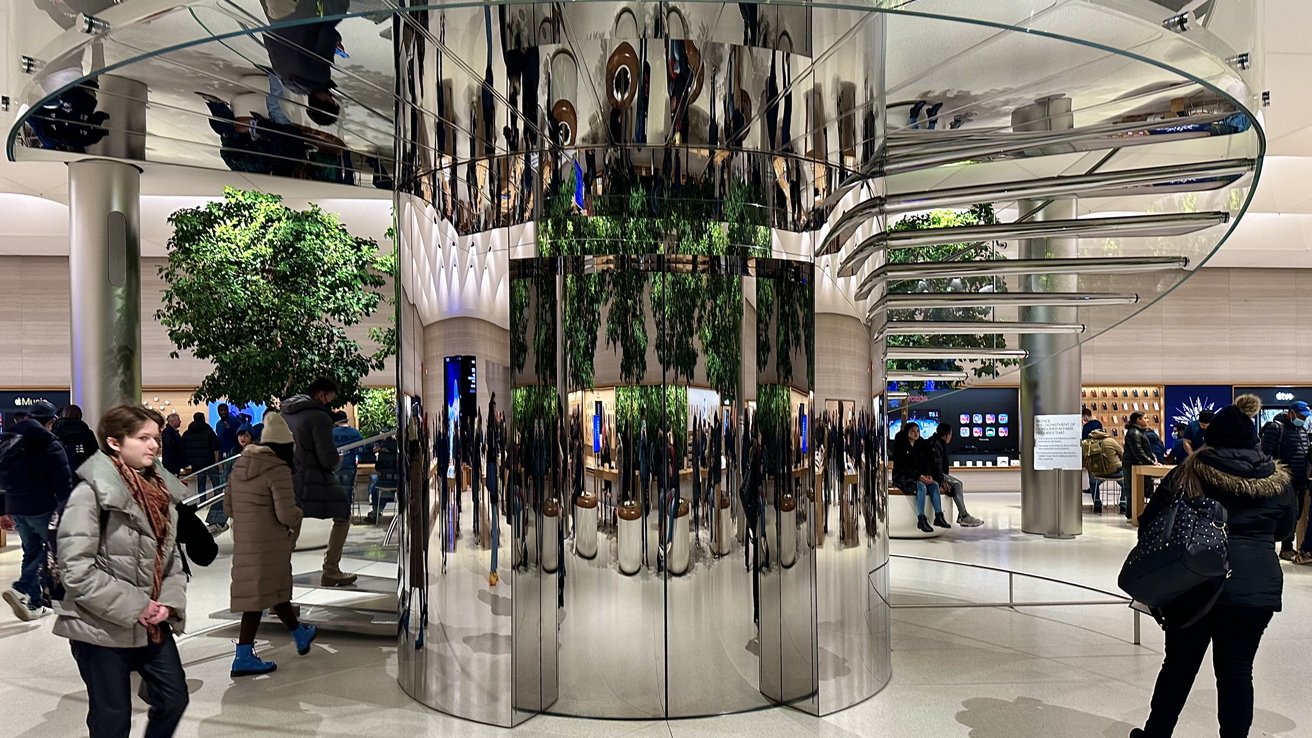 Staircase wrapped around elevator
From the top of the stairs to the bottom, you will see all the store has to offer from the Apple products spread out on the wooden display tables to the planted indoor trees placed around for people to sit on the edges of.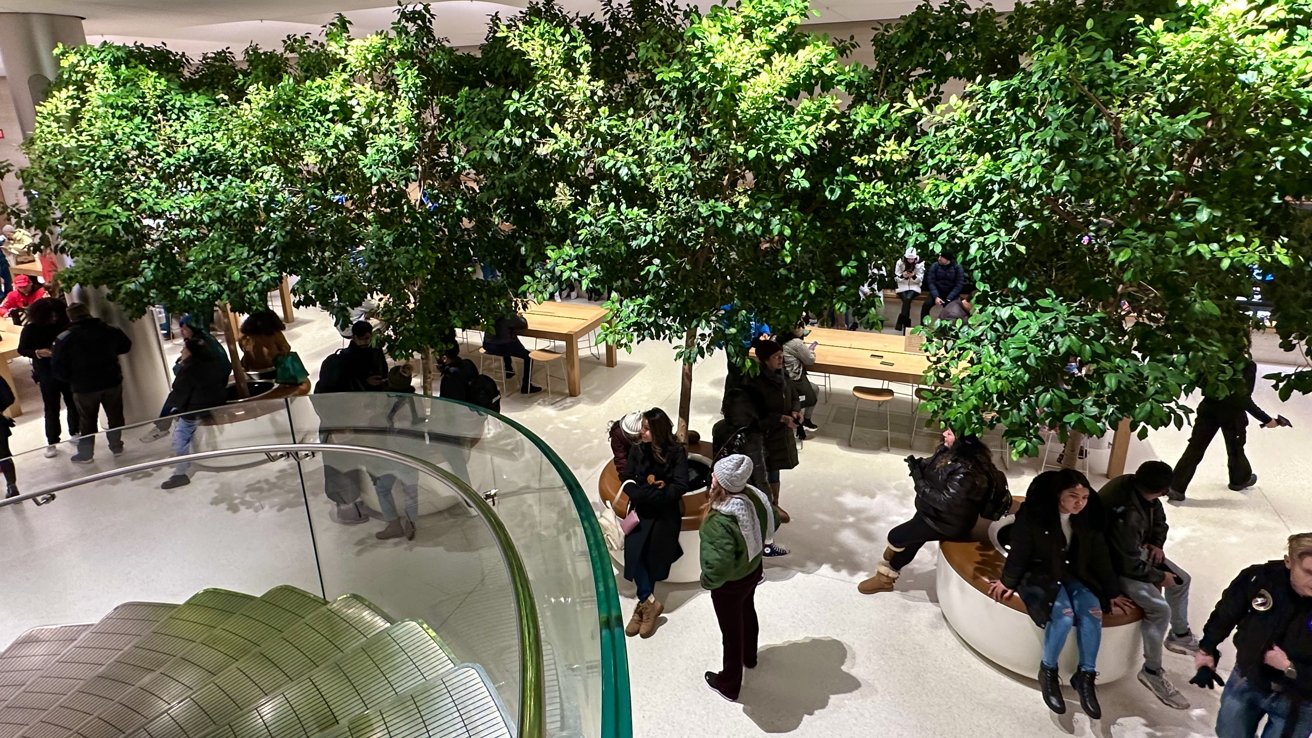 Indoor trees that visitors can sit around and under
If you look up when getting to the bottom of the staircase, you can still see a glimpse of the outside surrounding builds, which allows for natural light to shine into the retail space.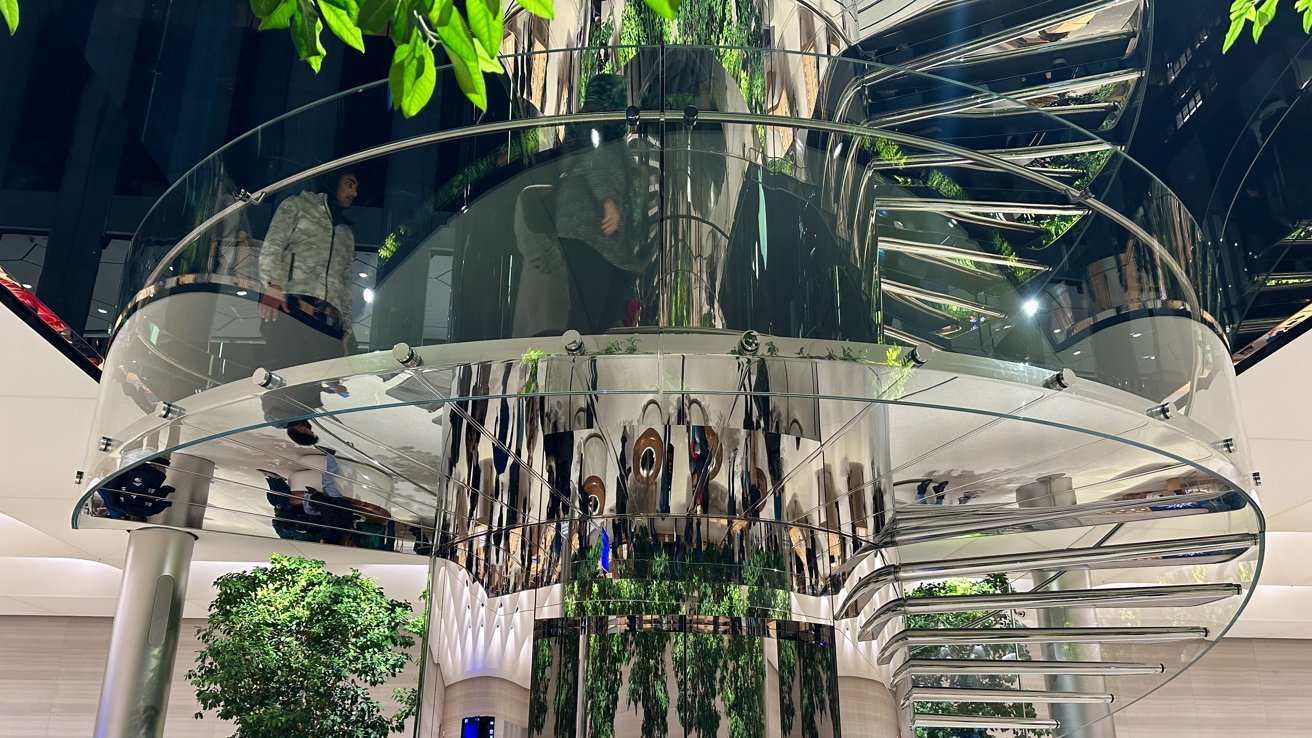 Peak of outside city buildings seen from the inside Apple Fifth Avenue
Apple Fifth Avenue offers the same store experience that you will find at other Apple Stores, but it also offers more than them as well.
While other Apple stores offer a sitting area along a nature-based background located on one of the store's interior walls, Apple Fifth Avenue offers a wide sitting area of the same design, but in between each cushion is a
MagSafe
charging puck for people to charge their MagSafe compatible devices.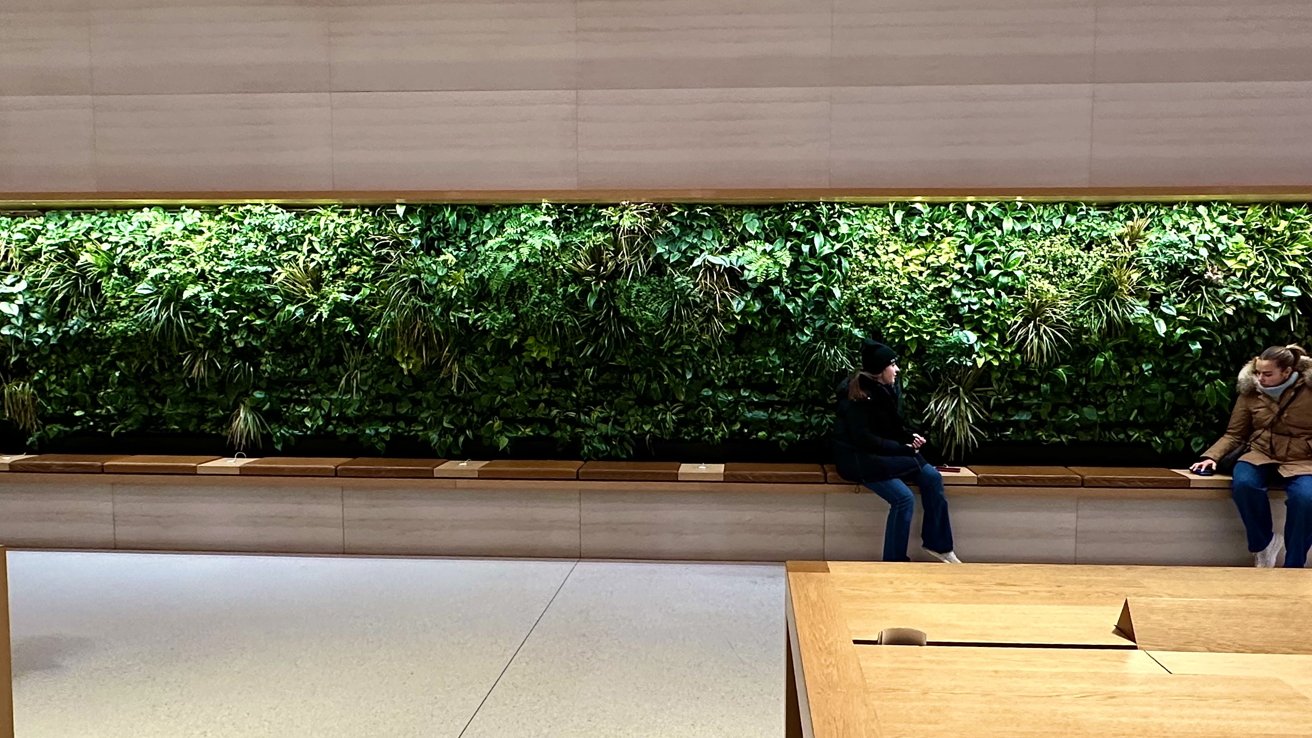 Nature-background sitting area
MagSafe is essentially wireless charging with the inclusion of a magnetic connection to the device, so the charging puck can still charge devices that have wireless charging built-in as well. The charging pucks are stuck to the wooden bench, so you can not pick them up.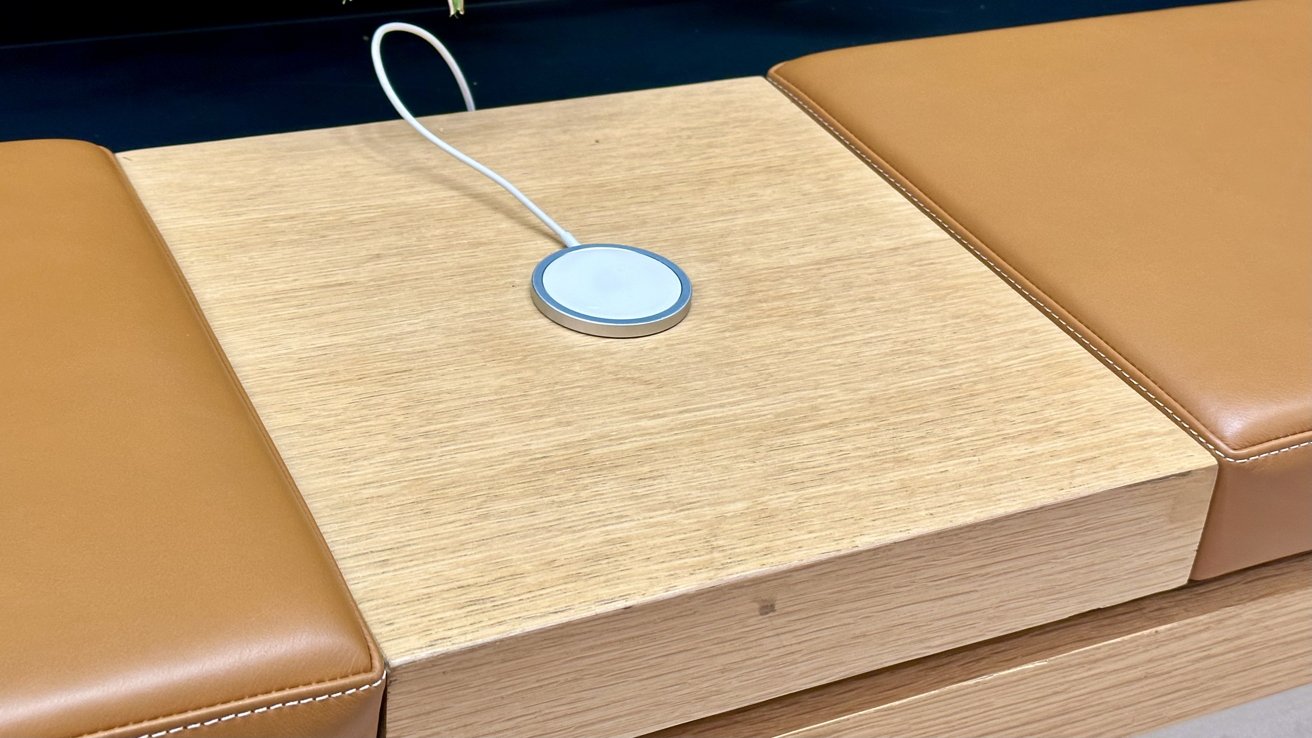 MagSafe charging puck located by sitting area
If you look to your right after walking down the staircase, you will see Today at Apple, where an Apple employee will be teaching the community how to use Apple's hardware or software.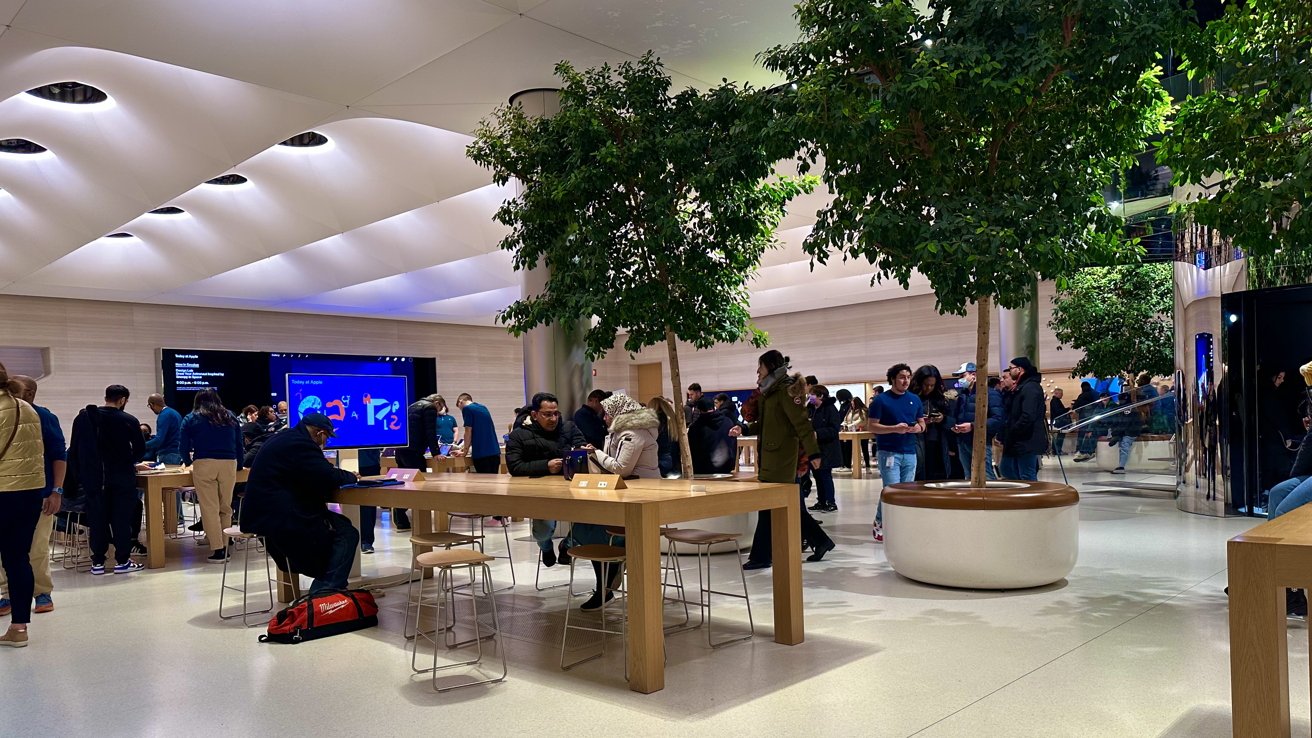 Today at Apple and retail space
You will also find the Experience Rooms when touring Apple Fifth Avenue. This is a space that allows customers to test out select Apple products -- like
iPhones
or
HomePods
-- in a quieter and more personal area.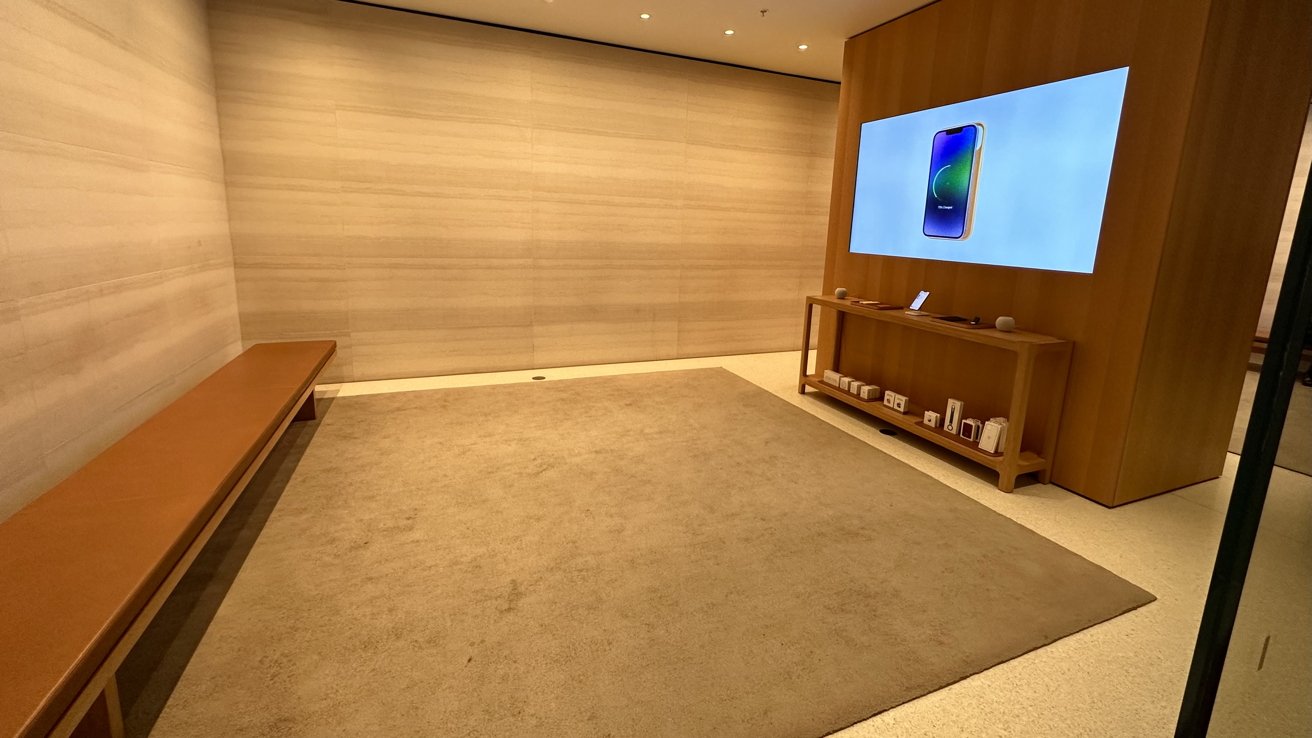 Experience Room
When you are done exploring the store, there are two ways to leave the retail space. You can either walk back up the stairs or take the elevator, or there is a secondary staircase -- built like a traditional staircase -- by the Experience Rooms.
A staple in Apple and New York
The iconic cube-designed store is not only a staple in Apple's retail design, but also a staple in the location is it present at. Many people cannot imagine the area without Apple Fifth Avenue being there.
While many stores are usually not busy after the sun goes down -- especially in January of all months -- Apple Fifth Avenue was jumping with business and packed with people purchasing, viewing, and testing their products.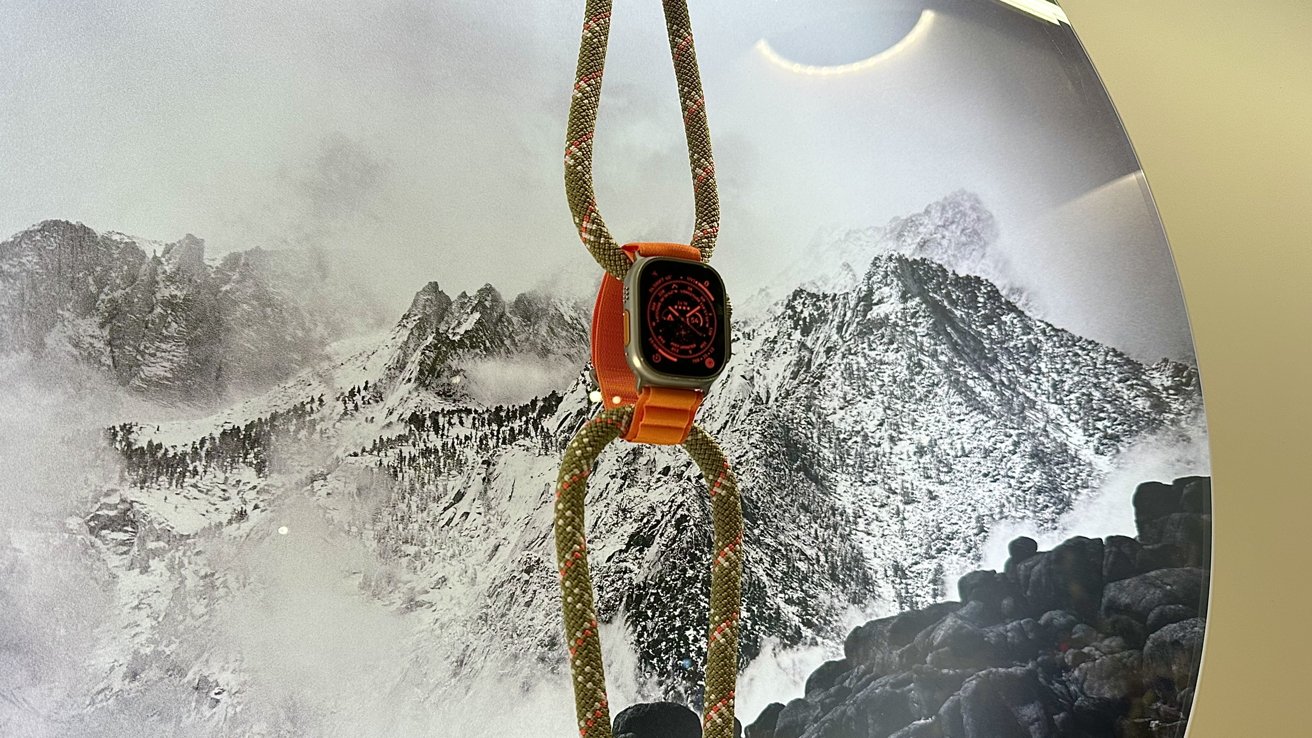 Apple Watch Ultra display
The iconic design comes through the exterior and interior of the Apple Store, creating a unique and mesmerizing retail experience when going through it.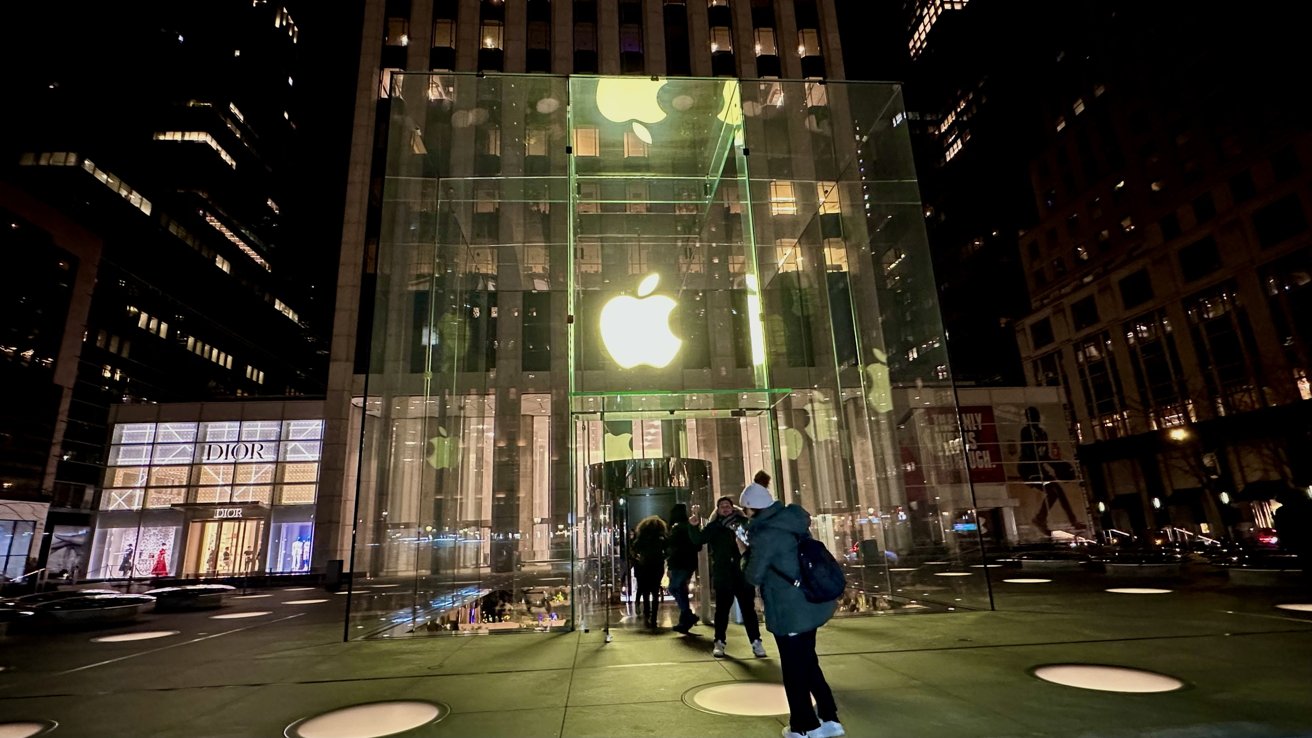 Exterior of Apple Fifth Avenue
Every aspect of the store was carefully crafted to allow for open space while still allowing you to stay occupied in every area. Apple Fifth Avenue takes the core Apple Store experience and expands upon it in a non-overbearing way.
From start to finish, Apple Fifth Avenue will give you a remarkable experience that no other Apple Store will, and no matter the reason why -- or the time, since it's open 24/7 -- you visit, you will surely not have a disappointing time.
For more examples of Apple's innovative new architecture -- and also its painstaking preservation of historic sites -- take a look at the
Marina Bay Sands
Singapore and
Birmingham, UK
stores.
Read on AppleInsider