Keyport Pivot 2.0 & Popl Review: Streamlining everyday carry
Keyport's Pivot 2.0 is a great way to build your own keychain multi-tool, and its new collaboration with Popl gives a small yet useful e-business card.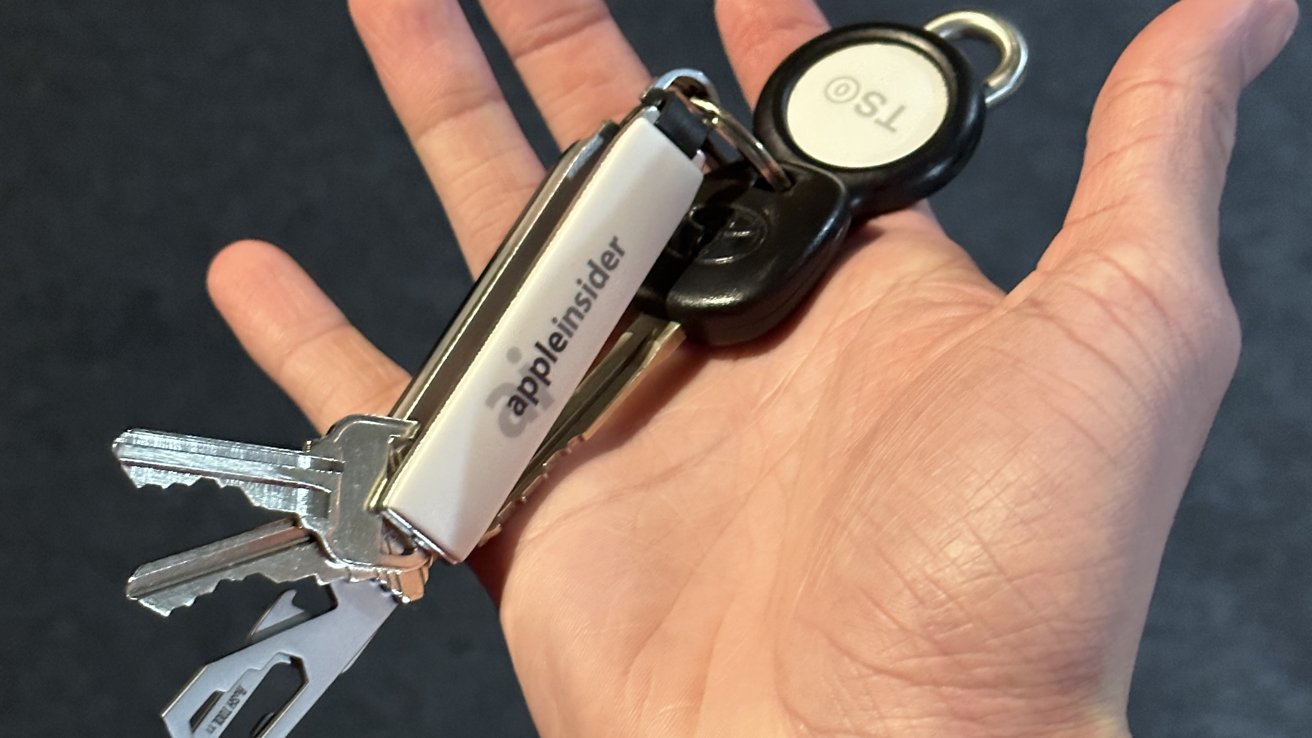 Keyport integrates daily carry items like keys, fobs, and multi-tools into a customizable package that can fit on your keychain or carabiner. The Pivot 2.0 can hold up to eight keys and tool inserts and two additional modules on the sides of the chassis.
The Pivot 2.0 requires some setup, but Keyport's Youtube channel provides a
tutorial
as well as some overviews of specific tools. To summarize, you unscrew the bolt holding together the Pivot, insert your desired tools and keys, and put it back on. A coin or 1/8-inch flathead screwdriver does fine for this.
As for putting on modules or faceplates, you lightly press down on the side of the chassis to allow the metal hooks to latch onto the Pivot. Taking them off is a little more tricky since you need to flip the Pivot over, press down on the middle hole on the back with a pin or small screwdriver, and push in the opposite direction of the hooks. Luckily, Keyport has a separate
video tutorial
for this.
We received a Pivot 2.0 in aluminum, with the MOCA 10-in-1 tool, RuSH Tool, Keyport ID card, RFID key, faceplates, flashlight module, and Popl Card for review.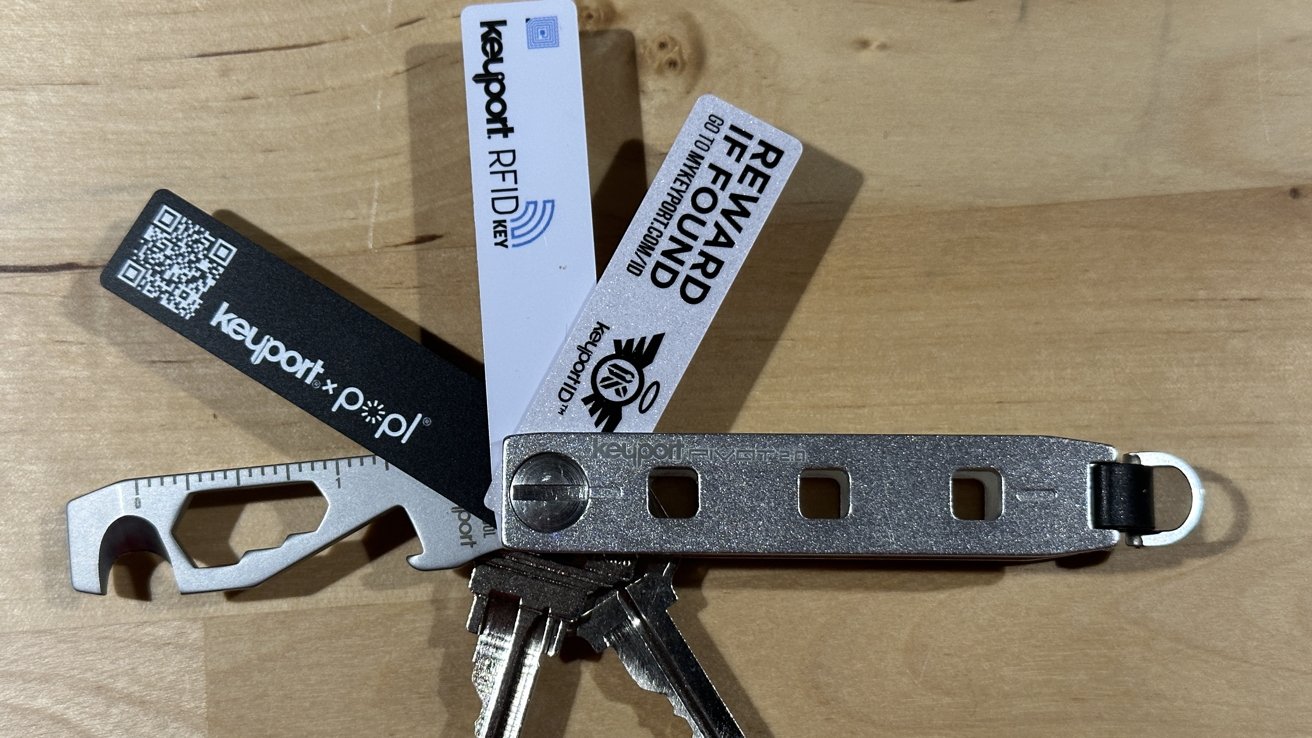 The MOCA 10-in-1 features a 2-inch ruler, bottle opener, hex bit driver, cord/box cutter, scoring tool, screwdriver, pry tool, and a 1/4, 9/16, and 3/8-inch wrench. It's a durable and useful Swiss Army knife tool we occasionally used when times called for it.
We found the RuSH Tool to be the most helpful tool for customizing your Pivot 2.0, as it features a module removal pin, bottle opener, 3/4-inch ruler, belt loop suspension hook, and more. The pin and hook make it easy to pry off faceplates or modules at a moment's notice.
The faceplates help add a nice personal touch to your keychain, and the two-setting, micro-USB-charged mini flashlight is handy to prevent losing your keys in the dark. Although it's difficult to take these off, we appreciate the security and durability of each Keyport item.
The RFID key is an intuitive way to reduce pocket space, helping replace fobs people use for offices, apartments, or other locks. The 1mm thickness also makes it nearly unnoticeable to others, which is a good feature for a security-related item.
We did not have any RFID locks to test this on, but the card in concept was very appealing to us.
One of the best features of the Pivot 2.0 is loss prevention. Engraved on the inside of each Pivot is a link to the Keyport
Lost and Found service
and a unique 16-digit code that goes with your device. Additionally, the Keyport ID card helps this further by showing a QR code to the "Return Keyport" page.
Popl x Keyport Digital Me Key
Popl
is a smart business card and networking company with a line of NFC products and an app with subscription-based in-app purchases. However, a free account is enough for most people to share socials and essential information.
We have reviewed one of
Popl's previous collaborations
and we find that its integration into a keychain product like the Pivot 2.0 is highly practical, both as a means of identification for lost keys in addition to the regular lost and found features, and for business card purposes.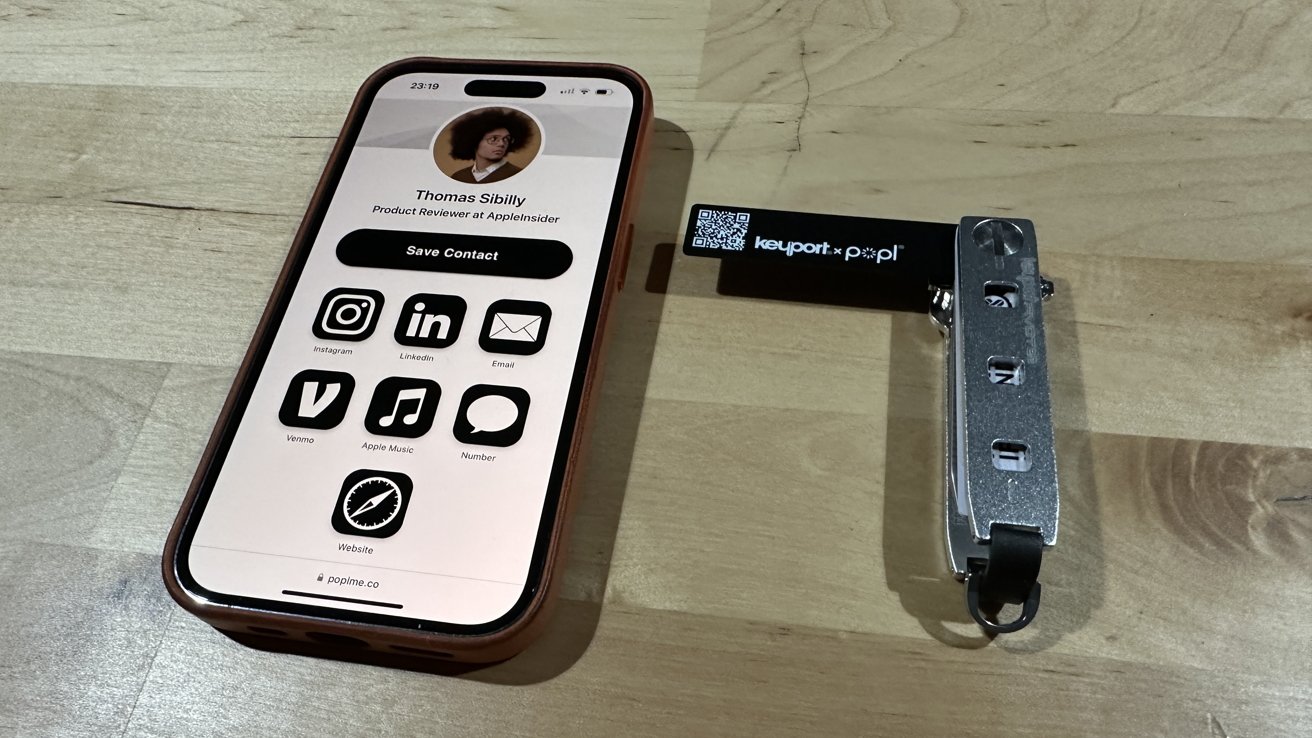 Setting up the Popl card is simple: download the app, set up your unique digital card, and pair the device in settings. Unfortunately, the activation menu doesn't include the Keyport x Popl card, but we selected "keychain" as the closest option, which still works as intended.
Once taken out of the aluminum chassis, the Popl card is quickly read by phones, issuing an NFC notification to the receiving device, accessed either in the Popl app or a browser. The QR code on the front also provides access for devices not NFC compatible.
Once everything is set up, making a first impression on colleagues, clients, or anyone you want to share contact information with is easy.
A smooth way to streamline your keychain for all walks of life
The Keyport Pivot 2.0 is a versatile and customizable tool for anyone who wants to put their keys, small tools, or other useful gadgets on a durable aluminum frame.
It serves as a great gift for anyone who needs to carry multiple keys and tools and those who frequently network with new people. The customizable features of the Pivot 2.0 allow users to tailor it to their specific needs, while the Popl card adds a layer of practicality for business and identification purposes.
Keyport Pivot 2.0 Pros
Customizable and versatile, wide range of accessories for everyone


Loss prevention features


Space efficient and can hold a lot
Keyport Pivot 2.0 Cons
Setup can be tricky with many tools, one washer is essential for use


Tricky to remove modules/faceplates
Rating: 4 out of 5
At the time of publication, the Pivot 2.0 is available on the
Keyport website
for $24, and
Amazon
for $27. The Popl x Keyport card is available on the
Keyport website
for $19.99, and
Amazon
for $17.99.
Read on AppleInsider