Uze Bold Power Bank review: A full portable charging experience
Portable chargers have become more flexible over the years by providing more ways to charge all of your devices. The Uze Bold Power Bank embodies this -- but at a steep cost.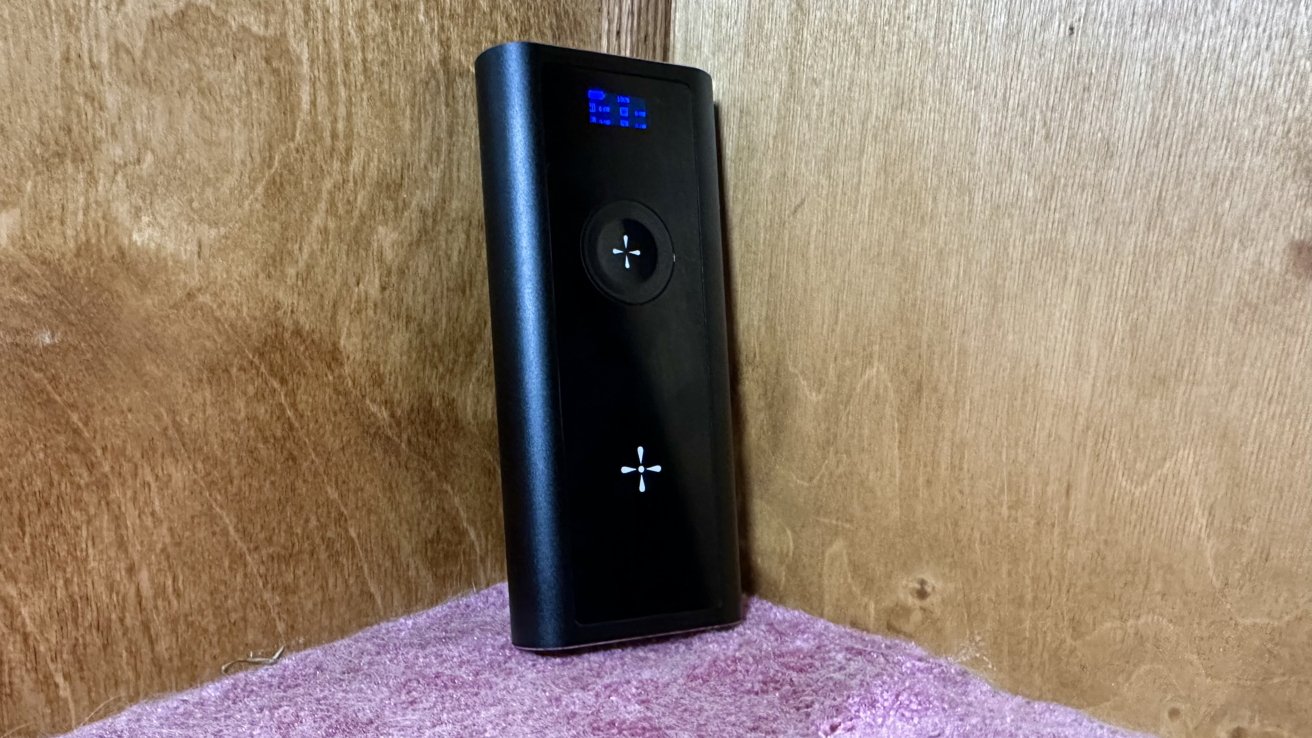 Uze Bold Power Bank
When first looking at the charger, you may think that it only charges through the USB ports, but its wireless charging capabilities are welcome tricks up Uze's sleeve.
If you can budget for the high price tag attached to the Uze Bold Power Bank, then it is a great portable charger that offers many different options on how you can charge your devices. With or without a wired connection.
Uze Bold Power Bank design
The Uze Bold Power Bank is not small in the slightest with its 192x87x30mm body. The tradeoff is that you get a lot of power and different ways to charge your devices.
The Bold Power Bank has a clean design from top-to-bottom that is accompanied by four charging ports -- two USB-A and two USB-C -- at the top. The body is made out of aircraft-grade aluminum and tempered glass that is scratch and impact resistant.
Beneath the ports is a small OLED screen that displays the charger's power output and the battery percentage it is at. The battery percentage is shown in numeric form and with the symbol of a battery icon.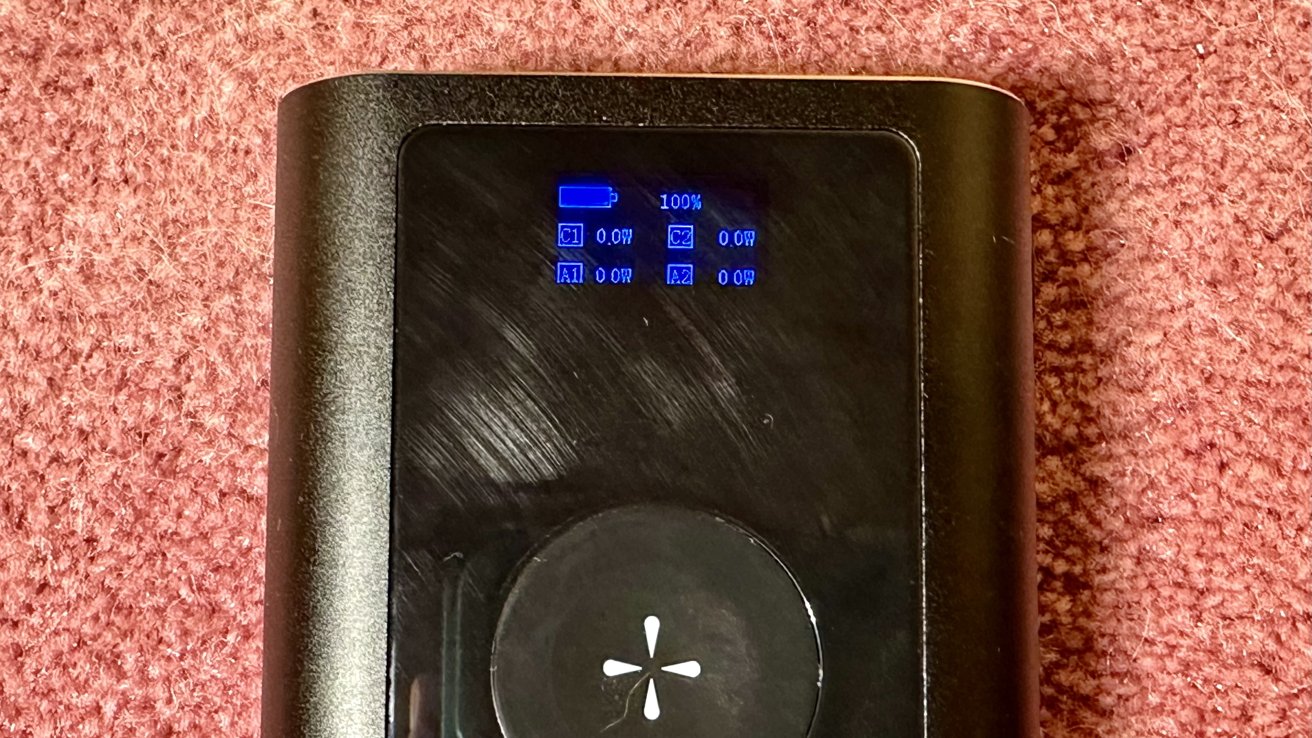 OLED screen
Underneath the screen are two plus-like icons. At first, you may think these are buttons, but they are actually for wirelessly charging pads.
The portable charger houses a 27,000mAH/100Wh battery, which has a lifespan of up to five years. It can be recharged up to 2,000 times too.
Since the battery is so big, it may take a while for it to fully charge. It is best to plug it in overnight so it is fully ready to go in the morning.
The Bold Power Bank includes safety protection that protects against over-current, voltage issues, high temperatures, and short circuits.
Uze Bold Power Bank charging
The Uze Bold Power Bank has multiple ways of charging your devices with or without a wire. You can charge up to six devices at once with all the different power output options available.
The main -- and fastest -- way people may charge their devices is via the four ports located above the OLED screen.
The USB-A ports can output up to 22.5W of power, and the USB-C ports can manage up to 100W. The USB-C ports can also input 100W of power as well.
The total max of power that can be outputted by the battery pack is 260W.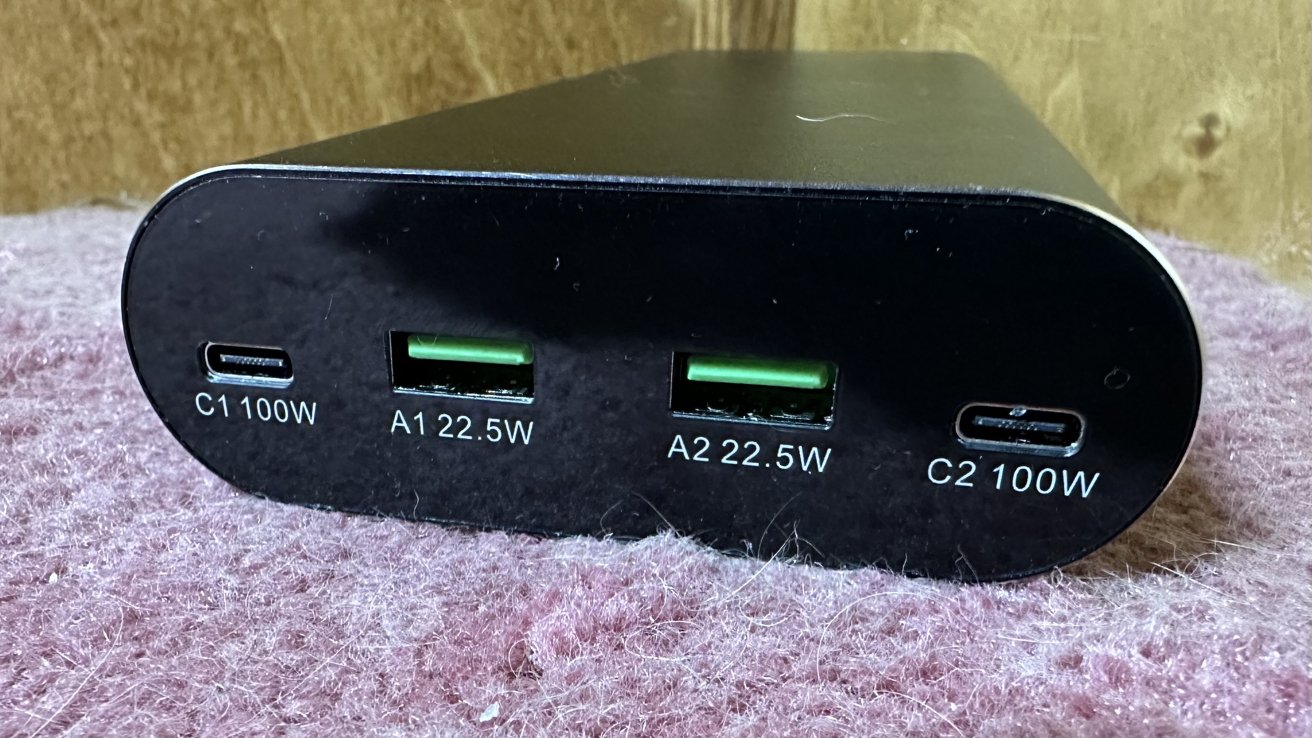 Charging ports
Below each port is a letter partner with a number, and that allows you to identify on the OLED screen how much each port is currently outputting.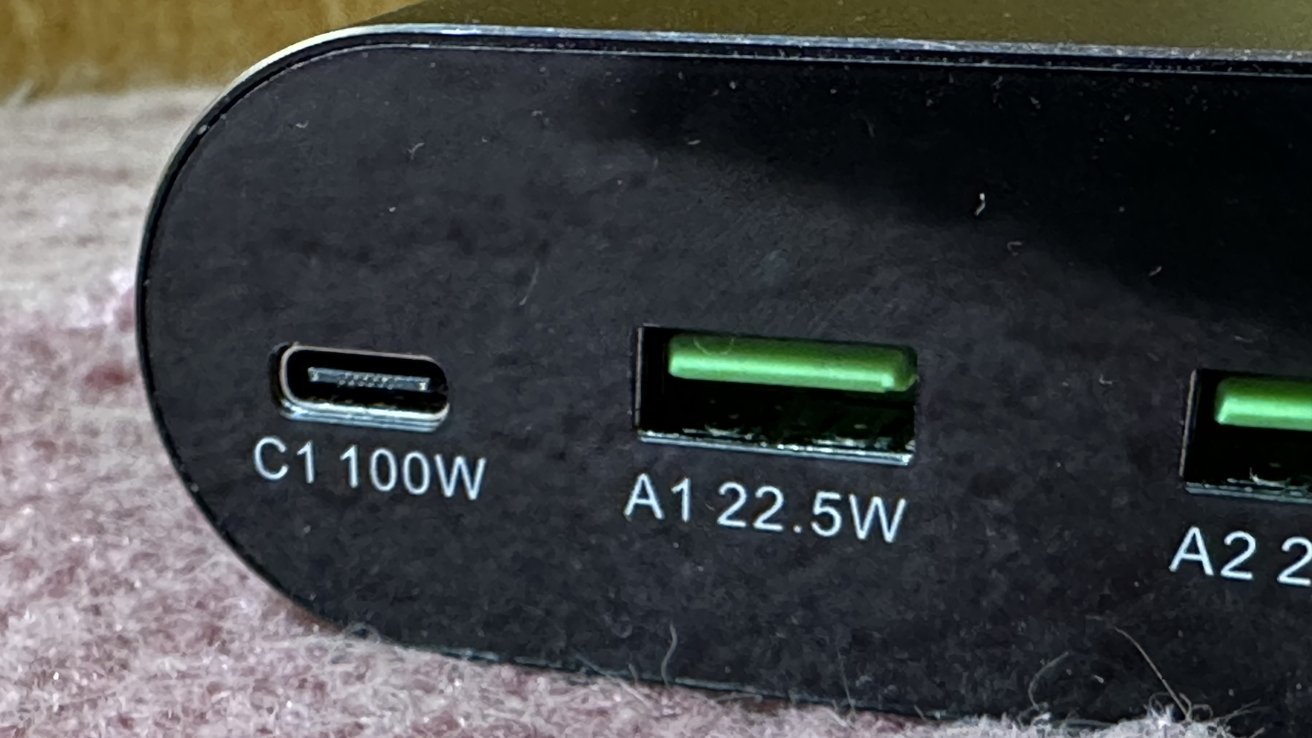 Charging ports names
Under the OLED screen are two plus-like icons that indicate charging pads for your
iPhone
and
Apple Watch
. The one closest to the screen, which is slightly sunken into the body, is the 5W
Apple Watch
charging pad.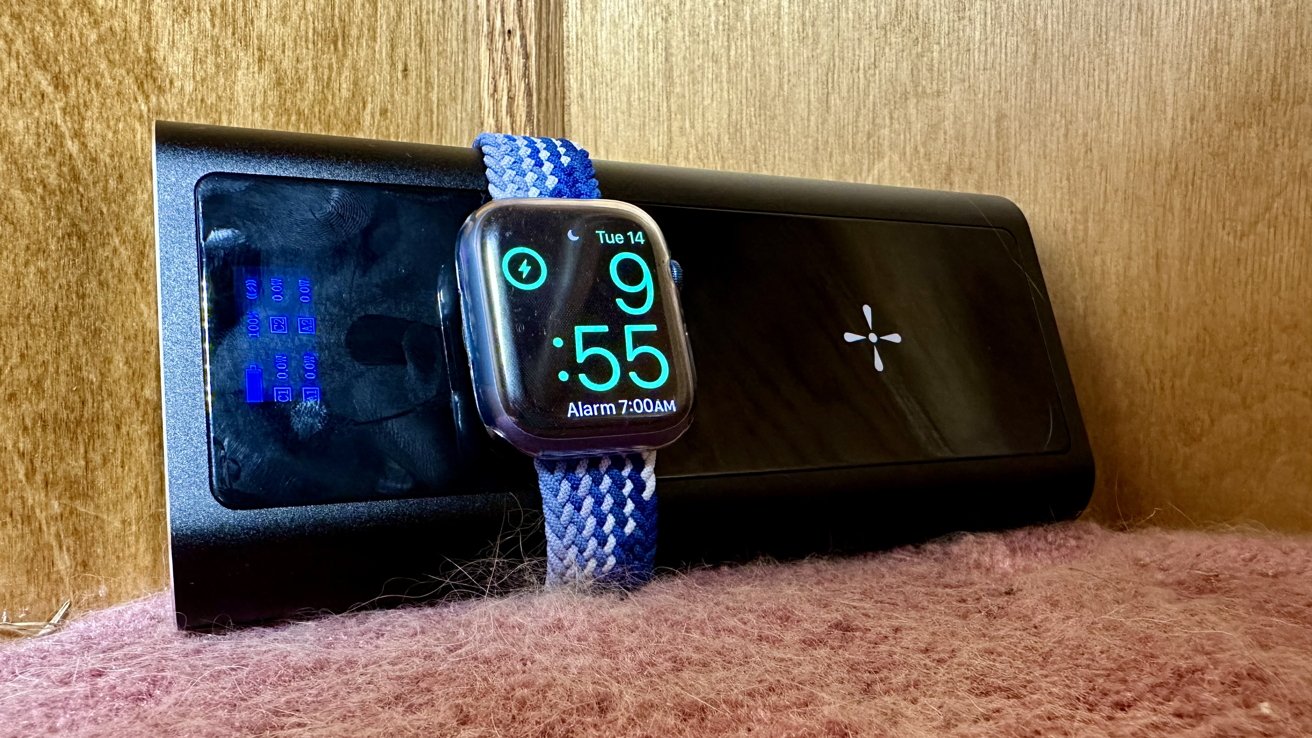 Apple Watch charging
The other charging pad is Qi Certified and can release up to 15W of power, but it's also
MagSafe
compatible too.
If you have any device that supports
MagSafe
, it will tightly and magnetically stick to the Bold Power Bank, play the MagSafe charging animation, and start charging your device.
The Bold Power Bank is powerful enough to charge a notebook as well with no problem.
Heavy weight, heavy functionality, and heavy price
The Uze Bold Power Bank is a beefy portable charger that allows you to charge multiple devices at once while also giving you different options on how you want to charge them.
The sleek and flush design is complimented by the mini-OLED display that showcases the output power coming from the ports and how much juice the battery pack has left.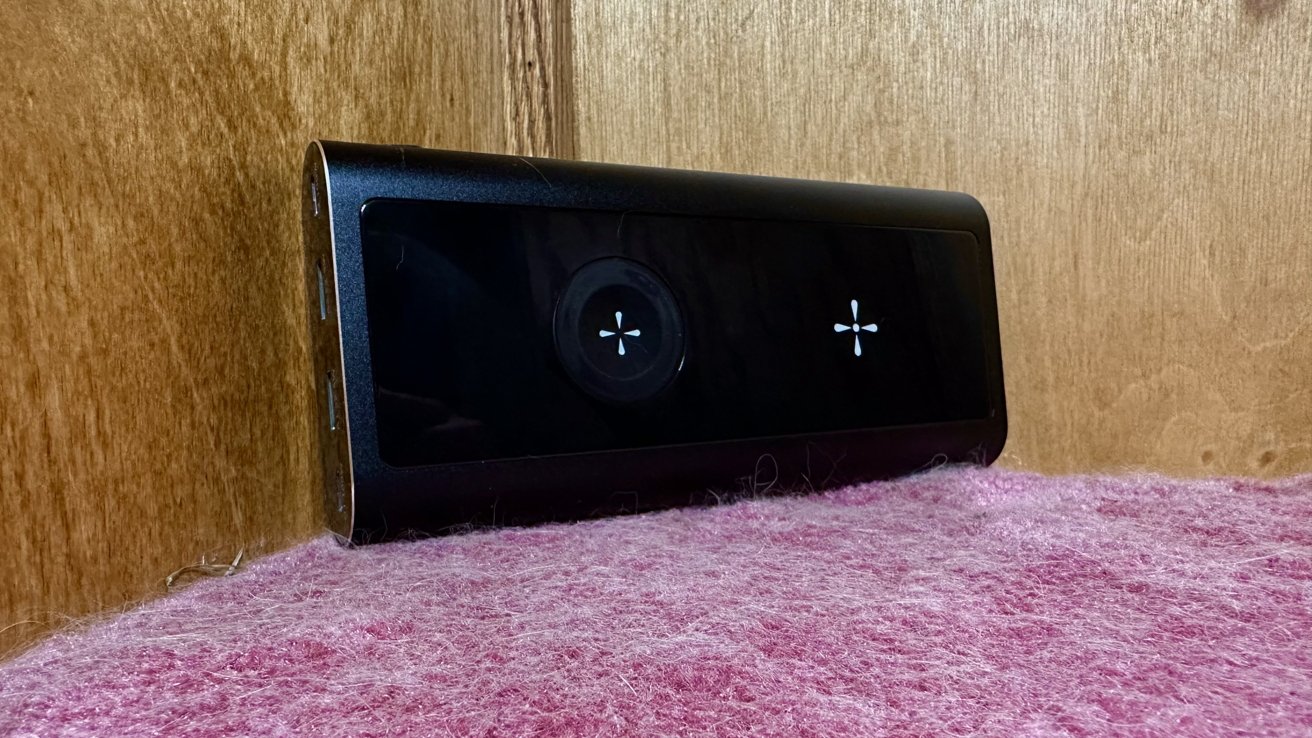 Uze Bold Power Bank
There are portable chargers that can wirelessly charge your devices, but there are few that are MagSafe compatible. Securely connecting your MagSafe-compatible device to the Bold Power Bank brings ease of mind that your device will not shift while charging and lose connection.
The inclusion of a dedicated Apple Watch charging pad also means that you may never have to carry around an Apple Watch charging cable again. This is useful for people who go camping and want to charge their Apple Watch but do not want to carry a bunch of cables with them.
Avid campers may want to think twice, though, as the Bold Power Bank is not water or dust resistant.
The downsides of the Bold Power Bank are its weight and price. At close to $300, the battery pack asks for you to pay a lot for it, it's easily arguable that a price tag closer to $200 may be more appropriate.
But, for the price you pay, you do get premium charging features.
This power bank is not meant to be your "take-everywhere" portable charger. But it is a good choice if you are planning on going on a trip or staying over somewhere, and you do not want to carry around a bunch of cables with you.
It can either be a portable charger or an all-in-one charging station for all of your devices.
The Uze Bold Power Bank is a great power bank to own if you need a lot of power with you while traveling, and aren't concerned about cost. It can charge nearly all of your main devices with or without a wire.
No matter how you charge, you can be assured that your device will be fully charged safely and securely in the end.
Uze Bold Power Bank pros


Sleek and simple design


Large battery


Chargers multiple devices at once


Fast charging speeds


OLED screen


MagSafe compatible


Apple Watch charger integrated
Uze Bold Power Bank cons


Heavy


Takes a long time to charge it


High price tag
Rating: 3.5 out of 5
Where to buy the Uze Bold Power Bank
You can purchase the Uze Bold Power Bank from their
website for $289
, but it is currently on sale for $249. It is available in black and grey.
Read on AppleInsider