Ellie Rose AirPods Pro Case: Nearly impossible to get off
Ellie Rose's new
AirPods Pro
cases are cute and durable but prevent users from accessing the charging case's back button and are nearly impossible to take off.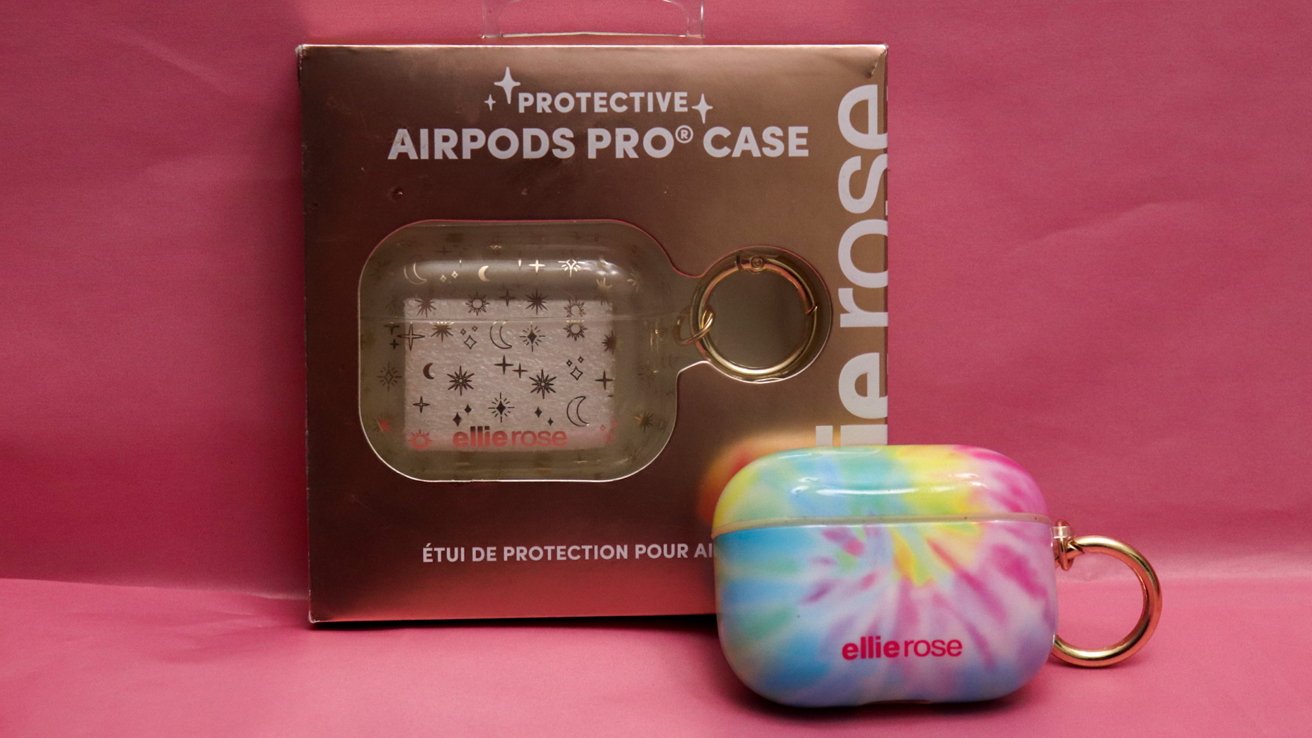 Ellie Rose created a new collection of cases for the first and second generation of AirPods Pro. You can pick from a variety of designs to match your style.
Not only are these designs adorable, but you can throw them in your purse or bookbag without worrying about your keys or wallet scratching and ruining them.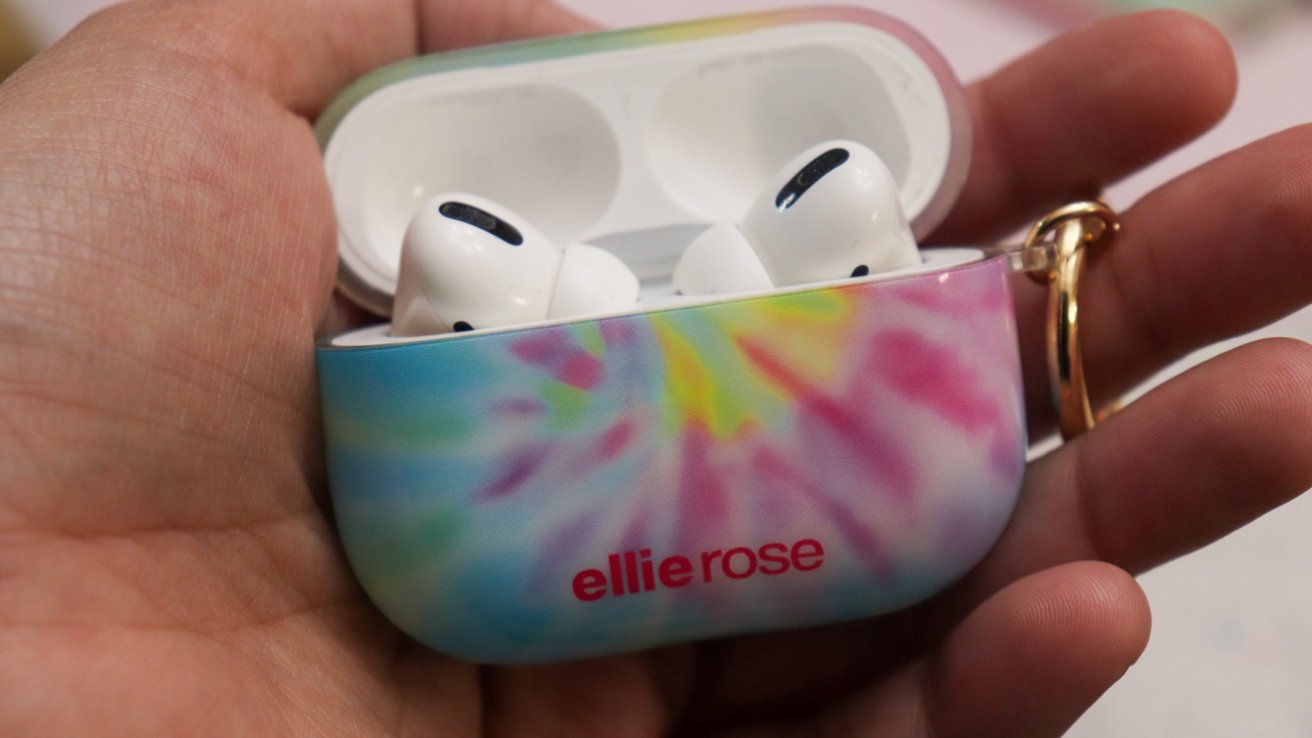 A bit too protective
Once you put this case on, you'll have to work hard to take it off. We've dropped it several times, and it hasn't come off not once. And each time, neither the case nor the AirPods showed signs of any damage.
These cases are made from thermoplastic polyurethane or TPU plastic for short. The material makes these cases impact-resistant. They're a bit flexible but won't lose their form.
One of our favorite things about this case is it's protective without being bulky. The thin material makes it easy to carry around without compromising protection.
The case fits snugly on the AirPods Pro. Unfortunately, it fits so tight that we needed to use a flathead screwdriver to pry it out of the case to change it out. So if you like changing your cases to match your mood, these may not be for you.
We love how secure it feels. Unlike
other cases
we've tested, we haven't had issues where the top piece came flying off. It's great to have peace of mind knowing this case won't come apart at any moment.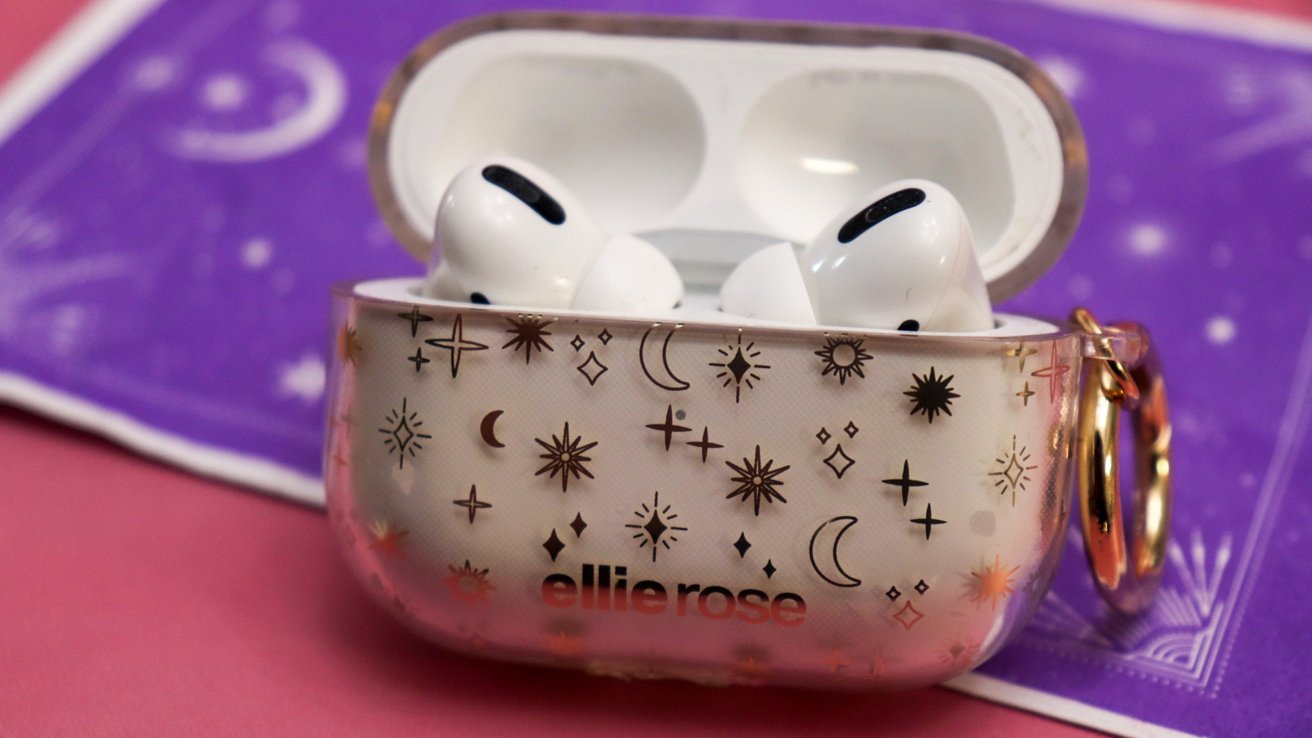 What comes in the box?
In the box, you will find the piece that covers the body of the charging case, the lid to cover the top of the charging case, and a gold ring that allows you to attach the case to your keys.
It's simple to put together. Just insert the charging case into the protective case. You don't need any adhesives when putting it together. It should be snug on the charging case.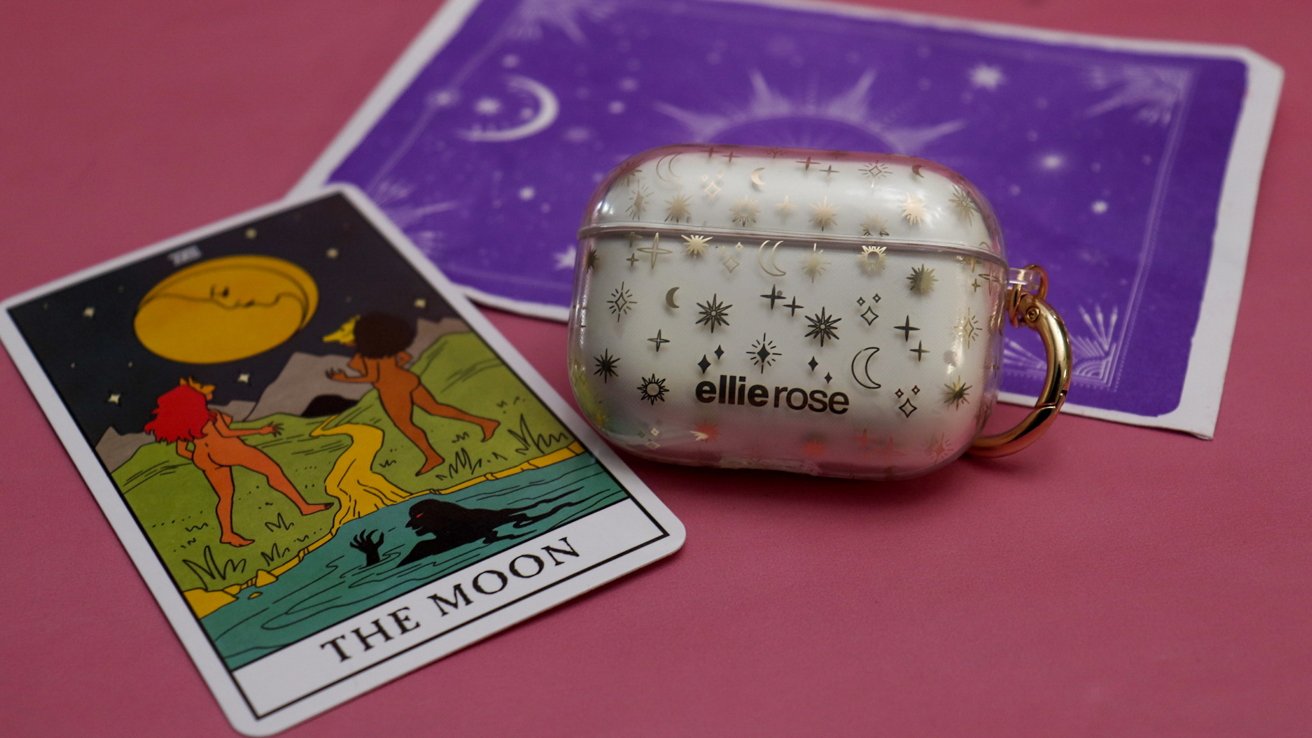 Designs
The designs are fabulous. Ellie Rose sent us the Starstruck and Tie Dye Aurora designs. You can also purchase phone cases to match your AirPods, but we were not sent any.
We brought our AirPods Pro with us everywhere we went for three weeks. We threw it in a big backpack we took to work and a small purse we took to a renaissance fair.
Our bags held makeup, car keys, our phone, gum, coins, cash, and books. When tested, the case looked as pretty and colorful as the day we pulled it out of the package.
The design looked fresh and clean after every drop, ding, and bump. The color and design didn't fade.
Ellie Rose has over 15 designs to choose from. Many choices exist, from the colorful and shiny cases we received to a more reserved tortoiseshell design. There's something to fit almost anyone's style. There's even a case that's a collage of cats.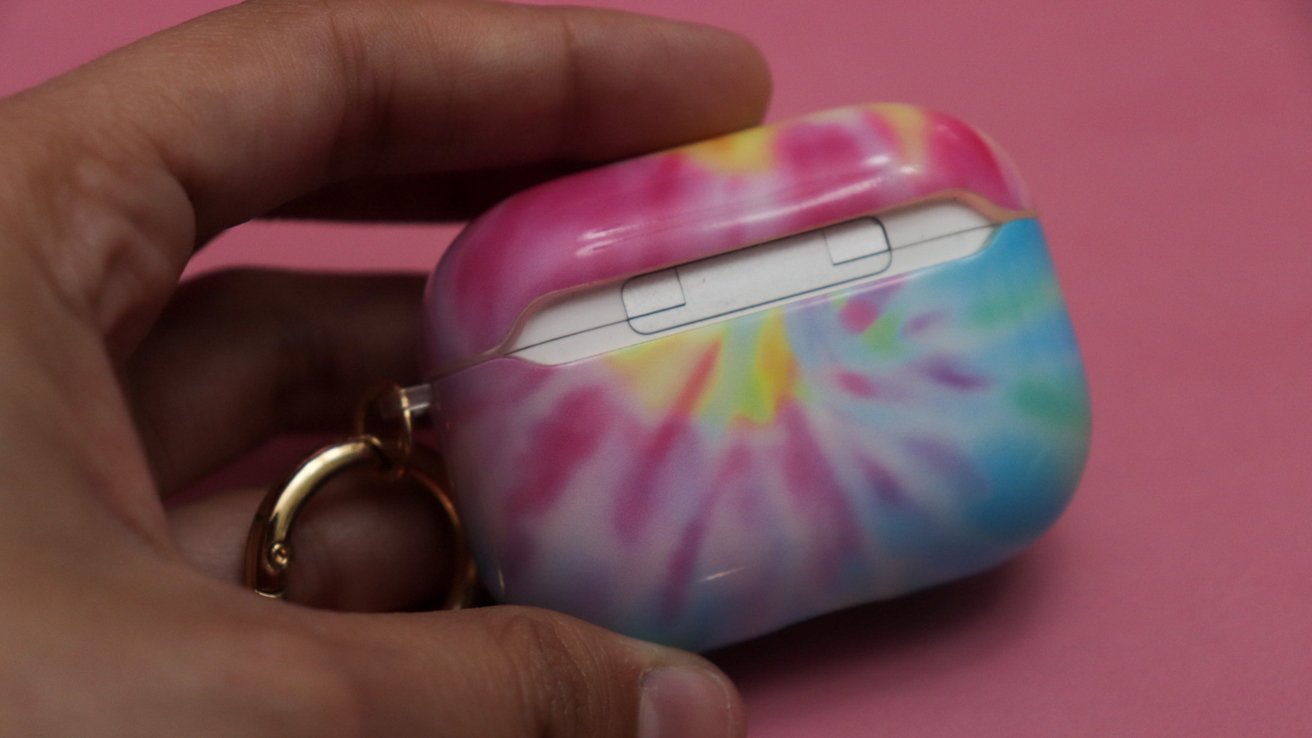 We love nearly everything about this case except for the back of it. If you need to access your AirPods Pro's back button, you must remove the case entirely. This wouldn't be a big deal if the case wasn't a huge pain to take off.
As mentioned, we needed a flathead screwdriver to pry the AirPods out of the protective case. We'd spent about 30 minutes trying to pull, push, and yank it out. We pulled on the top, added olive oil to make it slippery, and attempted to push it out with a pen from the hole on the bottom meant for the charger.
It wasn't until a friend recommended using the screwdriver that we were able to get it out. Thankfully, we didn't have to cut the AirPods out of the case, but the whole situation was frustrating and stressful.
So, the fact that the back button isn't accessible when the case is on and that the case feels almost impossible at times to take off could lead to some irritating situations.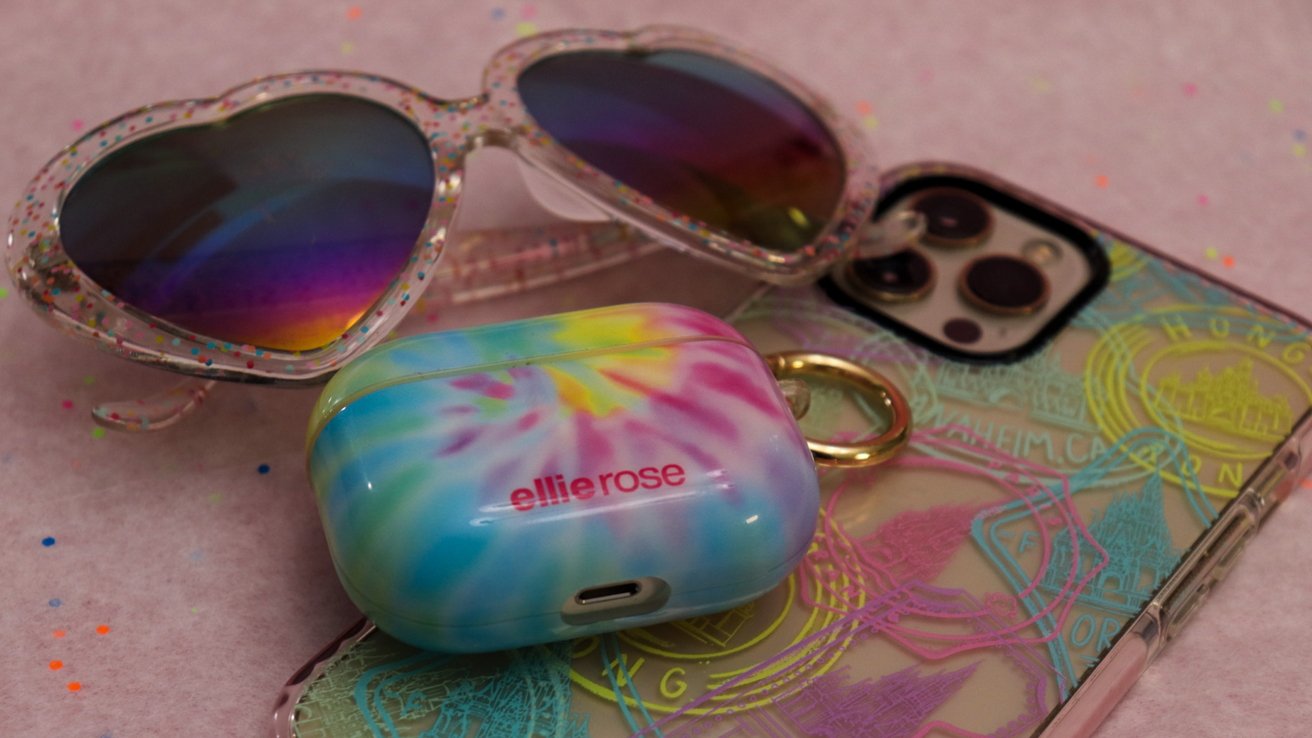 Final Thoughts:
These cases are unique, stylish, and can take a hit. If you're looking to buy a present for the techy fashionista in your life, look no further.
The designs are more feminine, but there is something here for various age ranges. Your 8-year-old niece might like the Meow Baby case, but the Tortoiseshell design might make an excellent gift for your partner because it matches their glasses.
These cases are cute and protected our AirPods from a disastrous fall from 6 feet above the ground. So if you're a stylish clutz who's been avoiding getting a case because they're ugly or unflattering, fret no more. These cases won't take away from your AirPods' sleek design but will add an extra layer of defense.
Ellie Rose AirPods Pro Case Pros


Cases are lovely and will fit most styles


They protect your AirPods Pro


You can choose to buy a matching phone case


Comes with a key ring making it easy to attach them to your keys
Ellie Rose AirPods Pro Case Cons


Difficult to remove from your AirPods


Back button isn't accessible
Rating: 3.5 out of 5 stars
Where to buy:
You can buy Ellie Rose AirPods Pro case from
Amazon
for $24.99.
Read on AppleInsider