Sonos Era 300 review: Spatial audio finally arrives
The all-new Sonos Era 300 is an excellent new smart home speaker that elevates your audio with support for Dolby Atmos spatial audio.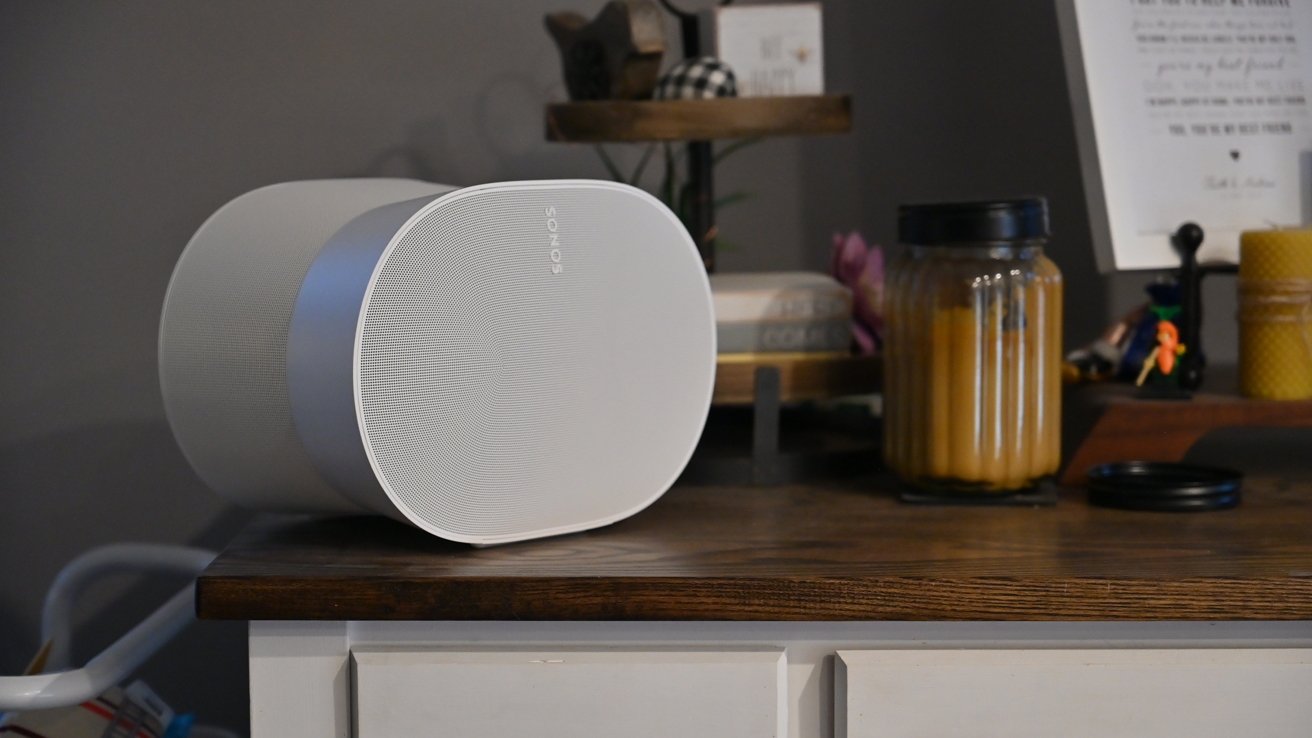 Sonos Era 300
In mid-March, Sonos debuted not one but two new speakers. The Sonos Era 100 is a slightly improved version of the Sonos One, while the Era 300 is most similar to the Play Five.
It's not the cheapest or most expensive standalone speaker in the Sonos lineup, but it is the first to support spatial audio outside the Arc soundbar.
https://schema.org/
","@type":"VideoObject","name":"Sonos Era 100 & Era 300 Review: Next-Generation Smart Speakers to Rule Your Home!","description":"The Sonos Era 100 and Sonos Era 300 represent the next-generation of Sonos's smart speakers. They feature new designs, revamped audio, improved controls, and -- on the Era 300 -- support for Dolby Atmos spatial audio. Let's take a closer look","thumbnailUrl":"
https://i.ytimg.com/vi/2ok-A-Xb0Lk/sddefault.jpg
","uploadDate":"2023-03-27T15:27:03Z","duration":"PT9M16S","embedUrl":"
"}
Sonos Era 300 - A new, unique design
With the Sonos Era 100, the design didn't deviate much from the Sonos One. Instead, it grew about an inch taller and rounded off the corners.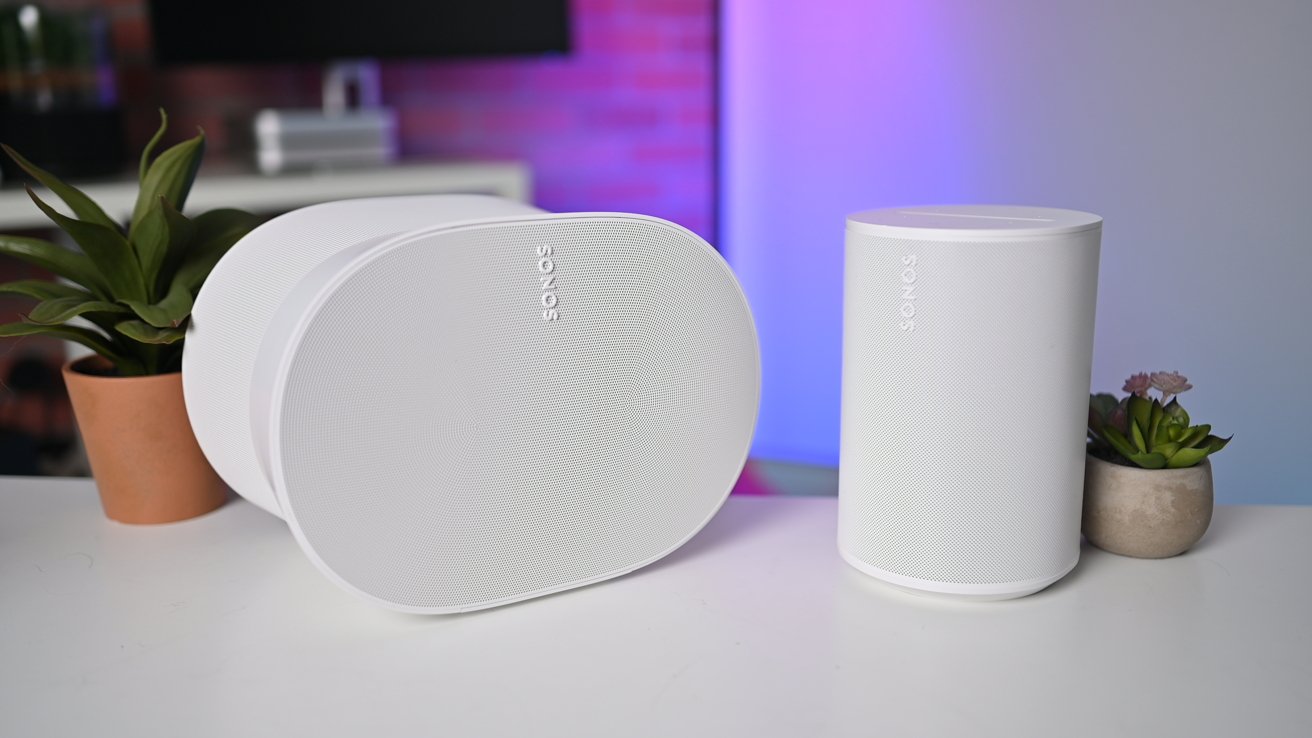 Sonos Era 300 versus Era 100
On the other hand, Era 300 has a wholly unique look, unlike anything in the Sonos portfolio. It has a massive front-facing grille with a secondary curved grille that wraps from one side, over the top, and down the other.
There are six drivers pushing out audio on Era 300; A front-facing tweeter, a sub and woofer out the left and right, and a final upward-facing tweet for the overhead channel.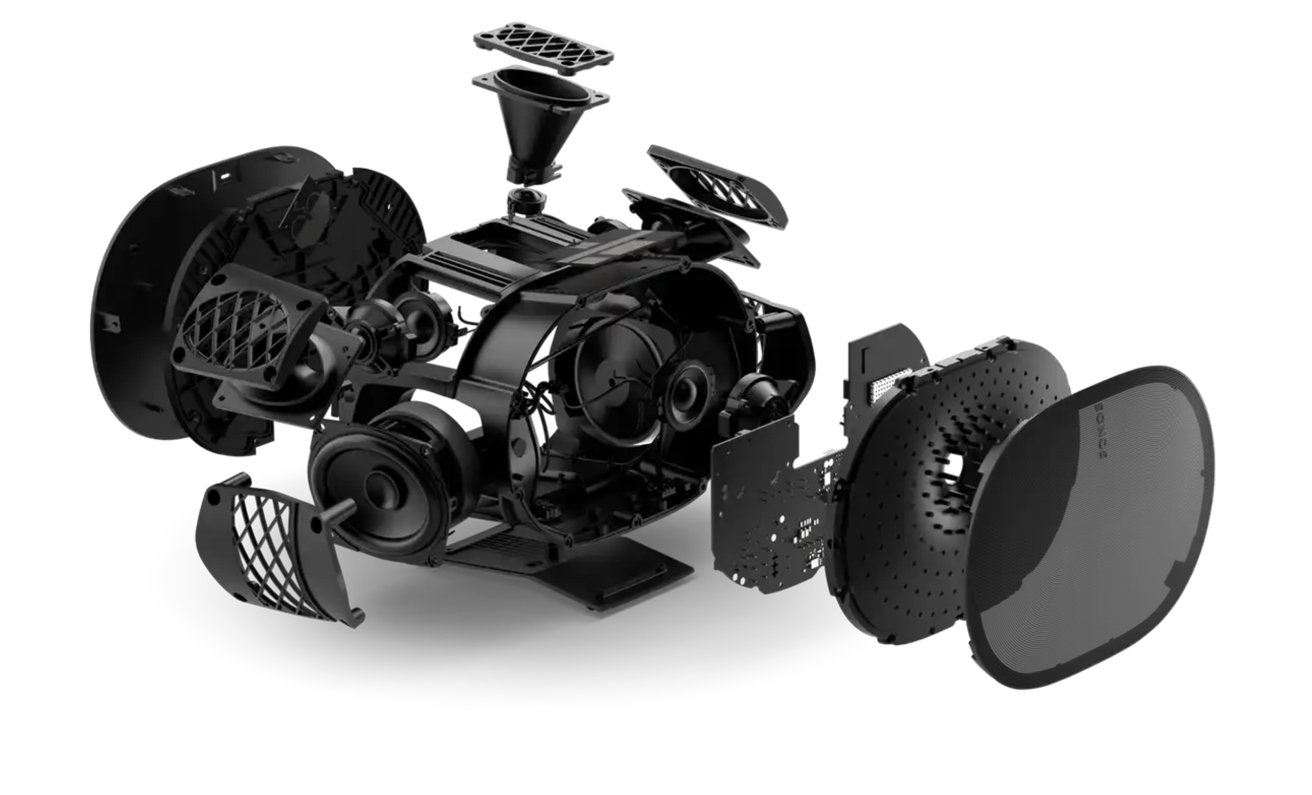 Sonos Era 300 exploded view
It's adopted a tapered design that leaves the center floating as it expands to the front and back. There's no other speaker that can strike the same pose.
A pair of silicone feet sit on the bottom to help stifle any rumbling from the six internal drivers. Speakers push audio out the front, to the sides, and out the top.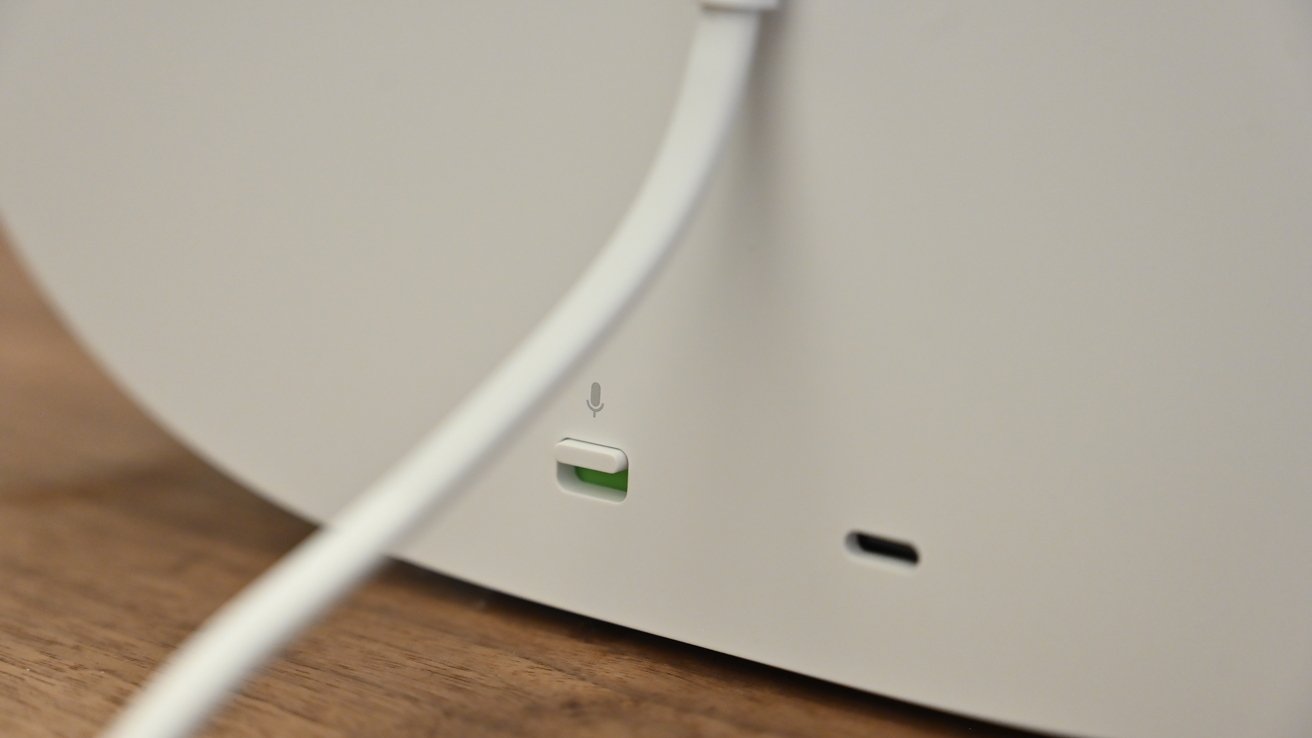 Microphone toggle
Around the back, there is a new Bluetooth toggle button. With a press, music can stream from a paired Bluetooth device rather than over Wi-Fi.
There's also a USB-C port for line-in audio, though the adapter is an additional purchase. Some could make the case the analog audio adapter should be in the box, but it's probably so niche that it would contribute quite a bit of e-waste.
Sonos uses a standard C8 power input -- the one that looks like a figure-8, but has its proprietary cable. It's brilliant because you can swap the cord for any off-the-shelf cable, but you get added benefit when using the one bundled in the box.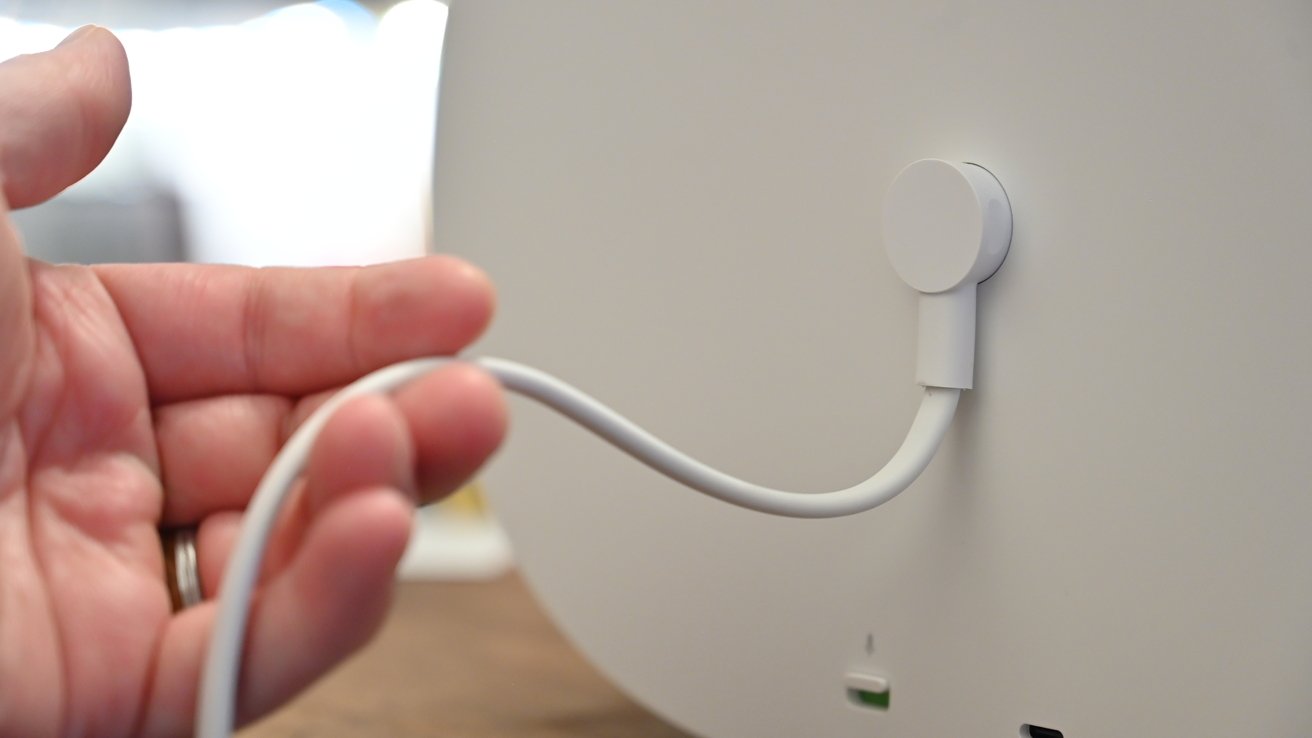 Custom power cable
The cable fits perfectly into the round hole on the back of the speaker and features a right-angle end, and routes down, allowing the speaker to fit tightly against a wall.
Finally, there is a toggle switch to mute the onboard assistant. This switch physically disconnects the power from the microphone for added security for those who don't want a smart speaker listening in their home.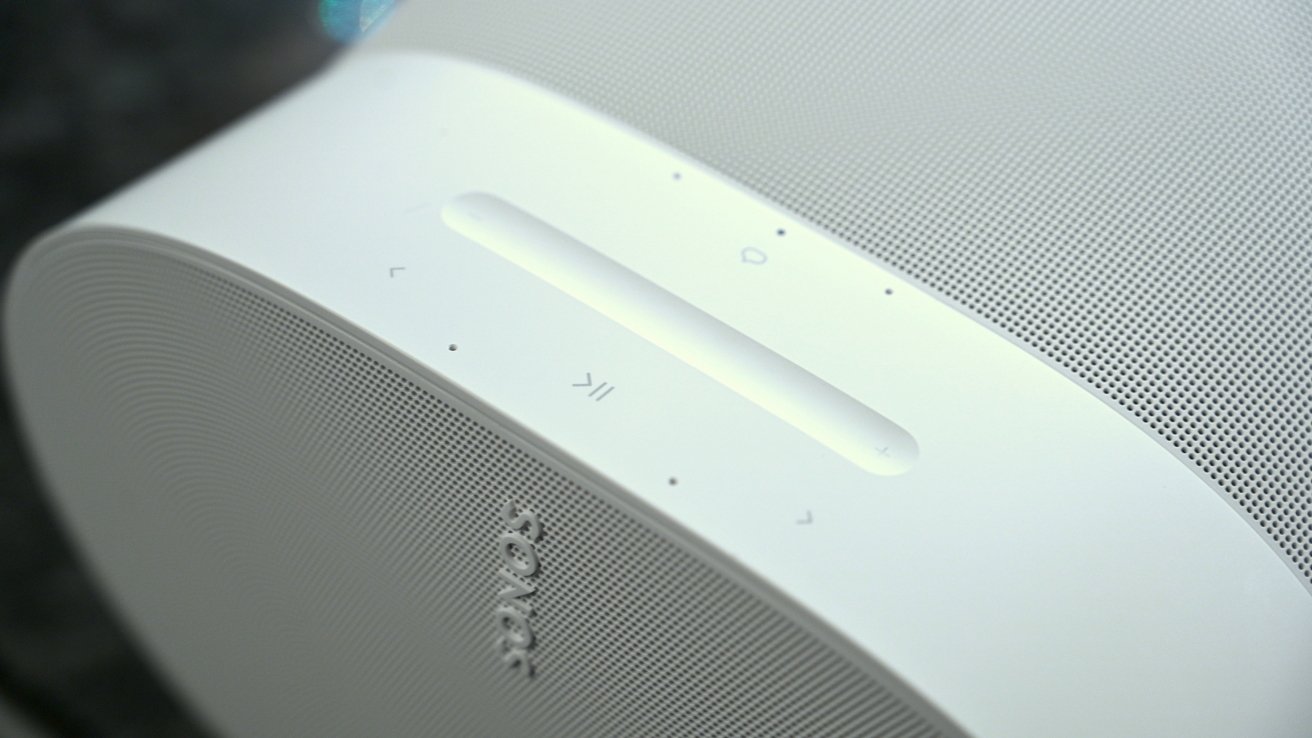 On-device controls
Atop sits a reimagined set of controls, a welcomed upgrade over the same capacitive controls on nearly every other Sonos speaker.
The most significant change is a newly-indented slider that you can use to adjust the volume quickly. The groove helps your finger find where the volume slider is without having to look.
Sonos Era 300 review - Setup and smart home
If there was any speaker maker to craft an experience akin to Apple's, it's Sonos. Assuming the speaker is plugged in, a card will rise from the bottom when you open the Sonos app.
This mimics Apple's setup for its accessories like
AirPods
and HomePod. It walks you through the basic steps of adding the speaker to your Wi-Fi and assigning it a name.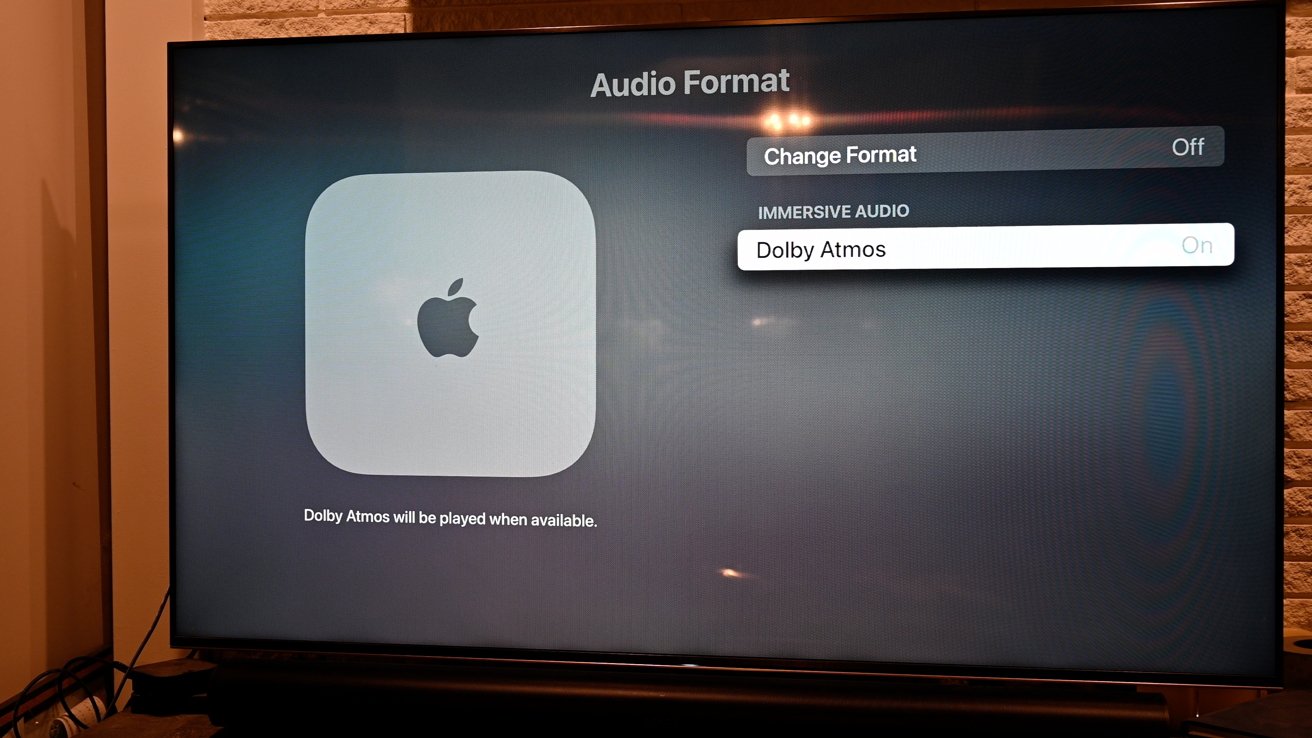 User Era 300 for Dolby Atmos on your TV
If you have a pair of Era 300s, they can be paired as rears for a Sonos soundbar if assigned to the same room. Otherwise, they can be grouped with other Sonos speakers.
Within the Sonos app, you can adjust all your settings, including boosting the treble or bass. In addition, there are options for streaming services like Amazon Music, Apple Music, Spotify, and several others.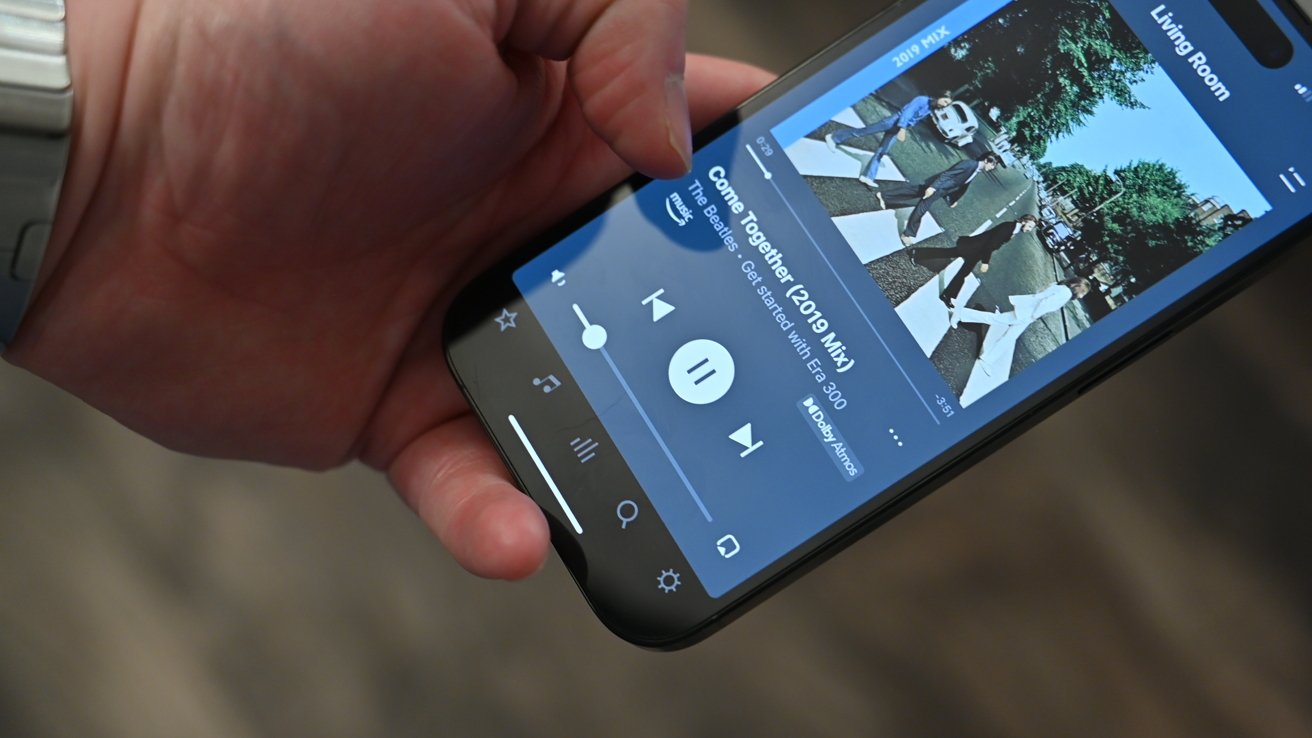 Dolby Atmos designator on the Sonos app
These music services stream directly to the speakers and don't route through your phone. That's how some support Dolby Atmos, which won't work when casting over
AirPlay
2.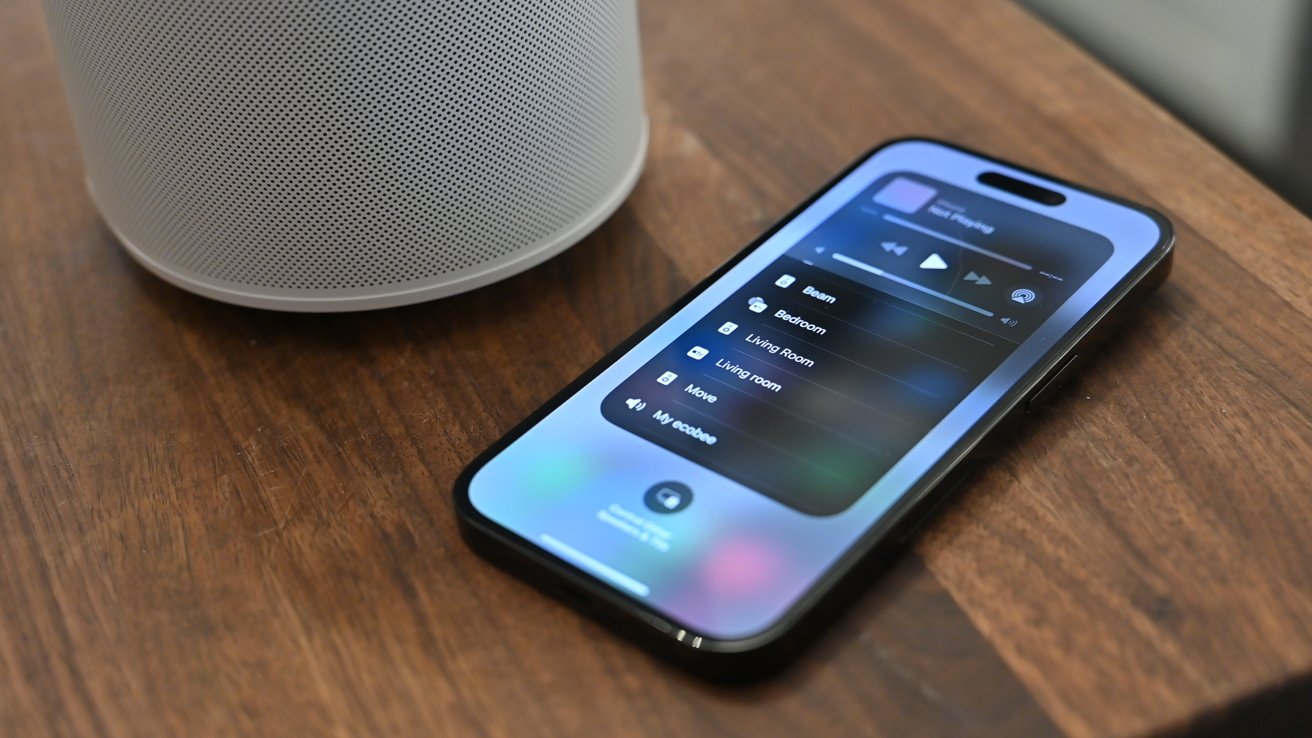 AirPlay to your Sonos speakers
Since we're on the topic, Era 300 and Era 100, both still support AirPlay 2 and HomeKit.
HomeKit
lets you incorporate the speakers into smart home scenes.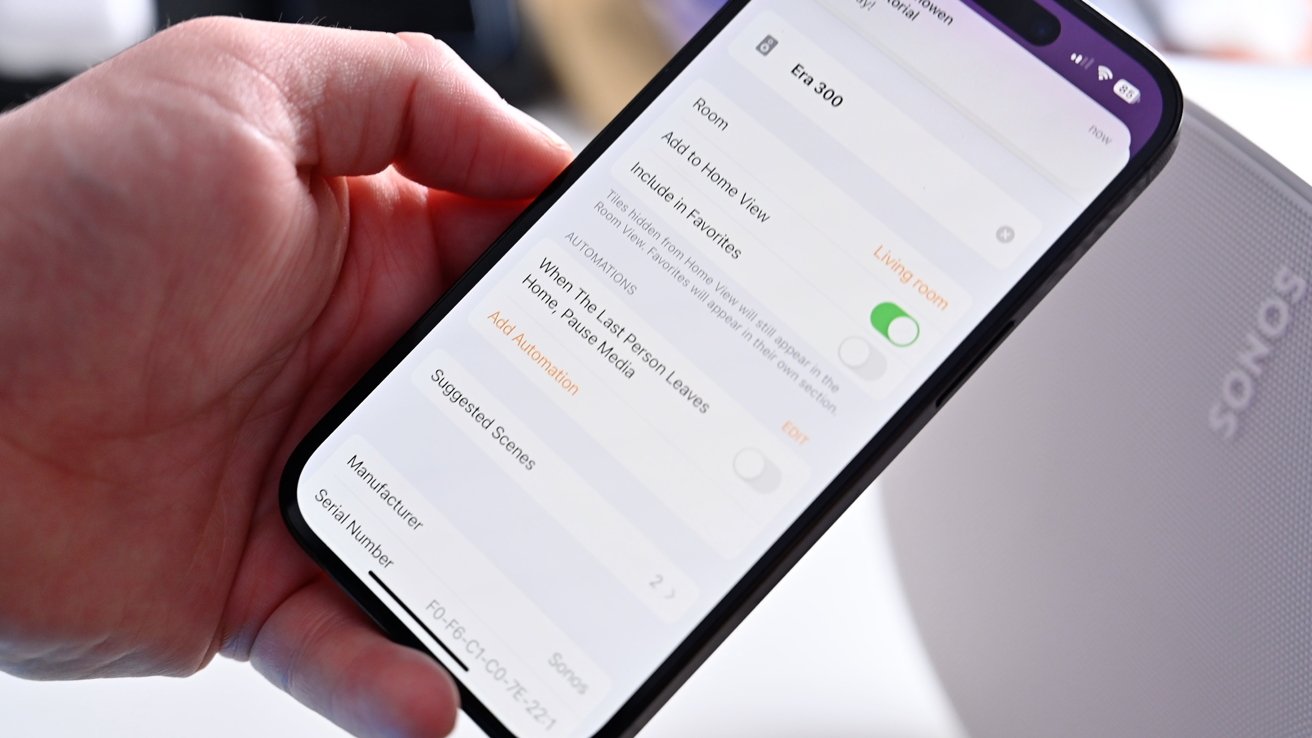 Sonos Era 300 works with HomeKit
These can be playing pump-up music when you go to work out, lowering the volume in the living room when the baby's "good night" scene is triggered, or pausing the audio when you leave the house.
Sonos has its own onboard assistant with speakers you can use to control music by voice. If you prefer, you can opt for Amazon Alexa instead.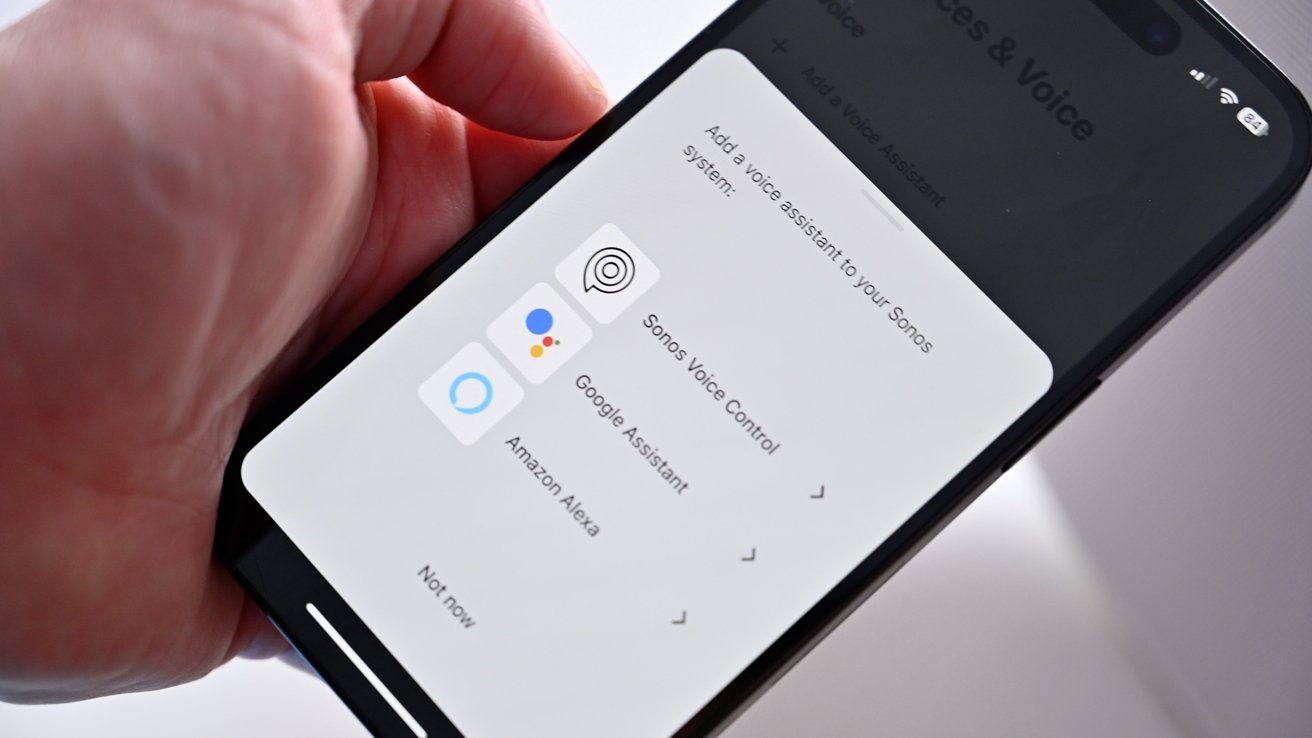 Amazon Alexa and the Sonos assistant work on the Era 300
Apple allows
Siri
to be baked into third-party speakers but don't expect to see the iPhone-maker's assistant on a Sonos speaker anytime soon. Based on
Sonos's testimony
before congress, it has an issue with Apple's
HomePod
requirement.
Audio takes to a new level
The flagship feature of the Era 300 is its support for spatial audio -- both streaming as a standalone speaker and when paired with select Sonos sound bars.
In our testing, we only had one Sonos Era 300 before launch, so we did not get to test Dolby Atmos with any video content. However, Dolby Atmos audio is supported for shows and movies on your television when two Era 300s get paired with an Arc or second-generation Beam.
Instead, we tested audio over Bluetooth, AirPlay, and streaming from the Sonos app. Pre-launch, only Amazon Music supports Dolby Atmos 3D audio, though
Apple Music
will launch Spatial Audio on Sonos on March 28.
The audio, as a whole, sounded fantastic. There is a clear separation between channels, pumping bass that you can feel in your chest at higher volumes and great stereo representation.
While sitting in front of the speaker listening to
Come Together
by the Beatles, we got chills as the guitar riff came in mid-track. The bass-heavy track was remastered in 2019 and sounds wonderful from Era 300.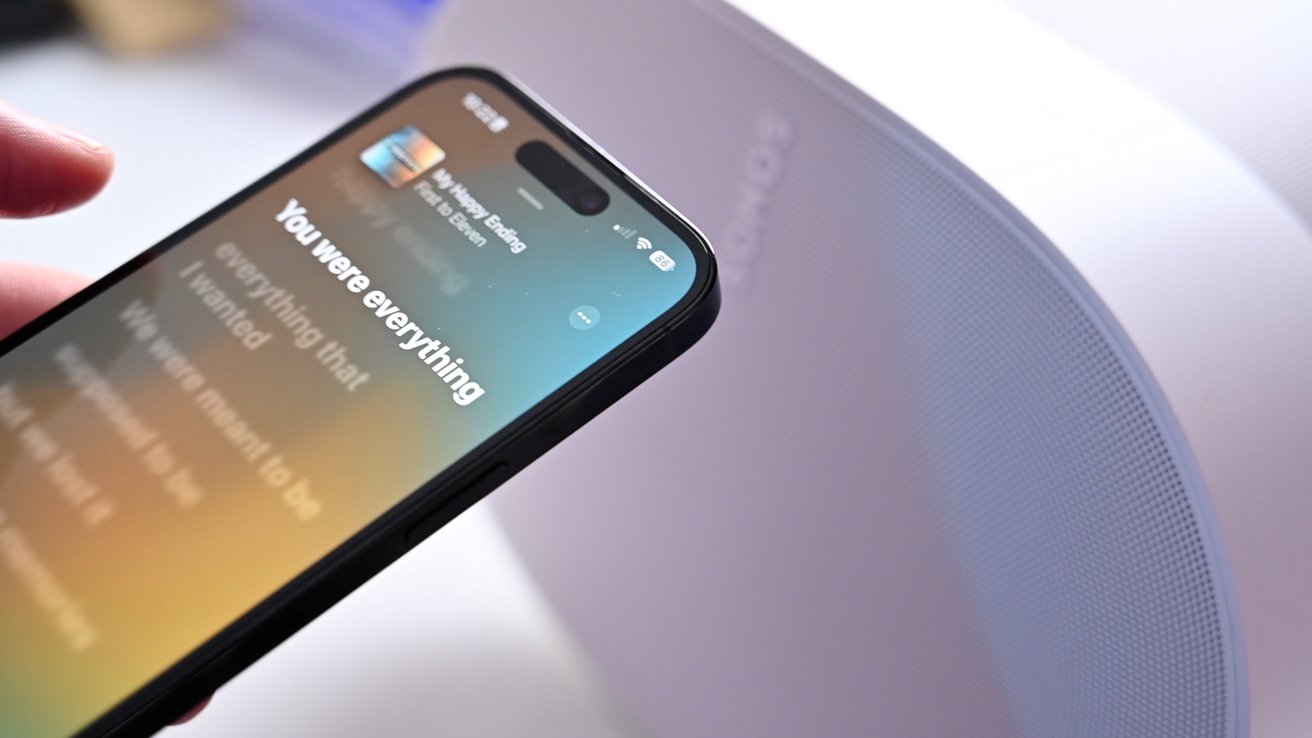 Playing music on the Sonos Era 300
We could hear the lead vocals coming from the center channel while the bass line bumped along in the background. Once the guitars came in, it expanded the soundstage coming from the left and the right at once.
Unfortunately, in many of our audio tracks, we didn't hear much more than stereo plus a center channel. There wasn't much that came "above" or "behind" us that we should have heard with a spatial audio setup.
We'll be testing again with more songs on Apple Music once it launches, and it will do nothing but improve the already-outstanding Sonos Arc once we nab a second speaker to pair with it.
Compared to HomePod, the bass felt a bit tighter, and it overall sounded like it had more output. The stereo separation was also better on the Sonos Era 300 compared to a single HomePod.
Should you buy the Sonos Era 300?
Between Era 100 and Era 300, the latter is far more interesting. It has a striking appearance, booming audio, and first-time support for spatial audio.
In all our testing, we've loved every bit of this speaker. We'd have loved for a bit more overhead audio while playing Dolby Atmos-enabled music, but it's otherwise exceeded expectations.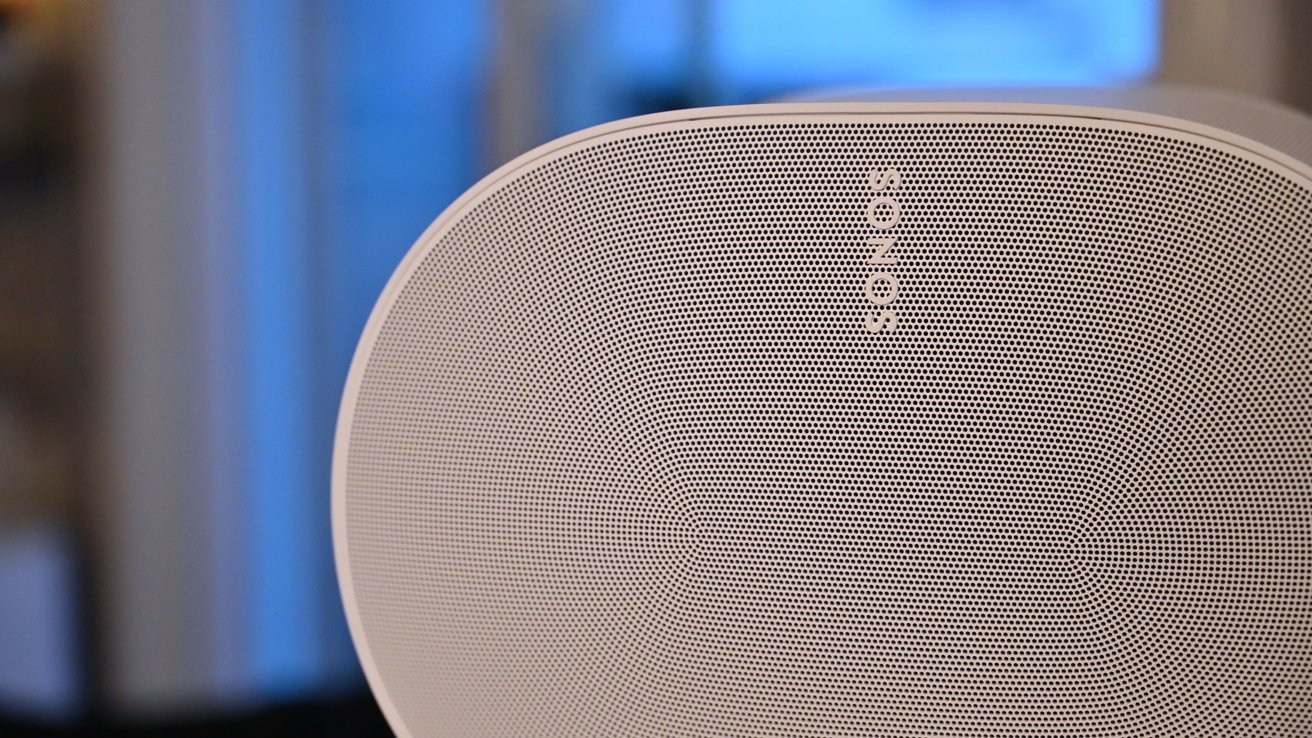 Closeup of the Sonos Era 300
Compared to the more expensive Sonos Play Five, we'd choose the Era 300.
What's most confounding is the Sonos pricing strategy. Despite only slight pricing differences, Sonos has kept both the Sonos Five and Sonos One in the lineup while introducing the Era 300 and Era 100.
They also pitch a pair of Era 300s as companions to the second-gen Sonos Beam, along with the Arc. That means you'd be shelling out $900 on a couple of Era 300s to go with a $500 soundbar to act as rears.
Sure, they enable Dolby Atmos on the Beam, but it still seems like an expensive upgrade.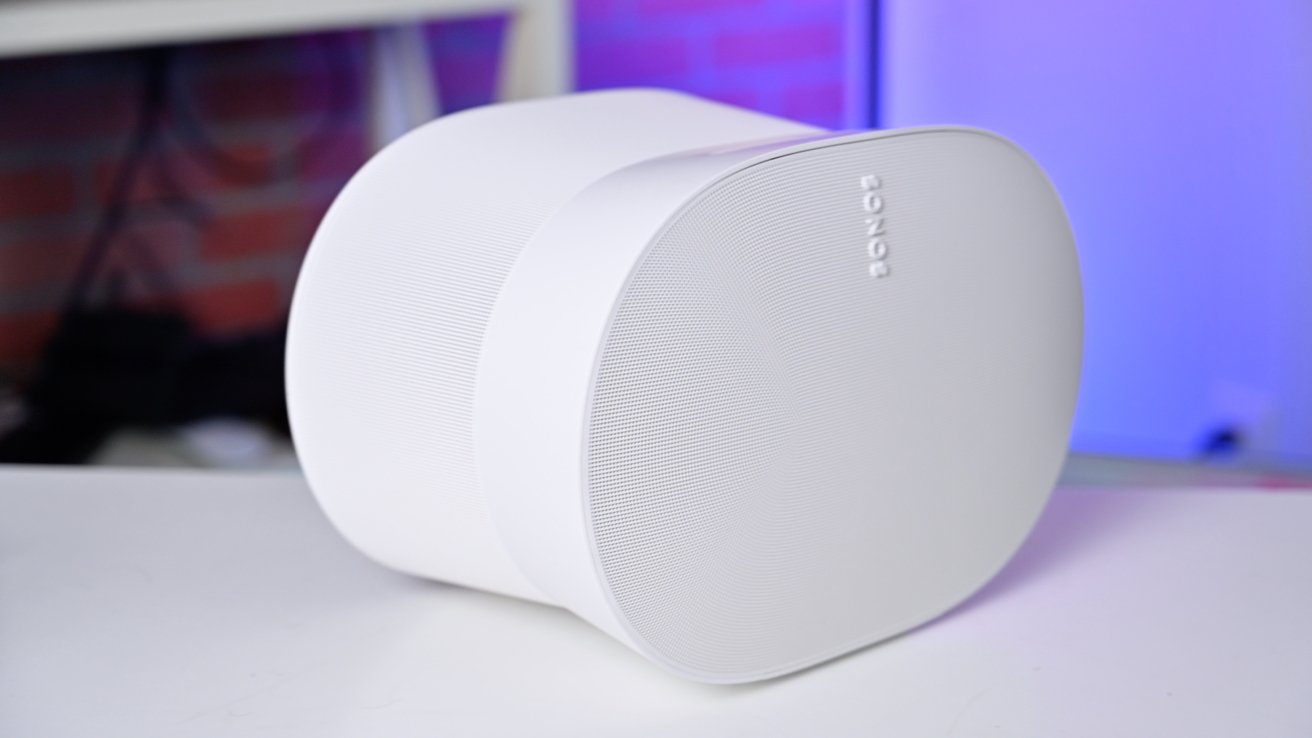 Sonos Era 300
Whether you're looking to boost the performance of your Sonos Arc or you want a capable set of bookshelf speakers for your home office, the Sonos Era 300 is a compelling option with a more open ecosystem than Apple's full-sized HomePod.
Sonos Era 300 - Pros
Unique, eye-catching design


Support for spatial audio, including Apple Music


Outstanding sound


Vastly improved on-device controls


Microphone has physical kill switch


USB-C port for audio input


Easy Apple-like setup and integration with other Sonos devices


Support for AirPlay and HomeKit
Sonos Era 300 - Cons
No support for Siri voice assistant


Inline USB-C audio input sold separately


Lack of top and rear channels when listening to Dolby Atmos audio
4.5 out of 5
Where to buy the Sonos Ero 300
The Sonos Era 300 can be purchased directly
from Sonos.com
, as well as
at Adorama.com
and
BHPhotoVideo.com
.
Read on AppleInsider