Maono WM821 review: Affordable wireless mic system with accessories
A quality wireless microphone system is crucial but expensive for aspiring videographers. The Maono WM821 is economical but might cost you in other ways.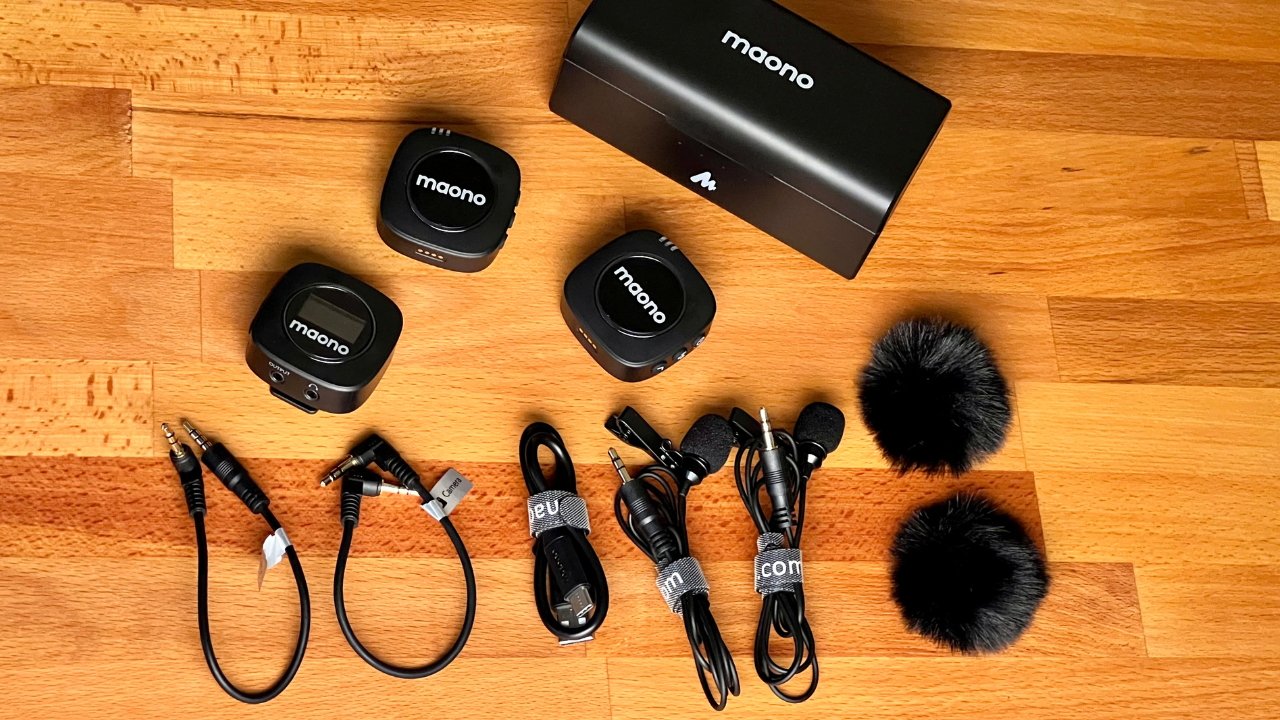 What you'll get with the Maono WM821 - a charging case and other accessories
Creating video content is a costly undertaking. Quality wireless microphone systems are among the most pricey gear you will buy for filmmaking. Adding to the bill, you may need more than just a simple wired microphone. For two-person vlogs or live demos, you may need a dual wireless microphone system that allows for movement.
Additionally, paying a premium price does not always mean receiving a premium product. Big-ticket wireless microphone systems can also disappoint, and you might be better off spending less and making the best of what you have.
Budding video creators often have limited funds, so they may consider budget options such as the Maono WM821, also known as Tikmic. The Maono WM821 retails for over $100 less than other popular wireless microphone systems like the DJI Mic with comparable accessories and the Rode Wireless Go II without a charging case.
Maono WM821 -- features
Although this is a budget wireless microphone system, Maono does not skimp on what they give you. You get two transmitters, one receiver, a charging case, USB-C charging cable, two lavalier microphones, two audio cables, two fur windshields, and a carrying bag to tote everything around.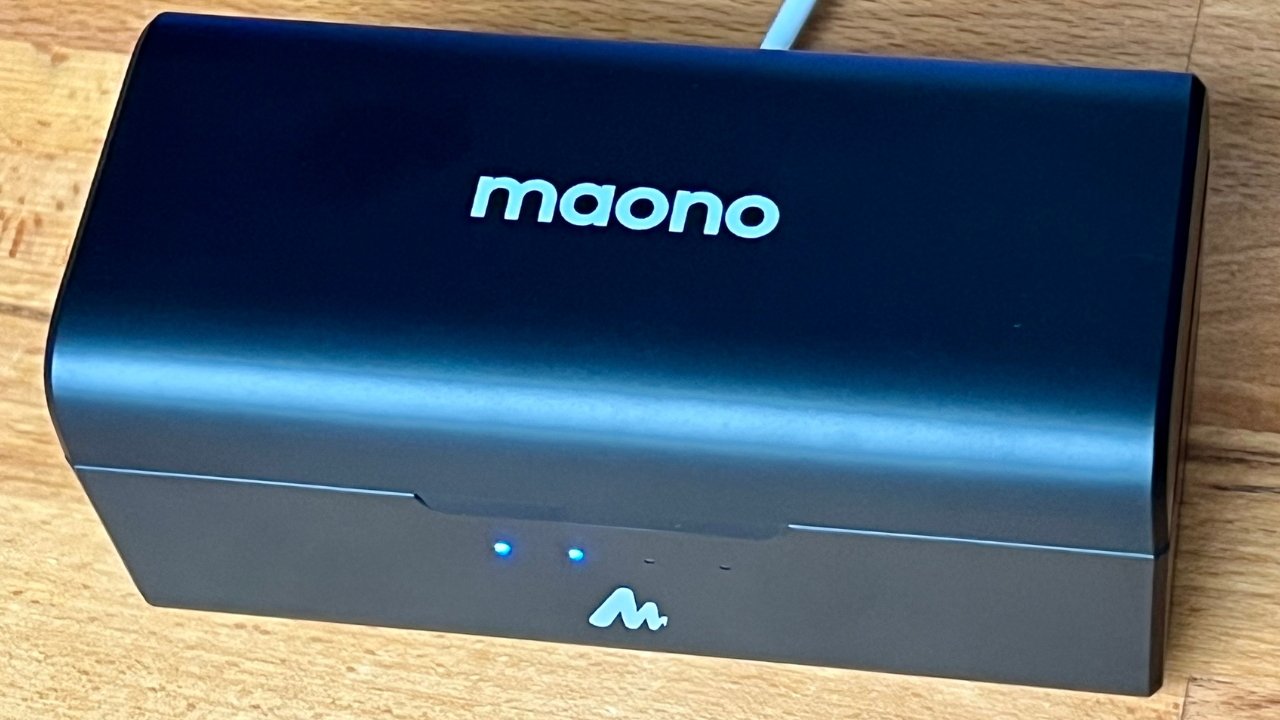 Maono WM821 wireless microphone system comes with a charging case
The charging case has a sturdy magnetic lid. When the charging case was shaken upside down, the lid did not pop open, and the transmitter and receiver stayed securely inside.
A charging case is practical for videographers who change locations throughout a project. For instance, a travel vlogger often hops from one landmark to the next. Charging the receiver and transmitters between locations can help ensure you have enough juice when you arrive at the other places.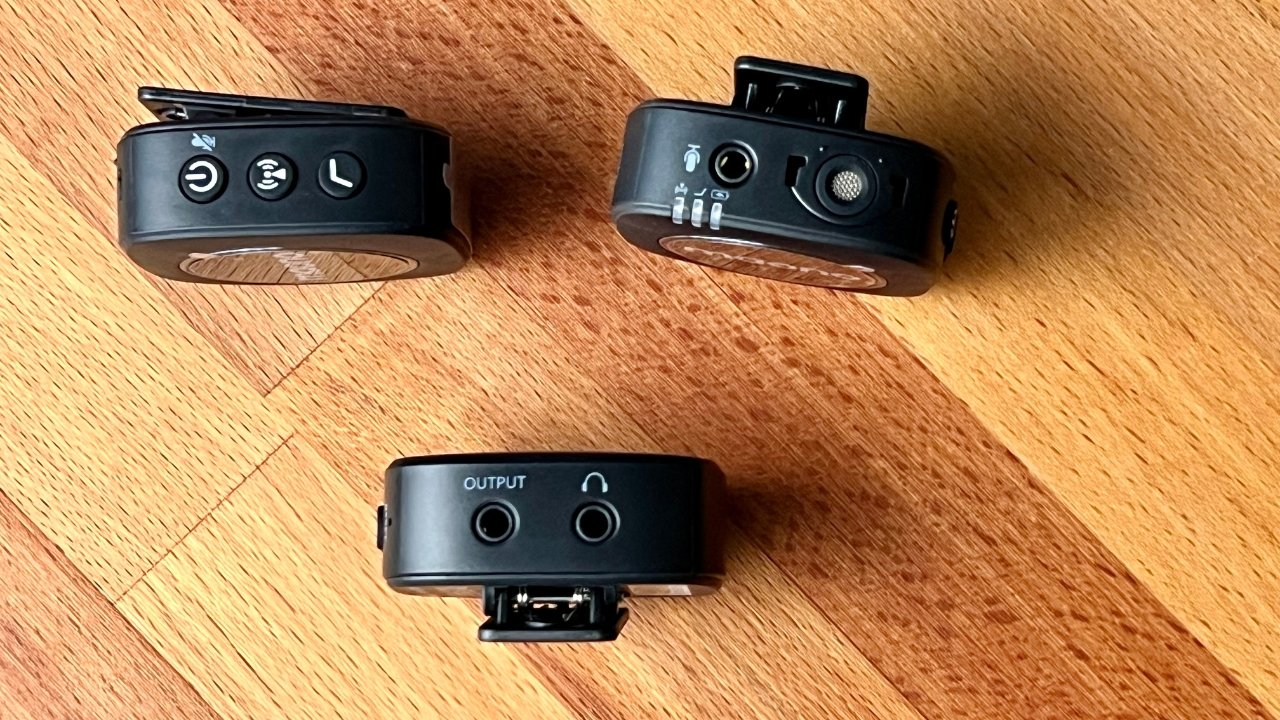 Maono WM821 comes with one receiver and two transmitters
Each transmitter can operate independently of the other, which is useful when your video switches from a one-person to a two-person take. Also, each transmitter has its gain adjustment, so if one person is loud and the other is soft-spoken, you can optimize their volumes. This way, the final video will not jump erratically in sound.
The receiver has a headphone jack to help monitor the audio during a video shoot. There is also an LCD screen on the receiver so you don't have to depend solely on your ears to know if the audio is coming in too hot.
The battery life on the Maono WM821 is long-lasting and keeps up with more premium wireless microphone systems. For instance, the DJI Mic delivers up to 15 hours of working time when used with the charging case. In contrast, Maono claims you can get up to 20 hours of working time when used with the charging case.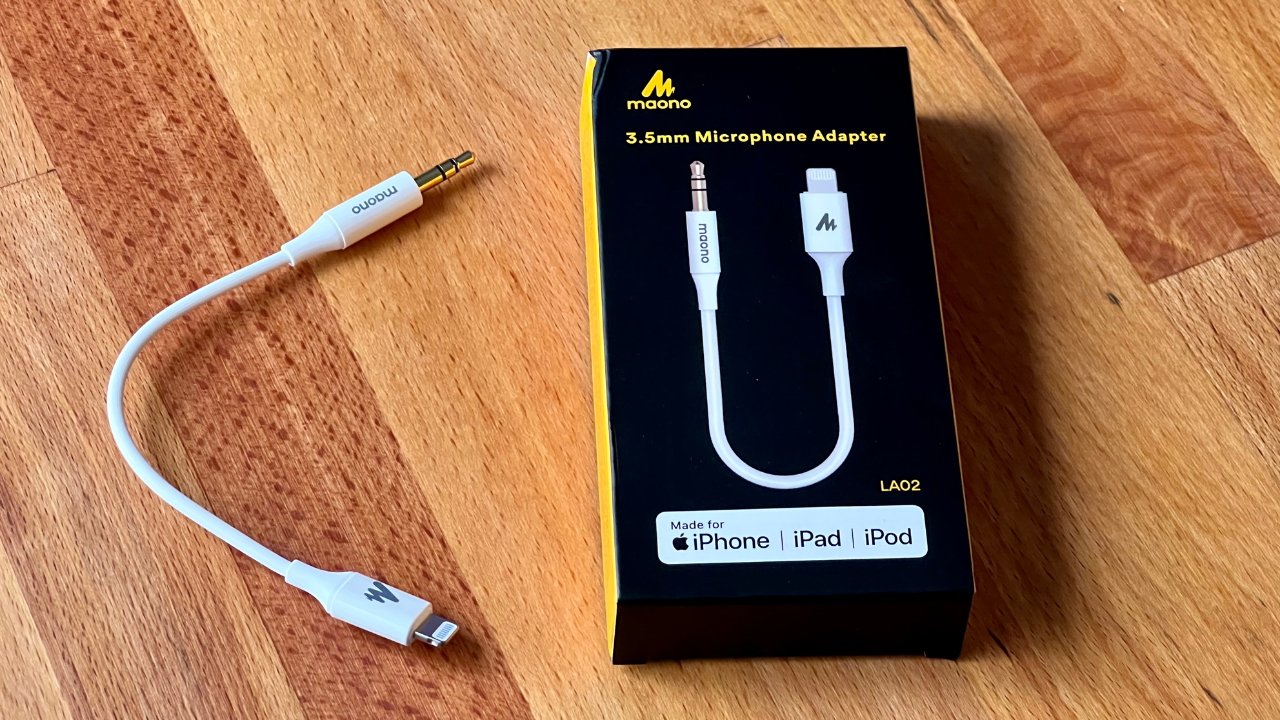 To use the Maono WM821 with an iPhone, you'll need a Lightning audio cable, sold separately
Many beginner video creators start with a trusty iPhone camera. You could use the Maono WM821 with your iPhone, but you need a Lightning to 3.5 mm audio cable that Maono sells separately. Alternatively, you can purchase the Lightning audio cable directly from Apple.
If you use a DSLR camera, the Maono WM821 can also be attached to a hot shoe. The receiver and transmitters have a clip on the back to do this easily.
Maono WM821 -- performance
The Maono WM821 wireless mics were put to the test, recording two persons speaking in a quiet office environment. Unfortunately, the results were disappointing because all the videos had a noticeable hissing sound.
In another test, the Maono WM821 was used to film a video in a small room treated with sound-dampening items and no Wi-Fi signal. Even so, the hiss was noticeable in the video. The noise floor was high even though the battery was almost fully charged, and the receiver and transmitters were near each other without obstructions.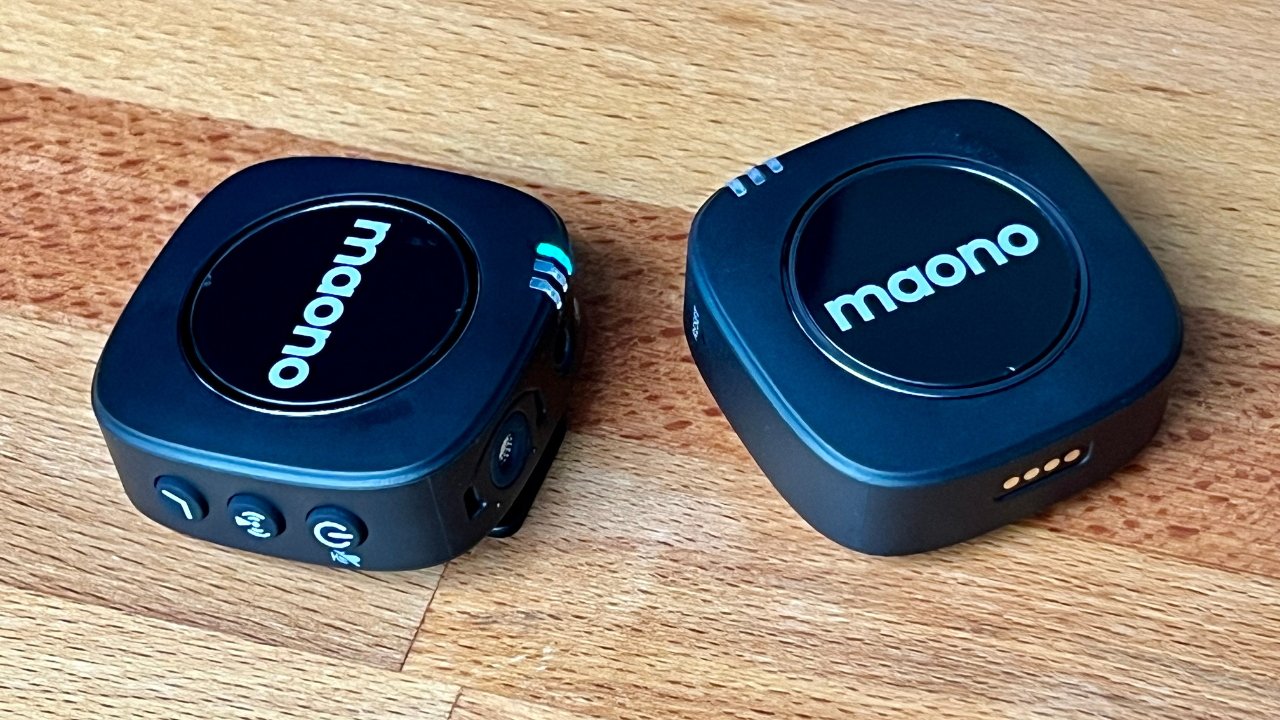 Maono WM821 dual transmitters
Granted, the vocals were still coherent and may even pass as decent audio for casual listeners, but the noise floor may be dreadfully loud for videographers with trained ears.
If not having any low-level interference is crucial, you can fix this during post-processing. The good thing is that you can record in either mono or stereo with the Maono WM821 wireless mics.
Filming in stereo allows you to isolate the unwanted background noise from the offending channel and clarify the vocals. In addition, you could layer some background music over your video to lessen the impact of the audible noise floor.
However, this means more work for you when editing your videos, which you may or may not be concerned about. Depending on how you look at it, this could give new video creators more experience in sound design, or it could be an unacceptable nuisance for videographers strapped for time.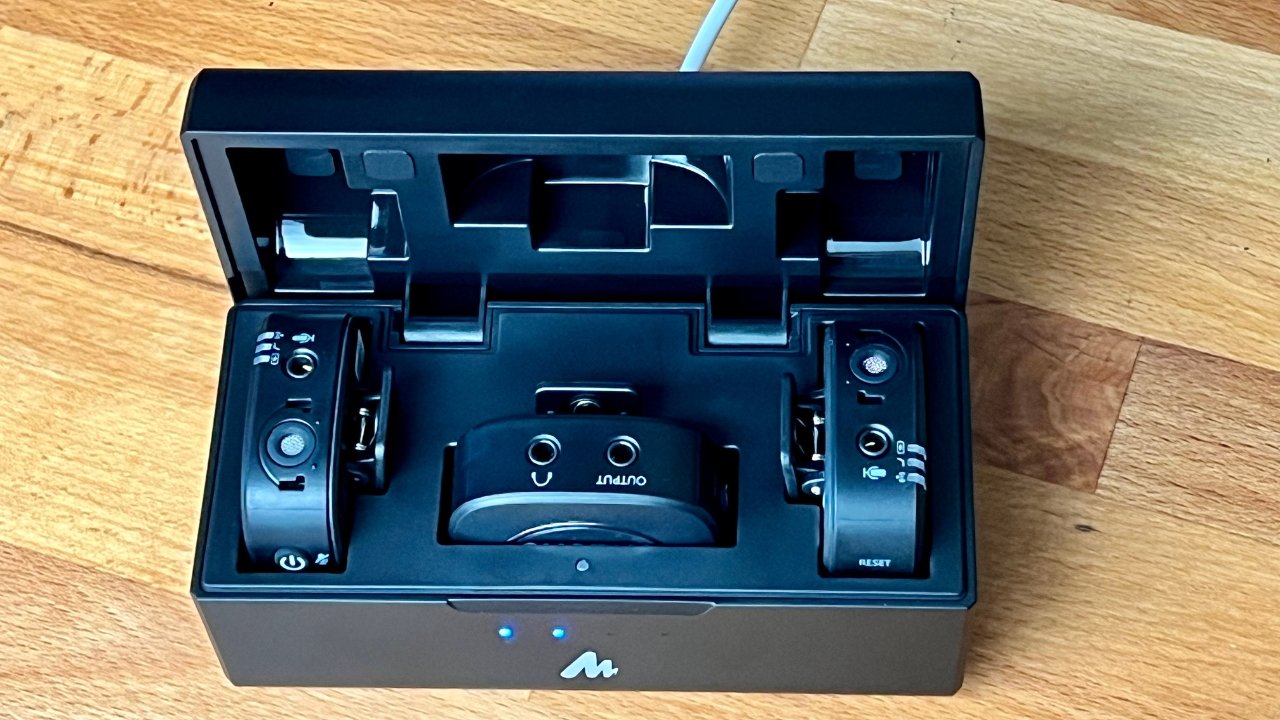 Charging the Maono WM821 receiver and transmitters in its charging case
Another thing to consider is the operating range. The Maono WM821's operating range is up to 328 feet under normal conditions.
Although the operating range is not as high as other wireless mic systems like the Rode Wireless Go II, it may be plenty for videographers who plan to film within a confined space, like filming a cooking demo in a kitchen.
Despite not being the best-sounding wireless microphone system for talking-head interviews, some users may deem it suitable for their needs. It depends on the purpose of your videos and your audience.
You could use the Maono WM821 for raw and uncut content, such as a casual travel vlog. Outdoor ambient noises like cars or birds may help conceal the noise floor.
The Maono WM821 has many features that budget-conscious videographers would appreciate. If you don't mind doing the extra post-processing and need an affordable wireless mic setup, you may very well be satisfied with these.
Maono WM821 -- pros


Includes charging case and other accessories


Lightweight


Great battery life


Individual gain adjustment


Records in mono or stereo


Transmitters can be attached to a hot shoe


Maono WM821 -- cons


Loud noise floor


Lightning to 3.5 mm audio cable required for iPhone, not included


Rating: 3 out of 5
Where to buy
You can buy the Maono WM821 dual wireless microphone system
directly from Maono
for $189.99 or
from Amazon
for $189. If you need a Lightning to 3.5 mm audio cable, you can get it
from Maono
for $29.99 or
from Apple
for $35.
Read on AppleInsider