16-inch MacBook Pro vs LG Gram 17 - compared
LG has updated its Gram series of laptops with the new LG Gram 17, a lightweight notebook with a large screen. Here's how it compares with the newest
16-inch MacBook Pro
models with an M2 Pro or M2 Max chip.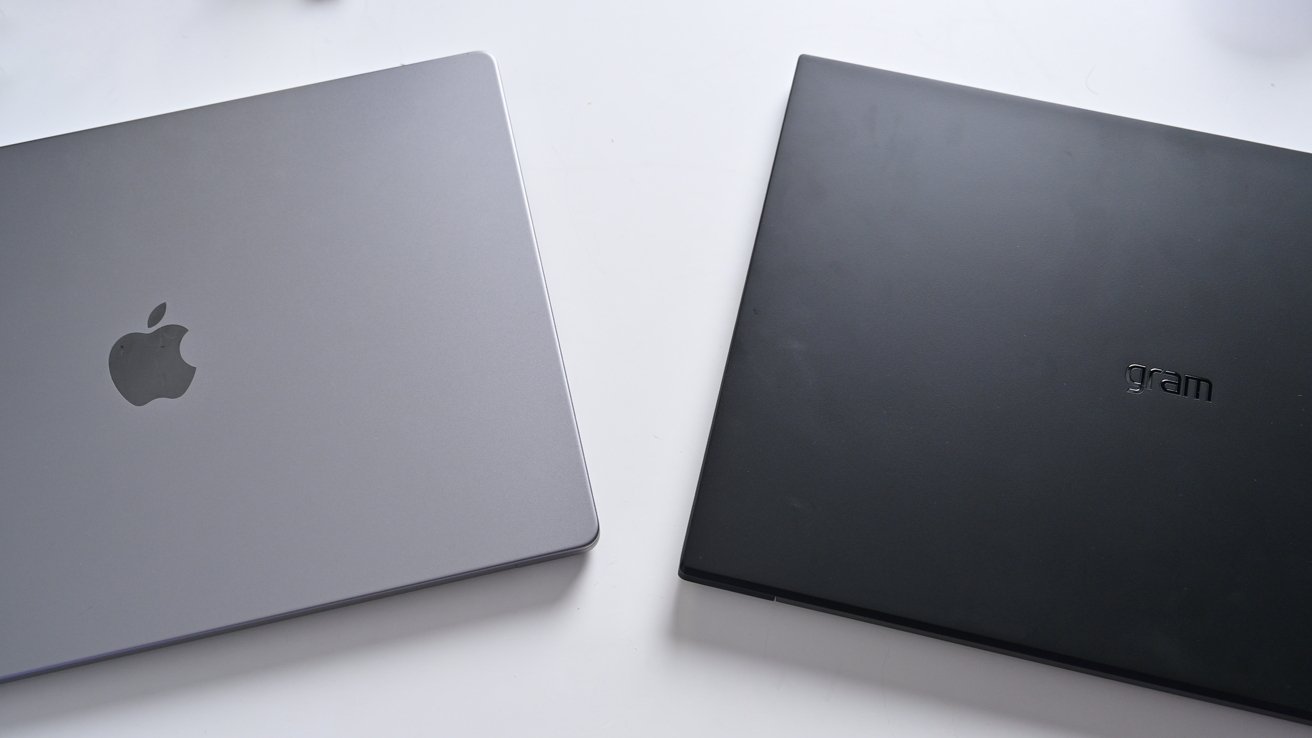 MacBook Pro vs LG Gram
The 2023 Gram 17 started shipping on February 1, though LG announced the new computer in January at CES 2023. It includes the latest technologies, such as an Intel Core i7 processor and an Nvidia GPU.
The new 16-inch MacBook Pro model was
unveiled on
January 17 and went on sale on January 24. It includes many of the same features as the previous model with a few noticeable changes -- most notably the new M-series processors and an upgraded HDMI connector. Also, battery life was extended by an hour.
While similar in size, the primary differences between the LG Gram 17 and the updated MacBook Pro lay inside with the CPU, GPU, and sound system. The MacBook Pro is better in some ways, but there are specific audiences that may end up looking at the LG Gram.
We've got both in our studio so we'll be testing the high-end LG Gram against Apple's M2 Max 16-inch MacBook Pro.
Here is how the two notebooks stack up against each other.
https://schema.org/
","@type":"VideoObject","name":"LG Gram VS 16 M2 Max MacBook Pro! Portability OR Power?!","description":"I'm comparing the all-new LG Gram against Apple's 2023 16-inch MacBook Pro with the M2 Max processor on the inside. Which wins out and which is more important -- portability or power?","thumbnailUrl":"
https://i.ytimg.com/vi/helo3YxPoQU/sddefault.jpg
","uploadDate":"2023-04-15T14:00:33Z","duration":"PT8M37S","embedUrl":"
"}
2023 LG Gram 17 vs. 2023 MacBook Pro - Specifications
Specifications
LG Gram 17
16-inch MacBook Pro
Price (starting)
$1,999.00
Buy at Amazon
$2,499.00
Best MacBook Pro 16 price
Display size (inches)
17
16
Dimensions (inches)
14.91 x 10.19 x 0.7
14.01 x 9.77 x 0.66
Weight (pounds)
3.2
4.7
Max resolution (pixels)
2,560 x 1,600
3,456 x 2,234
Pixel density
178
254
Brightness
400 nits max
XDR: 1000 nits sustained, 1600 nits peak
SDR: 500 nits max
Display
IPS LCD
Mini LED
Processors
13th-gen Intel Core i7
M2 Pro or M2 Max
Graphics
Nvidia GeForce RTX 3050
Up to 38 integrated cores
Memory
16GB, 32GB
16GB (M2 Pro), 32GB, 64GB (M2 Max), 96GB (M2 Max)
Storage
1 TB, 2TB
512GB, 1TB, 2TB, 4TB, 8TB
Battery
Up to 20 hours
Up to 22 hours
Ports
Two USB-A
Two Thunderbolt 4 (USB-C)
Micro SD
HDMI
3.5mm headphone jack
Three Thunderbolt 4 (USB-C)
Advanced HDMI port
SDXC card slot
3.5mm headphone jack
Webcam
1080p
1080p
Audio
Two stereo speakers
Dolby Atmos
High-fidelity six-speaker sound with force-cancelling woofers
Spatial Audio
Dolby Atmos
Three mic array
Connectivity
802.11ax Wi-Fi 6E, Bluetooth 5.1
802.11ax Wi-Fi 6E, Bluetooth 5.3
2023 LG Gram 17 vs. 2023 MacBook Pro - Design, Size, Weight
The casing of each MacBook Pro is made entirely of recyclable aluminum, and all of the magnets are made of rare earth metals. Many components employ 35% or more recycled plastic, while the main logic board uses 100% recycled tin for soldering.
At 14.01 inches by 9.77 inches by 0.66 inches, the MacBook Pro weighs 4.7 pounds or 4.8 pounds with an M2 Pro or M2 Max chip, respectively. The LG Gram is lighter at 3.2 pounds and similar in size at 14.91 inches by 10.19 inches and 0.7 inches.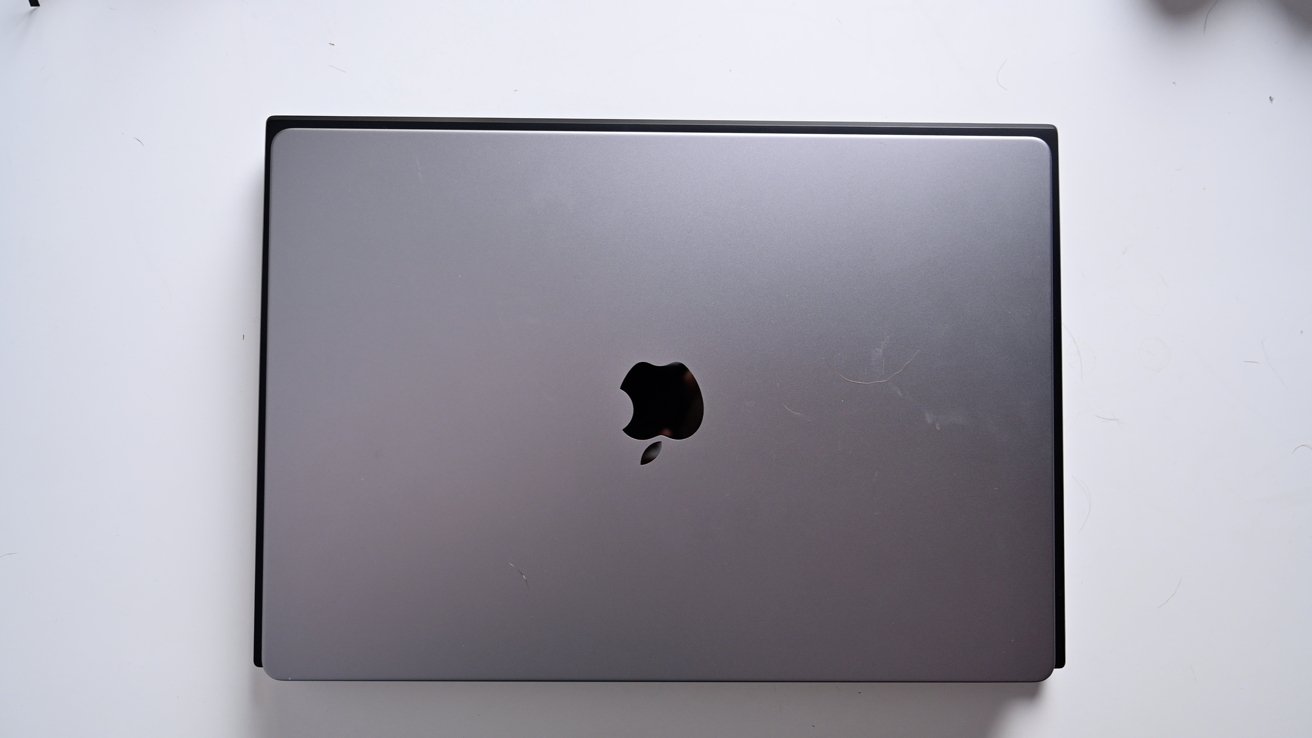 LG Gram under the 16-inch MacBook Pro
LG uses a magnesium alloy material for the notebook's body, though it doesn't mention if they have recycled materials. It has a wedge-shaped design that is typical of "ultrabooks," a term used to describe ultra-thin, high-end notebooks.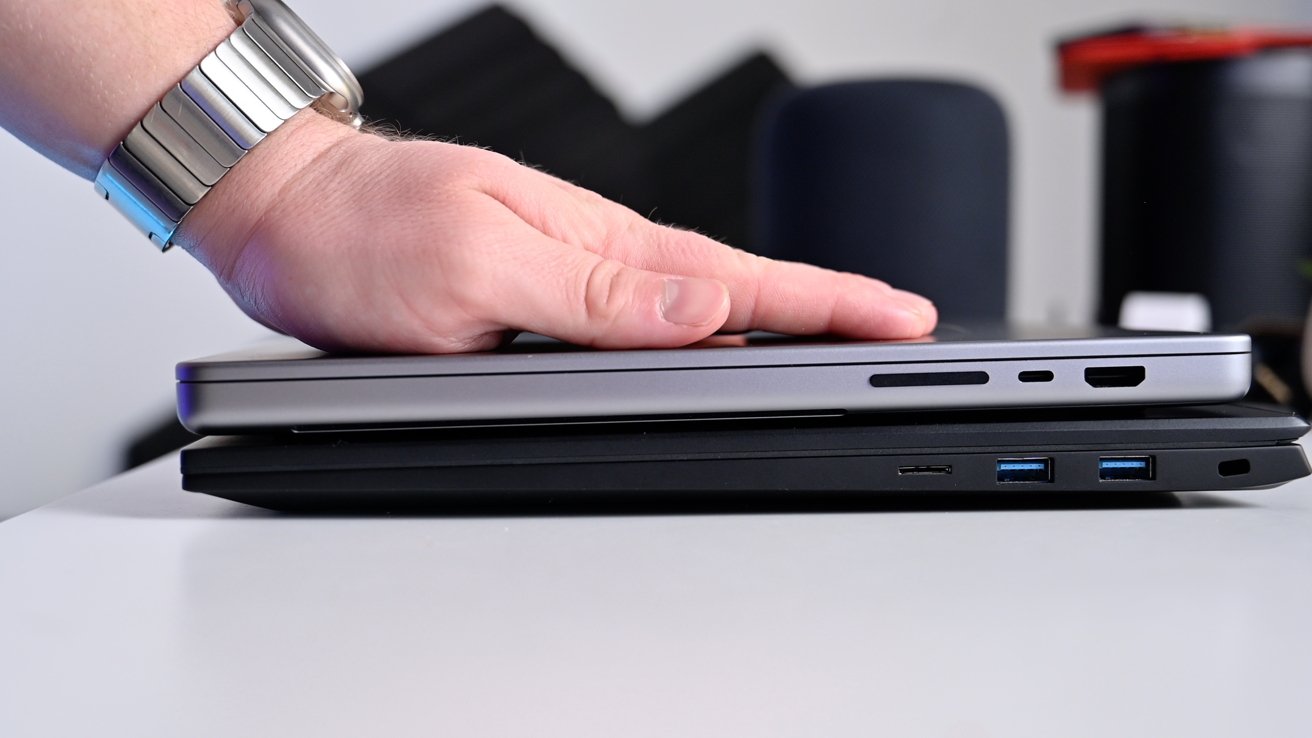 MacBook Pro on top of the wedge-shaped LG Gram
LG also has a variation of the Gram, 17Z90R-K.ADS9U1, weighing 2.98 pounds. Other differences in this model include integrated graphics, a battery with lower watt-hours, and lower-wattage speakers.
2023 LG Gram 17 vs. 2023 MacBook Pro - Display
The screen on the MacBook Pro is equipped with mini LED Liquid Retina XDR technology with a resolution of 3,456 by 2,234 pixels and a pixel density of 254 pixels per inch. It enables professionals to use pre-set reference settings that control the display's brightness, gamma, white point, and color space.
MacBook Pro backlighting offers full-screen brightness sustained at 1,000 nits and peak HDR content brightness of 1,600 nits. Its maximum SDR brightness is 500 nits, and the maximum contrast ratio is 1,000,000:1.
The model's display has ProMotion, which allows it to automatically adjust its refresh rate to 120Hz or lower levels when power conservation is required.
The screen on the MacBook Pro also supports True Tone. This feature automatically adjusts the display based on ambient lighting conditions to ensure that colors look the same in different environments.
The MacBook Pro also has a notch in the top-center of the display, similar to newer iPhones, that contains the webcam.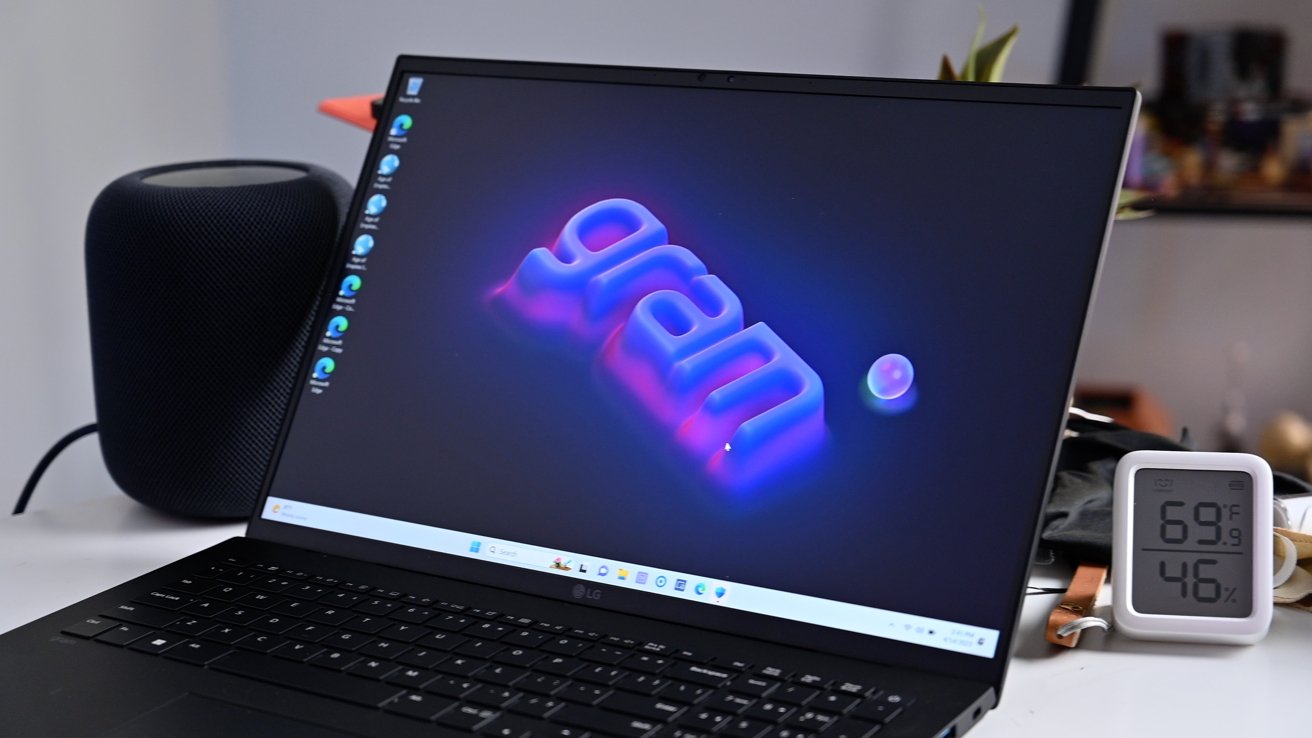 LG Gram display
The 17-inch IPS LCD on the LG Gram comes at a 2,560 by 1,600 resolution with a much lower pixel density of 178ppi. It also has a typical brightness of 350 to 400 nits with a variable refresh rate of up to 144Hz, and the bezels are uniform without a notch.
2023 LG Gram 17 vs. 2023 MacBook Pro - CPU
The M2 Pro chip in the 16-inch MacBook Pro starts with 16GB of unified memory, a 12-core CPU, and a 19-core GPU. Moreover, it has a unified memory bandwidth of 200GB/s, and buyers can also choose an M2 Pro chip with 32GB of memory.
It has 40 billion transistors with eight high-performance cores and four high-efficiency cores. The more powerful M2 Max chip has 67 billion transistors.
With a 12-core CPU, the M2 Max has 400GB/s of unified memory bandwidth and supports up to 96GB of unified memory. Apple's 16-core, next-generation Neural Engine, which can perform 15.8 trillion operations per second, is a part of the M2 Pro and M2 Max.
M2 Pro supports hardware-accelerated H.264, HEVC, and ProRes video encoding and decoding. The M2 Max, in comparison, has twice as many video encode engines and double as many ProRes engines as the M2 Pro.
The LG Gram 17 has a 13th-gen Intel Core i7-1360P processor with twelve cores -- four for performance and eight for efficiency. The performance cores run at 2.2GHz up to 5.0GHz, while the efficiency cores are 1.6GHz up to 3.7GHz.
Our MacBook Pro with an M2 Max chip has a
Geekbench 6 score
of 2,737 for a single-core and 14,603 for multi-core performance. Meanwhile, the LG Gram
trails behind
-- by a lot. It has a score of 2,328 in single-core performance and 9,842 in multi-core.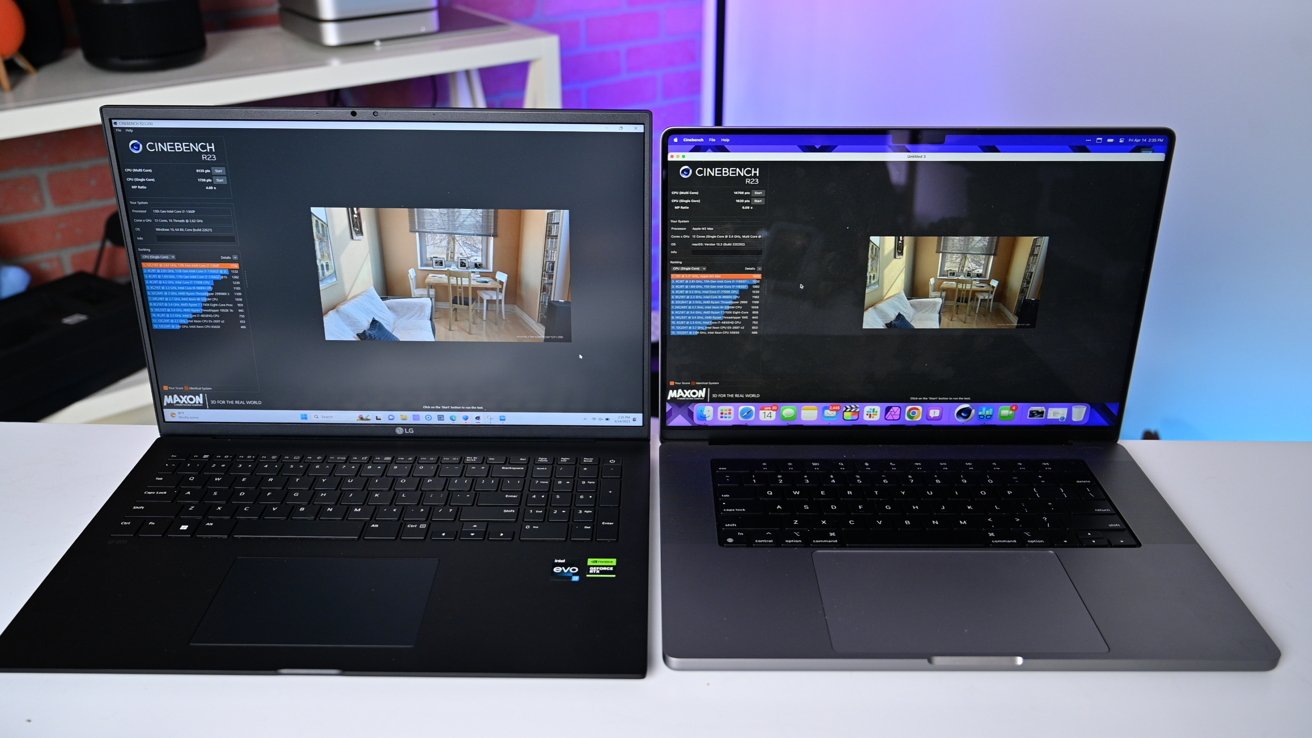 Running benchmarks on the LG Gram and MacBook Pro
Although all chips have twelve cores, Apple has a clear edge over Intel. Even the 2020
MacBook Air
with an
M1
chip
beats the
Intel GPU in single-core performance, although it trails slightly behind in multi-core.
2023 LG Gram 17 vs. 2023 MacBook Pro - GPU
The GeForce RTX 3050 GPU comes with 4GB of GDDR6 memory, second-generation ray tracing for better graphics, an encoder built for live streaming, and features powered by artificial intelligence to enhance voice and video features. It has 2,560 NVIDIA CUDA cores.
The M2 Pro chip on the 16-inch MacBook Pro meanwhile has a 19-core integrated GPU, and the M2 Max chip has two options to choose a GPU with 30 or 38 cores.
It isn't easy to directly compare a discrete GPU like the GeForce against a system-on-a-chip like Apple Silicon. However, Geekbench still lists
OpenCL scores
for each.
The RTX 3050 has a score of 65,751, while the M2 Pro is at 46,118. However, at least on paper, the M2 Max is the winner here at 79,659.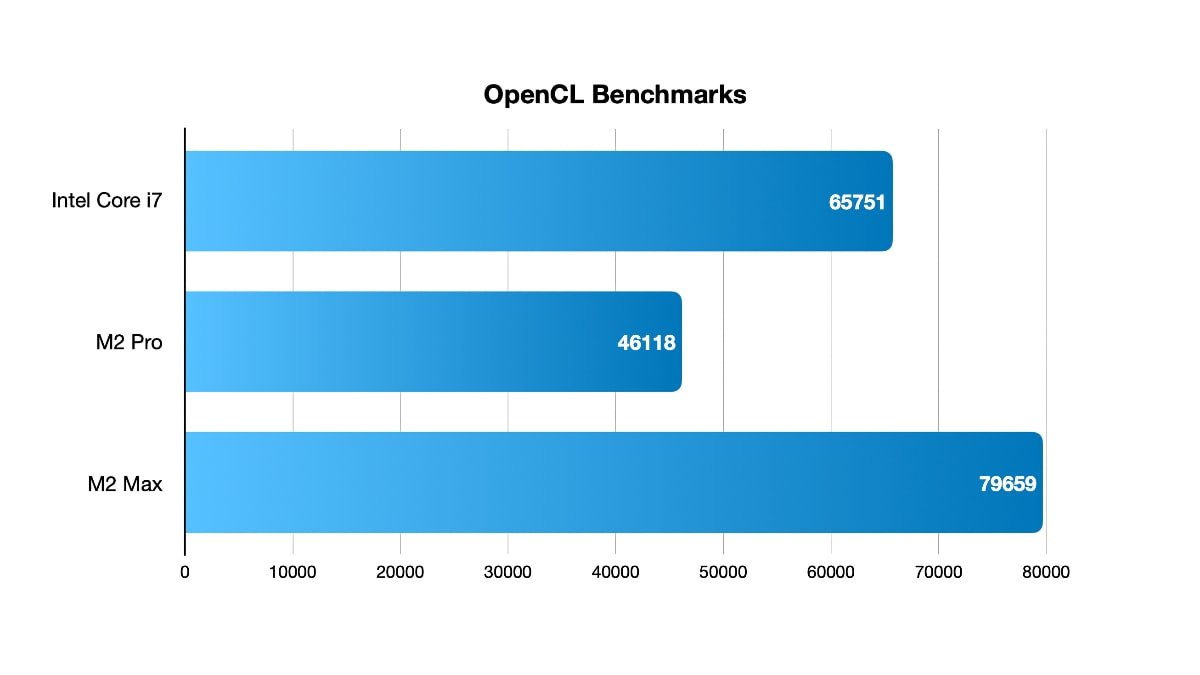 The 17Z90R-K.ADS9U1 variant of the LG Gram 17 has integrated Intel Iris Xe graphics.
2023 LG Gram 17 vs. 2023 MacBook Pro - Camera
The 16-inch MacBook Pro has a 1080p webcam housed in a notch on the display, and the chips can enhance the sharpness and video quality.
The Full HD infrared webcam on the LG Gram 17 includes two microphones and 1080p resolution. The webcam is capable of facial recognition with LG Glance, which uses advanced face, eye, and gaze sensing from Mirametrix for enhanced security.
Meanwhile, as Apple's Face ID facial recognition technology has yet to make its way on the Mac, the company includes a Touch ID fingerprint sensor on the keyboard.
2023 LG Gram 17 vs. 2023 MacBook Pro - Storage, Connectivity, Power
The MacBook Pro has storage capacities of up to 8TB, with configurations starting at 512GB. The three LG Gram notebooks start at 1TB of storage and maxes out at 2TB.
Three USB-C Thunderbolt 4 ports with support for charging, DisplayPort, and Thunderbolt 4/USB 4 up to 40Gb/s are found on the MacBook Pro, while the LG Gram has two Thunderbolt 4/USB 4 ports with Power Delivery and DisplayPort, two USB-A 3.2, one HDMI, a Micro SD slot, and a 3.5mm audio jack.
Another port on the MacBook Pro --
MagSafe
3 -- allows for a magnetically-attached charging cable that can quickly disconnect if someone trips over it.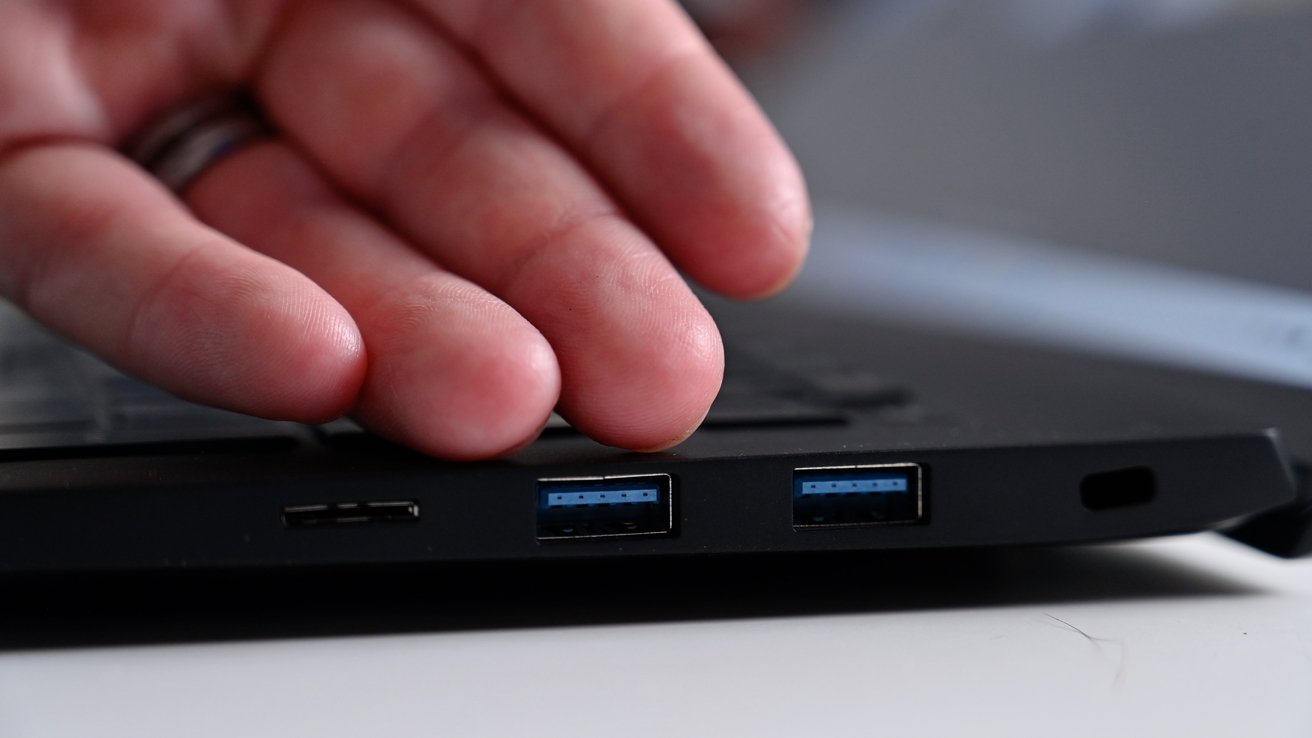 Ports on the LG Gram
The MacBook Pro also connects with Wi-Fi 6E (802.11ax) and Bluetooth 5.3. Connectivity on the LG Gram includes Bluetooth 5.1 and Wi-Fi 6 (802.11ax).
The LG Gram has a 90Wh battery which the
company says
can last up to 20 hours of video playback. The MacBook Pro has a comparable battery life of up to 22 hours, which Apple tested by playing HD 1080p content in the
Apple TV
app with the display brightness set to eight clicks from the bottom, though it can vary by use and settings.
Testing conditions for the LG Gram's battery involved a display brightness of under 150 nits, a wireless-off setting, content played in Microsoft Movies & TV, and headphones plugged in.
2023 LG Gram 17 vs. 2023 MacBook Pro - Other features
The MacBook Pro and LG Gram have backlit keyboards so users can comfortably type in low-light environments. They each also offer trackpads that support multi-touch gestures for managing apps and navigating through the operating systems.
An array of three "studio-quality" mics with a high signal-to-noise ratio and directional beamforming to record audio is found on the MacBook Pro. It also boasts a force-canceling six-speaker high-fidelity audio system.
The audio system on the MacBook Pro supports wide stereo sound, spatial audio, and Dolby Atmos. High-impedance headphones can be used with the 3.5mm headphone jack, and the HDMI port supports multichannel audio output.
Audio on the LG Gram consists of two stereo speakers at 3W, though the 17Z90R-K.ADS9U1 variant has HD audio with Dolby Atmos Stereo, two speakers at 2W, and a Smart Amp with a maximum of 5W.
2023 LG Gram 17 vs. 2023 MacBook Pro - Pricing
The
16-inch 2023 MacBook Pro starts at $2,499
with a 12-core CPU and 19-core GPU on an M2 Pro. Customers can upgrade to an M2 Max with a 12-core CPU and 30-core GPU for $200 extra or one with a 38-core GPU for $400, that's $200 more again than the 30-core GPU.
Depending on your chip choice, the memory upgrades available to you can vary. For a start, the M2 Pro ships with 16GB of Unified Memory, but going for 32GB costs an extra $400.
The M2 Max lineup starts at 32GB, with a $400 upgrade available to reach 64GB. If you go for the top M2 Max option, 96GB of memory becomes available as an $800 upgrade from the 32GB starter.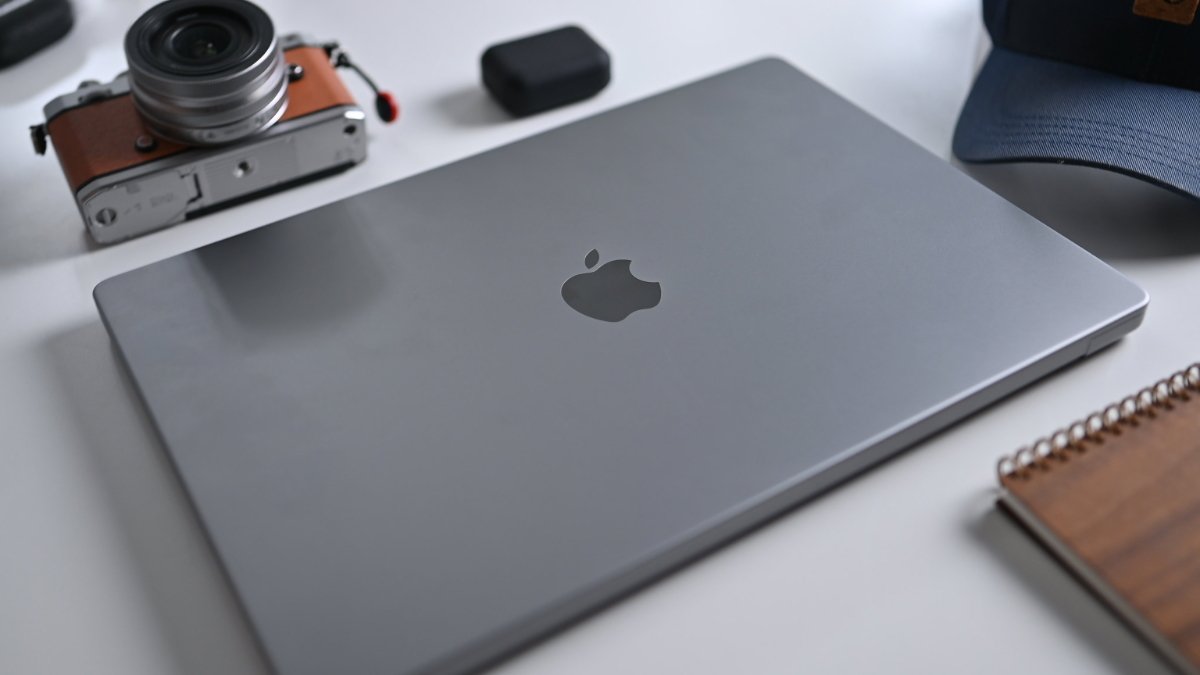 The MacBook Pro has more options for memory and storage
The MacBook Pro costs $200 more to upgrade its storage from 512GB to 1TB and another $400 on top to expand it to 2TB. The cost increases by $600 to go from 2TB to 4TB, and 8TB is $1,200 more than 4TB.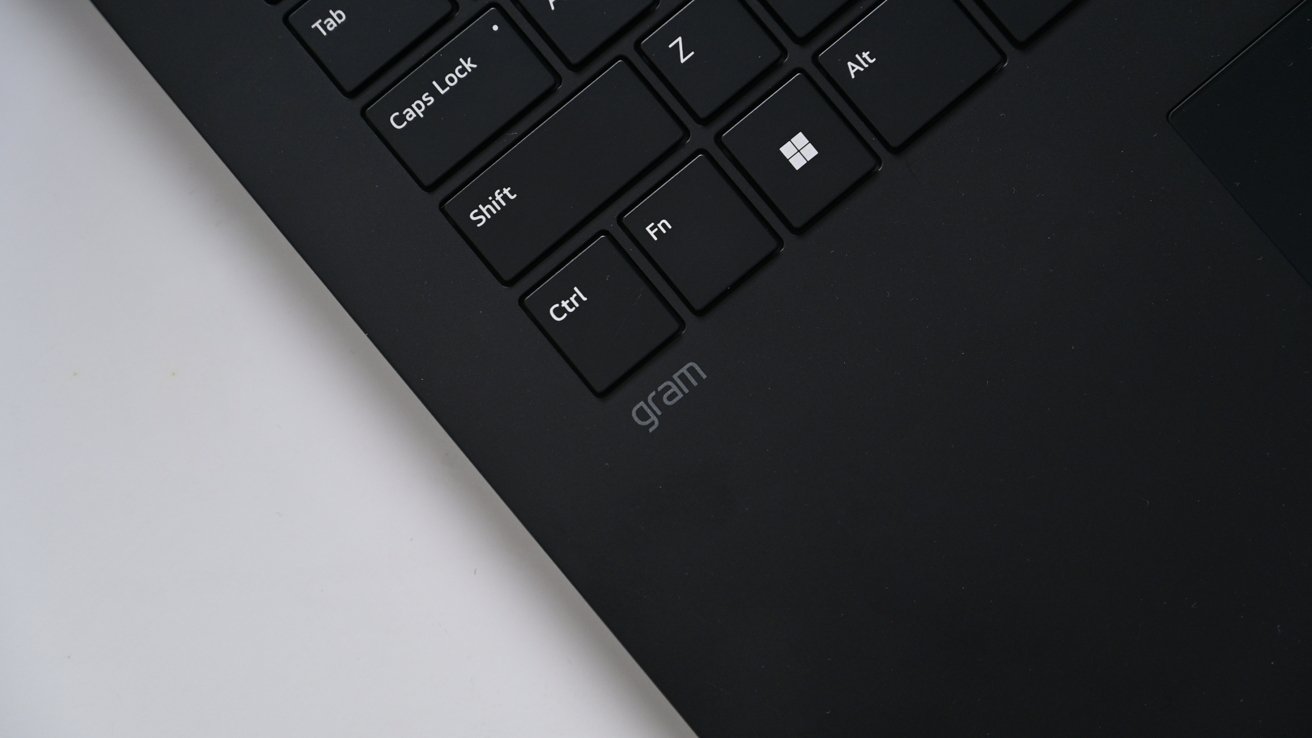 LG Gram lightweight ultrabook
LG sells the Gram 17 notebook in three variants, starting with a
$1,999 model
(17Z90R-A.AAB7U1) that has 1TB of storage and 16GB of DDR5 RAM.
The other two are
$2,099
(17Z90R-K.ADS9U1) and
$2,299
(17Z90R-A.ADB9U1) which provide 32GB of DDR5 memory and a 2TB SSD on each model.
Choosing the most expensive MacBook Pro that offers the top hardware upgrades costs $6,499, which includes an M2 Max with twelve CPU cores and 38 GPU cores, 96GB of unified memory, and an 8TB solid-state drive. The top-tier LG Gram meanwhile provides an Intel i7 chip with twelve CPU cores, a 4GB Nvidia GPU, 32GB of memory, and a 2TB SSD.
2023 LG Gram 17 vs. 2023 MacBook Pro - Which to Buy?
The LG Gram 17 is an ideal gaming laptop with Windows, a large display, and a dedicated GPU. On the other hand, Apple typically markets its notebooks for productivity and creativity.
The MacBook Pro offers more options for storage and memory, and the M2 Pro/Max chips handily outclass Intel's offering in this case. Apple's offering also has better speakers that deliver higher-quality audio.
While the LG Gram is, by far, better suited for games and those who need Windows, the MacBook Pro is a better choice in nearly all other aspects. While similar in size, the LG Gram is lighter than the MacBook.
The MacBook Pro will find a nice home on a desktop, but travelers may find it too heavy to carry in a bag where weight is a factor. The LG Gram weighs less but is slightly larger in dimensions.
Nevertheless, it doesn't beat Apple's notebook in benchmarks, though that's not necessarily reflective of real-world performance.
2023 LG Gram 17 vs. 2023 MacBook Pro - Where to Buy
Apple's 2023 MacBook Pro is on sale now, with exclusive deals available in the
AppleInsider
16-inch MacBook Pro Price Guide
. At press time, every configuration is up to $300 off.
The LG Gram 17 starts at $1,999, with
Amazon.com
stocking all three models.
Read on AppleInsider