My Currency Converter and Rates 7.5 review: calculate money exchange when offline
Whether buying a croissant in Paris or haggling over souvenirs in Bali, you must know if you are getting a fair price. Here's an app that helps you convert currencies when traveling abroad, even without Wi-Fi.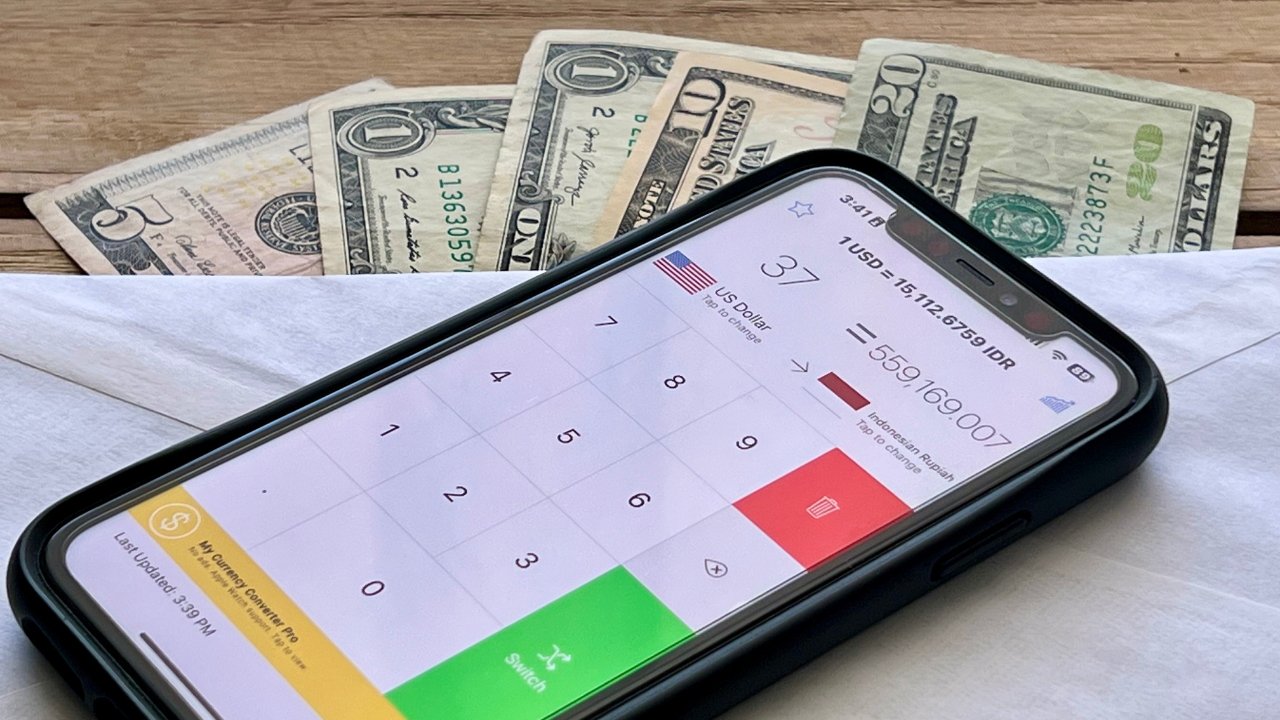 My Currency Converter and Rates app review
As its name implies, My Currency Converter and Rates is an app that helps you calculate currencies. Using a currency converter app is vital for international travelers to ensure they are not getting tricked into paying too much for goods and services.
Of course, you can search the internet to calculate the local exchange rate. However, due to expensive international data fees, you might only have limited access to the internet, thus restricting you from searching online for the current exchange rate.
Another option is to memorize the country's exchange rate and perform calculations each time you want to buy something. However, this requires you to do the math and may be impractical when navigating through the maze of an unfamiliar city.
Even if your
iPhone
is offline, you can use My Currency Converter and Rates to convert currencies. Best yet, you don't have to memorize any exchange rates or be a math genius.
There are other options, including the feature-rich calculator PCalc, which can also convert currencies. PCalc has a comparatively more complex interface, though, as it's meant to be used for many options.
For just going on an overseas trip, you may opt for My Currency Converter and Rates to keep things simple.
My Currency Converter and Rates -- features
This app is effortless to use because it works like a basic calculator. Select two currencies you want to convert, punch in the digits, and press enter.
Exchange rates are updated automatically when your device connects to the internet. If your device is offline, it will show you when the exchange rates were last updated.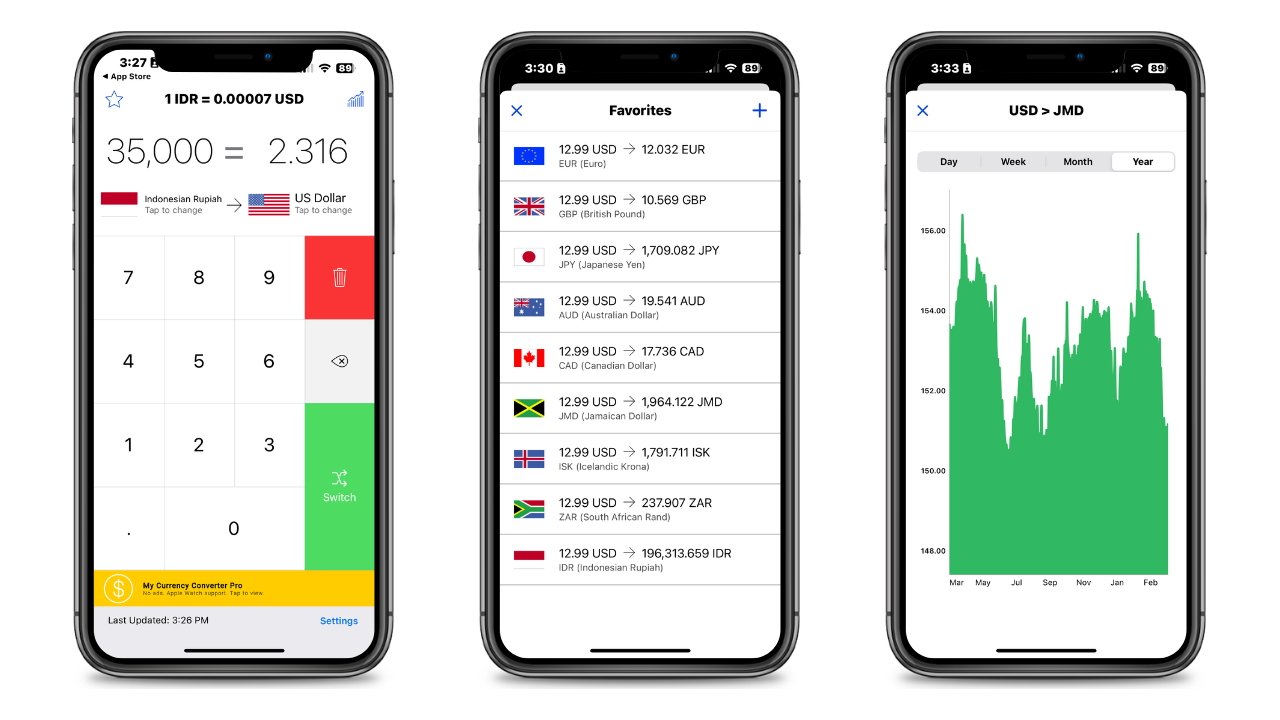 The app shows the last time the rates were updated, favorite currencies, and rate trend charts
Since this app will not update the exchange rates when away from the internet, the rates may be outdated if you are offline for an extended time. However, you would still have a ballpark figure of the exchange rates, even if you don't have Wi-Fi for a few days.
The app speeds up your calculations because it converts as you type. This instant calculation is helpful when ordering food in a buzzy cafe or haggling with a street vendor.
It supports over 150 currencies, even including cryptocurrencies like Bitcoin and Ethereum. You can add countries to your list of favorites, so you don't have to scroll down a long list of countries every time you calculate the exchange rate.
If you want to see the rate trend for a currency, you can tap the graph icon on the top right of the screen.
Depending on your use case, you can set it to show one, two, or three decimal points. In addition, you can tap on the large green button to invert currencies quickly.
My Currency Converter and Rates -- things to keep in mind
When using this app, be aware that the exchange rates you see in this app may not match the local bank's exchange rates or even what your credit card charges. This difference is because the app shows the current exchange rate, while local banks likely use rates that they can profit from.
Knowing this can help you decide whether an exchange rate is fair when changing money with local banks and money exchange centers.
The free version of My Currency Converter and Rates is ad-based, and you can use it on your iPhone and
iPad
. To remove ads, you can download My Currency Converter and Rates Pro by paying a one-time fee of $1.99, which is a steal considering the high cost of travel fees.
My Currency Converter and Rates Pro is also available on
Apple Watch
, so you don't have to pull out your iPhone to convert currencies in a bustling marketplace.
International travel can be stressful when you do not know if vendors charge you honestly. Worse yet, it can be intimidating if math is not your forte and you have limited internet access.
My Currency Converter and Rates helps you convert currencies during your travels, so you can spend less time worrying about exchange rates and more time relishing new sights.
My Currency Converter and Rates - pros


Supports over 150 currencies


Off-line currency exchange


Easy-to-use interface


My Currency Converter and Rates - cons


Exchange rates may be outdated if you are offline for a prolonged time



Rating: 4.5 out of 5

Download My Currency Converter and Rates

You can download My Currency Converter and Rates for free from the App Store to use on your iPhone or iPad. My Currency Converter and Rates Pro is a separate app without ads, and you can get it for a one-time charge of $1.99. Read on AppleInsider